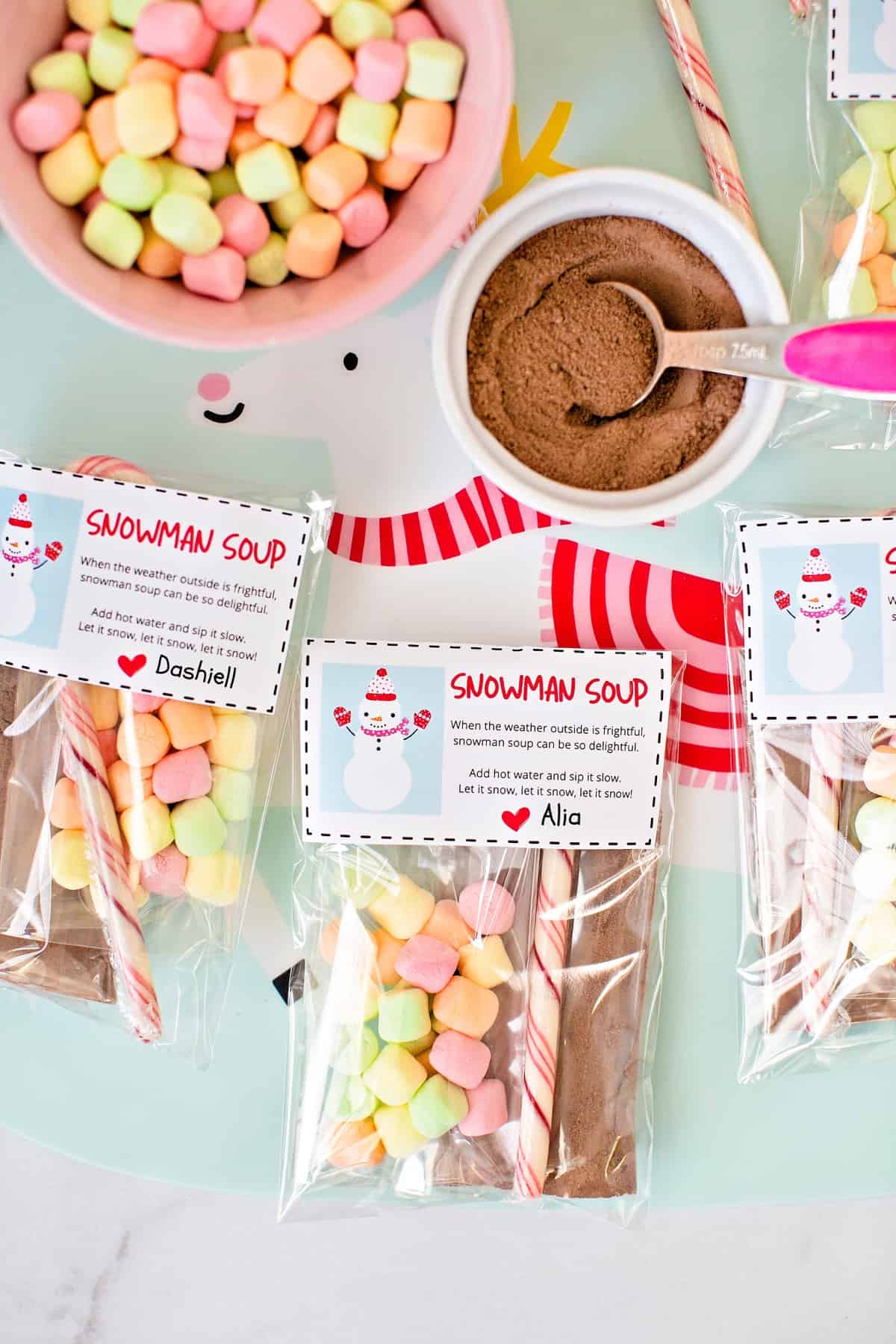 By using this site, you agree to our Terms of Use. This post may contain affiliate links. Read our disclosure policy.
Follow us on Instagram for more fun food ideas for kids!
These Snowman Soup Christmas Favors are the perfect holiday treats kids can hand out to friends to make the cutest cup of hot cocoa!
Watch the video in this post to see how to make Snowman Soup
How adorable are these Snowman Soup Christmas Favors? I'm looking forward to gifting them to my friends and their kids and my children are looking forward to gifting them for their friends too! They make the perfect cold weather Christmas treats for kids!
We also provide a FREE printable template down below to make gifting super easy this holiday season!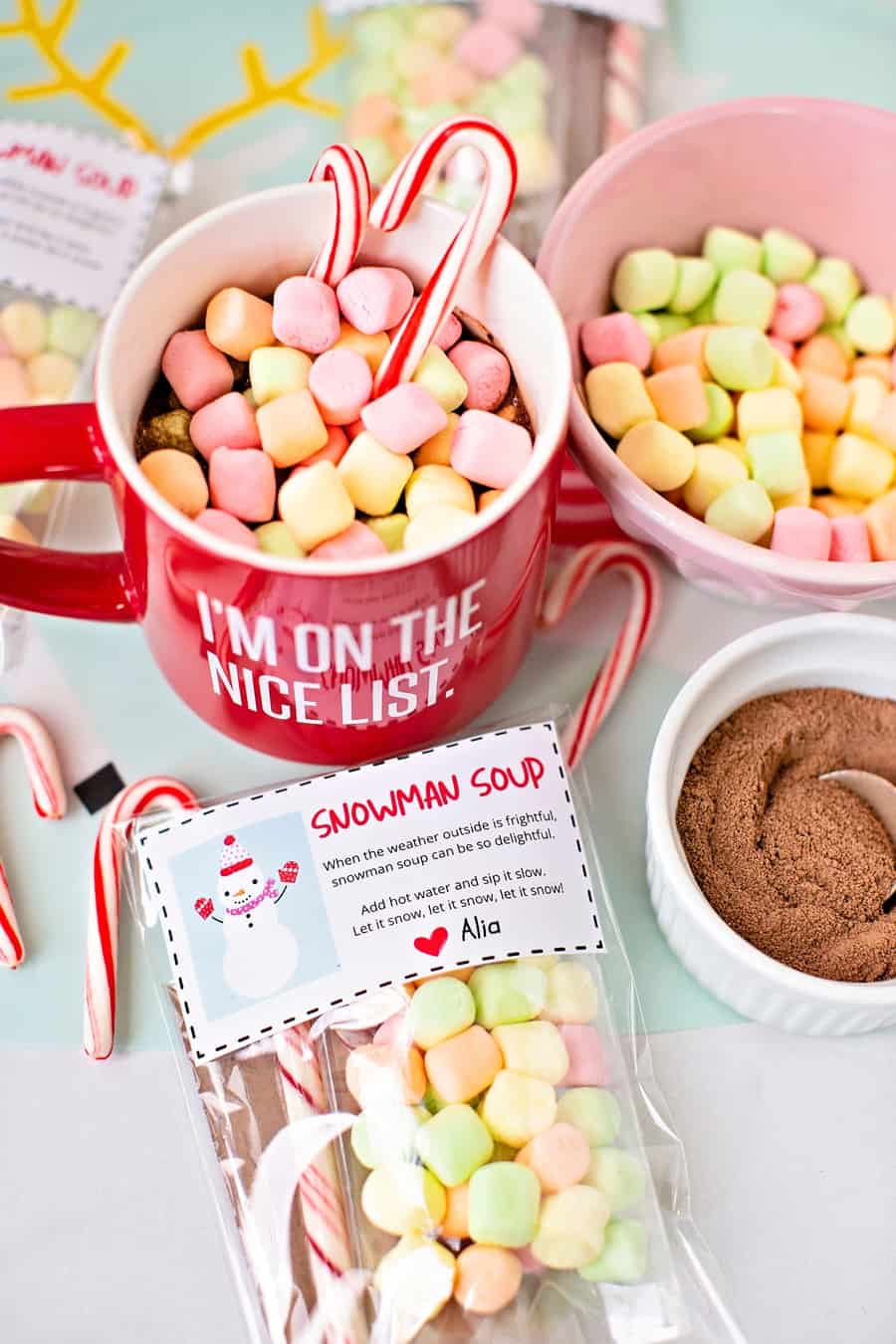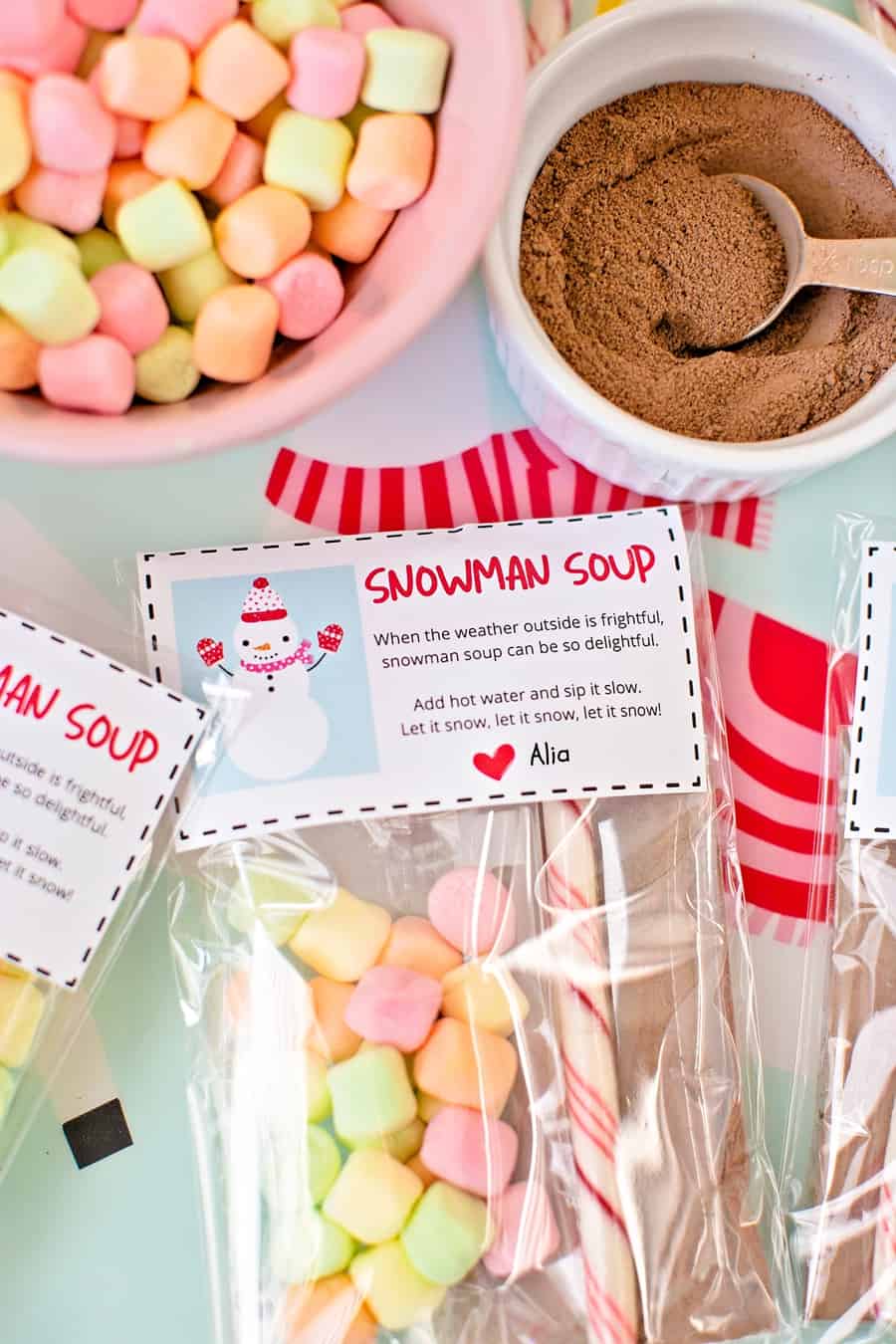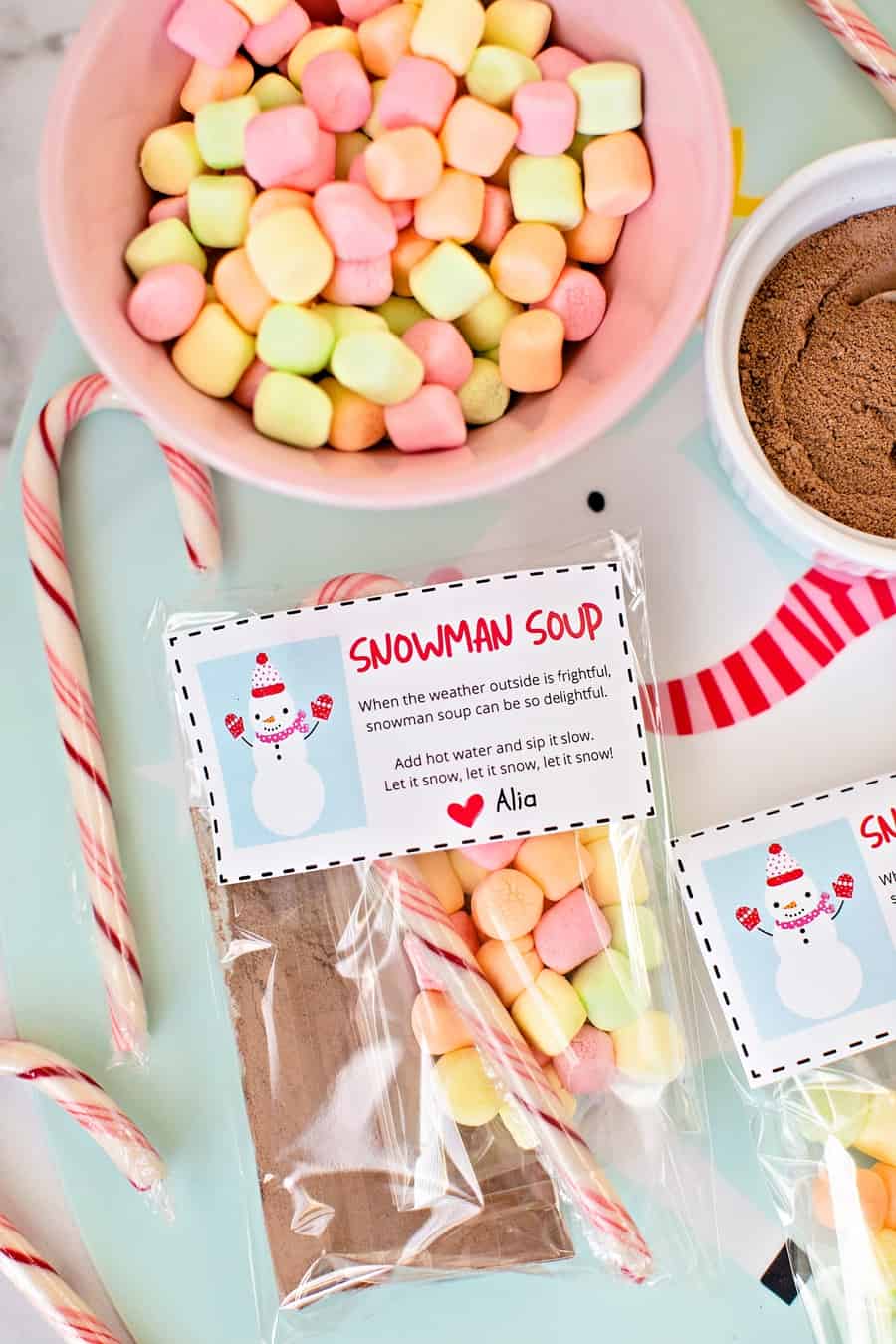 What is Snowman Soup?
Snowman Soup includes all the fixings to make a perfect cup of steaming hot cocoa. It includes a pack of mini marshmallows, hot cocoa powder mix and a candy cane to stir it all up!
Your kids will be singing the tune of Let it Snow! Let It Snow! Let it Snow! but instead with these lyrics:
"When the weather outside is frightful, snowman soup can be so delightful.
Add hot water and sip it slow. Let it snow, let it snow, let it snow!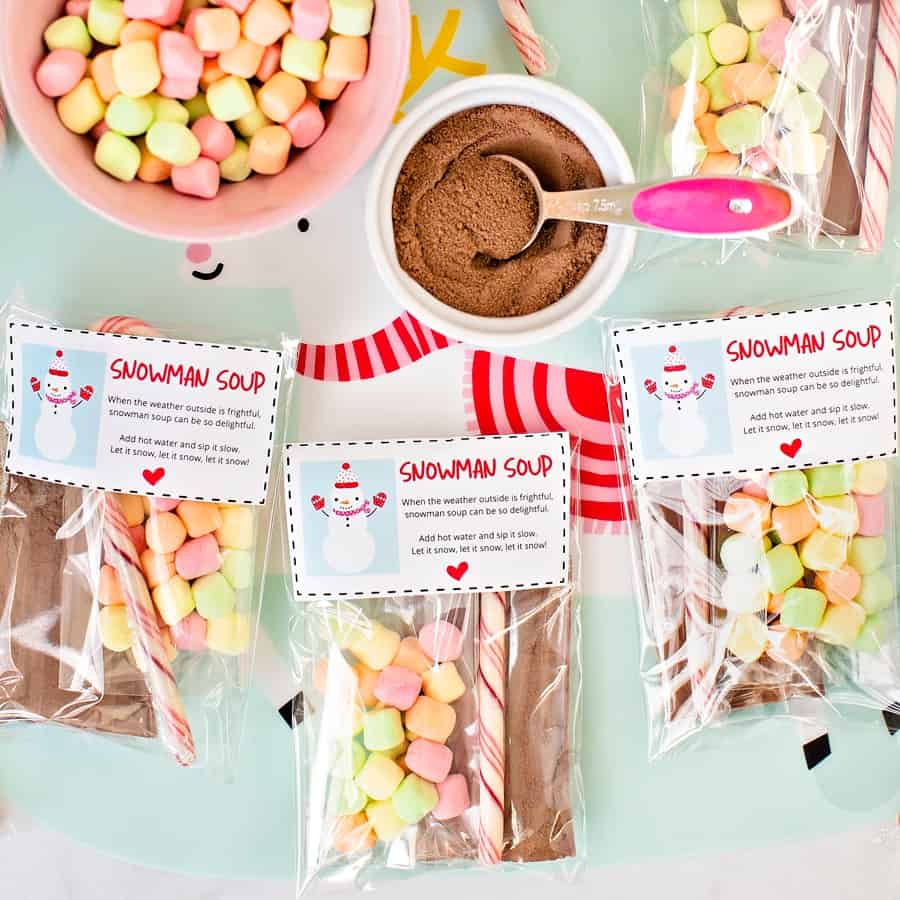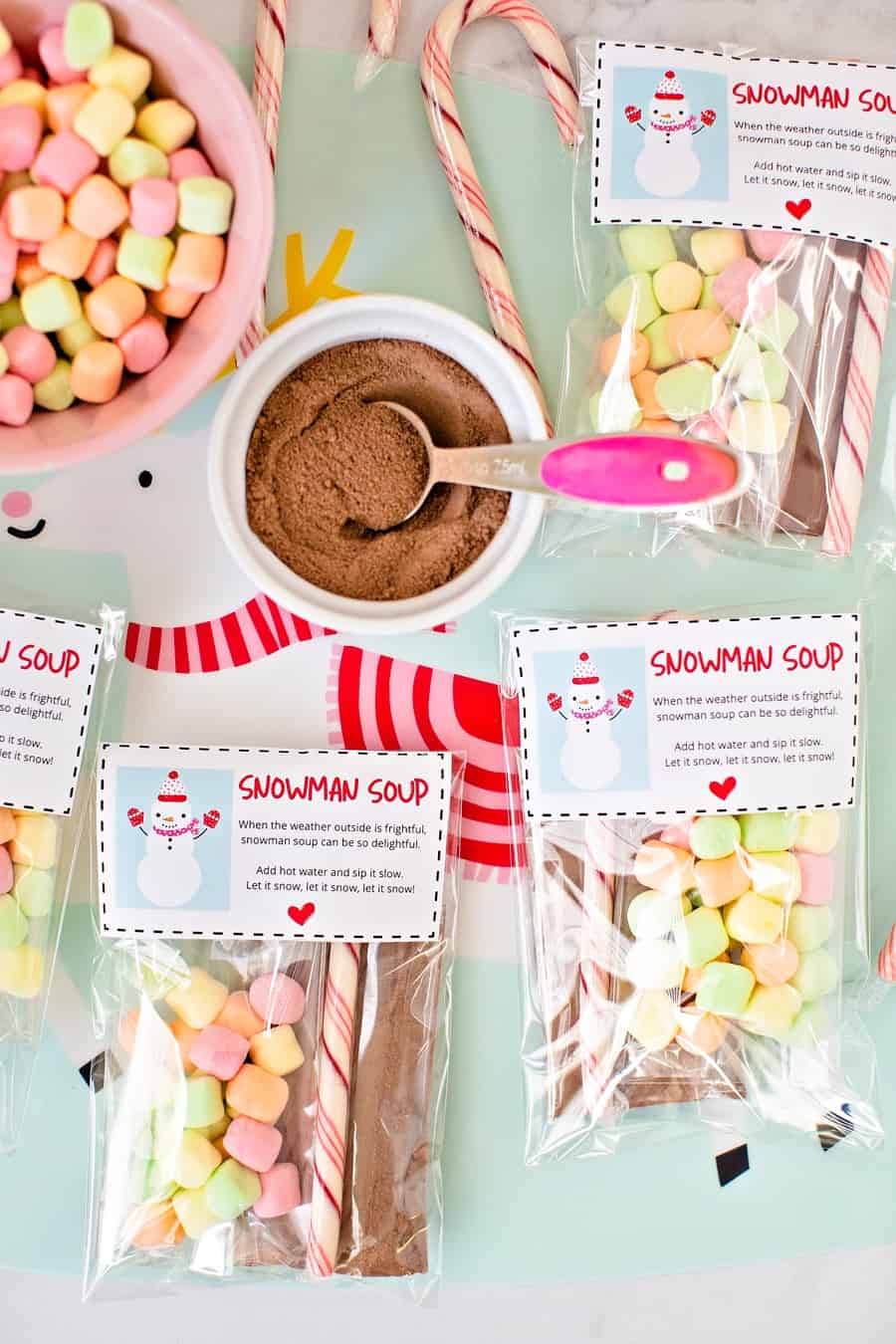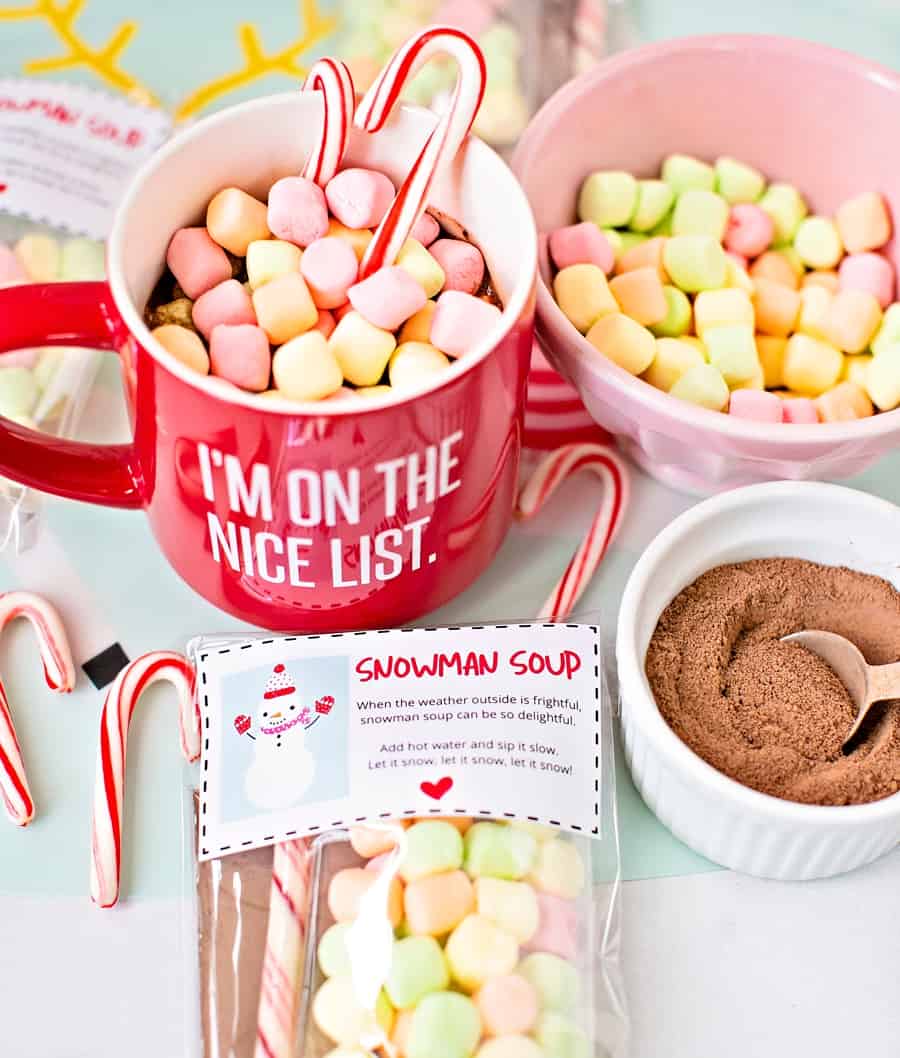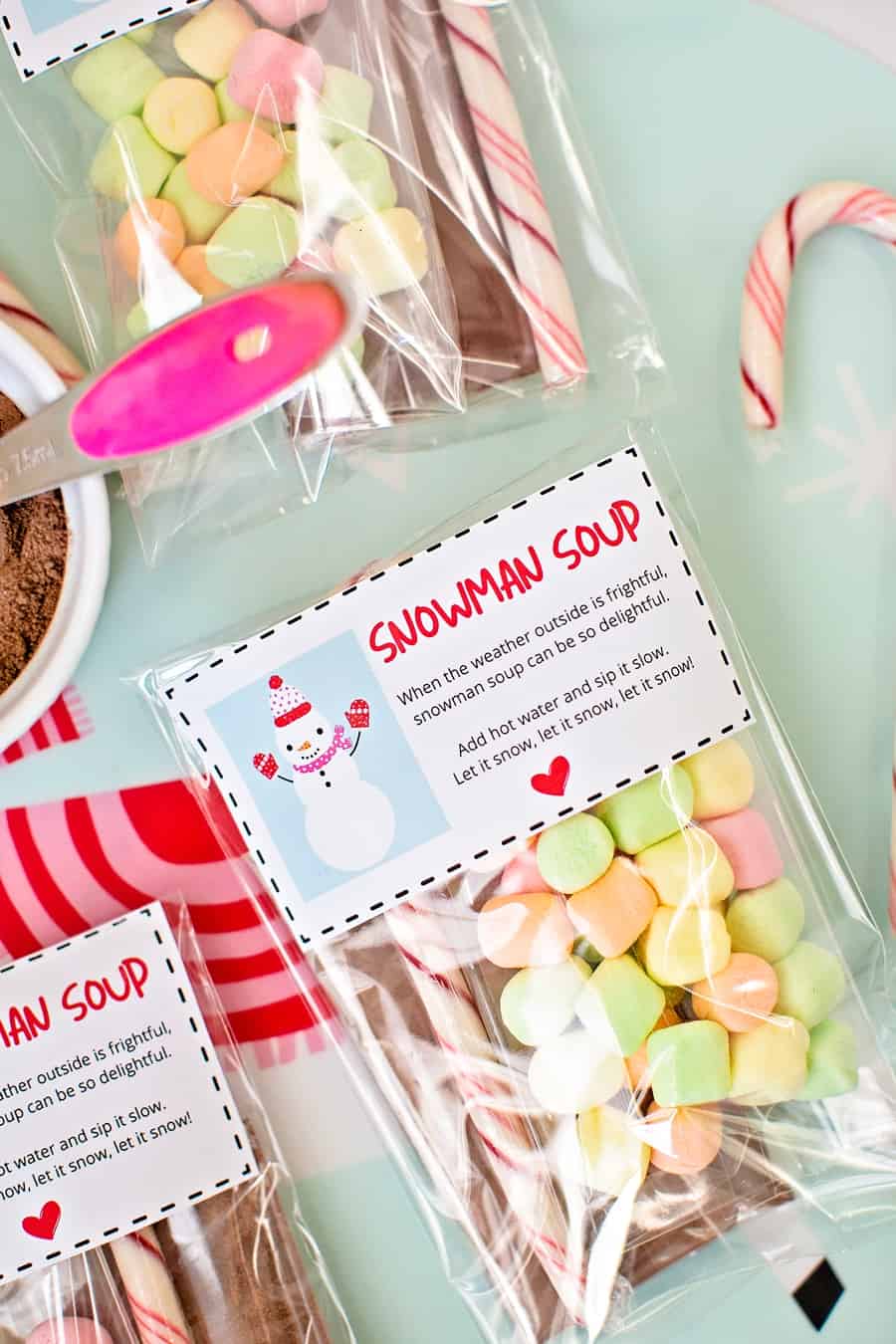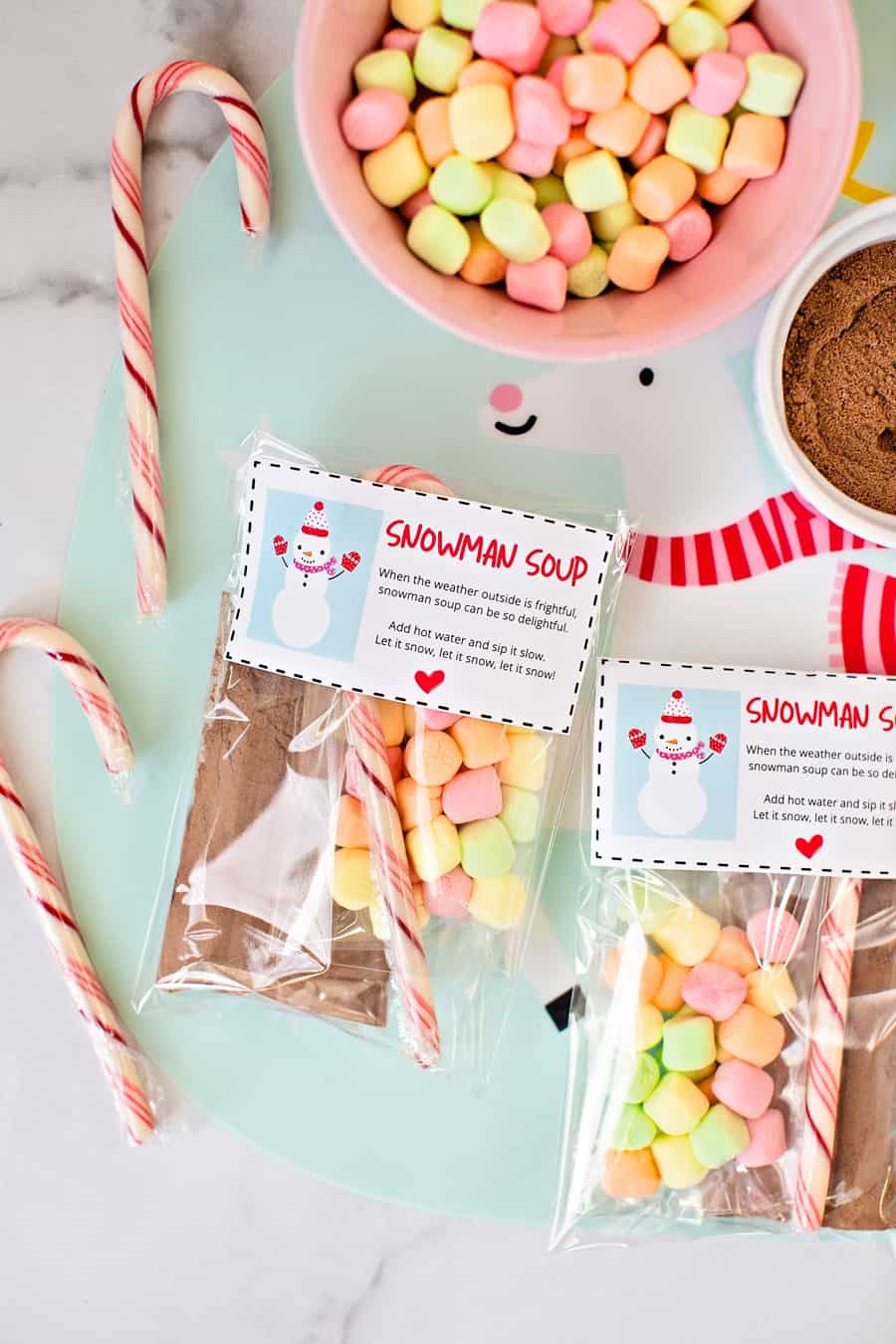 Who came up with Snowman Soup?
I wish I knew it's such a cute idea! Now I'm not sure exactly who came up with these exact lyrics but I was inspired to make these from the many Snowman Soup printable favors I've seen online. I created my own FREE printable (download below) with this cute snowman and it even has a heart to add your kids' signature!
Snowman Soup Christmas Favors – Materials:
Mini Marshmallows

Hot cocoa powder Mix

Candy Canes
Watch the video in this post to see how to make Snowman Soup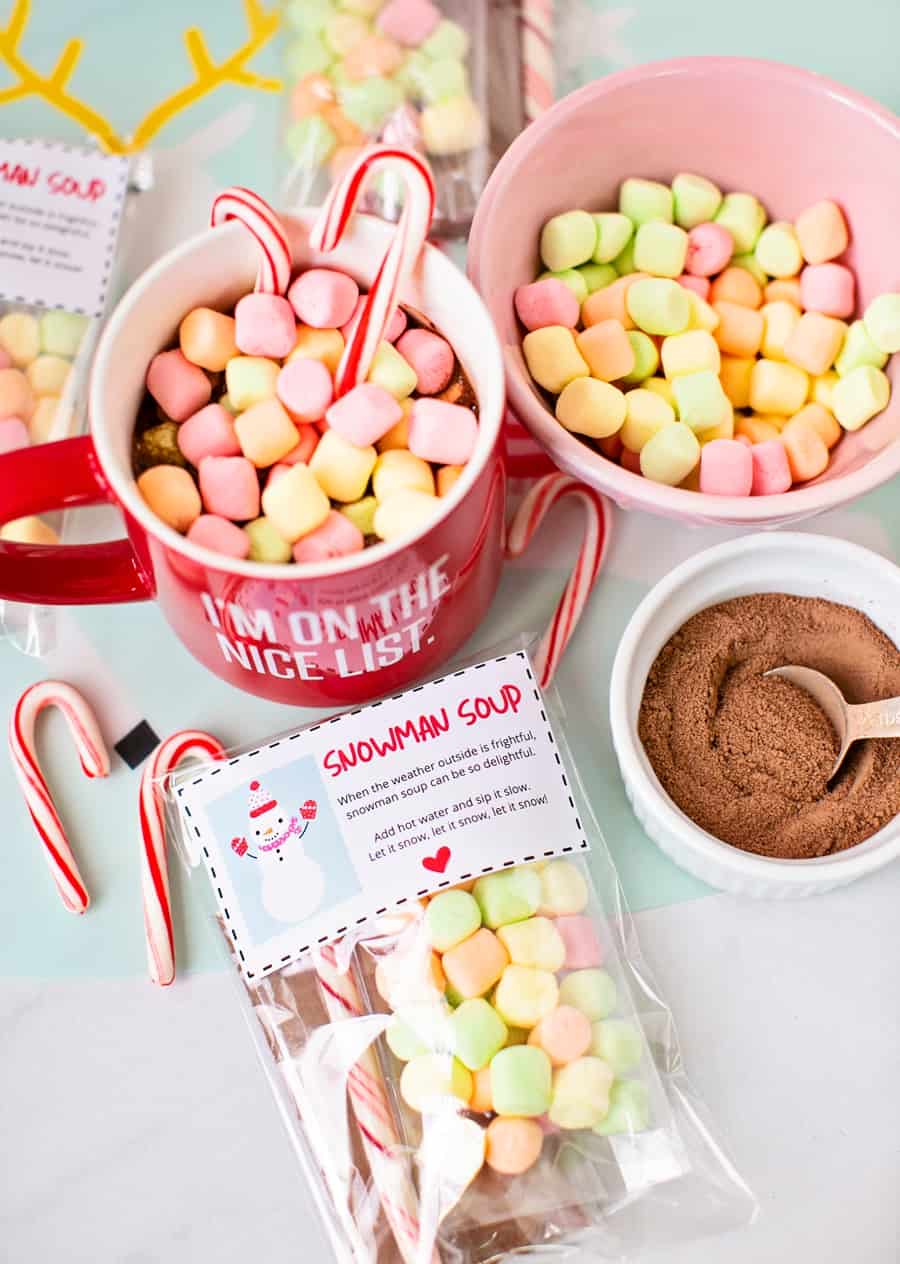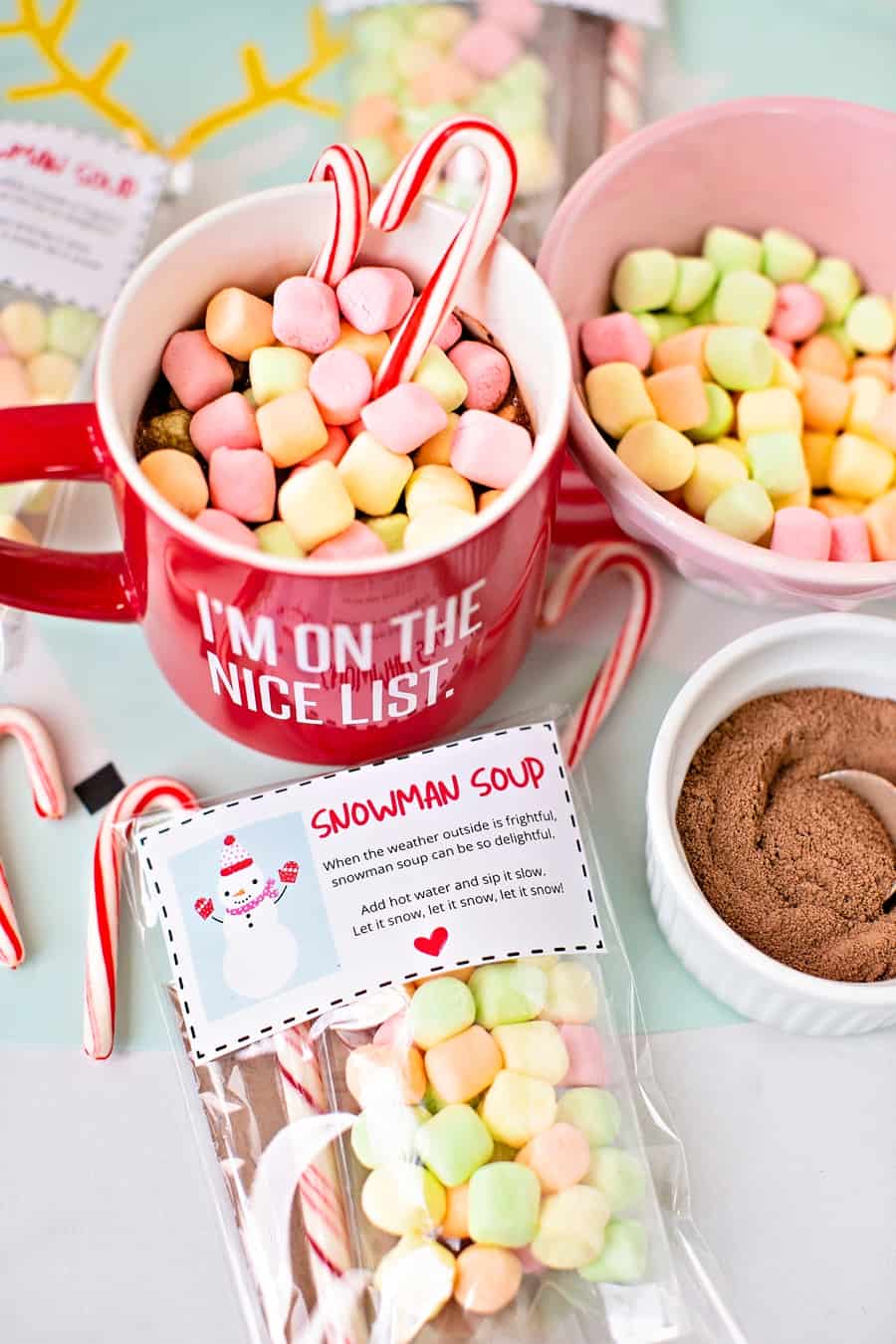 INSTRUCTIONS:
Step 1. Print out the template on sticker paper and cut around the dotted line per tag.
Step 2. Apply the sticker label to the top of cello bag.
Step 3. Take two more cello bag and in one add a couple tablespoons of mini marshmallows and seal. In the other bag, add a couple tablespoons hot cocoa power and seal as well.
Step 4. Add the marshmallow and hot cocoa bags inside the favor bag.
Step 5. Insert a candy cane.
Step 6. Seal the favor bag and sign your name!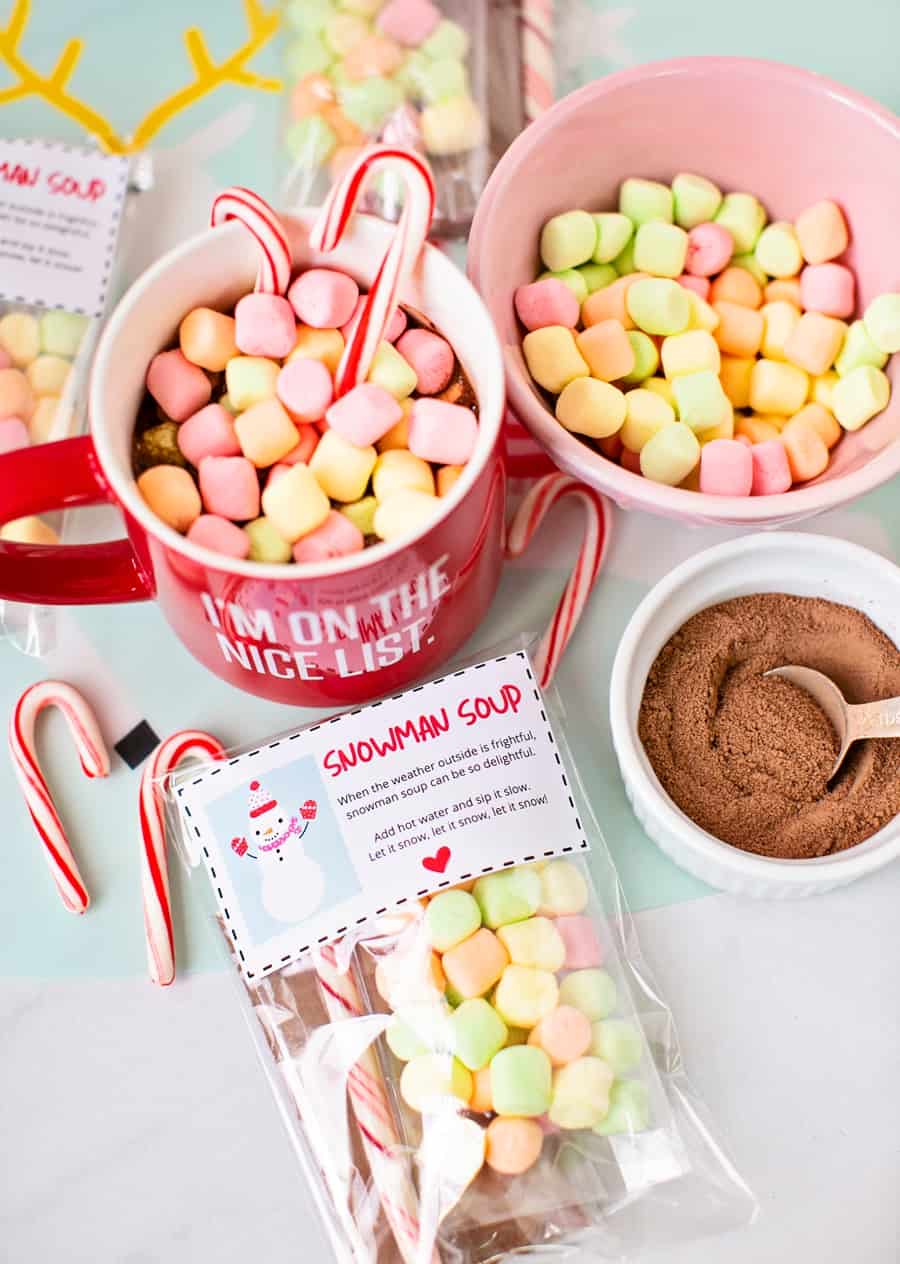 You Might Also Like
Christmas Charcuterie Dessert Board
Snowman Christmas Hot Chocolate Bombs