By using this site, you agree to our Terms of Use. This post may contain affiliate links. Read our disclosure policy.
Follow us on Instagram for more fun food ideas for kids!
These Rice Krispie Christmas Trees are a simple holiday treat for the kids! A festive and fun Christmas tree that they can actually eat and enjoy!
I'm such a fan of anything Rice Krispies. As you can probably tell from following along for a while, we make a lot of different Rice Krispie treats and recipes. This is because Rice Krispies really does create an awesome base for so many fun and creative things. As you can see from these Rice Krispie Christmas Trees, this simple Christmas treat really looks as though it took a lot of time. But our little secret is that it didn't and the kids did most of the work!
If you're looking for a simple solution for the kids to start getting more hands-on in the kitchen and helping out a bit more, this simple holiday dessert is the perfect place to get started. They'll love constructing with the Rice Krispies and also seeing the end result.
What better way to bond than by cooking up something tasty and awesome in the kitchen together?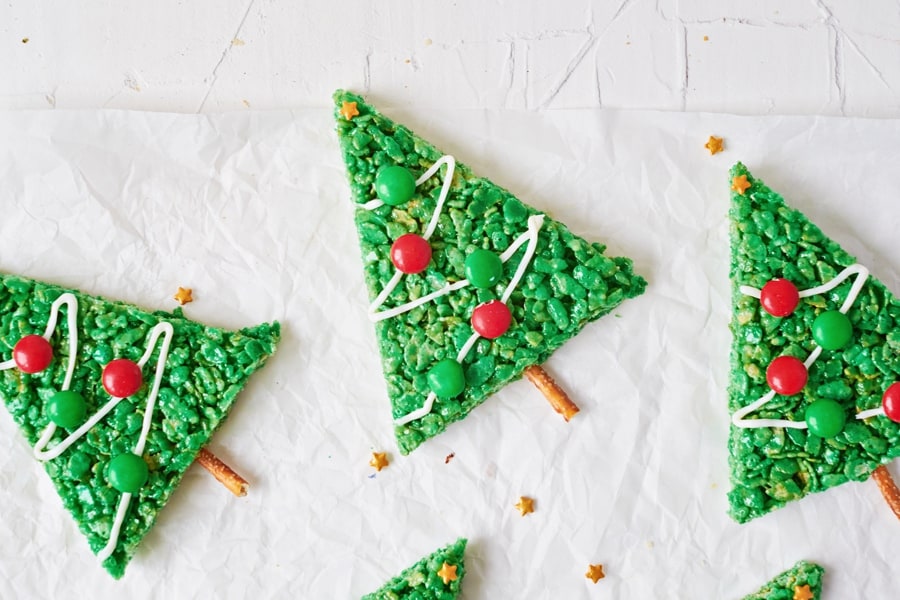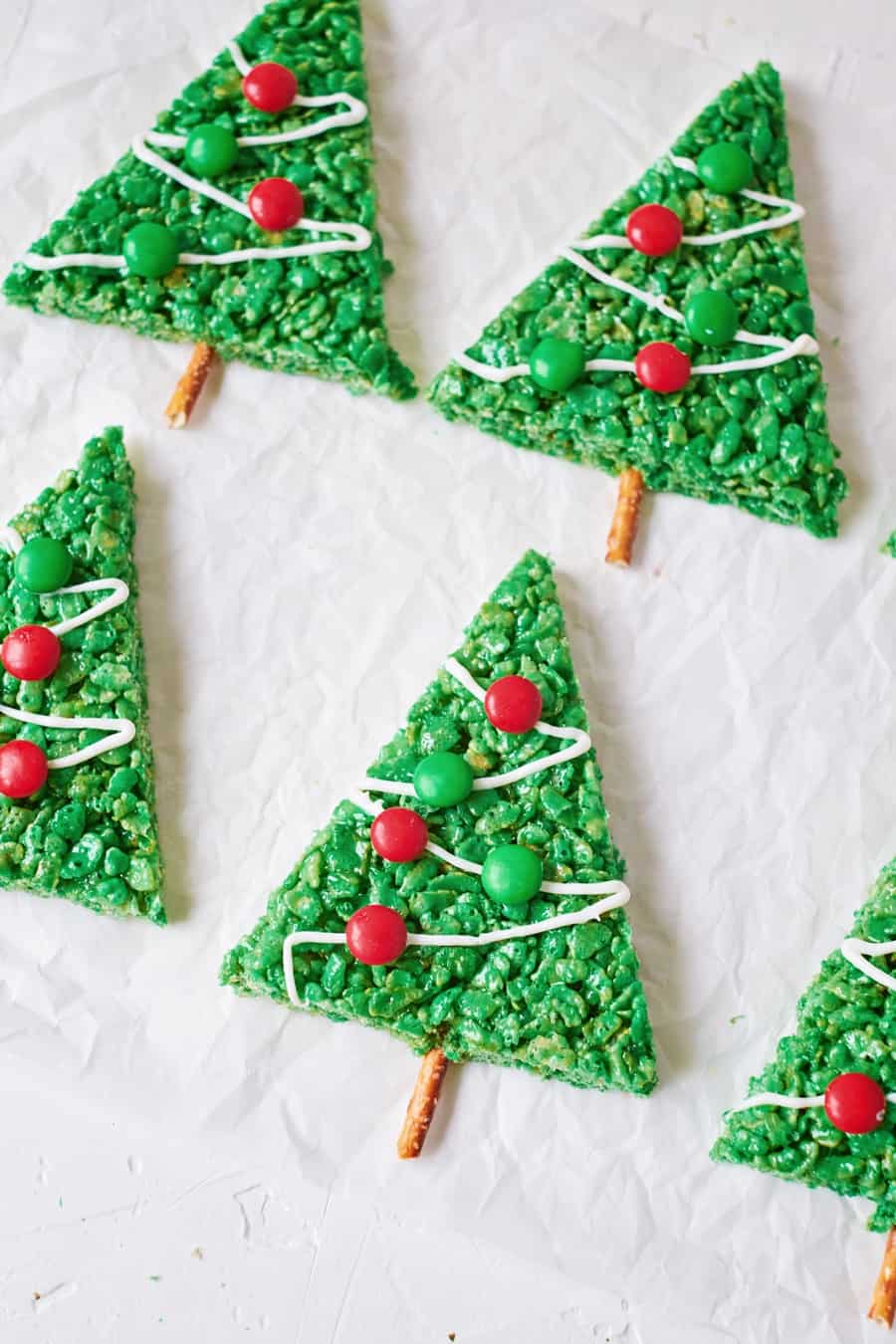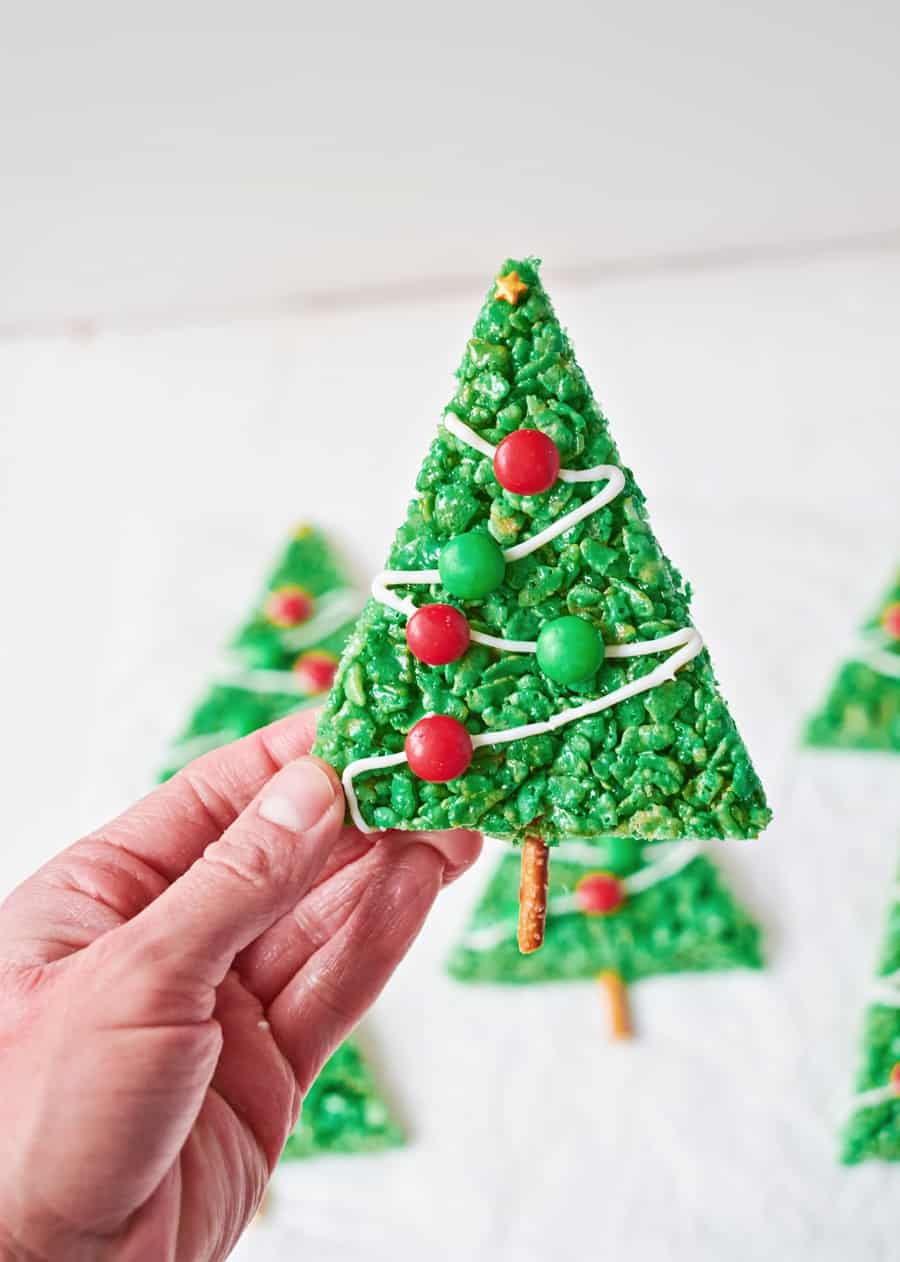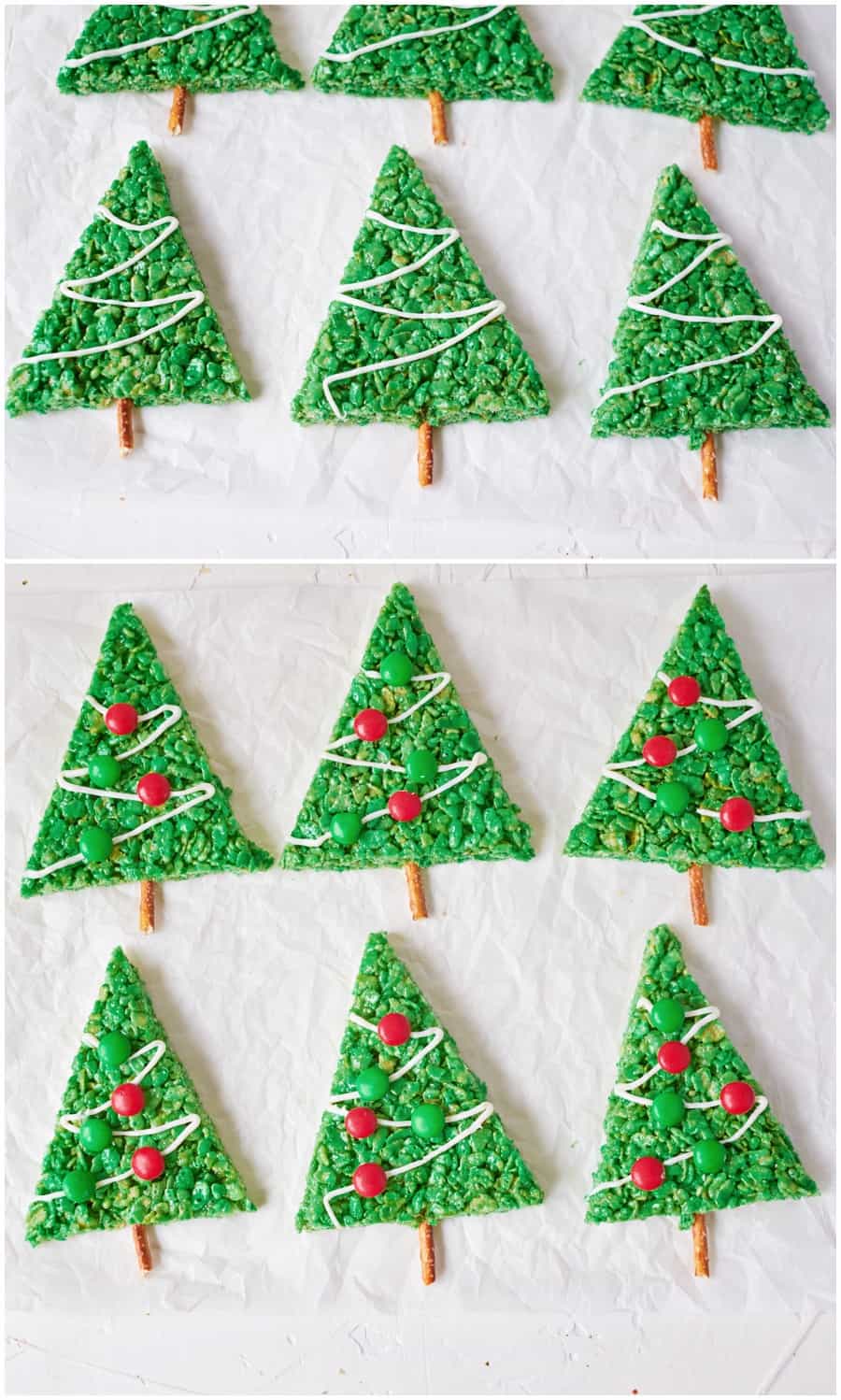 What toppings do you use as ornaments for these Christmas Trees?
We like to use the red and green M&M's but anything round will work. It doesn't even have to be Christmas colors if you don't want them to be.
Use whatever you already have in your cabinets at home and let each child make their Christmas tree as festive and as fun as they want. Who says that they all have to look the same in the end?
How do you keep Rice Krispie treats fresh?
The easiest way to keep them as fresh as possible for as long as possible is to store them in an airtight container with a lid. Keeping the air out will keep them nice and chewy for quite a few days.
Rice Krispie Christmas Trees – Ingredients
Rice Cereal

Butter

Marshmallows

Green food coloring

Pretzel sticks

White icing

Red and Green candies like M&M's

As you can see, the list of ingredients needed is short and simple! Gather them up to get started.
INSTRUCTIONS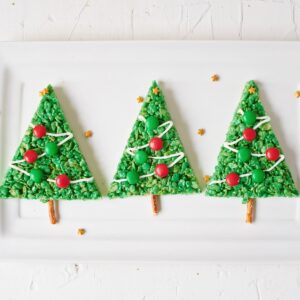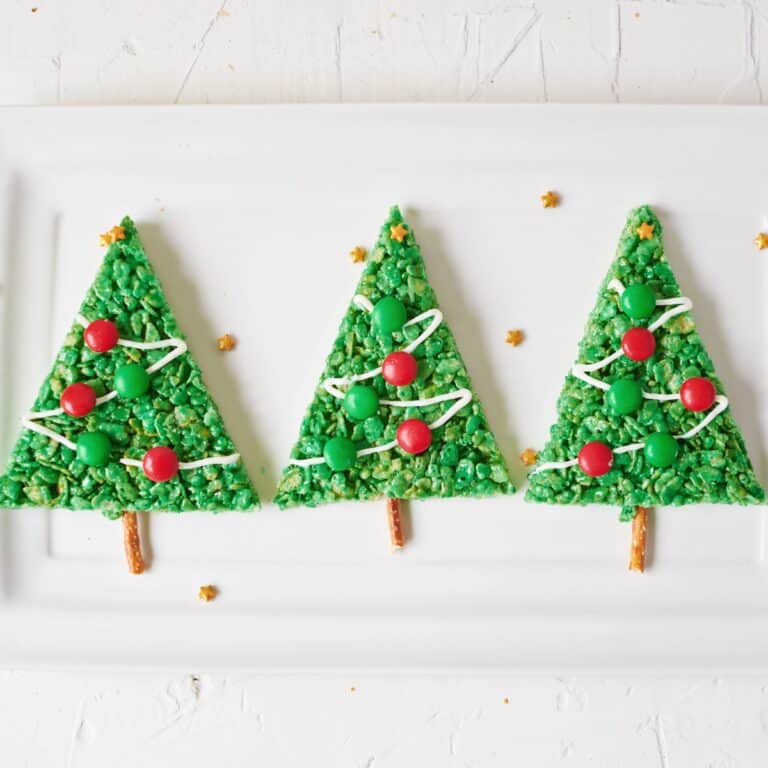 Rice Krispie Christmas Trees
Ingredients
5

cups

rice cereal

1 1/4

cups

butter

4

cups

marshmallows

green food coloring

pretzel sticks

white icing

red and green candies
Instructions
Melt butter and marshmallows in a heavy bottom pan.

Mix in rice cereal and green food coloring to desired green color. Press down evenly with a greased spatula onto a greased parchment lined rimmed baking pan to cool. At least an hour or so.

Cut Rice Krispie treats into triangles and insert an pretzel stick for the tree stem.

Drizzle white icing (store bought is fine or you can make your own with powdered sugar, and a bit of milk or cream) and decorate with candies.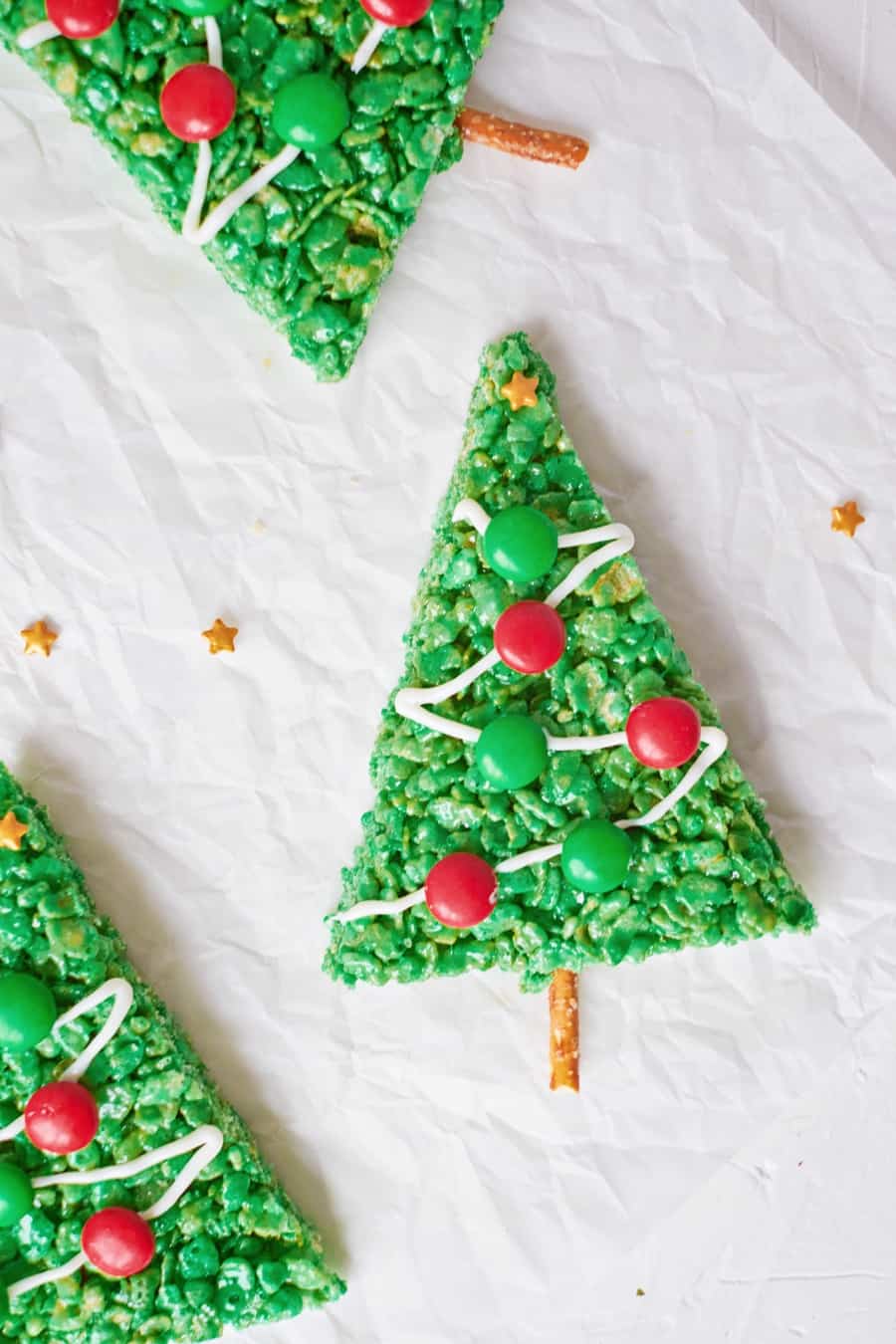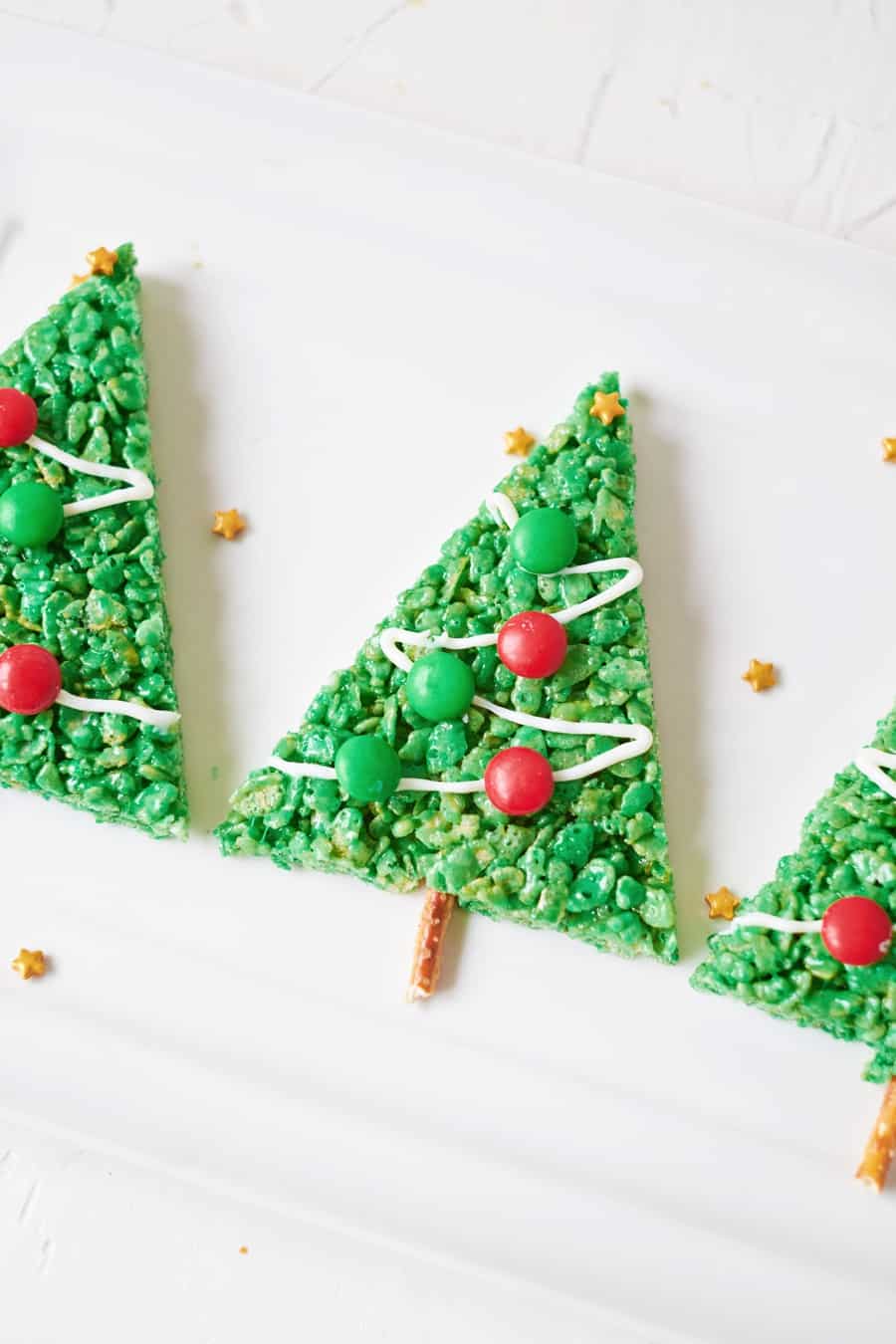 Fun Ways to Share These Holiday Rice Krispie Treats
If you're ready to make these up and share with others, have fun! What a wonderful way to spread cheer to those who are near to you.
Just make them up and put them in a cute little package to deliver to someone's home. You can give them one or two or however many you want to make and pass along!
This is the time of the year to give to others any way we can and who doesn't love a homemade dessert delivered right to their doorstep?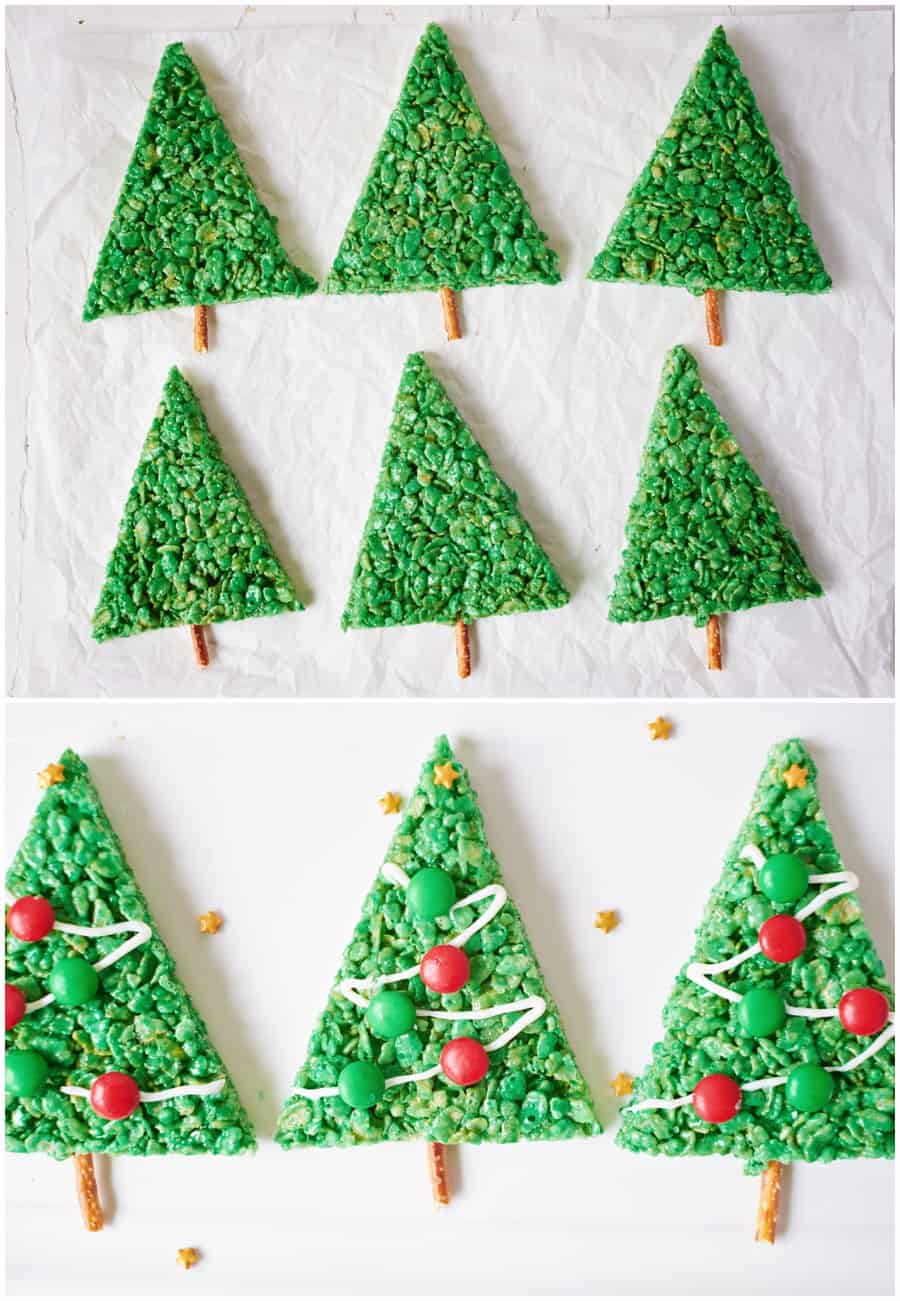 More Rice Krispie Recipes