By using this site, you agree to our Terms of Use. This post may contain affiliate links. Read our disclosure policy.
Follow us on Instagram for more fun food ideas for kids!
This Popcorn salad recipe is inspired by Molly Yeh's viral salad. A surprising blend of texture and flavors that creates a crisp and tasty salad.
We're huge fans of Molly Yeh's delicious recipes and were instantly intrigued by her viral Popcorn Salad recipe shown on The Food Network. This unique and interesting blend of crunch in a salad drew many strong reactions from the internet with some incredulous that a popcorn salad could be as tasty as Molly Yeh claims. We're always game to try viral food recipes and were super intrigued. We did some research into popcorn salads and adjusted Yeh's recipe into creating our own crunchy salad version.
Watch the video in this post to make this tasty viral salad.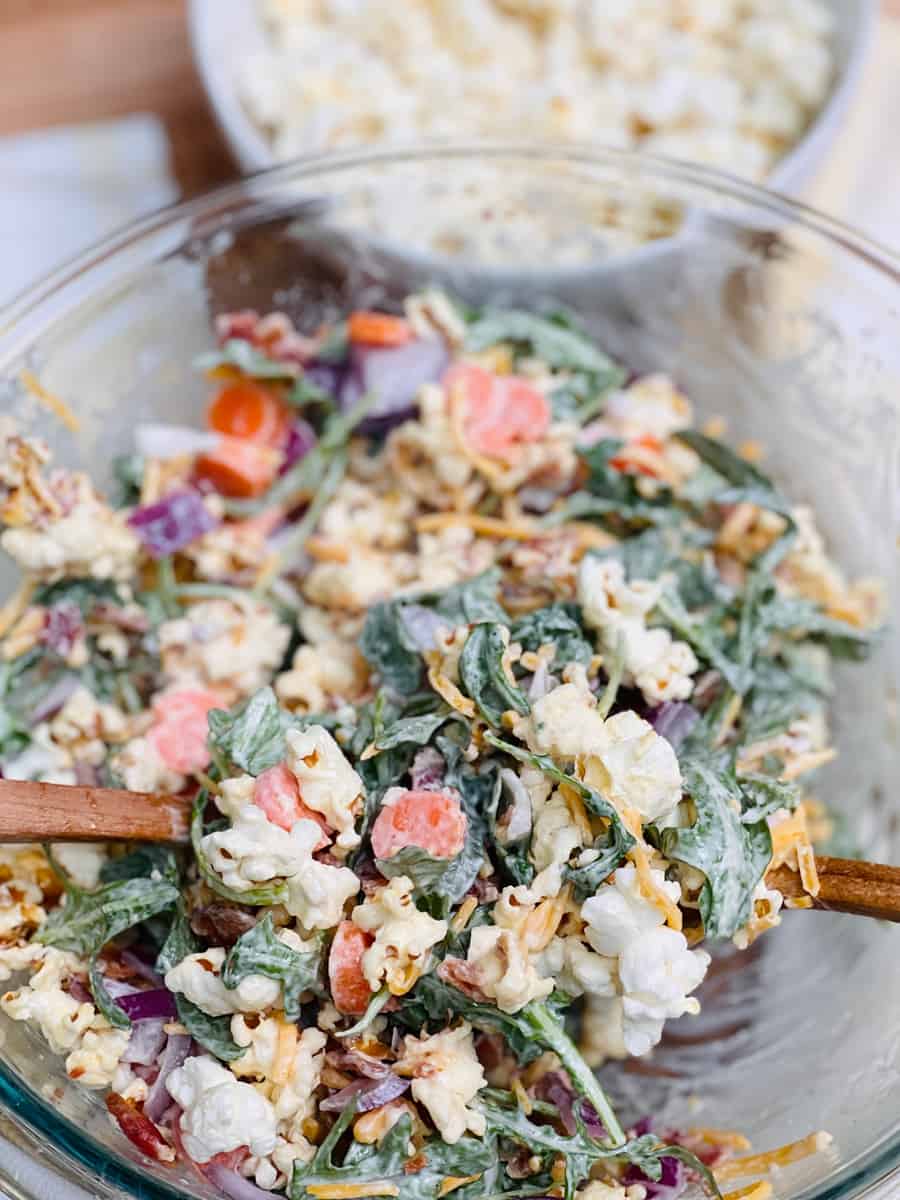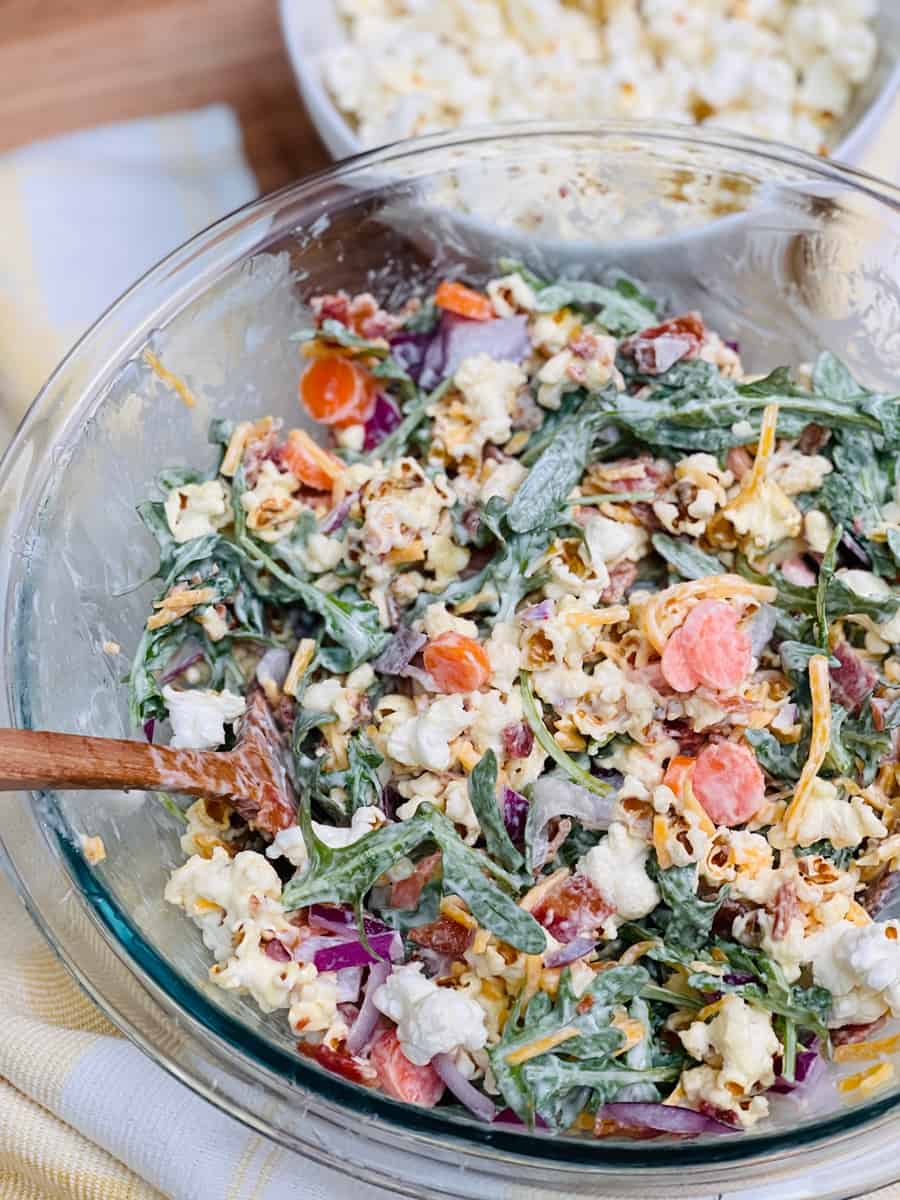 What is Popcorn Salad?
Popcorn salad, according to Molly Yeh, is a mid-Western inspired salad. However, some people online claim they have never heard of this intriguing salad blend. Either way, a quick internet search revealed very few recipes for popcorn salad. We created a blend from a couple of versions we saw, from Taste of Home and Molly Yeh's popcorn recipe.
The main differences are that Yeh's version calls for sugar snap peas and watercress whereas Taste of Home's version includes bacon, cheddar and water chestnuts. Both include a mayonnaise-based dressing that is reminiscent of a macaroni or potato salad.
We can't resist cheese or bacon and added those to our salad. As well, we aren't huge fans of water chestnuts so omitted those. Red onions were swapped for shallots to impart a brighter onion flavor, and arugula was substituted for watercress for its more peppery kick. We also added chopped instead of shredded carrots which added more crunch to the salad, overall.
Yeh's recipe calls for making fresh popcorn from kernels but we used our favorite brand of bagged Skinnypop Popcorn. You can use any type of popcorn, like the microwave version too.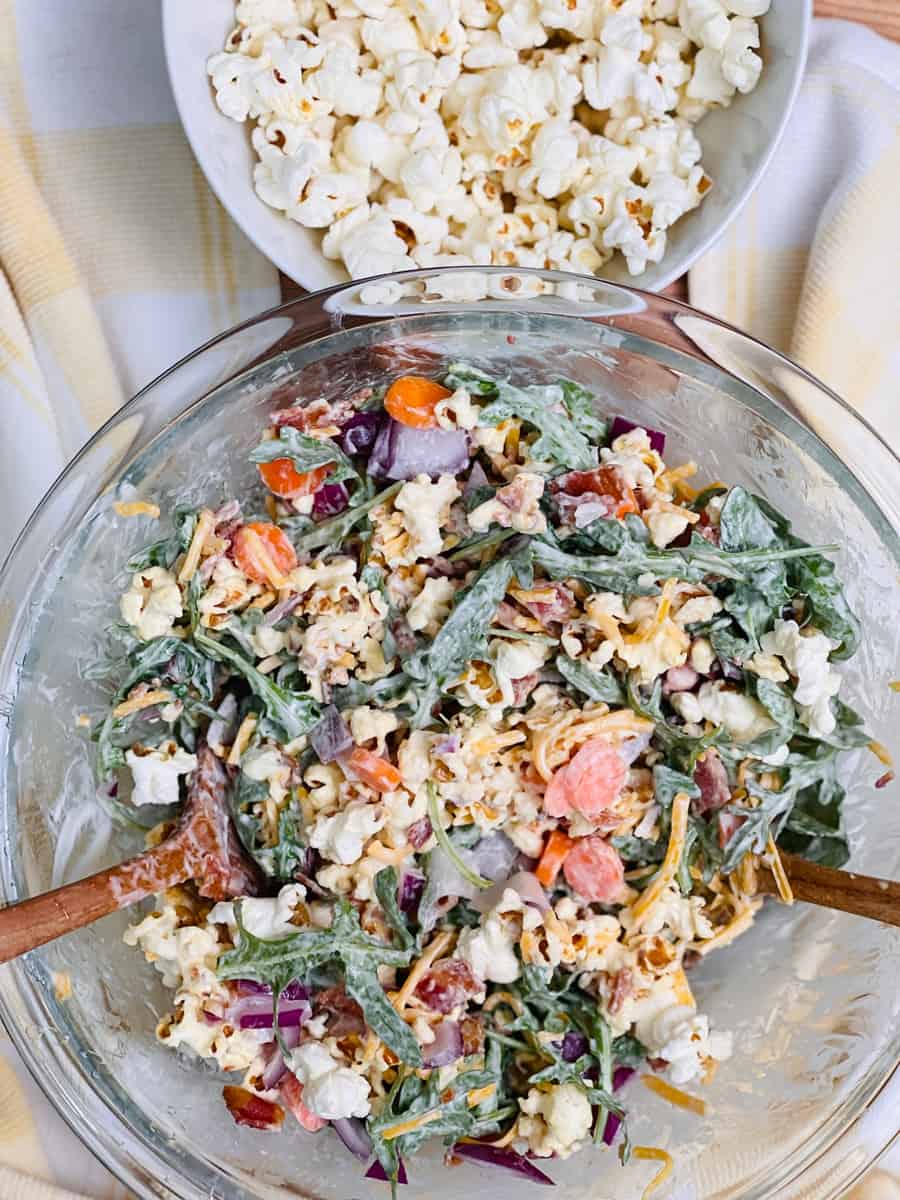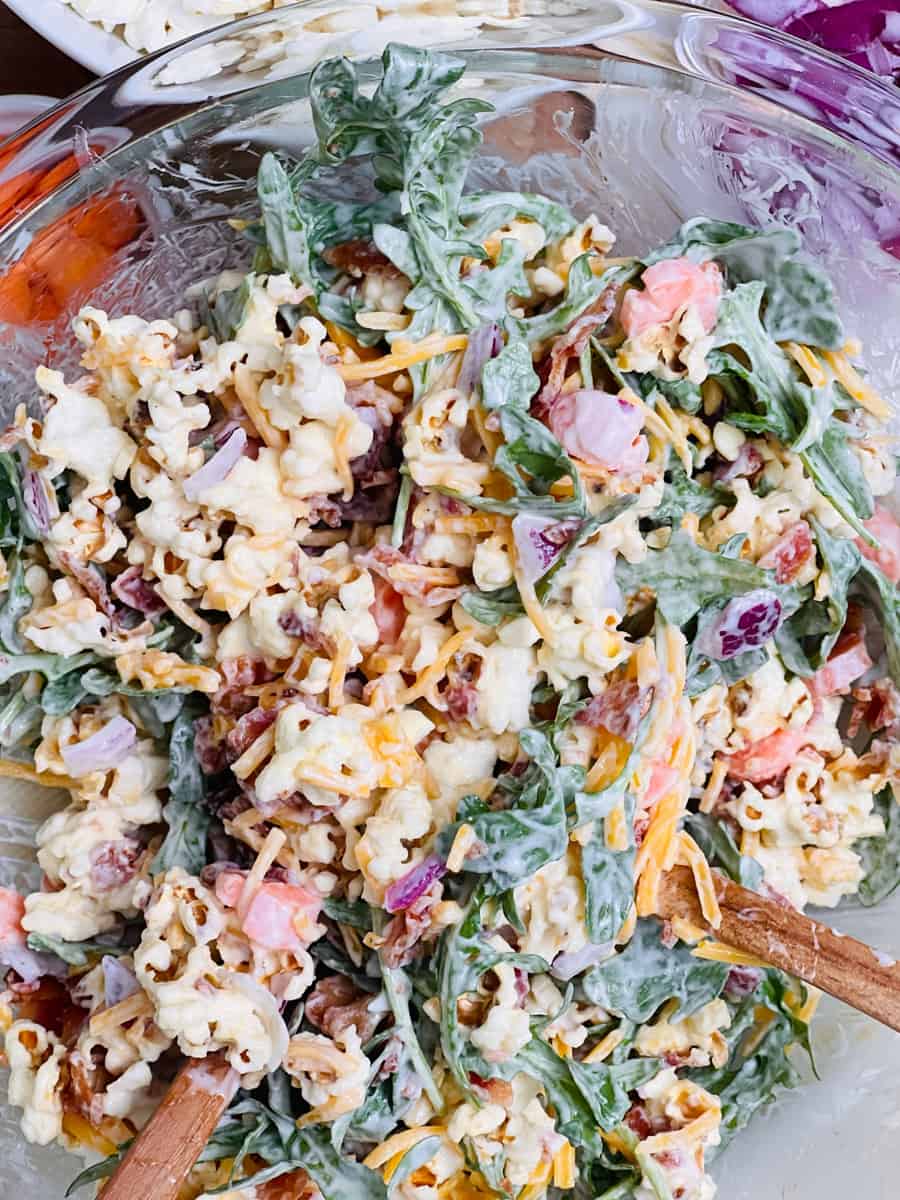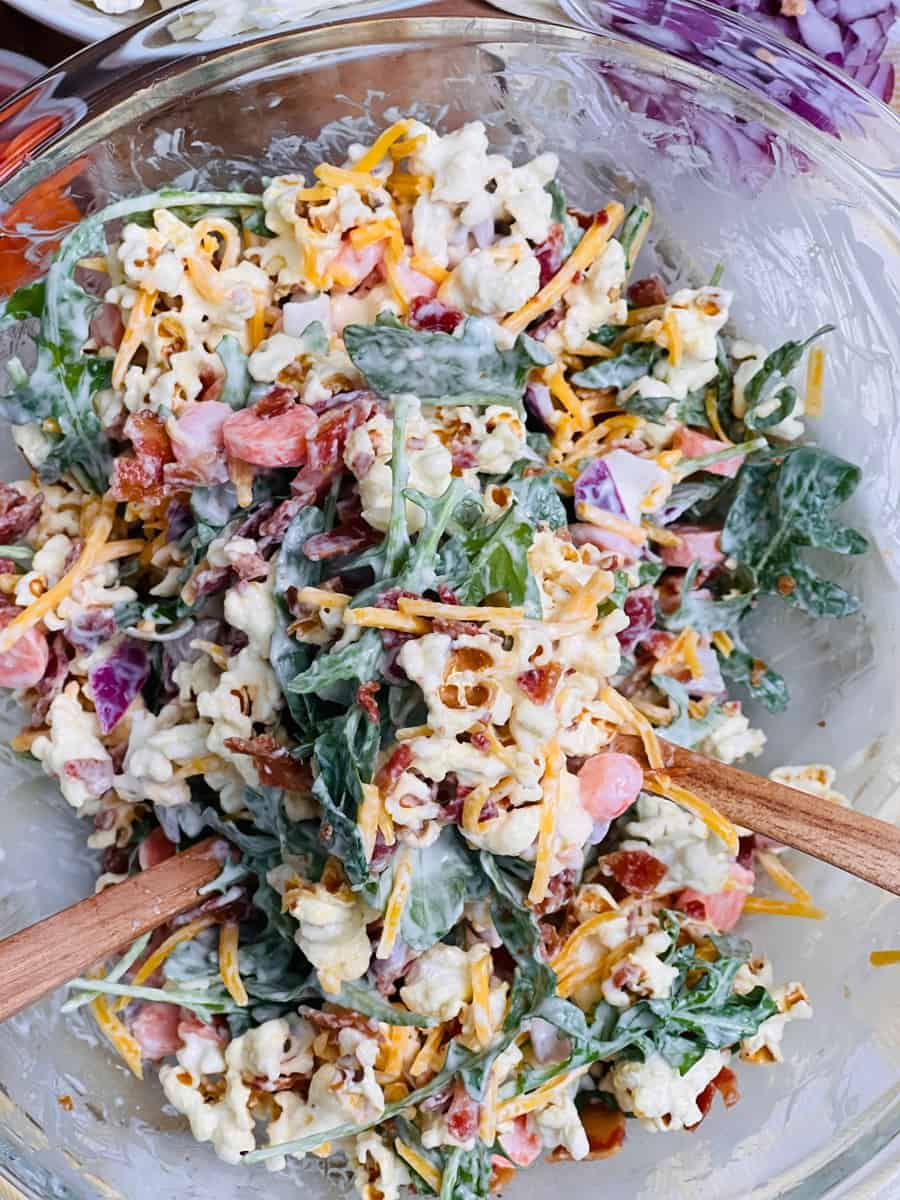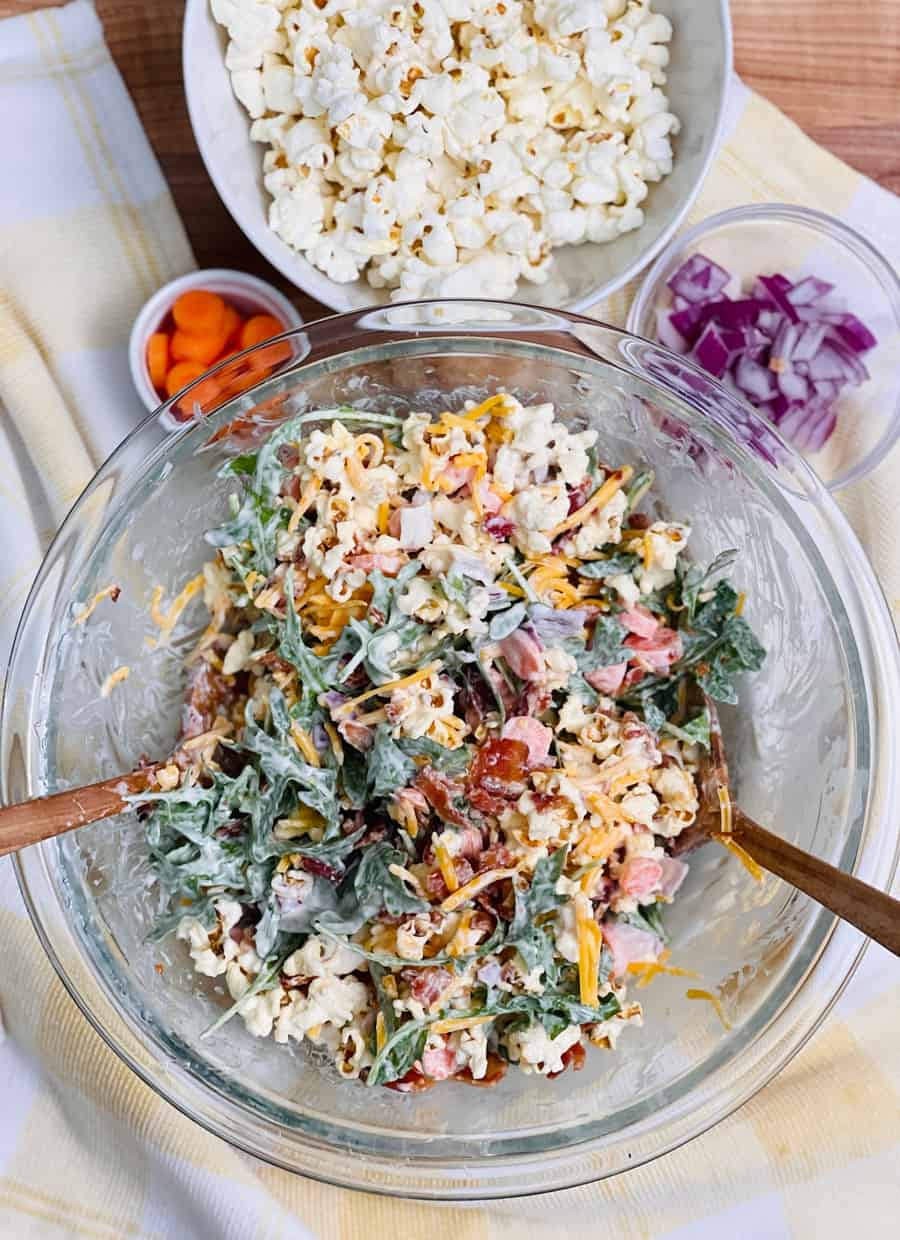 Is this viral salad mushy?
The short answer is yes. Once the mayo-based dressing hits the popcorn, the kernels will get soggy over time. However, if you dress the salad right before serving, the popcorn kernels stay crunchy and impart a nice crispy texture! We added chopped baby carrots instead of shredded carrots like the recipes were researched and felt that added to the crunch factor
What does popcorn salad taste like?
My family was not expecting to love this salad but wanted to try it because we're fans of this classic movie-theater treat and game to try any new viral food trends! The surprising verdict is that we liked the salad! It should be noted that we already love creamy macaroni or potato salads. So if you are a fan of those creamy salads, you should enjoy this one too. The salad tasted just like a classic mac salad. The arugula and red onions give off a nice spicy kick and the carrots a healthy crunch to the salad. Cheddar cheese and bacon are always a win in our opinion to ANY dish; they gave the salad a heartiness that added savory comfort flavors.
Popcorn Salad Recipe – Ingredients:
Mayonnaise

Sour cream

Apple cider vinegar

Sugar

Dijon mustard

Popcorn

Arugula

Red onions

Carrots

Cheddar cheese

Bacon

Salt to taste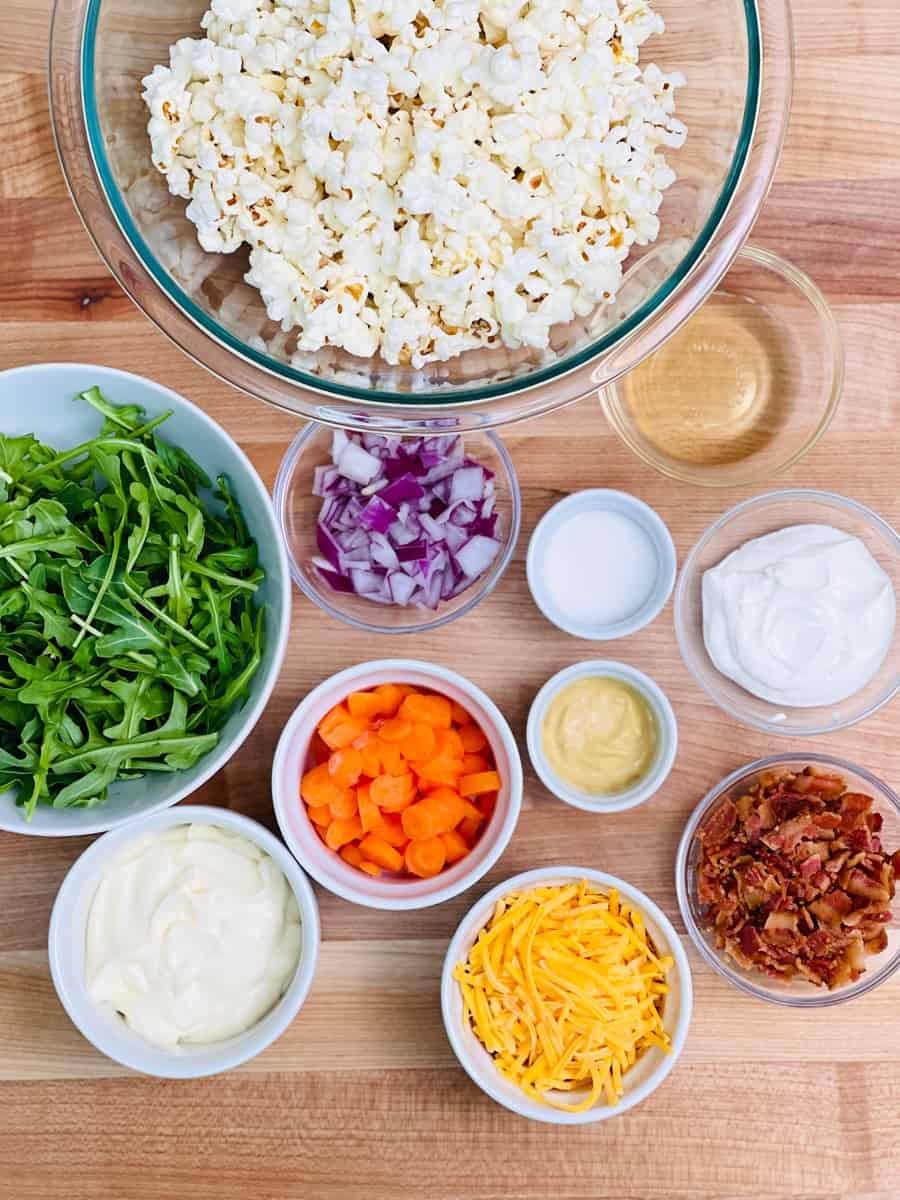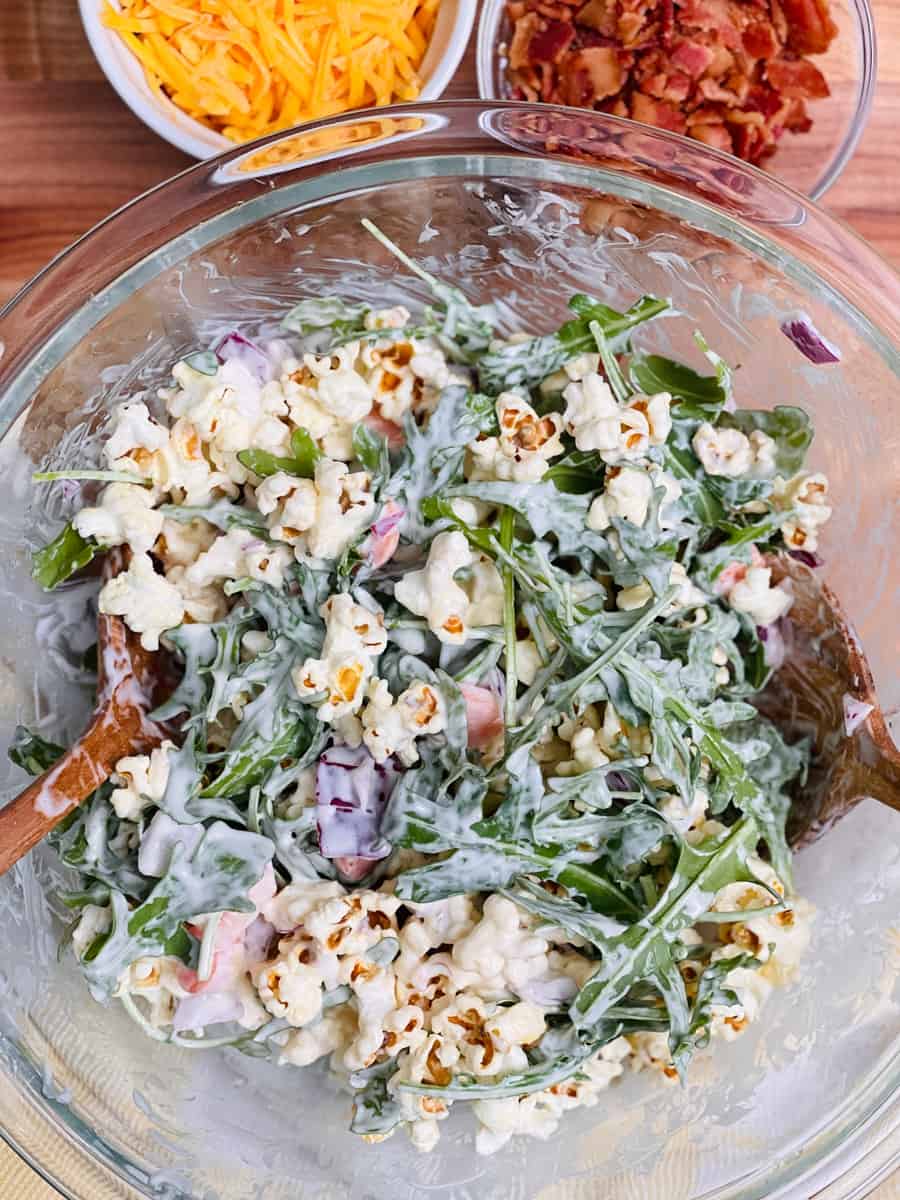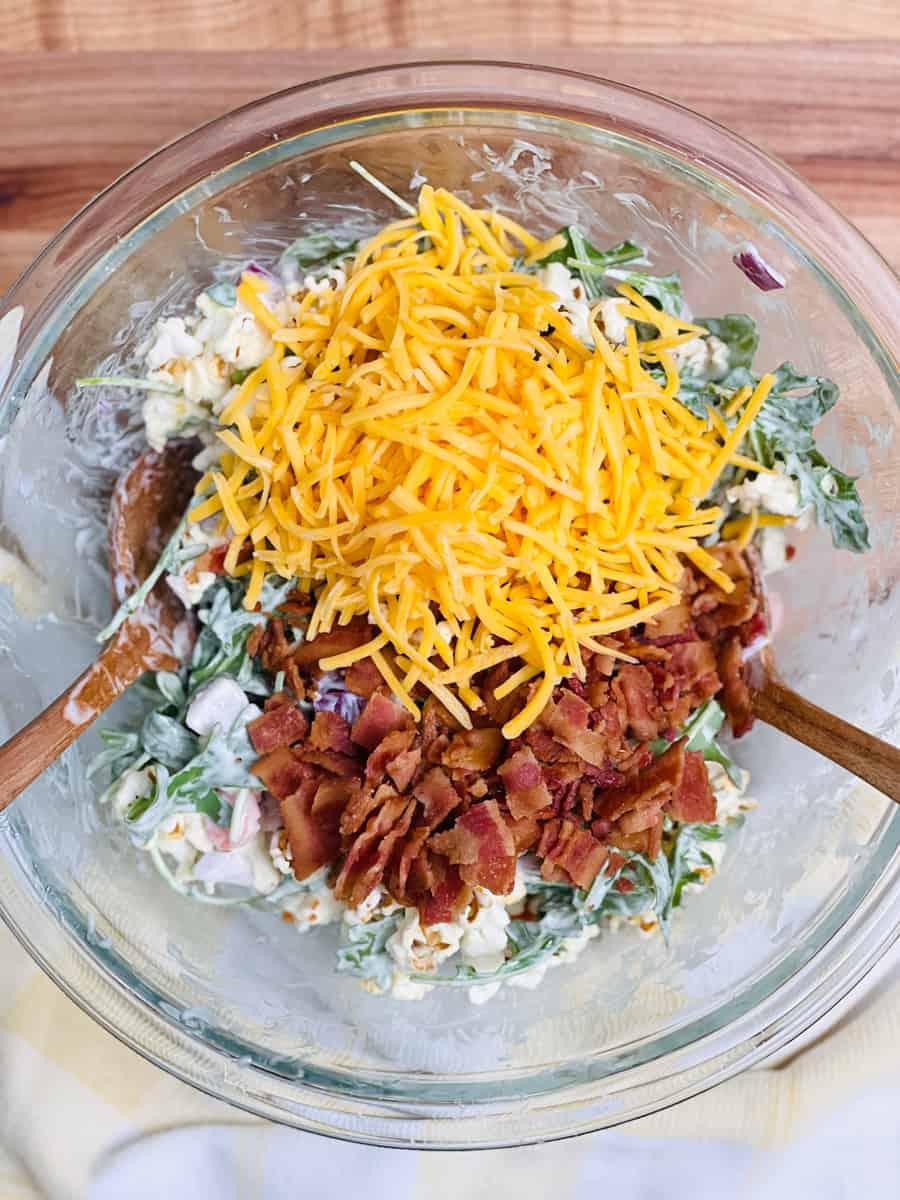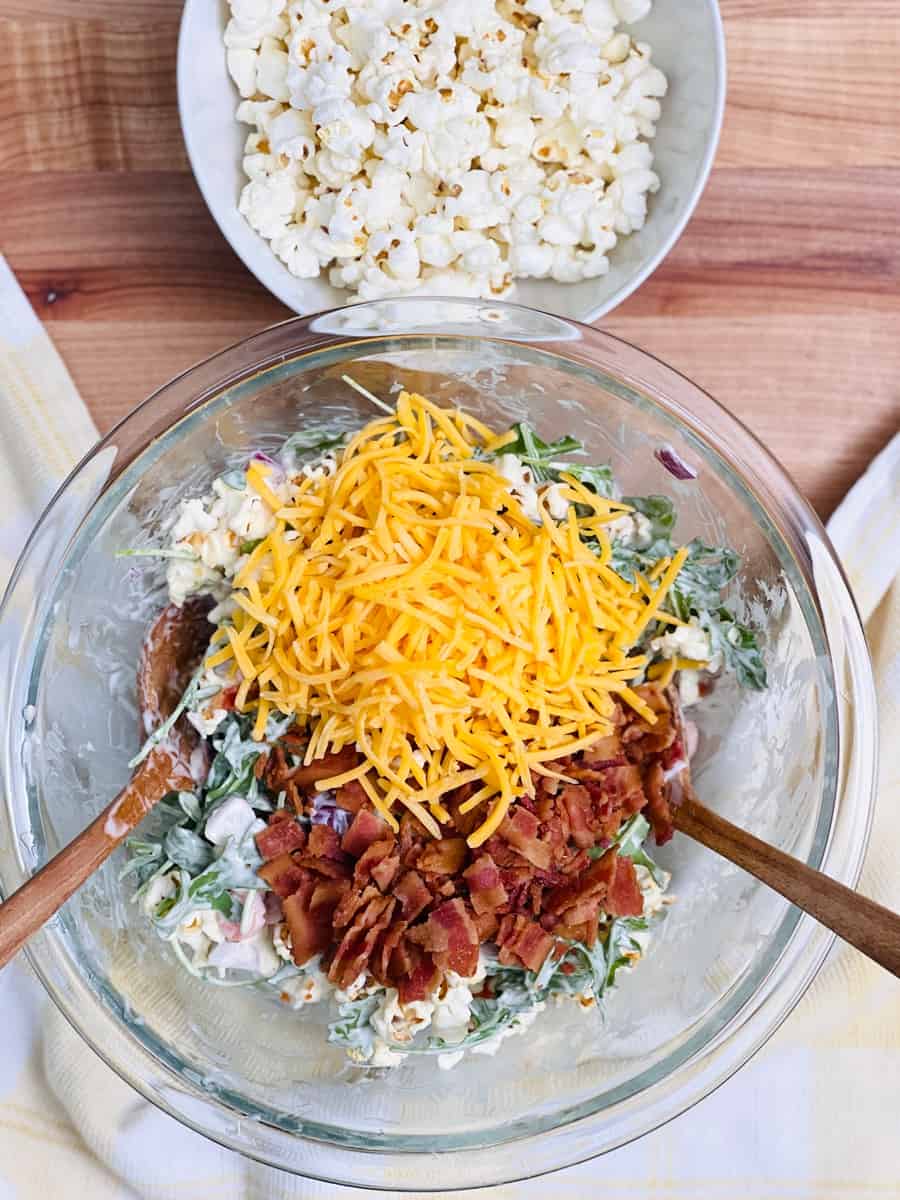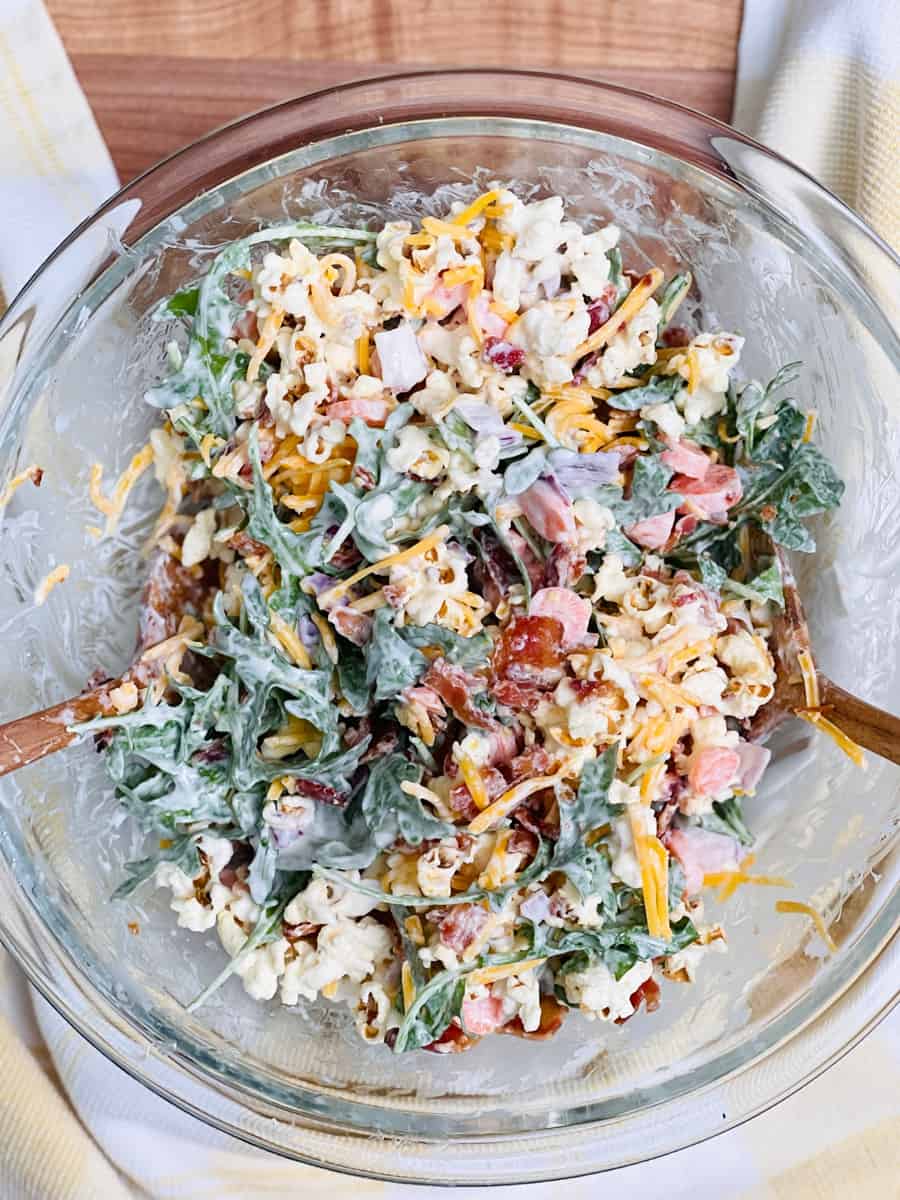 Recipe inspired by Molly Yeh and Taste of Home.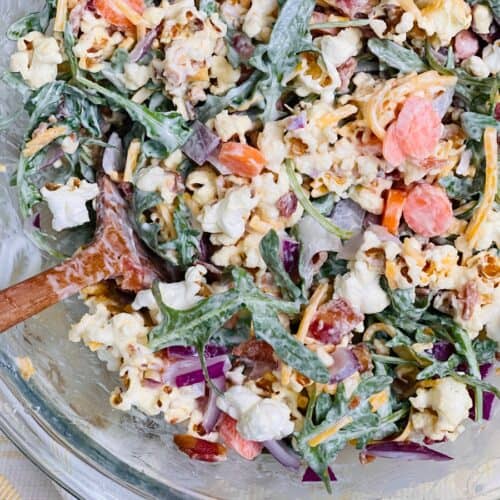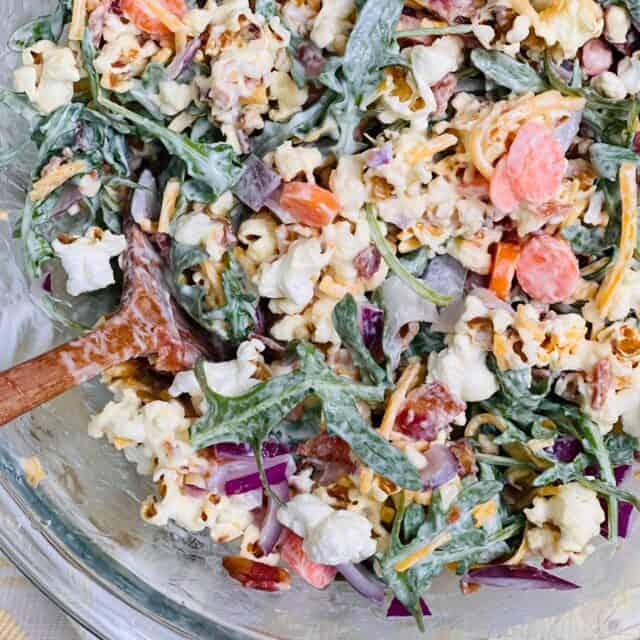 Popcorn Salad Recipe
This Popcorn salad recipe is inspired by Molly Yeh's viral salad. A surprising blend of texture and flavors that creates a crisp and tasty salad.
Ingredients
8

Cups

Popcorn

2

Cups

Arugula

Washed and clean

1

Tablespoon

Red onion

Chopped

1

Cup

Cheddar Cheese

Shredded

6

Strips

Bacon

Crumbled

1/2

Cup

Baby Carrots

Chopped
Dressing
1/2

Cup

Mayonnaise

1/4

Cup

Sour Cream

2

Tablespoon

Apple Cider Vinegar

1

Tablespoon

Sugar

2

Teaspoons

Dijon Mustard

Salt

To taste
Instructions
Combine the dressing ingredients together in a small bowl and mix to combine. Add salt to taaste.

Add the carrots and red onions to the dressing and mix lightly.

Add your popcorn to a large bowl and add the dressing. Add the arugula and toss lightly.

Add the bacon and cheddar and toss additionally to mix.
Nutrition
Serving:
8
g
Calories:
289
kcal
Carbohydrates:
12
g
Protein:
8
g
Fat:
24
g
Saturated Fat:
8
g
Trans Fat:
1
g
Cholesterol:
35
mg
Sodium:
315
mg
Potassium:
139
mg
Fiber:
2
g
Sugar:
3
g
Vitamin A:
1446
IU
Vitamin C:
1
mg
Calcium:
124
mg
Iron:
1
mg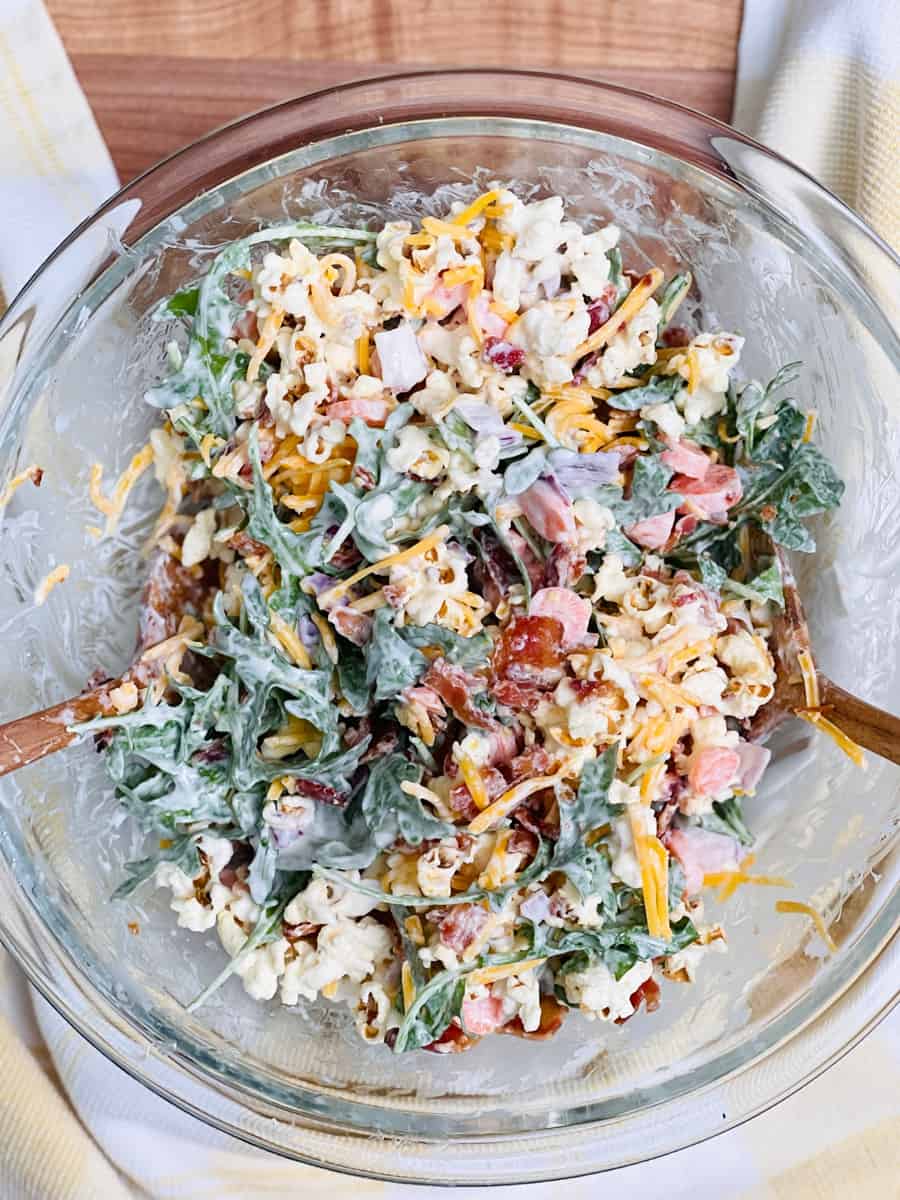 You Might Also Like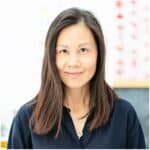 Agnes Hsu is a mom of three and has been inspiring parents and kids to get creative with easy activities and family friendly recipes for over 10 years. She shares her love for creative play and kids food to her 2MM+ followers online. Agnes' commitment to playful learning and kindness has not only raised funds for charity but also earned features in prestigious nationwide publications.