By using this site, you agree to our Terms of Use. This post may contain affiliate links. Read our disclosure policy.
Follow us on Instagram for more fun food ideas for kids!
We tried the new menu item Dunkin' Donuts Avocado Toast and here are our honest thoughts on what it tastes like.
Dunkin' Donuts just launched avocado toast to its menu at all nationwide U.S. locations on Wednesday. We wanted to see how this popular breakfast and brunch item tastes compared to other avocado toasts we've tried. Read more below on our honest thoughts!
What is Avocado Toast?
If you ate at nearly any breakfast cafe in the 2010s, you'd find a version of Avocado Toast on the menu. It's typically made with a nice piece of toast and freshly cut avocado slices. Each cafe would make it their own by adding unique ingredients. The toast and avocado slices was a simple concept, but trendy. We like to track the current viral food trends such as this Breakfast Wrap Hack, but this one was more popular a decade ago. It seems it may make a new splash with its addition to a fast-food menu with a great price.
There's no need to worry about the cost anymore as the avocado toast craze has hit the mass market with the latest offering from Dunkin' Donuts. Now when you go through the drive-thru of your local Dunkin' Donuts, you can order an avocado toast along with your donuts.
The Dunkin' Donuts' menu has always had variety with its breakfast sandwiches and bagels along with their signature coffee and donuts. The new avocado toast hit stores yesterday. For $2.99, we had to see how their version compared to other ones we have tried at local breakfast eateries.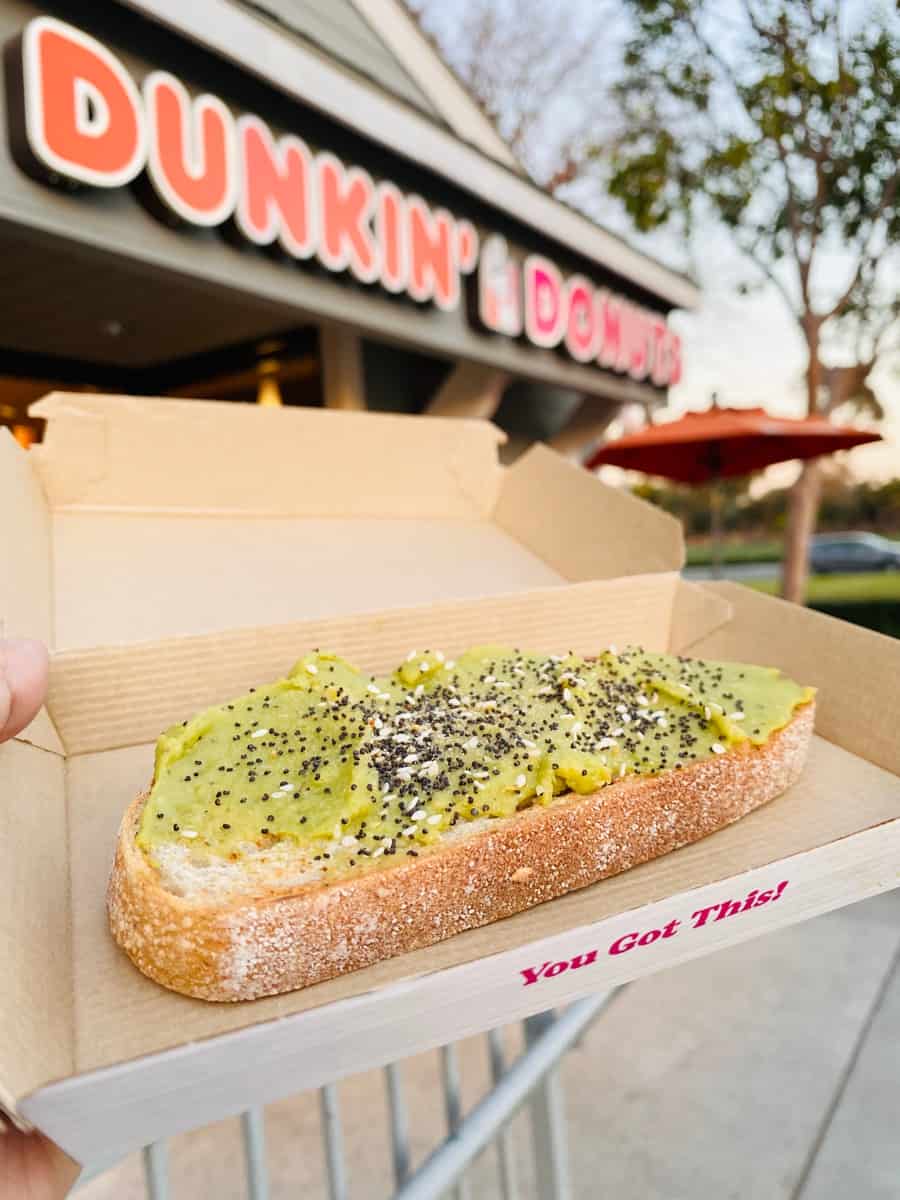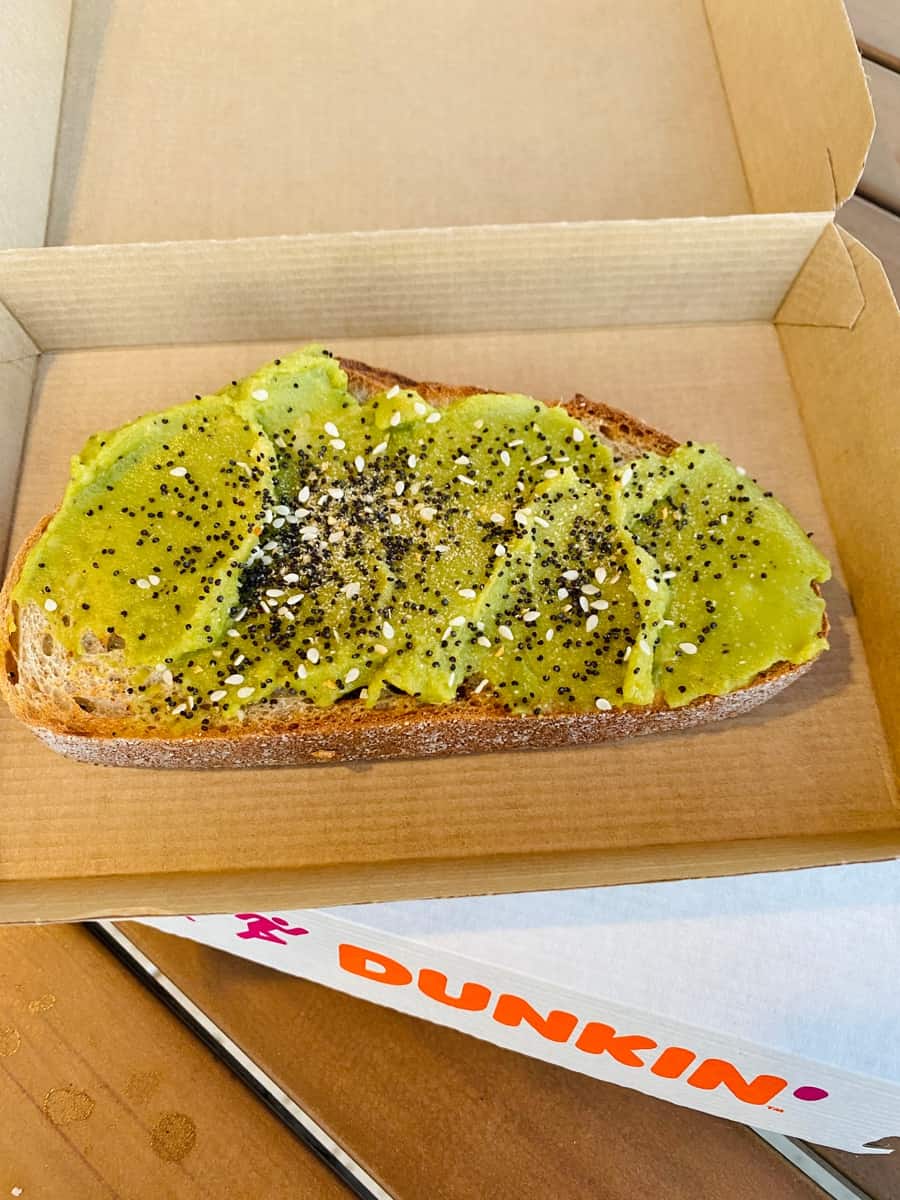 What are the ingredients in the Avocado Toast from Dunkin' Donuts?
While it was perfectly hot and toasty when they handed it over, it did take a little while to make. The portion was good as the slice of bread is a larger piece than typical store-bought bread. The staff slathered on a decent amount of what Dunkin Donuts is calling avocado spread. The donut chain calls it spread because it's more the consistency of plain guacamole than cut avocado pieces. The avocado spread had some salt and pepper and lemon. The lemon was a bit overpowering for our taste, but it kept the avocado from turning brown; it was still bright green. To add flavor, they topped the avocado spread with a sprinkle of sesame seeds, poppy seeds, dehydrated garlic, and onions.
What does this Dunkin' Avocado Toast Taste Like?
The Dunkin' Donuts Avocado Toast is the perfect combination of authentic sourdough toast and creamy avocados. The sourdough bread was good as it tastes like it was made fresh. It comes with plenty of avocado so you get some with each bite, but it still wasn't the same as eating fresh avocado slices. The addition of the poppy and sesame seed as well as the garlic and onion added some great flavor.
While Dunkin Donuts' version of avocado toast is not as fancy and Instagram picture-worthy as some other breakfast locations, it makes up for it with its price point. This type of breakfast meal can cost around $8 at other breakfast spots. Many people love to try the different types of avocado toast offered, but it can get pricey. Breakfast for $2.99 is quite the steal. Dunkin Donuts serves avocado toast all day, so it really could be a meal or snack for any time.
We loved the convenience of being able to drive-thru and order avocado toast. If you are craving avocado toast you can go through the Dunkin Donuts drive-thru and grab yourself this popular meal. While you are there, you can pick up some donuts for dessert! Don't let the fact that the avocado toast is made at a donut shop discourage you from trying it . With its reasonable price point, we certainly think it is worth a try.
You Might Also Like