By using this site, you agree to our Terms of Use. This post may contain affiliate links. Read our disclosure policy.
Follow us on Instagram for more fun food ideas for kids!
Watch the video in this post to see how to make this cute Snowman Christmas Hot Chocolate Bombs.
These Snowman Christmas Hot Chocolate Bombs are a fun holiday twist off the viral TikTok hot chocolate bombs for the perfect cup of hot cocoa.
Did you see our Christmas Hot Chocolate Bombs and Rudolph Reindeer Hot Chocolate Bombs? We had such a blast making those, especially the snowman so had to try making an extra large size version. These cute Snowman Christmas Hot Chocolate Bombs!
We used the exact same method and snowman design as the Christmas version while preparing these Snowman hot chocolate bombs, except we used a larger round silicone mold and larger mini marshmallows in various colors. These are the standard mini marshmallows you find at the grocery stores so you don't need to hunt down the tiny marshmallows we first used. You don"t have to use pastel as we did, you can stick to white.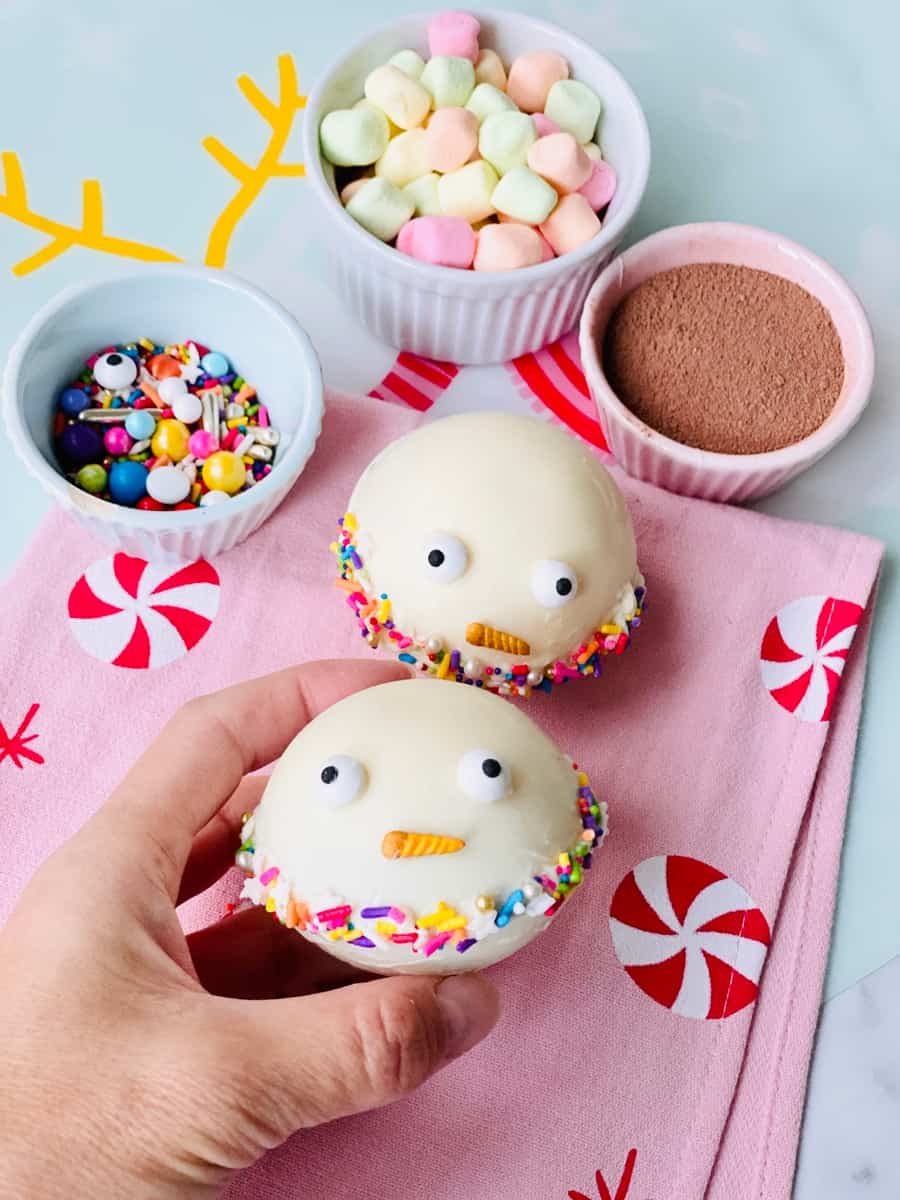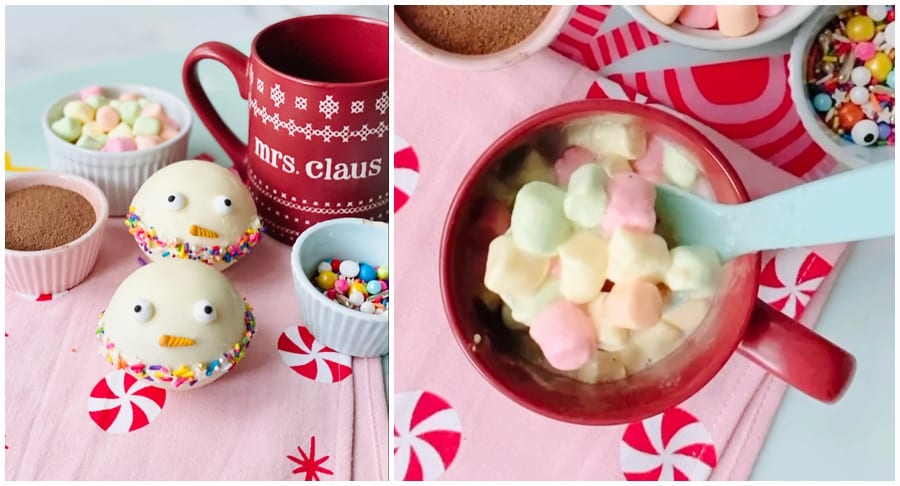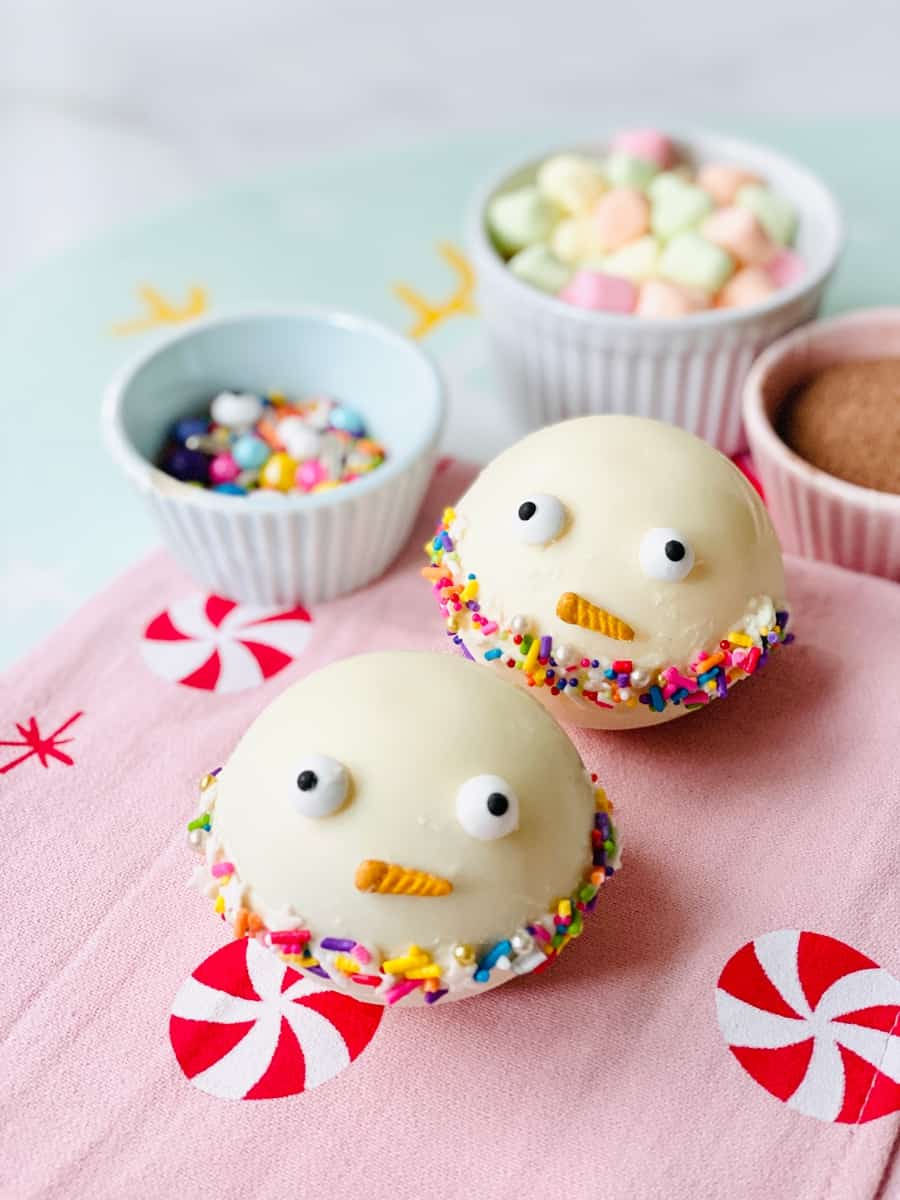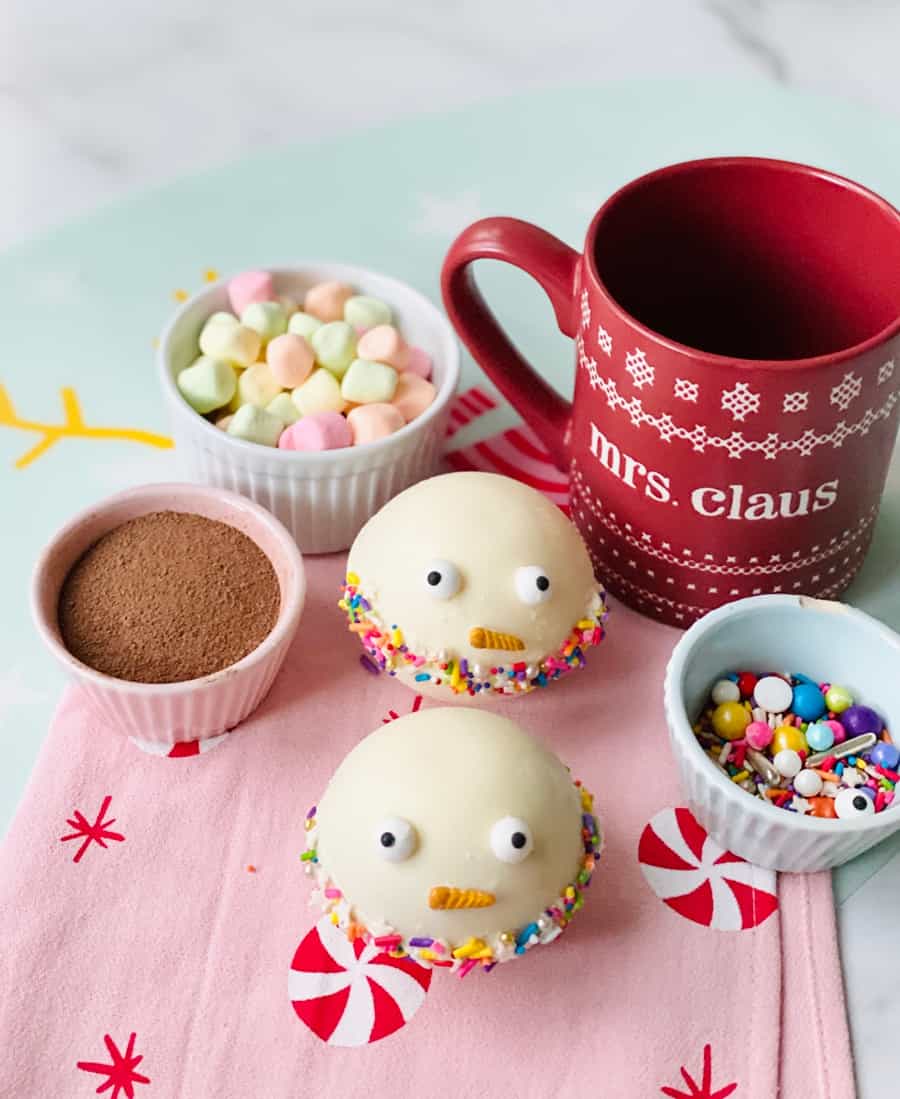 What do you you need to make Snowman Christmas Hot Chocolate Bombs?
You will need white chocolate or white candy melts, sprinkles, googly eyes, something for the nose (we used a unicorn horn sprinkle! But you could use an orange jimmie sprinkle or pipe an orange carrot by coloring a bit of your white chocolate.
You also need the standard filling inside a hot cocoa bomb like your favorite hot cocoa mix and mini marshmallows (we used pastel ones).
You don't have to fill with marshmallows either! Try crushed peppermint candy or broken pieces of mint chocolate pieces for a holiday hot chocolate bomb flavor or even additional candy sprinkles.
What is the difference between using melted chocolate vs. candy melts in making hot chocolate bombs?
In our experience, using chocolate leads to a thicker, more even coating on the molds, but once you pour the hot milk, it takes longer to melt and release the marshmallows.
Using candy melt leads to a very smooth, more liquid-like melt than chocolate but that means when filling the molds, it tends to slip down so you really need to make sure the sides are well coated (double or triple) so they are not too thin and break once frozen. The upside is that it melts more easily than chocolate when hot milk is poured over.
Snowman Christmas Hot Chocolate Bombs – Ingredients:
White chocolate or white candy melts

Sprinkles for scarf

Candy Googly eyes

Unicorn sprinkle for the nose

Toothpick

Hot cocoa powder mix

Mini marshmallows

Hot milk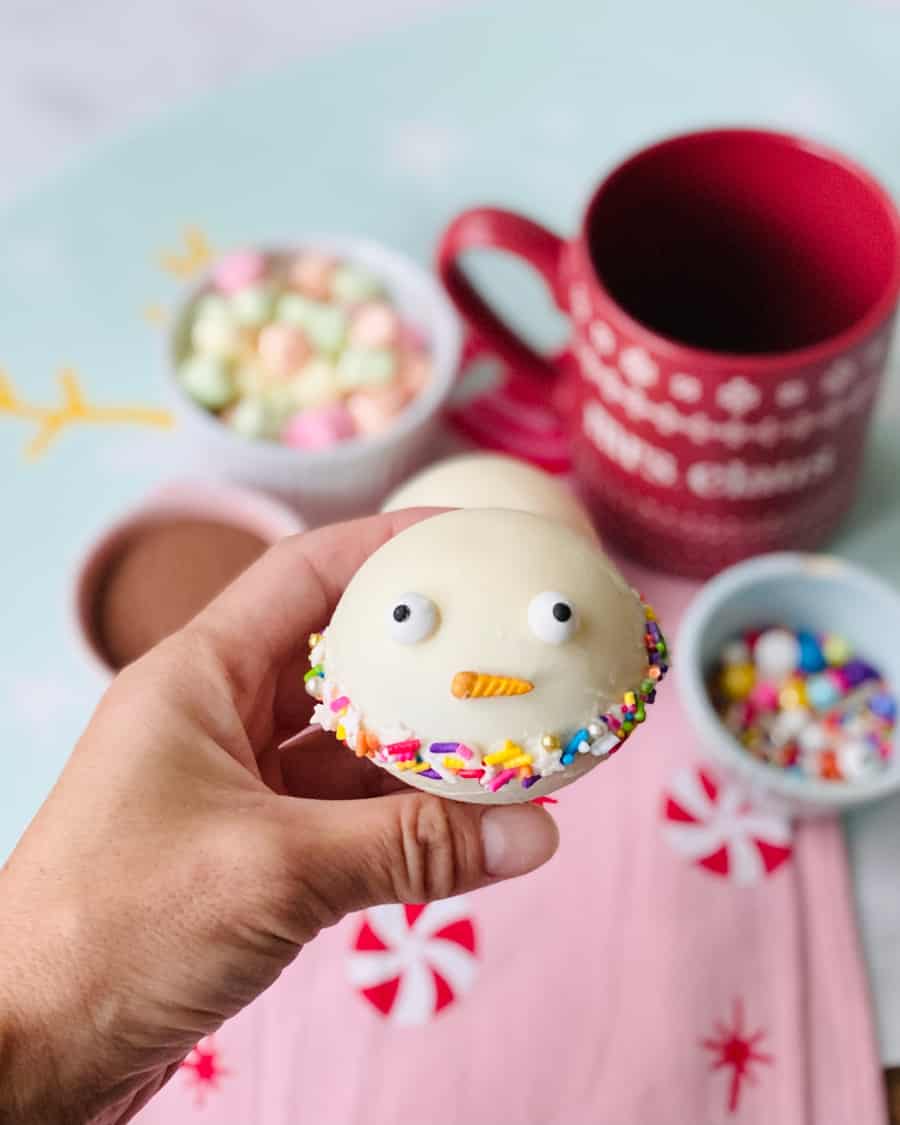 INSTRUCTIONS
Watch the video in this post to see how to make Snowman Christmas Hot Chocolate Bombs.
Step 1. Melt white chocolate until smooth and use the back of a spoon to fill the chocolate mold half spheres in a smooth layer all the way to the top, make sure it's not too thin or it will break easily once frozen. But make sure it's not too thick so there is room to add the cocoa powder and marshmallows inside. Read our note above on using chocolate vs. candy melts.
Step 2. Freeze your mold for at least 30 minutes or frozen solid. Release the chocolate onto a plate and take two half spheres out and keep the rest in the freezer.
Step 3. Warm a plate (we just microwaved one for a minute) and hold one sphere down so it melts the rim a bit, then add cocoa powder and mini marshmallows inside (we added a heaping TBSP of hot cocoa and as many marshmallows as would fit).
Step 4. Take the other half sphere and dip the rim on the hot plate then immediately turn it over to cover the other half round. Use your fingers to smooth the center line or take some of the melted chocolate from the plate and smooth over with your finger as the "glue."
Step 5. Place the finished hot chocolate bomb back in the freezer and work one at a time on the other ones. Once they are done, they can be decorated.
Step 6. Have your bowl of melted chocolate remains left (heat up in microwave if it's gotten too cool). Use a toothpick and add a thick dab of melted chocolate to the two eyes and place them on your snowman hot chocolate bomb. The chocolate will cool immediately and adhere.
Step 6. Use the toothpick to add the carrot nose with more melted chocolate.
Step 7. Using the toothpick again, make a line along the hot chocolate bomb one small section at a time and adding sprinkles until you have sprinkle scarf.
Step 8. Place your snowman hot chocolate bomb inside a mug and pour very hot milk over it until the chocolate melts. Then watch the marshmallows explode and come out! The key is to keep your pour targeted and steady right in the center of the bomb to have that cool marshmallow effect.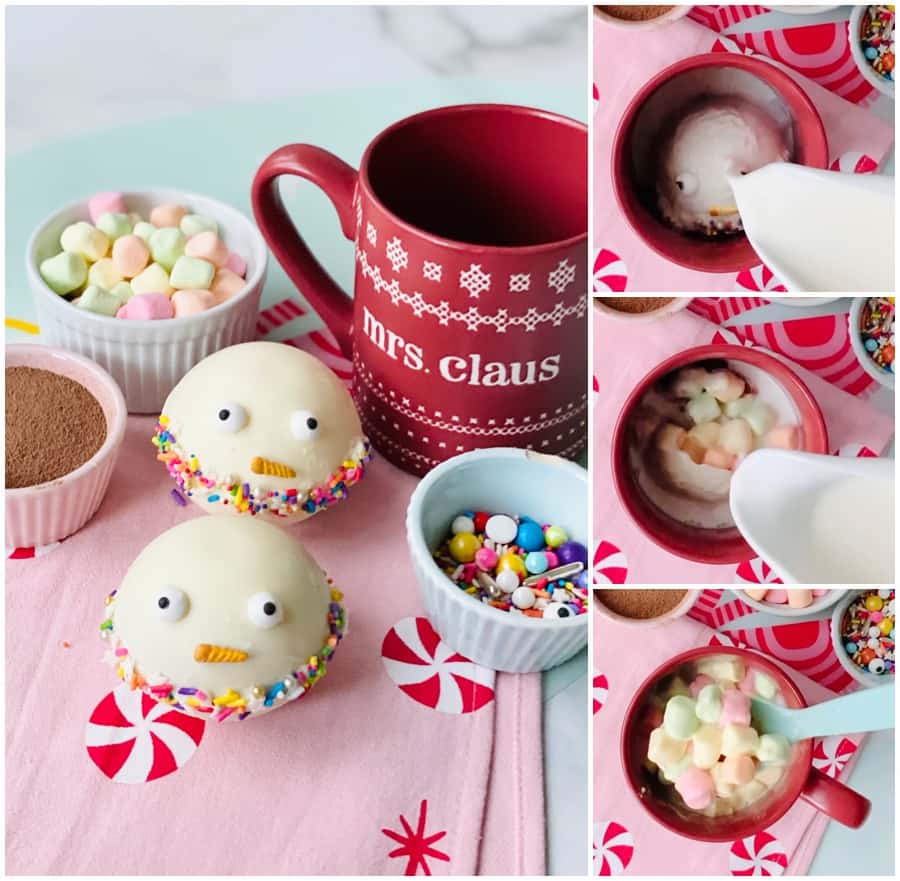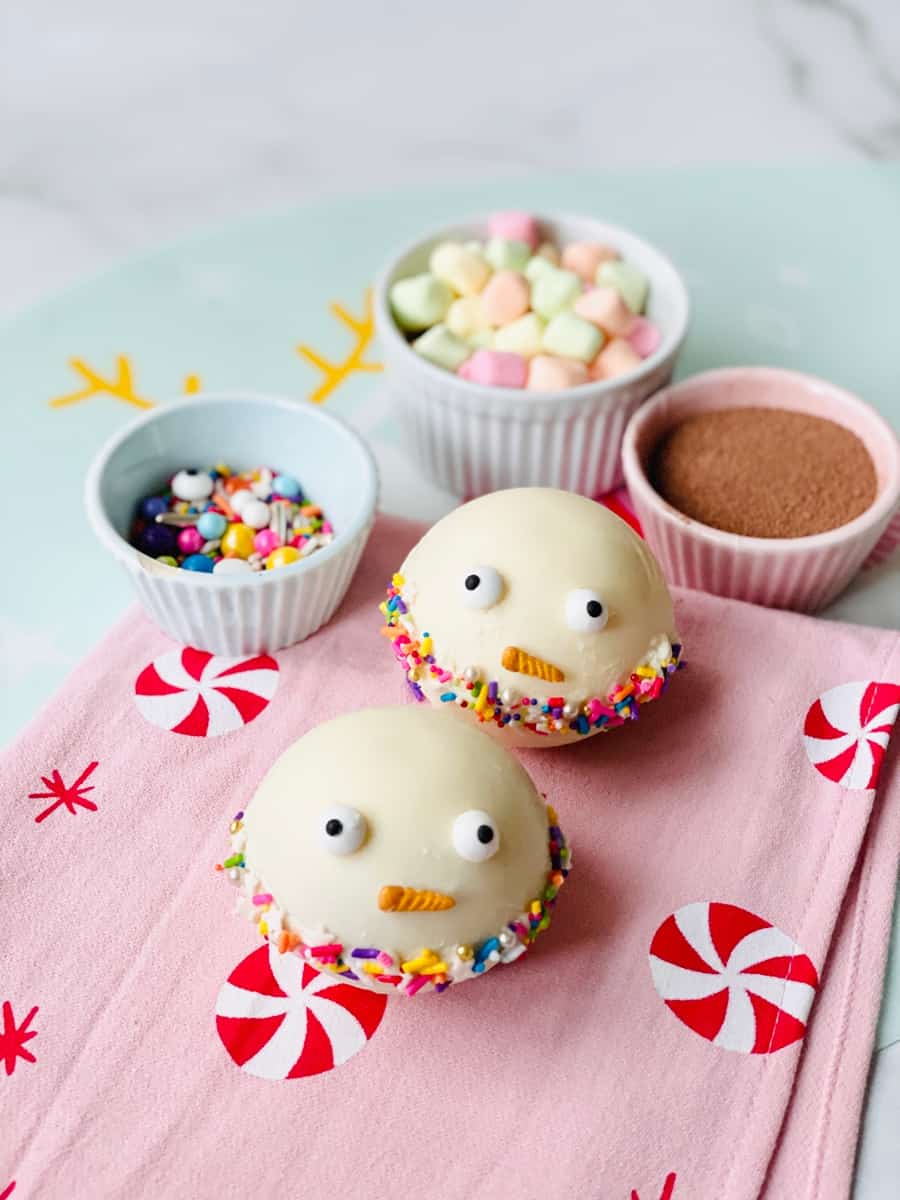 You Might Also Like: