By using this site, you agree to our Terms of Use. This post may contain affiliate links. Read our disclosure policy.
Follow us on Instagram for more fun food ideas for kids!
These easy heart shaped cookies make a cute Valentine treat with some added chocolate for that extra special touch!
Homemade Valentine cookies are an easy way to say "I love you" to someone who matters to you. Kids will also love making these simple and cute heart shaped cookies to hand out as a Valentine treat!
They require just a few staple kitchen ingredients you most likely already have at home. The powdered sugar gives them an added softness that just melts in your mouth. You can keep them plain as a simple shortbread type of cookie or dip one side of the heart into chocolate and cute sprinkles to give it a festive look.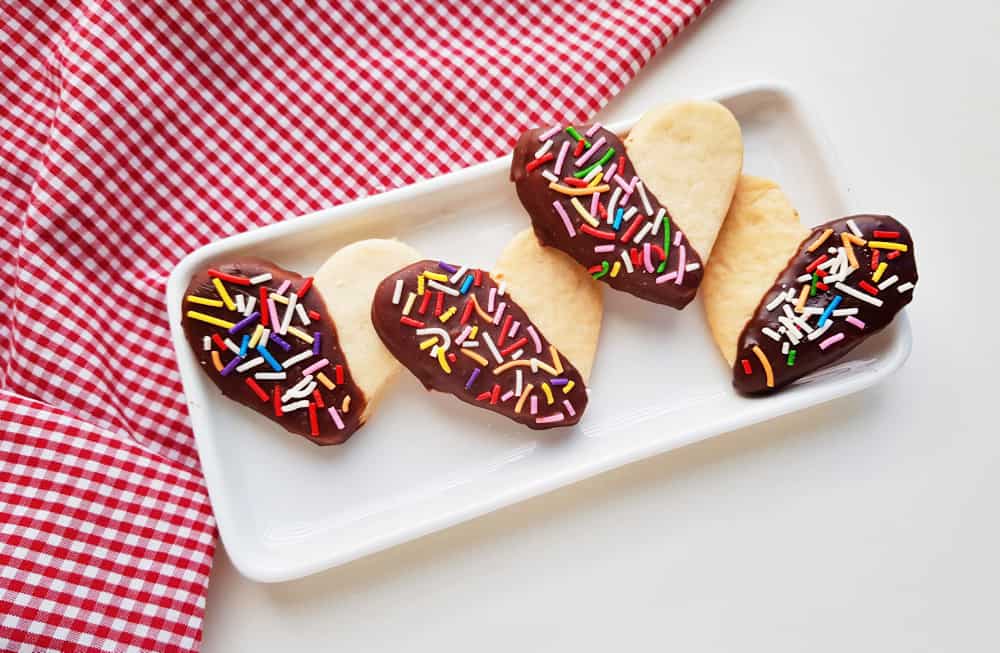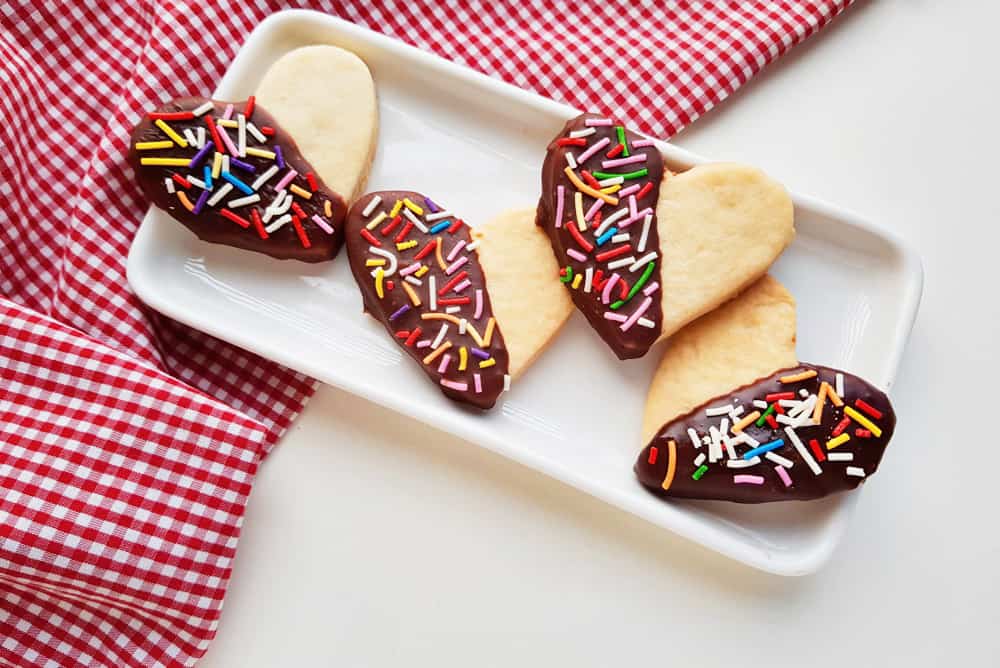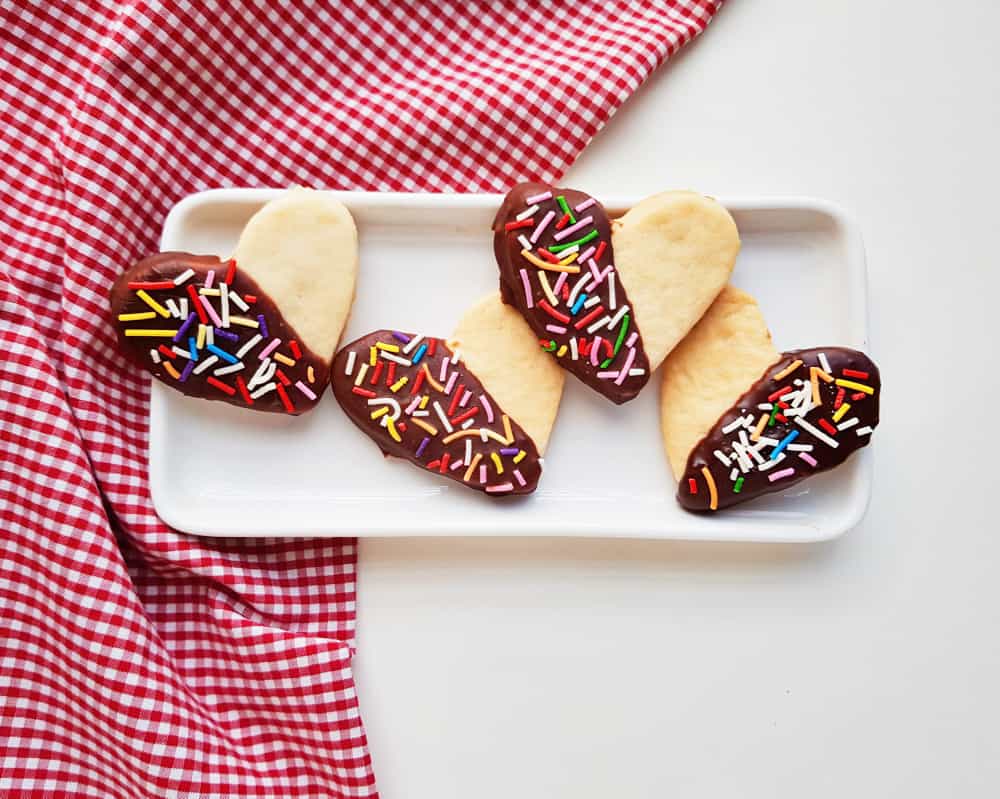 How do you make Valentine Heart Cookies?
Simply blend the butter, powdered sugar, vanilla and egg white together and then add the flour to make a dough. You'll be rolling this dough out after it's done resting for a bit into heart-shaped cookies.
After baking, you can simply dip the cookies into chocolate and sprinkles. These make a lovely Valentine cookie gift to package into heart boxes or tins to give away. Or package a couple in a cello bag with ribbon for Valentine favors!
Valentine Heart Shaped Cookies – Ingredients
Butter – 150 grams
Powdered sugar – 60 grams
Egg white – 1, large
All-purpose flour – 230 grams
Vanilla extract – ½ tsp
Salt – one pinch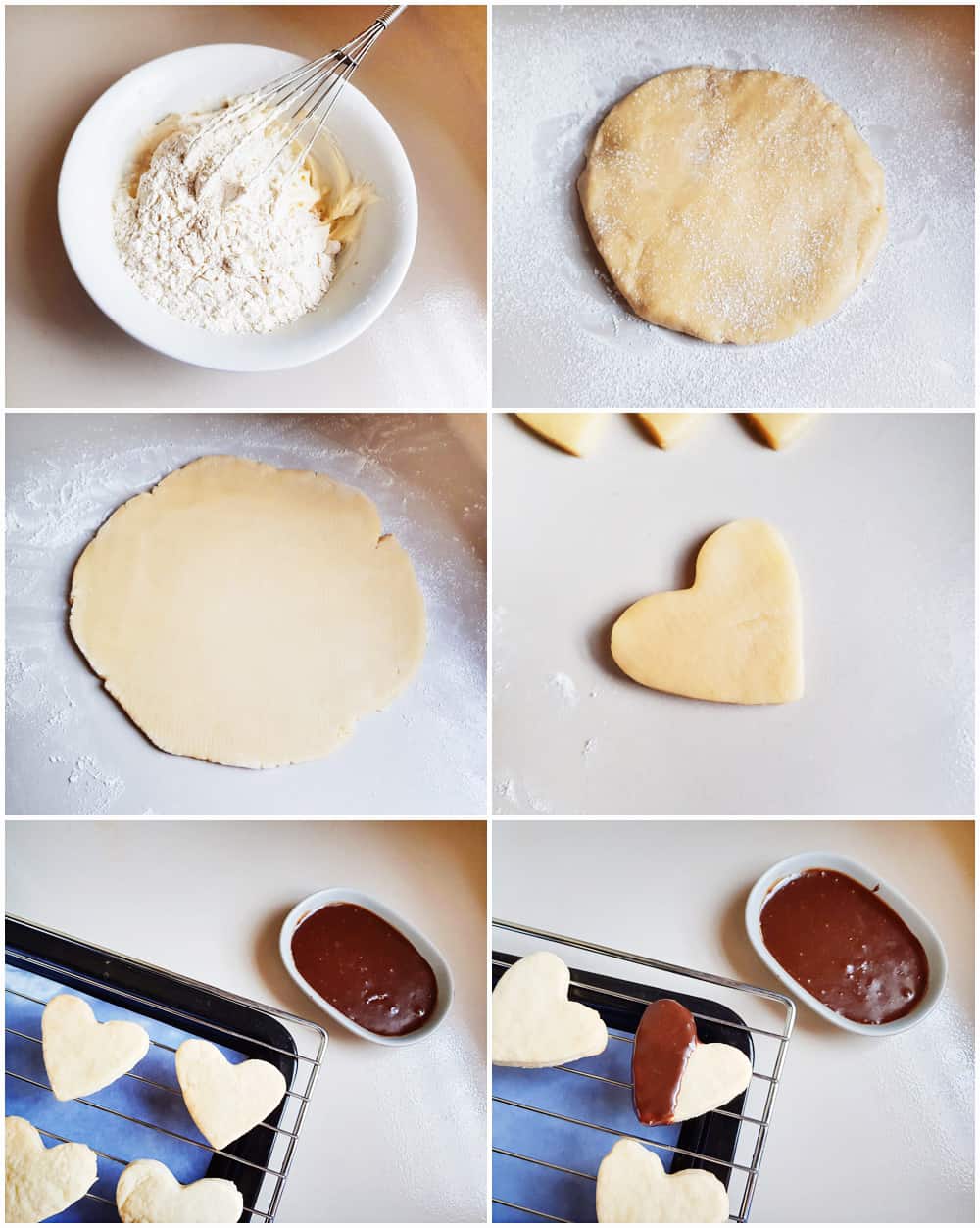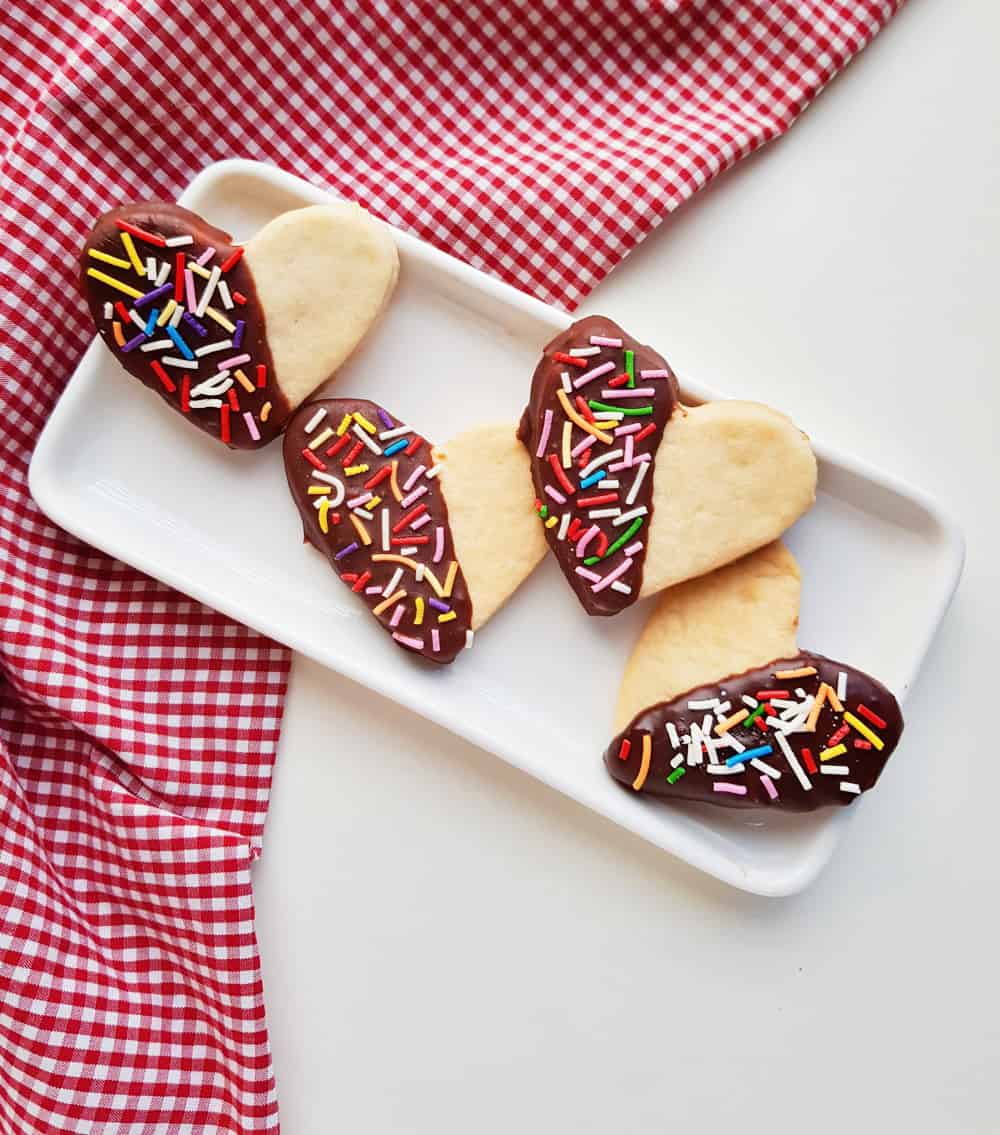 INSTRUCTIONS: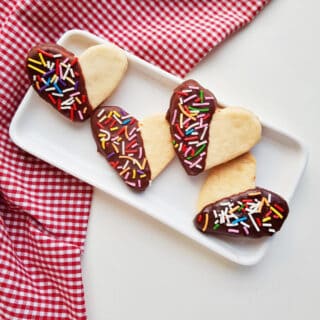 Heart Shaped Cookies
These easy heart shaped cookies make a cute Valentine treat with some added chocolate for that extra special touch!
Ingredients
150

grams

Unsalted butter

60

grams

Powdered sugar

1

Large egg white

230

grams

All-purpose flour

1/2

Teaspoon

Vanilla extract

Pinch

Salt

Semisweet chocolate

melted

Milk

optional

Sprinkles
Instructions
Step 1: Bring the butter down to room temperature. Beat the butter with a hand or electric mixer until it's smooth and creamy.

Step 2: Gradually add the powdered or confectioner's sugar to the creamed butter.

Step 3: Mix the creamy butter and the powdered sugar nicely.

Step 4: Add the vanilla extract and the egg white to the butter-sugar mixture. Add a pinch of salt to the mixture as well. Mix all the ingredients together.

Step 5: Gradually add the all-purpose flour to the mixture and use a spatula to mix the flour nicely.

Step 6: When you're done mixing the flour thoroughly and the dough turns out nice and smooth, cover the cookie dough with a cotton cloth and keep it in a cool place for half an hour.

Step 7: After half an hour, uncover the cookie dough and flour the surface you'll be rolling your cookie dough on. Roll the dough on the prepared surface.

Step 8: Use a rolling pin to roll the dough. Bring the rolled cookie dough's thickness to 1 cm or 1.5 cm. Try to roll the dough as evenly as possible.

Step 9: Take a heart-shaped cookie cutter and start to cut heart shapes on the rolled dough. Cut as many heart shapes on the rolled dough as possible. After cutting heart shapes, carefully take out the remaining dough and keep it aside, you can knead it into a ball shape or add it to the rest of the dough for the next batches (to roll).

Baking

Place a parchment paper on the baking tray and preheat the oven to 180 C or 350 F. Place the cookies on the prepared baking tray (on the parchment paper) and bake them for about 20 minutes or until the edges are lightly golden. Avoid over baking as the cookies will harden as they cool down.

Decorating the cookies

Step 10: You can use a regular semisweet chocolate bar or chocolate chips. Melt the chocolate and add a small amount of milk to the melted chocolat to smooth out if desired.

Step 11: You can dip the full heart cookie or half of it into the melted chocolate.

Step 12: Sprinkle crushed nuts or any kind of decorative sprinkles on the chocolate dipped part of the cookie. Place the decorated cookies in a dry and cool place until the chocolate has set before serving.
You Might Also Like