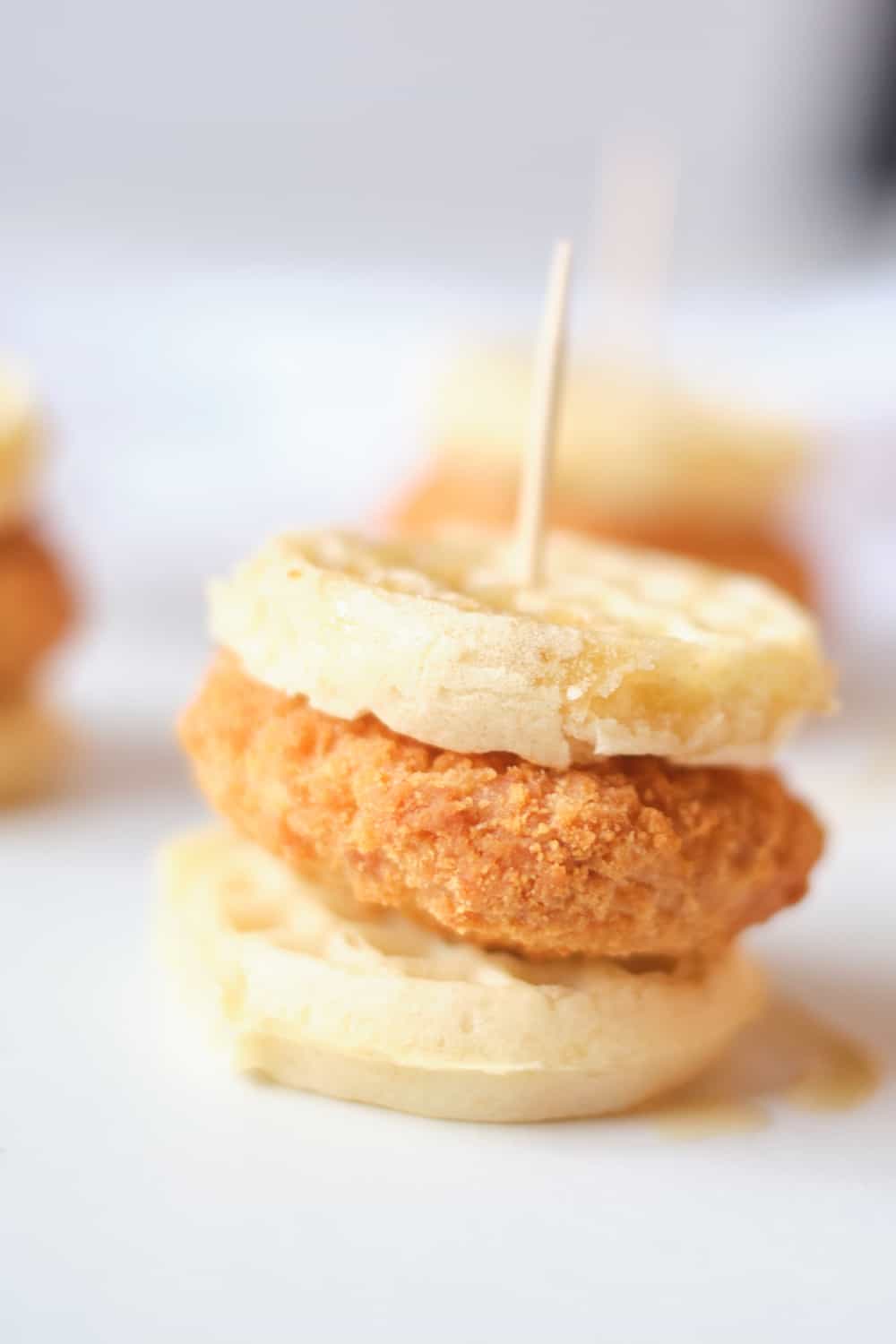 By using this site, you agree to our Terms of Use. This post may contain affiliate links. Read our disclosure policy.
Follow us on Instagram for more fun food ideas for kids!
These Chicken and Waffles Sliders are a tasty snack or dinner recipe that is made using two easy ingredients. Fast and easy recipe!
When the kids say they're hungry, they're hungry. And even though we're working on patience in our house, I think we can all agree that as moms and dads, we don't have a ton of time to get food on the table once the kids say that they're needing something to eat.
My kids love to eat healthy snacks all the time which I love, and sometimes, we splurge a bit and make fun recipes like this. I think that eating healthy goes well when you have a good balance of reality and recipes at the same time.
The way I figure it is that if we eat healthy 90% of the time, that gives us 10% where we can eat delicious and fun snacks like this!
These Chicken and Waffles Sliders are the perfect hand-held treat that the kids are going to love! The kids will think that they're eating mini foods!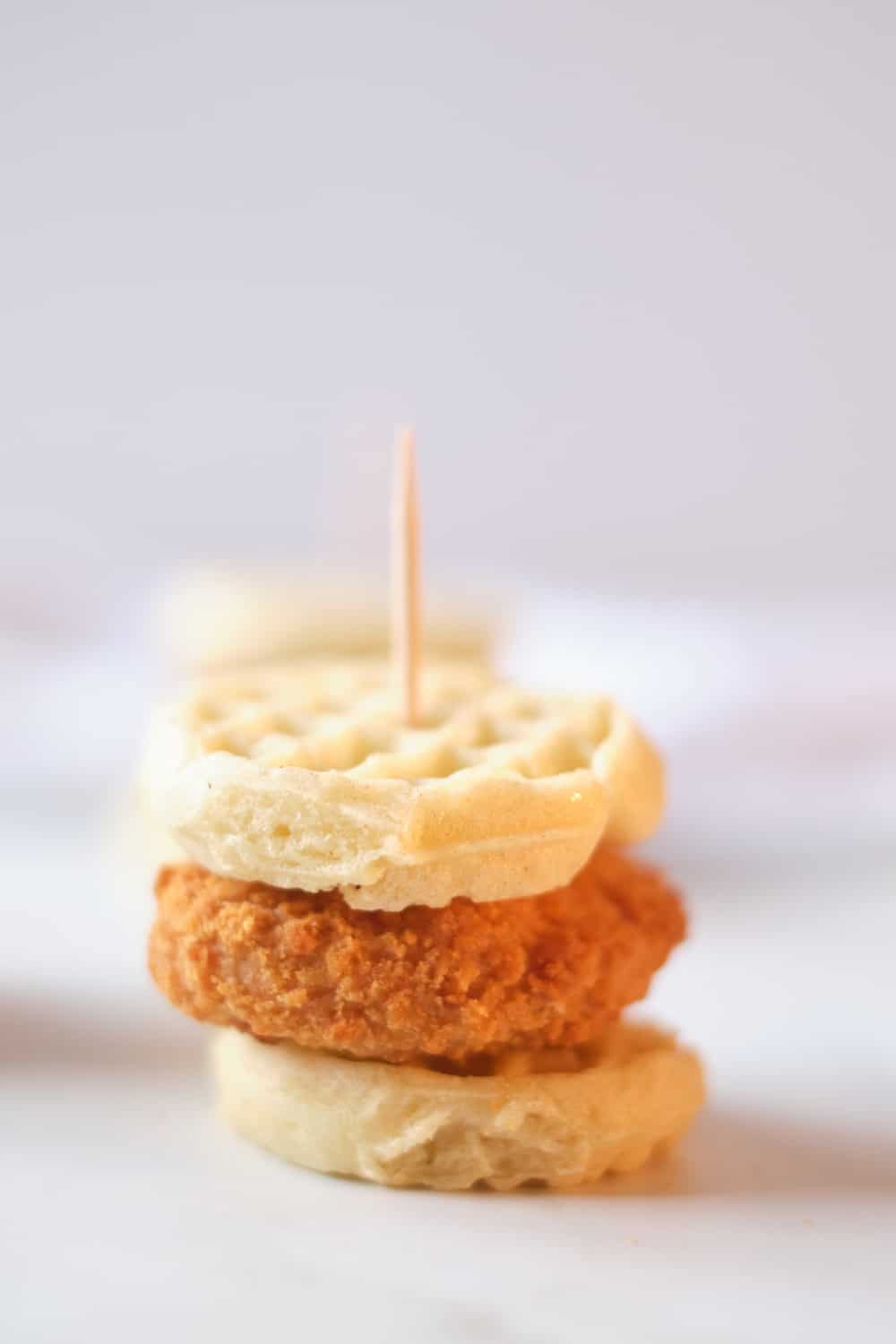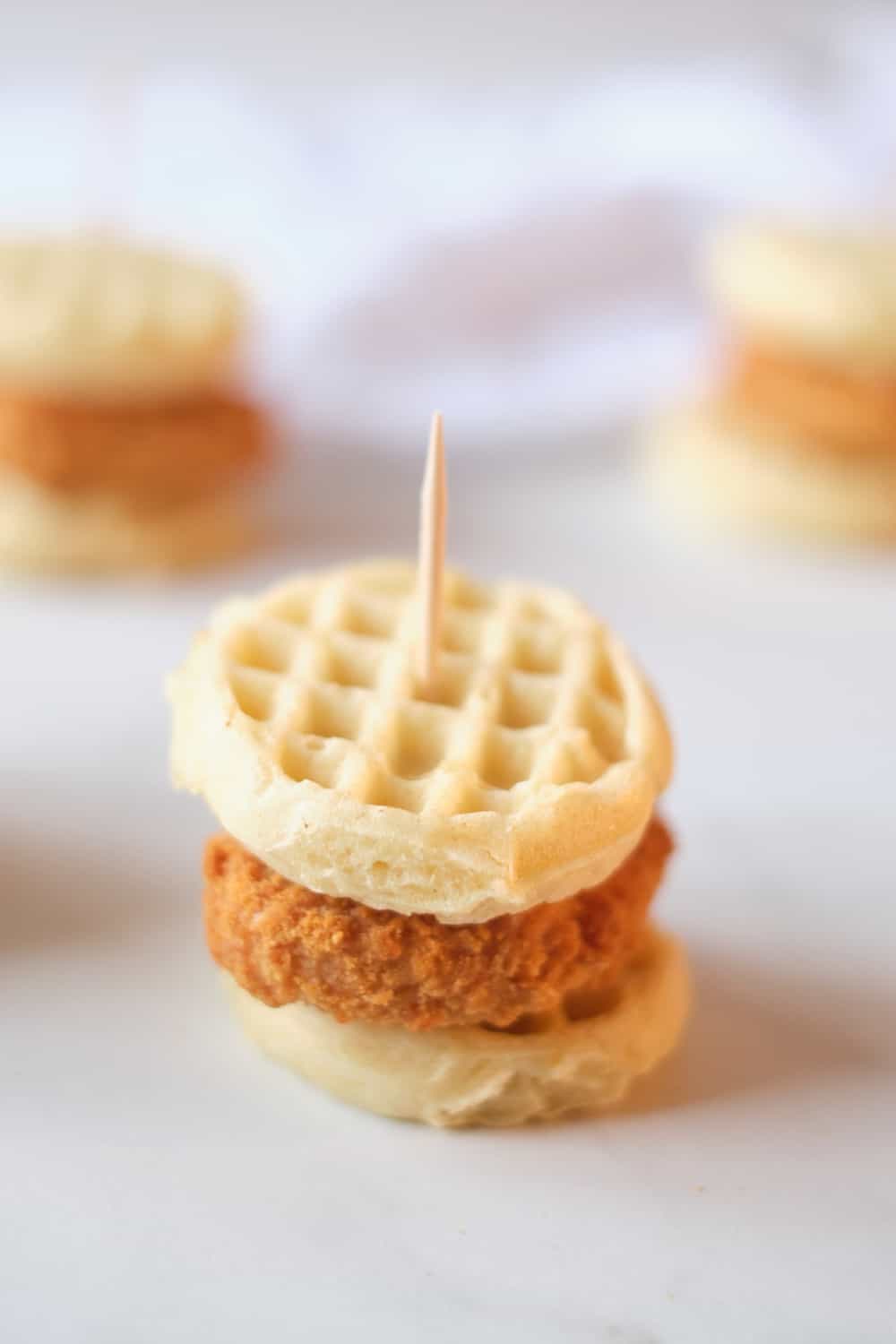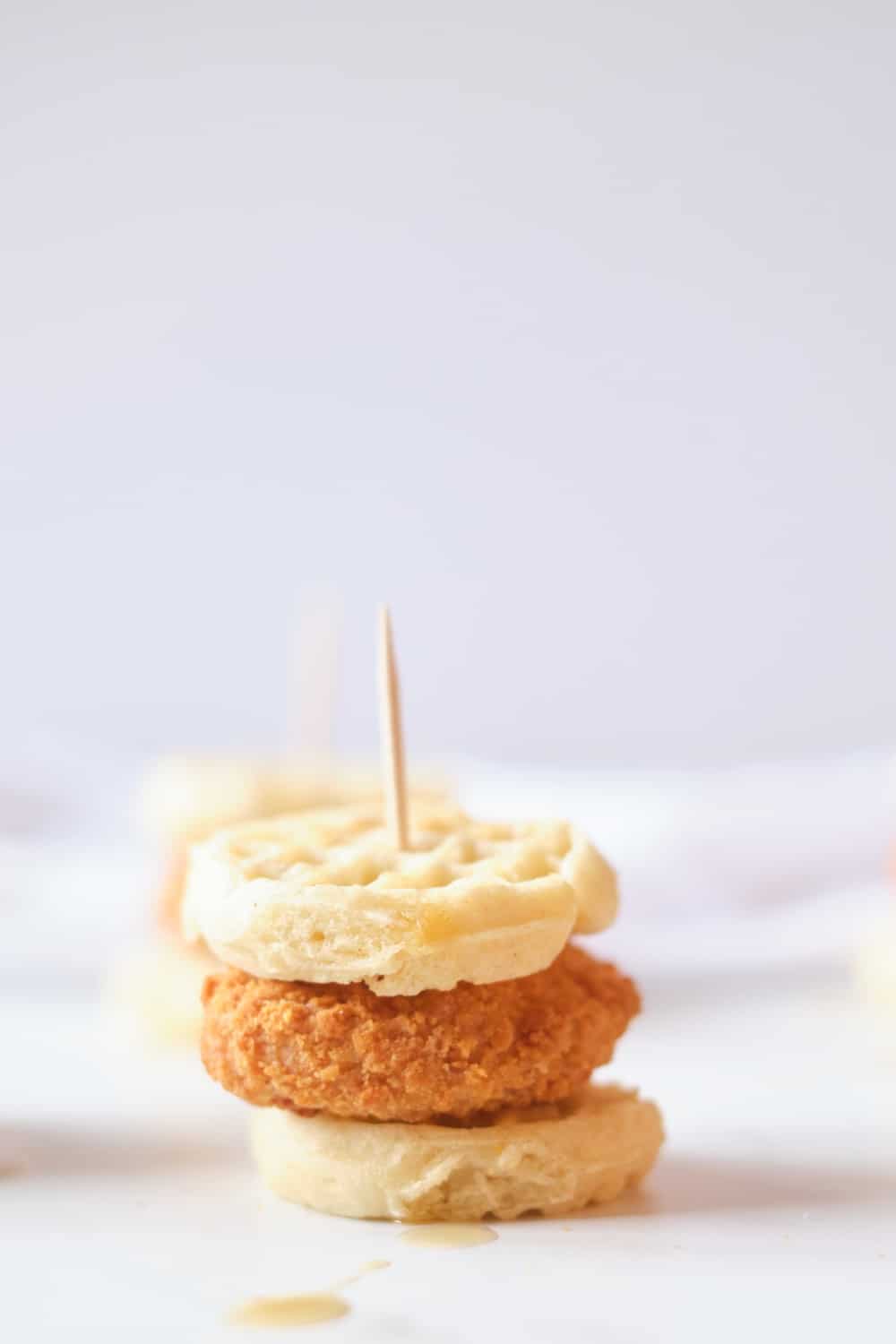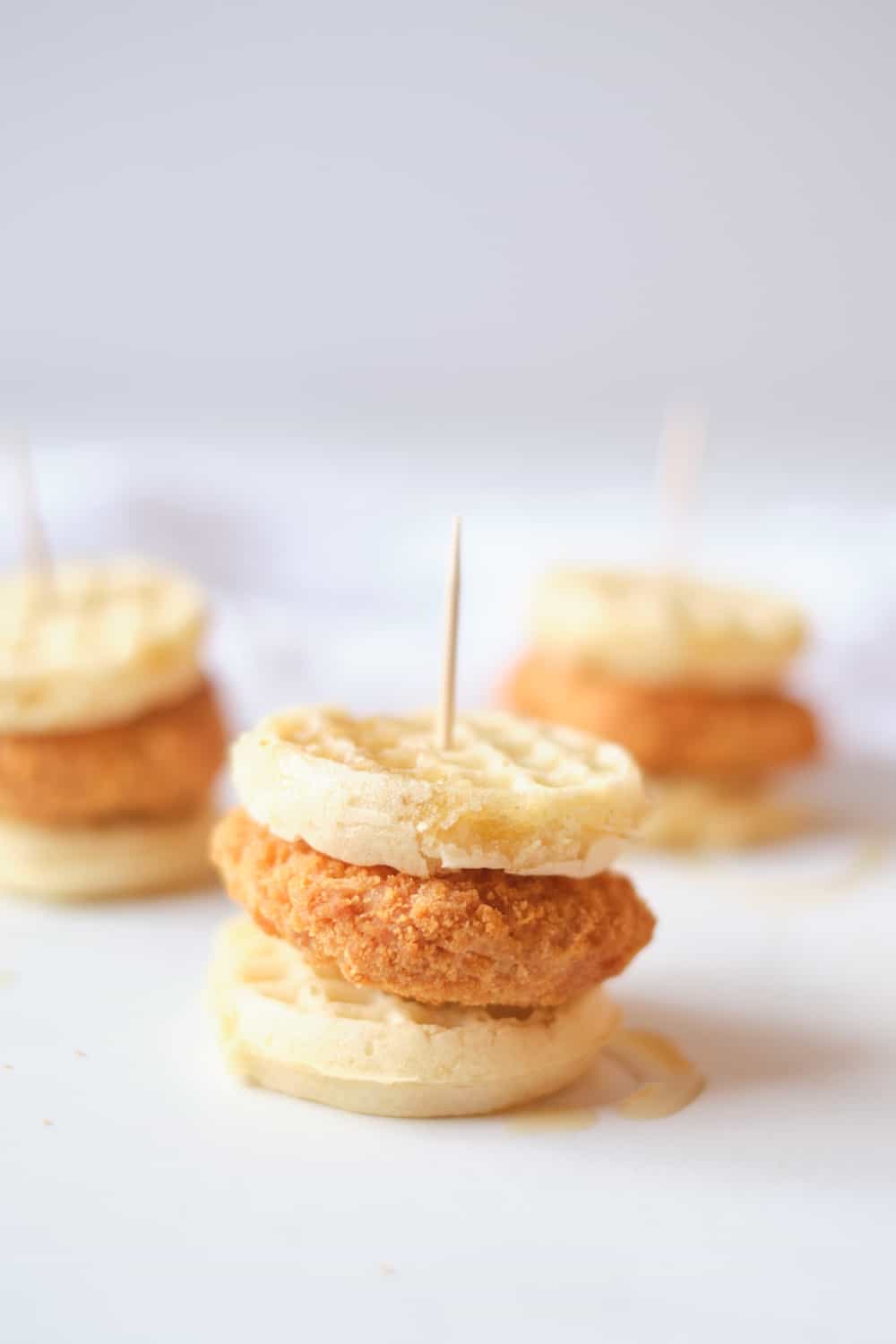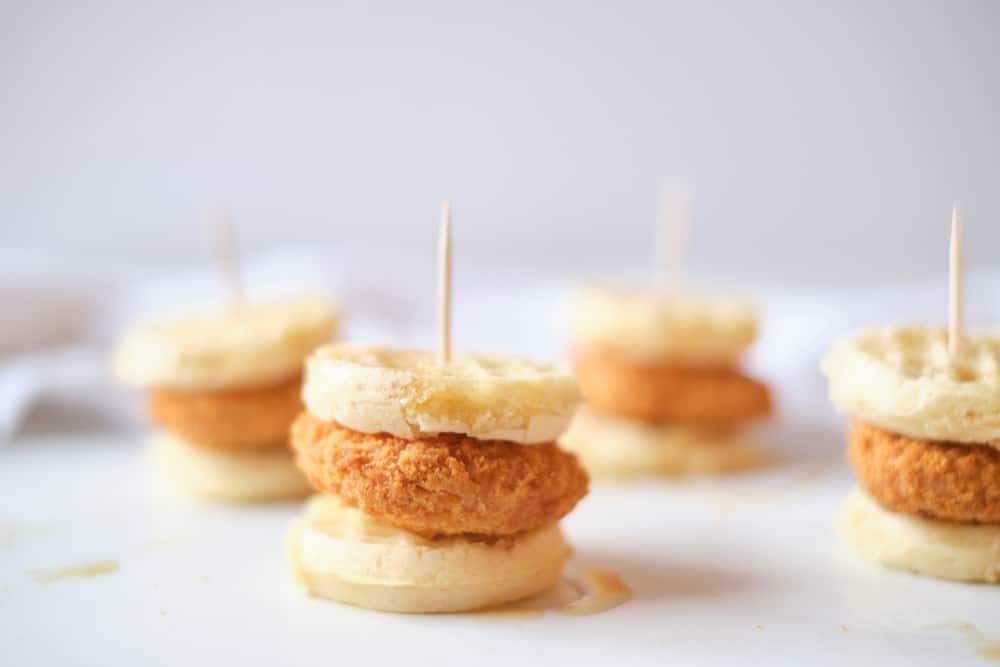 What side dishes go well with Chicken Sliders?
It's really up to each person. My kids are split on this so we tend to have a few options for everyone to choose from. A veggie tray is always a good choice and it's a fast and easy side dish to serve.
And if you have a kid that is looking for something sweeter as a side dish, these Peach Nachos are always fun!
Don't forget the condiments for the sliders. I like to use honey or maple syrup as a fun sweet addition.
Variations for Waffle Sliders with Chicken
I told you this recipe was simple! However, you can always change it up to fit the tastes and wants of your kids. Instead of using precooked waffles, you can whip up a batch of pancakes to use instead. All you need are two "holders" to keep in the chicken so brainstorm that and change it out.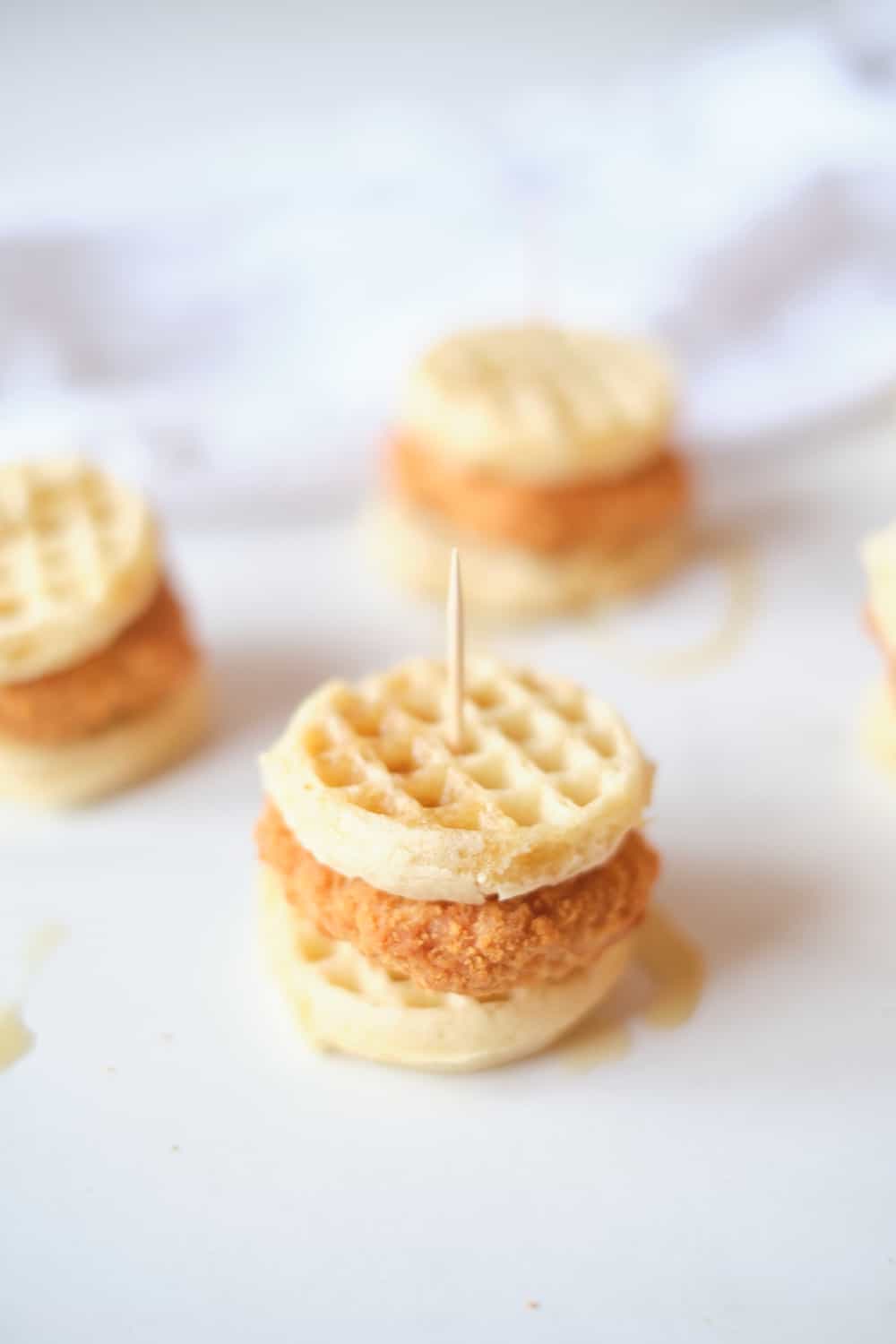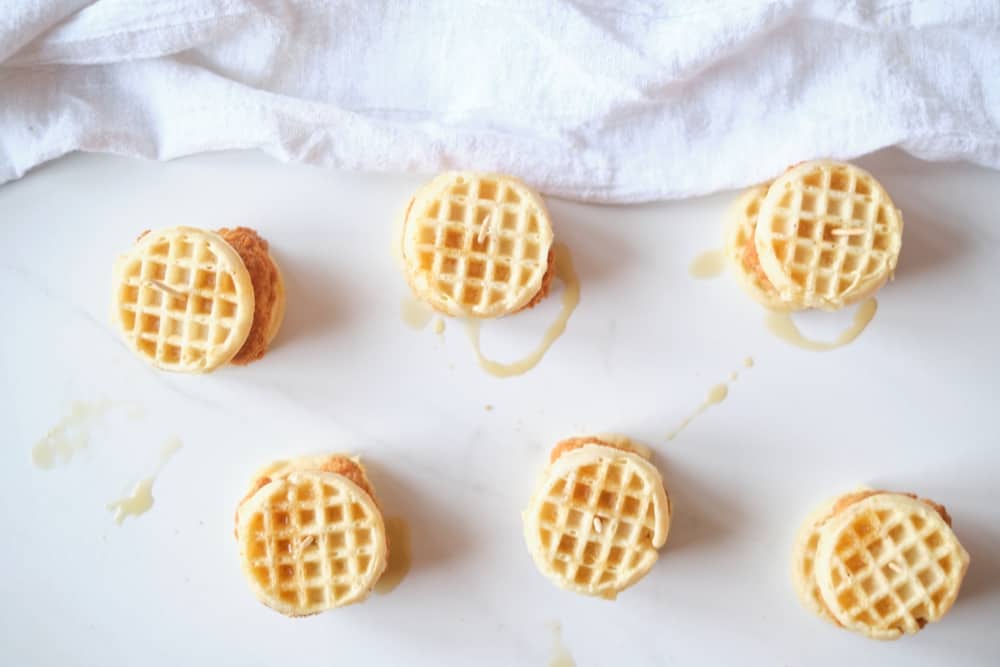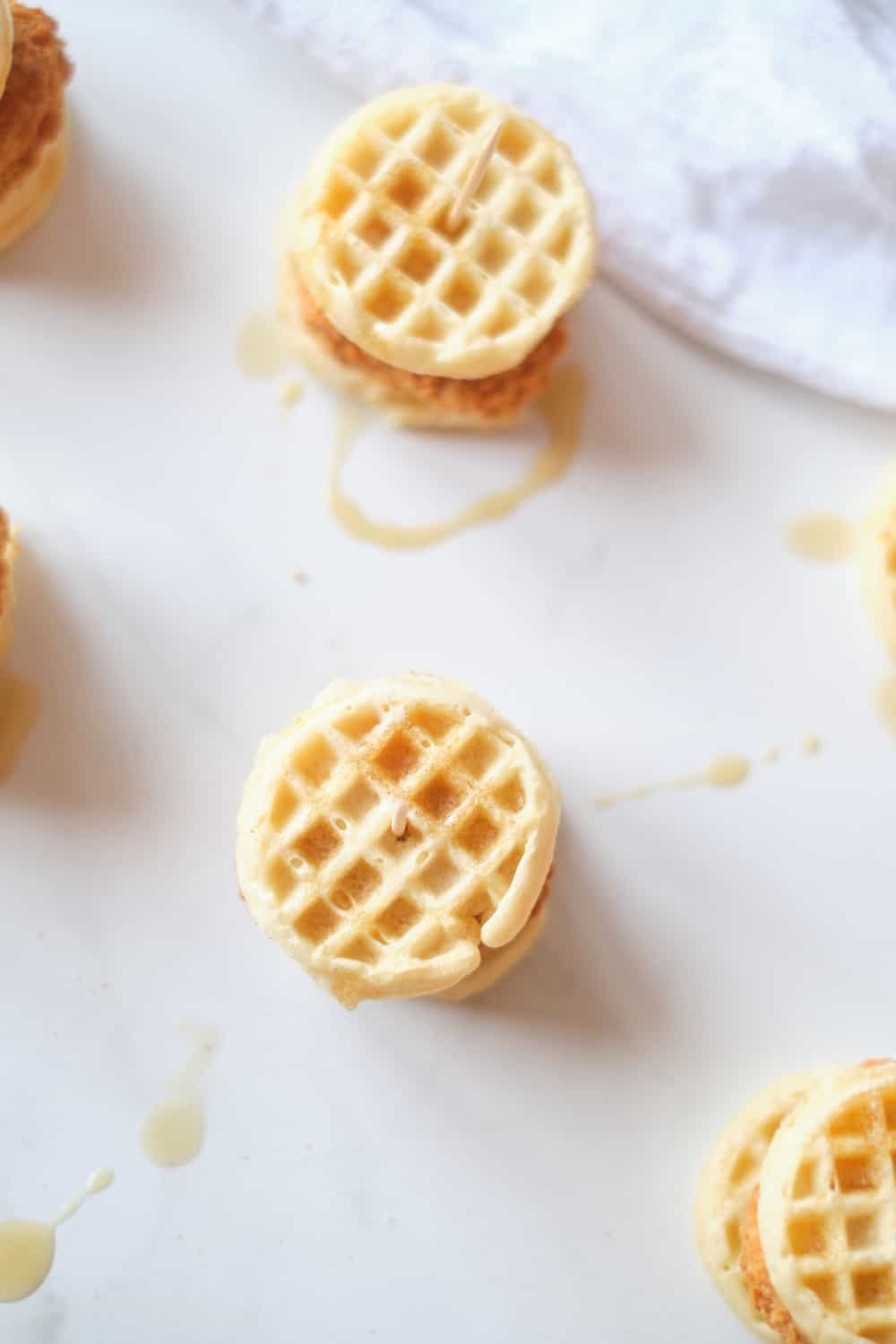 Chicken and Waffle Recipe – Ingredients:
Have I mentioned how simple and easy these chicken sliders are? You just need the simple ingredients below to get started!
– Cooked chicken patty/chicken nuggets
– Mini waffles
Since both items are already cooked, you just have to heat up or bake according to the directions on the package.
The kids are going to have a blast making and eating this recipe. It's a simple way to fuel their bodies and feed their tummies fast.
They'll also love being able to hold them in their hands and enjoy! These sliders are pure perfection for kids! Get ready to make this recipe a lot more often in the near future.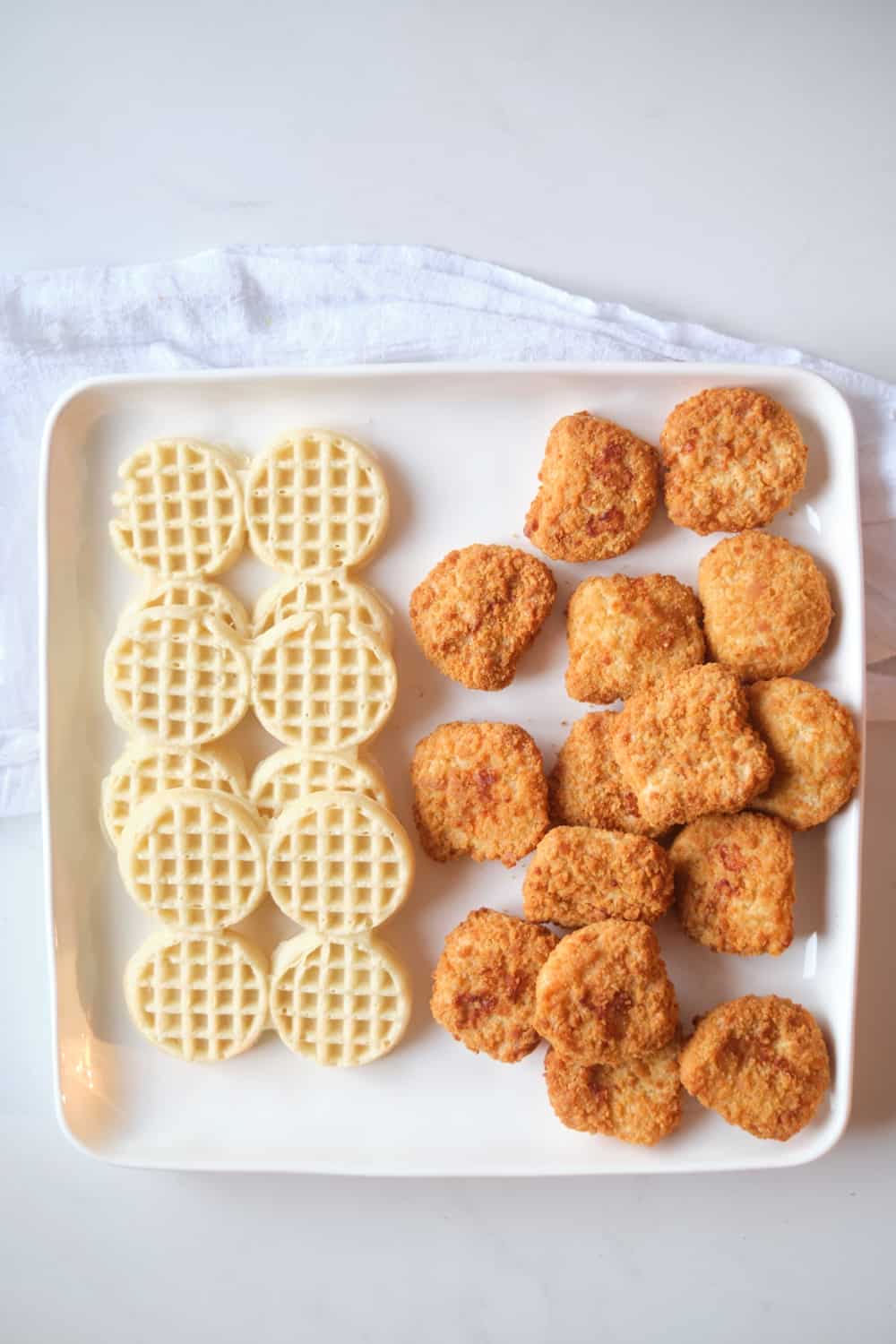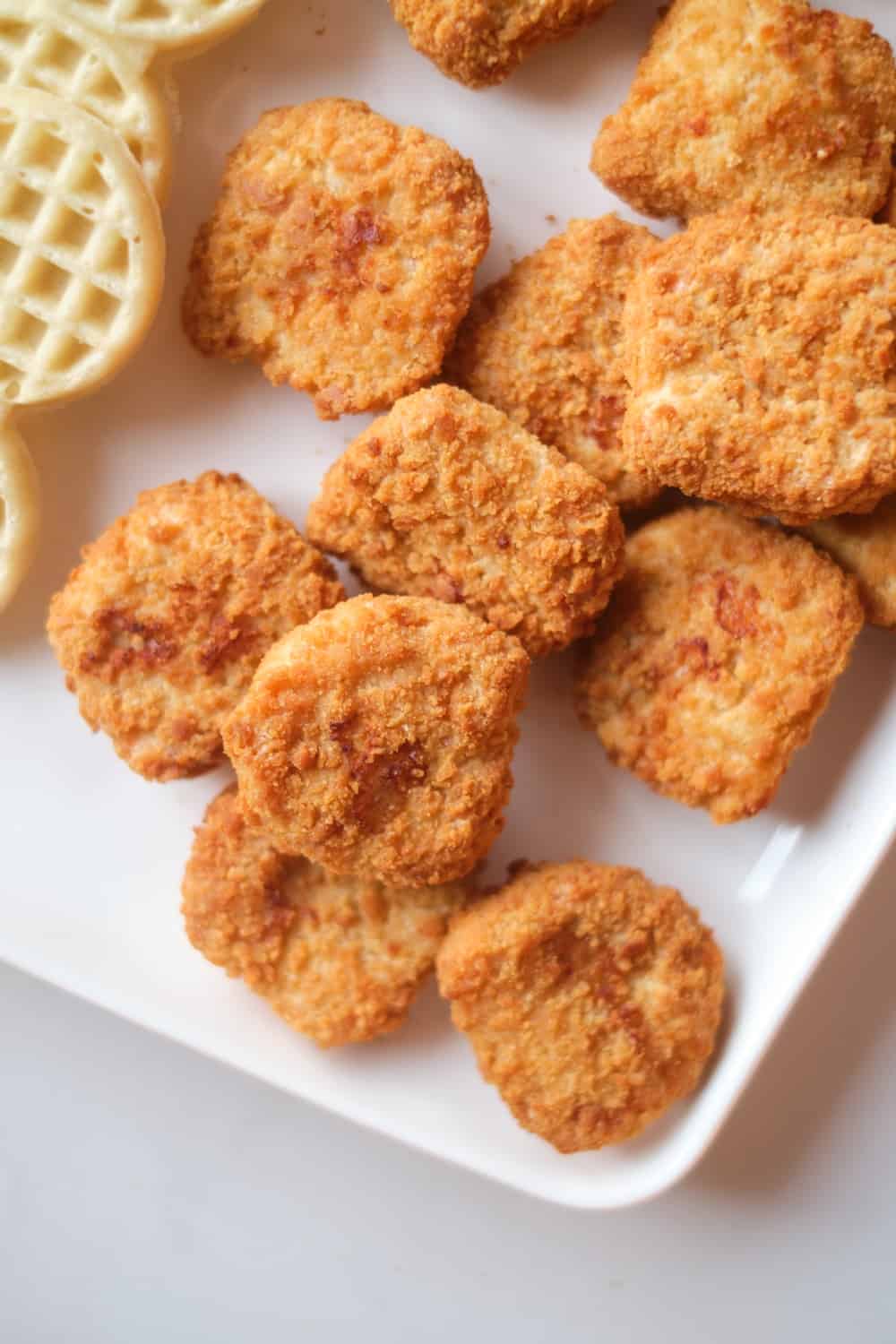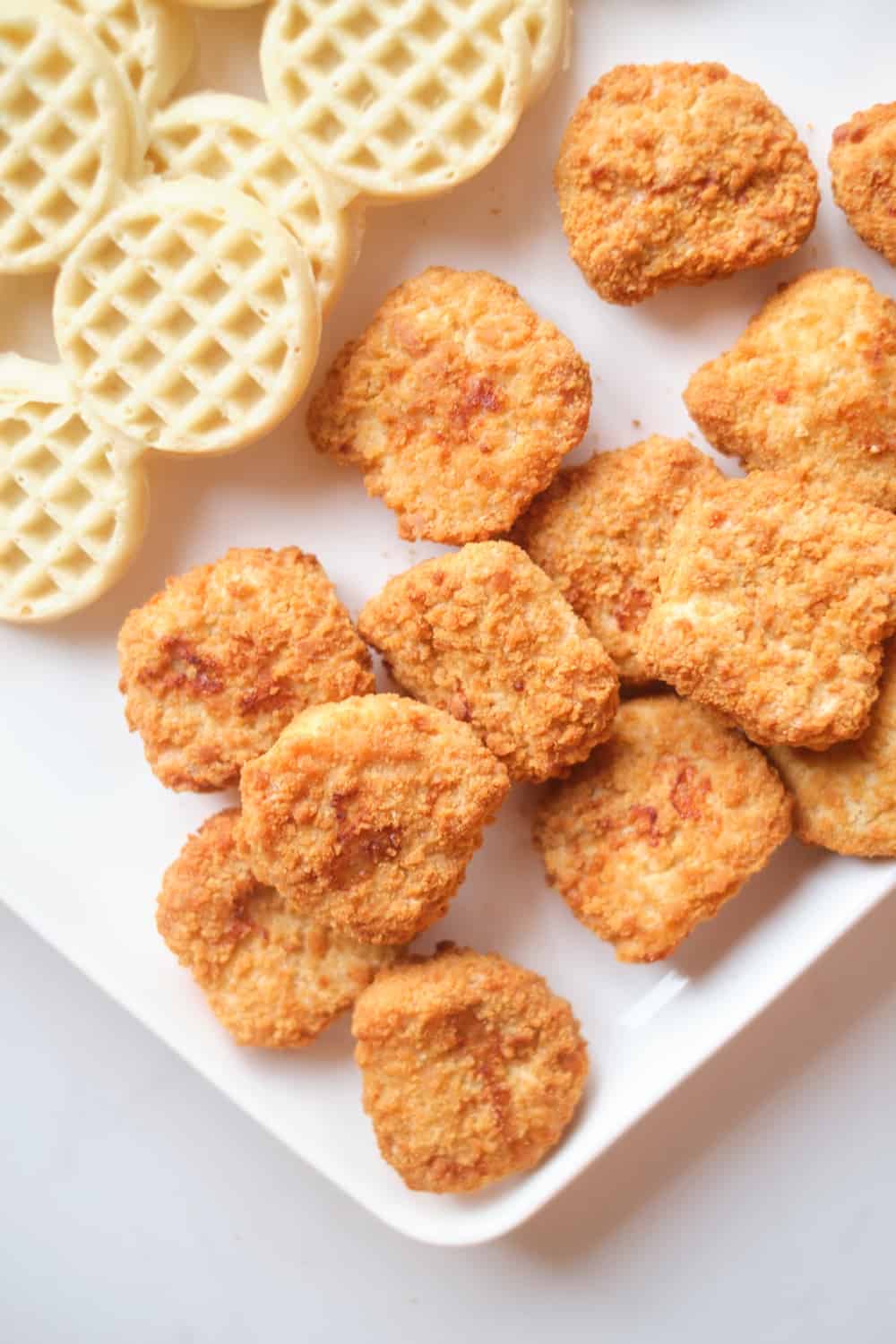 Chicken and Waffles Sliders
This simple slider recipe is fast and easy!
Ingredients
16

mini waffles

8

cooked chicken patty/chicken nuggets

maple syrup, optional

toothpicks
Instructions
Cook the waffles and chicken according to the directions on the package.

Place one nugget on each waffle and then place an additional waffle on top creating a sandwich.

Drizzle with maple syrup.
More Delicious Chicken Recipes