By using this site, you agree to our Terms of Use. This post may contain affiliate links. Read our disclosure policy.
Follow us on Instagram for more fun food ideas for kids!
This Tulip Strawberry Toast is almost too pretty to eat – almost! Just three easy ingredients needed to create this edible work of art!
The first time that we made this simple toast recipe, the kids were over the moon happy with it. It was literally like combining art class with cooking class – and at the end, we got to devour our work of art!
Since the strawberries are in season right now, this simple tulip strawberry toast is the perfect snack and treat. The toast acts as the perfect "canvas" for the strawberries to be created into edible flowers!
If you want a healthier snack option than ice cream or snow cones, this fun toast recipe is one of the best!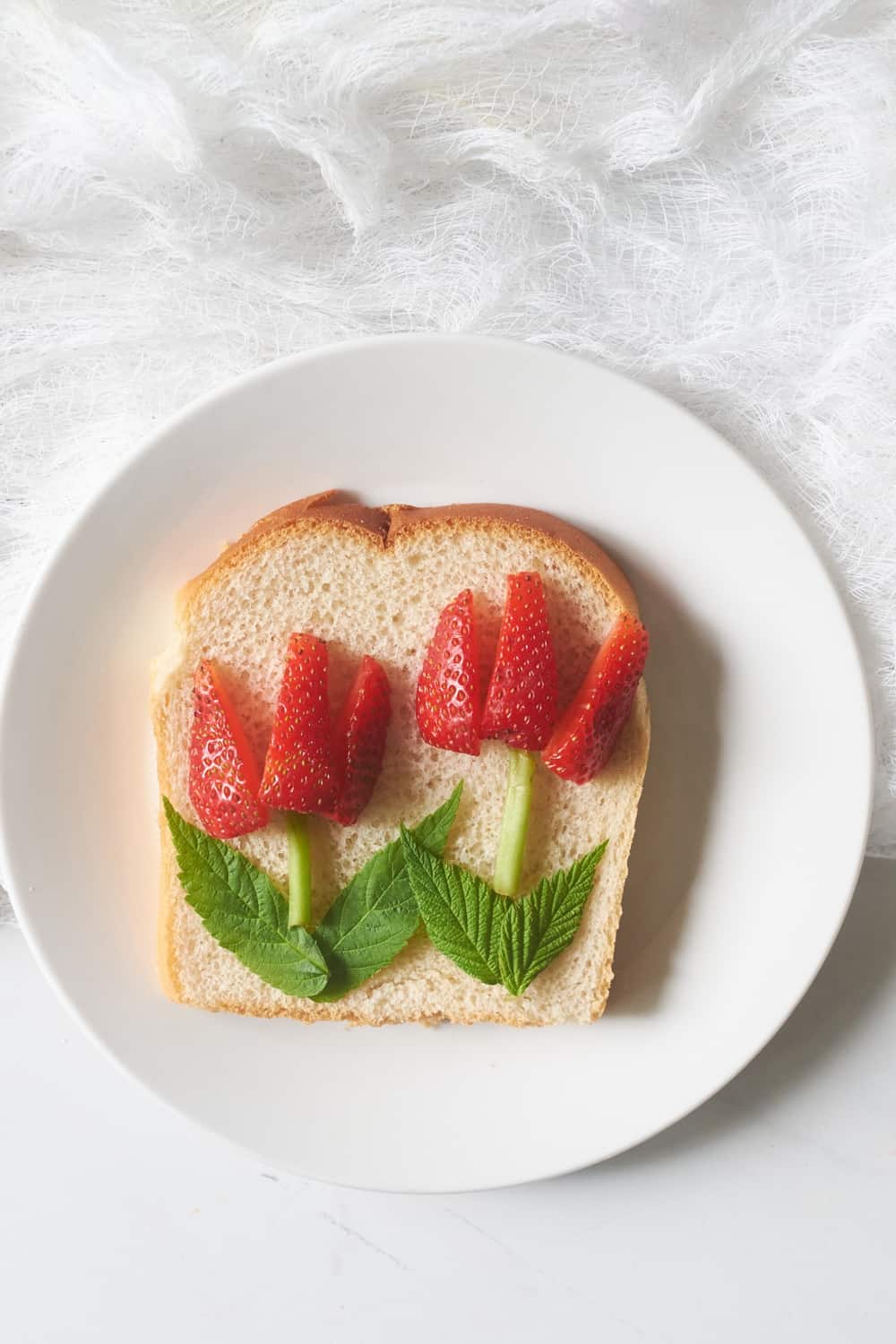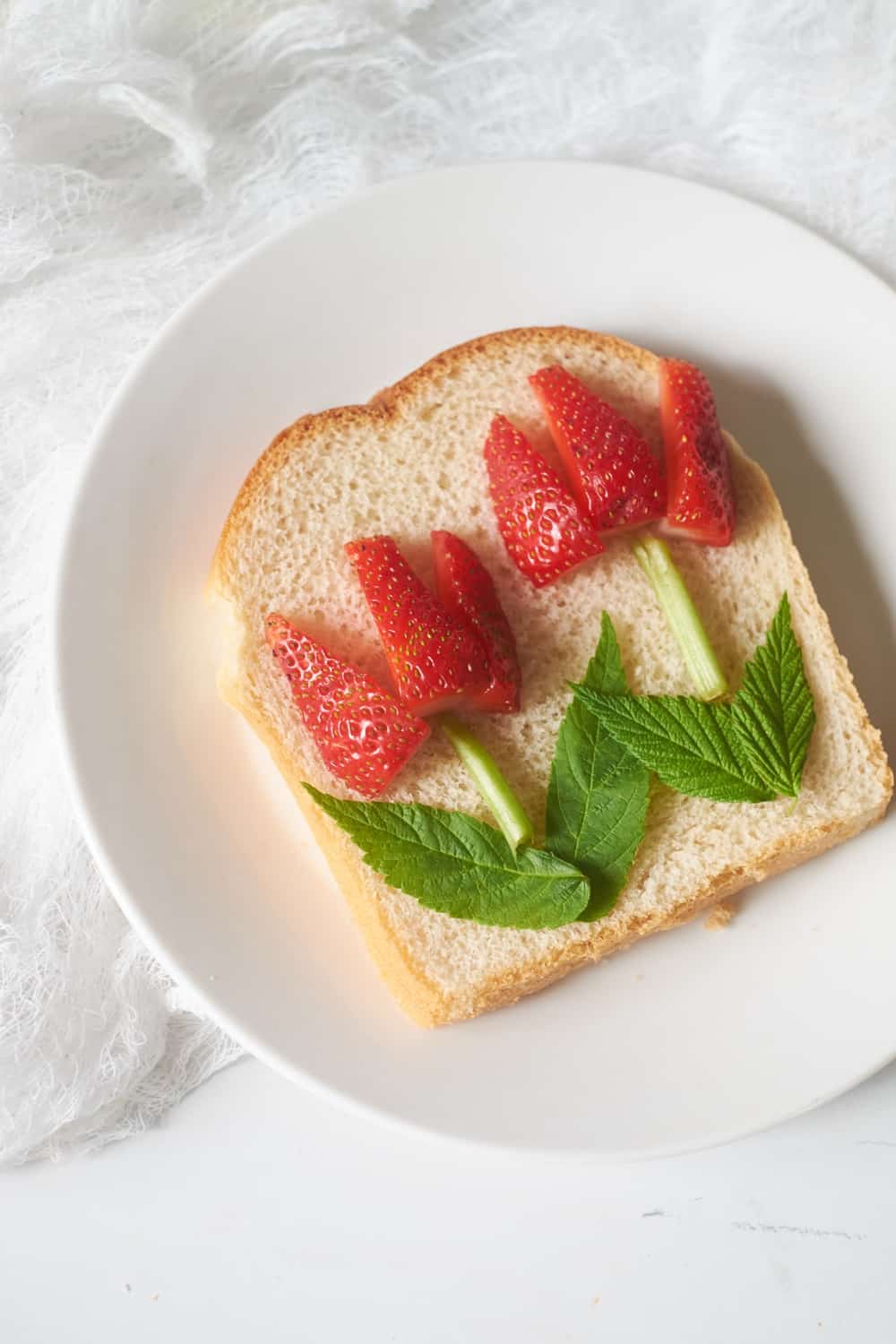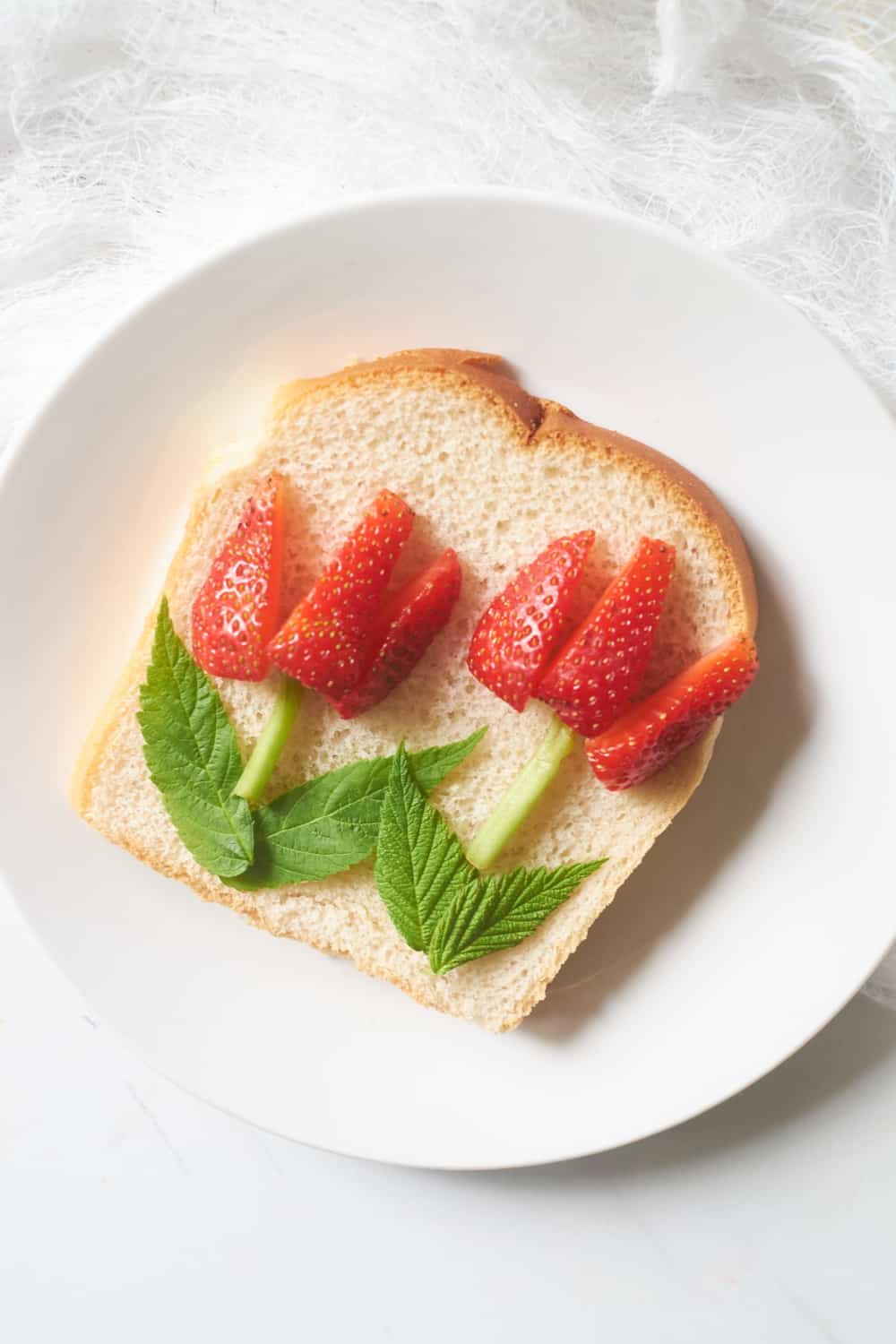 Who inspired this tulip toast?
We first shared this beautiful version on our Facebook page credit @nanapan73 on Instagram. My kids don't like cream cheese on toast that much so we kept ours kid-friendly with just fresh berries and bread. However you can also think of other spreads to add like peanut butter, almond butter or even goat cheese if you fancy!
Do I actually have to toast the bread?
Nope, not at all. We have a split house when it comes to bread and toast. One wanted the bread toasted, and one wanted the bread straight from the bag. Both methods worked great.
Strawberry Toast – Ingredients
2 strawberries
Bread of your choice
Mint leaves (stems too)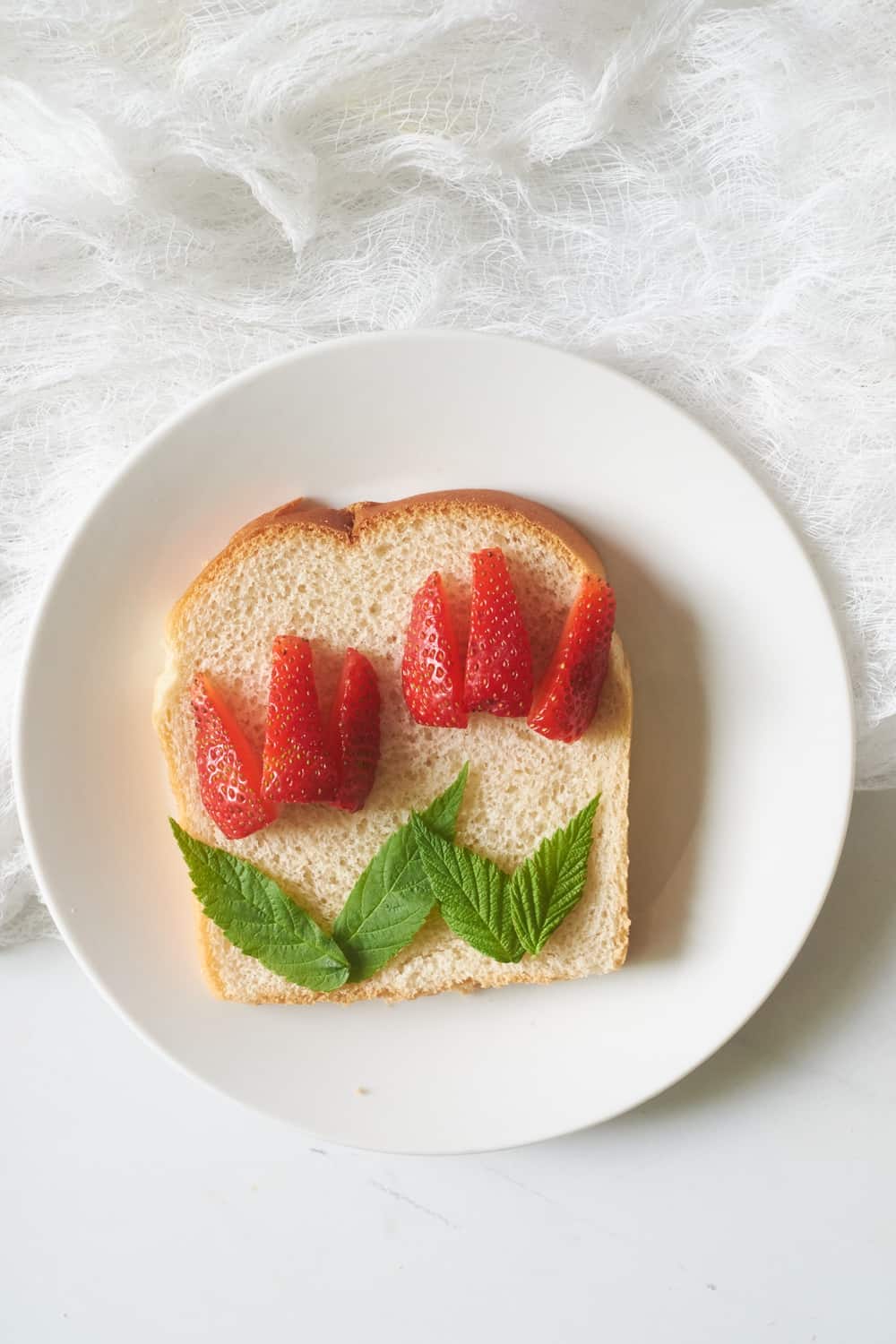 Is mint edible?
Yes, the mint is edible! If the kids want to taste the mint, let them. It's a fun pallet cleanser or a great way to end the meal with a minty fresh flavor.
What type of bread works best?
You can use your favorite type of bread for this toast recipe. I like to use white bread, but wheat bread works fine, too. You could also use a fun flavored cinnamon bread as well if you're going to make this during breakfast hours.
Can I use frozen strawberries for this strawberry toast recipe?
This recipe works best with fresh strawberries. Frozen fruit releases a lot of liquid as it thaws, so this is why fresh is best.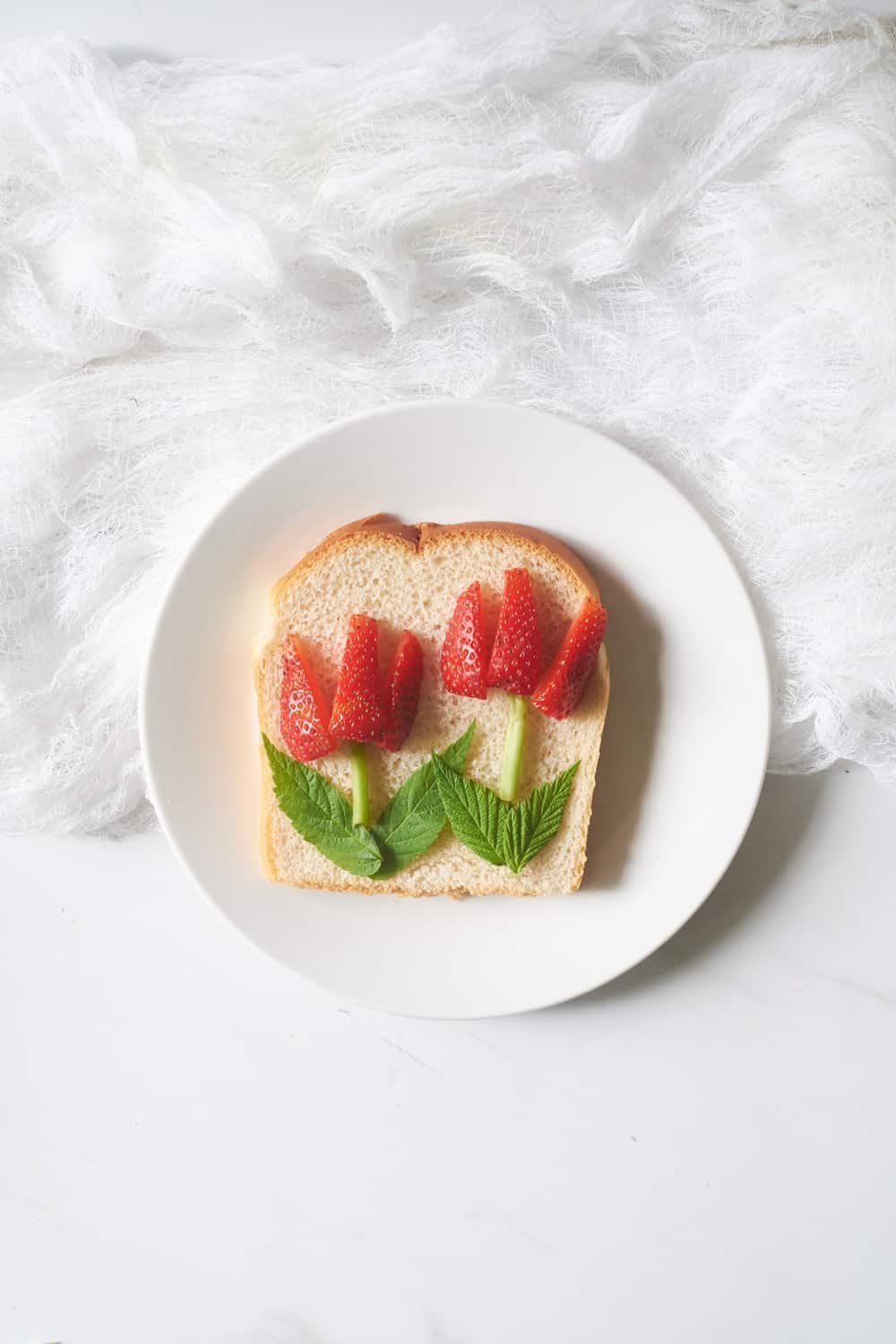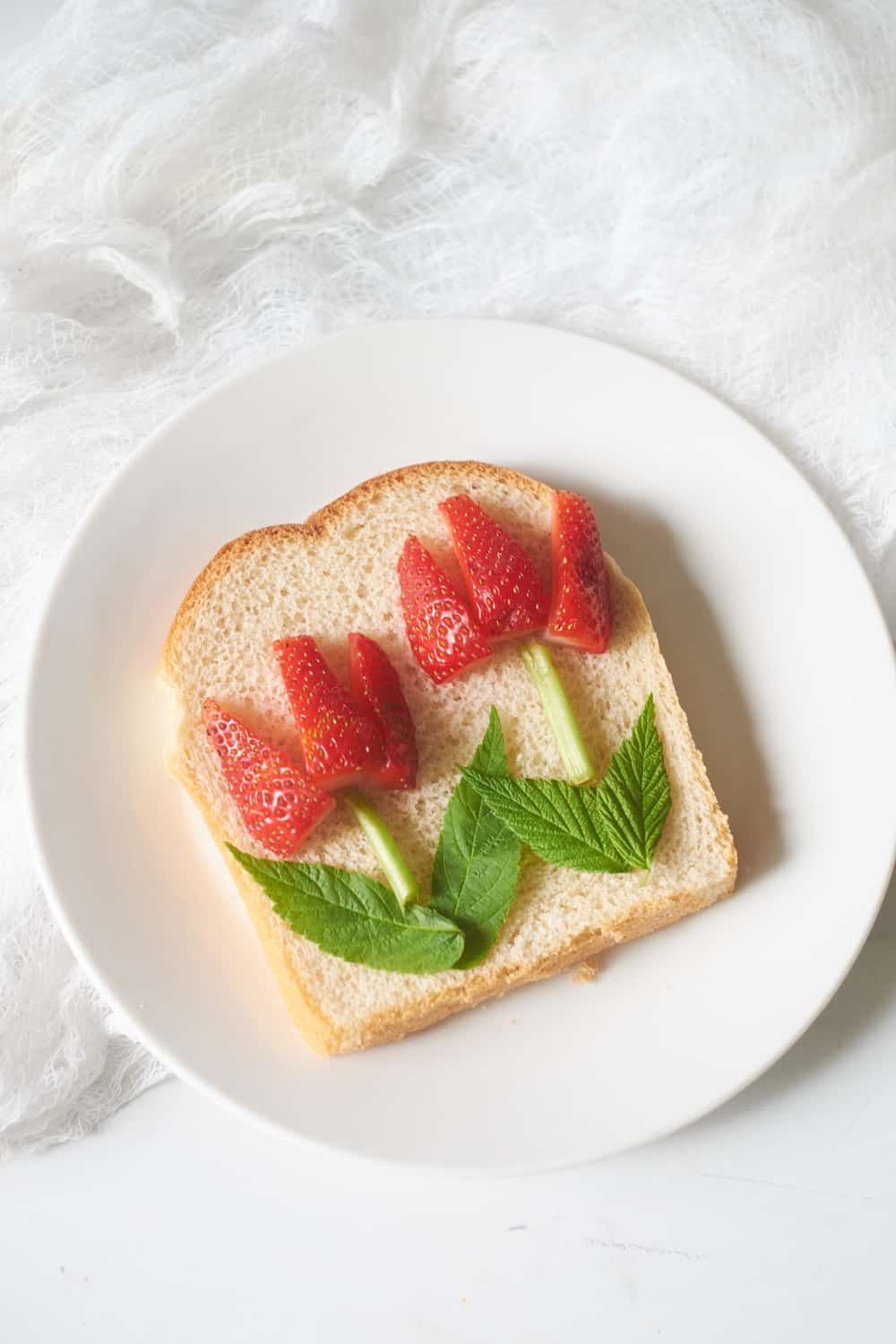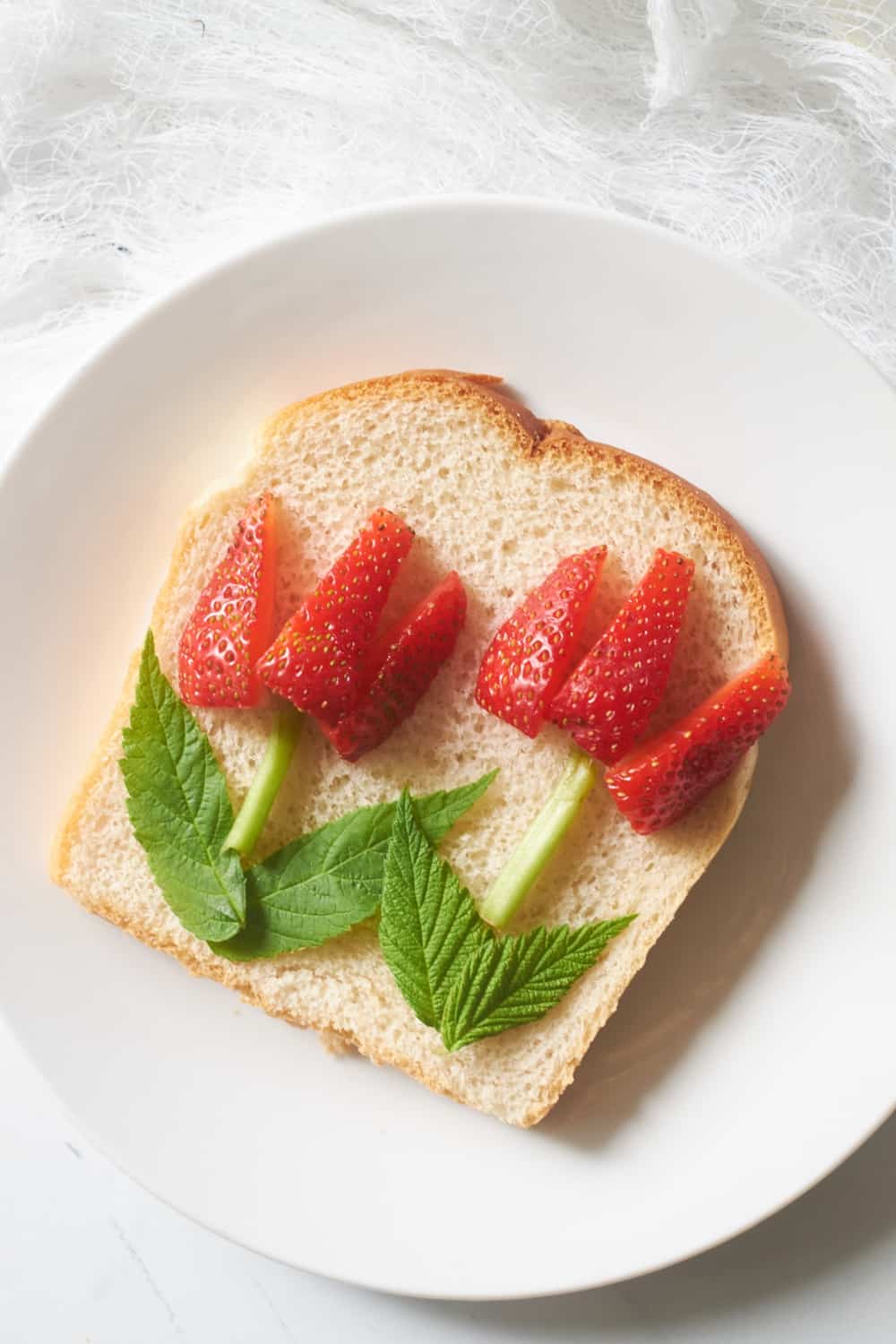 INSTRUCTIONS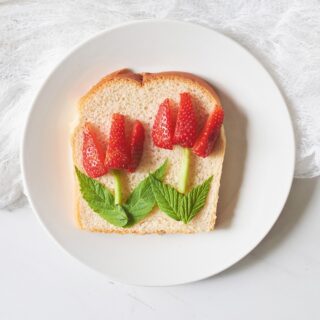 Tulip Strawberry Toast
Everyone in the house will love creating this work of art and then enjoying every bite of their strawberry toast!
Ingredients
2

strawberries

bread

mint leaves and stem
Instructions
Wash and dry fruit and herbs.

Take a slice of bread and place on a plate.

Slice the strawberry into 3's and place on the bread.

Arrange the mint leaves and stems.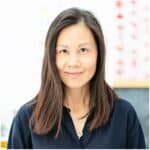 Agnes Hsu is a mom of three and has been inspiring parents and kids to get creative with easy activities and family friendly recipes for over 10 years. She shares her love for creative play and kids food to her 2MM+ followers online. Agnes' commitment to playful learning and kindness has not only raised funds for charity but also earned features in prestigious nationwide publications.