By using this site, you agree to our Terms of Use. This post may contain affiliate links. Read our disclosure policy.
Follow us on Instagram for more fun food ideas for kids!
The new Waffles + Mochi Netflix Show by Michelle Obama is a Fun and Creative Way to Get Kids Eating Healthy.
We love all things healthy kids food so we were super excited to learn about the new television program Waffles + Mochi Netflix Show by Former First Lady Michelle Obama! Be sure and mark your calendars for March 16th and settle in to watch the widely anticipated show debut with your families. The Obamas have been working with Netflix in partnership with their production company, Higher Ground Productions to bring several documentary-style shows and films to the streaming service. Waffles + Mochi will be their first children's show. The show incorporates our two loves, teaching children and learning about and how to make food.
Watch the Waffles + Mochi Netflix Trailer above.
What is Waffles + Mochi about?
Michelle Obama will play a shop owner in the 10 episode series that follows the adventures of two friends. Waffles is a friendly puppet with waffle ears and a waffle belly while her sidekick is Mochi, a talking round pink ball, shaped just like mochi, the Japanese dessert. The two friends aspire to be chefs and in order to do so, travel the world in search of food inspiration. The Netflix original show combines animation, guest stars, different cities, as well as cooking to make a kid-friendly as well as educational show for everyone. One part geography lesson, one part culture lesson, and food preparation in different visually appealing locations will make for an entertaining show.
View this post on Instagram
Why create a healthy kids food Netflix Series like this for children?
The former First Lady has long been a proponent of kids healthy eating and exercise so it comes as no surprise that she would create something in this space that plays to a young audience. She started this endeavor of putting children's health in the forefront when she was First Lady. She wanted to provide programs for children that she didn't see while her children were growing up. The Netflix children's program will be a fresh take on highlighting different cultures through food and recipes. While children are the target audience, parents will find recipe inspiration from their visits to different locations as well and can cook along with the former First Lady. The fresh combination of animation and puppets are a great way to introduce young people to new and different foods as they learn about where certain foods are found and how they are prepared and eaten.
With her network of famous people, Michelle Obama and her special guest stars help to guide Waffle and Mochi on their way to becoming chefs. On their special visits to a variety of worldwide cities, they will introduce children to different types of food and encourage healthy eating habits. We have shown that food can be fun with our Foods that look like Flowers, and also with our Puppy Dog Food Art . Michelle Obama and her friends will take it to another level showing kids that they can have fun adventures with Waffles and Mochi and learn about so much more than just food in the process.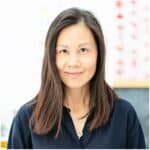 Agnes Hsu is a mom of three and has been inspiring parents and kids to get creative with easy activities and family friendly recipes for over 10 years. She shares her love for creative play and kids food to her 2MM+ followers online. Agnes' commitment to playful learning and kindness has not only raised funds for charity but also earned features in prestigious nationwide publications.