By using this site, you agree to our Terms of Use. This post may contain affiliate links. Read our disclosure policy.
Follow us on Instagram for more fun food ideas for kids!
Shamrock Cupcakes are the perfect sweet treat for St. Patrick's Day! They'll love finding their own treasures at the end of the rainbow!
St. Patrick's Day is such a fun holiday. It's a day full of all things green and luck! This is the perfect sweet treat to easily make at home or as a fun snack after school. The kids will LOVE how simple it is and that the end result is loads of great taste! I love using a cake mix for this simple cupcake recipe because it's just so easy and fast to do.
This simple Lucky Cupcake recipe is really a combination of two pretty cool things. Putting all three cupcakes together with the rainbow candy as the stem makes it look like a festive shamrock for sure. But I also think it's a way for the kids to follow the rainbow stem to find a treat at the end waiting for them!
This fun cupcake recipe is great to make together for some family baking fun! It's always a good idea to make and bake something great together in the kitchen.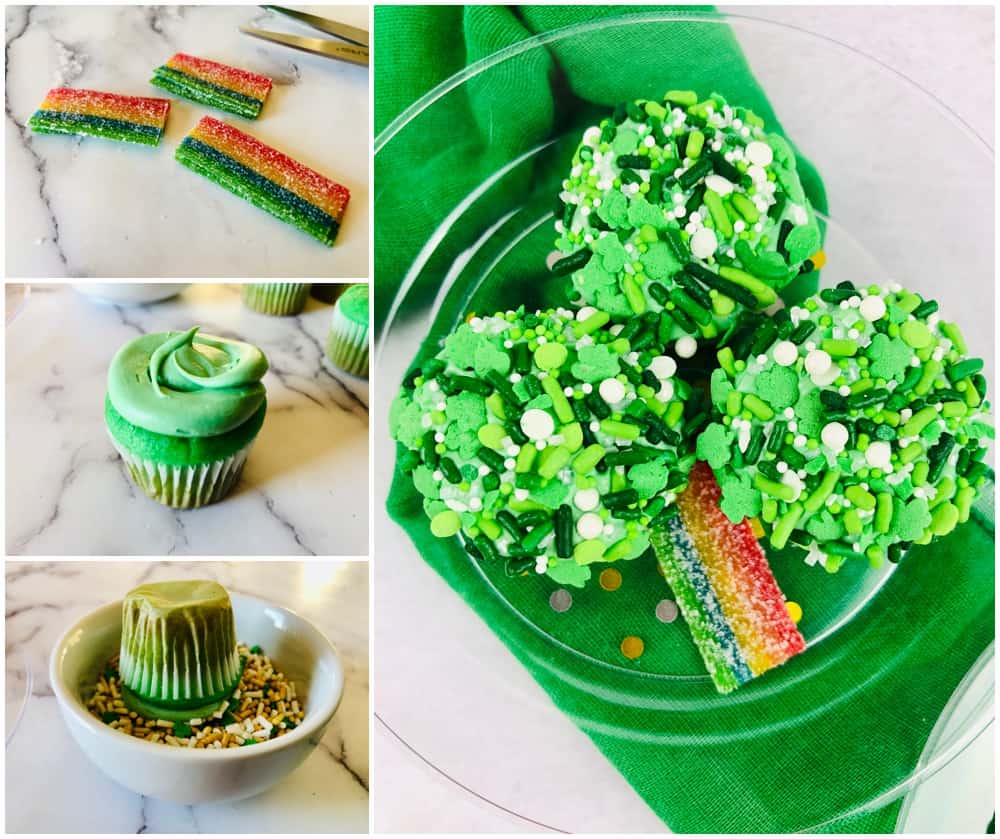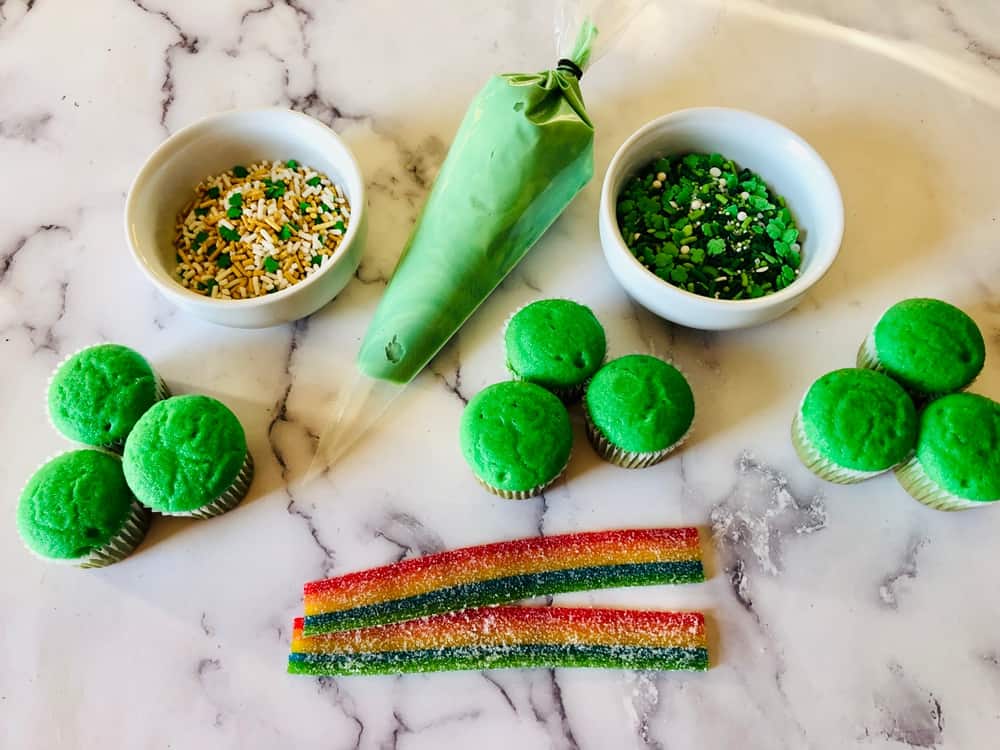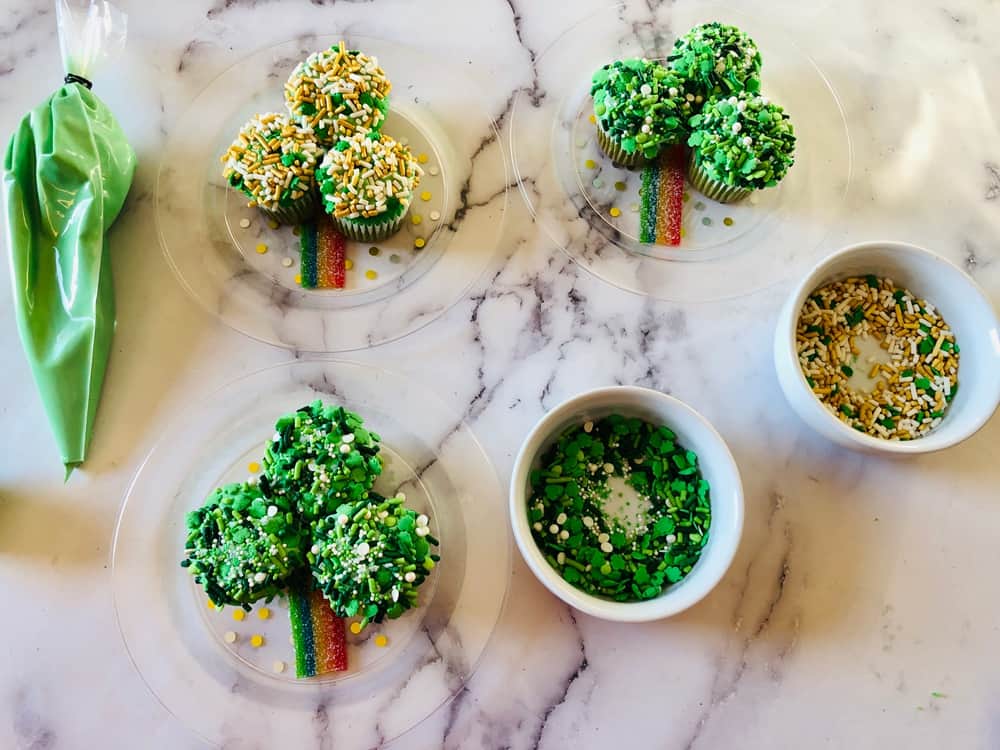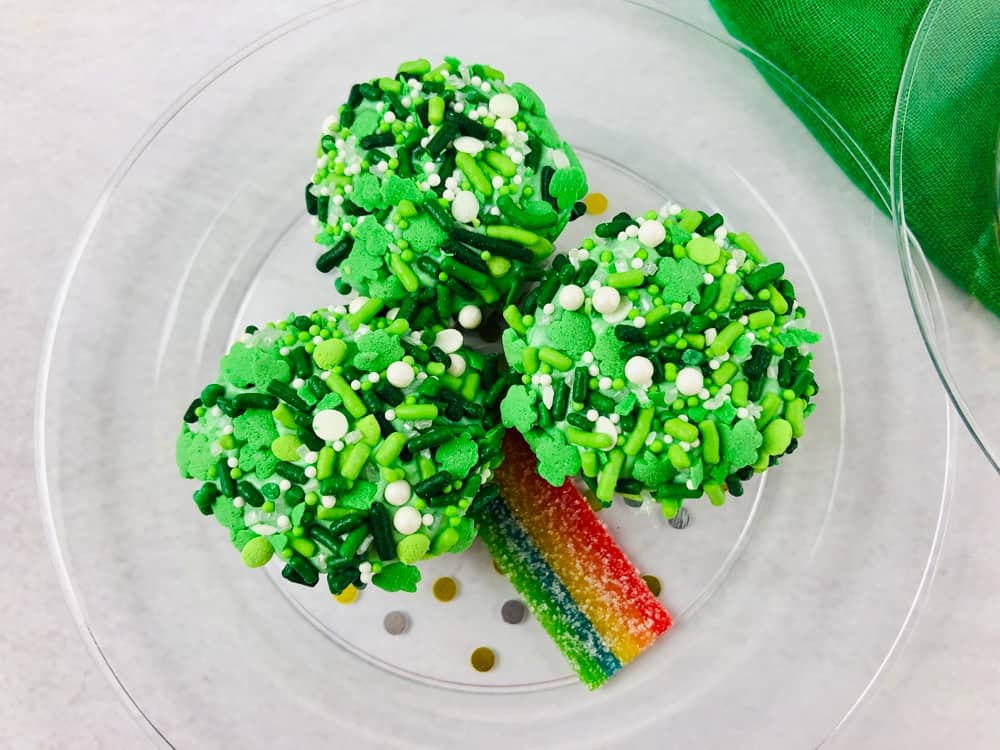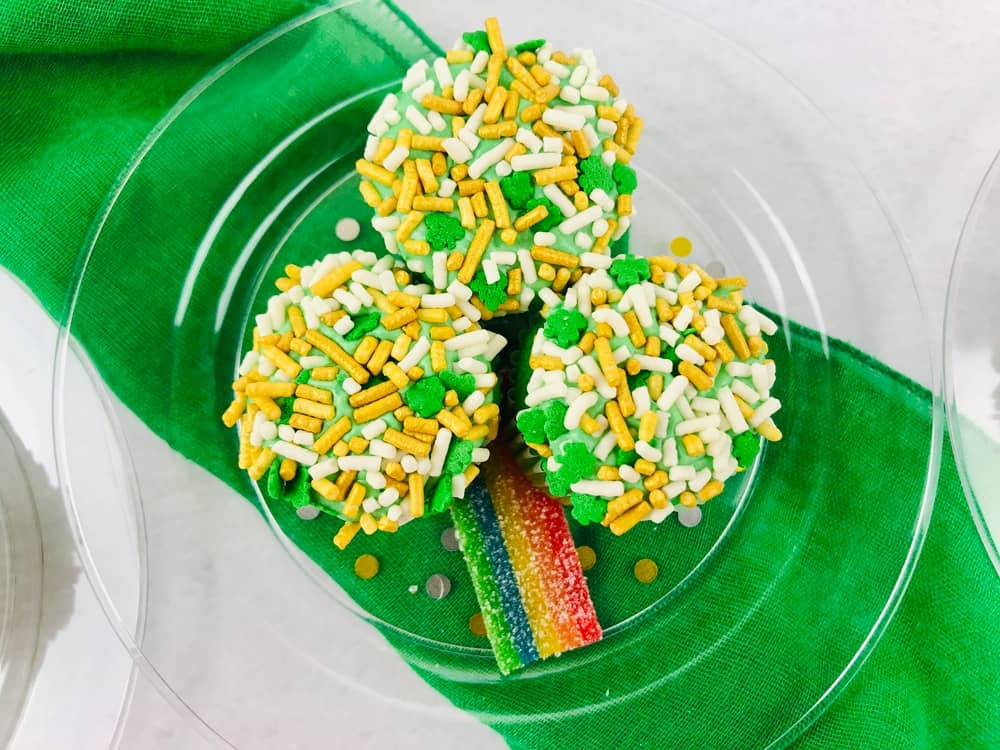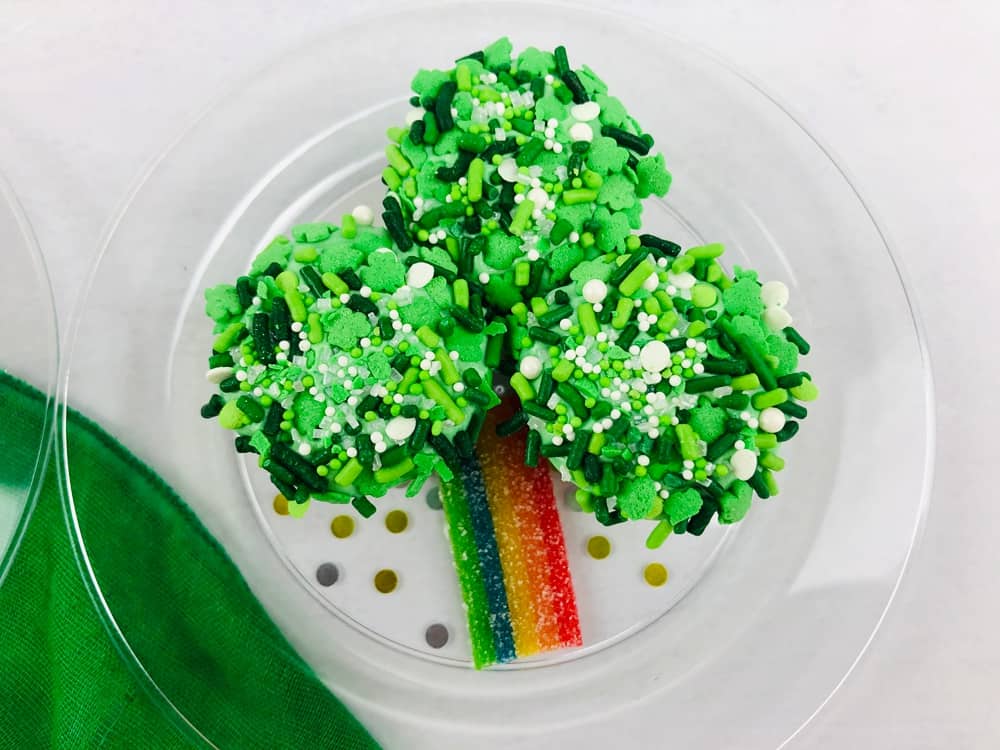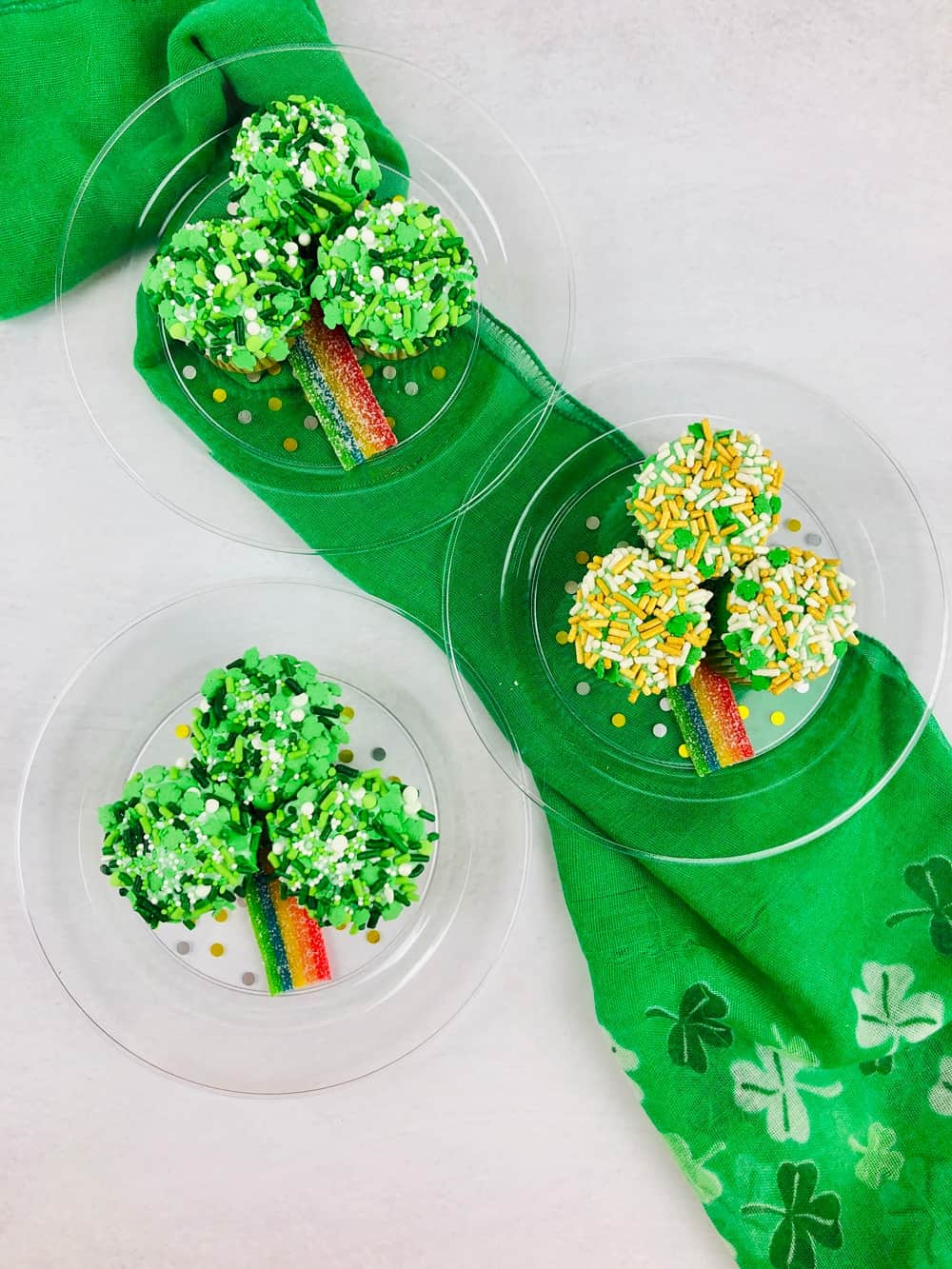 Why are my cupcakes dry?
Make sure that you're following the directions on the cake mix box exactly for measurements and cooking time. Most times, if cakes or cupcakes are dry, it's because there wasn't enough of a binding agent used in the batter, or they were baked too long in the oven.
Shamrock Cupcakes – Ingredients
white cake mix + additional ingredients per instructions OR your favorite recipe
Green food coloring
Green vanilla frosting
Themed sprinkles
Sour rainbow candy strip
Tips for Baking cupcakes
Even though these clover cupcakes are simple, there are a few tips to keep in mind!
Don't overstir the batter. Just mix enough so that there aren't any clumps or lumps.
Make sure the wait until the cupcakes have cooled all the way before adding frosting on top. If the cupcakes are hot or even still warm, the frosting is going to melt off the top.
Can you put cooked cupcakes in the freezer?
You can. Once they're baked and cooled, you can store them in a freezer-safe container and keep them in the freezer. Don't put any frosting on them if you're going to freeze them.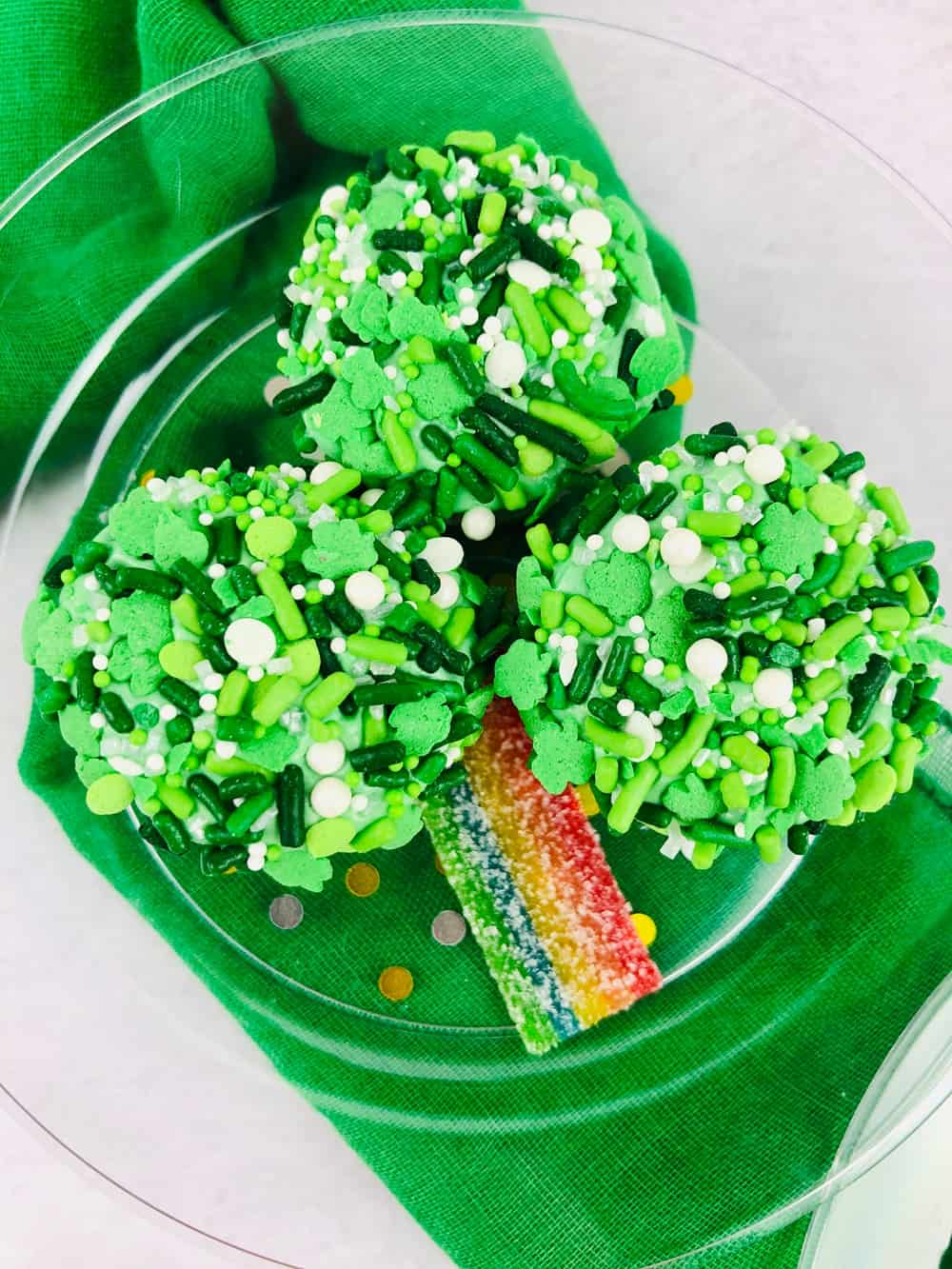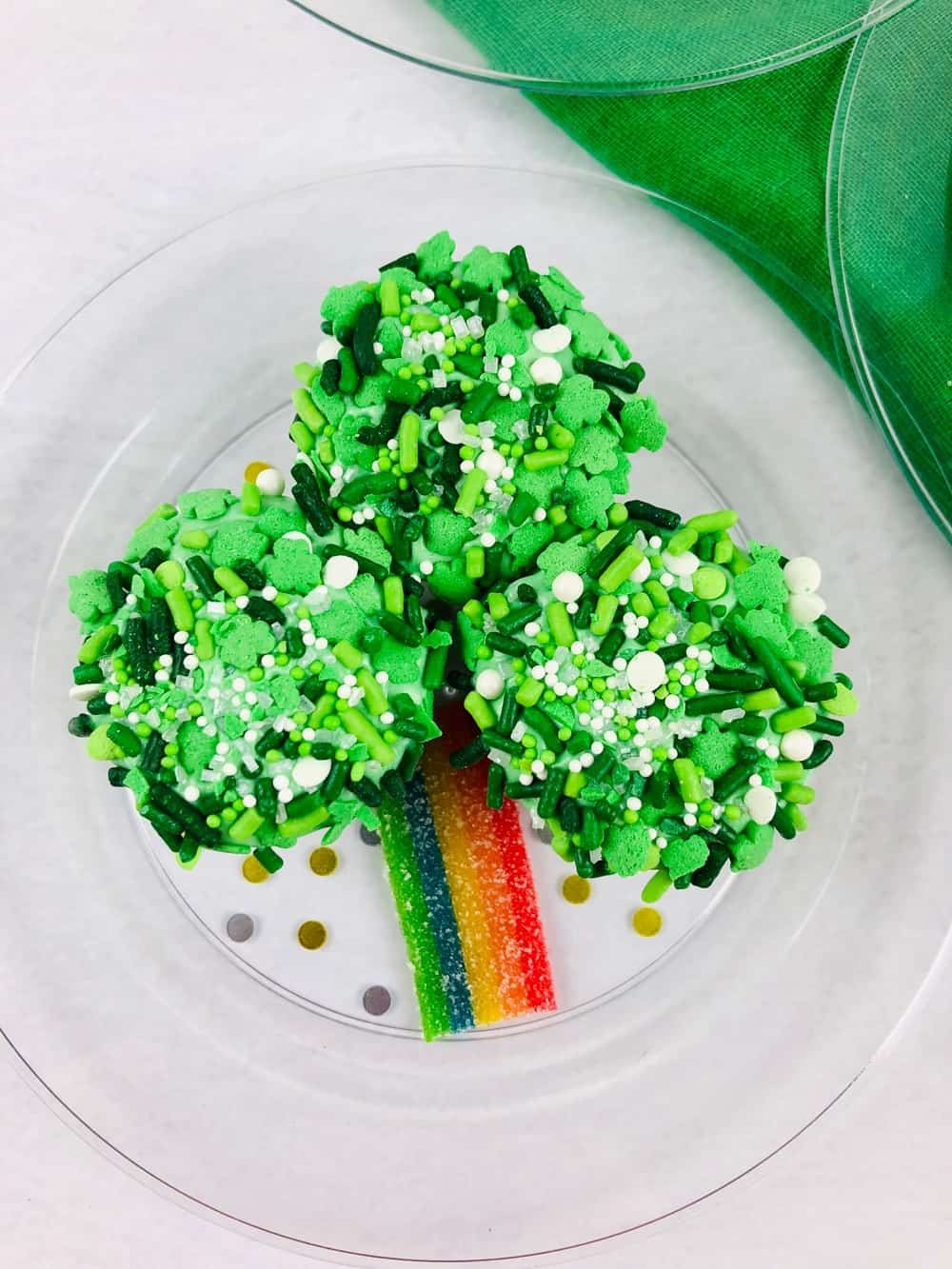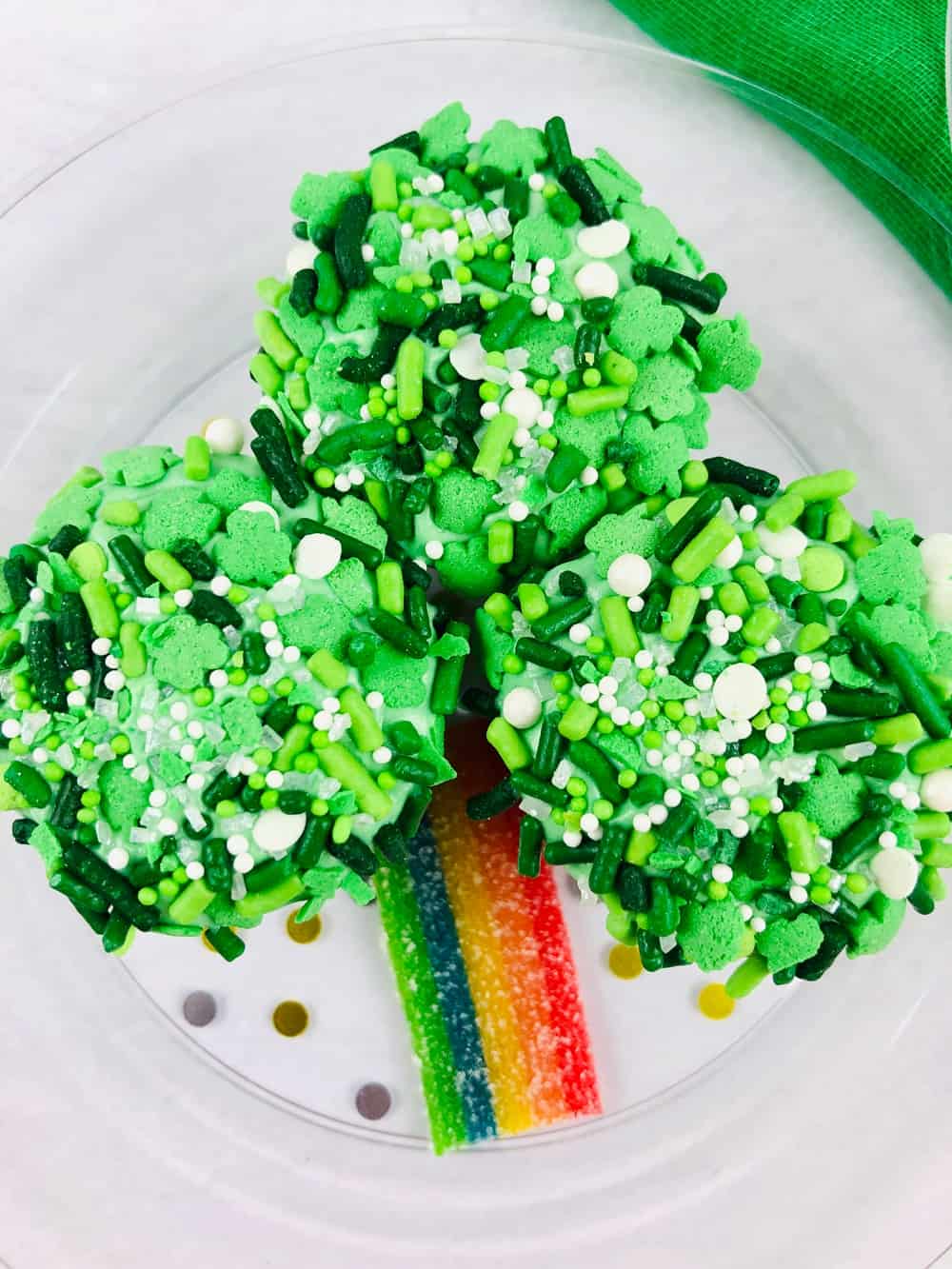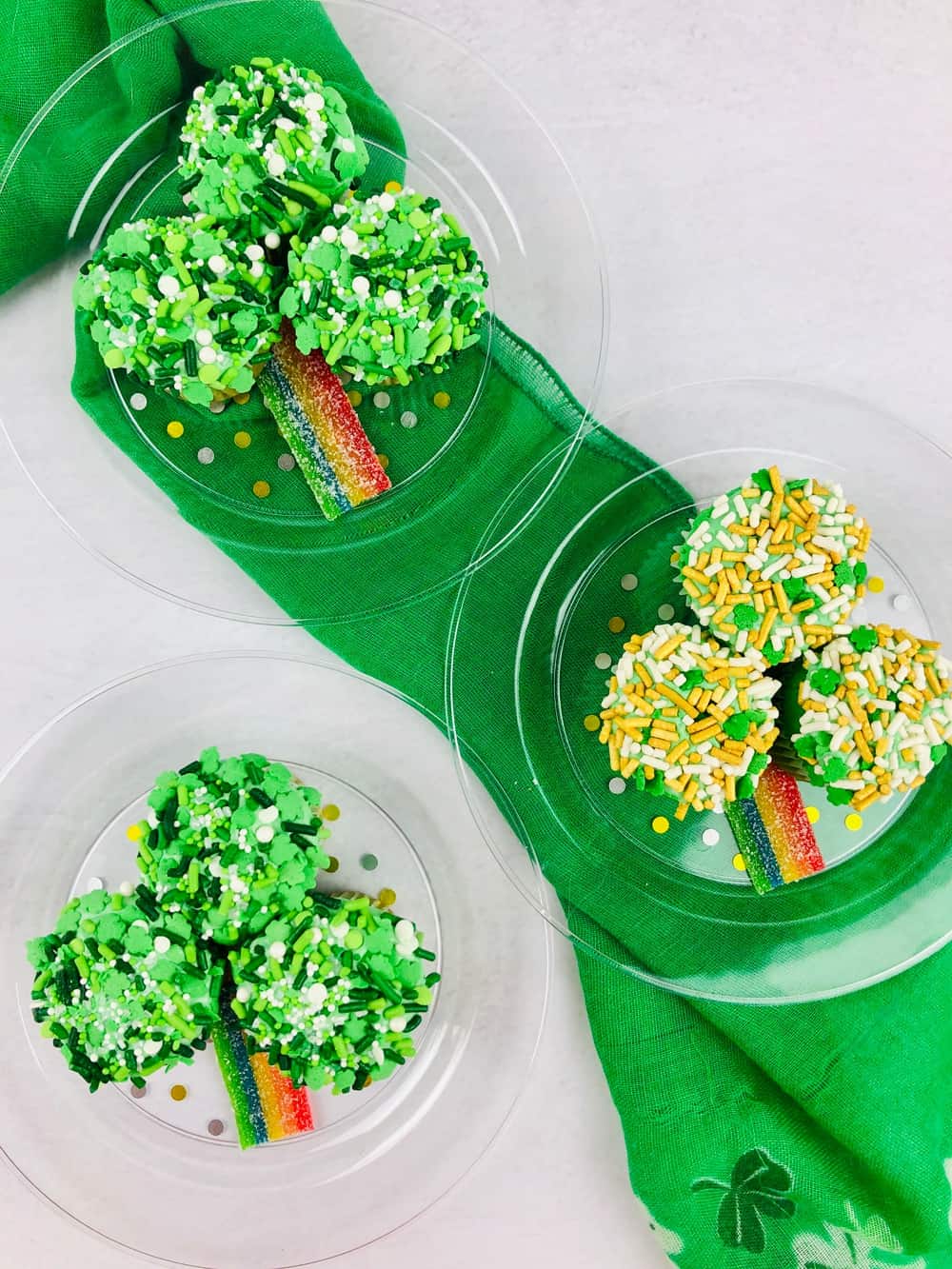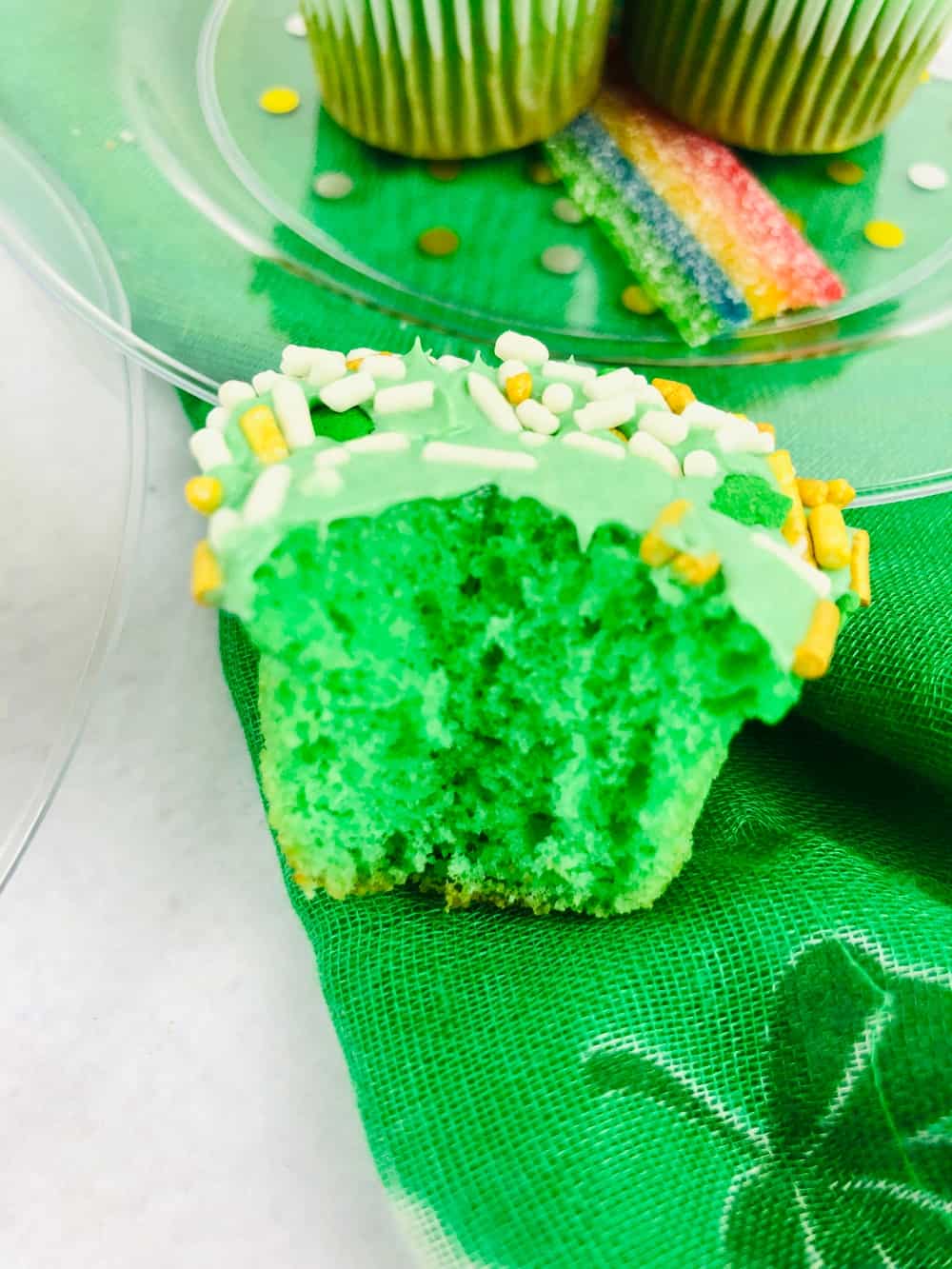 INSTRUCTIONS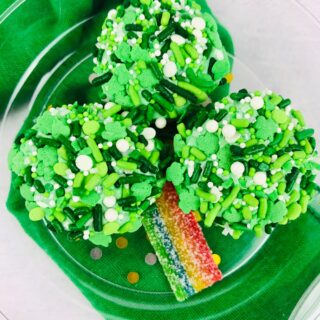 Shamrock Cupcakes
These Shamrock Cupcakes are delicious and so good to make!
Ingredients
1 box white cake mix + additional ingredients per instructions OR your favorite recipe

Green food coloring

Green vanilla frosting in piping bag

Themed sprinkles

Sour rainbow candy strip
Instructions
Bake cupcakes per recipe in mini muffin tin, cool completelyPi.

Pipe a small amount of frosting on a cupcake.

Dip frosting side into sprinkles and gently roll until fully covered.

Arrange 3 frosted and sprinkled cupcakes in a shamrock shape on a small decorativeplate-you can secure them with a small amount of frosting on the bottom of eachcupcake.

Add the rainbow candy strip at the base for the stem and you're all don
You May Also Like