Originally posted: August 28, 2019
Follow us on Instagram for more fun food ideas for kids!
These no-bake blueberry oatmeal bars are simple and easy granola breakfast bars to start any day. They also make delicious snacks for kids.
It's no secret that breakfast can be the hardest meal to get motivated to make and put on the table. Especially now that the school year is starting and everyone is trying to get back on schedule, it's more important than ever to find an easy breakfast oats recipe that I know everyone will love.
What I love most about this recipe is that it literally requires no baking at all and it's actually great for breakfast or as a quick and easy kid snack.
All you'll need are a few basic ingredients to create this delicious, simple granola bar recipe!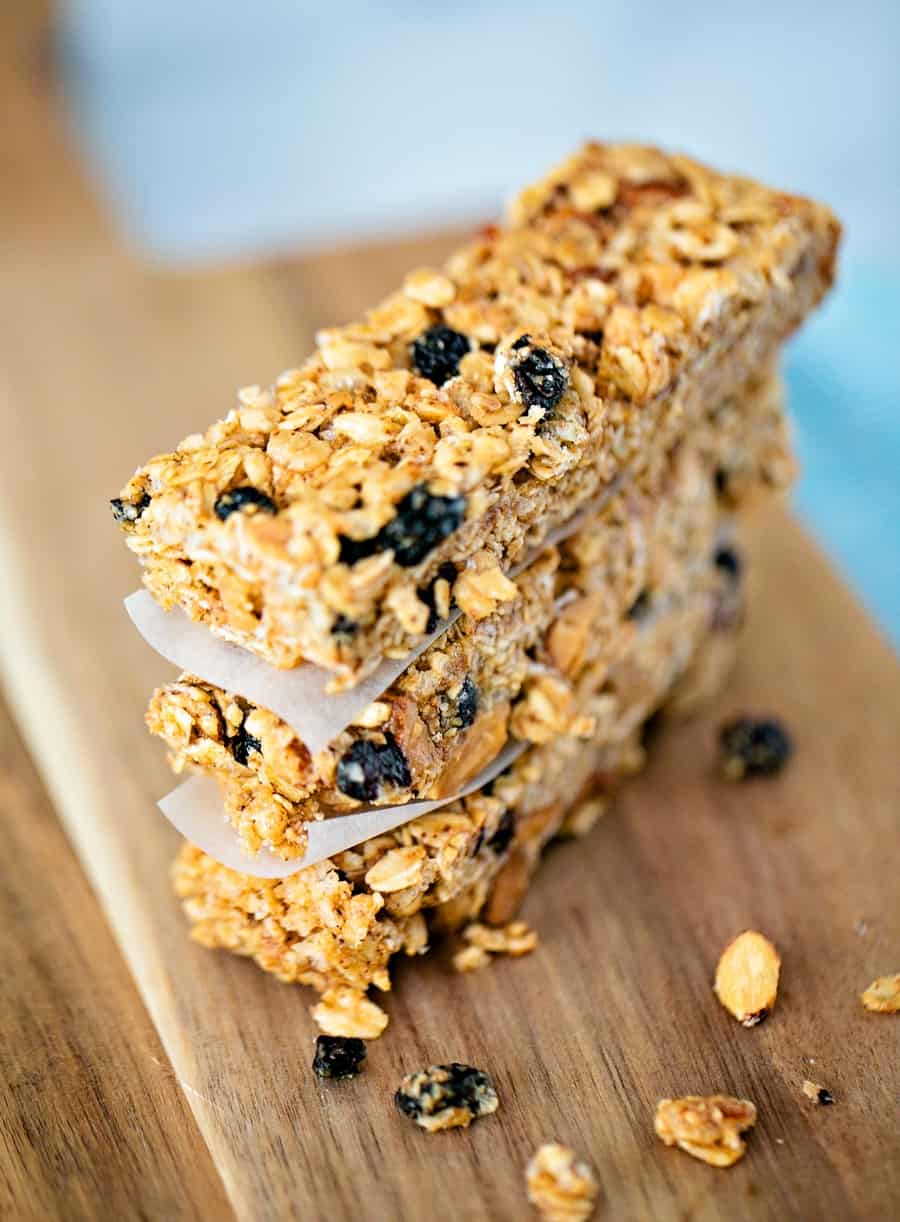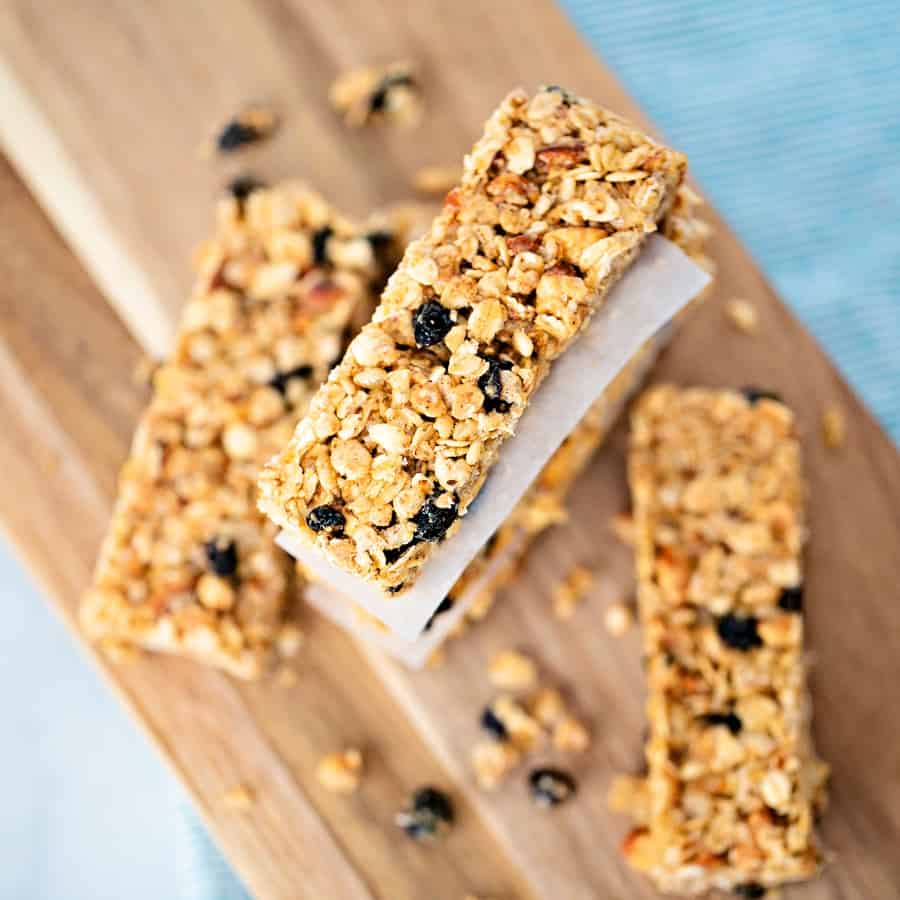 What's the Secret to Making Really Good Homemade Granola Bars?
Can I let you in on a little secret? I've made a lot of granola recipes in my life… Some have been good, some haven't and some left me wishing that I just would have found this no-bake blueberry granola bar recipe before I attempted to make any others.
I tweaked the original recipe we posted first on our craft site a few years back at least 3 times and updated it here to make it even better! I found our first recipe crumbled too easily, as tends to be the case with no-bake granola bars.
The flavor combination of the blueberry and almonds is a match made in taste bud heaven. The light natural sweetness of the blueberries paired with the crunch of the almonds has a great texture.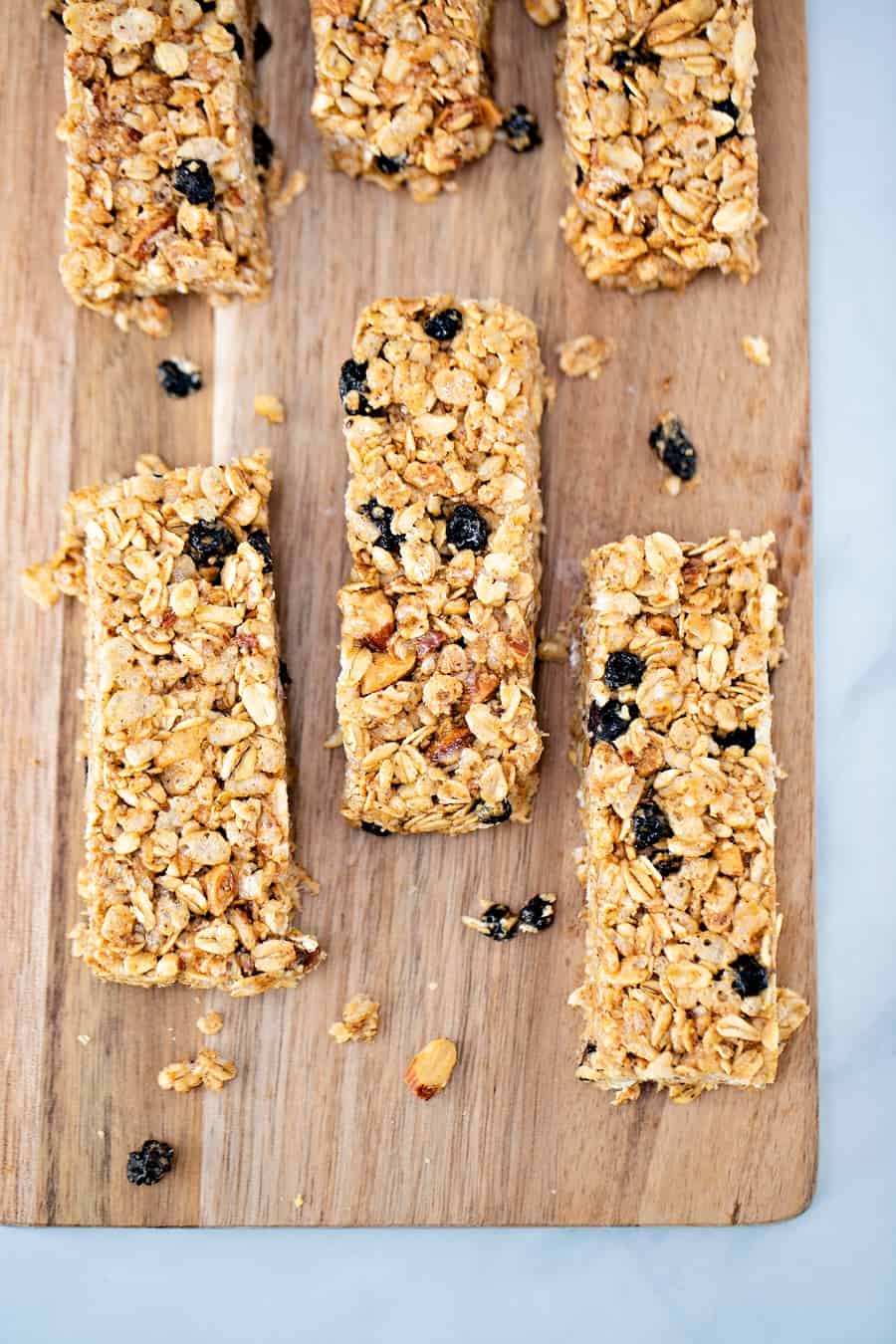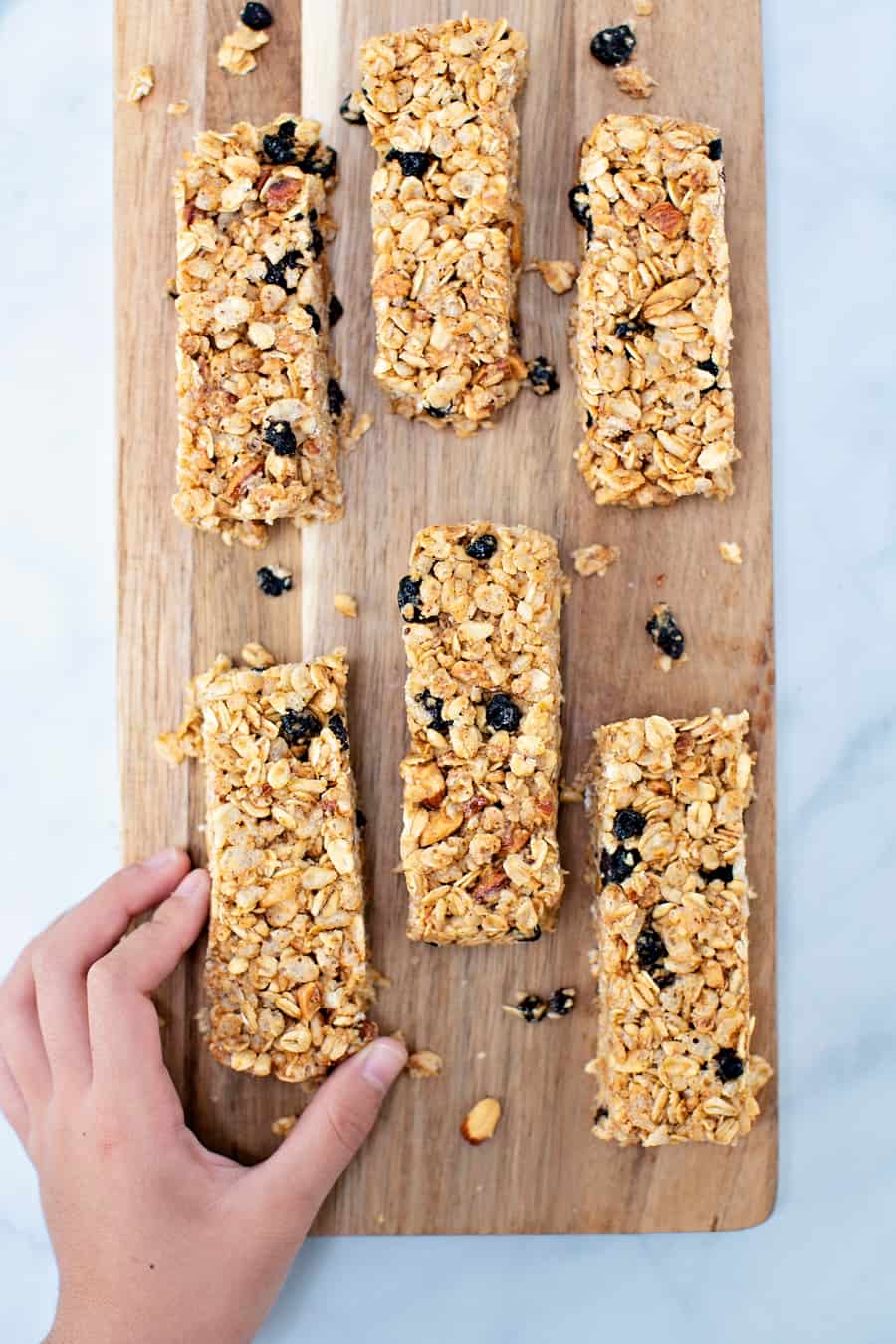 Are Oat Bars Really Healthy?
If you look at the list of ingredients, these no-bake granola bars offer some great nutrients that provide a good start to the day. There is no added sugar, only honey! And the oats, blueberries, almonds, and almond butter come together to make a healthy, energizing meal or snack to start the day with.
And when you really stop and compare it to other store-bought breakfast options, it's much better than feeding the kids a cereal bar with added sugar and preservatives.
Can you Use Fresh Blueberries in this Oatmeal Bar Recipe?
I've honestly not tried it and don't know if I would recommend doing so.
If you were to make this recipe using fresh blueberries, you're taking the chance of having a ton of juice or liquid leak out onto all the other ingredients. I highly recommend following the recipe as it's posted below to get the best outcome, taste, and flavor; unless you want soggy granola bars, which I suspect no one wants.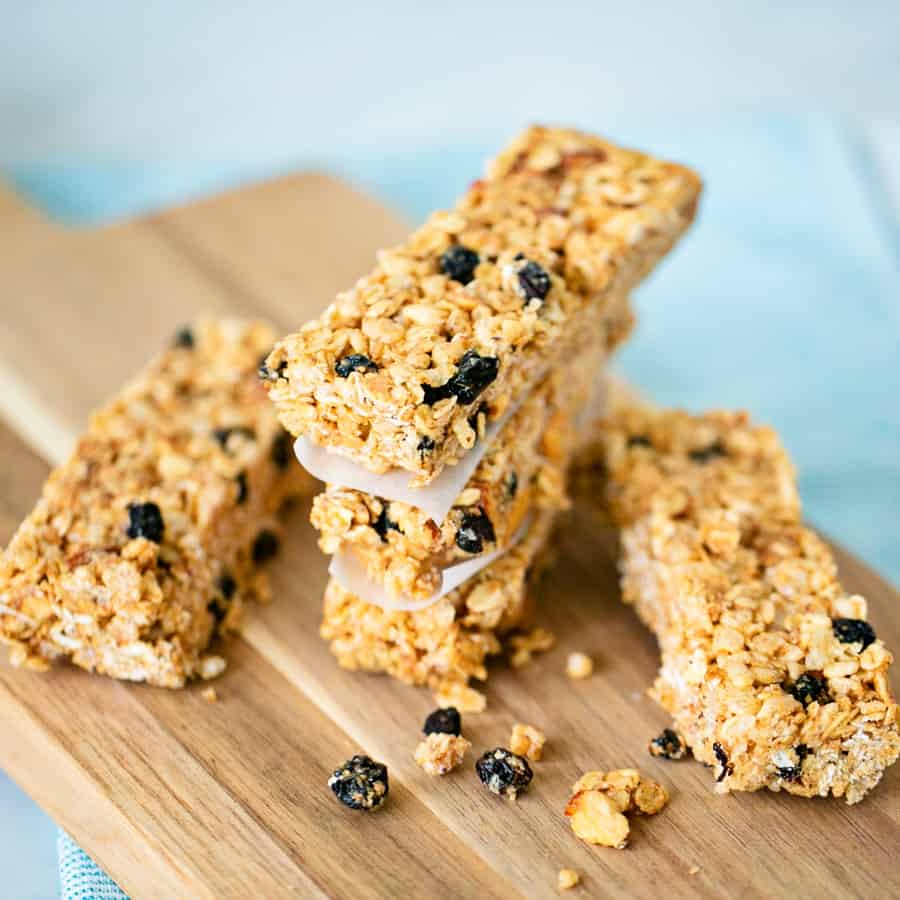 What's the Trick to Keeping this Blueberry Granola Bar Recipe from Crumbling too Easily?
That was my one pet peeve with making no-bake granola bars. On one hand, they are super easy one-bowl concoctions that require no oven time. But on the other, they do tend to crumble easily!
My trick? I keep them in the freezer! Once they are cut into bars, I keep them there, cut and frozen. So when it's snack time, I just take a bar out about 10-15 minutes before I or the kids are ready to munch. That way they stay perfectly firm, as well as fresher for longer.
HOWEVER, if you don't want to plan those 10-15 minutes ahead, you can simply keep them chilled in the refrigerator and enjoy them right away.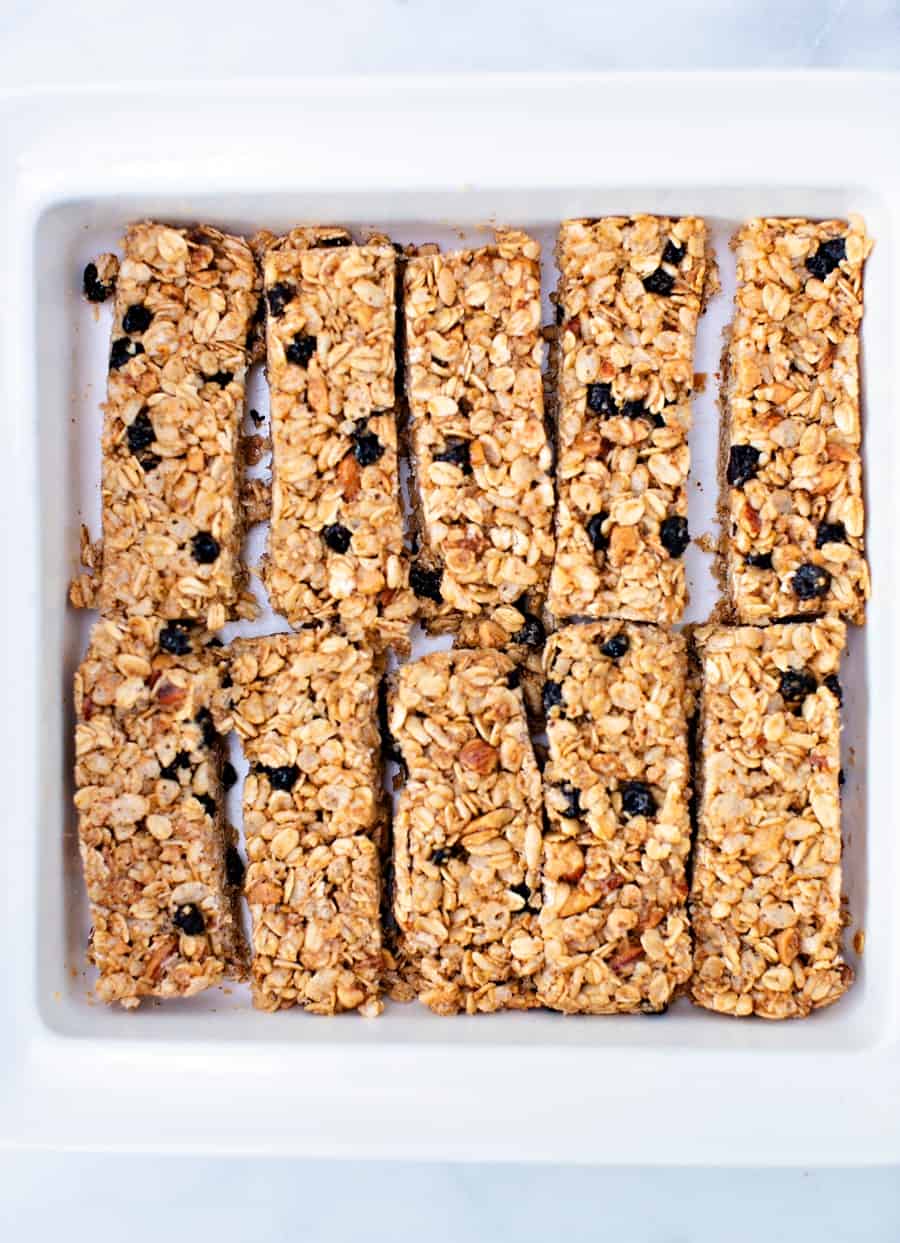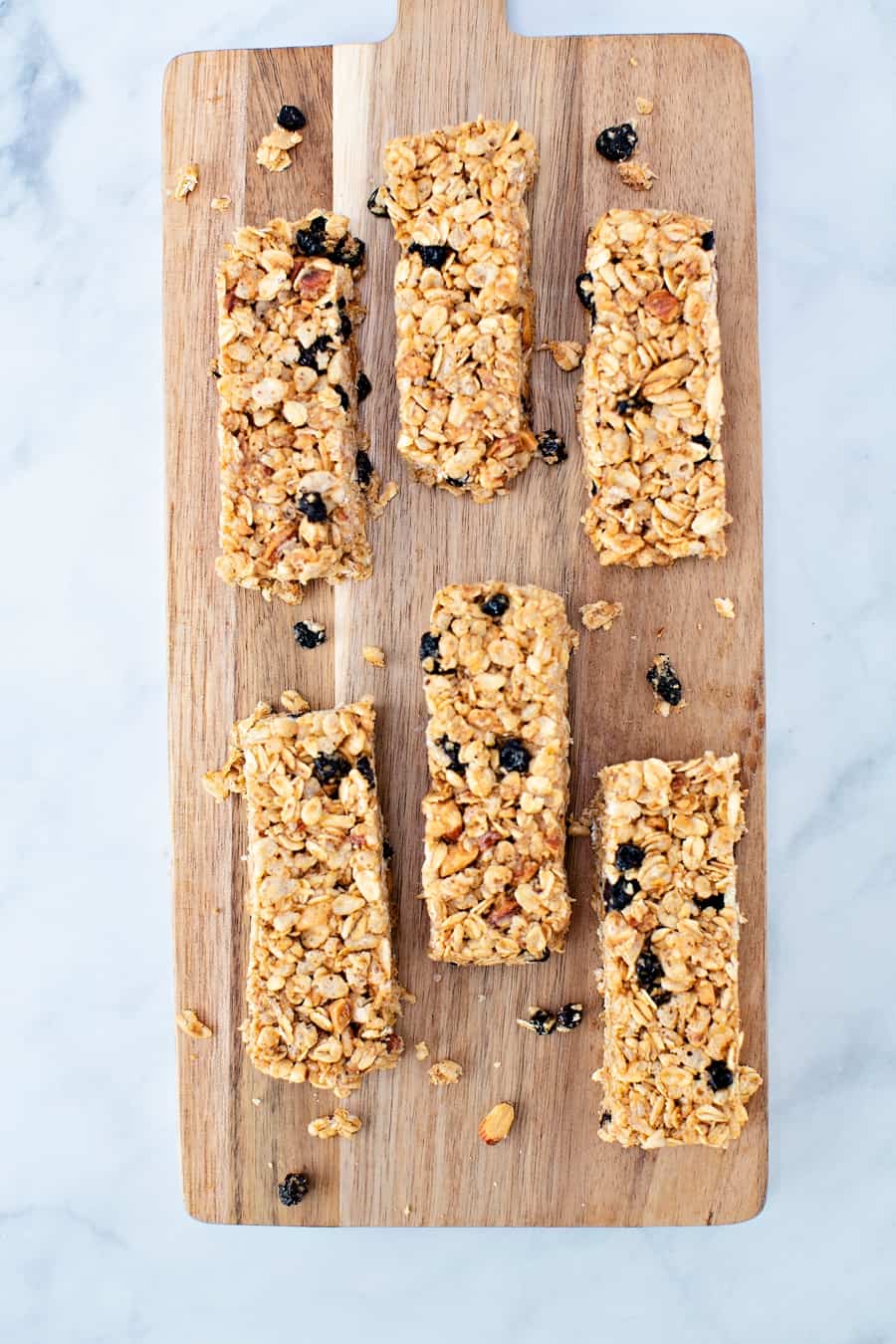 Make sure to scroll down to watch the video below to see how we made these delicious No-Bake Blueberry Almond Granola Bars!
No-Bake Almond Blueberry Bar – Ingredients:
Oats
Rice puffed cereal
Almond butter
Chopped almonds
Honey
Dried blueberries
Salt
As you can see, a handful of ingredients creates a totally delicious and simple treat that everyone in the family will love. They're also all healthy ingredients, with no refined sugars or preservatives. So you can feel confident in what you're putting in your and your kid's bodies.
How Do You Store Leftover Granola Bars?
If you happen to have some leftover, you're going to want to store them in an airtight container and keep them in the fridge. They should last at least 10 days, but you probably won't have that many left by then! Or you can store them in the freezer like we recommend above.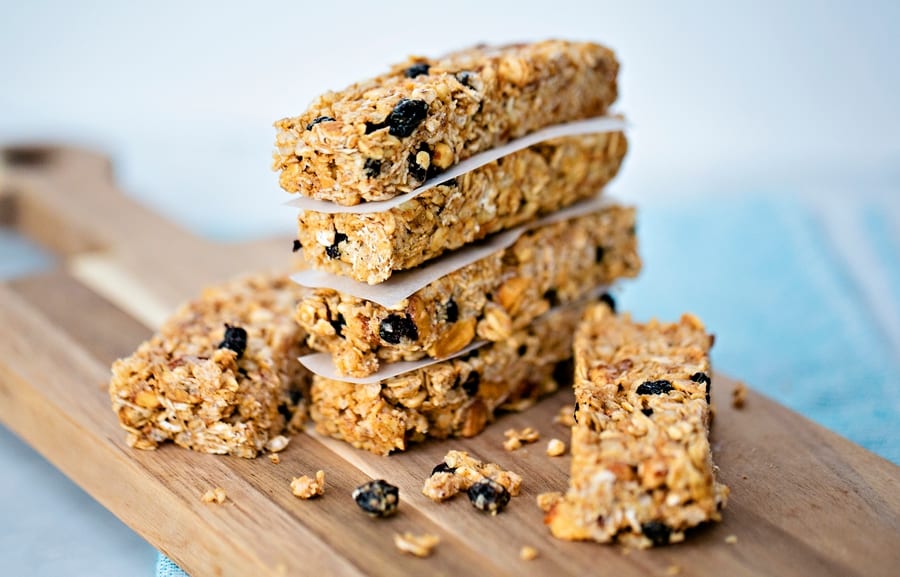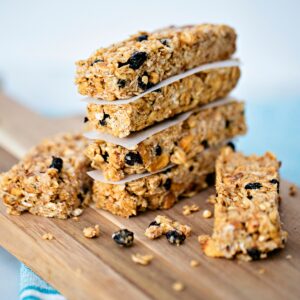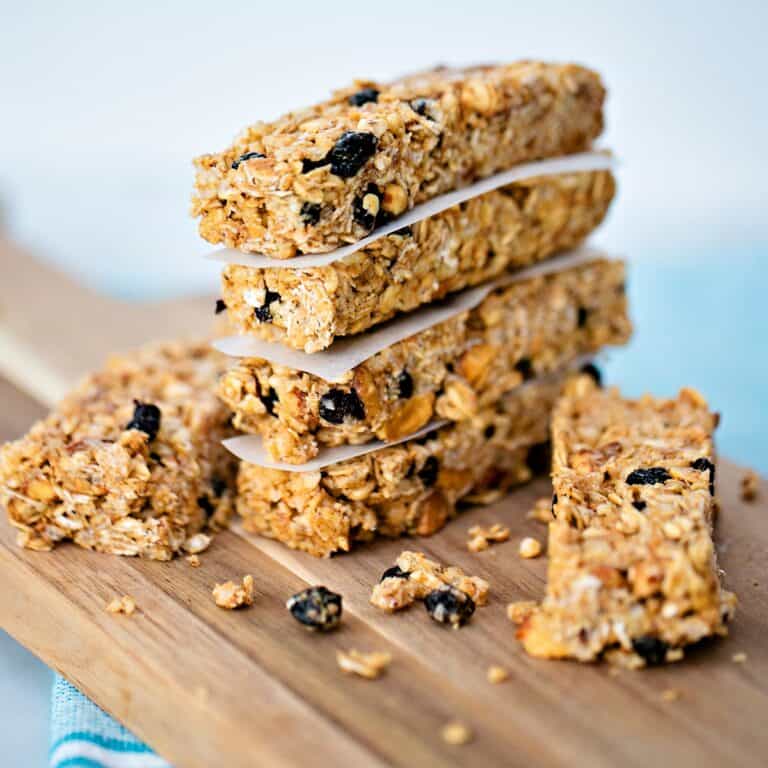 How to Make No-Bake Blueberry Granola Bars
These No-Bake Blueberry Almond Granola Bars are a simple and easy breakfast to start any day.
Ingredients
2

Cups

Oats

2

Cups

Puffed Rice Cereal

1/2

Cup

Almond butter

1/2

Cup

Honey

1/2

Cup

Dried blueberries

1/2

Cup

Toasted chopped almonds

1/2

tsp

Kosher salt

Nonstick cooking spray
Instructions
1. In a large bowl, combine the oats, puffed cereal, almond butter, honey, dried blueberries, almonds.

2. Mix well with a spatular until all ingredients are combined.

3. Add salt, mix well.

4. Spray a 9" x 9" baking pan with non-stick cooking spray.

5. Add your granola mixture evenly, pat down with a spatula. You can also lay a sheet of parchment paper over the top and pat down with your hands.

6. Chill until hard in the refrigerator, at least a few hours.

7. Remove and cut into bars. Enjoy immediately. Keep in the refrigerator so they stay hard.

You may place cut bars into the freezer which is what we do to keep them extra nice and firm, just take them out to defrost 10-15 minutes before consuming.
Video
Nutrition
Serving:
12
g
Calories:
2731
kcal
Carbohydrates:
383
g
Protein:
68
g
Fat:
118
g
Saturated Fat:
10
g
Sodium:
1211
mg
Potassium:
2757
mg
Fiber:
49
g
Sugar:
191
g
Vitamin C:
1
mg
Calcium:
757
mg
Iron:
17
mg
Ready to Make No-Bake Blueberry Oatmeal Bars?
These blueberry oat bars are the ideal snack for kids and adults on the go. Having a delicious and easy snack doesn't have to be unhealthy or full of sugar. Too often we just want to grab a chocolate bar or even a sugar-filled granola bar from the supermarket.
But now you have this wonderful recipe, and you'll be healthier and happier for it! You could even make them in bulk, so that you're sorted for weeks to come. Just remember to keep them in an air-tight container in the freezer, so that they'll last as long as you do.
Get the kids involved in the measuring and mixing, and you'll find that they enjoy the oatmeal blueberry bars even more than they would have if you'd made them all yourself. Enjoy this recipe, and please let us know how you and your family like them! We love to hear from you.
More breakfast recipes to try: