Originally published on May 14, 2020
By using this site, you agree to our Terms of Use. This post may contain affiliate links. Read our disclosure policy.
Follow us on Instagram for more fun food ideas for kids!
Looking for kid-friendly recipes with Funfetti cake mix? These cookies are literally the easiest you'll ever make with just 3 main ingredients.
Baking cookies is one of those things that families love to do together. And our family isn't any different. Spending time together in the kitchen is one thing that saves all our sanity and helps us create strong family memories. In this post we explore using Funfetti cake mix for cookies, so get your little ones ready to join you in the kitchen.
We're pretty much obsessed with these Funfetti cake cookies because they're simple enough to make but have an awesome taste and flavor.
What I love most about this simple cookie recipe is that it's easy enough to make in just a few moments of time. Don't get me wrong…some days I love an elaborate treat but other times I just want delicious cookies as fast as I can get them.
The kids love this recipe as well because it has sprinkles. Isn't it just amazing how sprinkles can make everything better? They're certain to bring a smile to their faces (and the more sprinkles, the better!).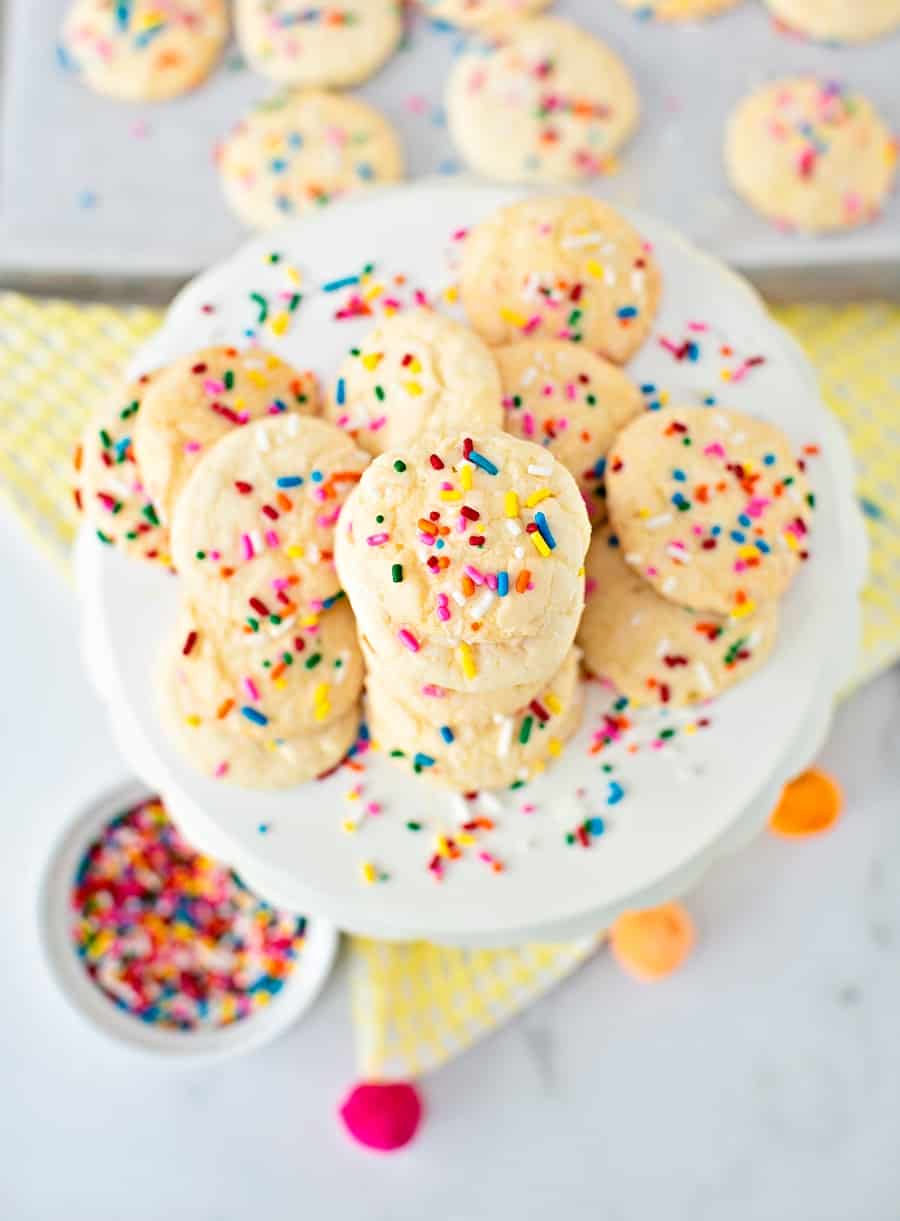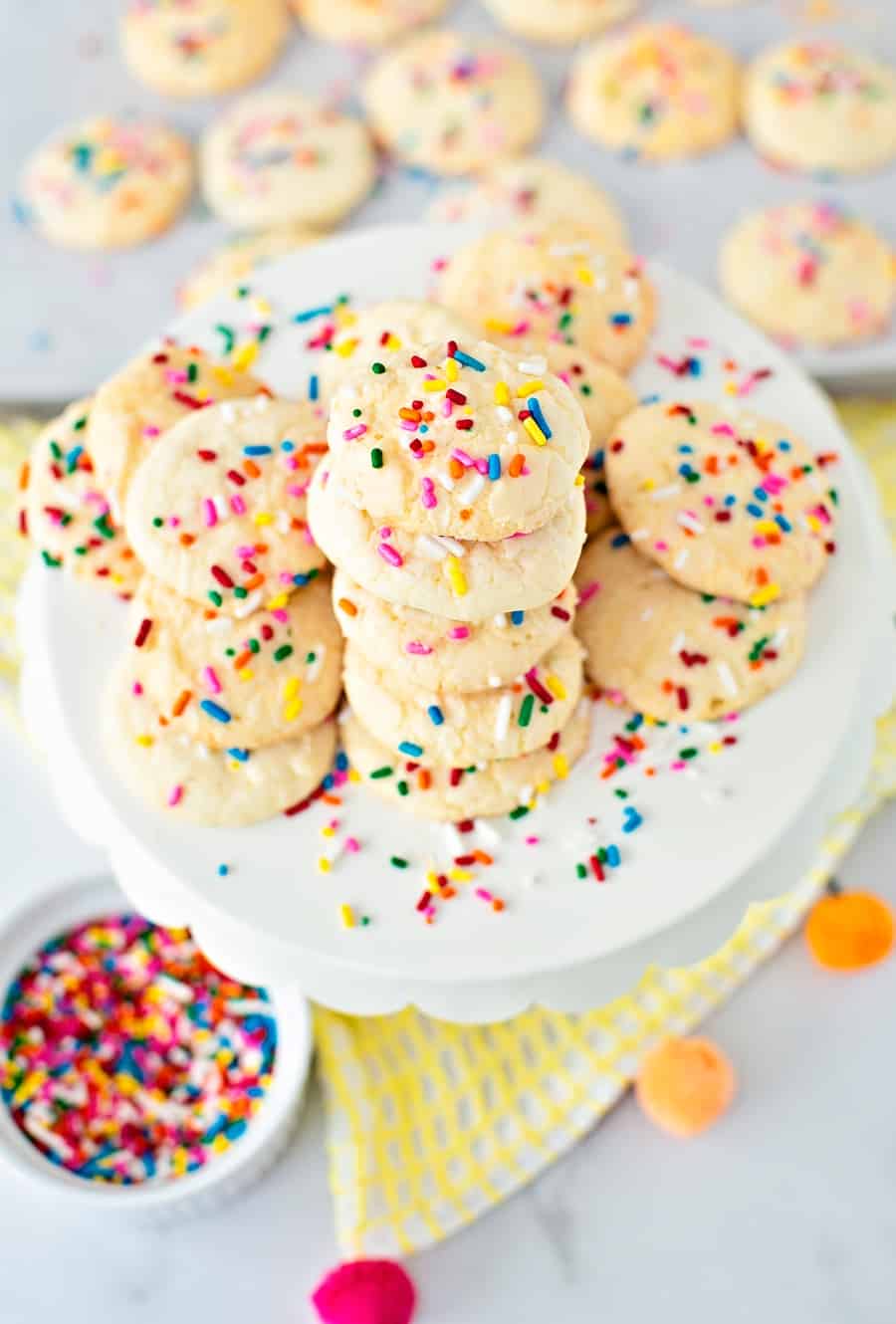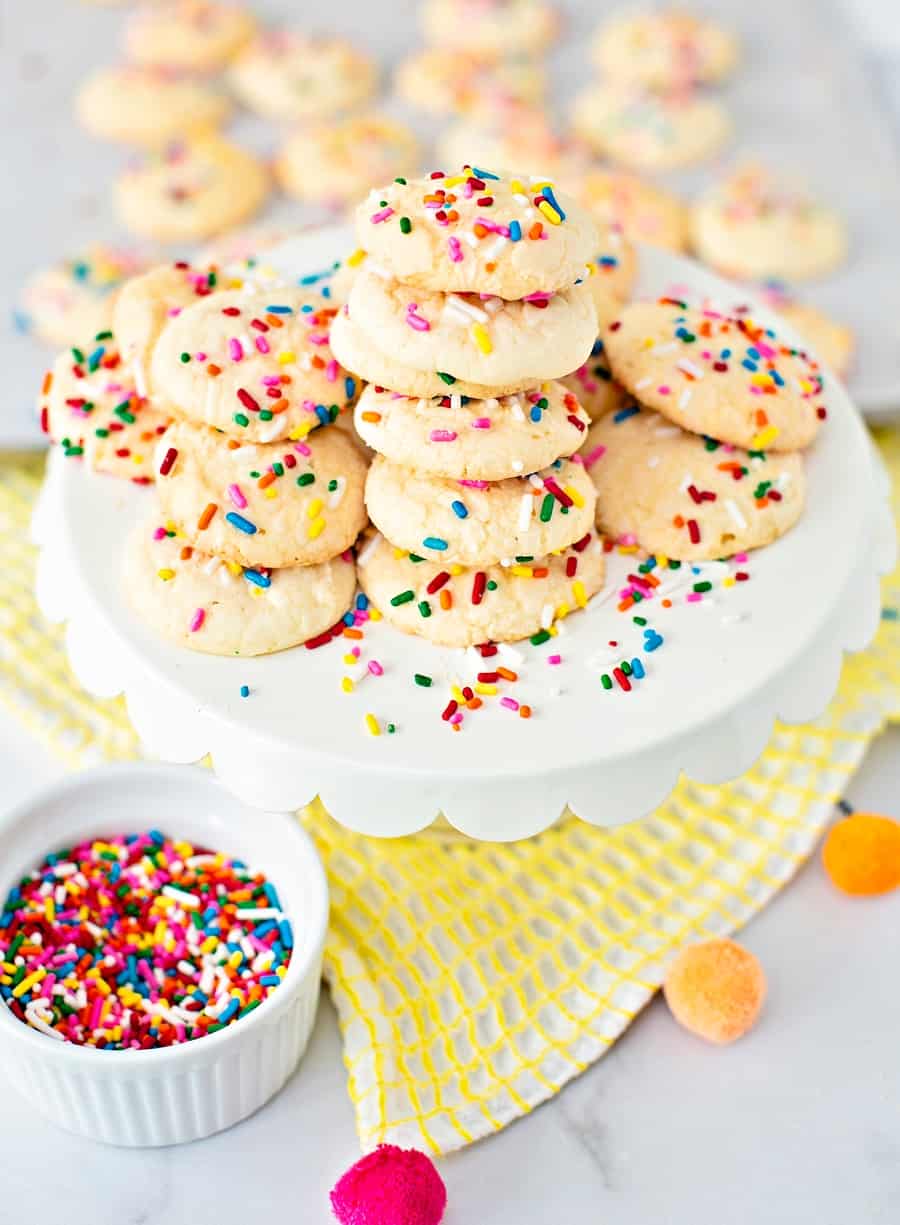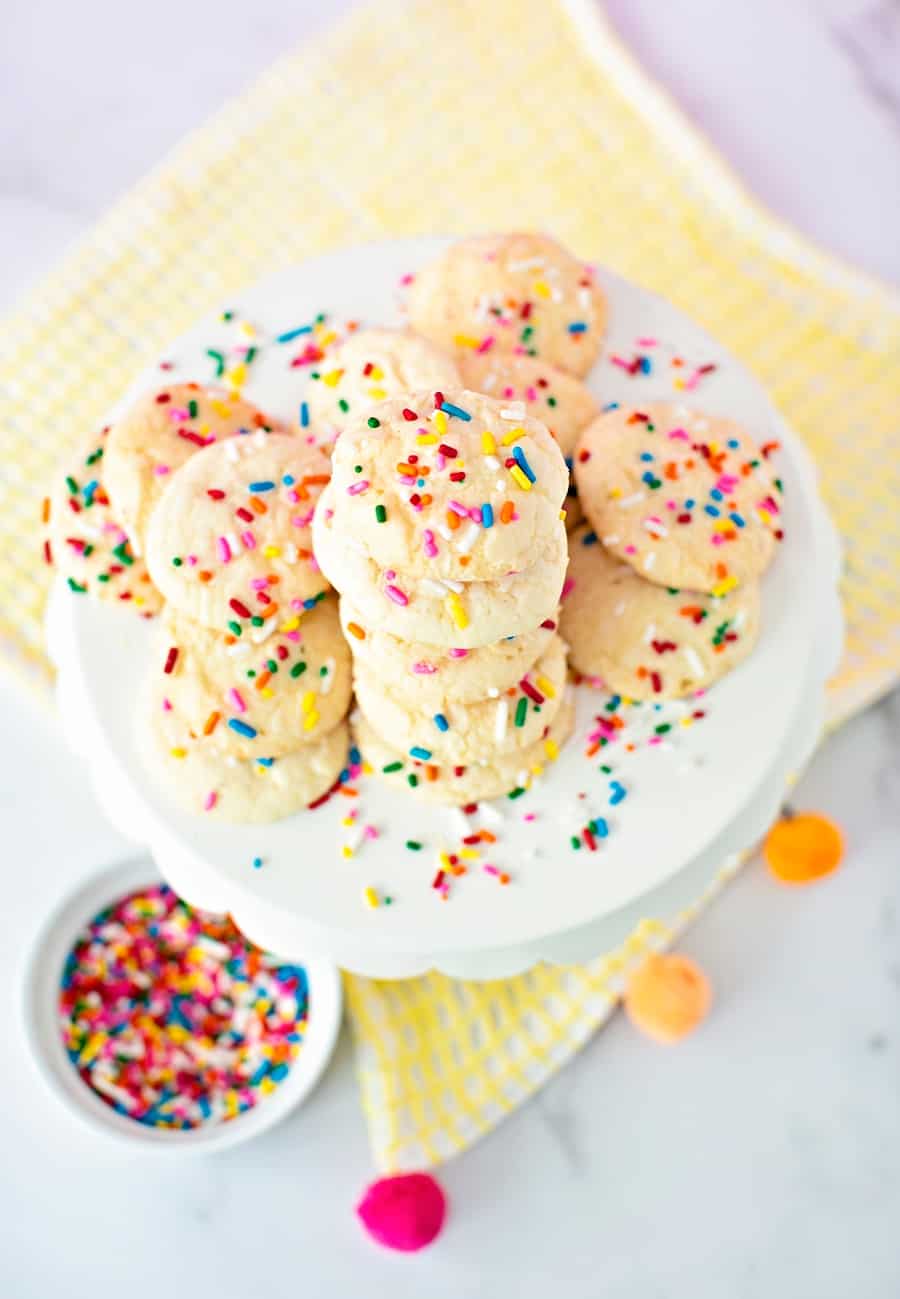 Can I Use Another Flavor for Funfetti Cake Mix Recipes?
Of course! This is what keeps this cookie recipe fresh and new. We love using a yellow cake mix for our house but you can have fun and experiment with the type of cake mix that you want.
I would imagine that the chocolate Duncan Hines or Funfetti cake mix, red velvet cake mix, or even lemon cake mix would all be great options for a cookie recipe like this.
We used the yellow Duncan Hines cake mix for cookies. Another great option is the Duncan Hines confetti cake mix as it includes rainbow-coloured edible confetti.
They're all worth trying, right? Make it a cookie taste-test and have multiple flavors to try.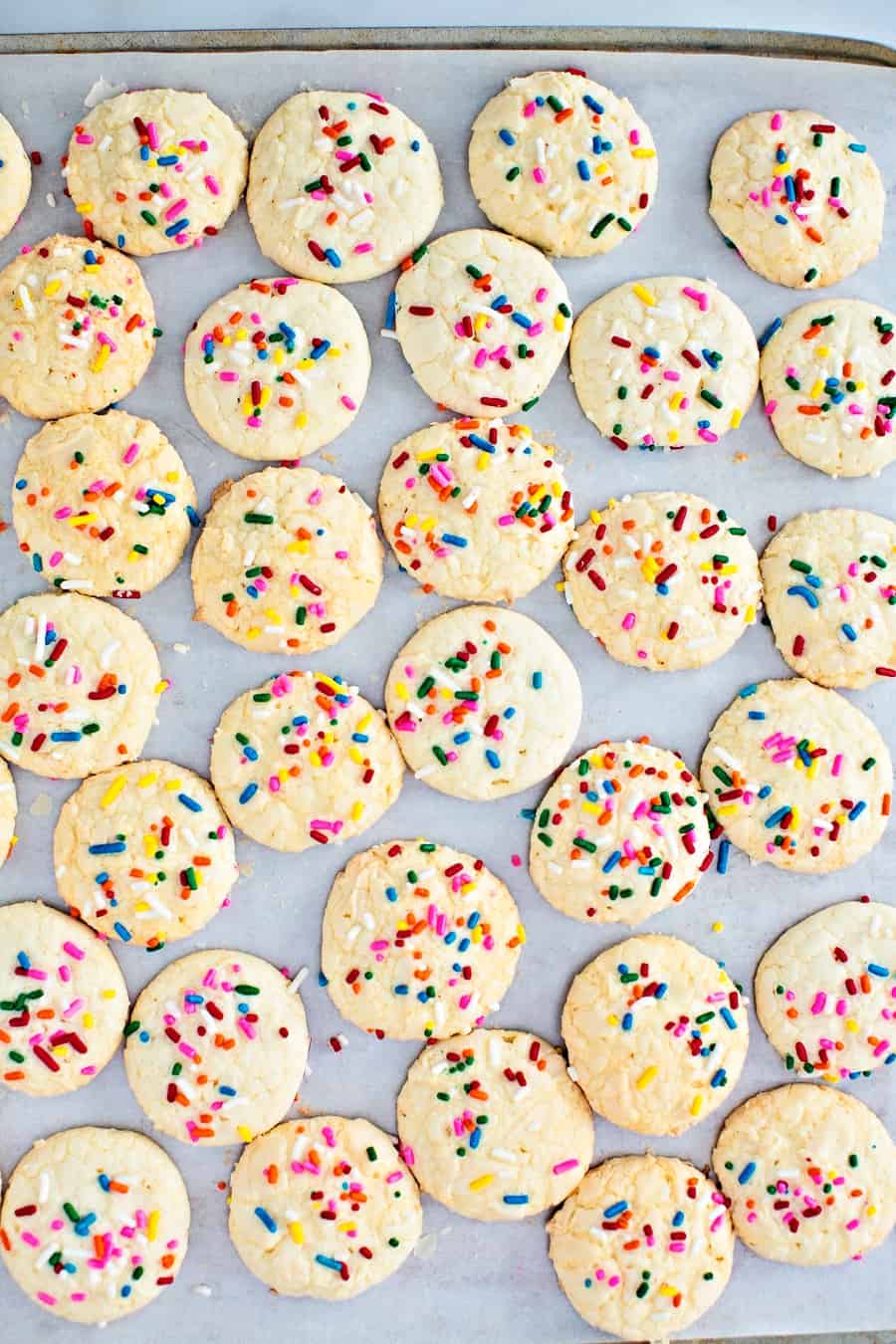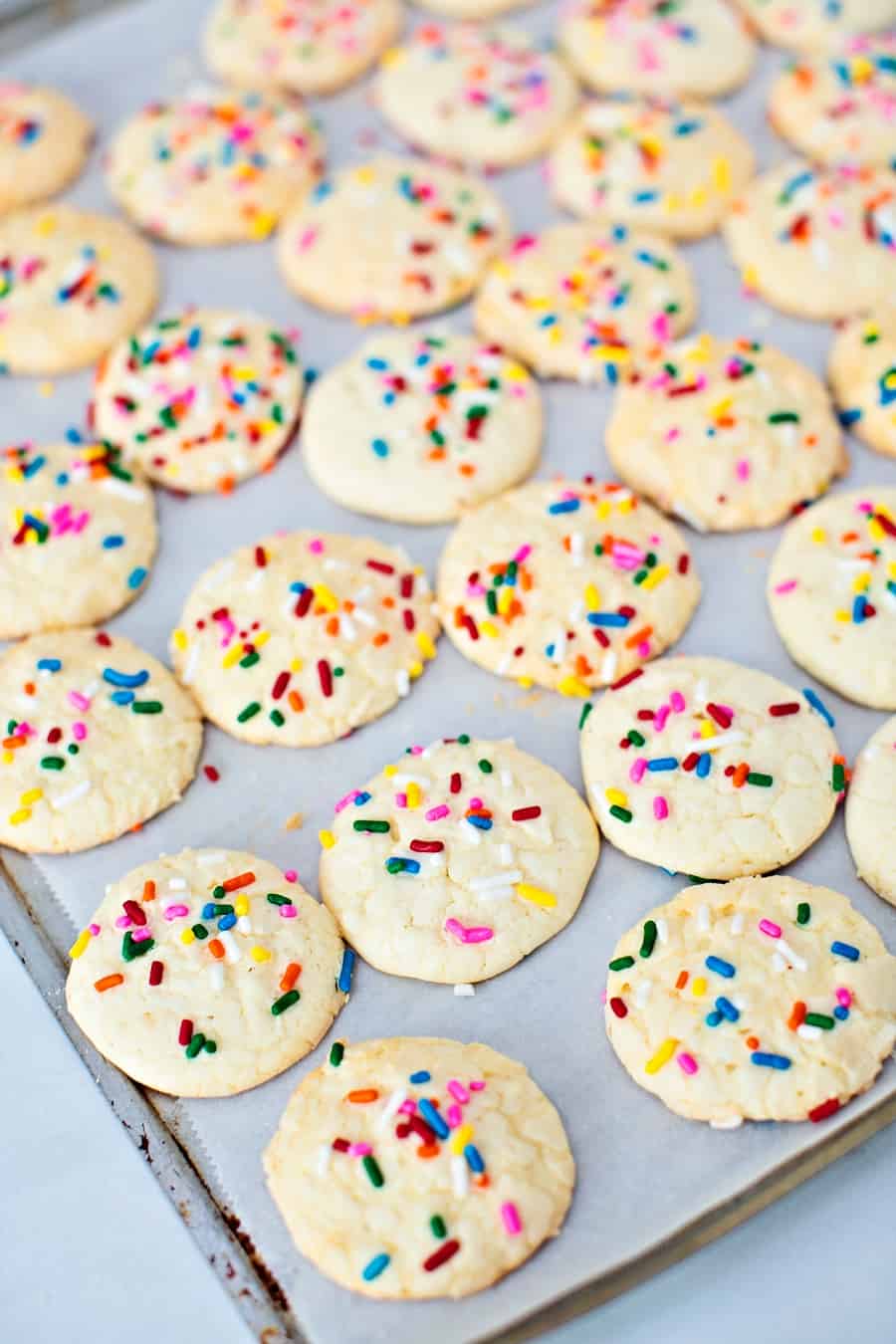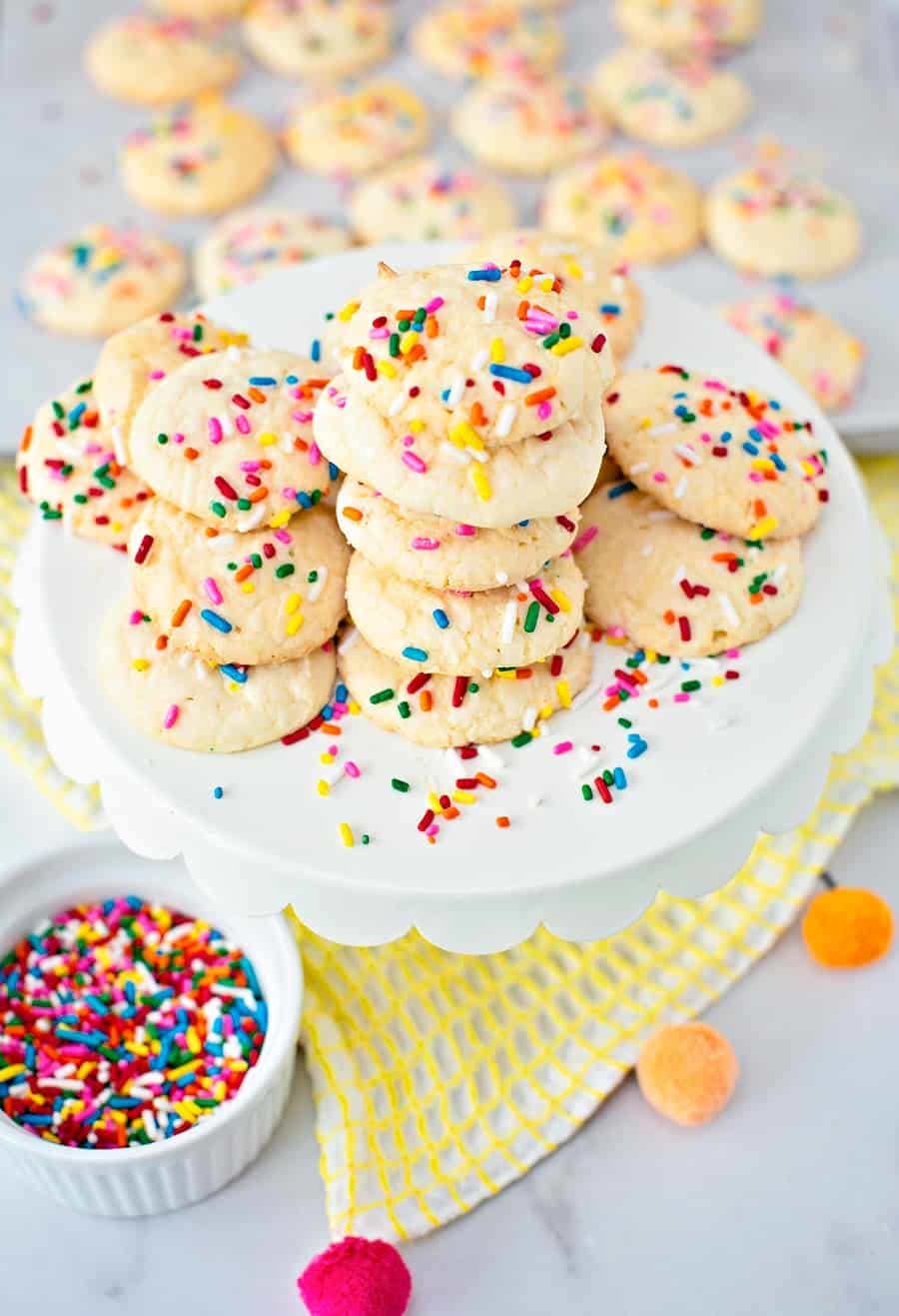 How do You Store These Cake Mix Cookies Once Baked?
Since cake mix cookies are meant to be softer cookies with a lot of flavor, you're going to want to keep them stored in an airtight container so that they stay as fresh as possible.
I like to store mine in the fridge because I think that when they're just a little bit chilled they taste amazing. But if you don't like them cold, just leave them out to get to room temperature and dive in.
But let's be honest, great tasting cookies don't last very long and I have a feeling once you make these delicious cookies they won't either!
Funfetti Cake Mix Cookies – Video
Make sure to scroll down to watch the video in this post to see how we made these delicious Funfetti Cake Mix Cookies.
Gather your young helpers and start by preparing the ingredients listed below. Press play and enjoy following along with me as I prepare and bake the cake batter cookies.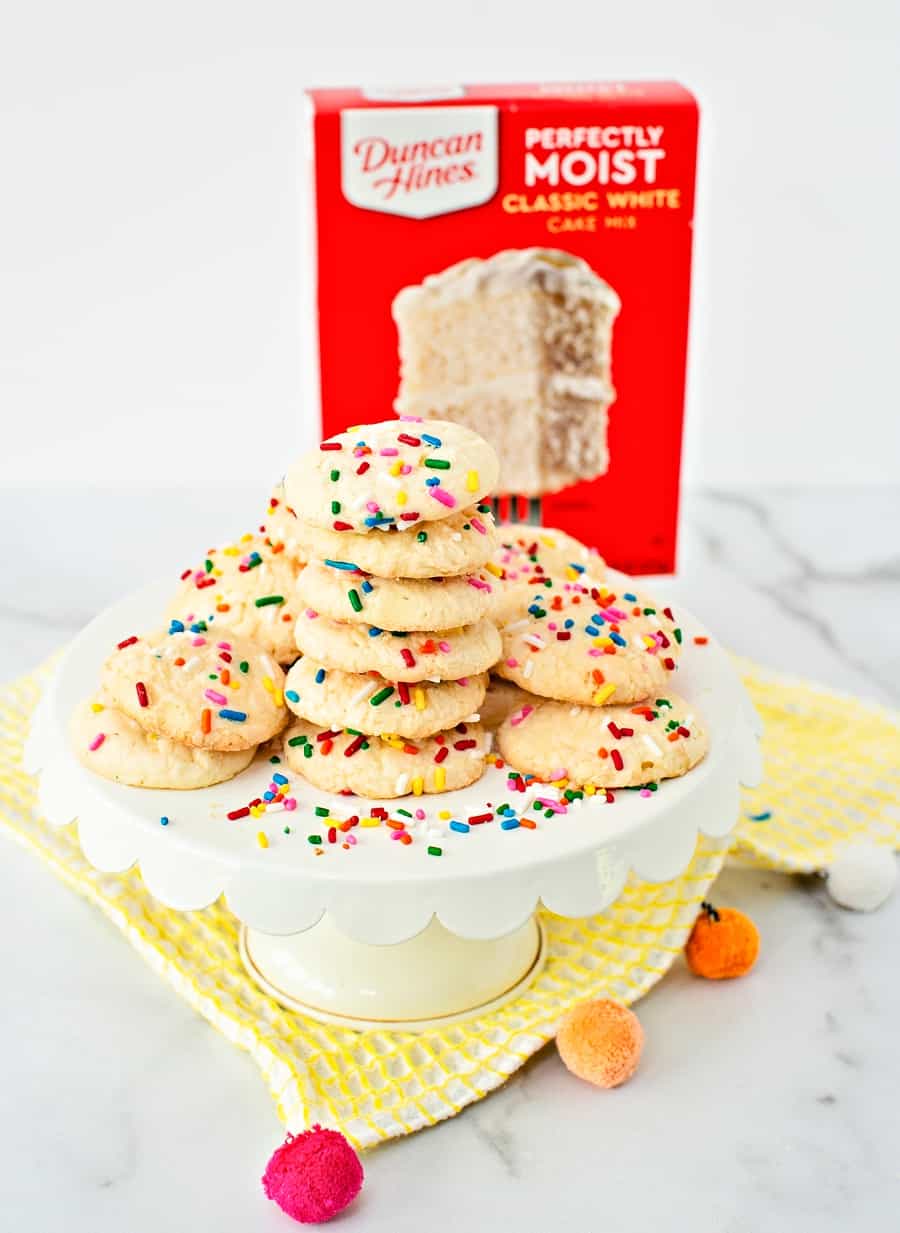 *** Note the cake mix box shown here is white but we used yellow cake mix for this version. You can use either white or yellow cake mix for cookies!
Funfetti Cake Mix Cookies – Ingredients
Yellow Cake Mix 15.25 oz (we used Duncan Hines brand)

1/2 cup of vegetable oil

2 large eggs

1/4 cup all purpose flour

Funfetti Sprinkles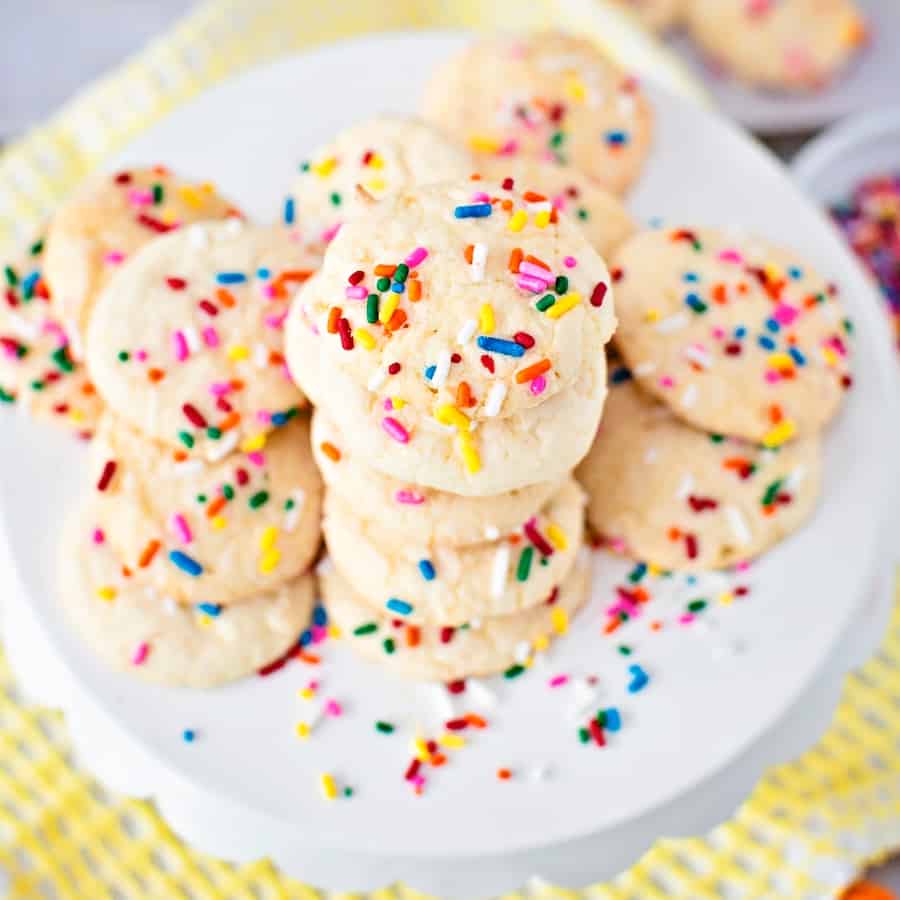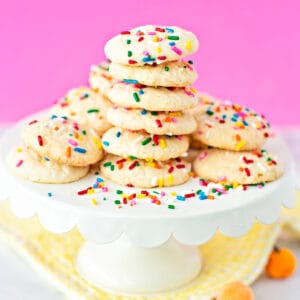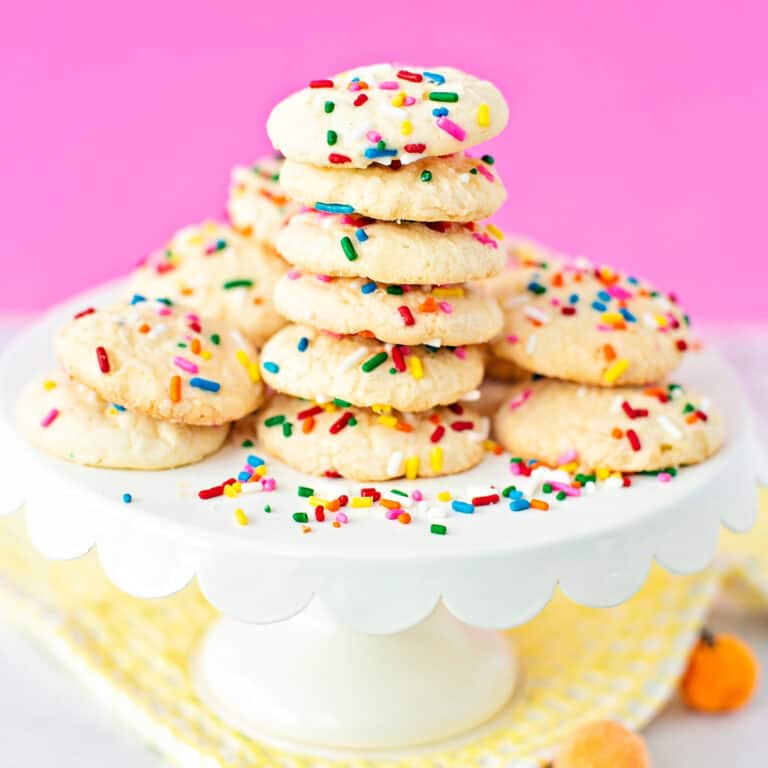 Funfetti Cake Mix Cookies
Ingredients
15.25

oz

Yellow Cake Mix

we used Duncan Hines brand

1/2

cup

vegetable oil

1/4

cup

all purpose flour

2

large

eggs

Funfetti or rainbow sprinkles

Use jimmies not nonpareils
Instructions
1) Preheat oven to 350 degrees. Line a baking pan with parchment paper.

Add flour and cake mix in a large bowl.

Mix with a hand or stand mixer on medium heat until batter is incorporated and there are no lumps

Scoop 1 tablespoon of dough (it will be runnier than normal cookie dough but stiffer than cake batter) onto the baking pan. We fit 3 across by 4 down so 12 cookies on a standard baking 9" x 12" pan.

Sprinkle cookies with the rainbow sprinkles.

Bake for about 10 minutes, remove pan from oven and allow cookies to cool on pan before removing.
Notes
These cookies stay pale, and never really brown so you have to look at when they start to get the tiniest tinge of golden brown on the edges to know they are ready to take out of the oven.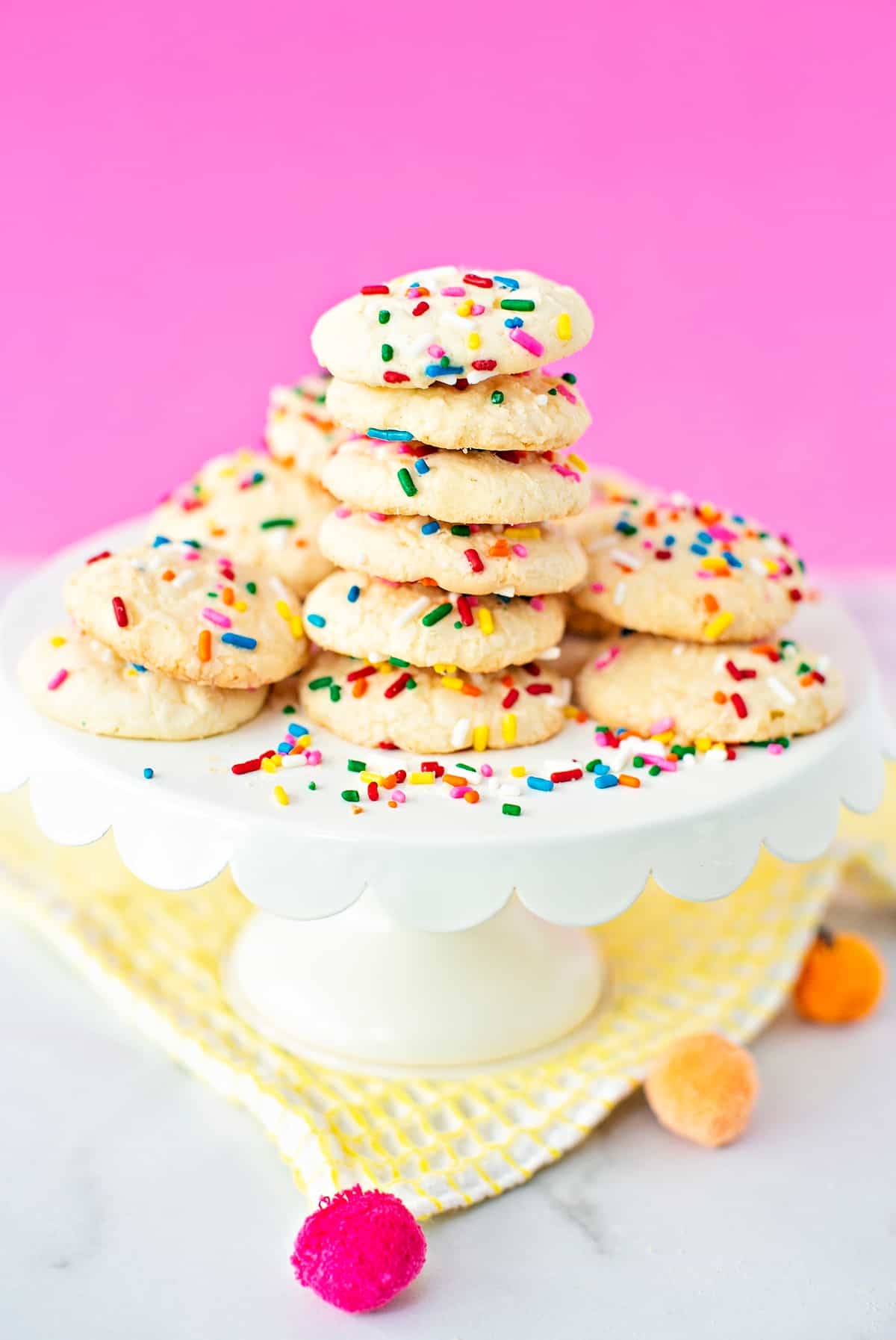 Simple tips for making the best Funfetti Cake Mix Cookie
Don't overbake these cookies. They stay pale and get the tiniest tinge of golden brown on the edges so that's when they are done.
Let the kids have fun helping. They can stir the batter or add sprinkles on top before you put them in the oven. This gives them a chance to show some independence and prove that they're a big help in the kitchen.
Want to know how to make funfetti cake mix taste better? Substitute the vegetable oil with butter. The cookies made from cake mix with butter will be softer and more moist.
More delicious dessert recipes to try:
Great Things to Make With Funfetti Cake Mix
Of all the easy recipes using funfetti cake mix we find cookies to be the most enjoyable. Choose your favourite flavor or brand of cake mix and follow our easy instructions for a fun activity to do at home with your kids.
Have you recently made cookies and have some tasty tips to add? Share your advice with us on social media.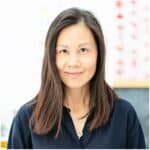 Agnes Hsu is a mom of three and has been inspiring parents and kids to get creative with easy activities and family friendly recipes for over 10 years. She shares her love for creative play and kids food to her 2MM+ followers online. Agnes' commitment to playful learning and kindness has not only raised funds for charity but also earned features in prestigious nationwide publications.