By using this site, you agree to our Terms of Use. This post may contain affiliate links. Read our disclosure policy.
Follow us on Instagram for more fun food ideas for kids!
This Rainbow Fruit Cookie Pizza is a simple dessert for the kids! A fun treat to teach about eating the colors of the rainbow!
If you want to combine sweets with healthy, this is one of our favorite rainbow desserts to make. It's not only perfect for any holiday, but it's really great to get the kids excited about spring treats and summer.
I love piling high all the fresh fruit I can – and this rainbow fruit pizza dessert recipe makes it super simple!
The best part is that if you get the fruit while it's fresh and in season, you can't deny that undeniable sweet flavor.
My kids are crazy about this recipe because they find it super fun to have a pizza that is actually a dessert as well. I don't mind combining the two because they're getting the best of all the flavors.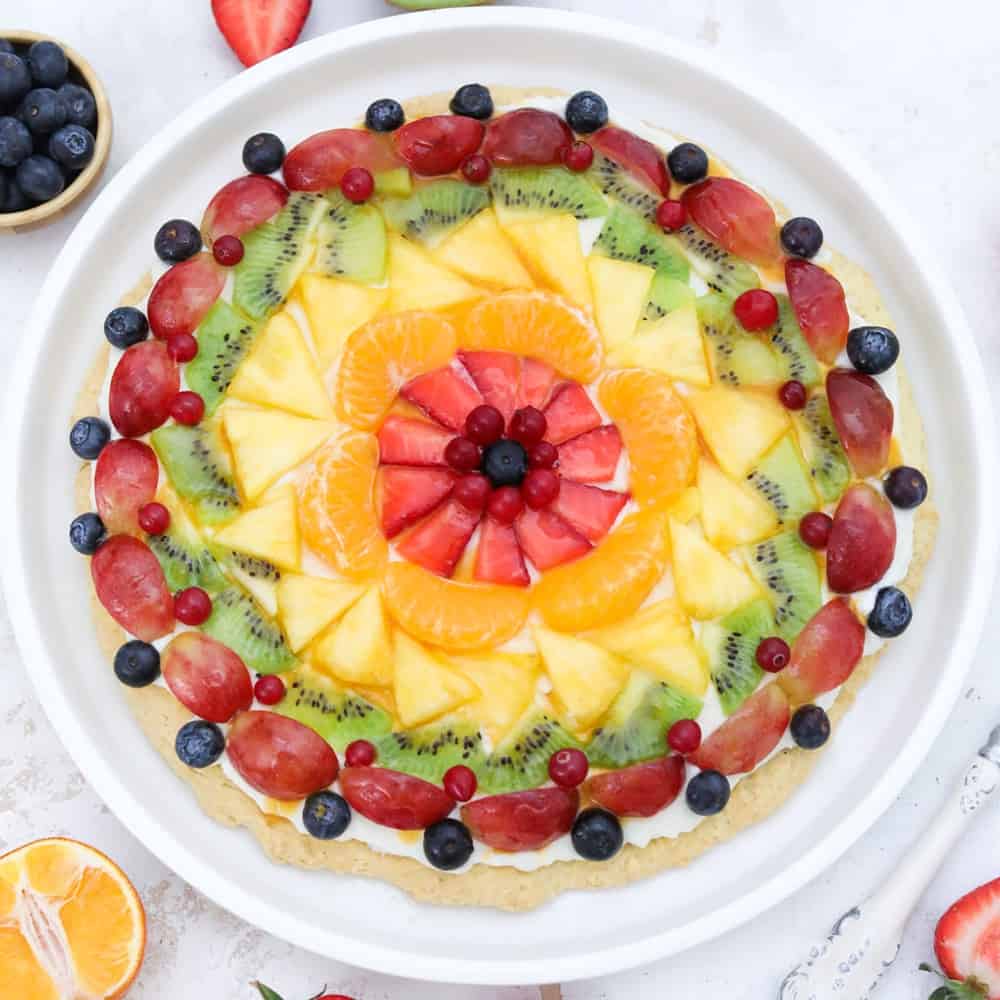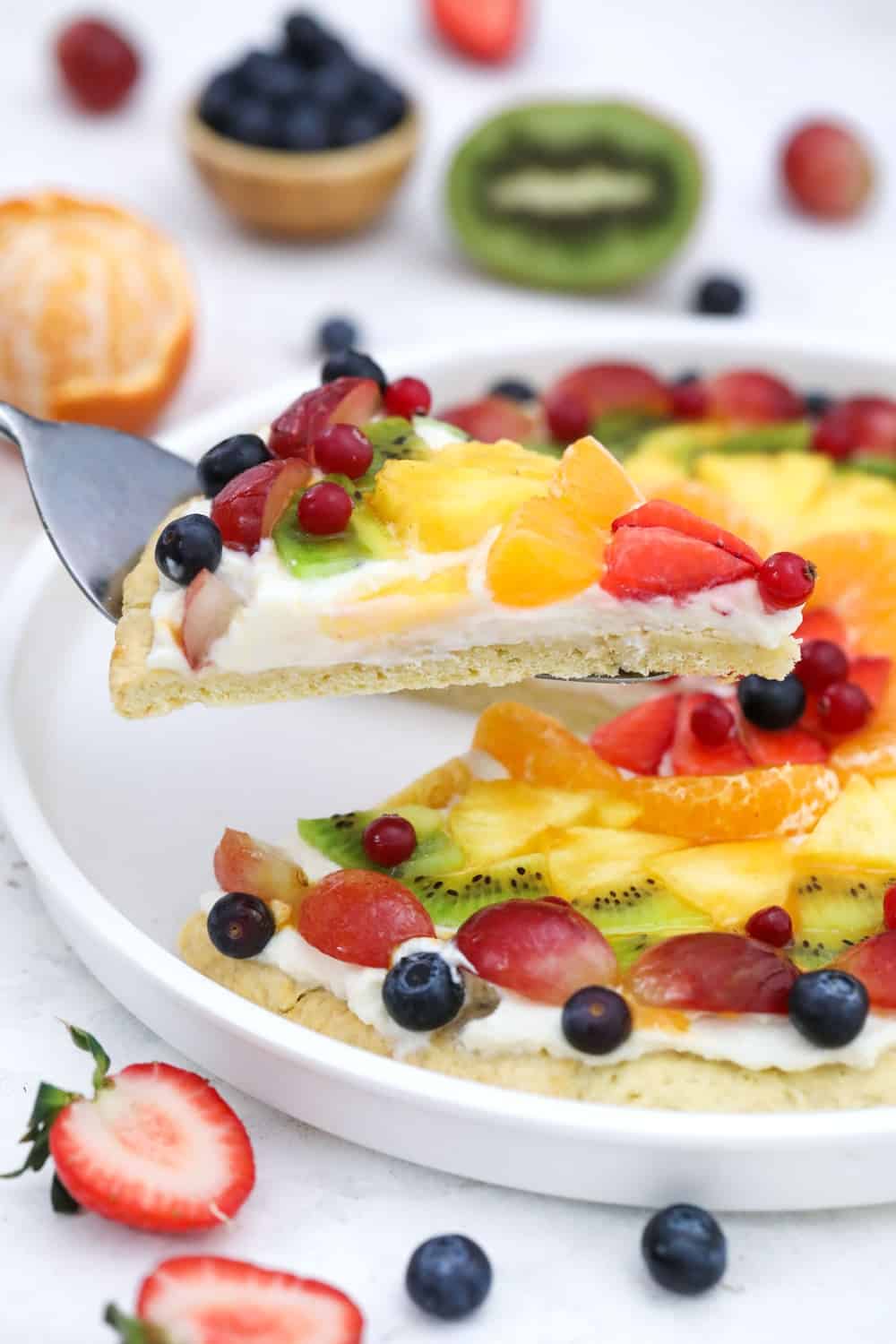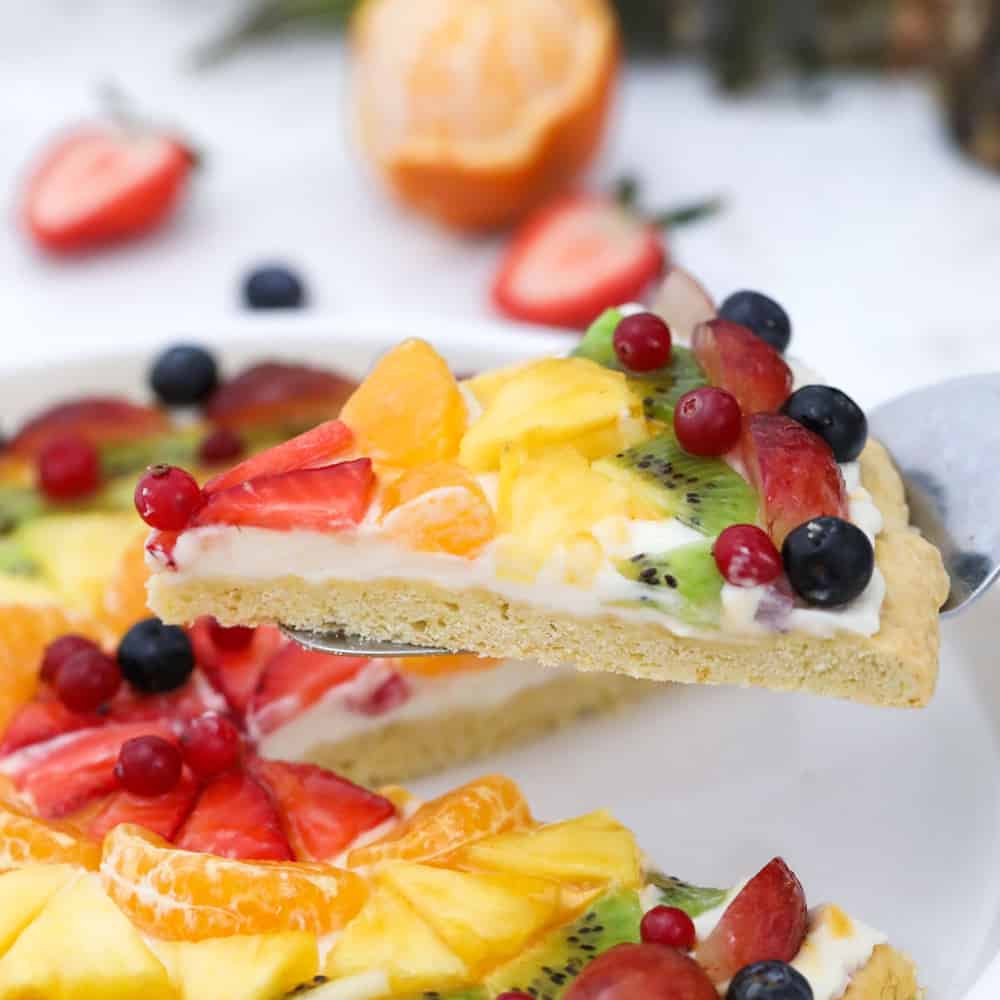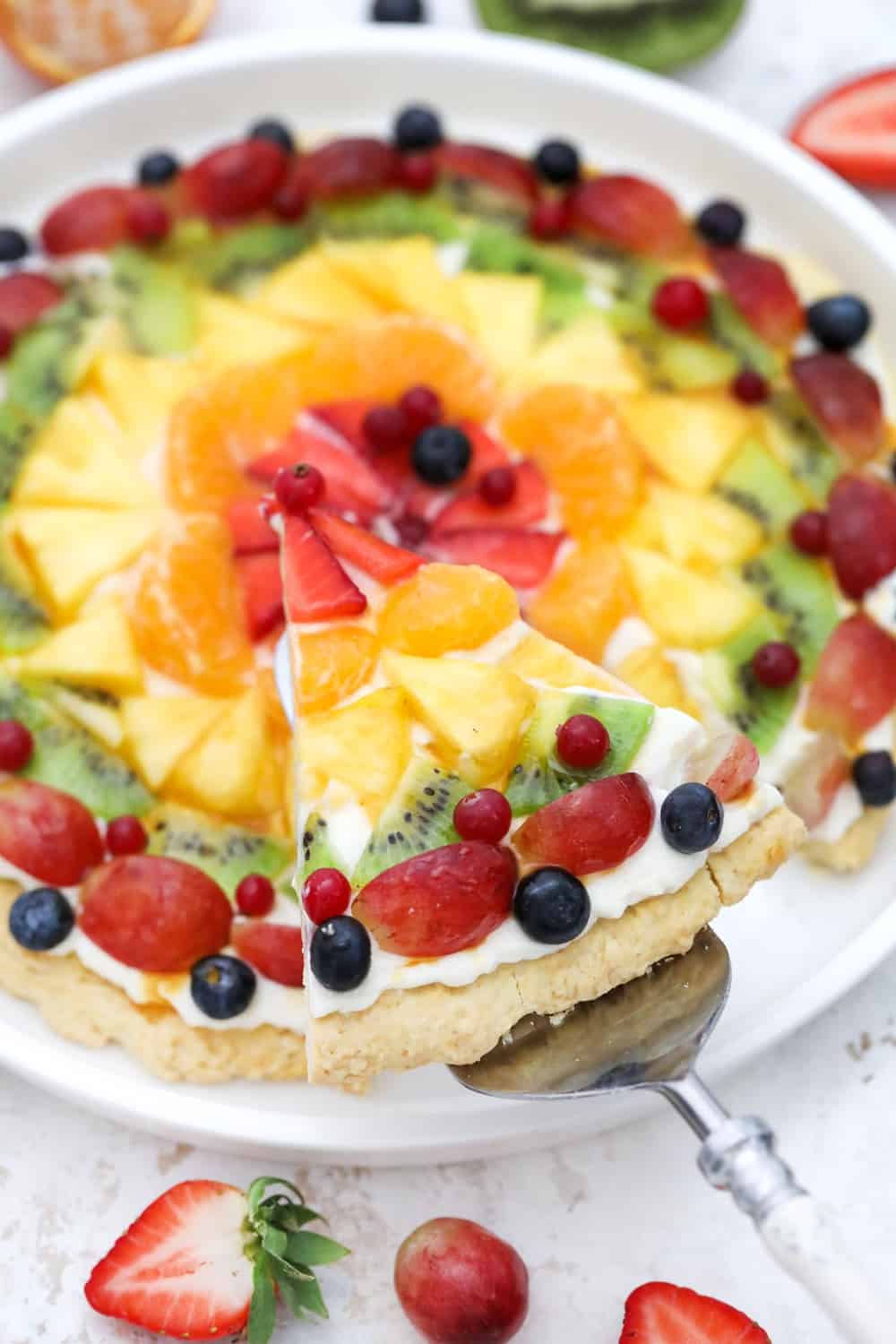 Can I use frozen fruit?
For this recipe, fresh fruit is best. Frozen fruit isn't going to be a good option because as it thaws, it will release liquid onto the cookie base, making the entire cookie soggy.
Fresh fruit has juice in it as well, but it doesn't release it in the same way that frozen does. Frozen retains more moisture and lets it go as it thaws.
Can I use different types of fruit?
Absolutely! The best part about this simple dessert is that you can change it up to be however you want it to be.
If you have kiddos that only like specific fruit, use that! You can totally have just a strawberry cookie pizza! It might not have the colors of the rainbow, but it'll still be delicious.
If you want to keep with the rainbow theme, just change out the fruit to anything that keeps with those colors.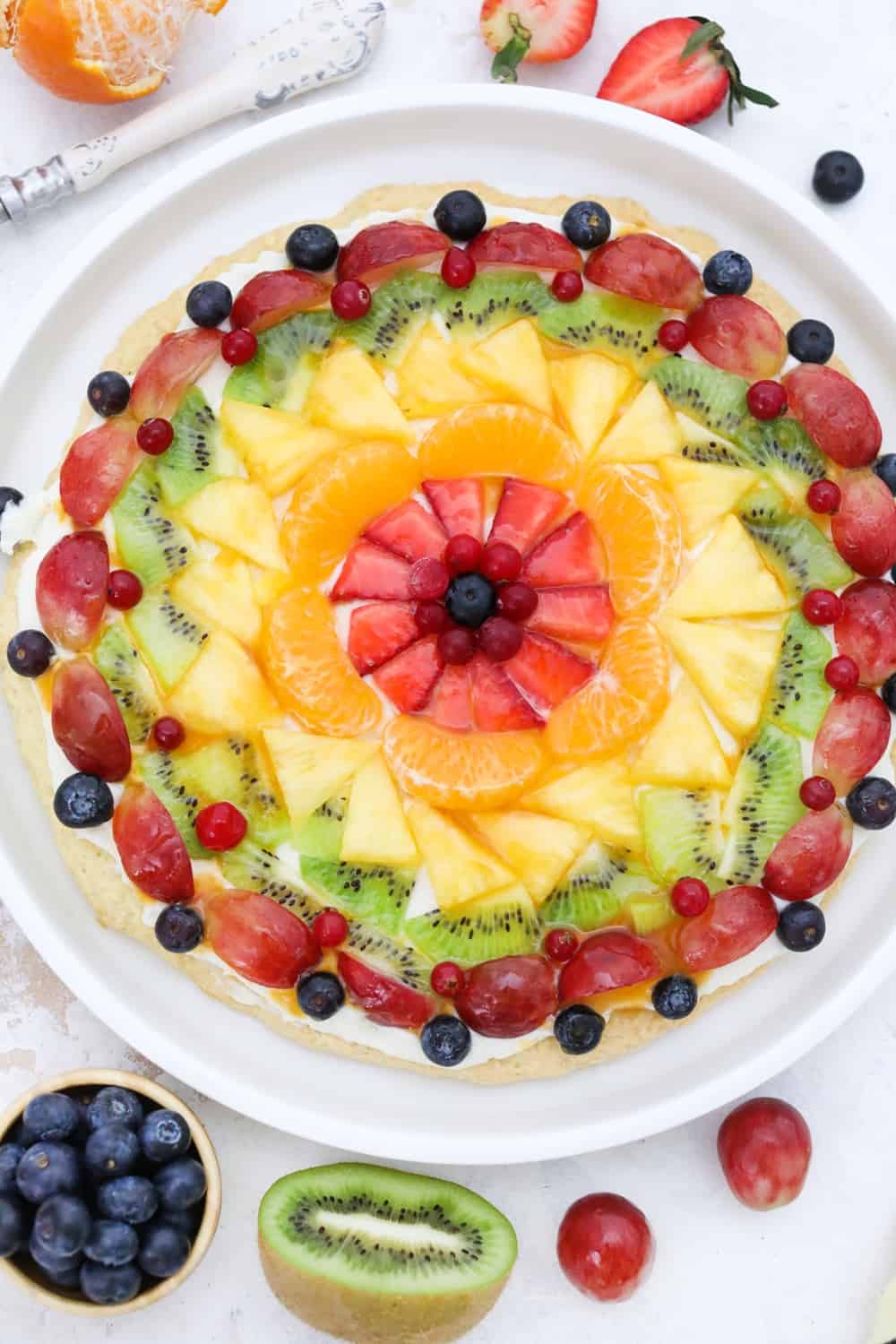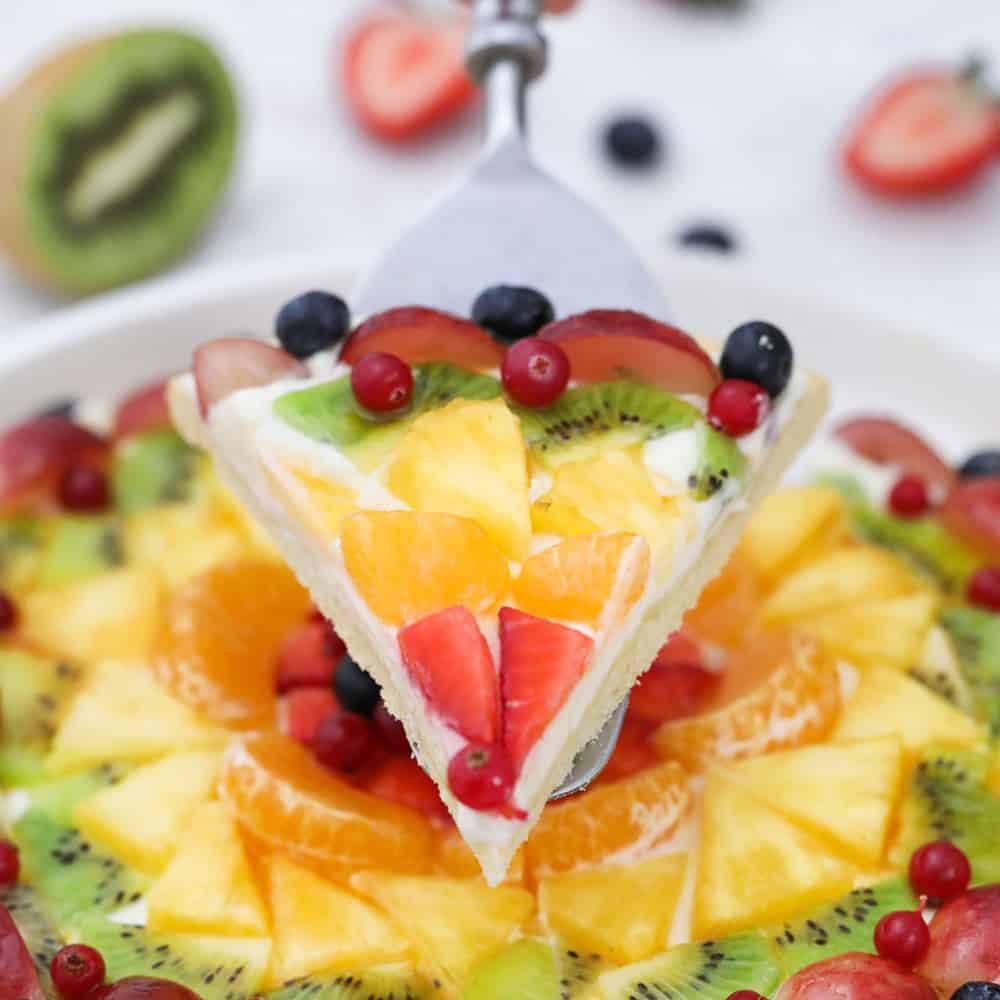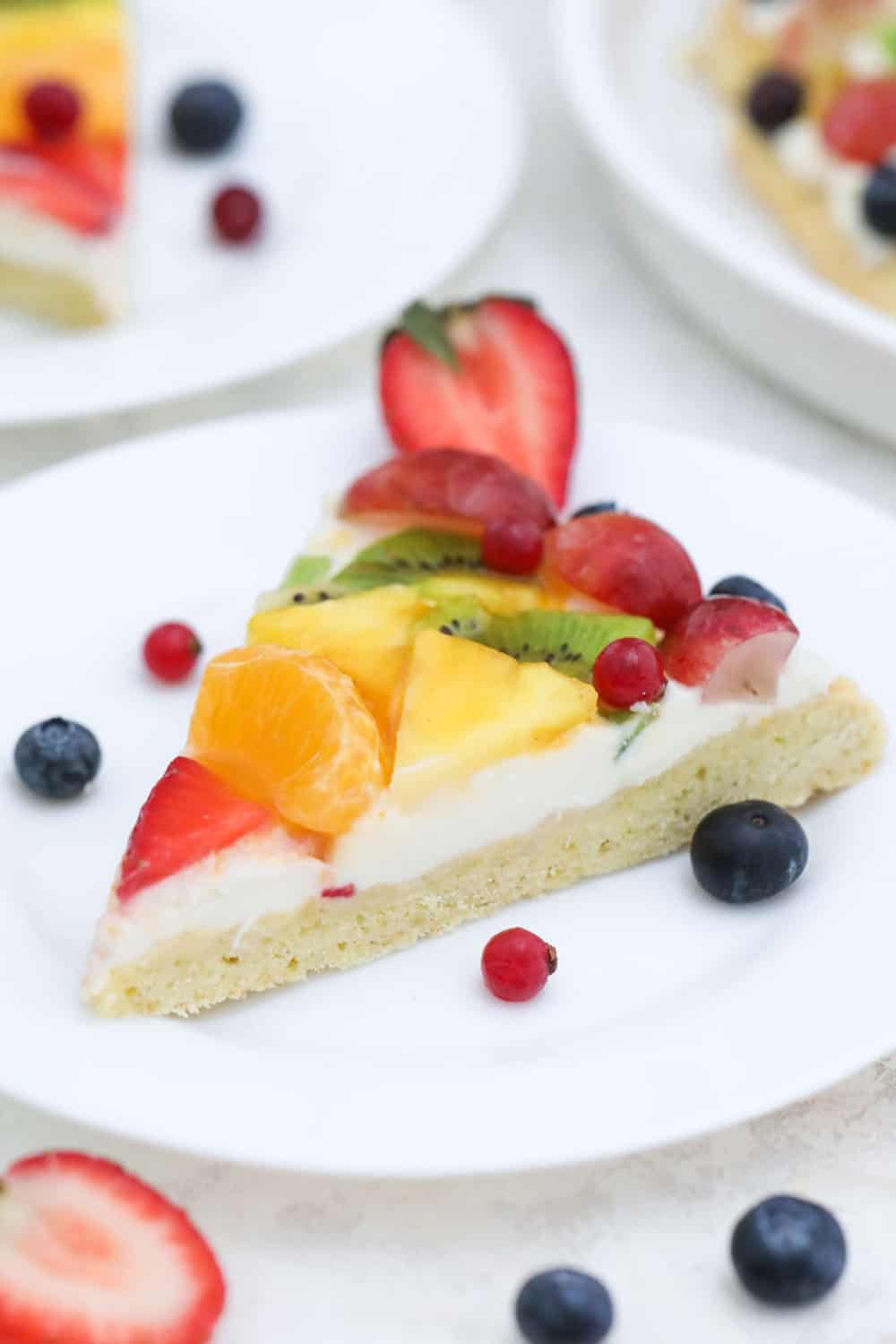 What are the colors of the rainbow?
Rainbow foods are fun to make and simple, too! Teaching the kids the colors of the rainbow can be as simple as remembering the word ROYGBIV.
This puts the order of the rainbow colors in an easy-to-use format! Red, Orange, Yellow, Green, Blue, Indigo, and Violet.
Rainbow Fruit Cookie Pizza Ingredients
Recipe inspired by Pillsbury
a tube of sugar cookie dough (we used Pillsbury 16oz refrigerated dough)
cream cheese
vanilla extract
sugar
fresh fruit (we used grapes, kiwis, strawberries, oranges, and blueberries)
apple jelly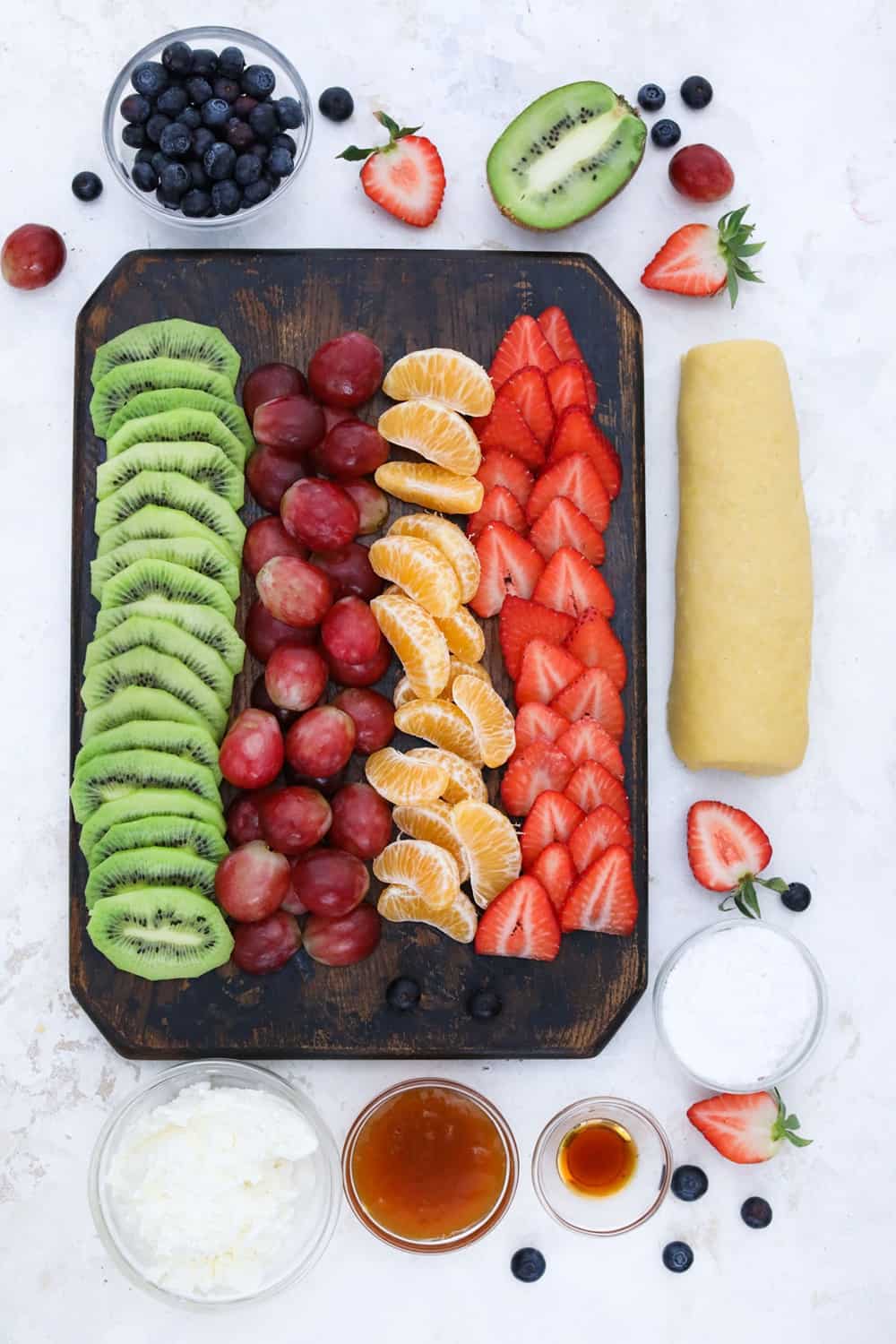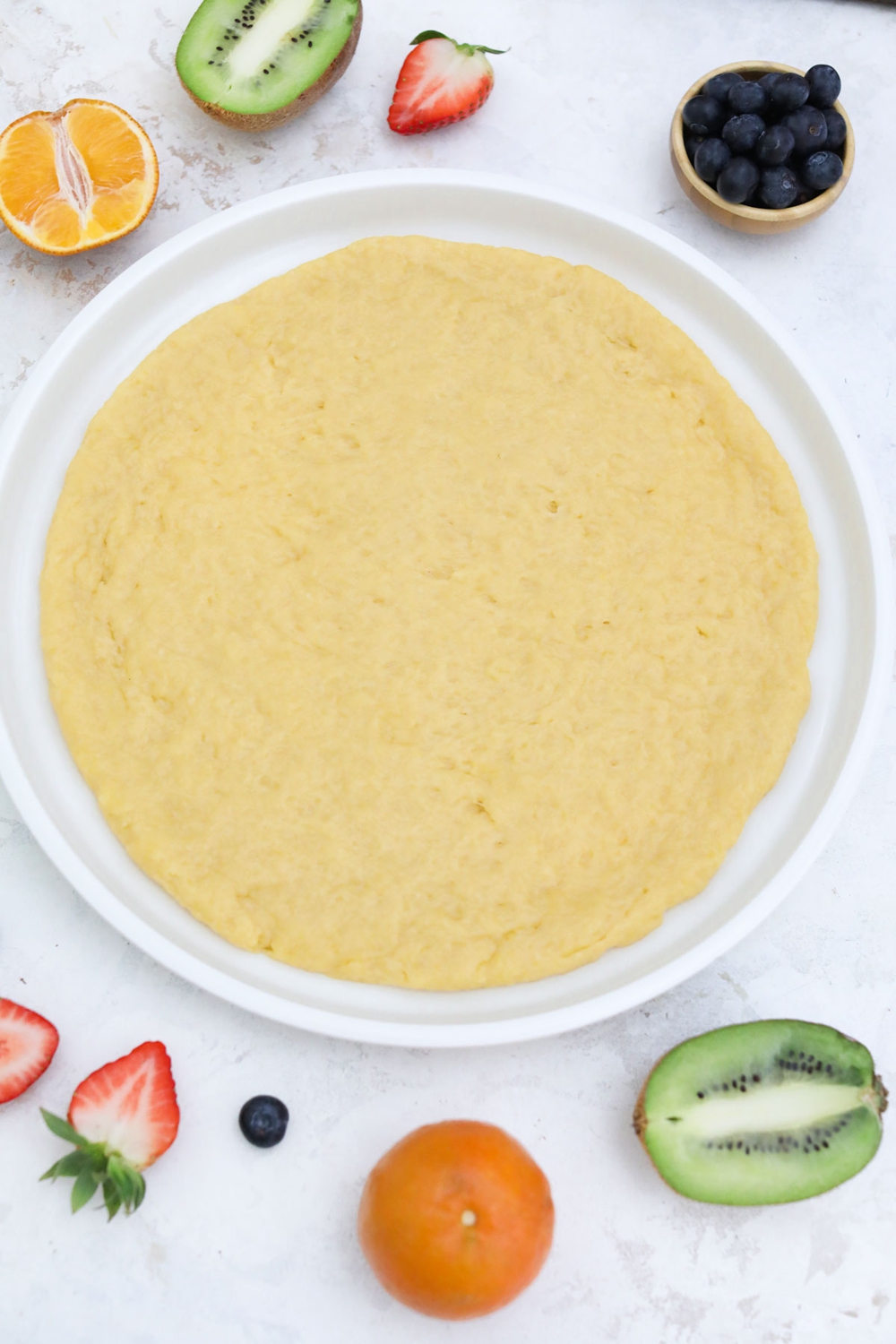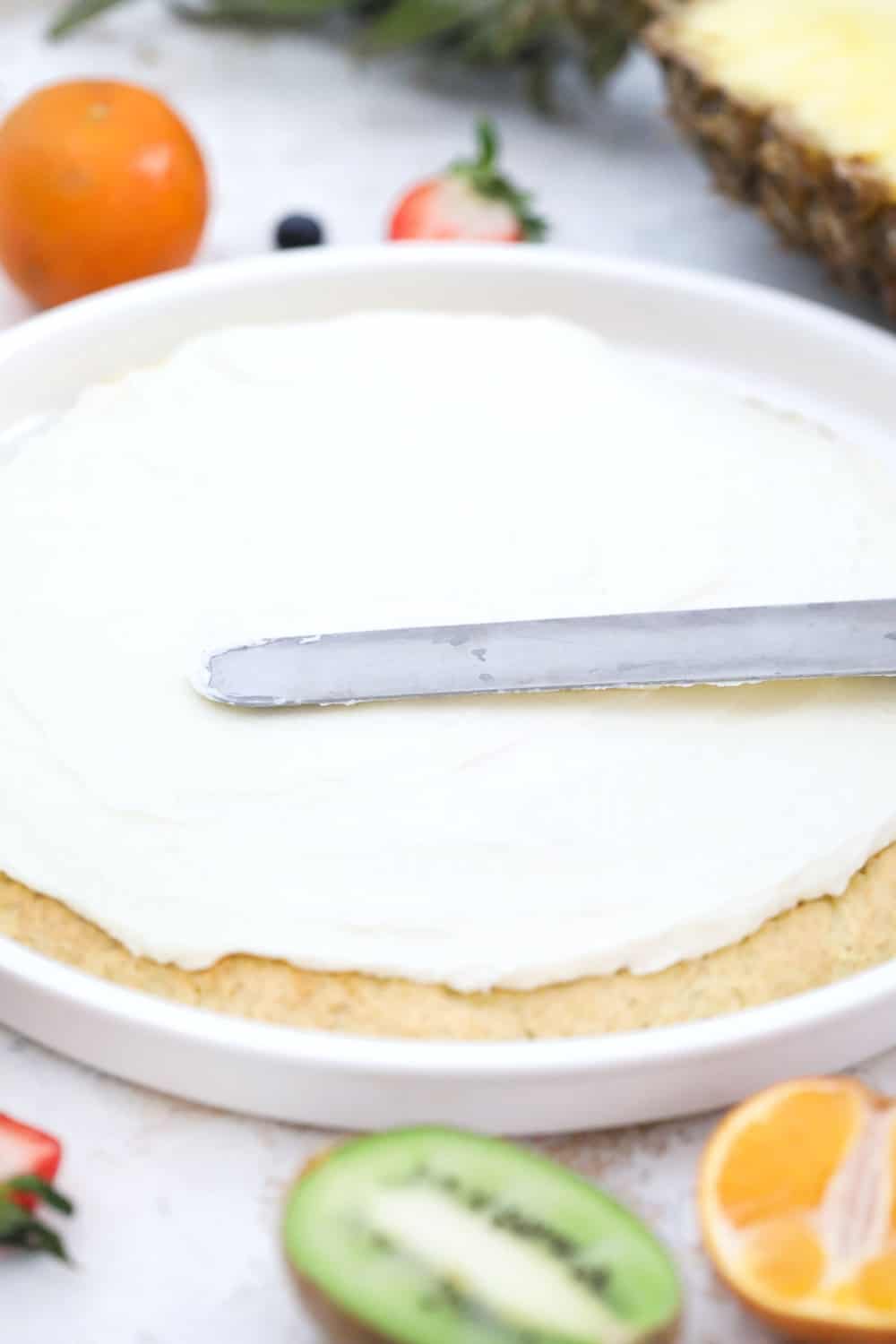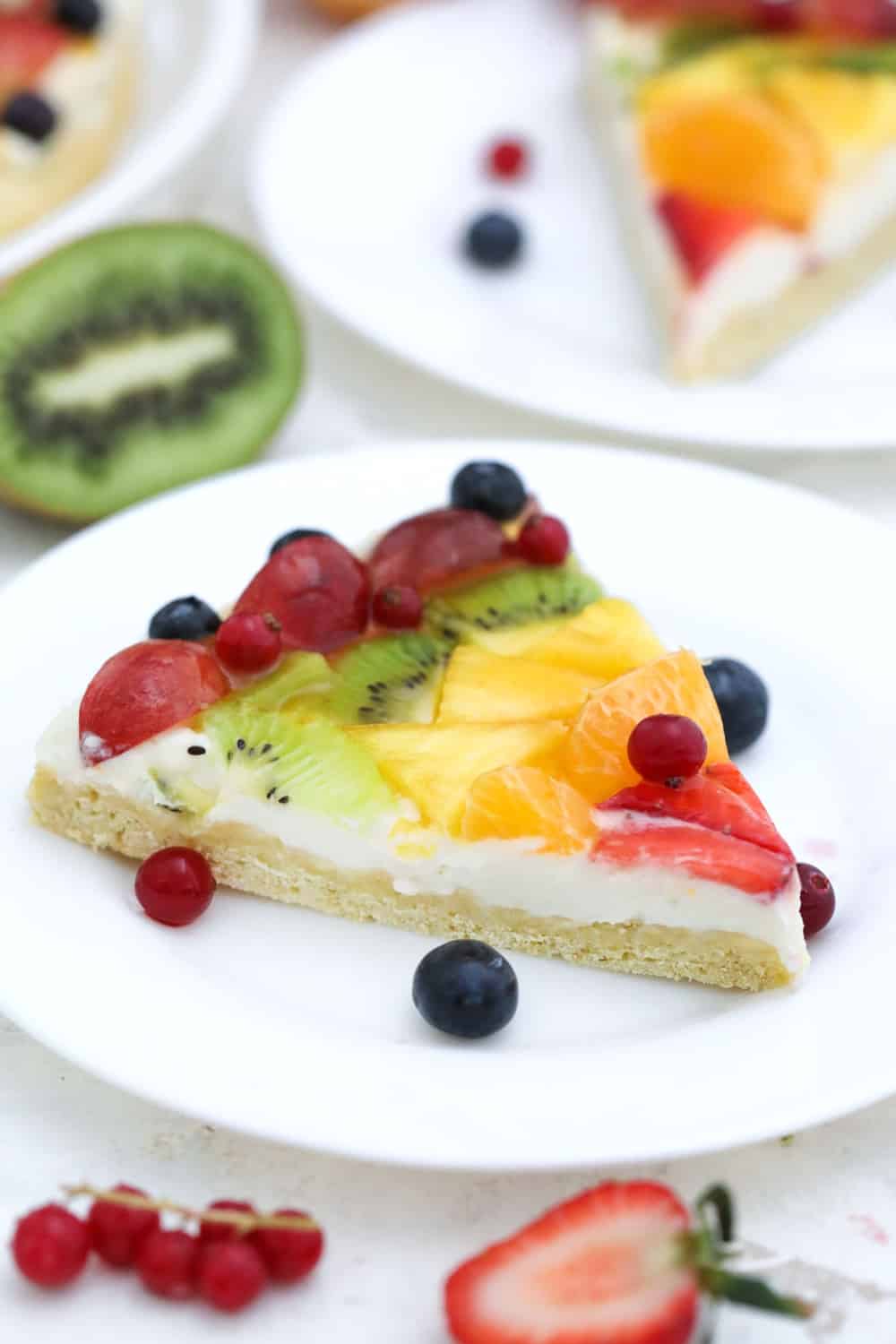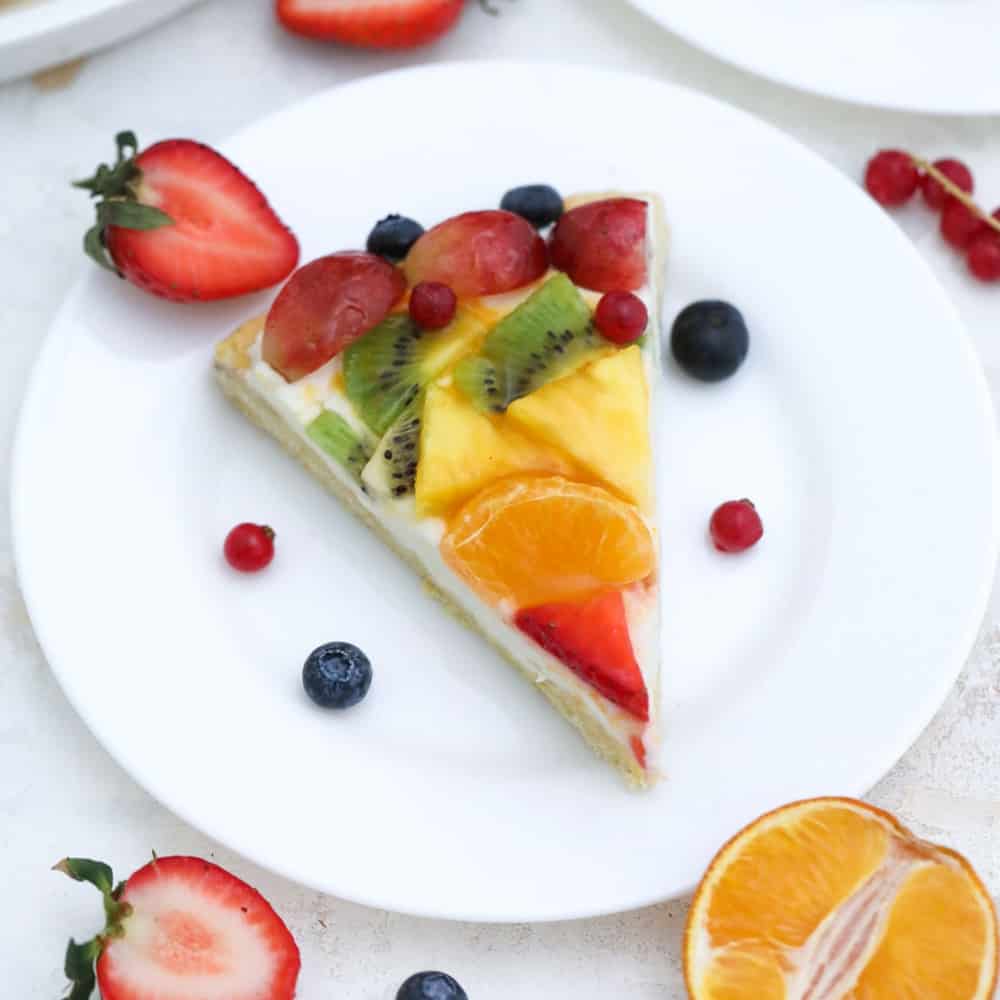 Variations
Change the fruit – As mentioned earlier, add different fresh fruits. You can easily change the fruits to change their look and flavor.
Change the cookie crust – A sugar cookie crust makes sense because of the coloring, but that doesn't mean that you can't change it up. You can easily pick any type of cookie dough to use as a crust. A chocolate shortbread cookie would be fantastic if your kids like chocolate.
Use a different layer – If you don't want to use cream cheese, you can easily use frosting like vanilla or chocolate frosting in its place. This gives you a ton of options to easily change the flavor.
You could even use Nutella or nut butters like almond or peanut butter!
How do I know when the cookie crust is done baking?
Just pay attention to the cooking time and trust your nose. Sugar cookies are unique in that they don't really start to change coloring as they bake, but if they are lightly browned that's when they will probably be overdone as they continue to cook for a few minutes once out of the oven.
You'll know that the crust is done by the edges of the cookie's crust starting to darken a bit more than the rest of the cookie.
Also, the cookie shouldn't have any shininess to it, indicating that it's done baking and ready to be taken out of the oven.
When can I add the cream cheese to the baked cookie?
You have to be patient with this step. The cookie can't be warm or hot at all – and needs to cool down all the way.
When you take the cookie crust out of the oven, let it cool until it's not warm at all to the touch. Use this time to prep the fruit so that the time passes quickly!
Then, once the cookie is cooled down all the way, you can add the cream cheese without any worry of it melting off the cookie or melting into the cookie either.
How to store leftovers
If you have leftovers of this yummy treat, you can save some for later. The best way to save it is to store it in the fridge, covered with plastic wrap, or in an airtight container with a lid. Cream cheese is a dairy and must be kept refrigerated for food safety reasons.
There is a very strong probability that the fruit is going to make the cookie soggy as the fruit will release juice throughout the hours and night.
There isn't really much that you can do to prevent that from happening other than hope that the layer of cream cheese or frosting provides a barrier of protection.
One way that you could get around that issue is to remove the fruit from the top of the cookie and store it in its own container.
Then, when you want to eat it the next day, you can just add fresh fruit to it right then.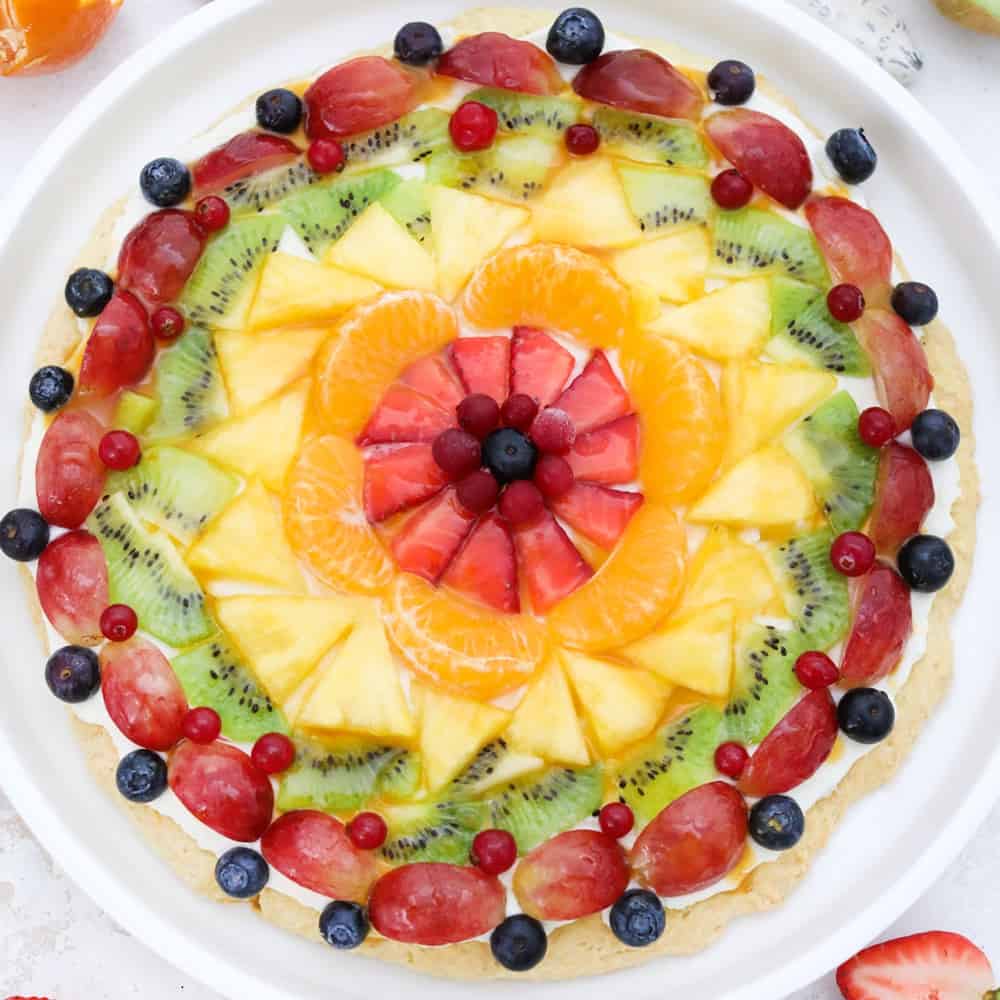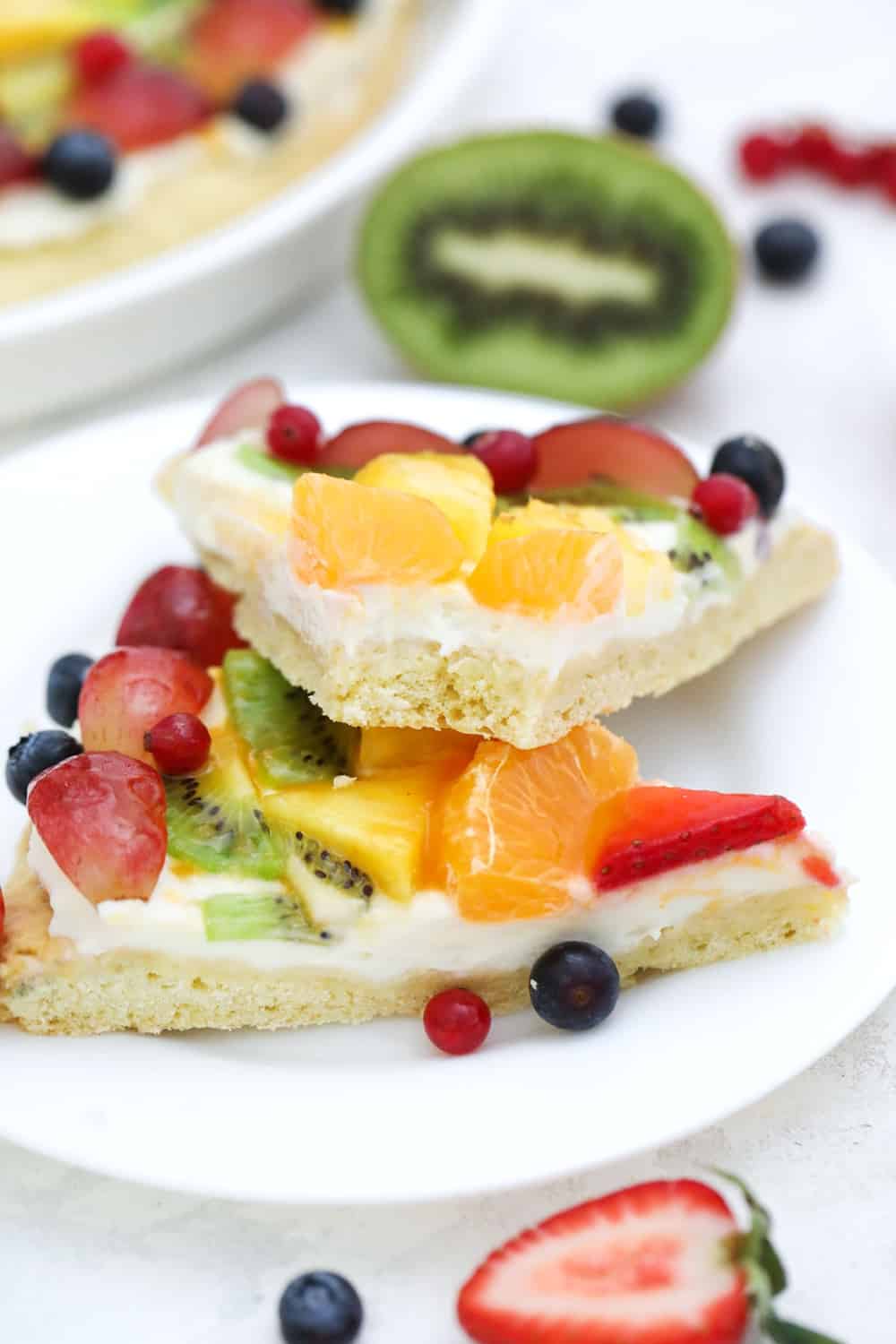 What is the best way to prep the fresh fruit?
The biggest thing that you want to remember is to clean the fresh fruit well. You can slice the fruit however you would like.
If you have knives that are kid-safe, this would be a great activity for them to be able to help with also. They can clean the fruit, slice the fruit, and even help add to the cookie crust as well. It's a simple recipe that the entire family can be a part of creating.
Can I prep this in advance?
You can easily bake the crust in advance, as well as prep and cut up the fruit. I don't recommend assembling anything until right before you are planning on serving it.
That way, the crust will stay firm and not become soggy, and the fruit will retain its bright rainbow colors and looks.
Rainbow Fruit Cookie Pizza
Have fun making this dessert pizza topped with fresh fruit! It's excellent for a snack for the kids, a holiday dessert table, or a simple spring or summer treat.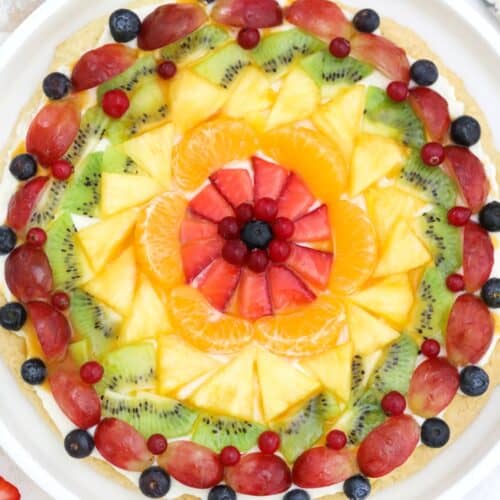 Rainbow Fruit Cookie Pizza
This Rainbow Fruit Cookie Pizza is the best way to combine sweet and healthy!
Ingredients
1

roll of sugar cookie dough

like 16 oz Pillsbury refrigerated cookie dough

8

oz

cream cheese

½

tsp

vanilla extract

½

cup

sugar

fresh sliced fruit (we used grapes, kiwis, strawberries, oranges, and blueberries)

1/2

cup

apple jelly
Instructions
Make a giant sugar cookie by spreading the refrigerated tube evenly on a cookie sheet and bake in a preheated 350 degree oven for 12-16 minutes or until edges get a tinge of light brown.

Let the cookie cool completely.

While the cookie is cooling, add the cream cheese, sugar, and vanilla to a bowl and cream together using a hand mixer.

Spread the cream cheese mixture out on the crust, and then add the fresh fruit in rings around. Or add in any order you'd like!

Spread apple jelly over the fruit for a sweet glaze. This makes the pizza look extra pretty and shiney too. You can substitue other flavors of jelly. I like to soften mine a bit for a few seconds at at time before brushing on.