By using this site, you agree to our Terms of Use. This post may contain affiliate links. Read our disclosure policy.
Follow us on Instagram for more fun food ideas for kids!
Indulge in a sweet and playful treat with this Bunny Butt Funfetti Dip! Made with cream cheese and strawberry cake, this adorable dip is the perfect addition to your Easter dessert spread.
Get ready for the cutest addition to your Easter dessert table. Introducing Bunny Butt Funfetti Dip!
Isn't it just the most adorable thing you've ever seen? Made with cream cheese and strawberry cake mix, it's the perfect complement for dipping Easter cookies. And the best part? A quick sprinkle of shredded coconut gives this little bunny his "fur", making it not only cute but also incredibly tasty.
Trust me, you won't want to miss out on this fun and delicious treat. Kids will love making this sweet edible bunny dip as well!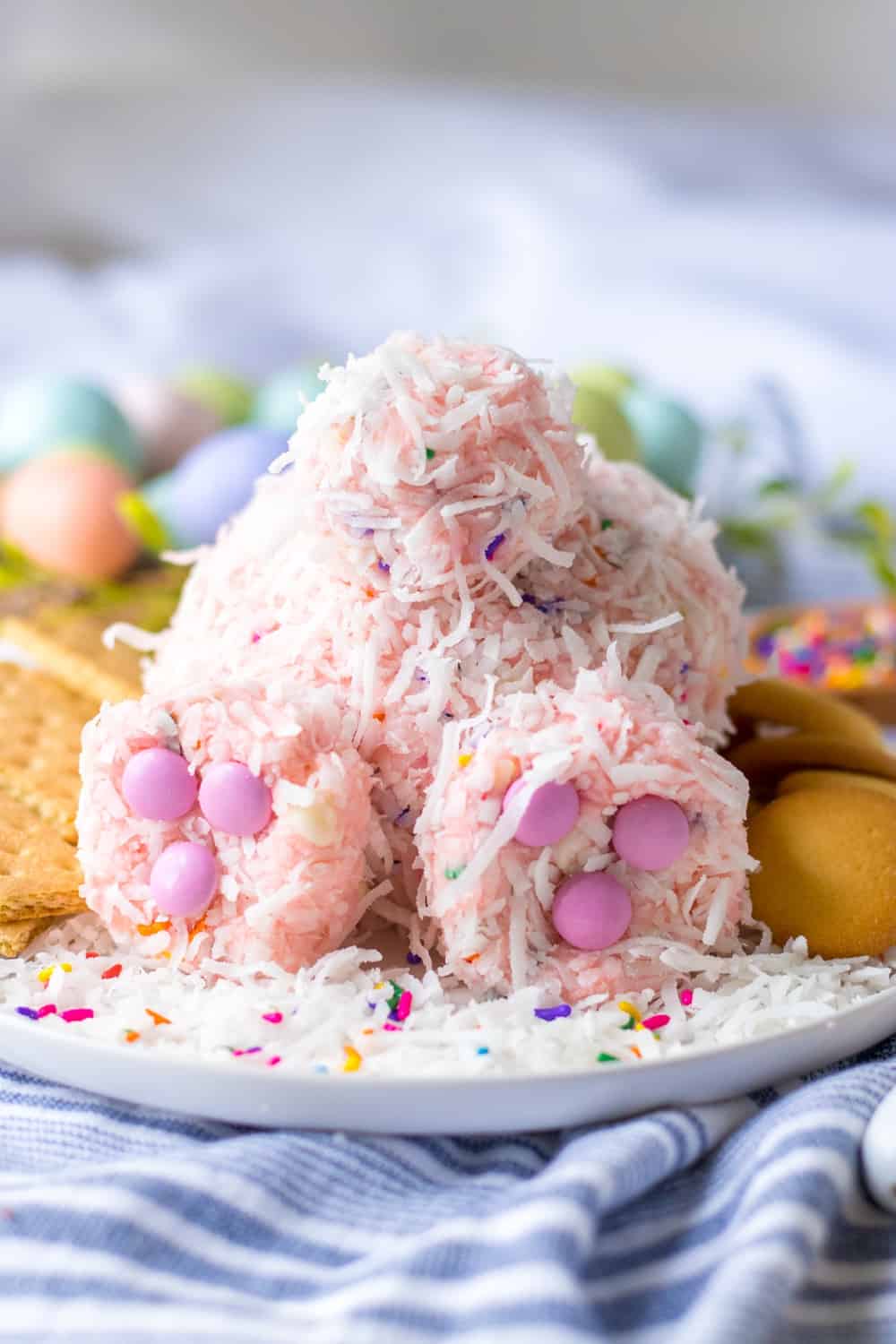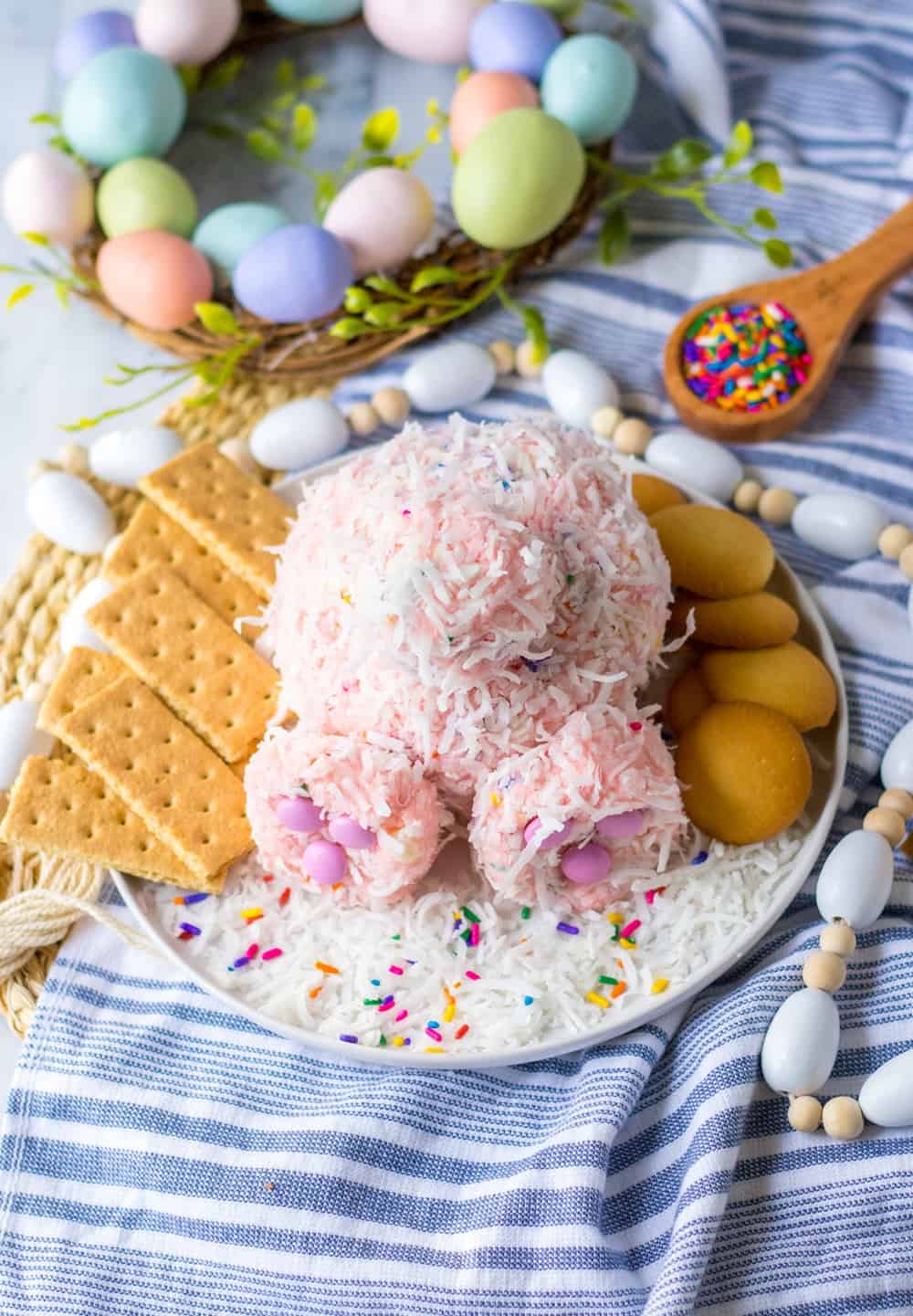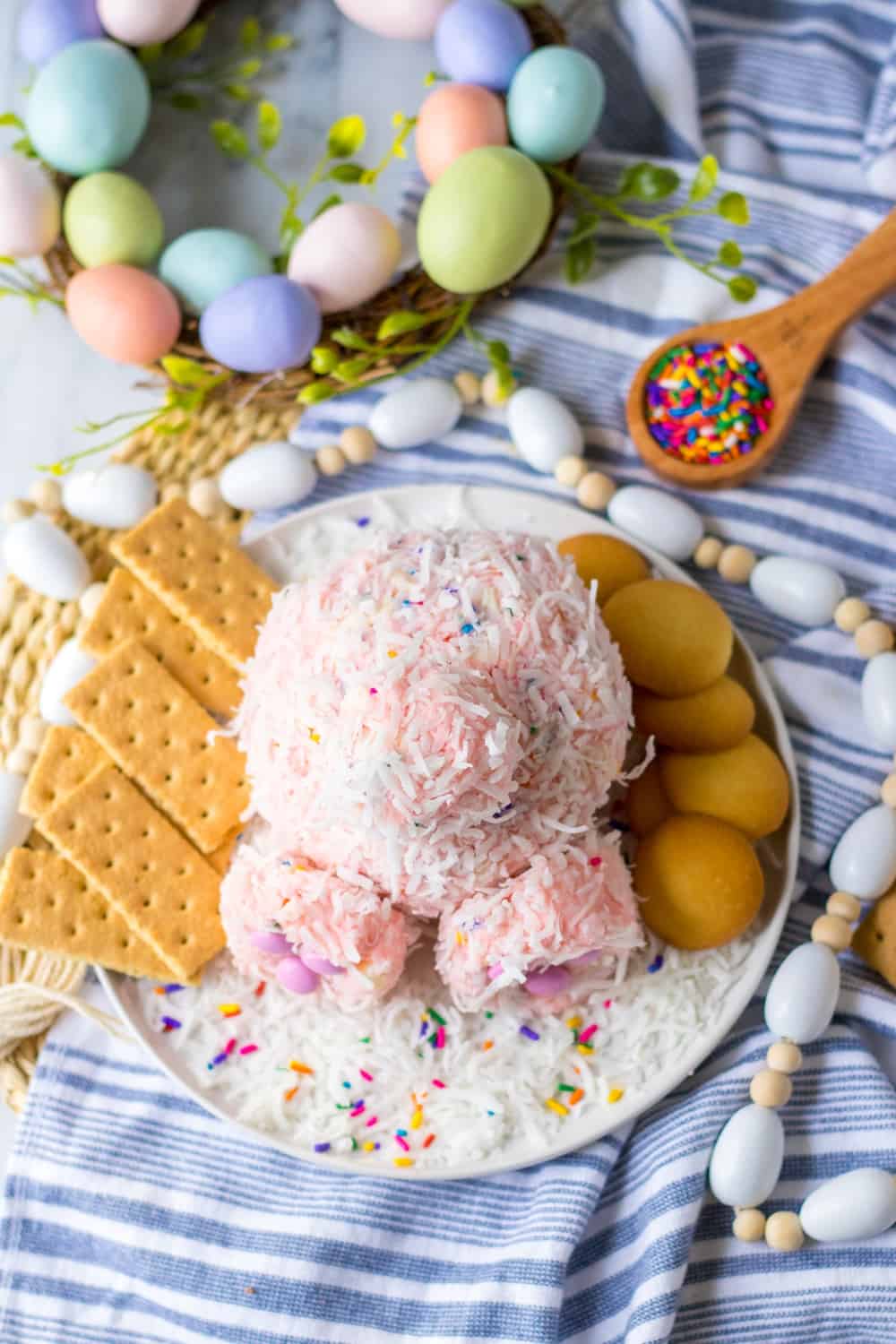 Bunny Butt Dip – Ingredients
cream cheese, softened
multicolored sprinkles
white chocolate chips
strawberry cake mix
2 tablespoons sugar
shredded sweetened coconut
M&Ms
Vanilla wafers and graham crackers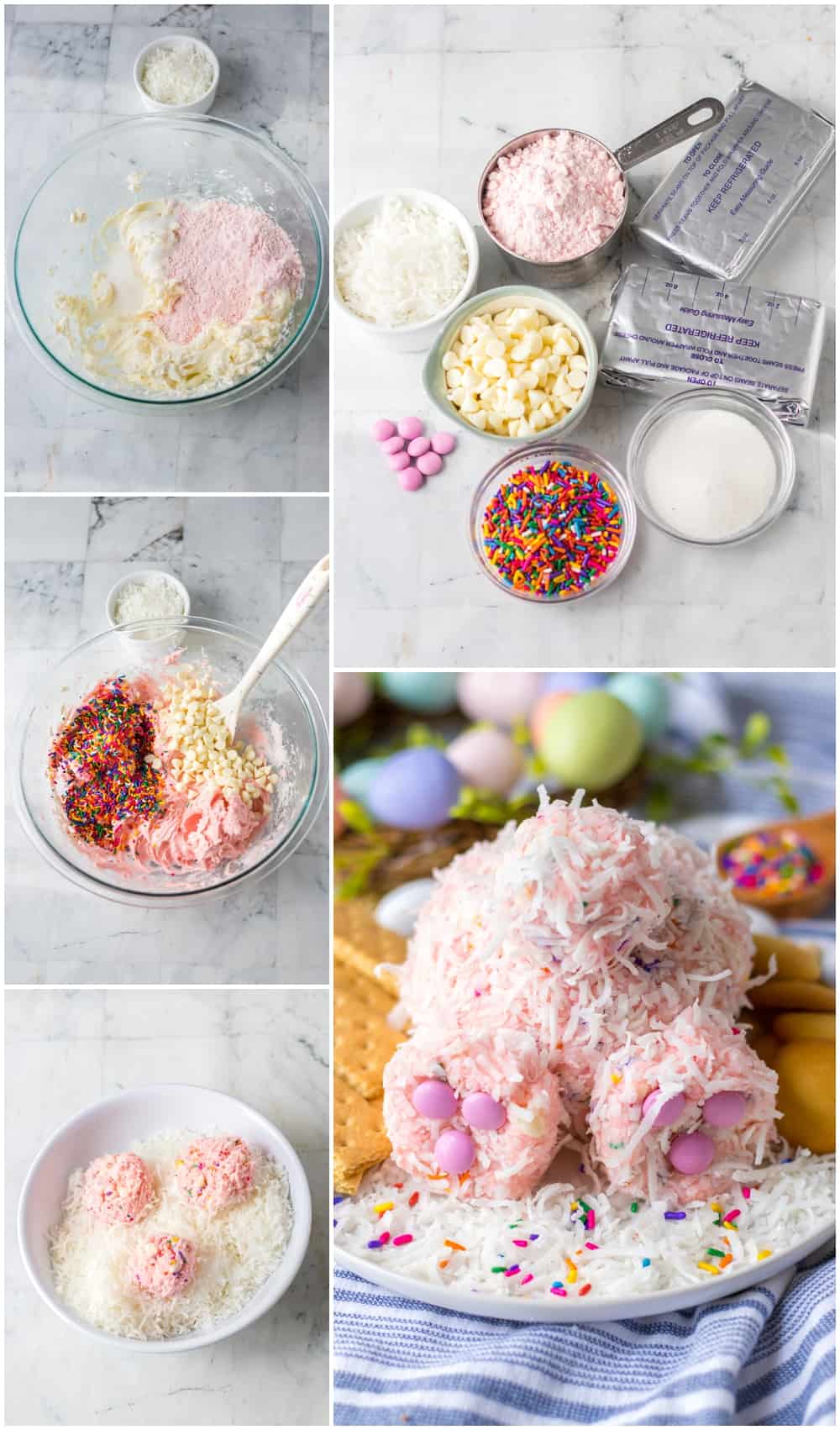 What else can you serve with your funetti bunny dip?
Fresh fruit: Sliced strawberries, bananas, apples, and grapes

Cookies: Chocolate chip cookies, shortbread cookies or chocolate cookies

Pound cake: Cubed pound cake is another fun option that will make this taste more like a trifle

Marshmallows: Large marshmallows or pastel ones can be skewered and then dipped into sweet dessert bunny dip

Brownies: Cubed brownies are another sweet option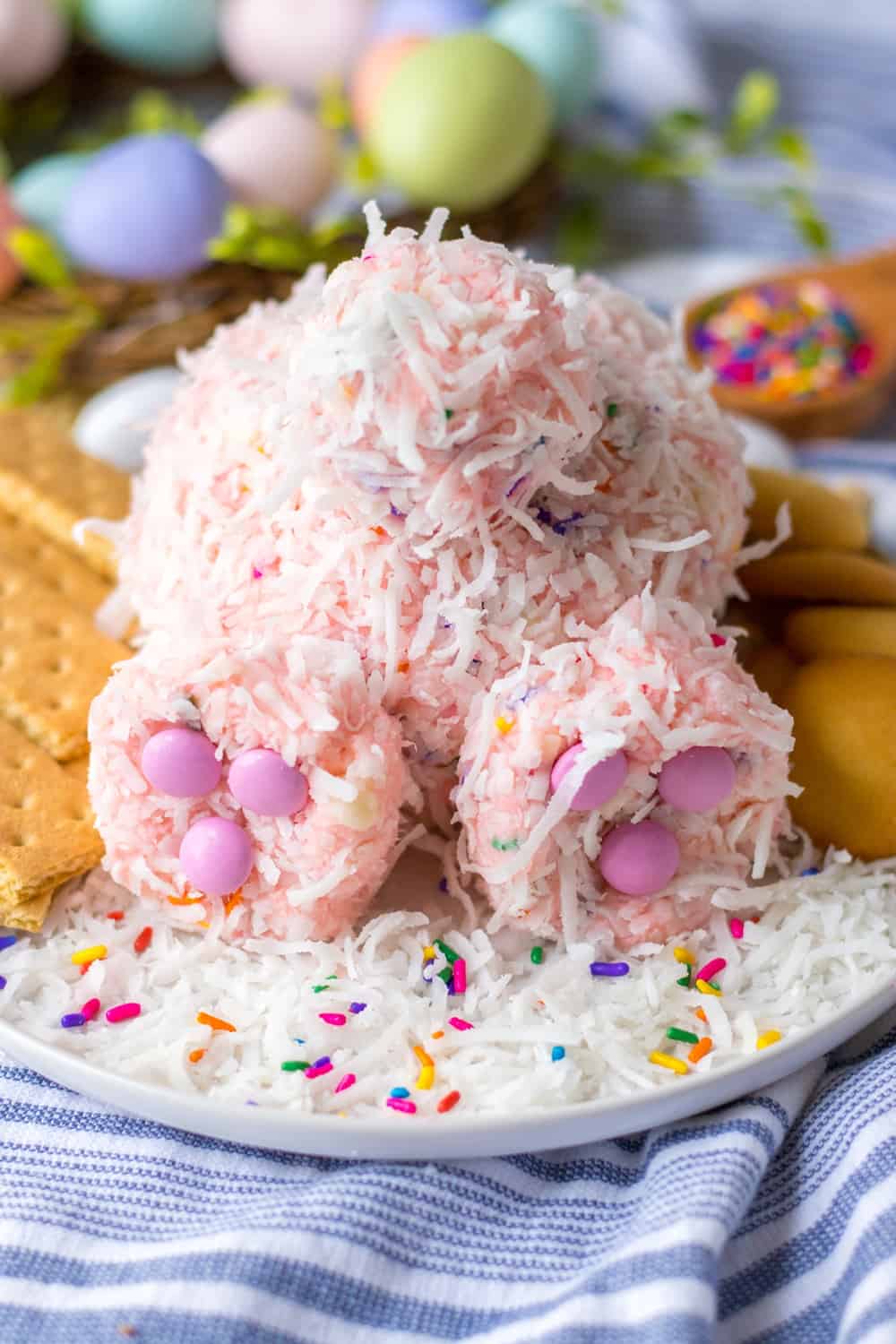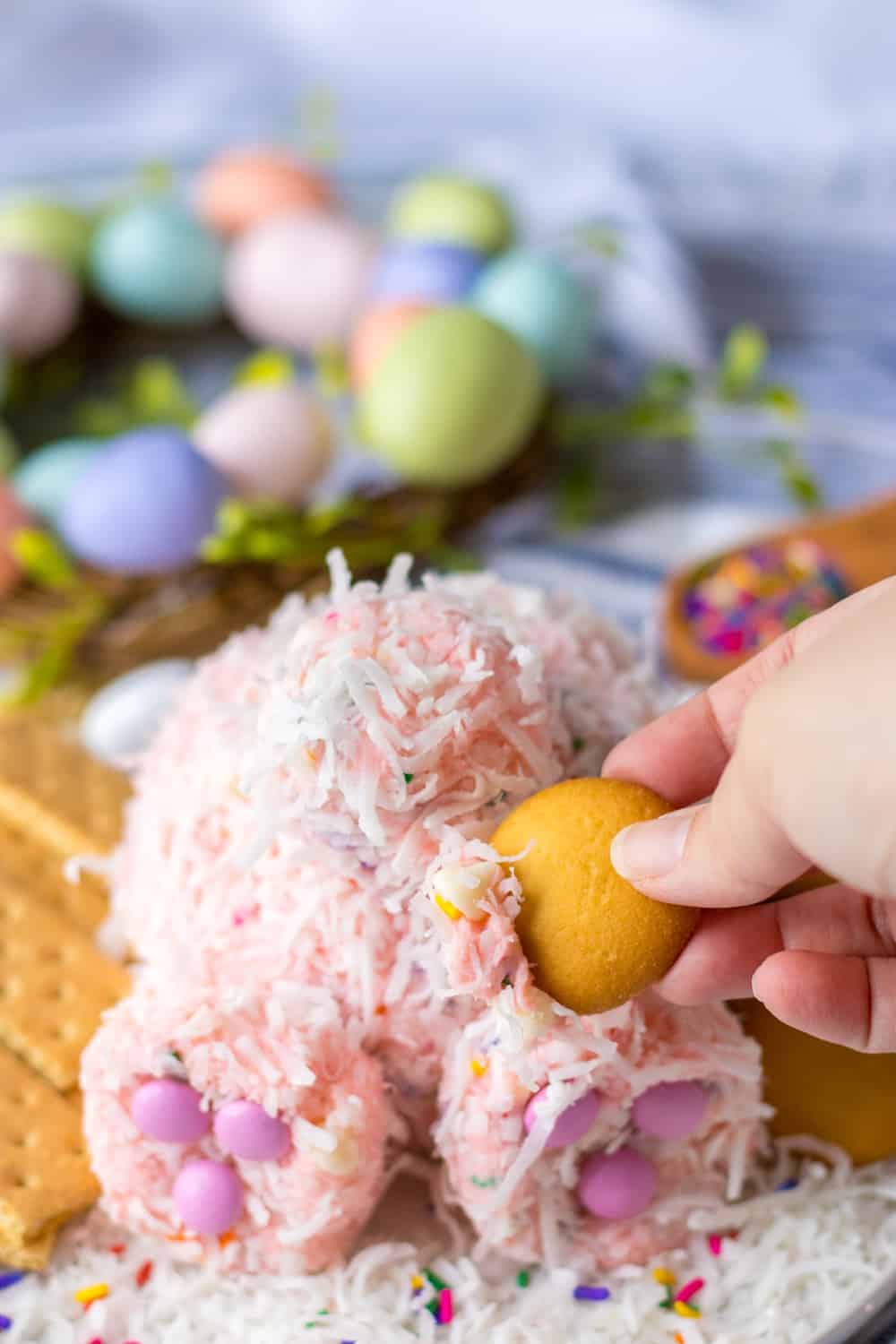 Can you make a savory bunny dip?
Yes! If your preference is for savory vs sweet you can make an appetizer-style bunny dip with cream cheese, savory herbs and spices, and your favorite seasonings. Add garlic and aromatics to flavor your cream cheese spread and top with crushed panko or other toasted breadcrumbs if you wish.
You could also easily season with a dried dip like Ranch dressing.
What to serve with a savory bunny dip appetizer?
Crudités: Fresh vegetables such as carrots, celery, bell peppers, and cherry tomatoes

Chips: Tortilla chips, pita chips, and potato chips

Crackers: Saltine crackers, Ritz crackers, whole grain crackers or pita chips

Bread: Toasted bread, bread sticks, and pita bread

Pretzels: Soft or hard pretzels can be a fun option
How to make this bunny funfetti dip?
Cream cheese is combined with sugar and cake mix along with the funfetti sprinkles and chocolate chips.
You'll refrigerate the dip then roll into balls with coconut to create the bunny shape.
Don't forget the cute little feet by using pink M&Ms. Serve your dip with your favorite cookies. We like graham crackers and vanilla wafers.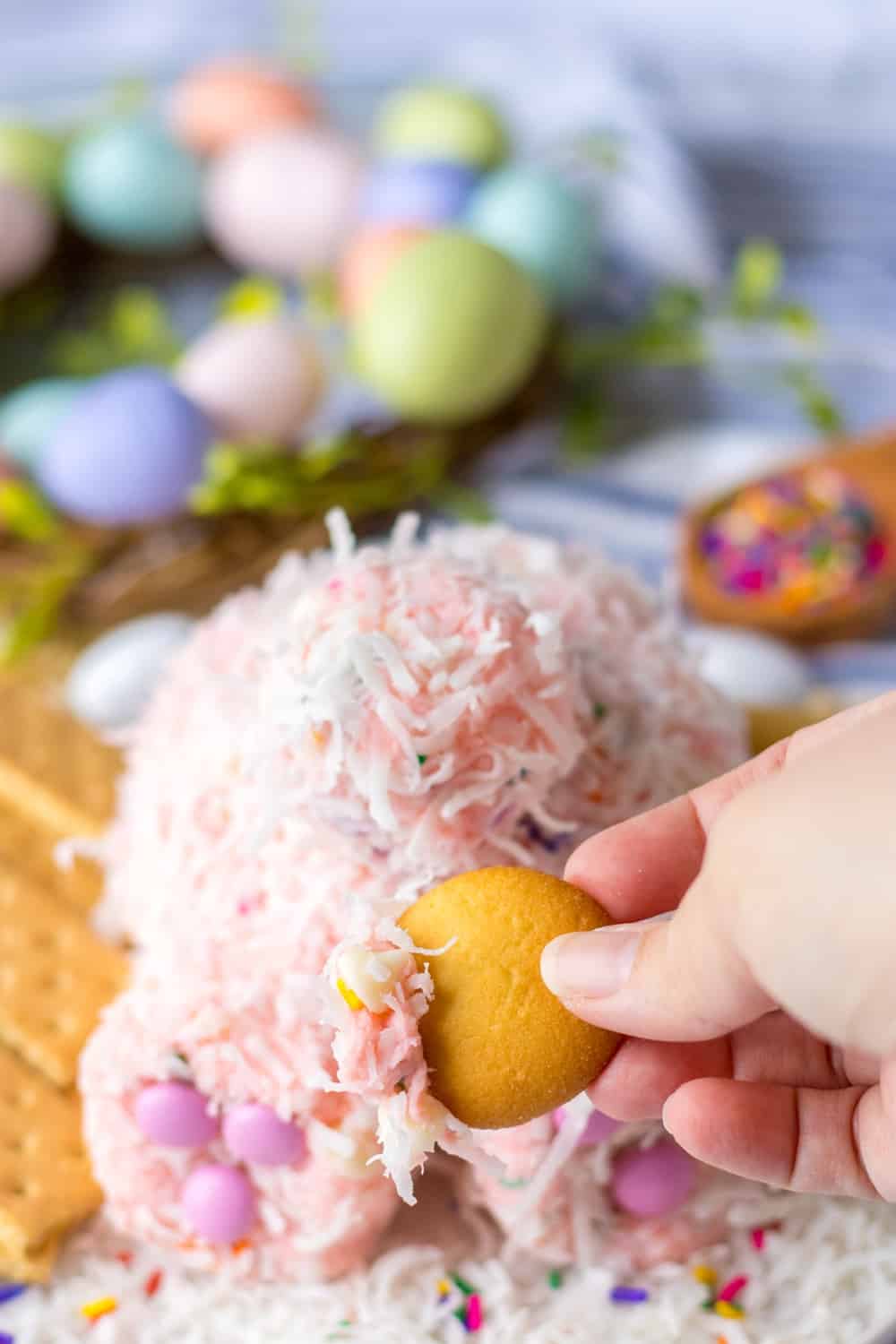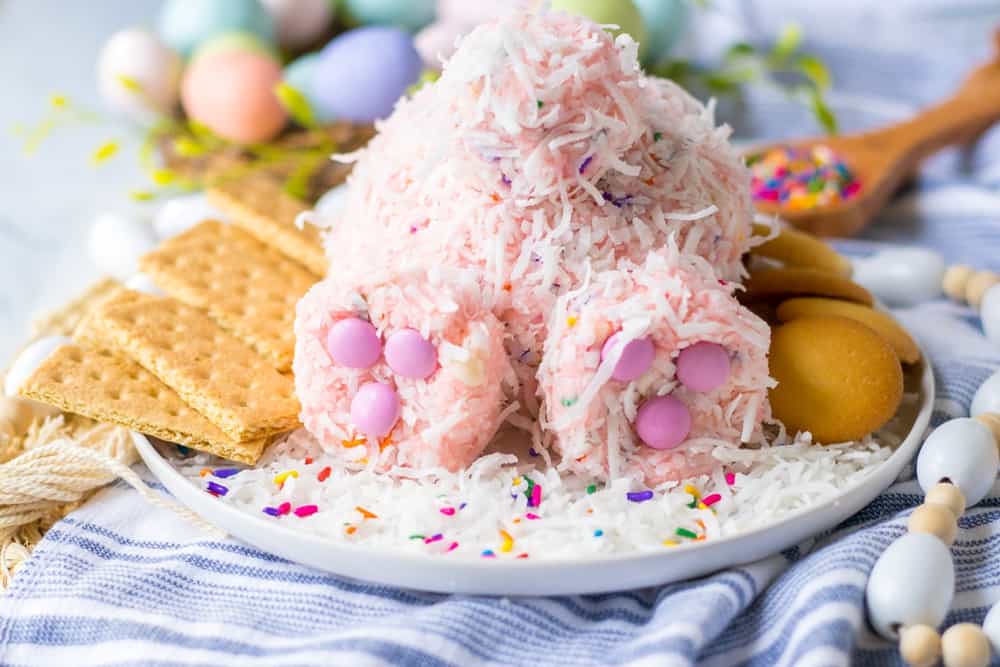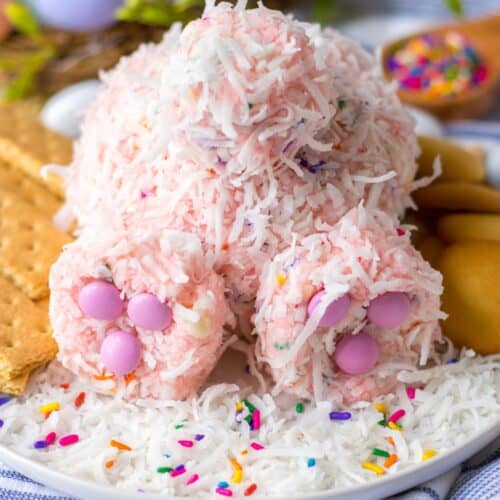 Bunny Butt Funfetti Dip
Ingredients
2 (8 ounce) packages cream cheese, softened

1/2 cup white chocolate chips

1 cup strawberry cake mix

2 tablespoons sugar

7 ounces shredded sweetened coconut6-8 pink M&MsVanilla wafers and graham crackers

6-8 pink M&Ms

Vanilla wafers and graham crackers
Instructions
To a medium mixing bowl combine the cream cheese, sugar and cake mix with an electric mixer until well combined.

Stir in the sprinkles and white chocolate chips.

Refrigerate the cream cheese mixture for about an hour.

Separate mixture into one large ball, two medium size balls, and one small ball.

Form the 2 medium balls into a slight triangle shape.

Roll each ball into the shredded coconut pressing it into them.

Assemble the bunny and press the m&ms into his feet to make the little bunny pads.

Chill in the fridge until ready to serve.

Serve with graham crackers and vanilla wafers.
Notes
Tips and Tricks
You can use your favorite flavor cake mix.
You can also use any sprinkles you like.
You can skip the coconut and roll the balls into powdered sugar or shaved white chocolate.
Store leftovers in the fridge for up to 5 days.