By using this site, you agree to our Terms of Use. This post may contain affiliate links. Read our disclosure policy.
Follow us on Instagram for more fun food ideas for kids!
This Valentine Heart Shaped Pizza makes the best mini pizza recipe, ever! With pizzas shaped like hearts, these make a cute Valentine lunch for kids!
Can we all agree that Valentine's Day gives the chance to cook up some really cute and delicious meals like these this fun Heart Shaped Pizza? You can make a ton of mini ones too which means they're the perfect Valentine lunch for kids! I'm always racking my brain for heart-shaped food that I know will bring a smile to the kid's faces. When I realized that mini pizzas would work perfectly, I couldn't wait to whip these up! Plus pizza is one of my kids' favorite foods and tend to be a crowd-pleaser. You really can't go wrong with serving pizza for lunch (or dinner) and even less when they're dressed up in cheese and pepperoni hearts!
Just as I thought, the kids were obsessed with them and devoured a few each! If you're on the lookout for a simple and tasty Valentine's Day recipe that everyone in the family will love, you're not going to want to miss out on these mini heart-shaped pizzas.
They really are made with a ton of love and even more cheese!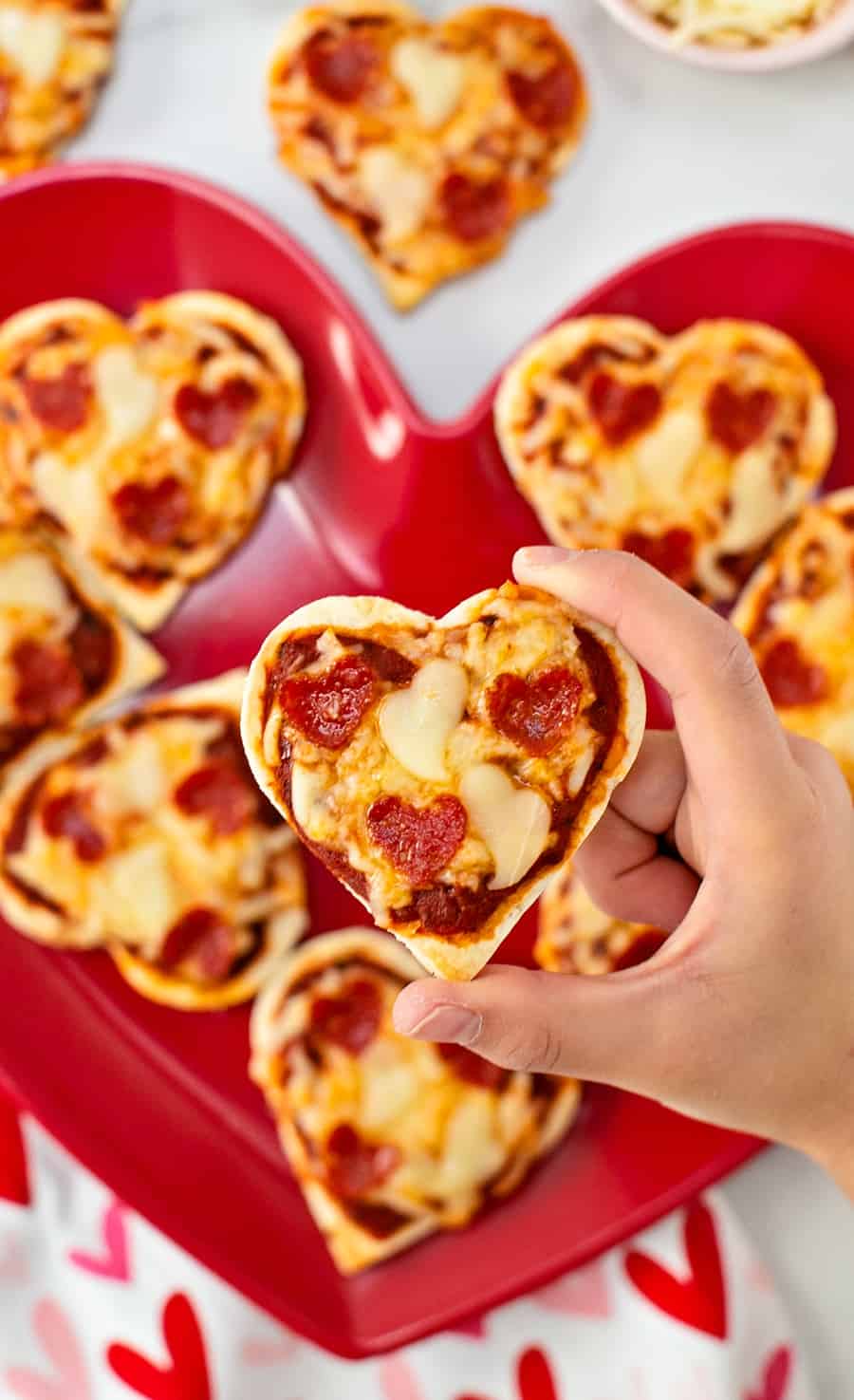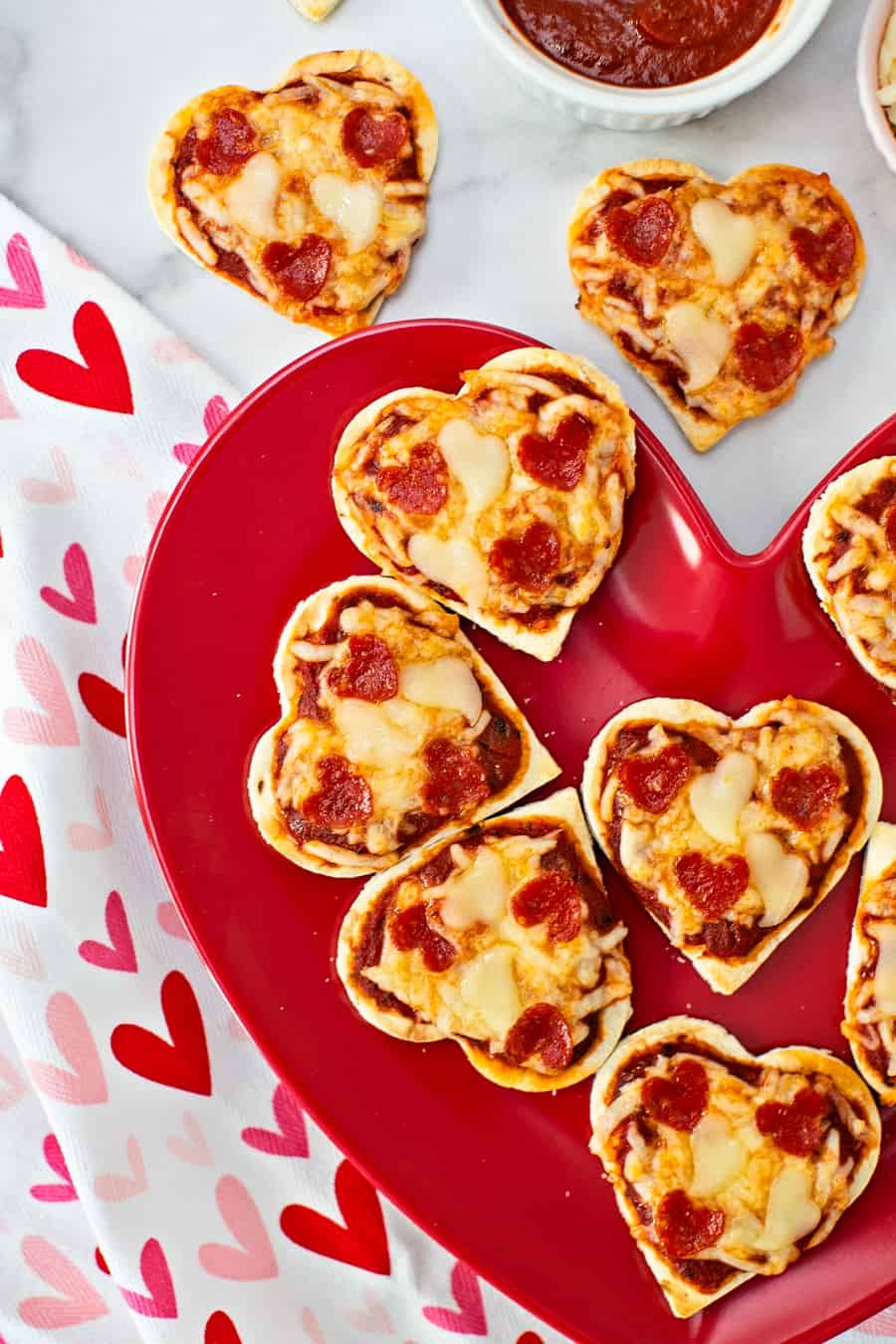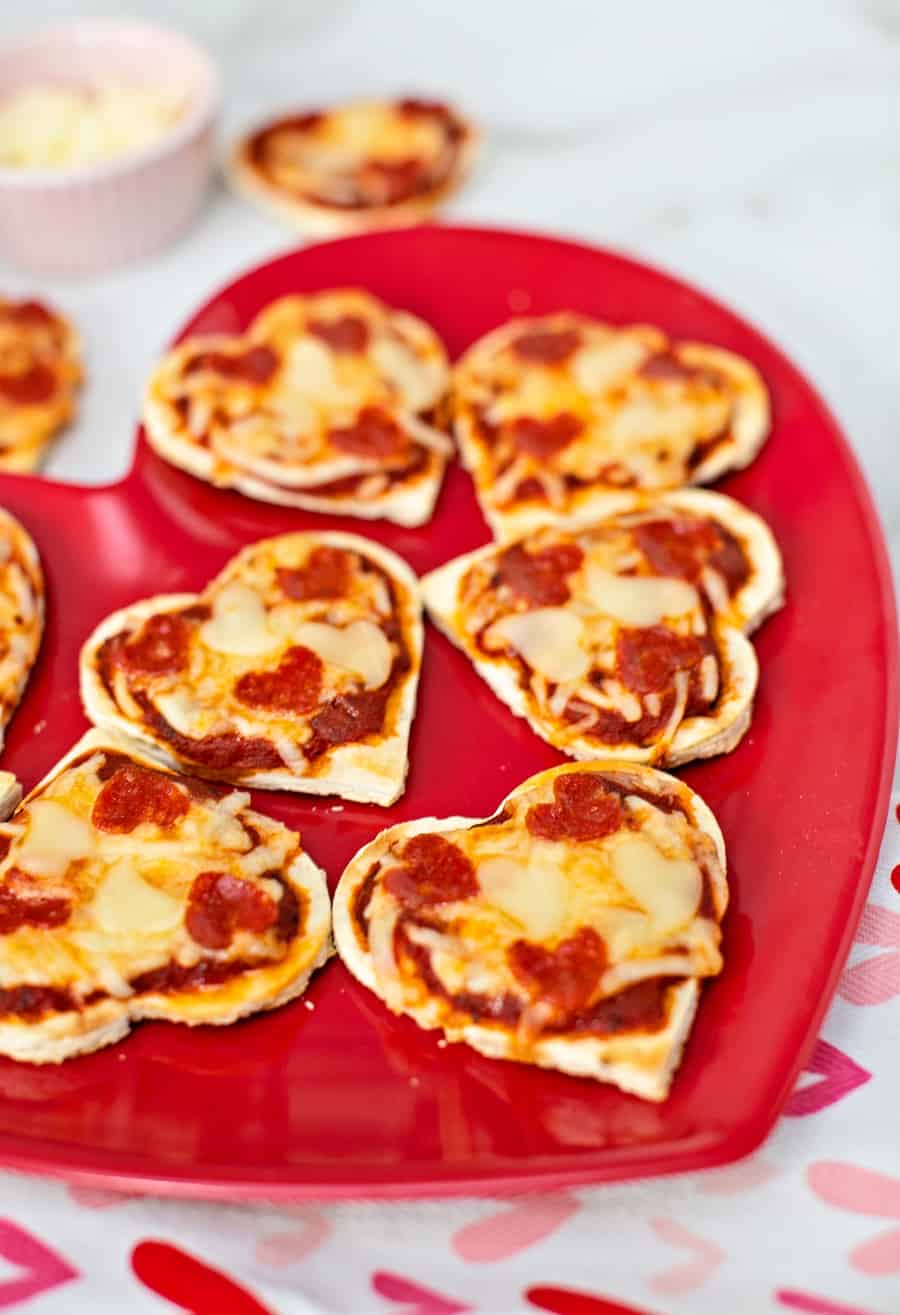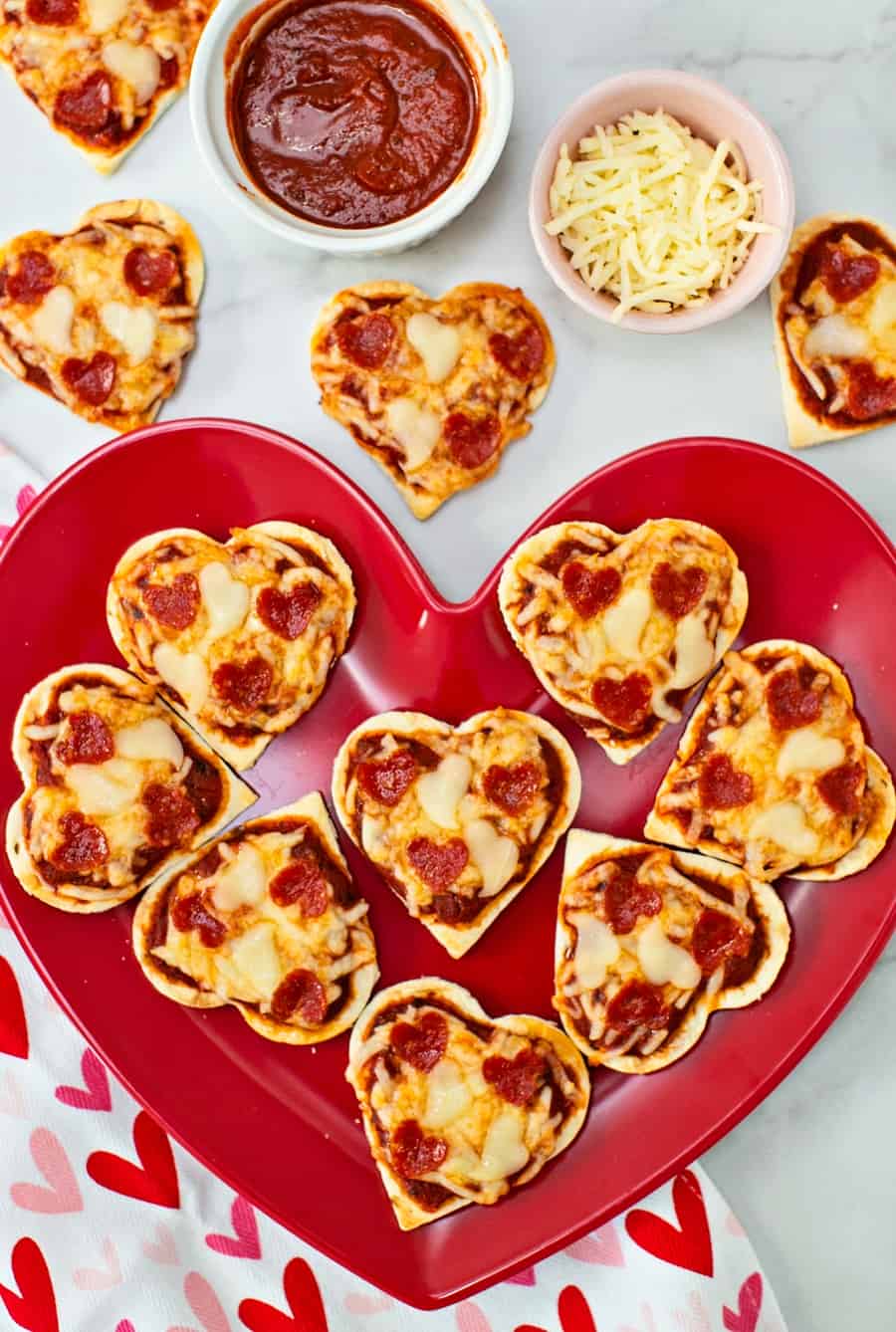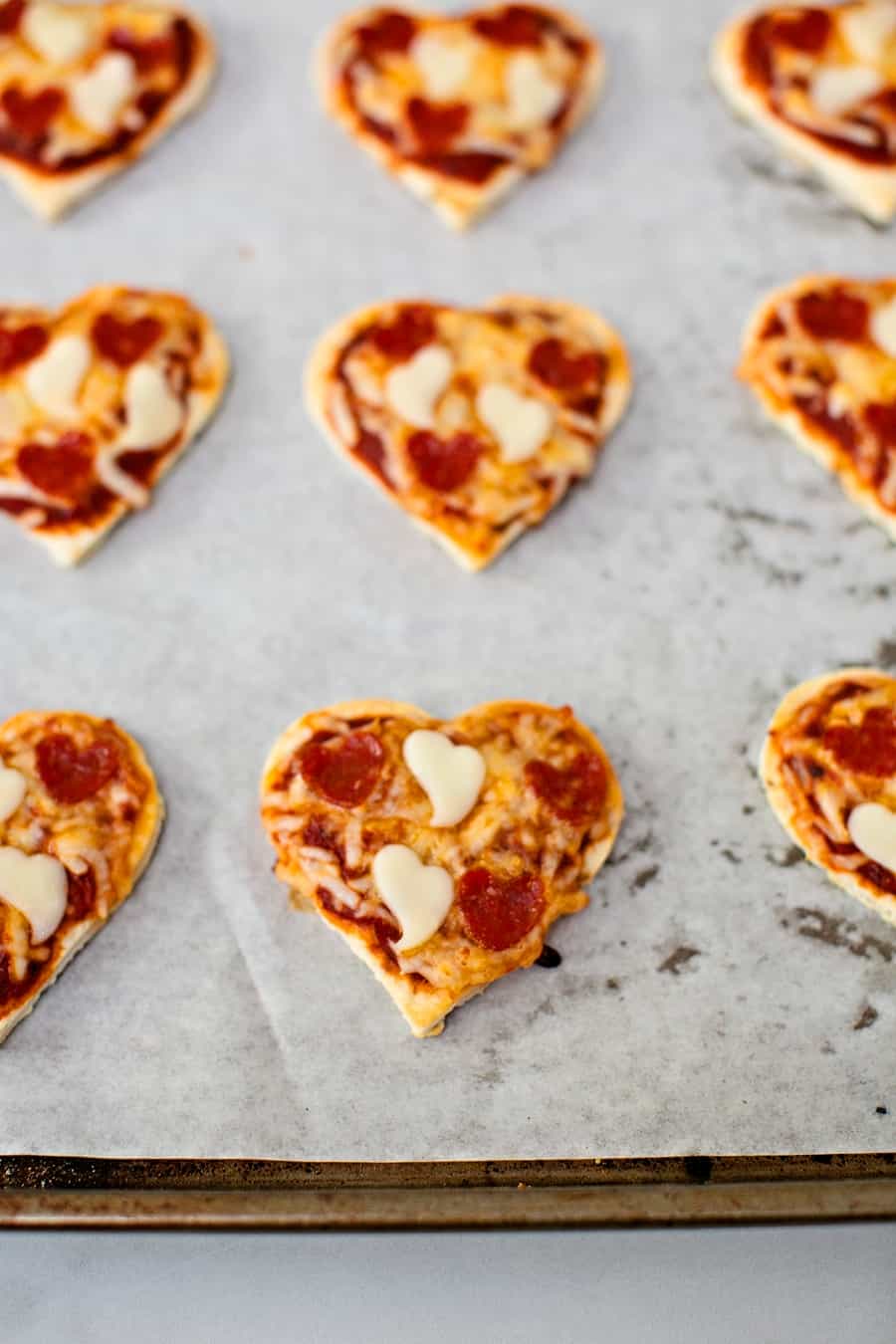 Watch the video in this post to see our Mini Heart Shaped Pizzas up close.
What can you use for this Valentine pizza crust?
There are so many great food items that you can use for pizza crust. This simple pizza recipe uses a pre-made pizza crust (ready-cooked) from the store, but you can easily make your own homemade crust instead. You can also use a mini bagel or English muffin, too.
Any type of bread crust is going to work, you just have to decide how thick you want that crust to be. A bagel is going to be thicker and harder to chew which is why I traditionally go with the thinner pre-made pizza crust from the store instead.
Mini Valentine Pizzas – Ingredients
Store-bought crust

Shredded mozzarella cheese

Pizza sauce

Small pepperoni slices

Mozzarella slices

Mini heart cutters and a small one for the pizza shape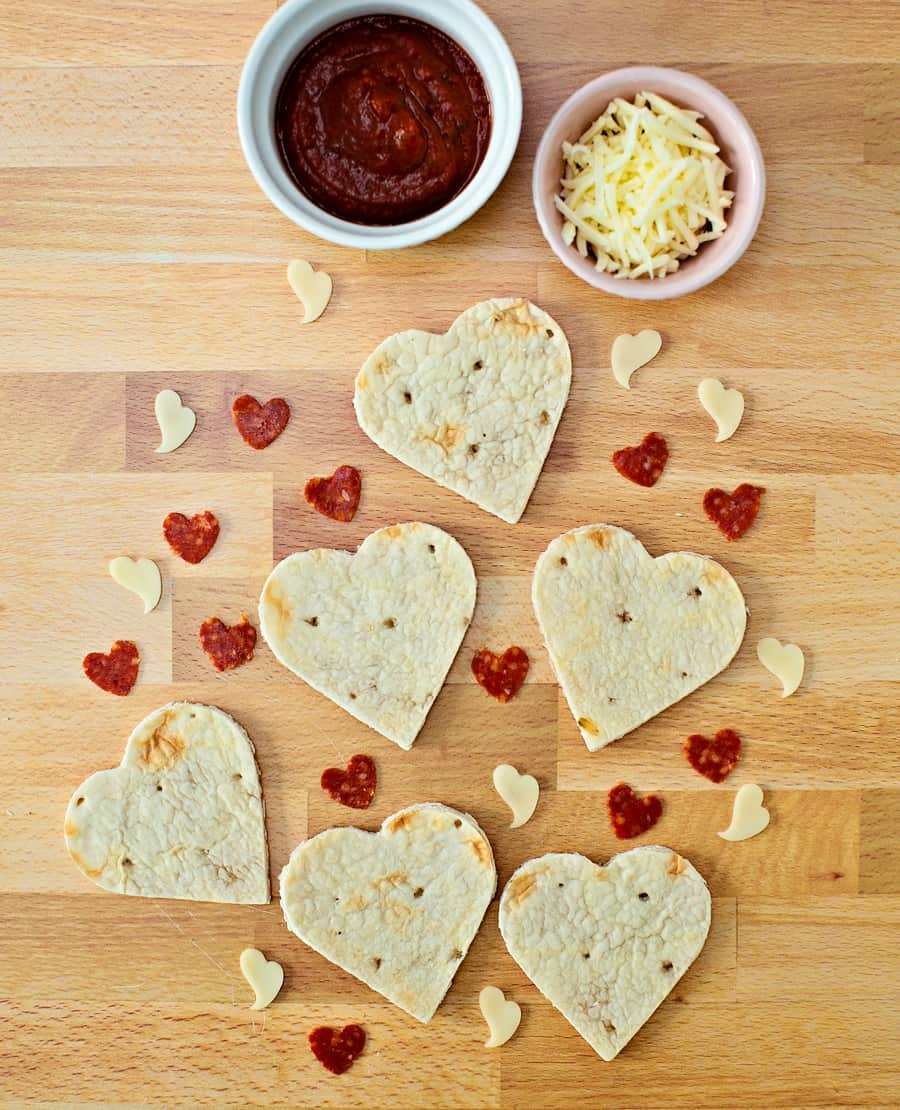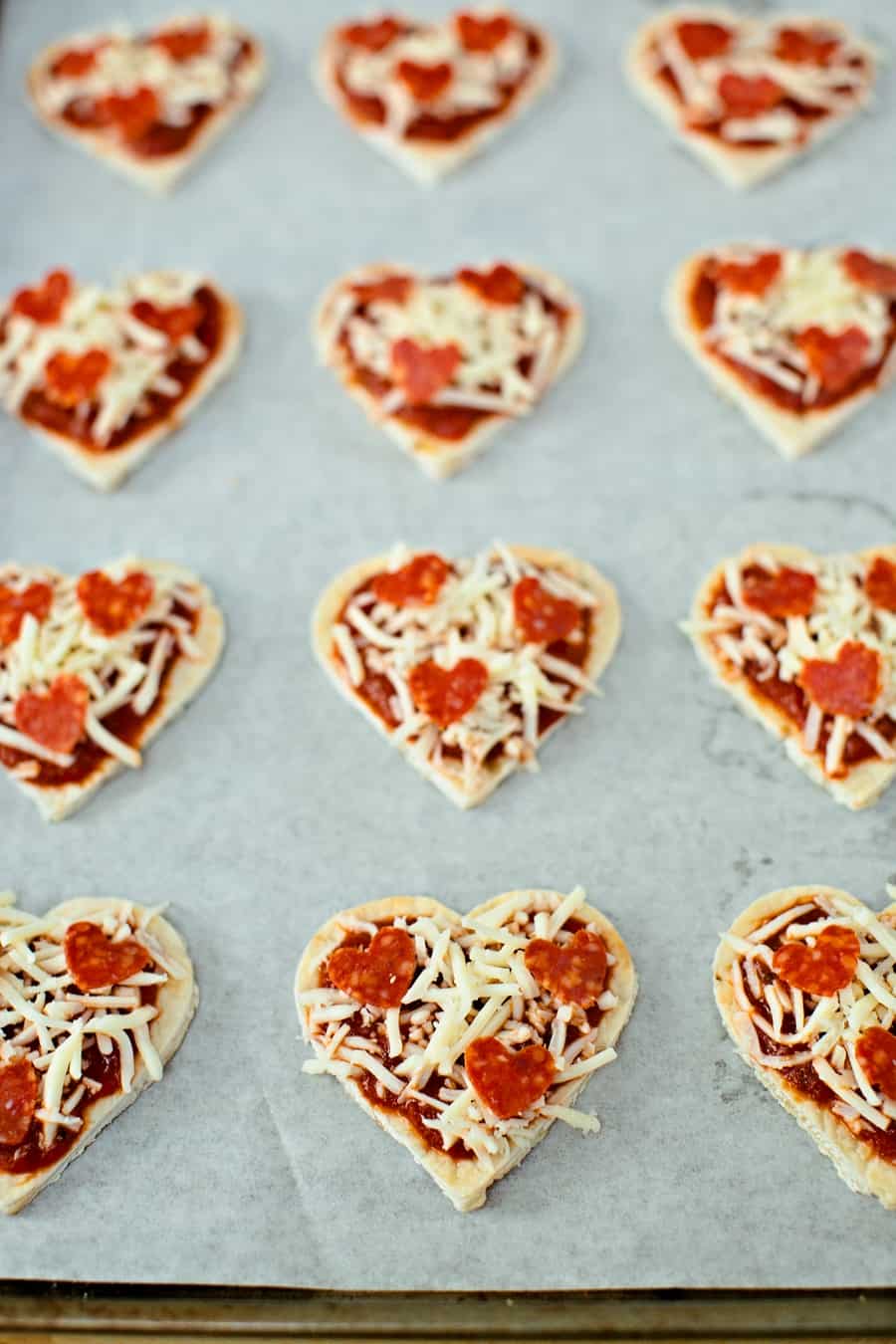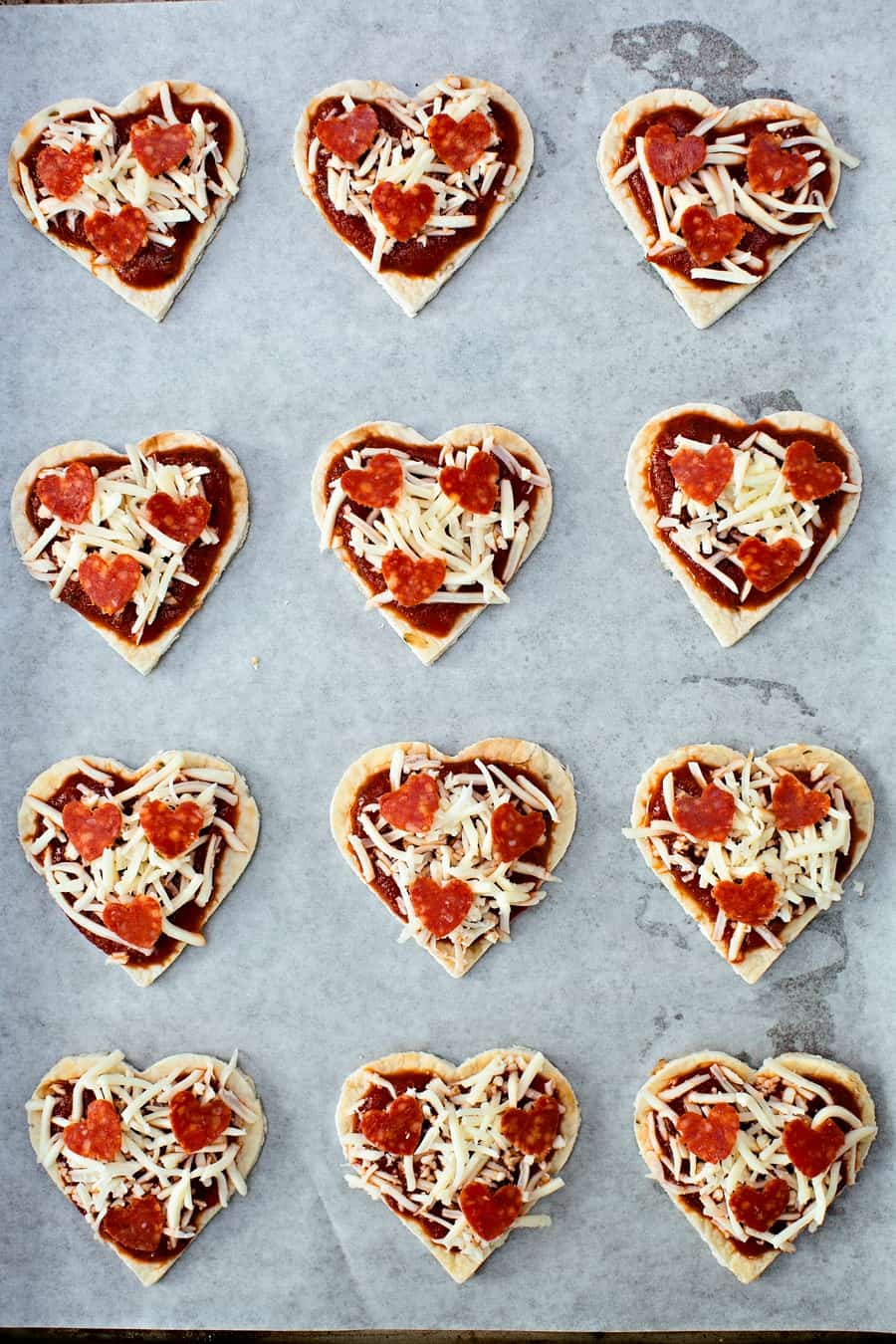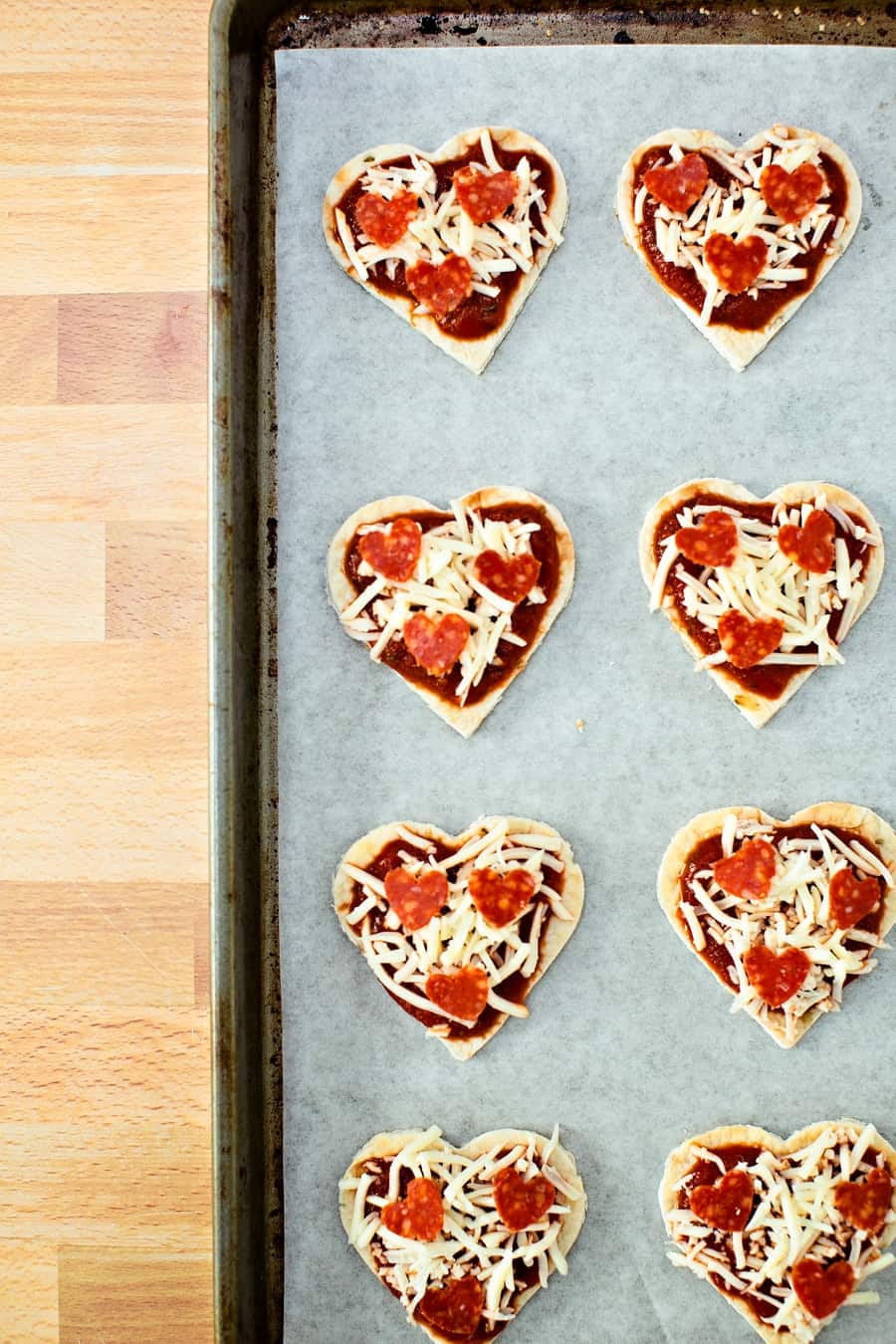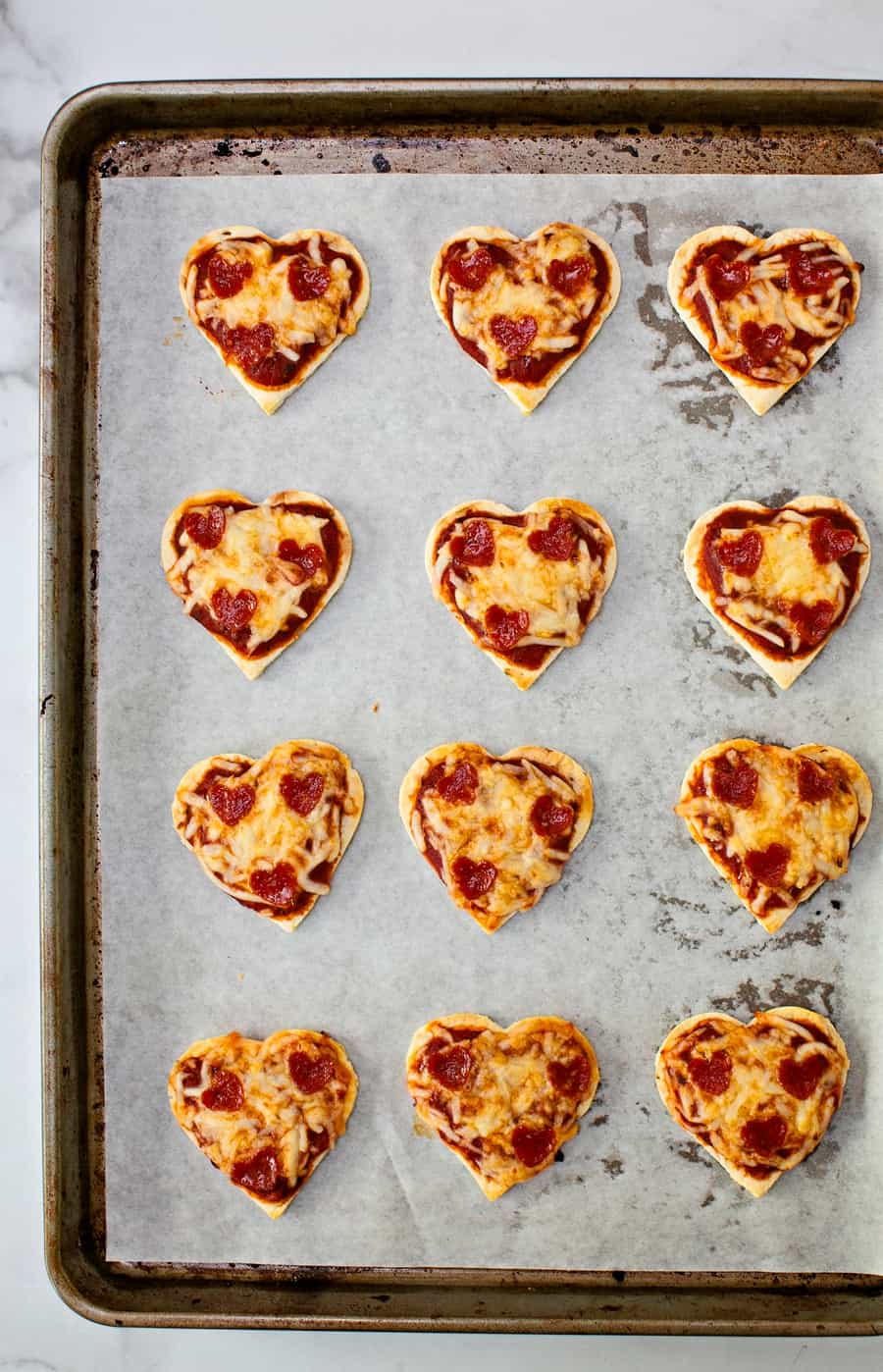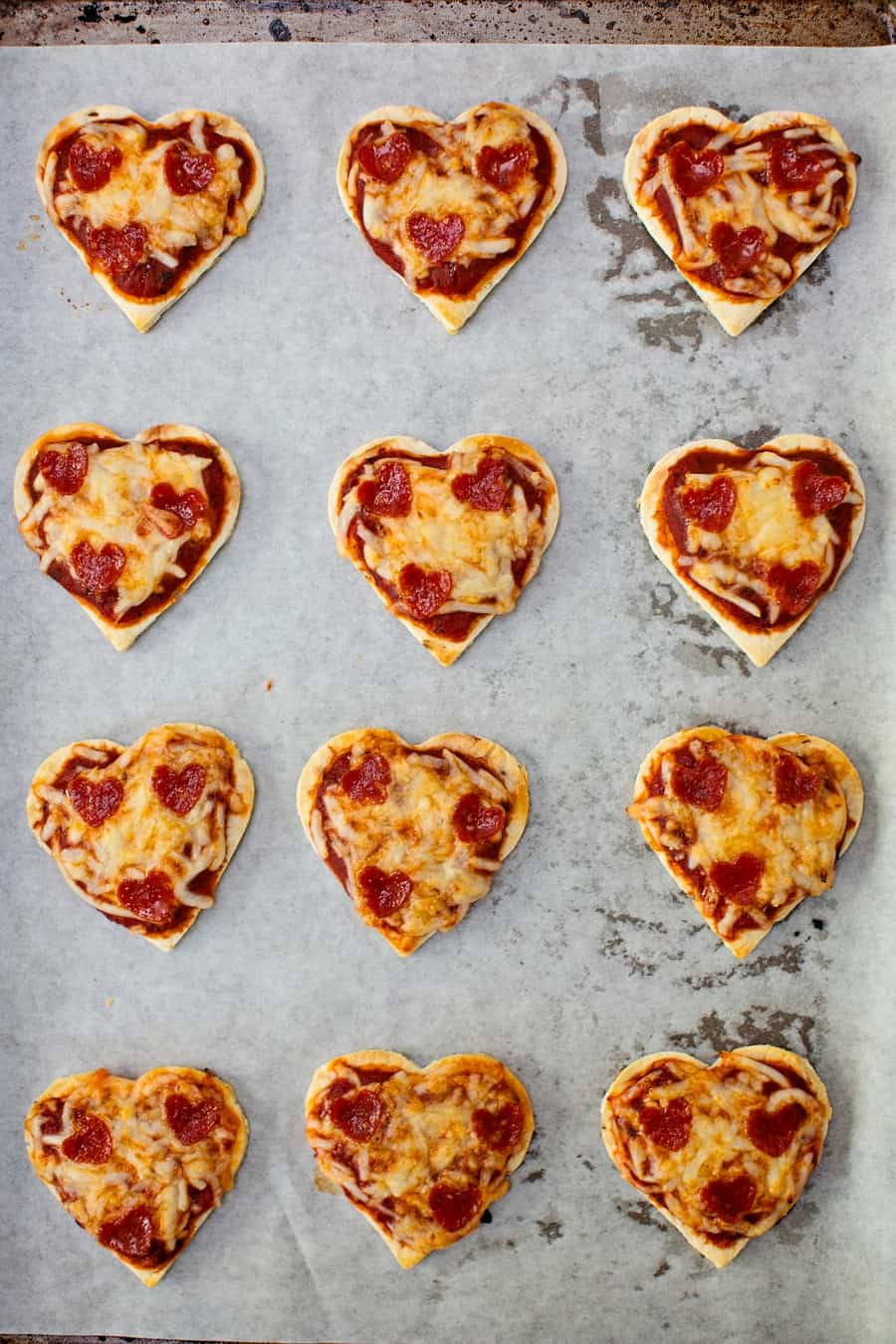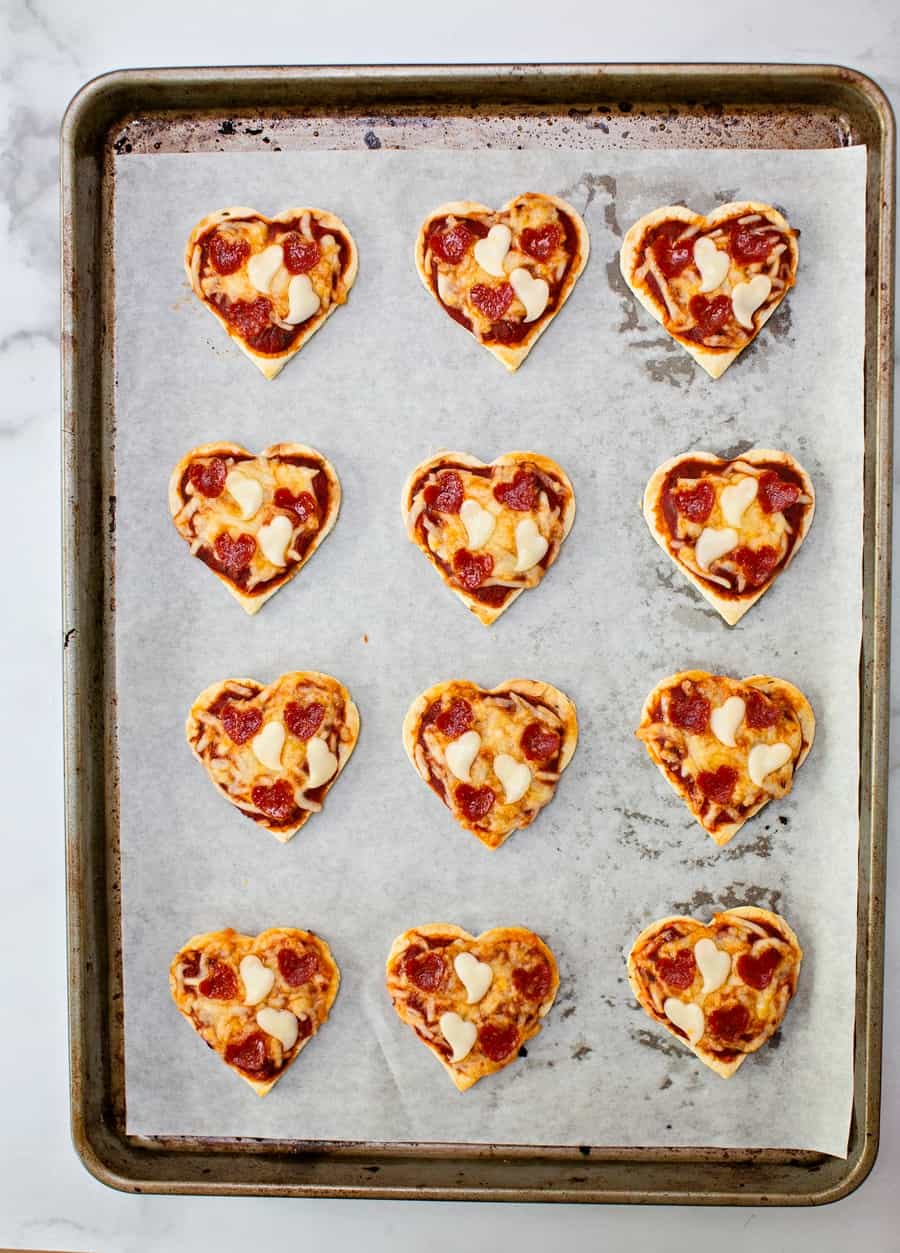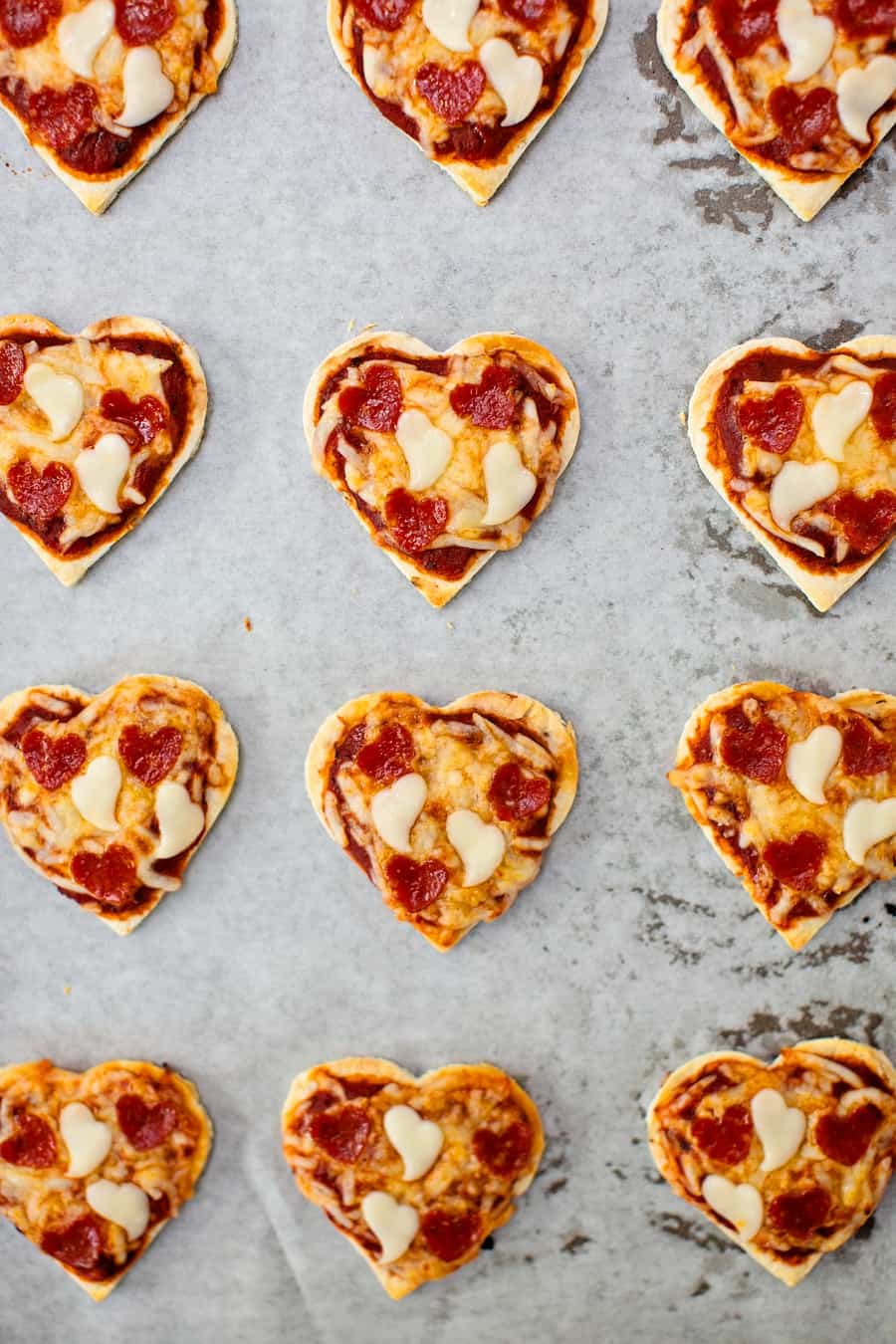 Tips For Making Mini Valentine Pizzas
One of the biggest tips for making these mini pizzas is that you're going to want to put the mozzarella hearts onto the pizza AFTER you've baked it so that they hold their shape and look.
If you put them on before you bake the pizza, they'll melt in the oven and no one will even know that they're hearts.
Be certain to let them cool completely before serving as the pizza sauce can really hold in some heat!
Watch the video in this post to see our Mini Valentine Pizzas up close.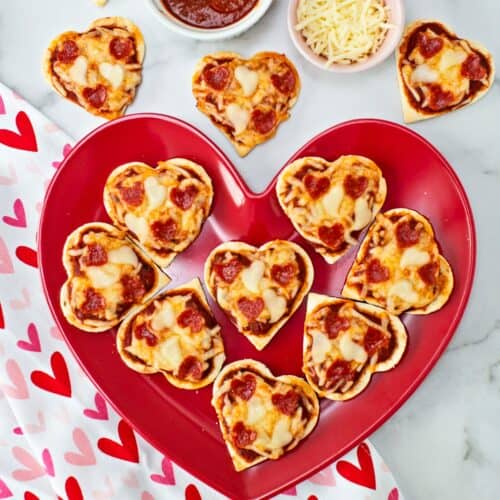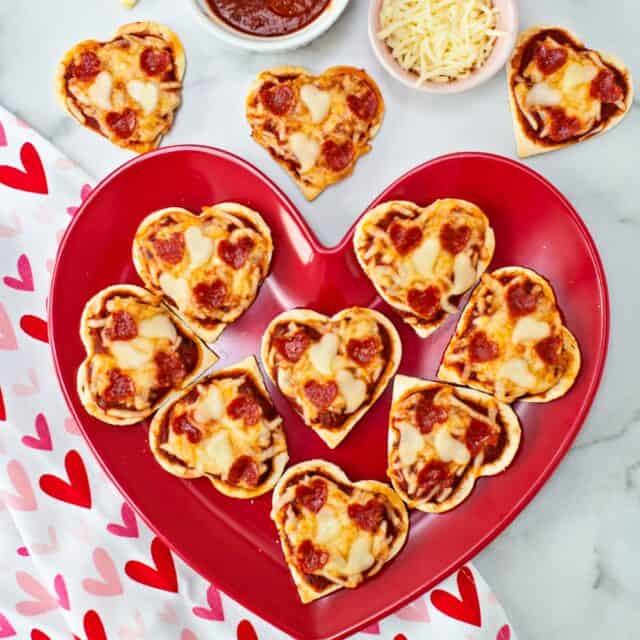 Heart Shaped Pizza
These mini pizzas are so much fun to make!
Ingredients
Store-bought crust

Sshredded mozzarella cheese

Pizza Sauce

Mini Pepperoni

Mozzarella slices

3" heart cookie cutter

Mini 1/2" heart cookie cutters
Instructions
Using your 3" heart cookie cutter stamp out pizza crust into mini heart pizza crusts.

Spoon a couple of spoonfuls of sauce onto the crust.

Sprinkle top with shredded mozzarella cheese.

Add 3-4 mini pepperoni hearts on top.

Line a baking pan with parchment or foil. Bake your mini pizzas for 10-12 minutes in a preheated 400 degree oven or until cheese is melted and bubbly.

Immediately after pulling out of the oven, add 3-3 mini cheese hearts so they can melt from the residual heat but still keep their shape.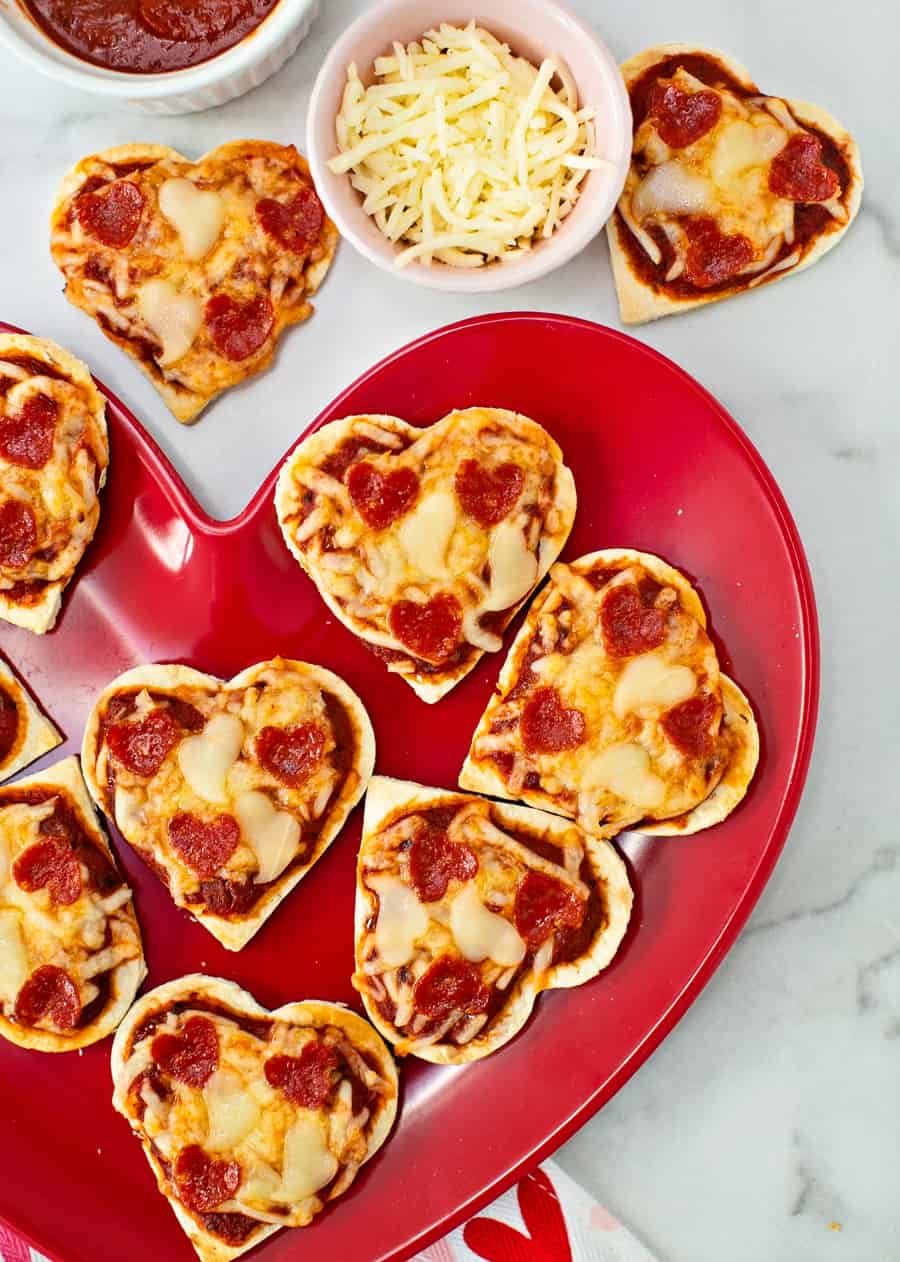 More Valentine Treats for Kids