By using this site, you agree to our Terms of Use. This post may contain affiliate links. Read our disclosure policy.
Follow us on Instagram for more fun food ideas for kids!
Everyone will love these chick cupcakes! Easy decorating tips to make cute and delicious Easter cupcakes everyone will love!
Easter treats are the best. Add in anything chick-themed, and you know it's going to be a hit. Since this recipe is actually made with store-bought cupcakes, all that you have to worry about is adding on the frosting to create the chick. It doesn't get any easier than that!
The kids will be happy to help decorate, too because frosting cupcakes can turn into a messy job, and that messy job means that they'll get to lick the frostings off their fingers in the process. (and isn't that part of being in the kitchen – getting to sample the sweets and treats?!)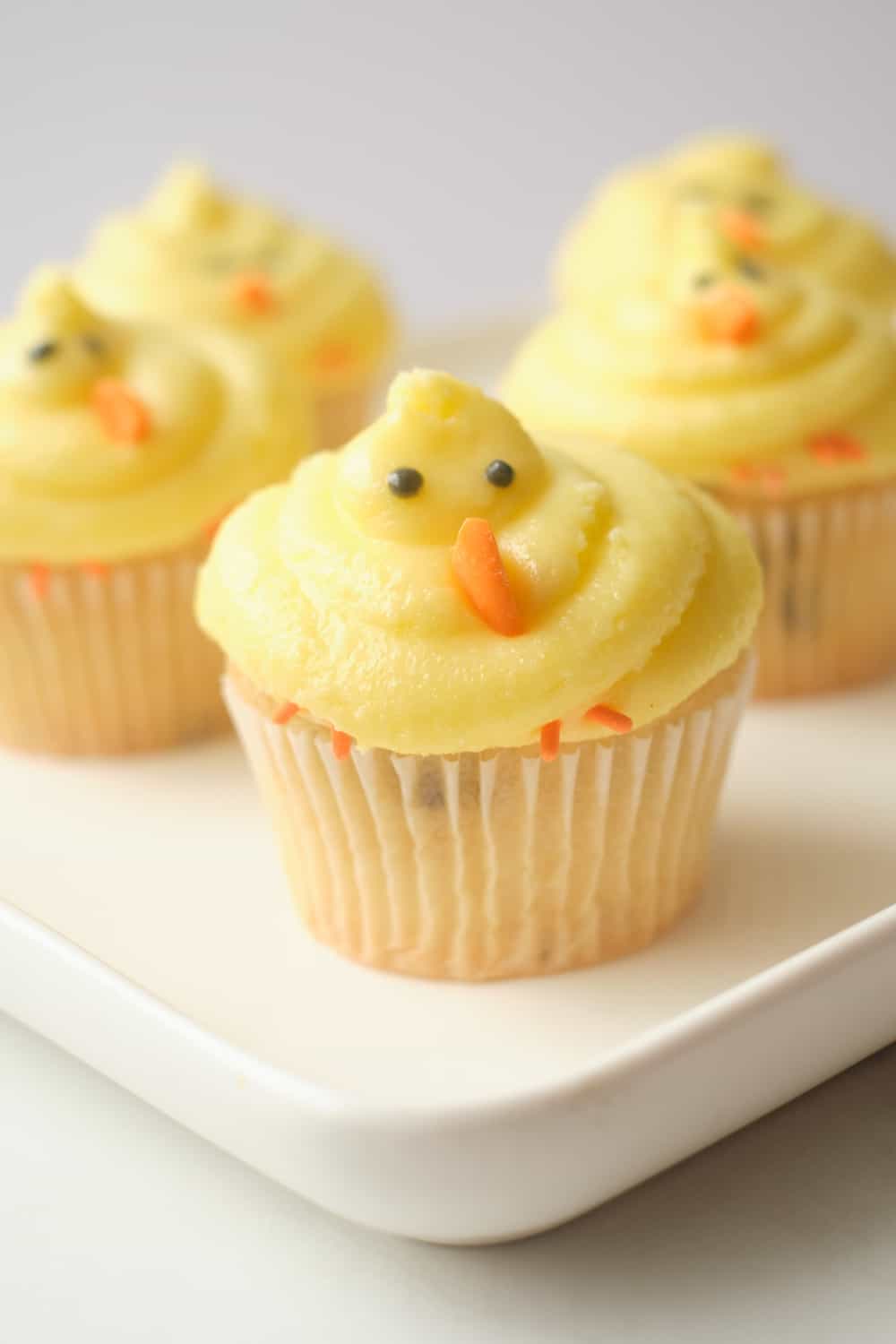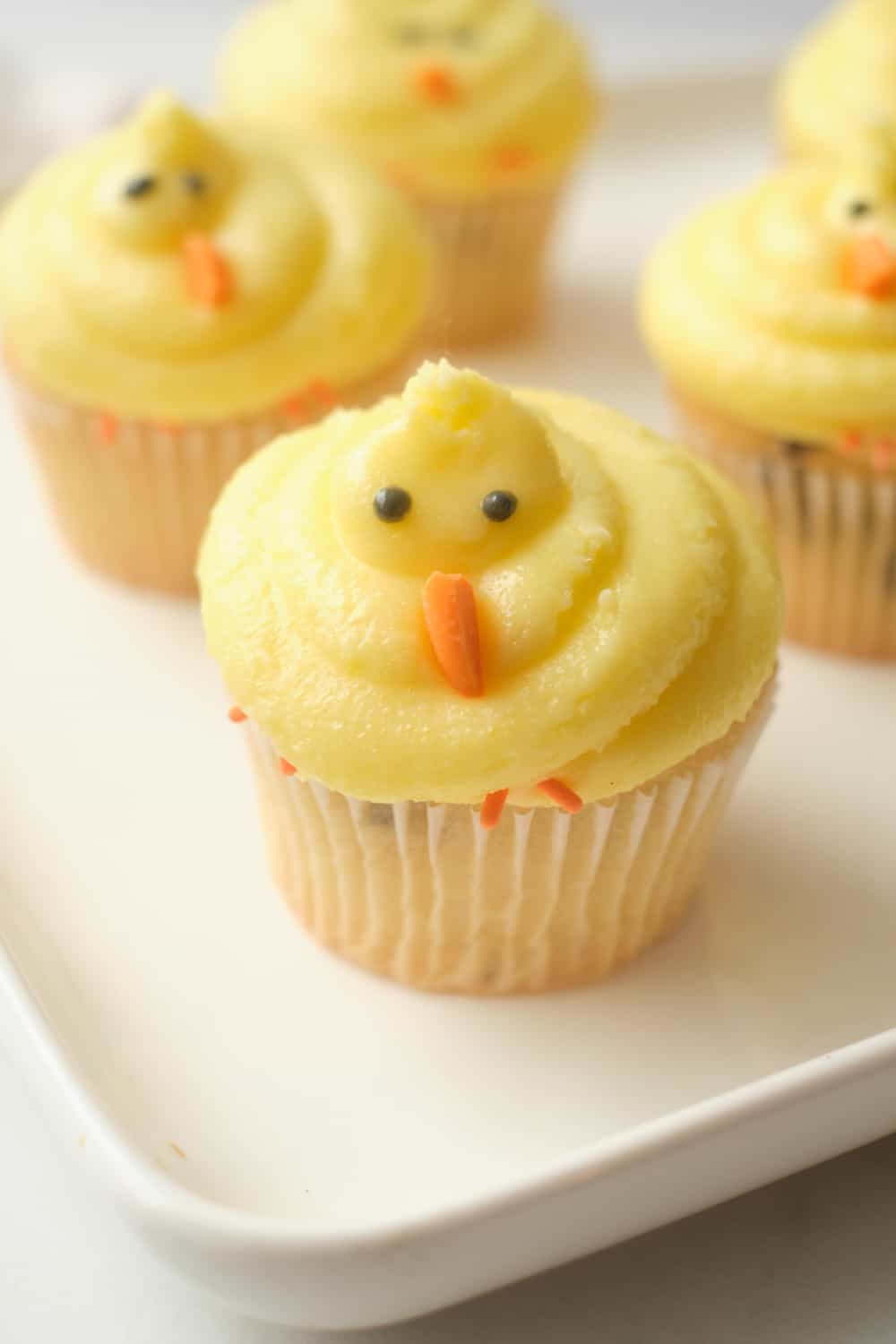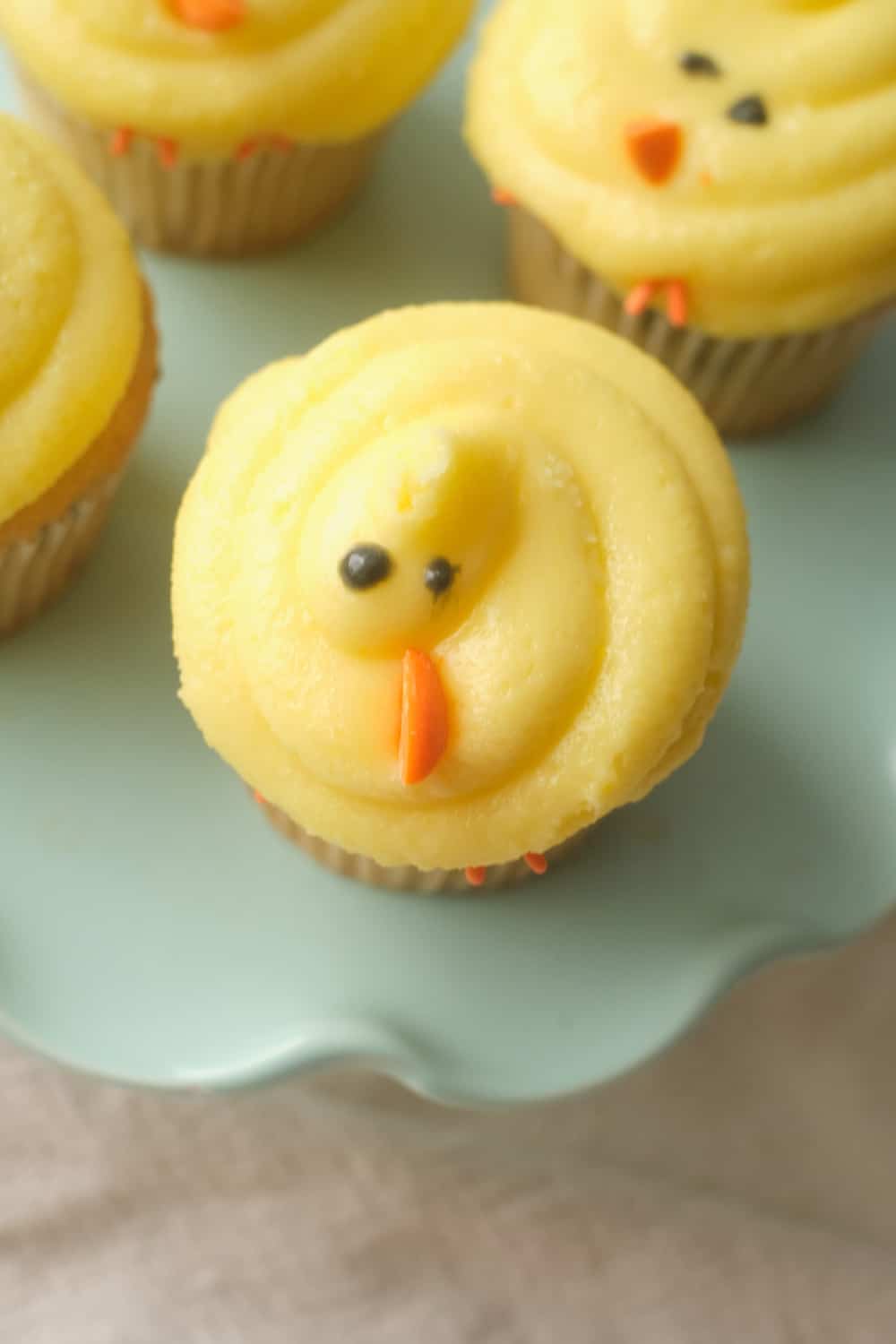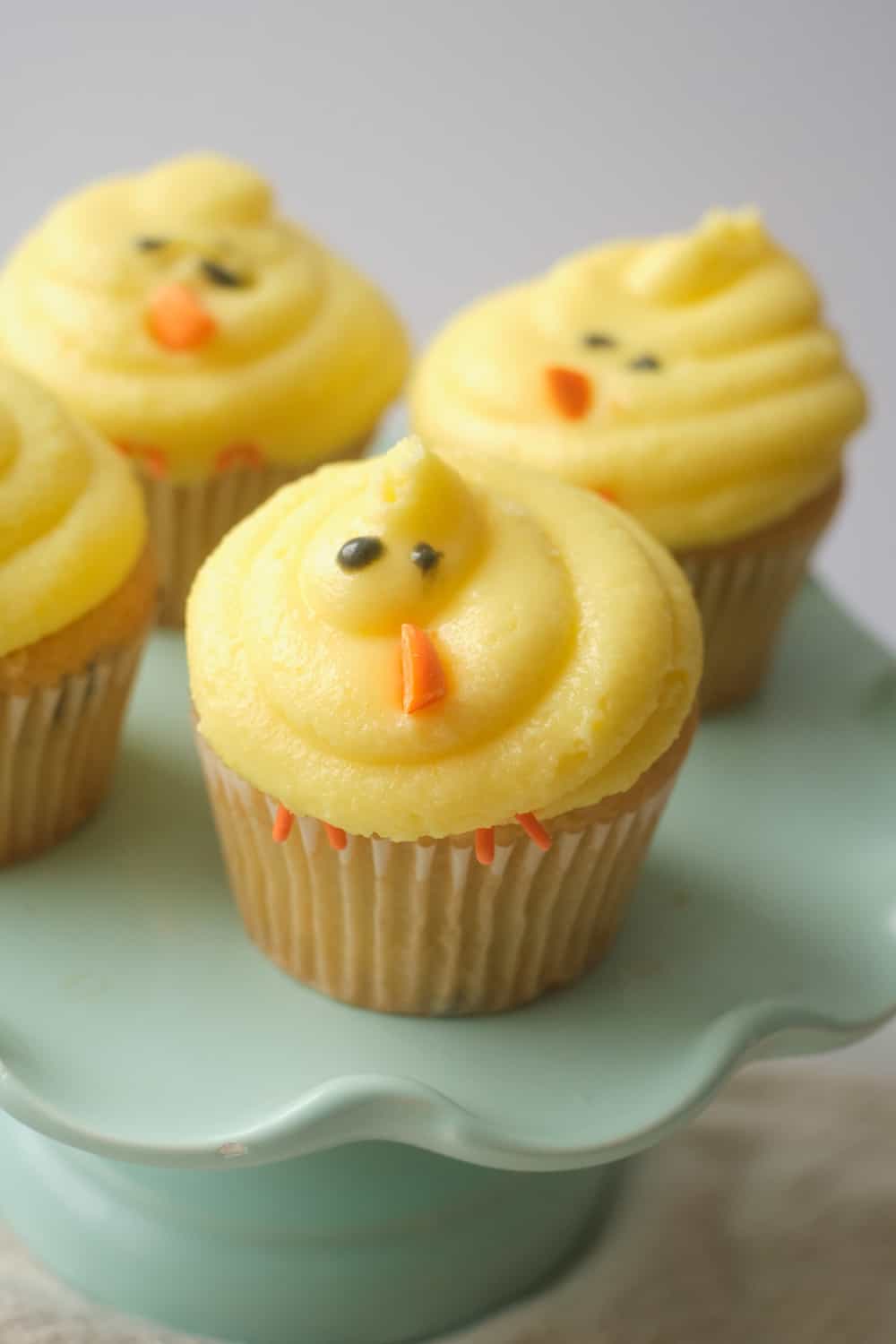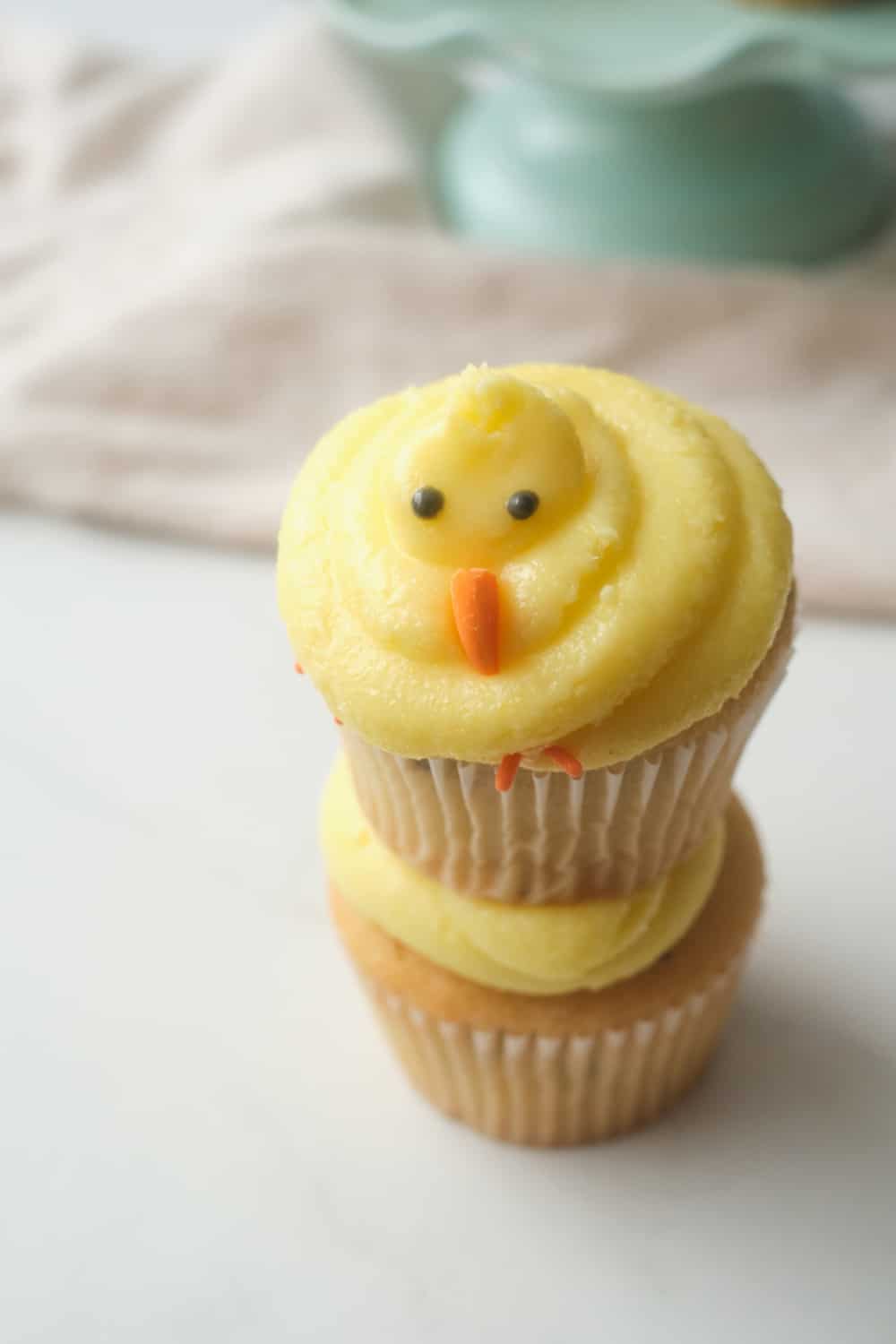 Can you use homemade cupcakes for this recipe?
Of course! If you have time to bake cupcakes and have a favorite homemade cupcake recipe, by all means, make it and use it. Just be sure that you let the cupcakes cool down completely before you start decorating them.
If you try and add the frosting on too early while the cupcakes are still warm or hot, the frosting is going to melt right off and cause issues.
Chick Cupcakes – Ingredients
Cupcakes
Frost ing (yellow)
Sprinkles
Orange chocolate wafers
Black icing
How To Make Chick Cupcakes for Easter
Bake cupcakes or use pre-made.
Ice with yellow icing and then place on the eyes with black icing.
Place feet on the cupcakes.
Place the chocolate nose.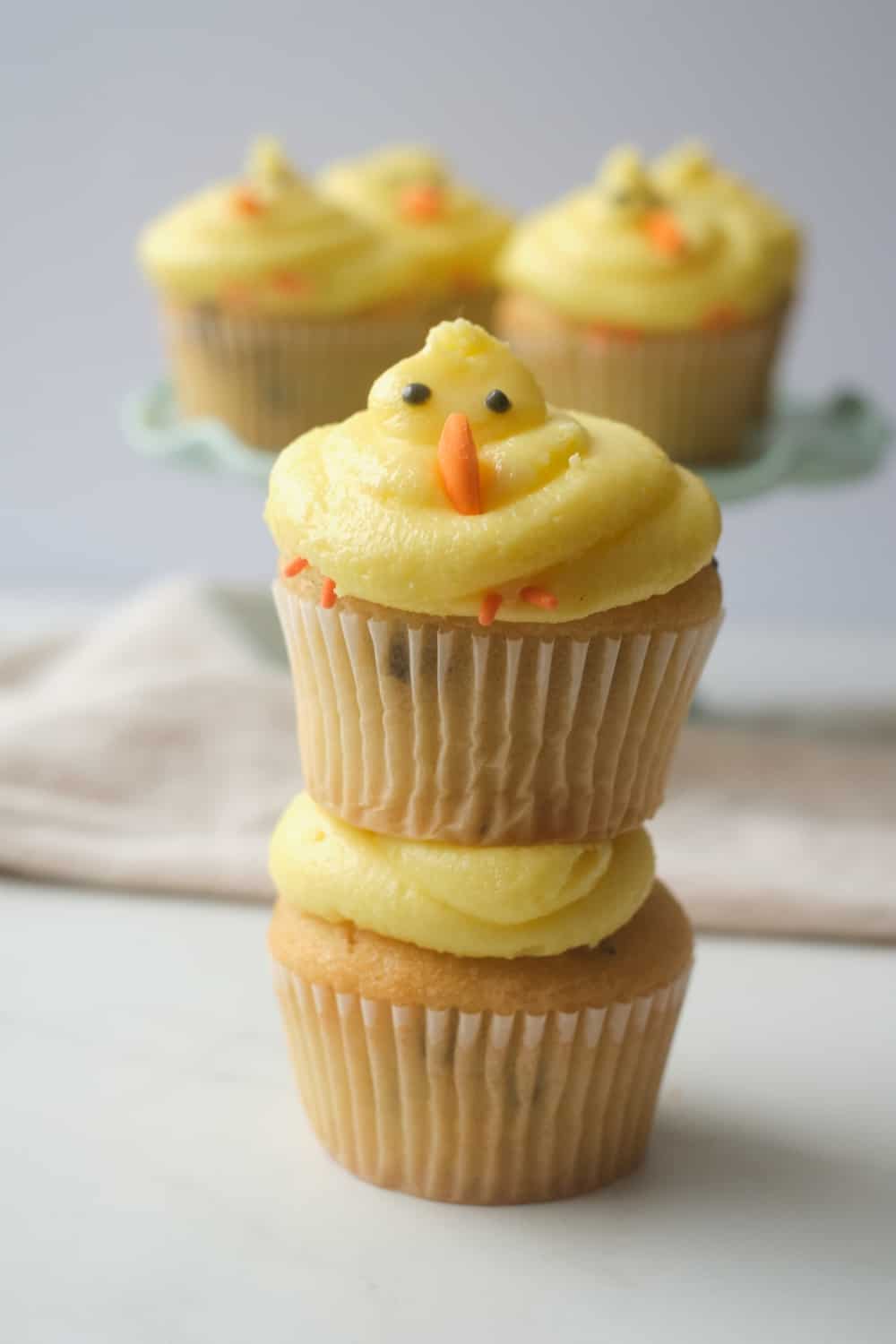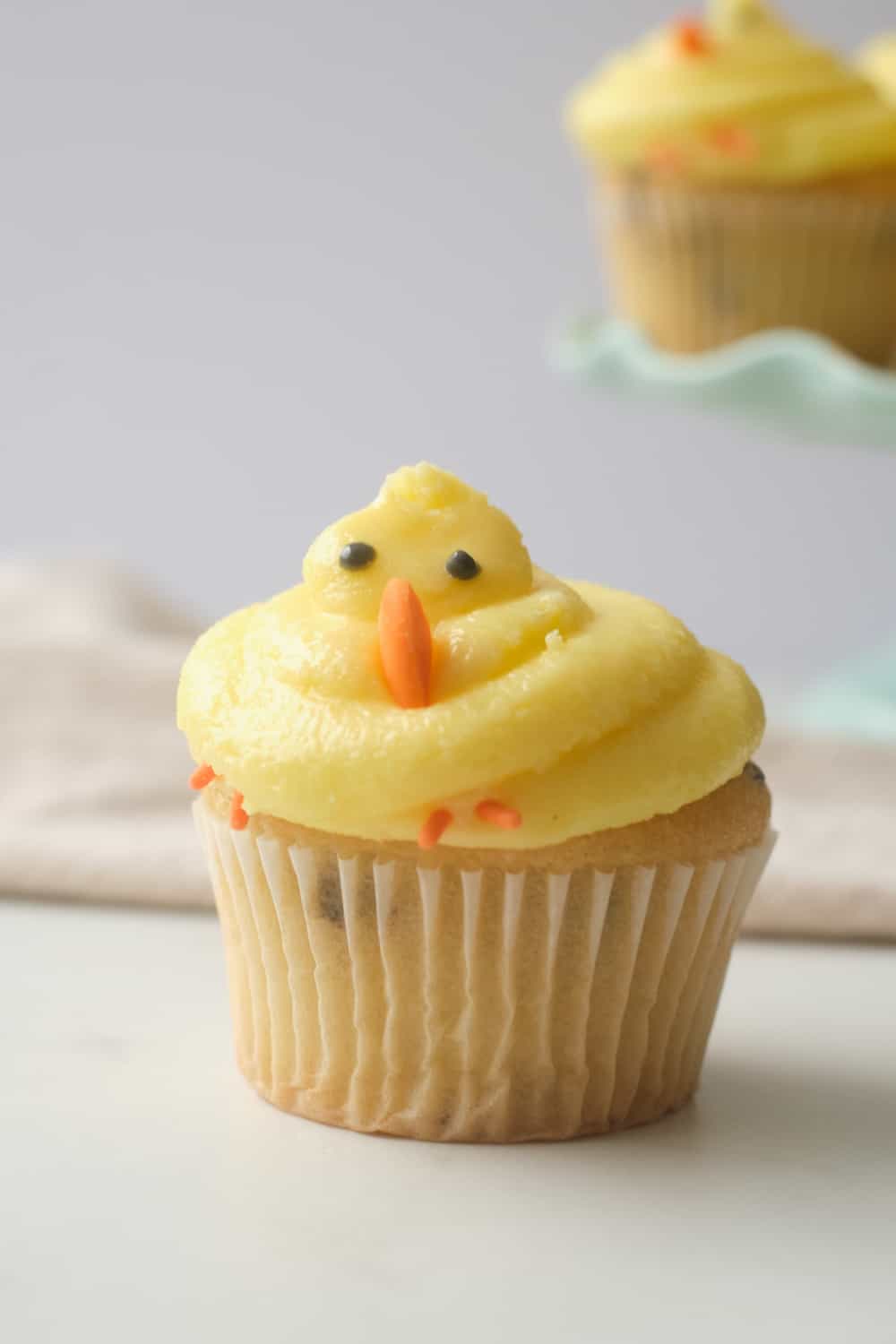 Variations
While we like to add the yellow icing on and have it smooth, you can add some yellow food coloring to shredded coconut and add that on top of the frosting. This gives a texture look and a fun flavor.
How to store baby chick cupcakes
The best way to store leftover Easter cupcakes is to put them in an airtight container. Make sure that the lid gives enough space so that it doesn't smoosh the frosting that's on top.
Can you freeze cupcakes?
You can but just be sure that you freeze the cupcakes without any frosting on them. When you're ready to eat the cupcakes, you can then unthaw them and decorate them with fresh frosting at that point in time.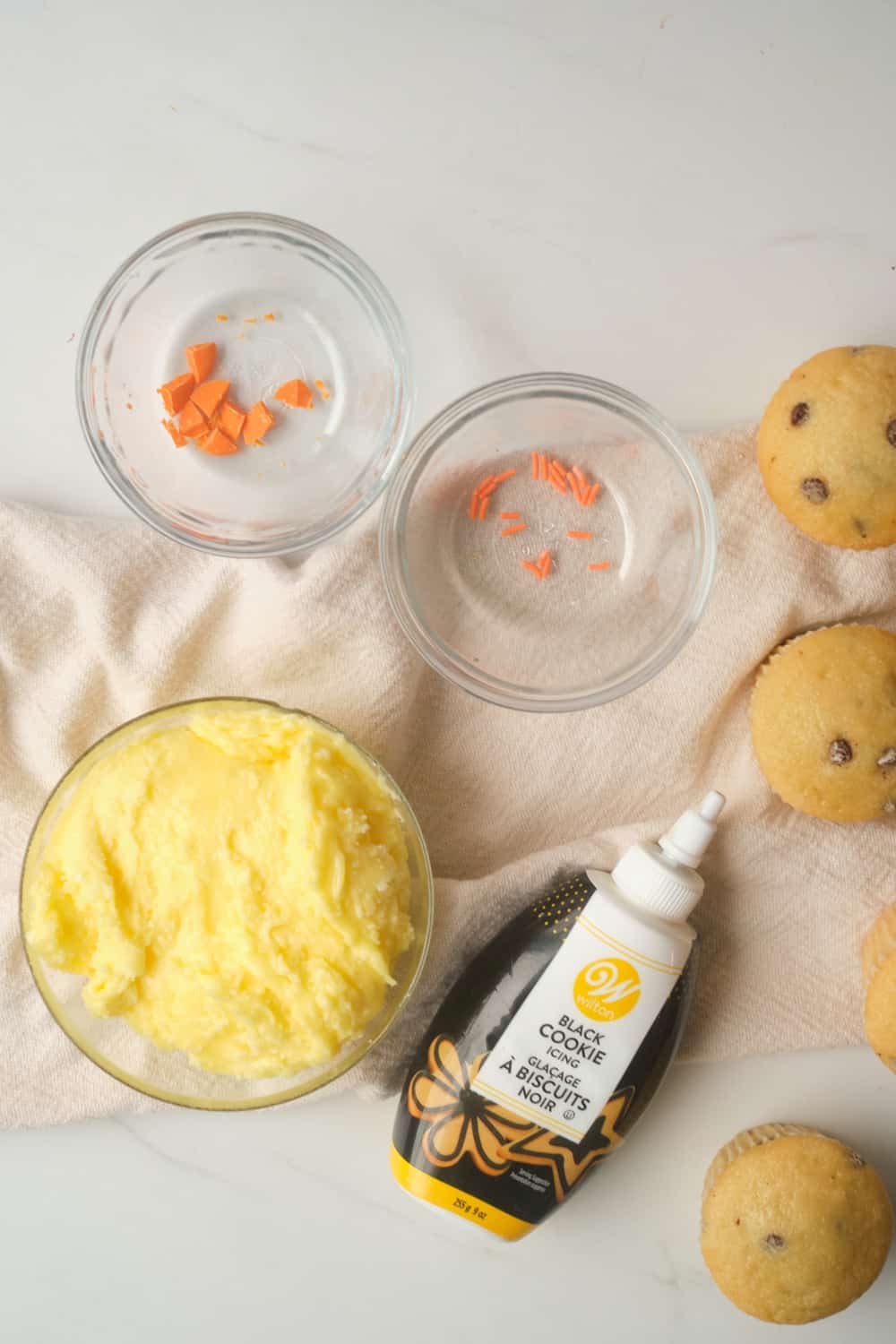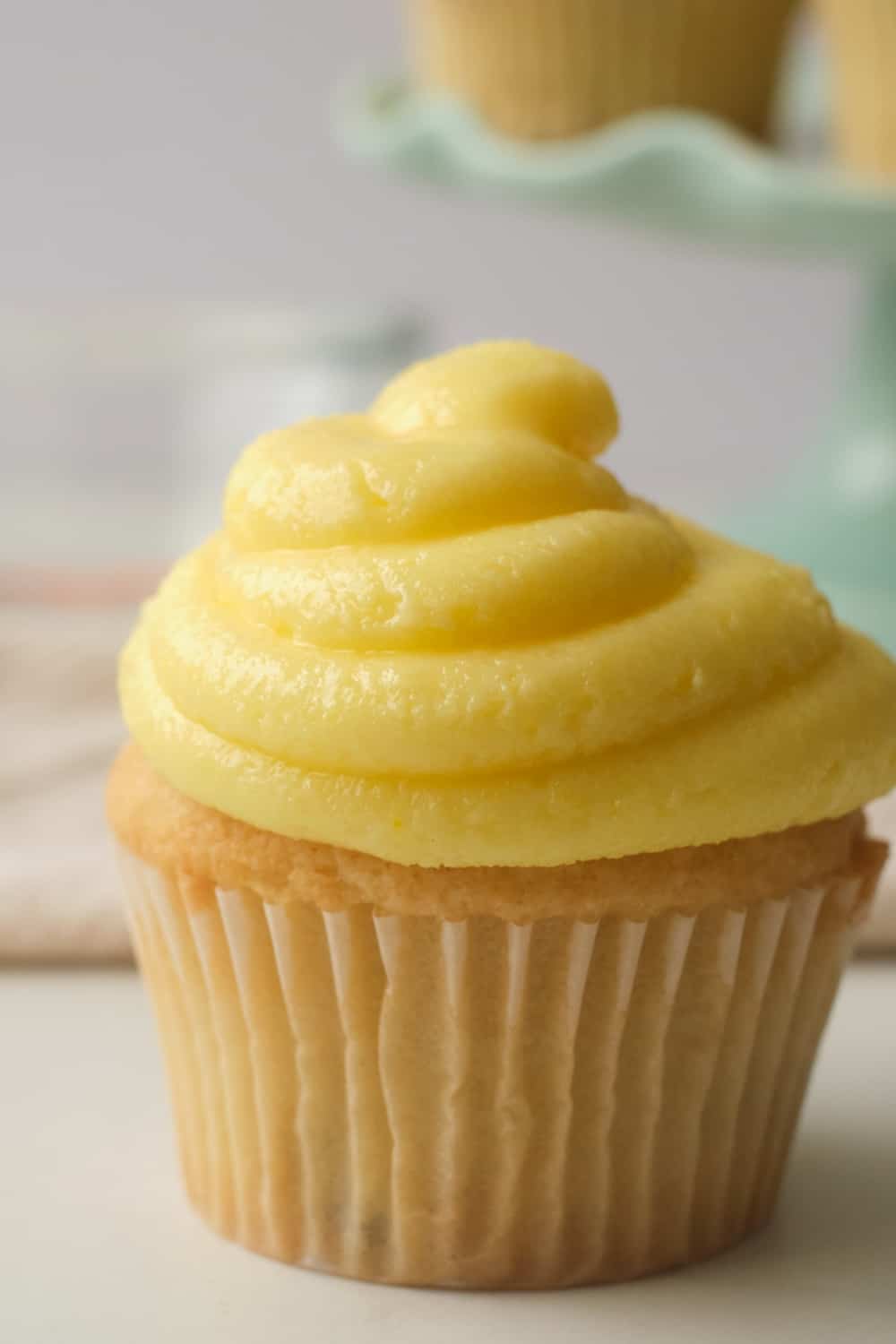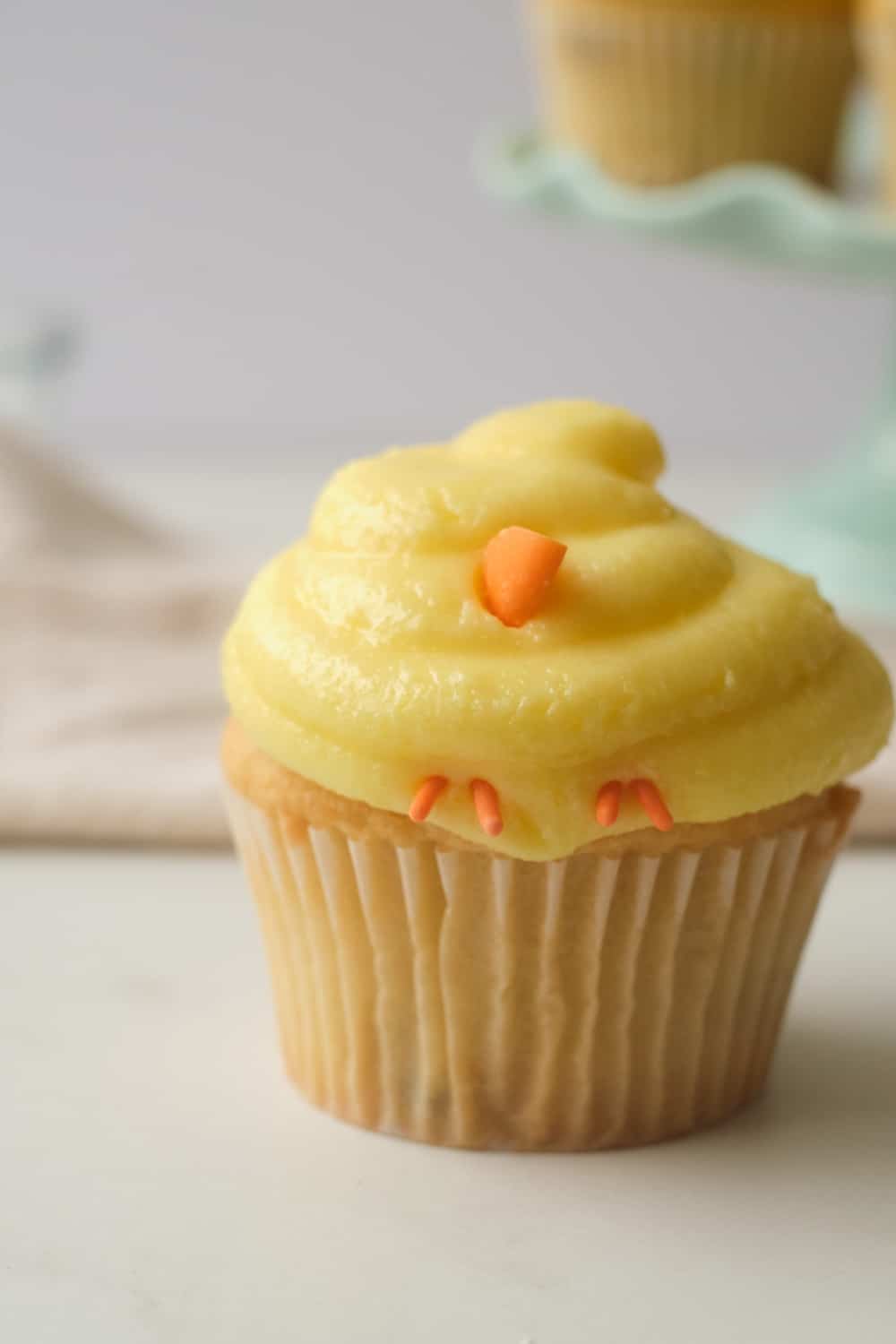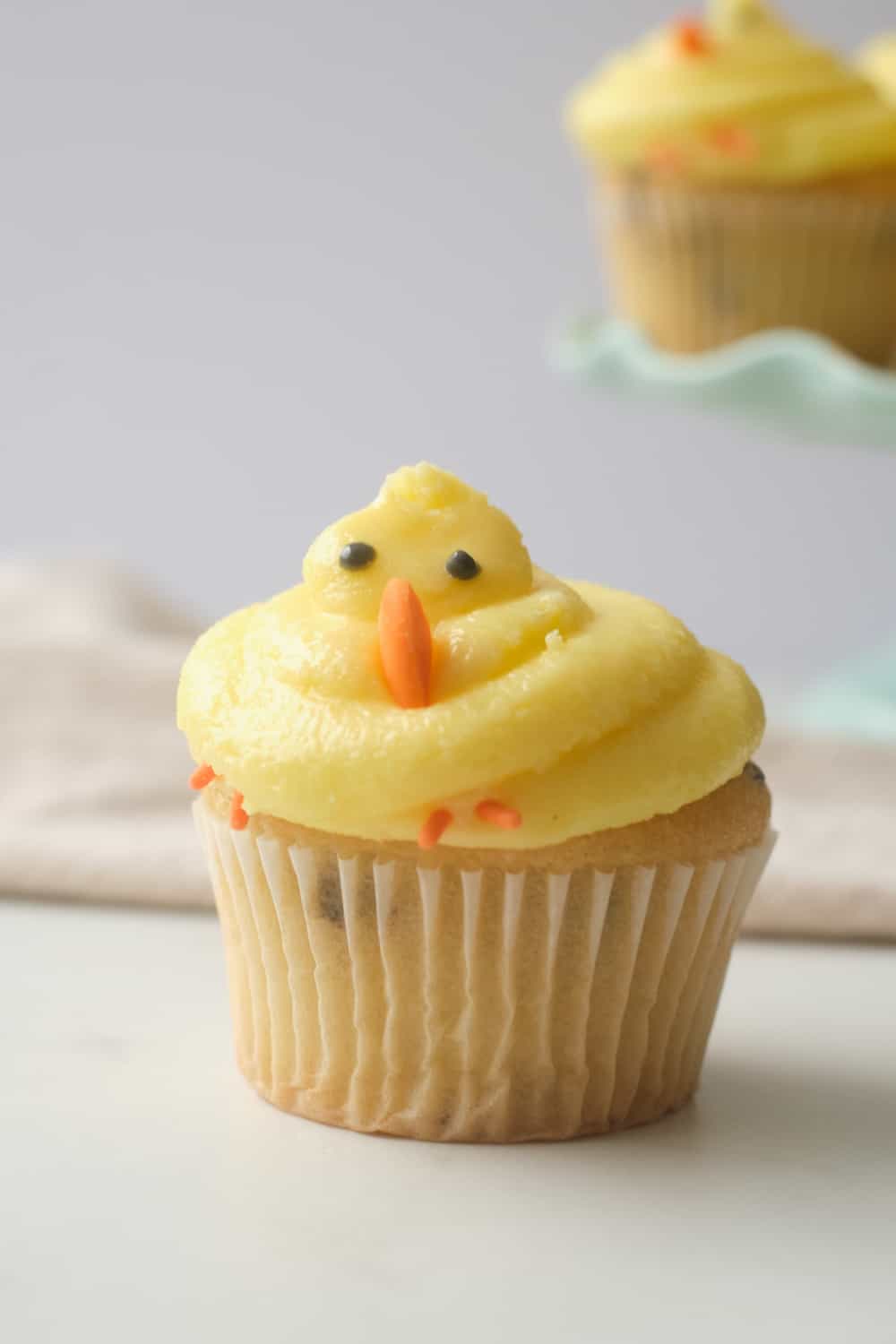 INSTRUCTIONS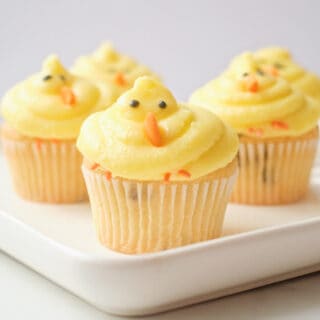 Chick Cupcakes
These Chick Cupcakes are a delicious treat that are fast and simple to make! Perfect for an easy Easter dessert.
Ingredients
Cupcakes

Frosting (yellow)

Use store bought or homeamde and tint with yellow food cooring

Orange Jimmy Sprinkles

Orange chocolate wafer

Broken in small pieces

Black Icing

We used Wilton's black cookie icing
Instructions
Bake cupcakes or use pre-made.

Ice with yellow frosting as rounded dollops and then place on the eyes with black icing.

Place orange sprinkle feet on the cupcakes.

Place the orange wafer chocolate nose.
Notes
Use a round pastry tip and pastry bag to pipe on the frosting. If you don't have these, you can easily snip a hole on a zipper food bag and add frosting to pipe on the cupcakes this way.
You May Also Like