By using this site, you agree to our Terms of Use. This post may contain affiliate links. Read our disclosure policy.
Follow us on Instagram for more fun food ideas for kids!
These sheet pan waffles make a quick and easy breakfast or brunch to feed the entire family! Or add whipped cream and strawberries to make it a delicious dessert!
Watch the video in this post to see how simple and delicious these sheet pan waffles are to make.
Can you relate to those lazy Saturday or Sunday mornings when all you want to do is take it easy and relax in the morning? With kids that hardly ever happens when they're hungry for breakfast!
This happens most weekends in my household and here's one of my tricks for getting breakfast on the table fast with minimal work. These Sheet Pan Waffles are a huge hit and so easy. They feed everyone fast and at the same time!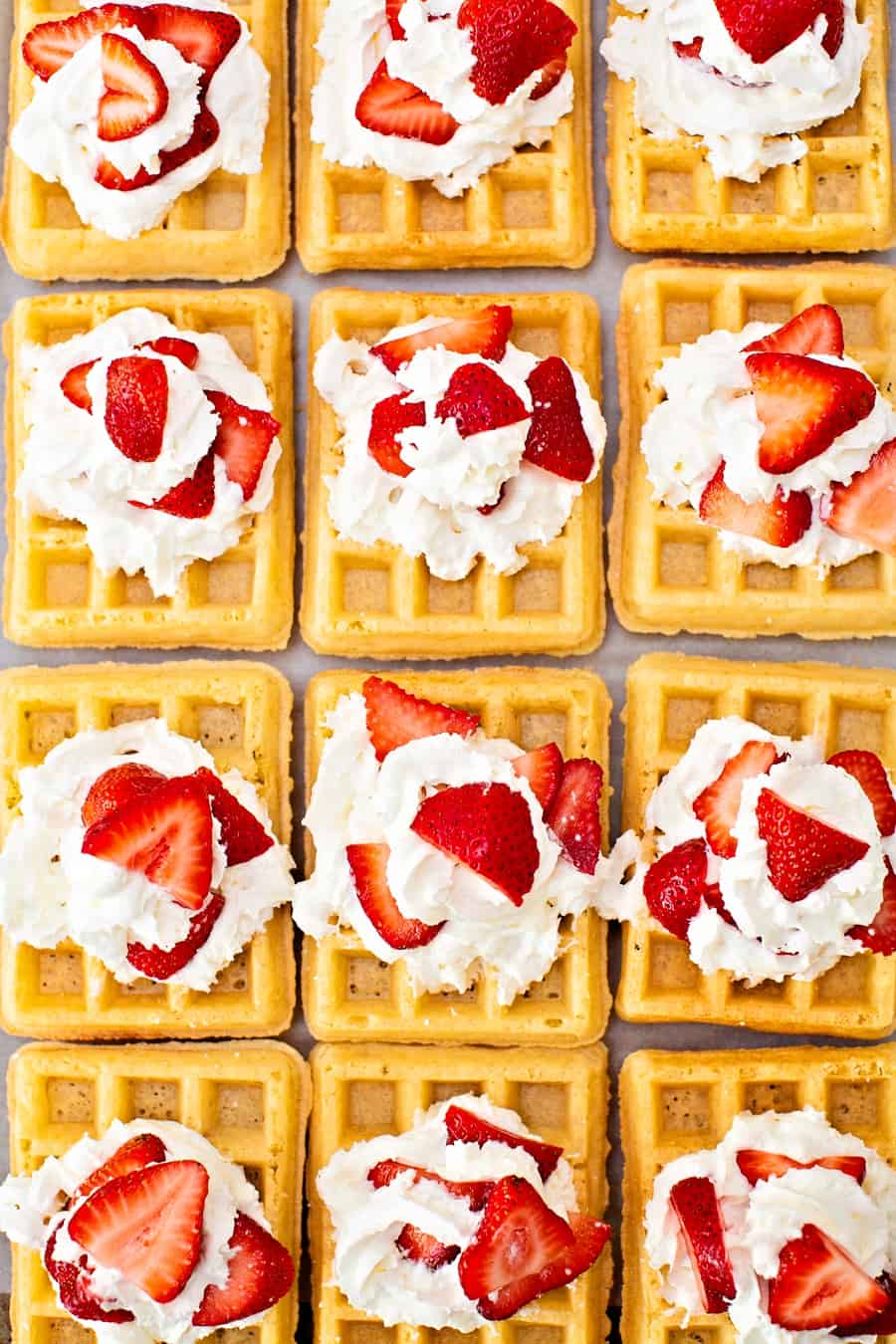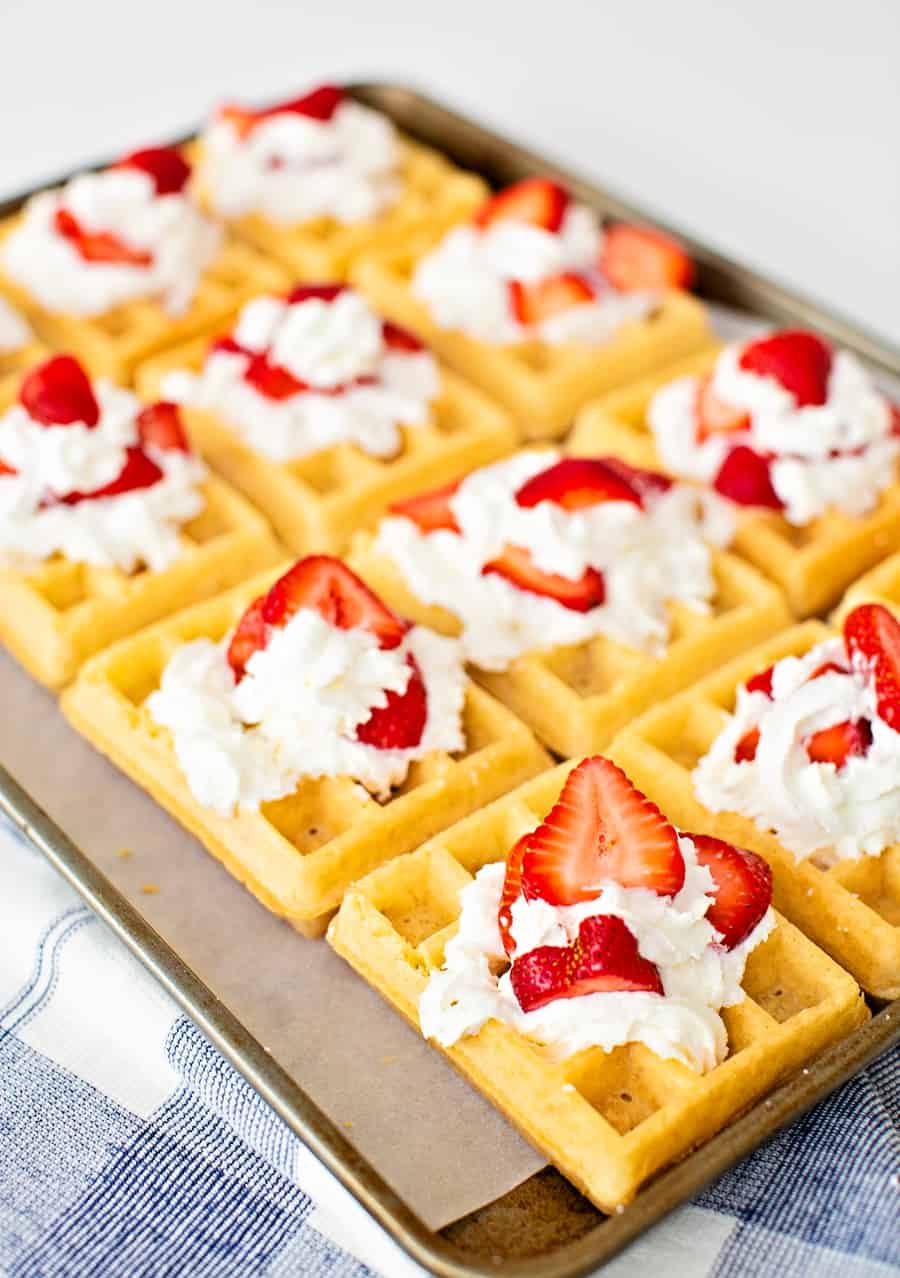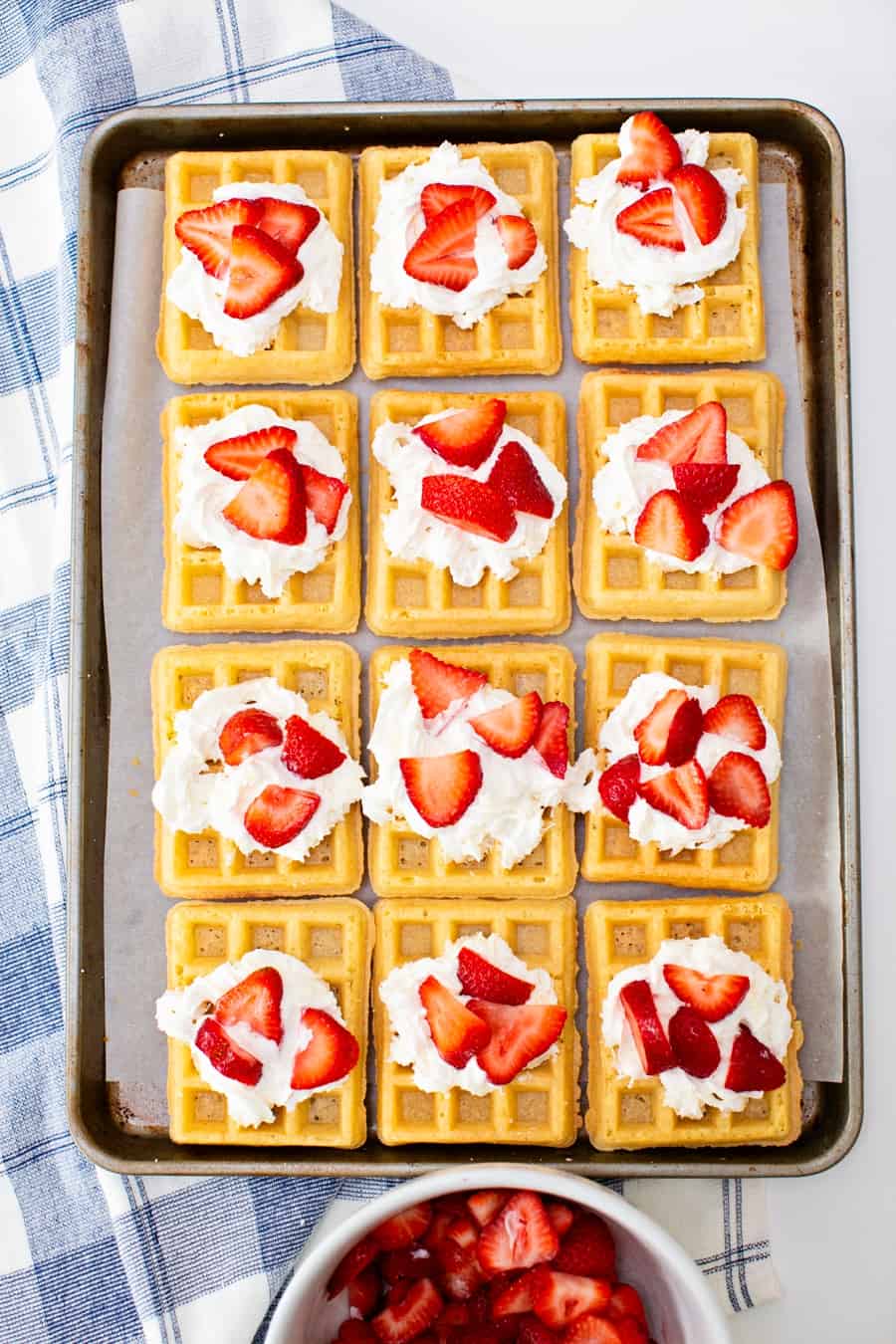 Can you use frozen waffles?
Why yes, that is what we used here. Of course you can make waffles from scratch and one by one in your waffle maker…but that would defeat the goal of saving time! We buy the very best quality frozen waffles, Trader Joe's has some delicious ones and they come in these rectangular sizes which are perfect on sheet pans!
All you need to do is lay them out on a sheet pan, bake and decorate all at once!
What toppings can I use on sheet pan waffles?
We love strawberries and cream so used sliced strawberries and whipped cream here, but you can use any kind of fruit or toppings! Try bananas, blueberries, nuts or chocolate! You can even quarter the sheet pan so there are 4 toppings on one big sheet!
The final touch and one you want to make right before serving is a drizzle of really good maple syrup on top. I guarantee this is necessary and will make the waffles taste as good as ones you buy at restaurants!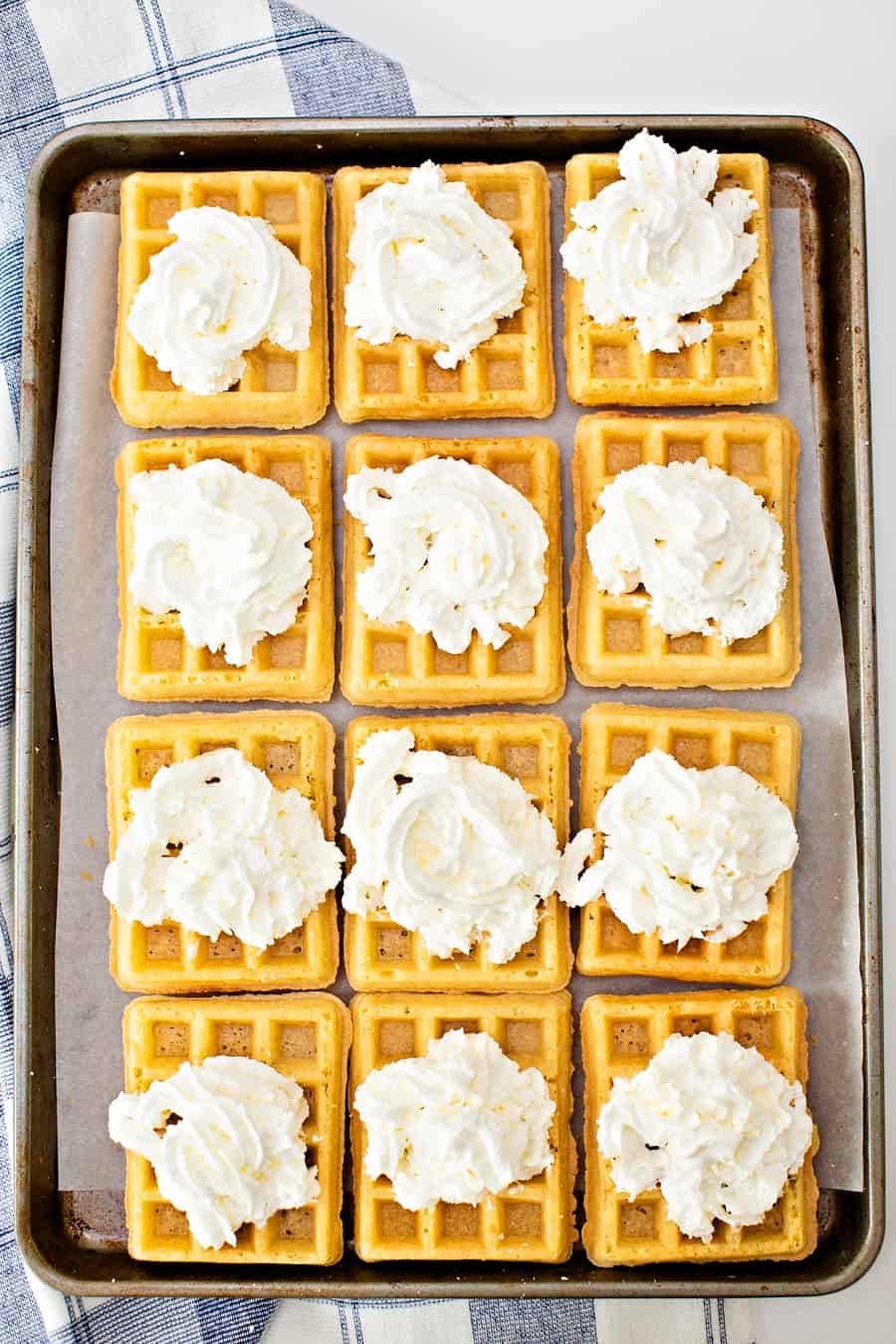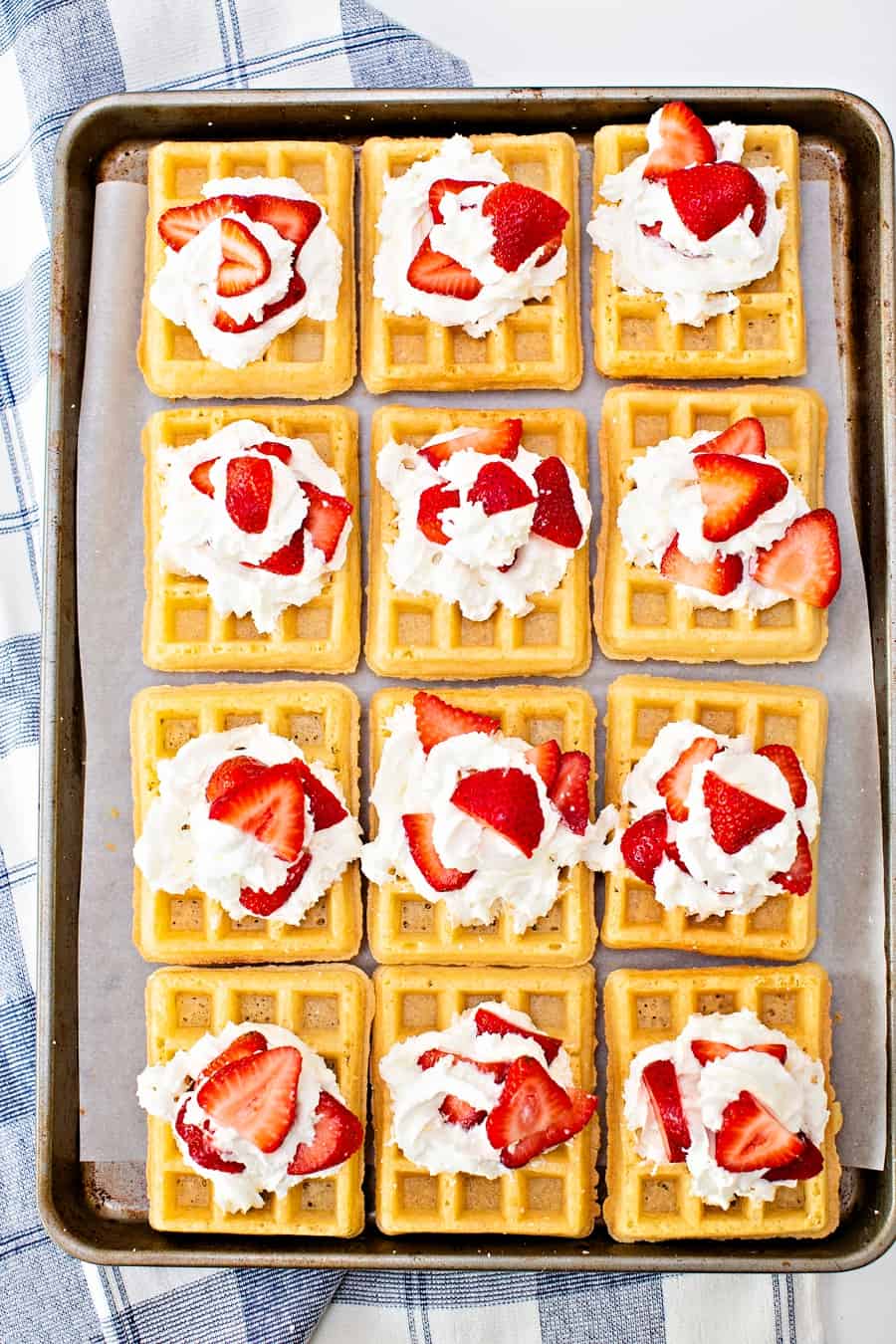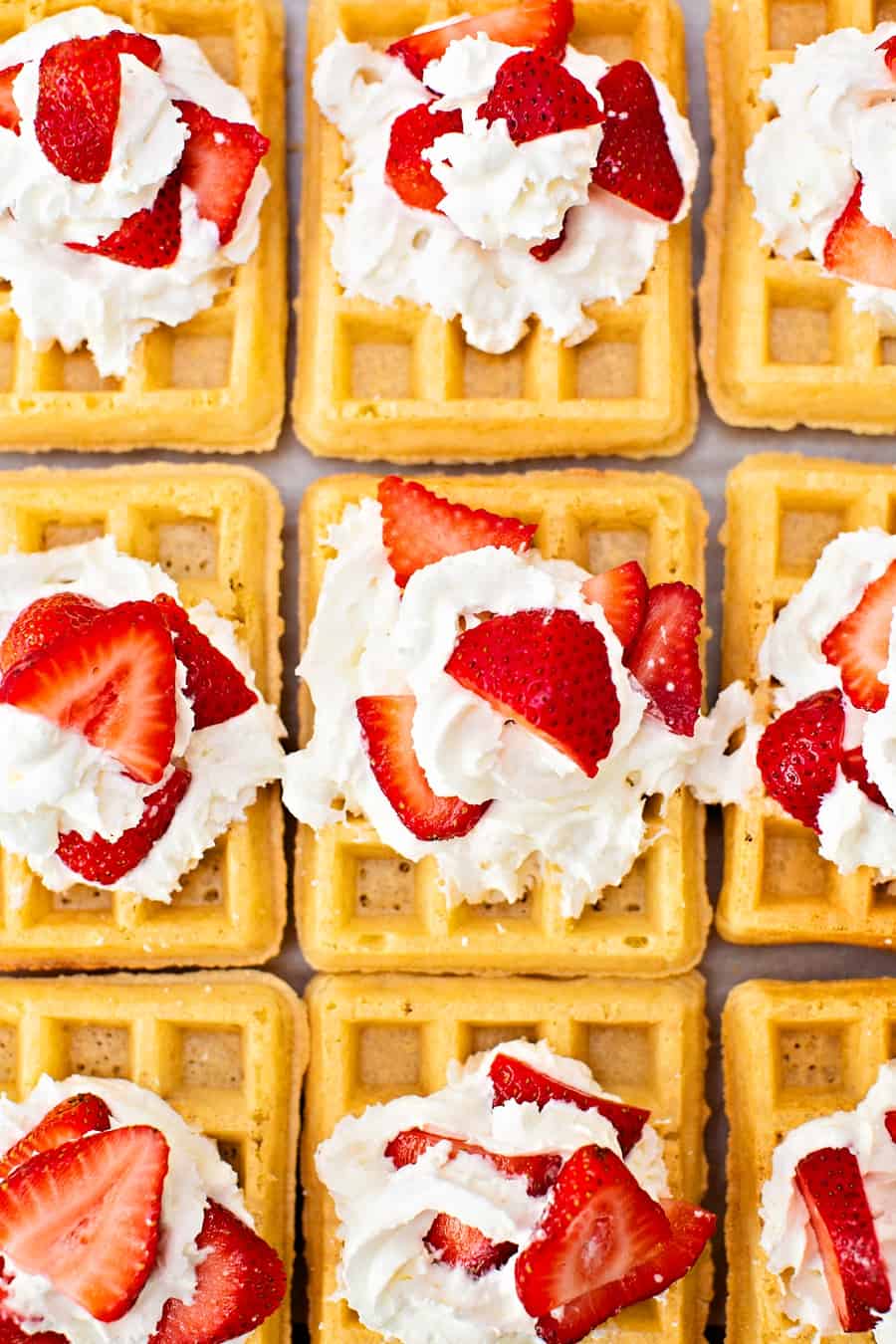 Are these sheet pan waffles a breakfast or dessert item?
To us they are both! We reserve them for special weekends like long weekends or ones celebrating something like a special occasion or sleepover. Due to the whipped cream and syrup, they are are on the sweet side!
So I encourage you to serve this for dessert sometimes too and fancy it up with some drizzled chocolate! It will still be sweet but a less sugary treat than traditional desserts like ice cream or cookies.
Sheet Pan Waffles – Ingredients
Frozen waffles (we used Trader Joes brand), enough to fit on a sheet pan. We fit 12 of the size we got on ours.

Sliced fresh strawberries

Whipped cream

Maple syrup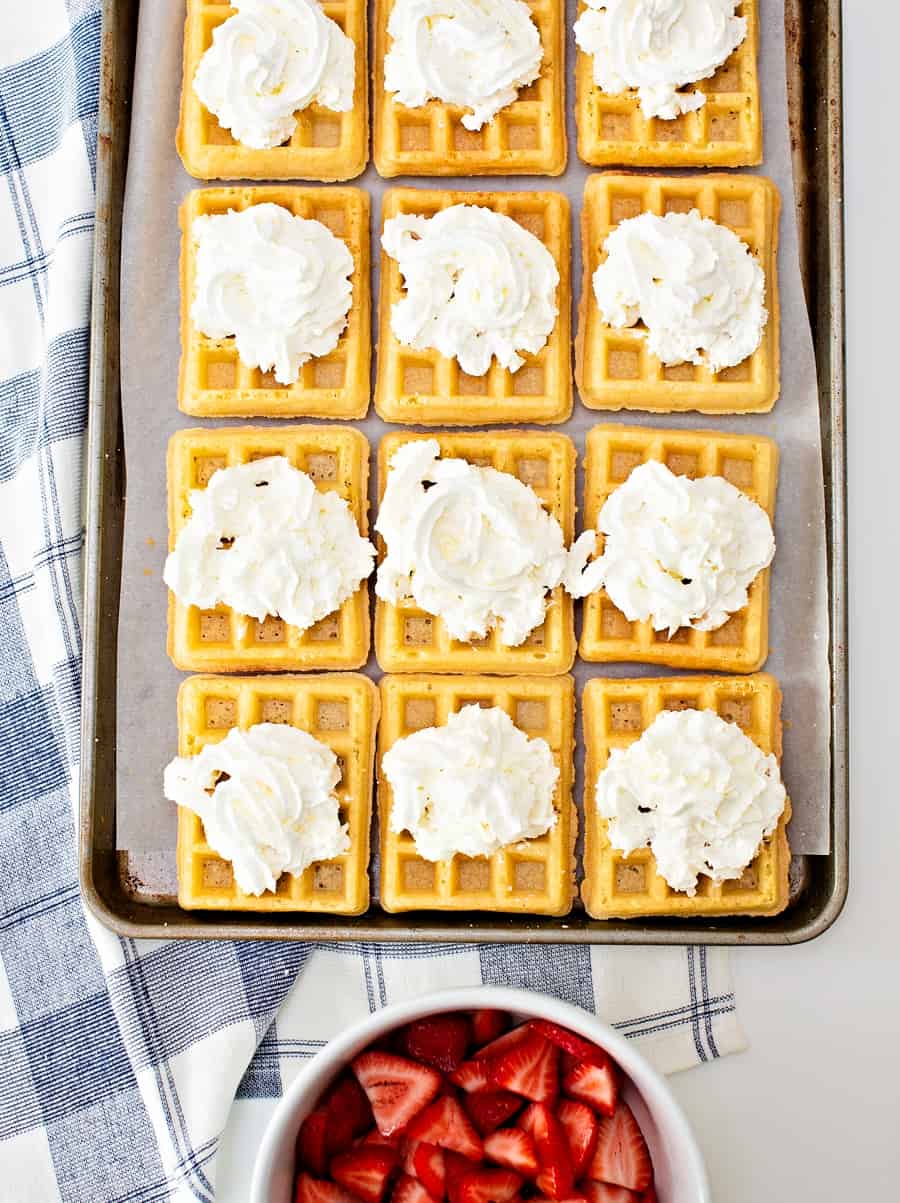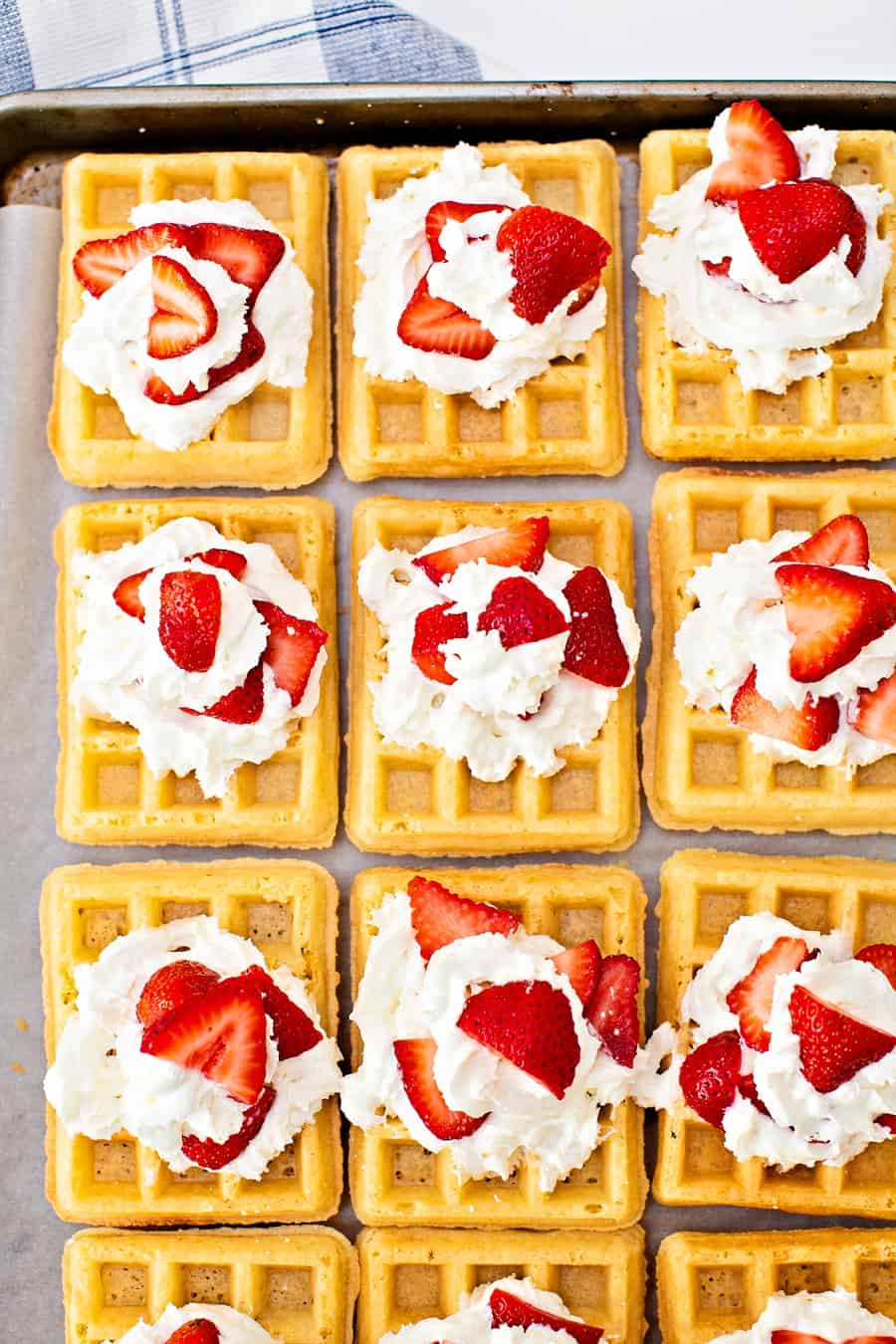 INSTRUCTIONS:
Step 1. Lay your frozen waffles on a parchment lined sheet pan and bake at 400 degree preheated oven for about 4-5 minutes. Then flip them over and bake for an additional 4-5 minutes.
Step 2. Allow the waffles to cool. Then before serving add your whipped cream, berries, more whipped cream. Drizzle with maple syrup and serve immediately.
See wasn't that easy! We hope you try this delicious sheet pan waffle hack with your family!
You Might Also Like