By using this site, you agree to our Terms of Use. This post may contain affiliate links. Read our disclosure policy.
Follow us on Instagram for more fun food ideas for kids!
We're always up for trying crazy and fun kitchen gadgets. The Banana Loca fills bananas with your favorite toppings and we had to try it! Read our honest opinion below.
We're not sure about you, but one thing I know for certain is we are a banana loving family. With a 4-star rating of 505 total ratings to date, Banana Loca first seen on Shark Tank , is selling on Amazon as the viral kitchen gadget to straighten your banana while still in the peel, while allowing you to fill each banana with your favorite toppings, or fillings in this case. Imagine your kids' surprise when they bite into the banana and find their favorite filling inside and bite into a delicious snack.
The best part, the process of filling your banana isn't going to be messy. This innovative kitchen gadget straightens the banana and cores the center while it's still in the peel.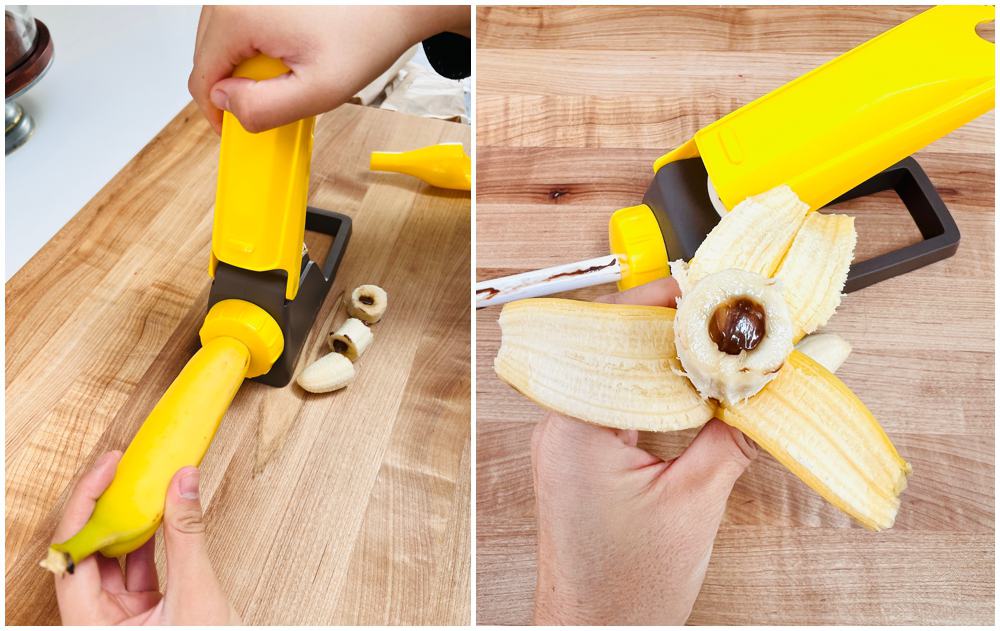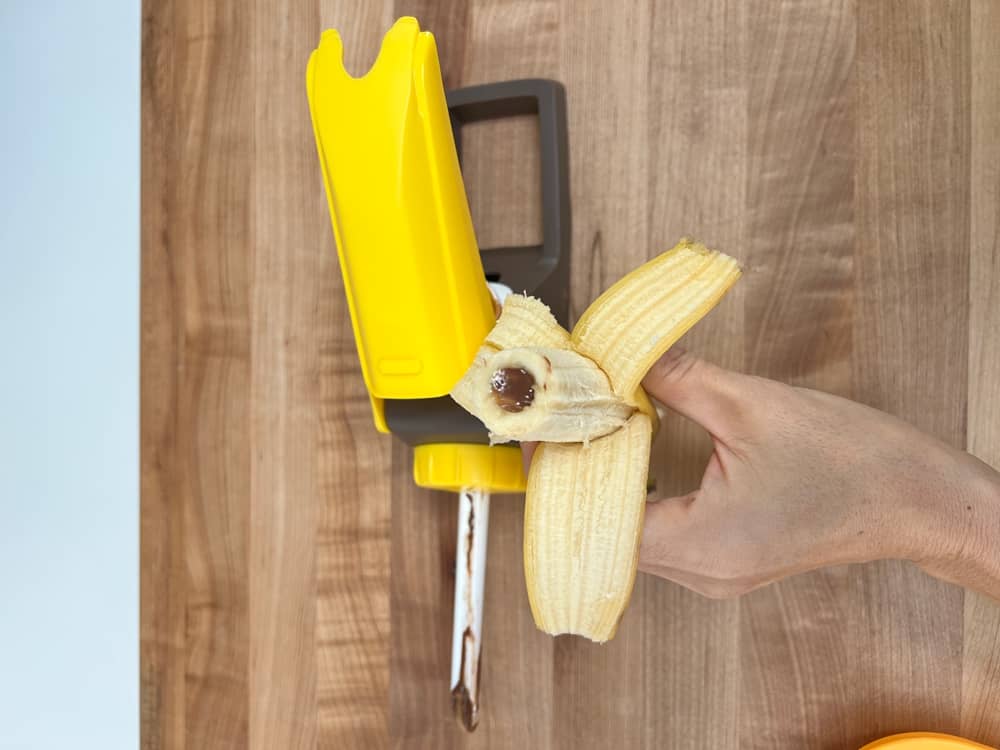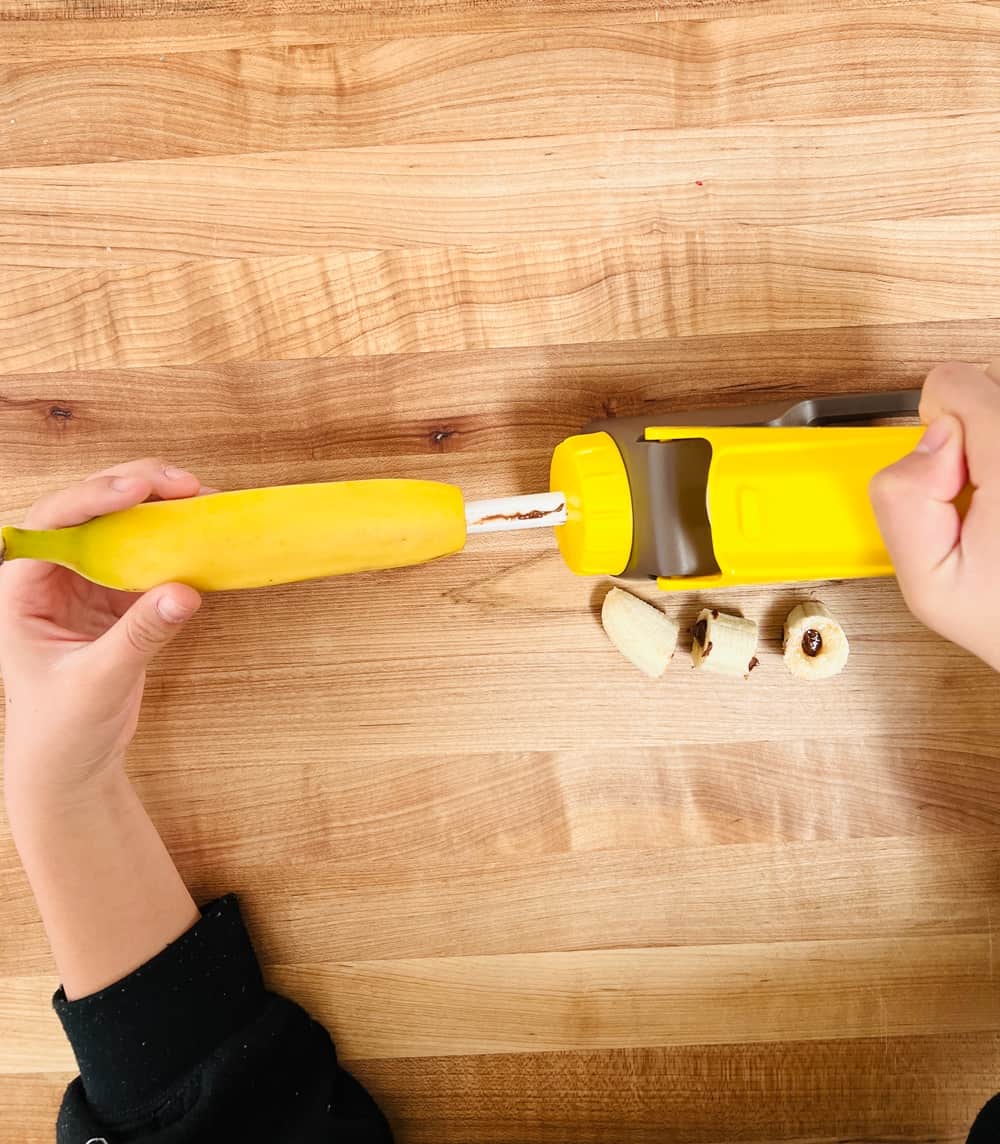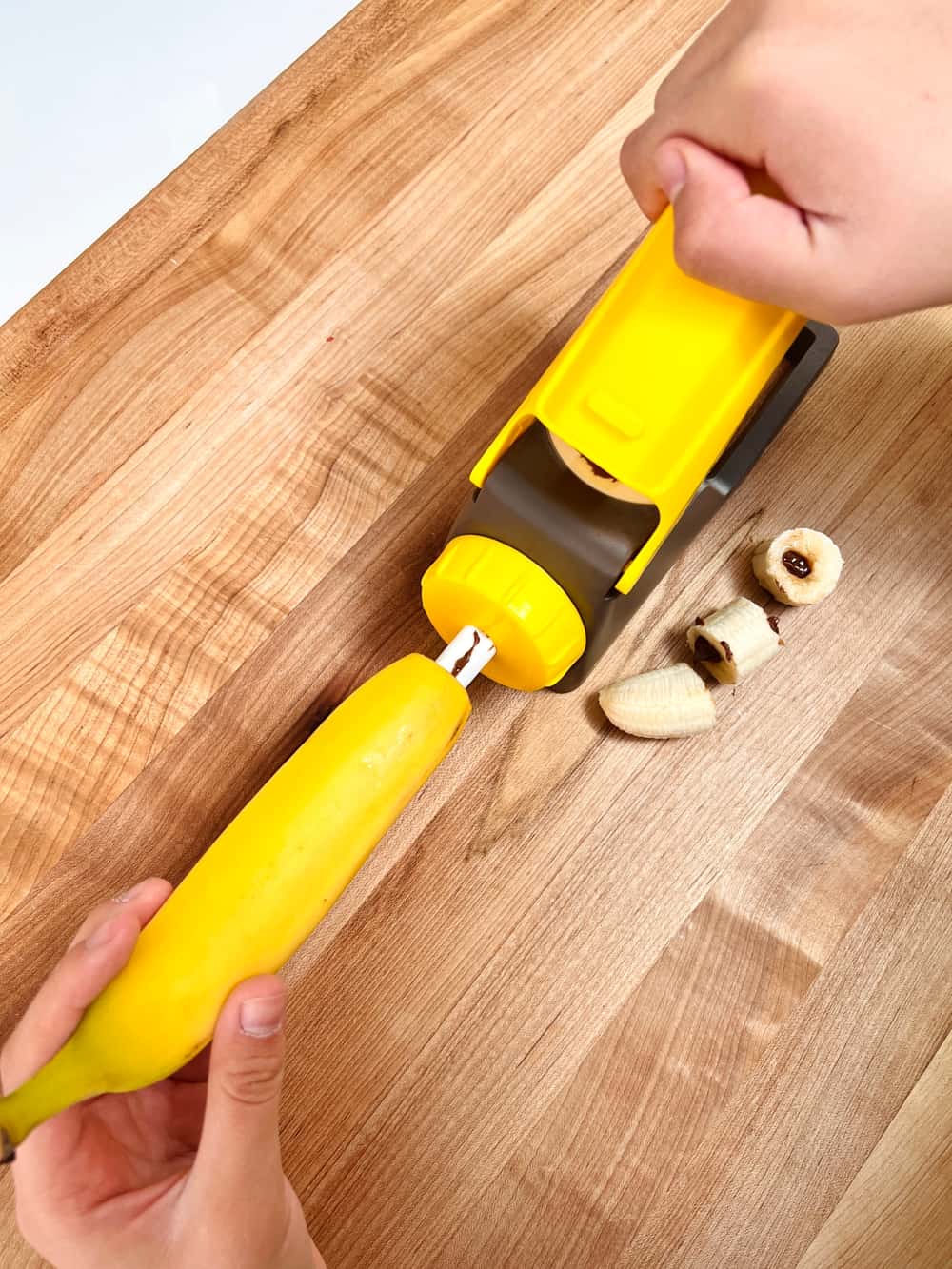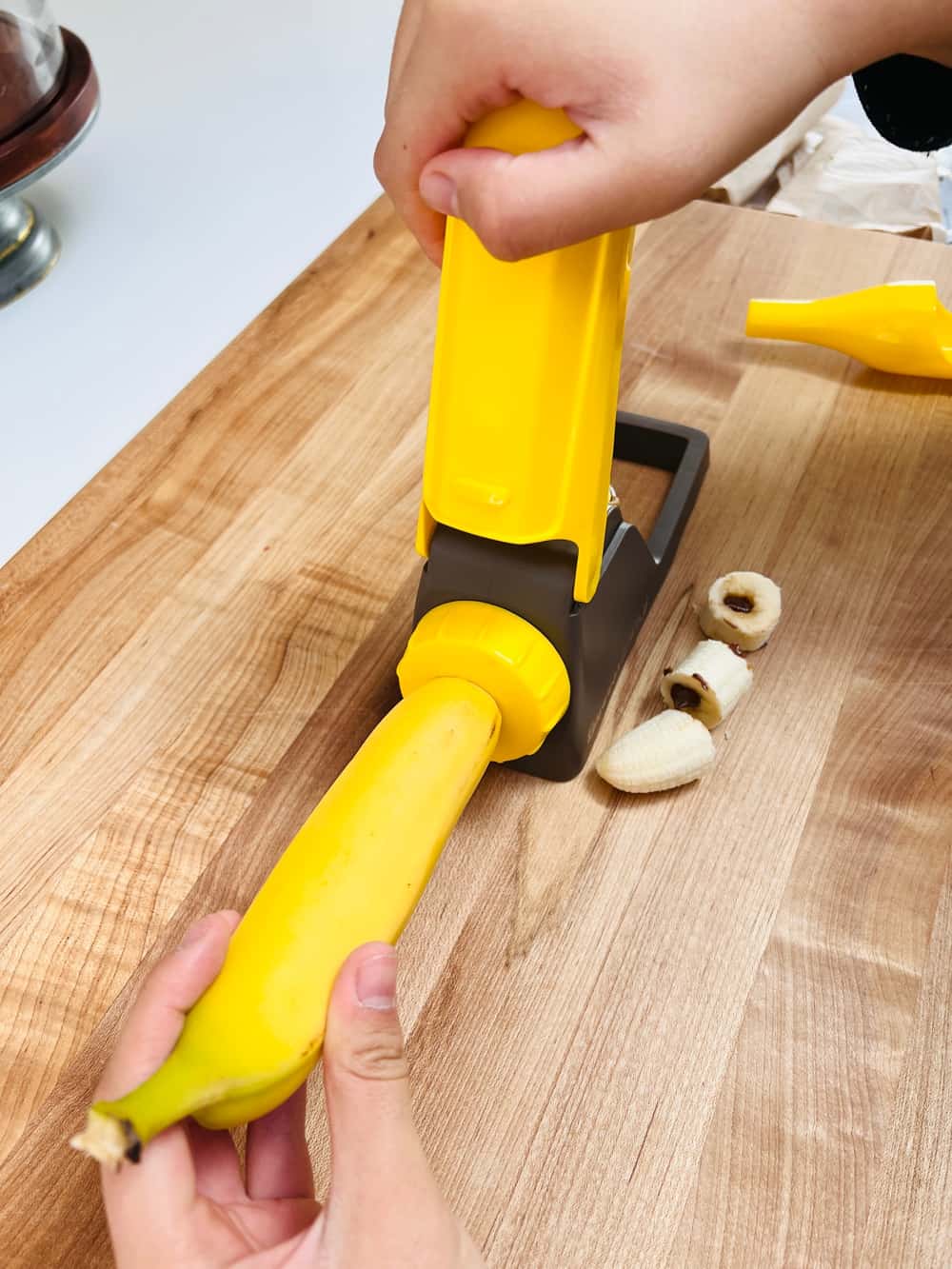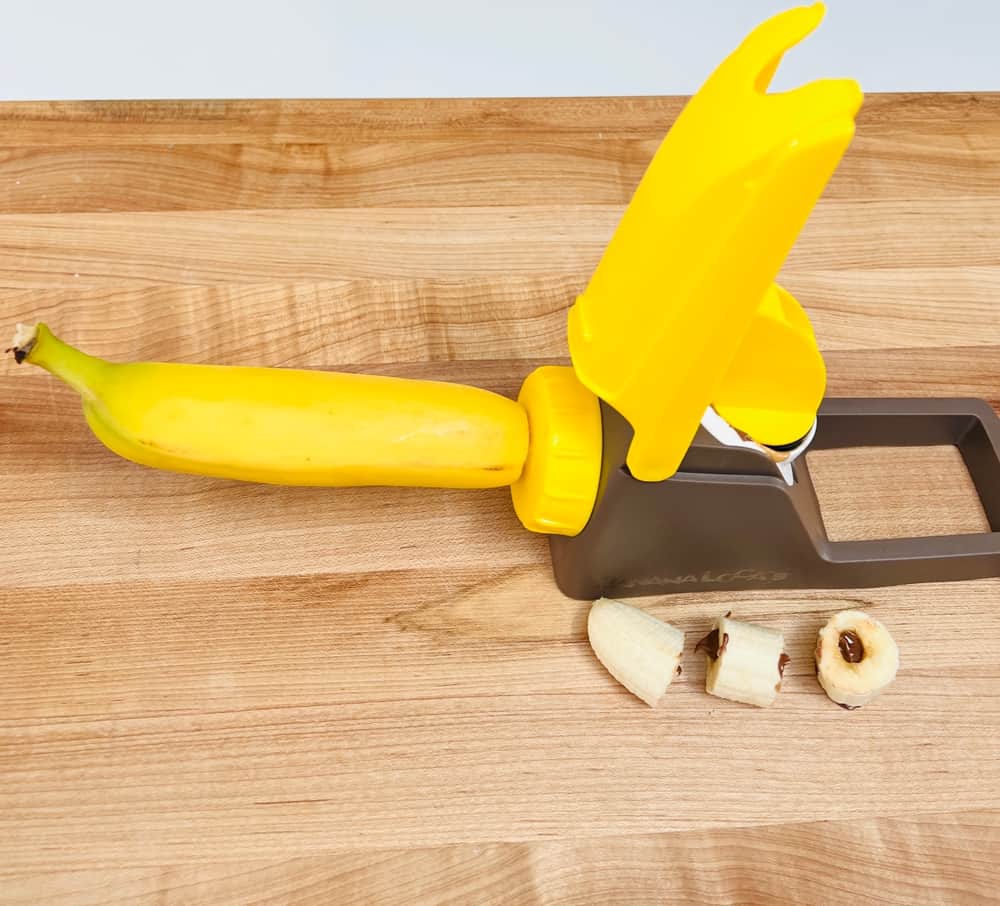 Was Banana Loca on Shark Tank?
For over 12 years, we have watched the latest and greatest on the hit television show Shark Tank, where ordinary people and start-ups present and sometimes test and demonstrate their invention or product to investors, including Mark Cuban and Kevin O'Leary. As the Banana Loca Gadget was introduced to the investors on December 17, 2021, on Shark Tank's season 13, episode 9, Mr. Cuban and Mr. O'Leary settled on an agreement and ultimately decided to invest in the cofounders, Renee Heath and Bechara Jaoudeh and their banana gadget.
What could I fill the banana with using the Banana Loca Gadget?
The possibilities are endless but a few good fillings to start with would be honey, yogurt, peanut butter, Nutella, jam/jelly, chocolate sauce, custard, frosting, or marshmallow fluff.
How do I use the Banana Loca Kitchen Gadget?
Take the banana and cut off the tip. Next you're going to use the holder to straighten the banana. The core goes into the center and at the end you're going to give it a little twist to break off that core. Go ahead and cover, and then remove. The included plunger is to be used to remove the center of the banana so it's ready for filling. Next, you're ready to fill. Choose your filling and you're going to want 2-3 tablespoons of whichever you choose to go into the hopper. Take the lever, press it down until you see the filling come out of the very tip of the nozzle. Take your cored banana, insert it in the end and let the filling do its job. Push the banana out as you push down. That's it, slice or eat whole and enjoy!
The Banana Loca gadget includes a bristle brush to clean the filler section of the gadget. Bananas and fillings are not included.
Watch the video in this post to see how to use it.
Other uses:
Although this seems pretty one use, we hate to think we spent our money to just use this on bananas! We're planning to try it to fill cupcakes, and/or other baked treats. Banana bread maybe?! We're also thinking of other fruits it could easily fill and it would definitely have to be soft ones. Strawberries come to mind (umm..strawberries and chocolate) sound delicious!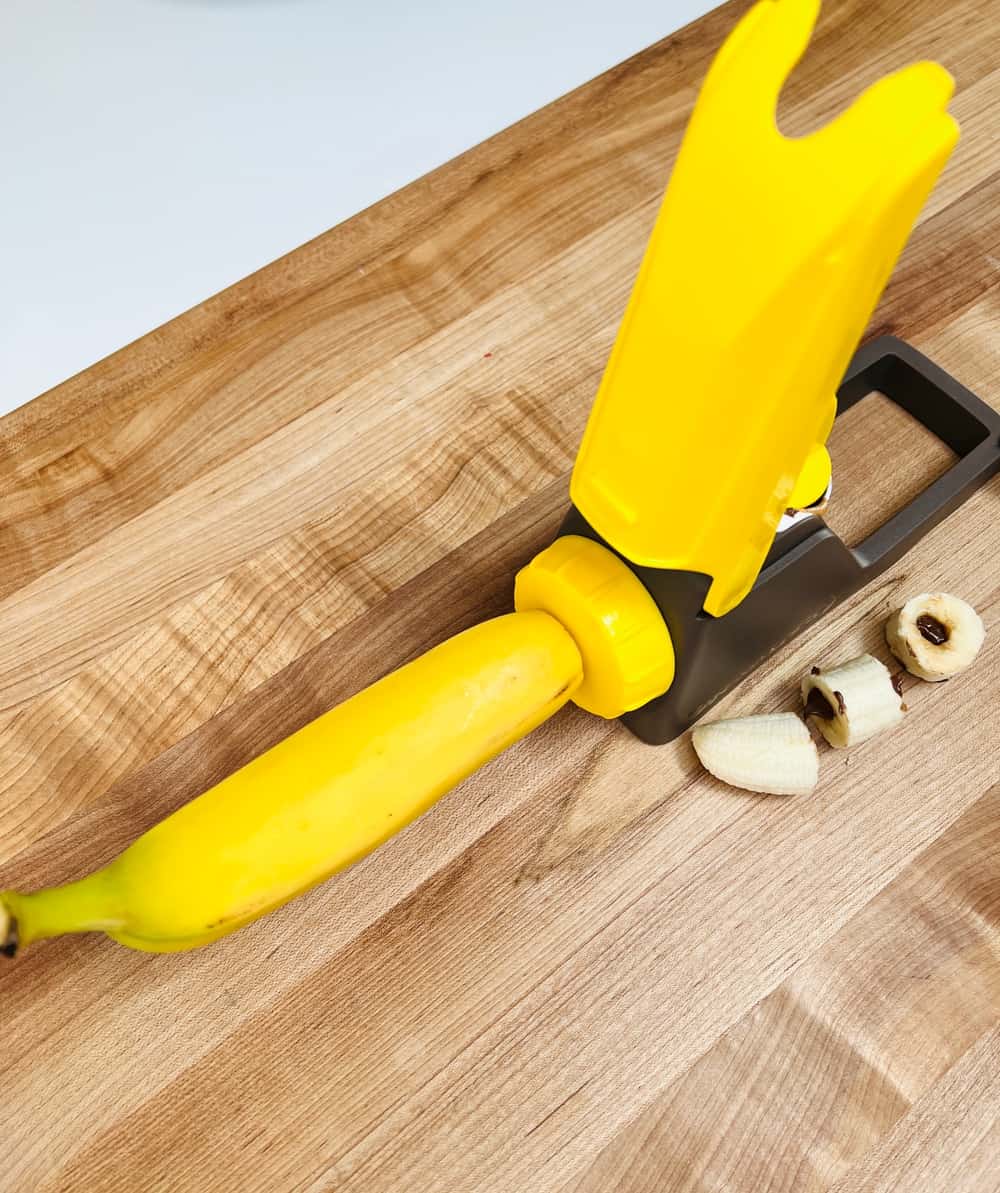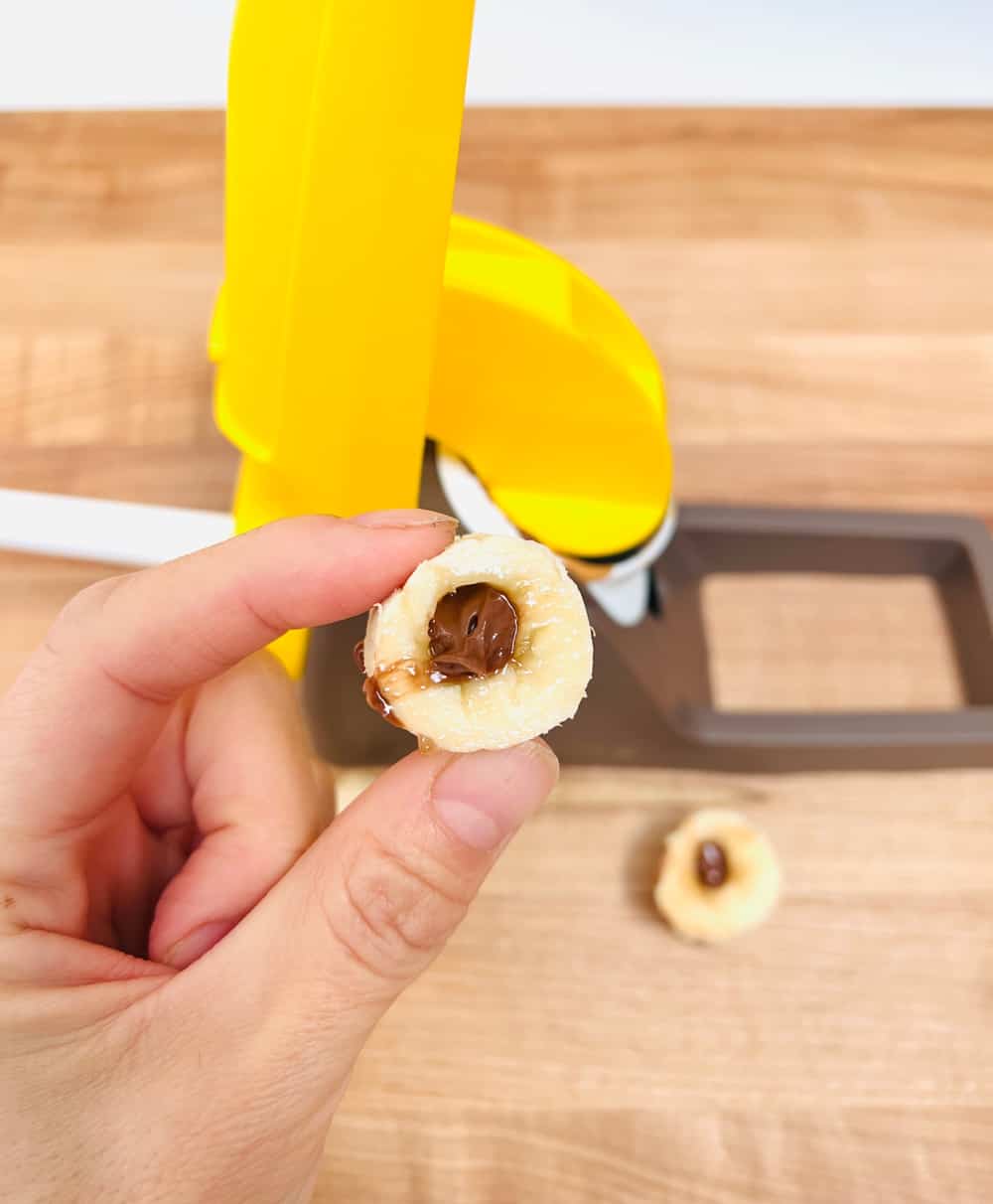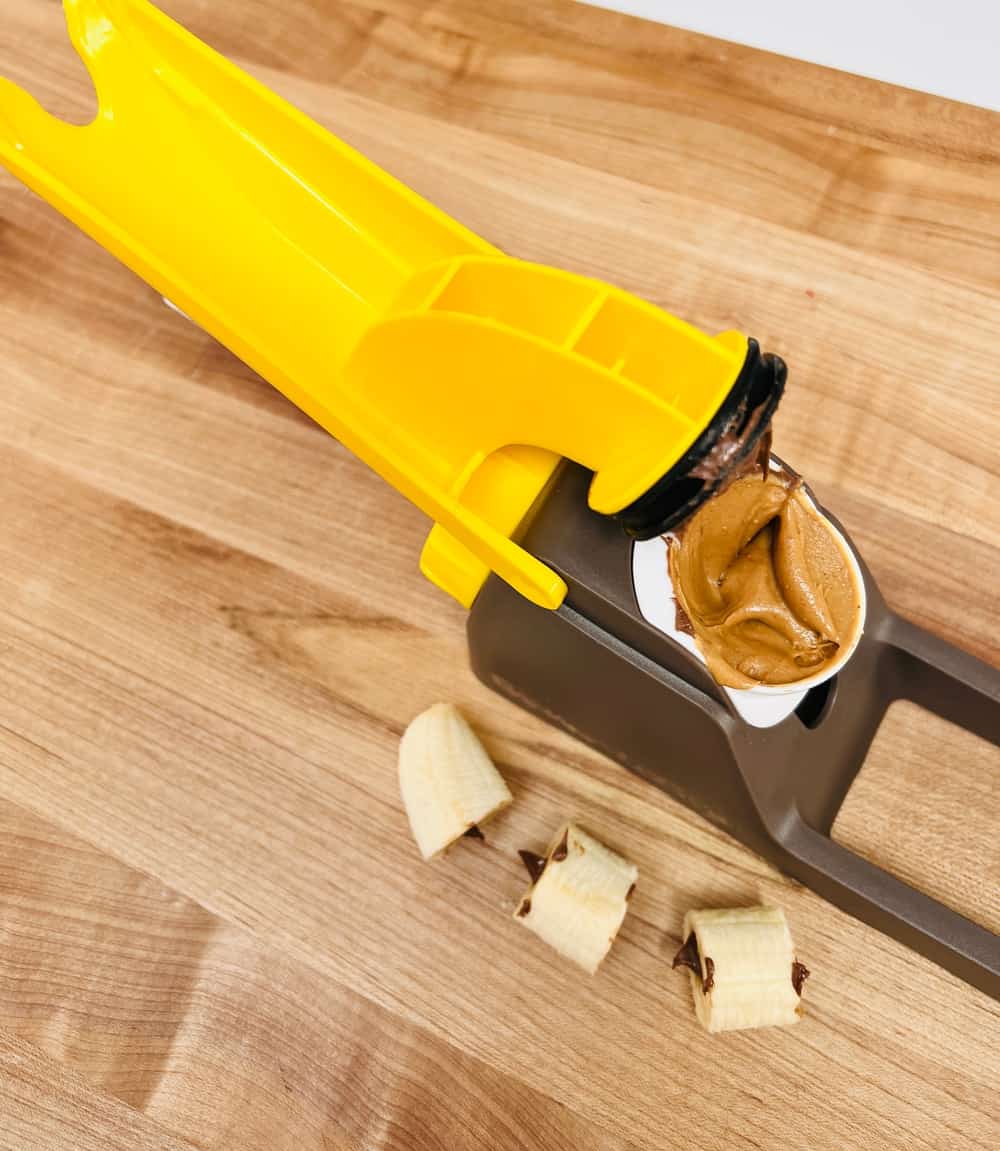 How easy was the Banana Loca Gadget to use?
We do recommend upon first use to watch our video in this post and the one on the Amazon listing to get acquainted with all the parts, although it's pretty intuitive.
The only tricky part we found here was that you need to cover the brown petal-like end of the long cylinder that you use to pull the core out. You need to cover and twist at the same time to pull the core out cleanly so that it acts as a suction. If you don't cover the small hole opening on the brown top, the banana core will not come out.
Clean-up of the Banana Loca wasn't easy but not super difficult. Although it does come equipped with a round skinny brush to make sure to clean the coring cylinder well (as with -reusable straw cleaners) the hardest part we found cleaning was the filling chamber. In most cases were using the Banana Local for sticky speeds with fat like chocolate hazelnut spread and peanut butters. As anyone who's ever cleaned a container with peanut butter, you'll know you need some scrubbing and extra hot water and soap!
Another tip is to use the banana gadget with only straight-ish bananas as super curved ones will break and not core out as well.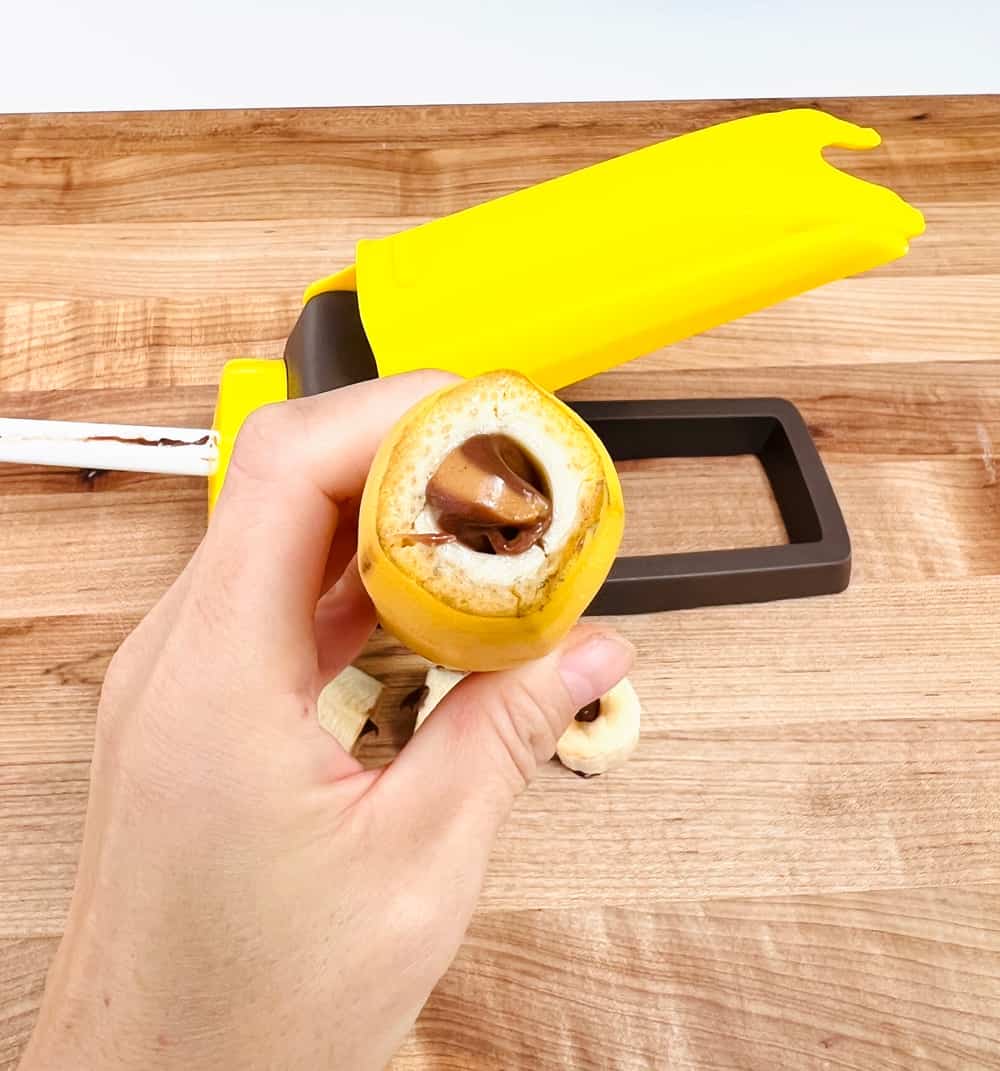 What did we think of the Banana Loca?
Although clean up and the parts to assemble seem tedious at first, all those concerns wiped away as soon as we had our first perfectly banana-filled treat! If you are a banana lover like we all are in my family you will love taking a bite of banana perfectly balanced with chocolate or peanut butter. Of course you can use any spread but let's face it, bananas pair perfectly with either of those two, right?
You Might Also Like