By using this site, you agree to our Terms of Use. This post may contain affiliate links. Read our disclosure policy.
Follow us on Instagram for more fun food ideas for kids!
This ube pound cake is a delicious remix of a classic dessert with purple yam flavor that gives it a slightly earthy and extra sweet flavor with a vibrant purple hue.
You might have seen ube flavored foods popping up in mainstream restaurants, cafes and supermarkets. From ube ice cream to ube drinks this purple yam know for its traditional use in Asian cuisine is becoming even more commonplace as evidence by ube pancakes at Trader Joes.
We were inspired to make ube pound cake after seeing ube in many different concoctions. Why pound cake? Because it's a super easy cake that you can whip up with a few simple ingredients like butter, sugar, flour eggs and add ube easily to it to show off its vibrant purple color!
This ube cake is also easy for kids to help make in the kitchen! Watch my 4 year old @DashBakesTheGreats make this in the video in this post.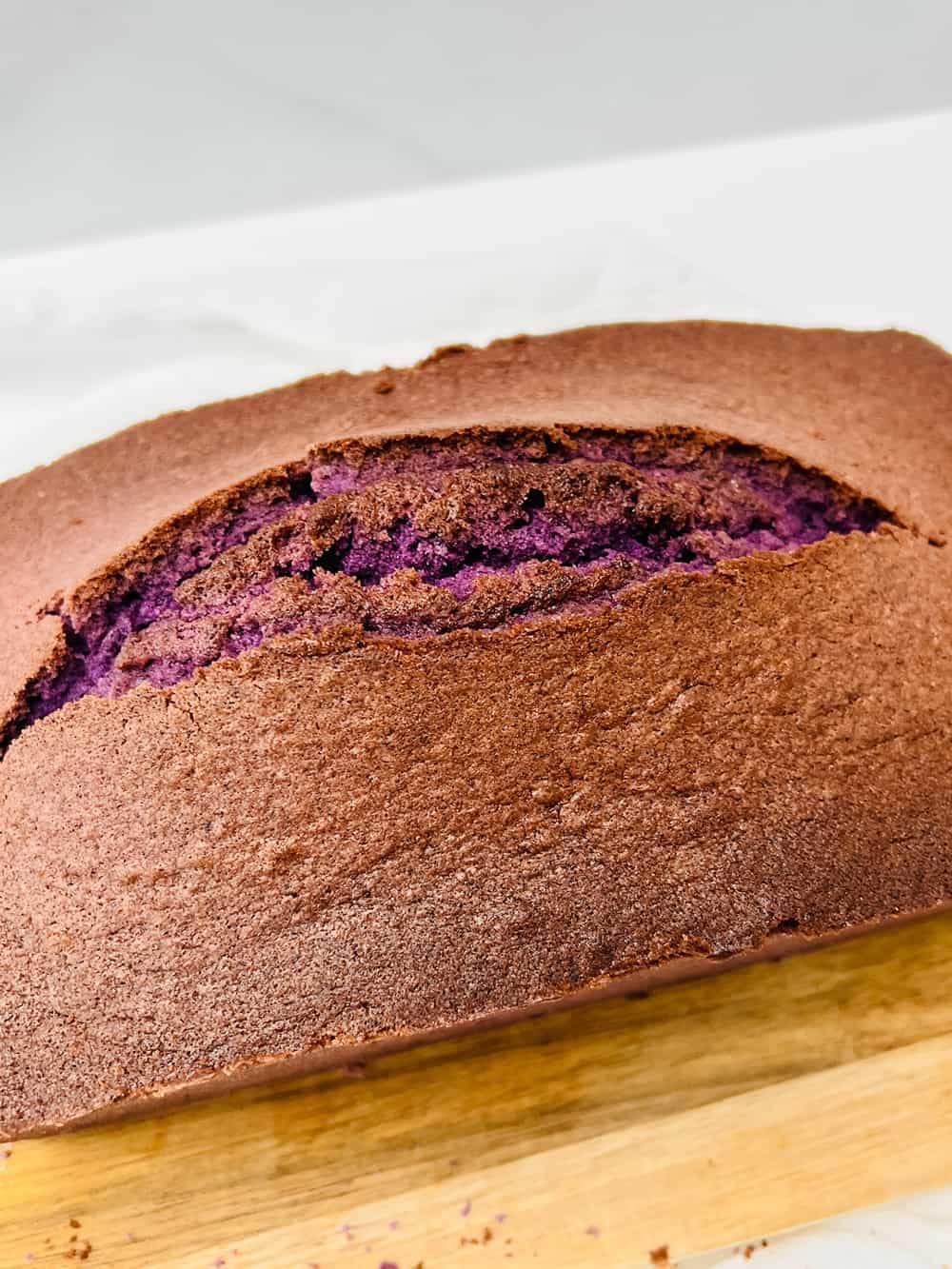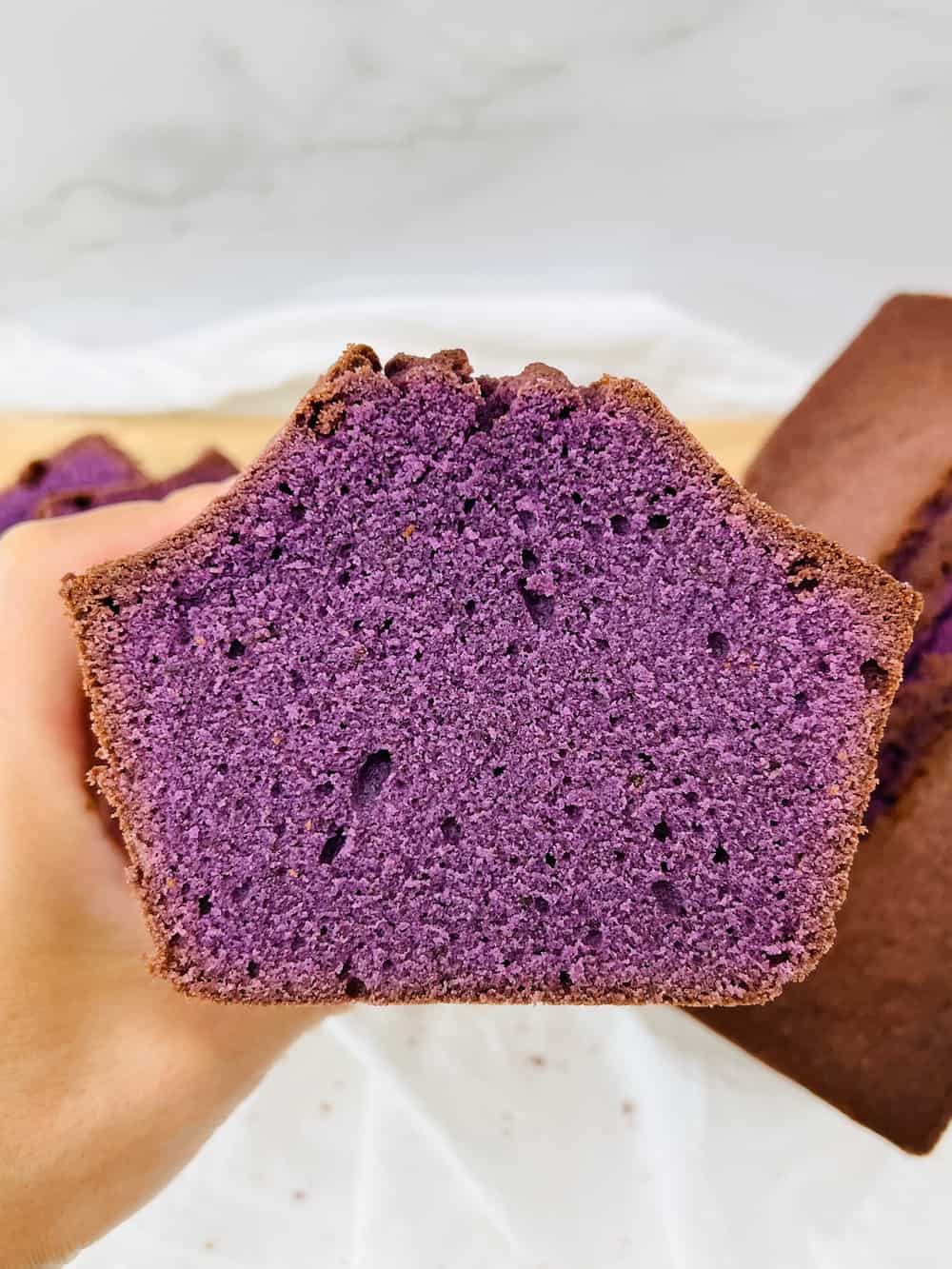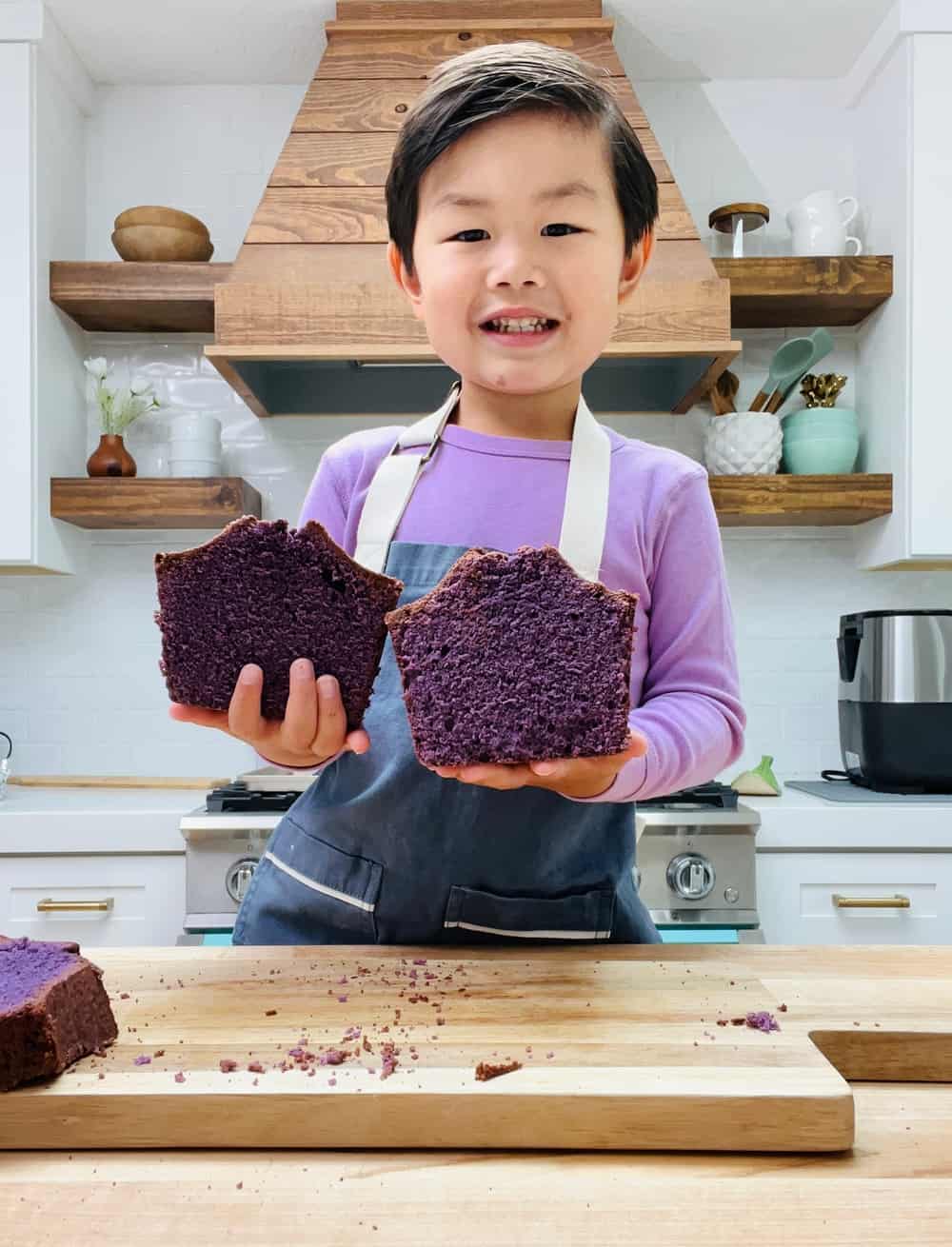 What is ube?
The Philippines is the original home of the purple yam known as ube, or "tuber" in Tagalog. In comparison to the purple sweet potato, its orange twin has a considerably sweeter, mellower flavor. In Filipino desserts, ube is a common ingredient that is typically boiled before being mashed with condensed milk.
What does ube flavor taste like?
Ube can taste like vanilla with a hint of nutty flavor, or earthy and slightly coconut-y to some. It is great paired with coconut and mangos or Asian fruits.
How do you make ube pound cake?
You will start off by making an traditional pound cake with eggs, flour, butter, and sugar. In your sugar butter and egg mix you will mix ube powder and ube exract to get the maximum ube flavor.
In doing research for ube cakes, we found most recipes use ube extract, ube powder and/or ube halaya jam. We omitted the jam as we didn't want to add additional moisture and sugar to our pound cake. We felt the cake had a good amount of ube flavor without the jam!
Ube Pound Cake – Ingredients:
Flour
Sugar
Butter
Eggs
Salt
Ube Extract
Ube Powder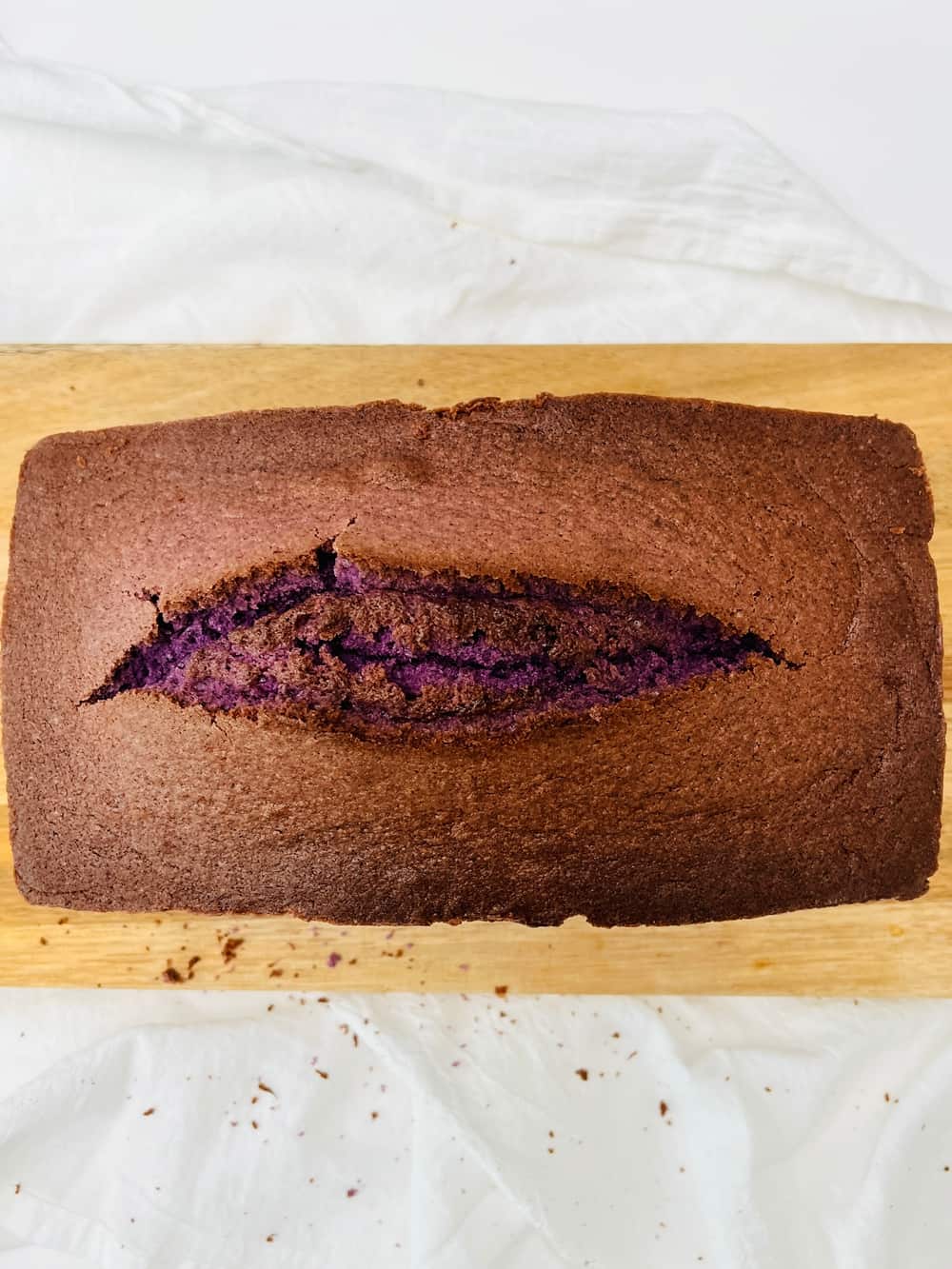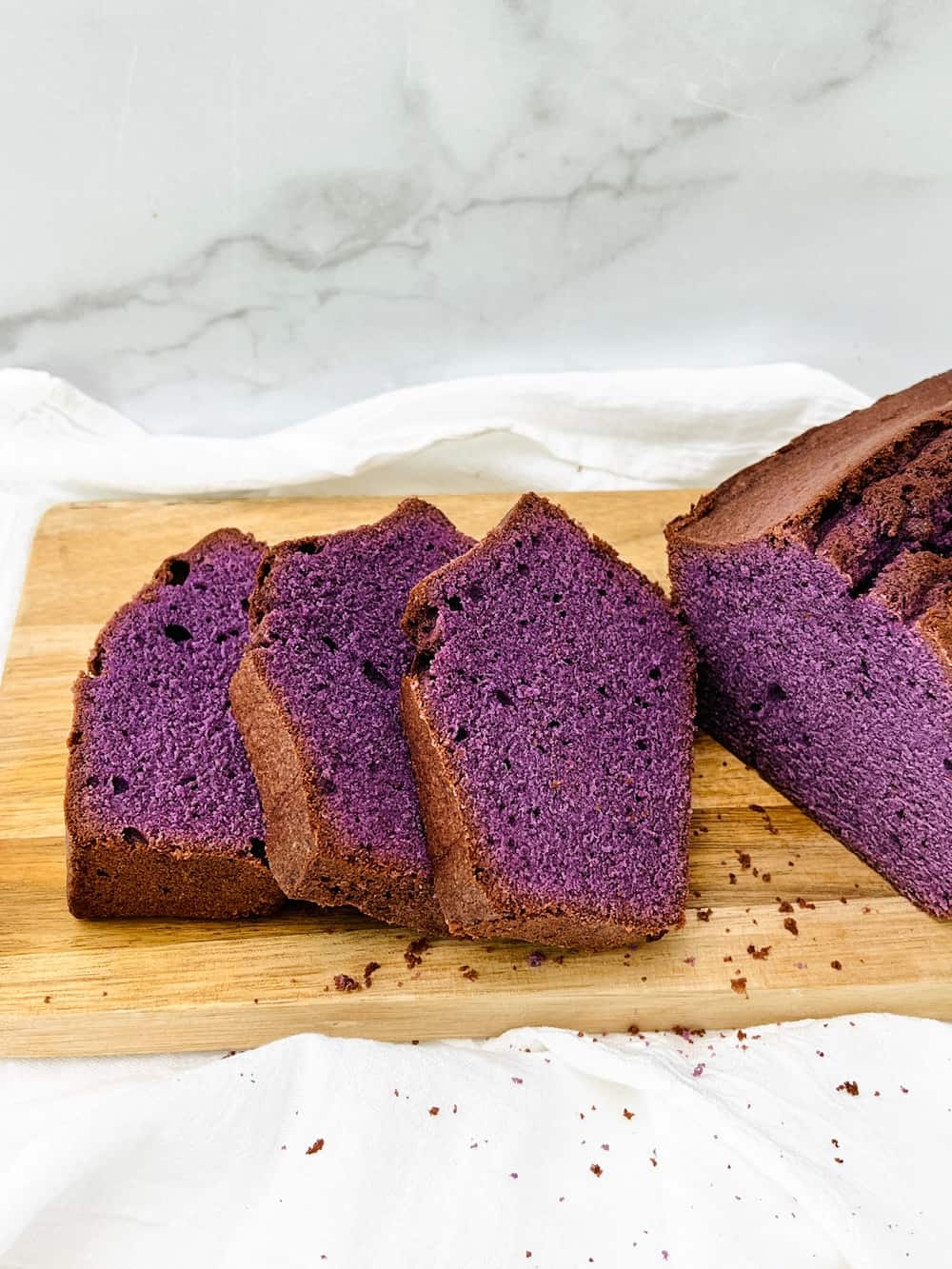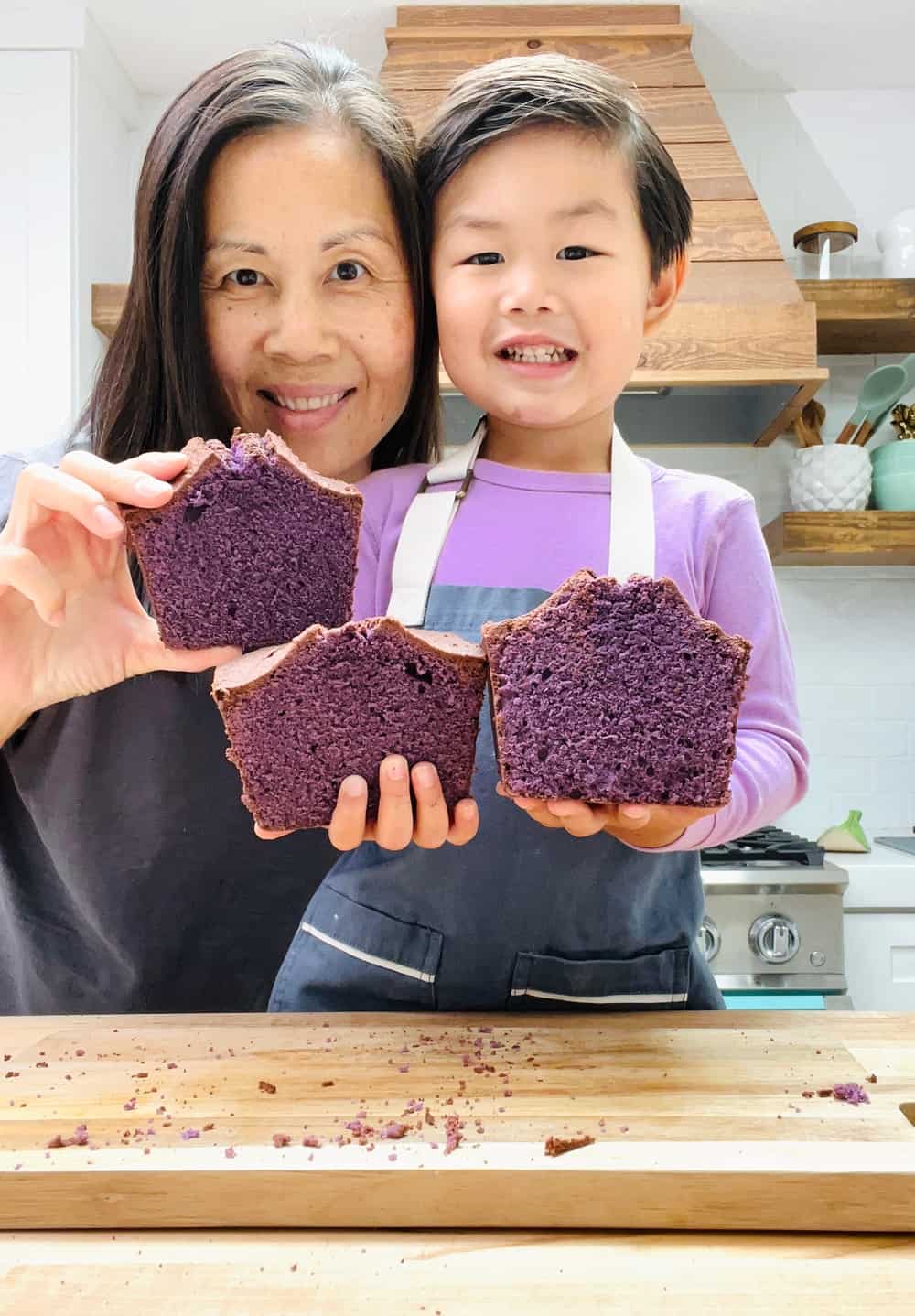 Check out Dash's baking Instagram @DashBakesTheGreats for more kids baking ideas and inspiration. Check out all his recipes HERE.
INSTRUCTIONS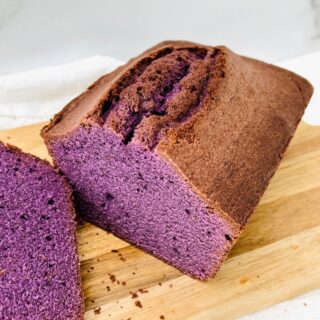 Ube Pound Cake Recipe
This ube pound cake is a delicious remix of a classic dessert with purple yam flavor and a vibrant purple hue.
Ingredients
2

Cups

All Purpose Flour

1

Cup

Sugar

1

Cup

Unsalted Butter

Room temperature

4

Large Eggs

Room temperature

1/2

Teaspoon

Kosher Salt

1

Tablespoon

Ube Extract

2

Tablespoons

Ube Powder
Instructions
Pound cake recipe adapted from Martha Stewart

Step 1. Preheat oven to 350 degrees. Grease a 9"x5" loaf pan (we use our butter wrappers but you can use nonstick baking spray)

Step 2. With a hand mixer or stand mixer, whip your butter and sugar on medium to high speed for 5-6 minutes or until soft and flluffy.Scrape down sides well.

Step 3. Add eggs one at a time on medium speed and beat until each is incorporated into the sugar/butter mixture.

Step 4. Add your salt, ube extract and ube powder and mix unti just combined.

Step 5. Add your flour gradually mixing on low speed until just combined. Do not overmix.

Step 6. Pour batter into your loaf pan and bake in the center of your oven in the middle rack for 50-60 minutes or until the tops spring back and a toothpic comes out cleanly in the center.

Cool completely before inserting out of the pan and slicing