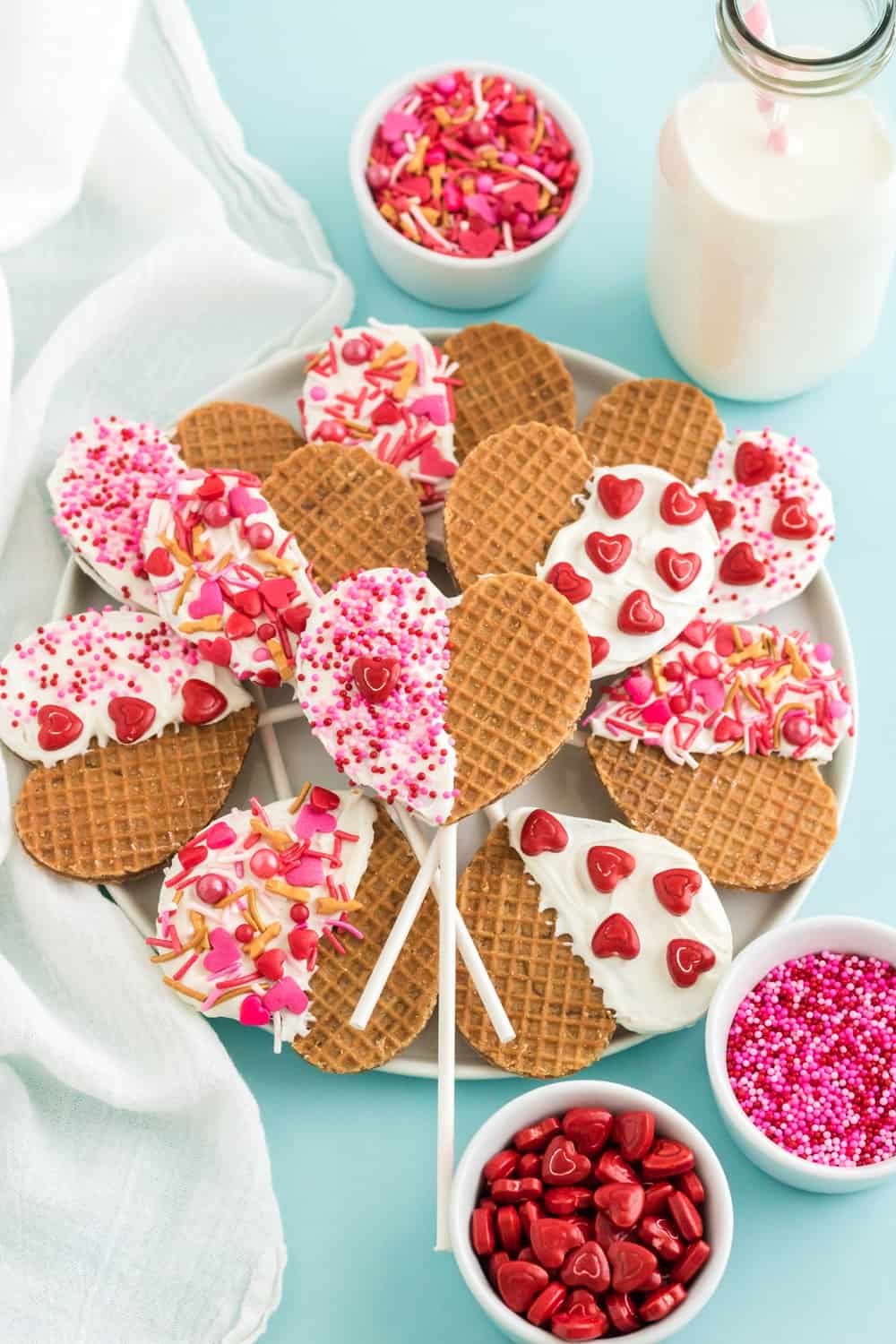 By using this site, you agree to our Terms of Use. This post may contain affiliate links. Read our disclosure policy.
Follow us on Instagram for more fun food ideas for kids!
Valentine Waffles are the best way to make a simple no-bake dessert. Great for a heart-shaped treat for the kids!
YES! Valentine's Day is almost here and you know what that means, right? It's a day full of hearts, pink, red, and love everywhere you look! Don't forget to show your tummy some attention as well by filling it full of some delicious treats, sweets and Valentine's Day cookies!
The kids always look forward to this time of year because we tend to make a lot of Valentine dessert recipes in the kitchen. I'm a big fan of holidays because themed recipes and ideas are just so much fun. (plus, we get to eat them, too!). Like our Valentine Gnome cookies these waffle pop cookies are super easy to make with simple ingredients.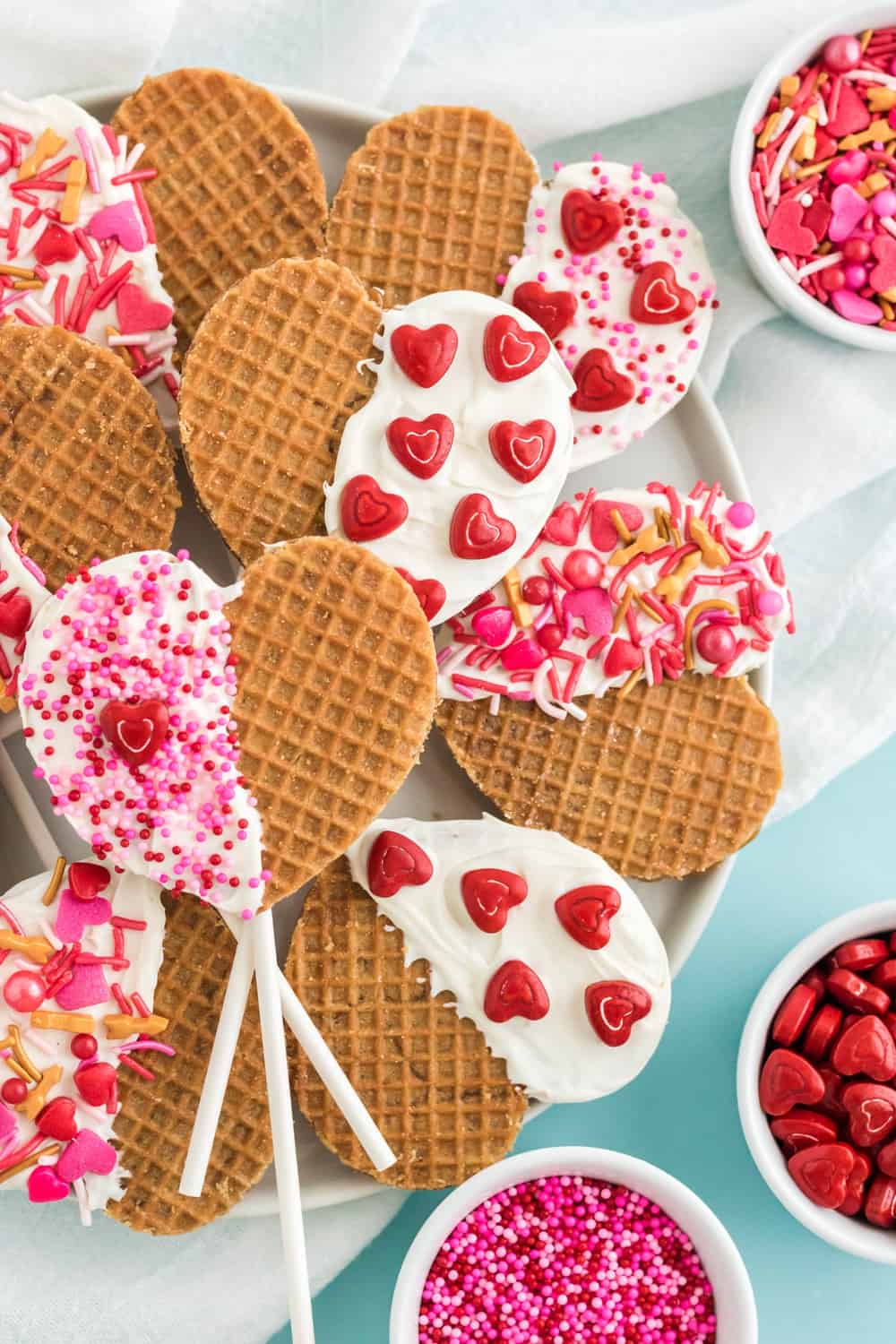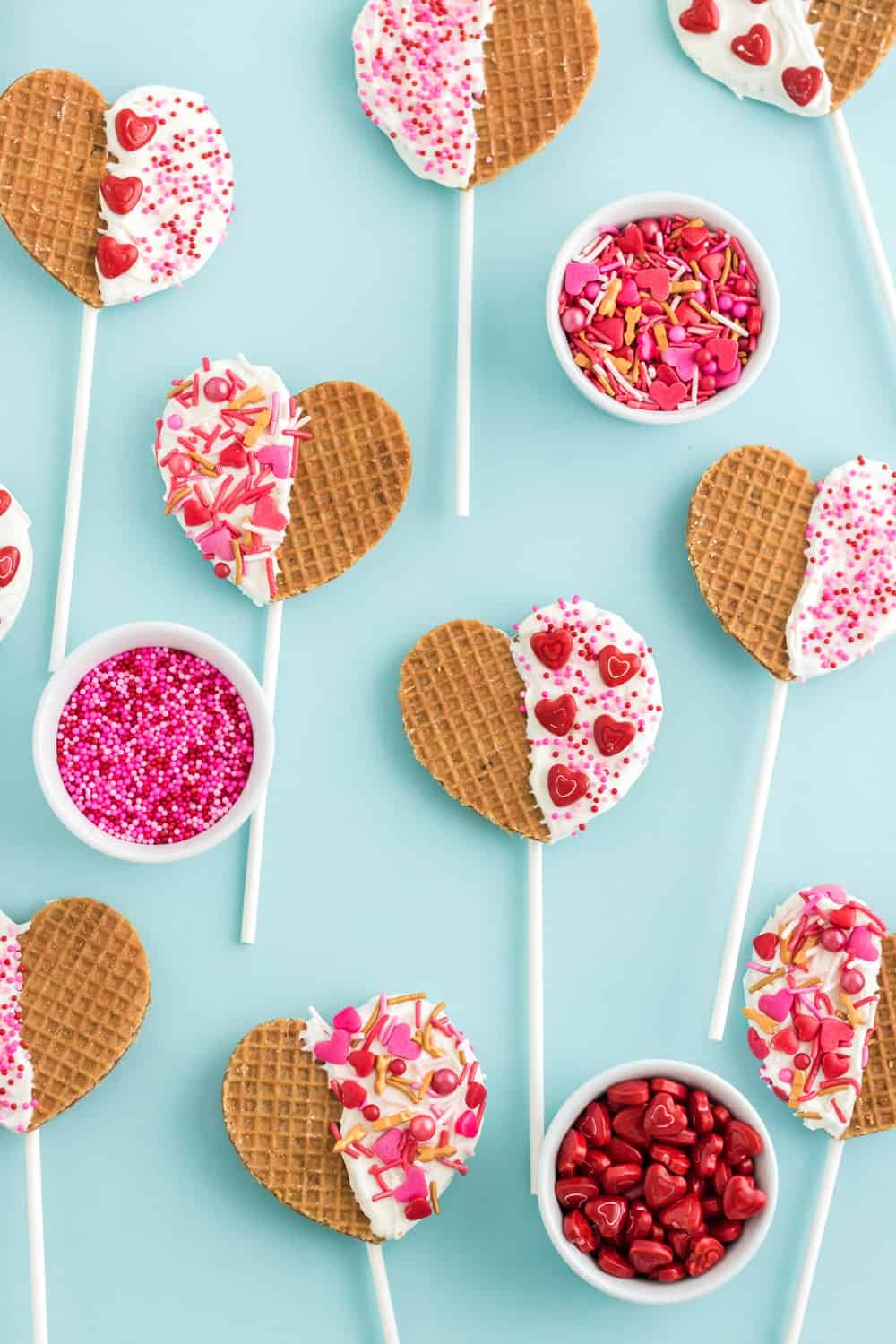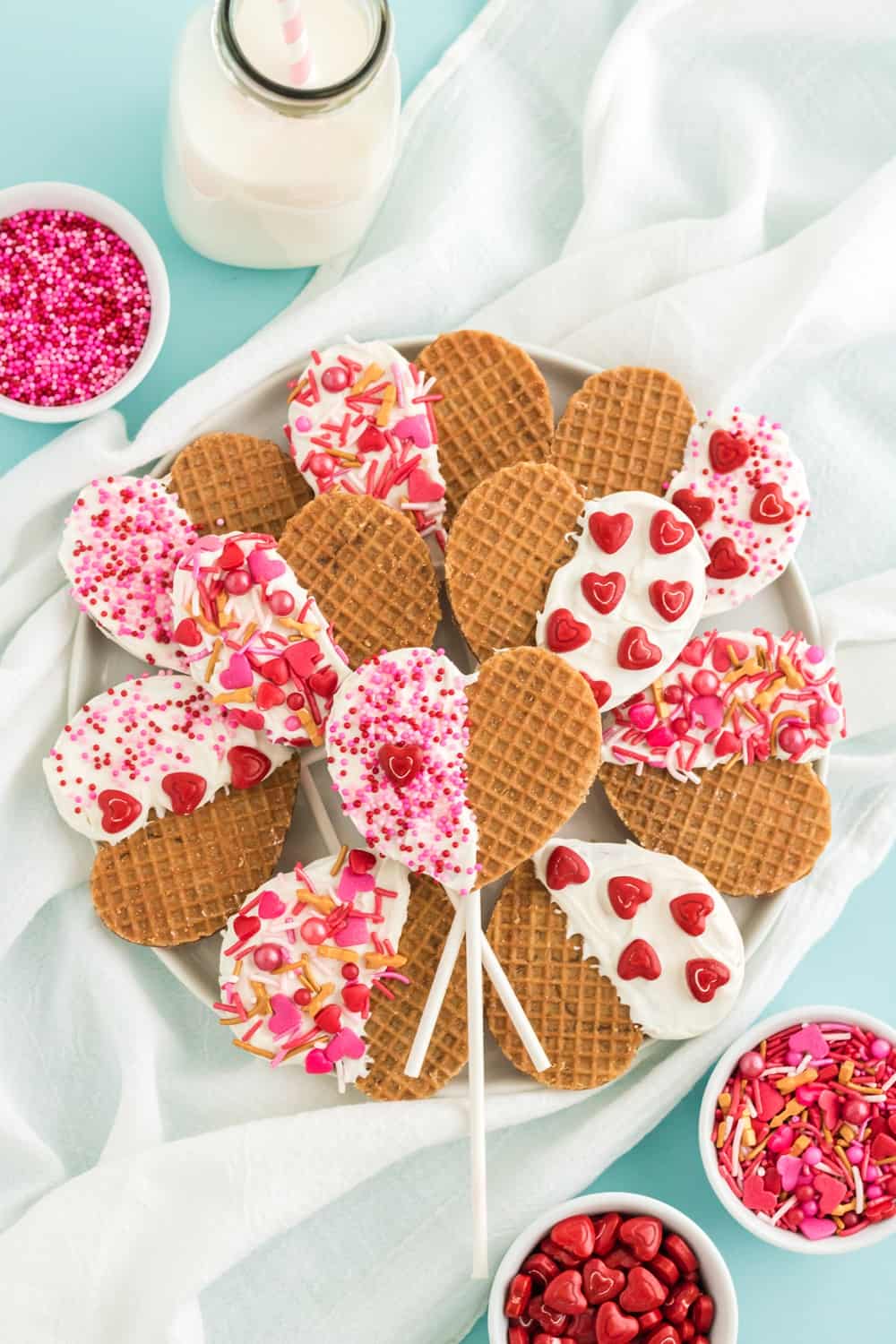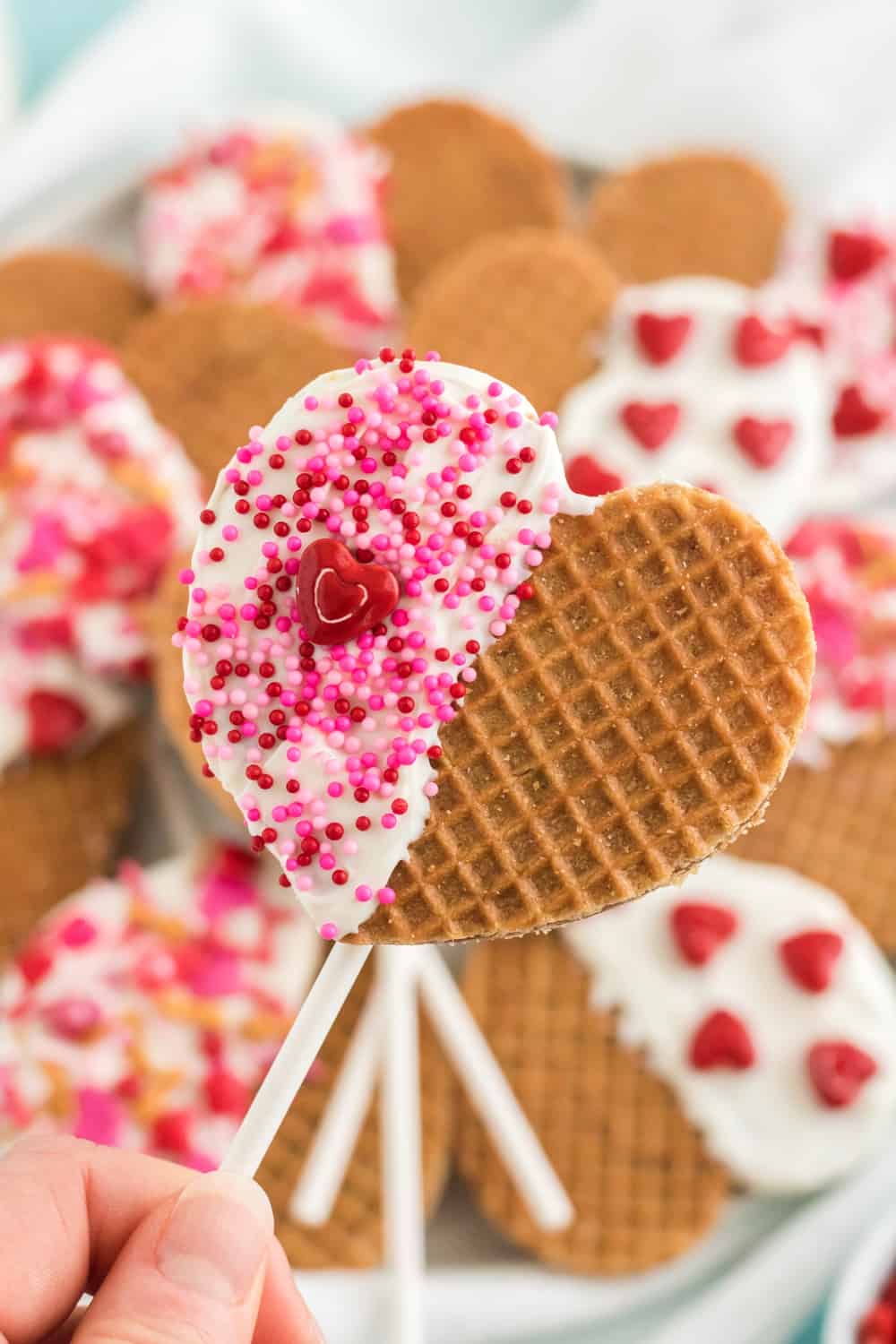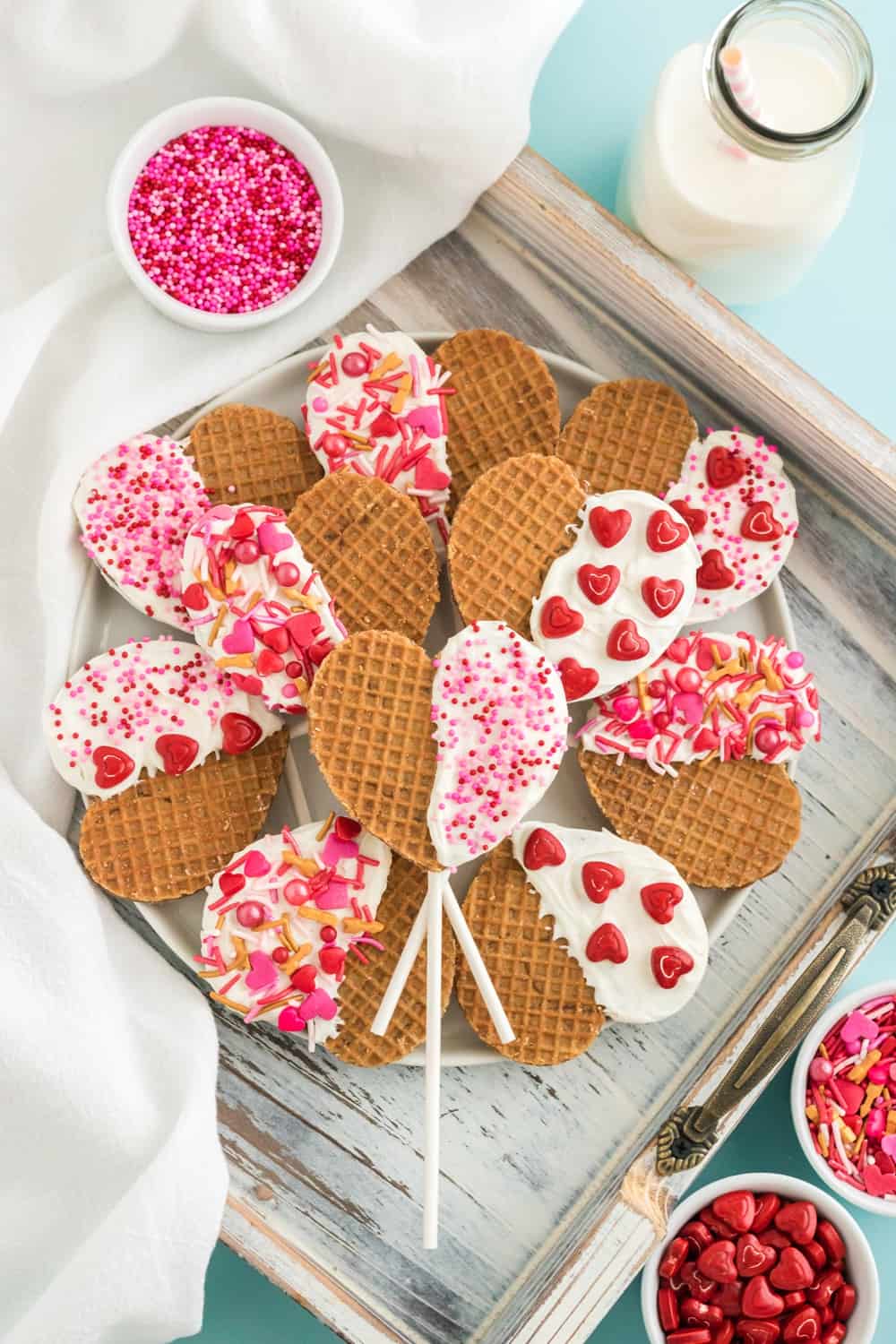 What's the easiest way to make heart-shaped treats?
Trust me on this one – you have to have a cookie-cutter in the shape of a heart. This will save you time, stress, and have you cutting out the perfect heart desserts and food items in no time at all! However, you can definitely use a knife to cut out a heart shape.
What is a "Stroopwafel?"
This is a European type of cookie that can be found in most grocery store cookie aisle. It's two layers of think waffle cookies with a caramel type filling in the center, common and popular in the Netherlands.
Can you use homemade waffles to make these easy Valentine waffles?
If you can't find Stroopwafels, you can definitely substitute breakfast waffles. We love frozen waffles for making cute treats! And yes if you have a favorite homemade waffle recipe and have the time, go for it! It's sure to taste just as great made that way, too.
Valentine Waffles – Ingredients + Supplies
Regular sized Stroopwafels (can be found in the cookie or coffee/tea aisle)
Heart-shaped cookie cutter about 2 ½ -3 inches wide
White candy melts or white chocolate chips
Lollipop sticks
Valentine's Day themed sprinkles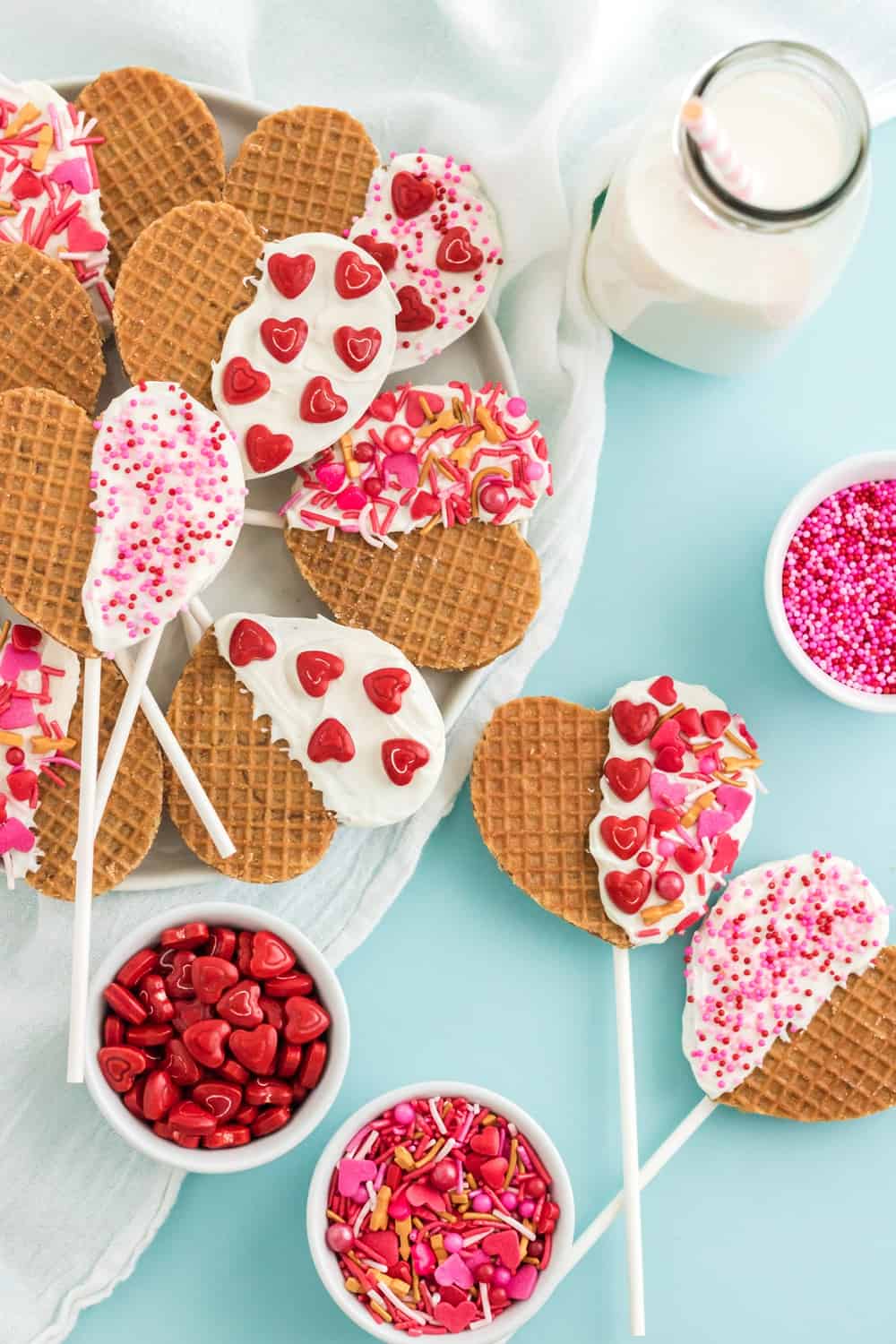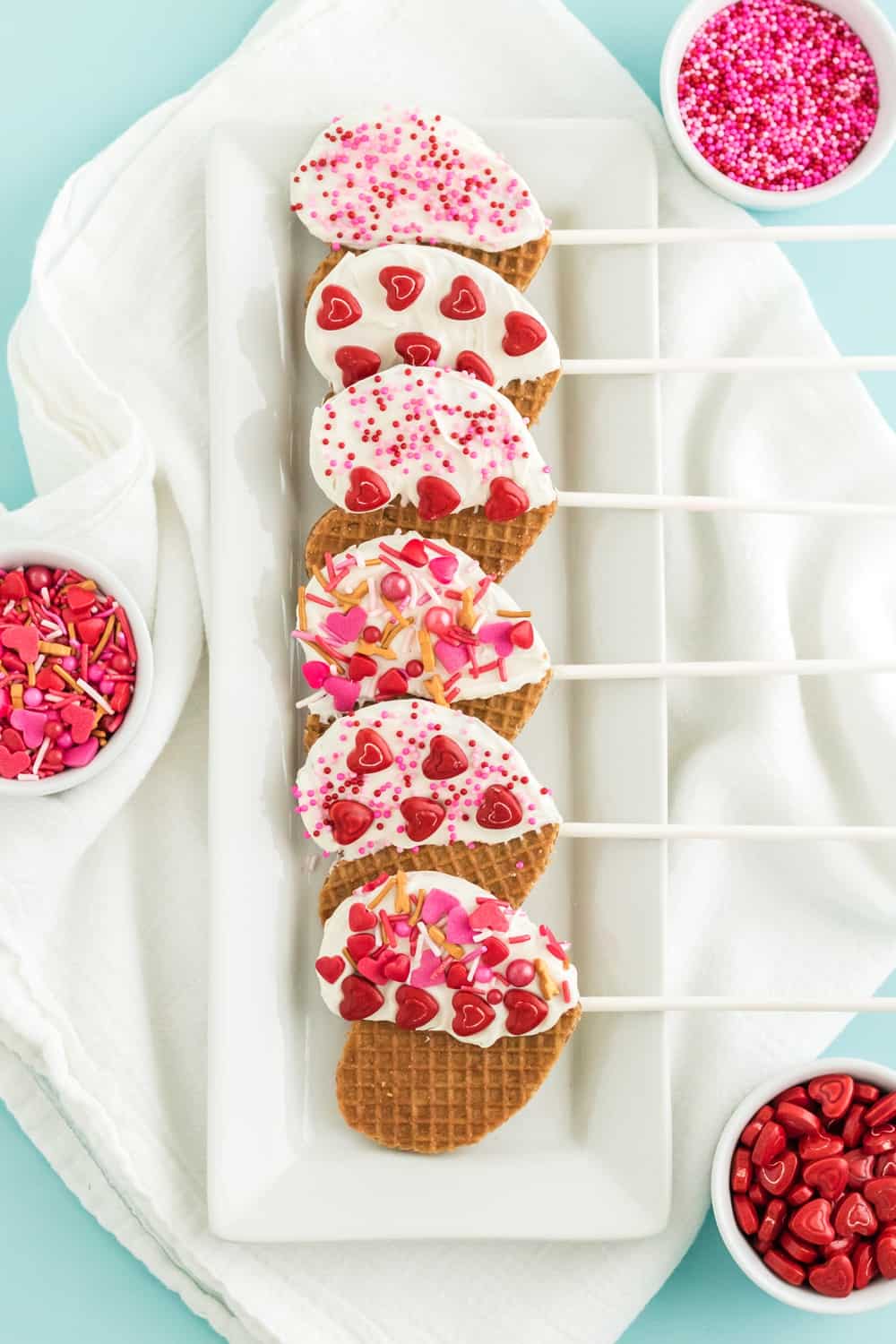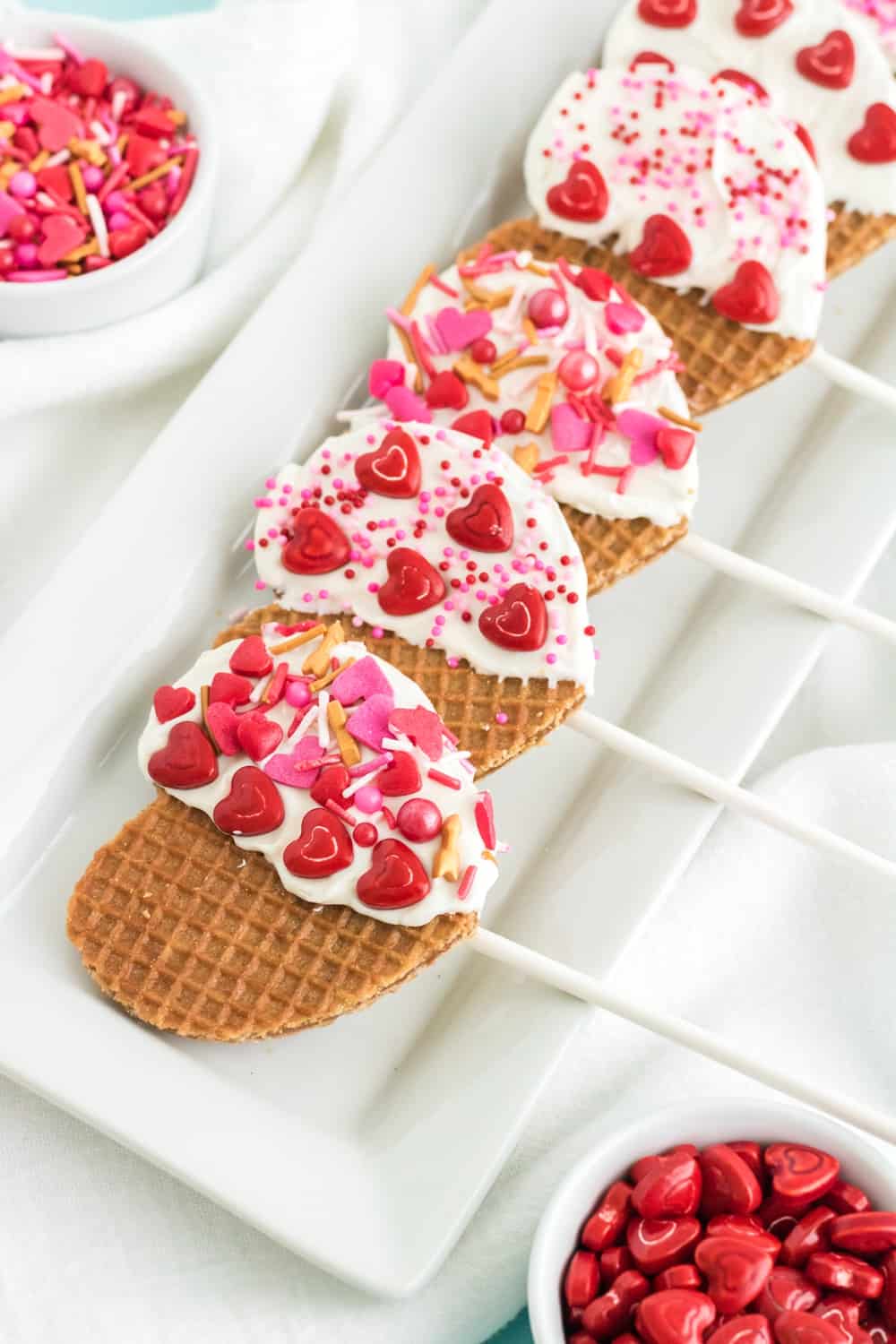 Is it possible to burn candy melts in the microwave?
It is! You have to be really careful when you're melting them. Make sure that you follow the directions on the bag as closely as possible.
If you don't have directions, just microwave for 30 seconds, stir, and then microwave in 15-second intervals, stirring in between each time.
If you do end up burning it, you need to throw it away and start over. There is no way to get rid of the burnt taste once any part of the candy melts is burned.
Why is my melted candy melts so thick?
You do want the texture of the candy melt mixture to be thick enough so that it sticks to the waffles to dry. However, if it's too thick, you can add a VERY small amount of coconut oil into the mixture and stir. This will thin it out easily.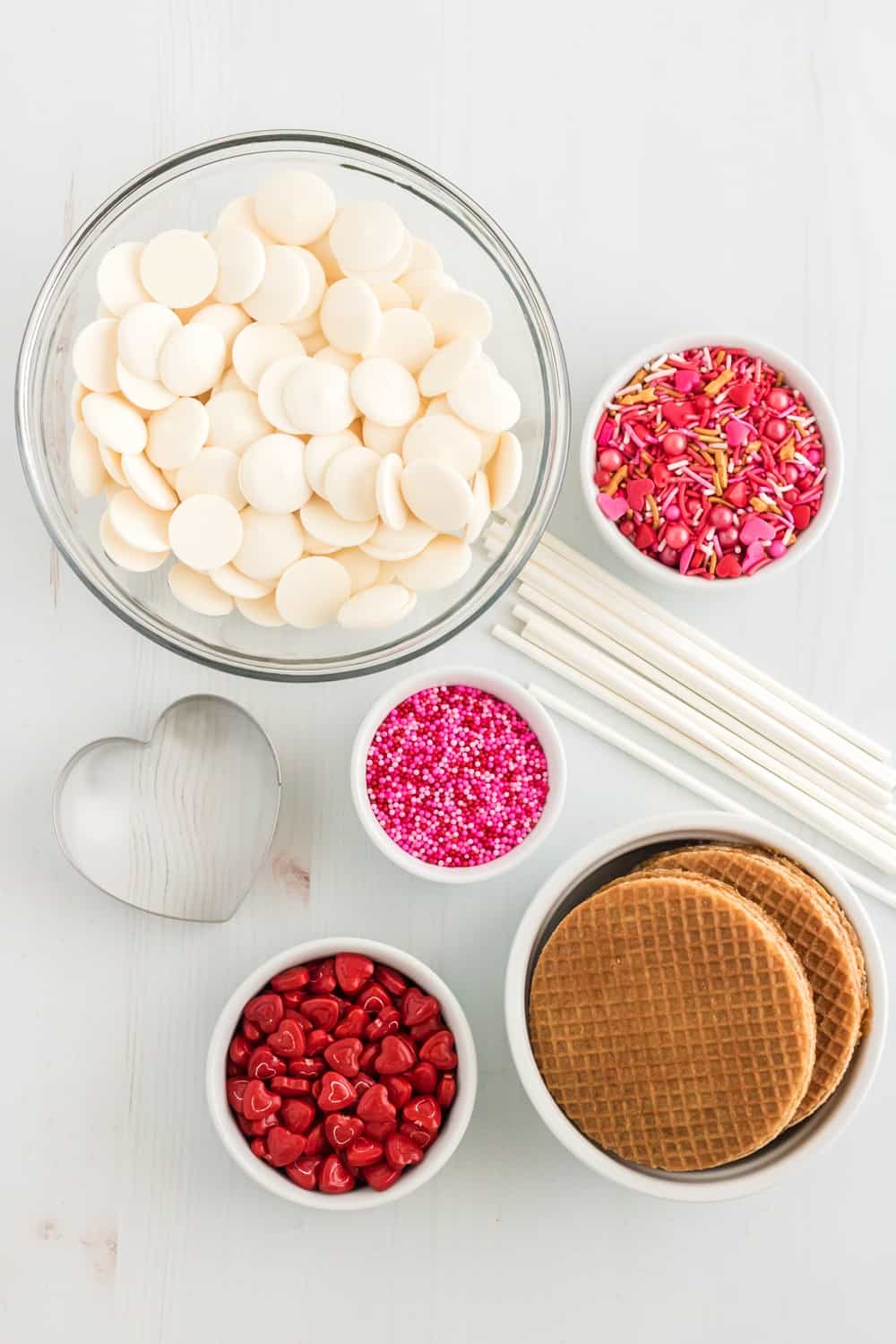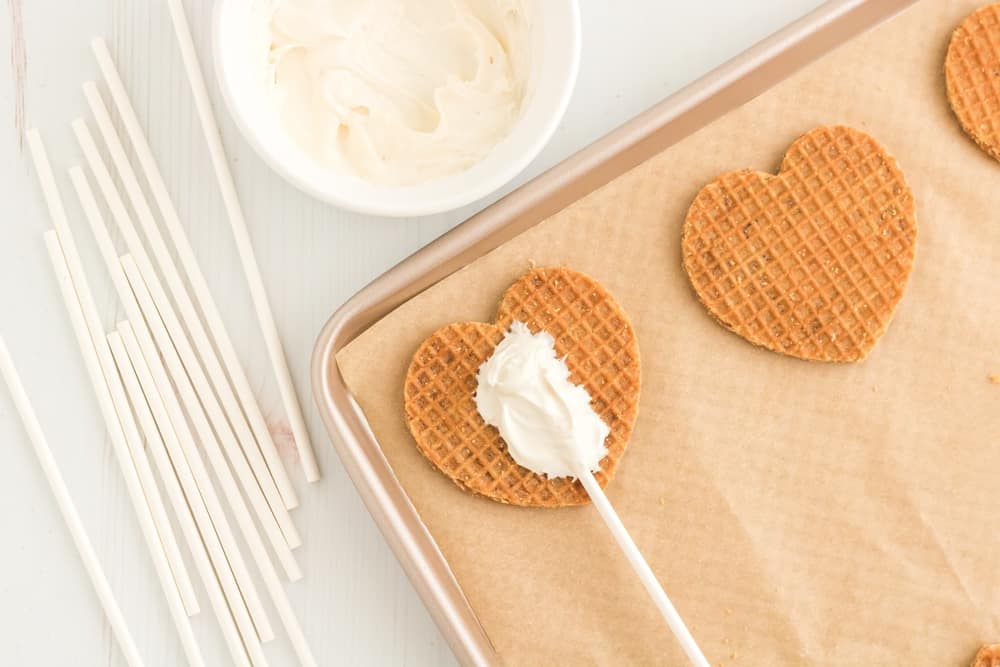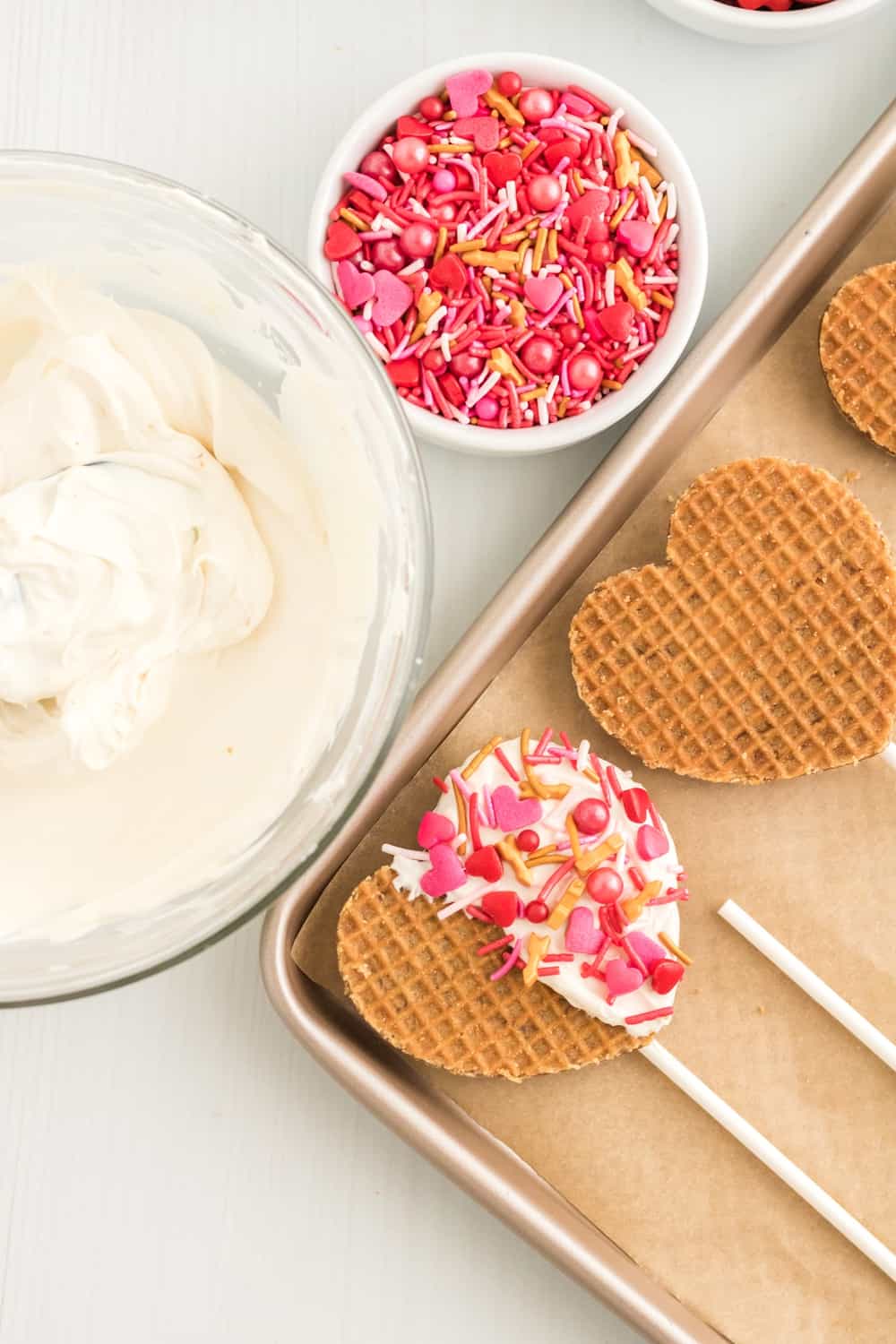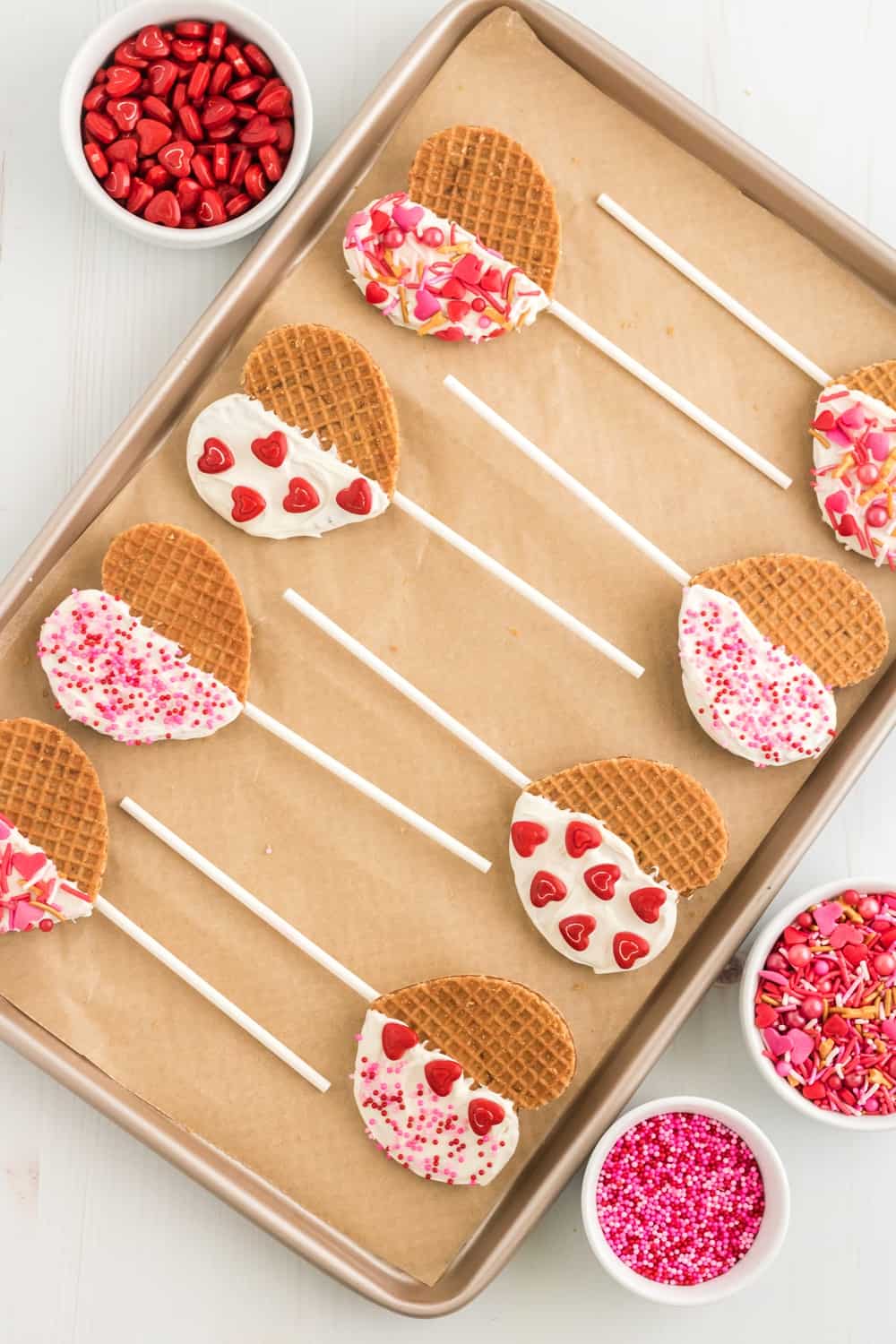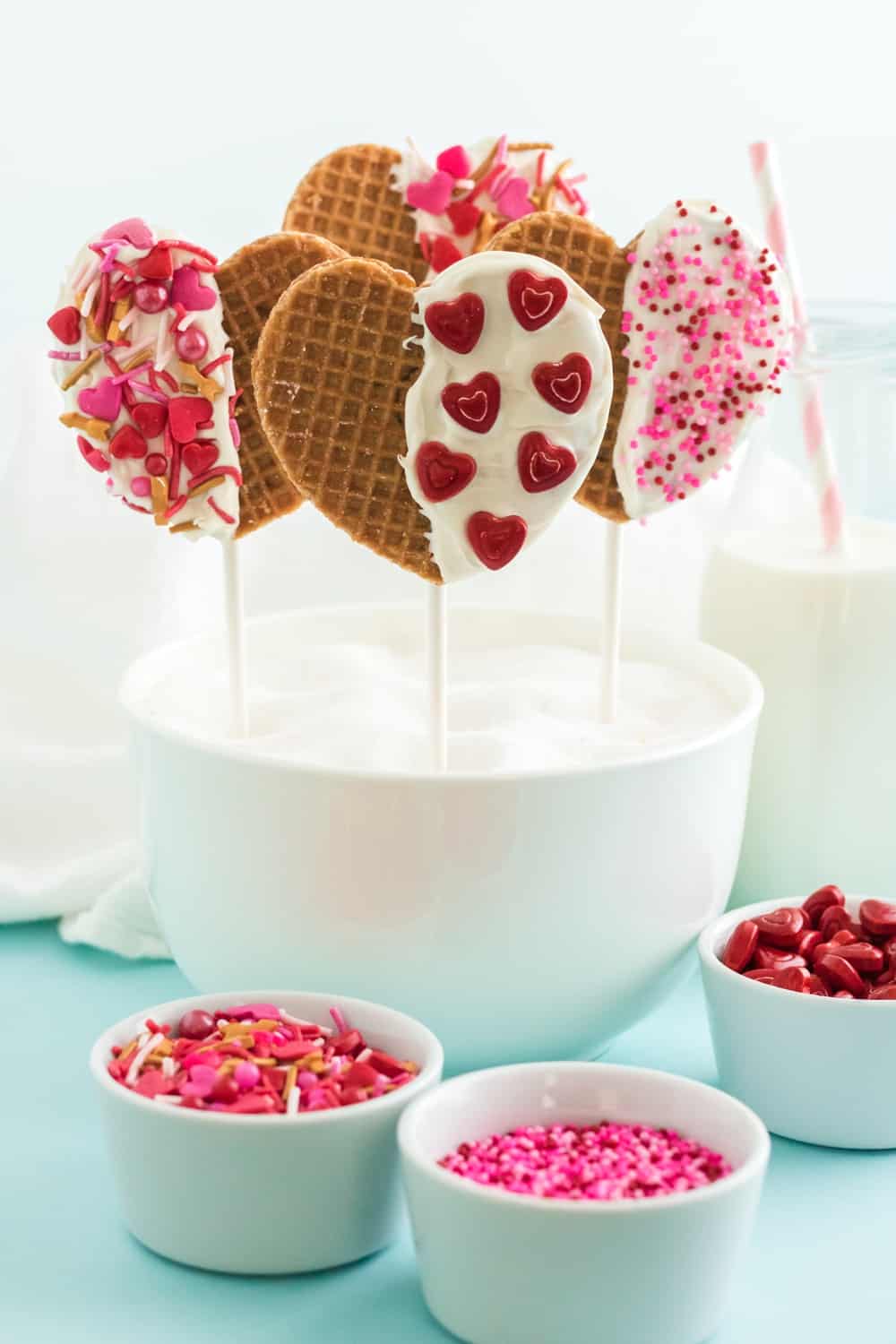 INSTRUCTIONS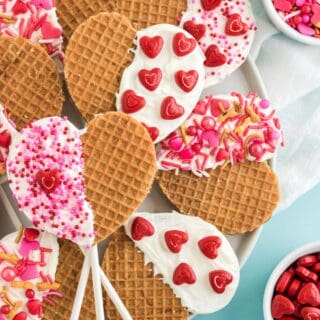 Valentine Waffle Pops
These Valentine waffles are a delicious sweet treat for the kids!
Ingredients
Regular sized stroopwafels

can be found in the cookie or coffee/tea aisle

Heart shaped cookie cutter

2 ½ -3 inches wide

White candy melts or white chocolate chips

Lollipop sticks

Valentine's Day sprinkles
Instructions
Line a baking tray with parchment paper and set aside.

Place a stroopwafel on a table or cutting board covered with parchment paper. Using your cookie cutter, press down on the stroopwafel until the cookie cutter has pierced the stroopwafel all the way through. Peel the excess stroopwafel from the outsides and pop the heart shaped stroopwafel out. Place it on the baking tray. Discard the excess pieces (or dunk them in your coffee as you make these fun treats!).

Once you have as many heart shaped stroopwafels as you like, place a small amount of the melting candy into a bowl and melt it in the microwave in 30 second intervals, stirring until smooth.

When the melting candy is smooth, place a dollop of it on the back of the stroopwafel and place a lollipop stick into it. Cover the rest of the lollipop stick with the melting candy so that it is not visible.

Once all of the stroopwafel hearts have lollipop sticks attached, place the baking sheet in the refrigerator for about 10 minutes so the candy hardens.

Remove the baking tray from the refrigerator.

In a large bowl, microwave the rest of the melting candy in 30 second intervals, stirring until it is smooth.

You can either dip the stroopwafel into the melting candy or take a butter knife and apply the melting candy to the front of the stroopwafel. Apply your favorite sprinkles. It is important to move quickly so that the melting candy does not harden before the sprinkles have been added.

Once all of the sprinkles have been added, return the baking tray to the refrigerator for an additional 10 minutes.

Serve at room temperature with your favorite sweetheart or valentine.
Notes
Stroopwafels usually come in a 10.94 box of 8. They can be found in the cookie or coffee/tea aisle in the grocery store. They can also be found online.
I suggest getting the regular sized stroopwafels (they fit over the top of a standard sized coffee mug). The mini stroopwafels are cute but they are too small to make a waffle pop.
You May Also Like