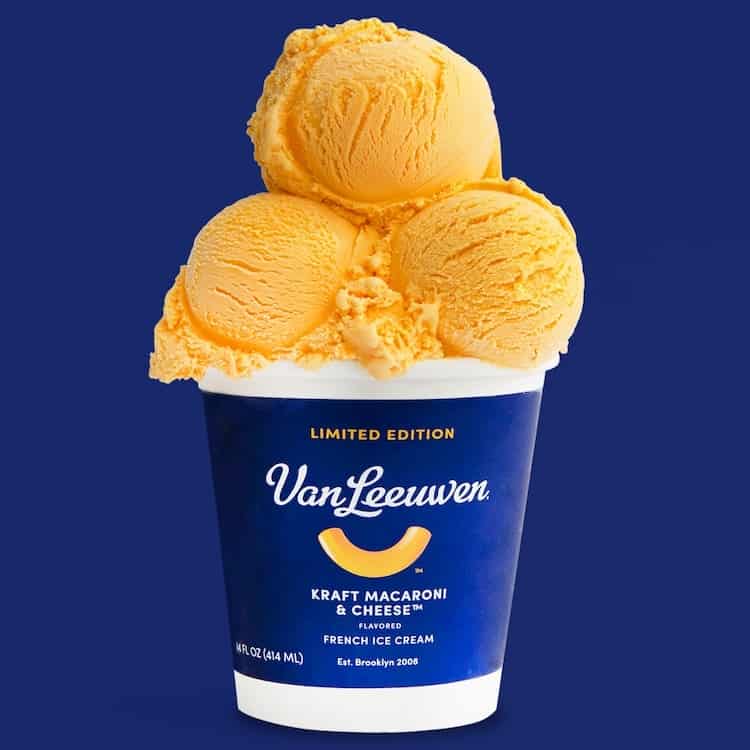 If you're into sweet and savory flavor combinations, chances are you'll love this new Kraft Mac and Cheese Ice cream from the makers of Heinz and Brooklyn's Van Leeuwen Ice Cream!
Kraft Mac and Cheese ice cream is the new summer food trend you didn't know you needed. According to the Kraft Heinz company news release, this summer, Kraft Macaroni & Cheese is bringing two childhood favorites together for the first time. For the ultimate in nostalgia and comfort food combined into one treat, you'll want to get your hands on this limited release Kraft Mac and Cheese Ice cream!
View this post on Instagram
Kraft Macaroni & Cheese is teaming up with Brooklyn's Van Leeuwen Ice Cream Company, known for their premium ingredient and delicious vegan ice cream with just a few ingredients,. This indulgent and special frozen is made with no artificial flavors, preservatives, or dyes.
"We know that there is nothing more refreshing on a hot summer day than ice cream. That is why we wanted to combine two of the most iconic comfort foods to create an ice cream with the unforgettable flavor of KraftMacaroni & Cheese we all grew up with," said Emily Violett, Sr. Associate Brand Manager for Kraft Macaroni & Cheese. "As big fans of Van Leeuwen, we knew they'd be the perfect partner to create this ice cream with us. Not only does it taste delicious, but it's also made with high quality ingredients and contains no artificial flavors, preservatives, or dyes just like our Kraft Macaroni & Cheese."
What does Kraft Macaroni andCheese Ice Cream Taste Like?
Since this is a brand new product, there aren't a lot of public testimonials. We did find this one my @mmmm.food that states it's got that "Kraft flavor with a a pleasantly sweet taste."
View this post on Instagram
And the folks from Eater happened to be able to grab some before it sold out. They said it tastes pretty good! The Eater review states, "The cheese powder combines with Van Leeuwen's rich base, made with milk, cream, and sugar, to produce a buttery flavor that's only slightly cheesy." And proceeded to finish half the pint.
Where can you get Kraft Mac and Cheese Ice Cream?
According to Kraft Heins press release: "The Kraft Macaroni & Cheese ice cream will be available online for order on vanleeuwenicecream.com while supplies last at a cost of $12 for a pint starting at 11am ET on July 14. The limited-edition flavor will also be available at all Van Leeuwen stores across the country (NYC, LA & Houston) starting July 14 while supplies last. New Yorkers can also try the ice cream for free while supplies last at an ice cream truck stationed in Union Square on July 14 only from 11am-6pm."
So if you're lucky and happen to live in one of those 3 Metropolitan cities, you might be able to catch them as they seem to be sold out online as of this writing.
Is the Kraft Mac Ice Cream Sold Out?
Unfortunately yes currently they are and sold out in record speed. According to Kraft Mac and Cheese's official Instagram account, their "ice cream collab with @vanleeuwenicecream sold out faster than you can say cheese. Stay tuned, we're checking the back of the freezer for more… 😉"
View this post on Instagram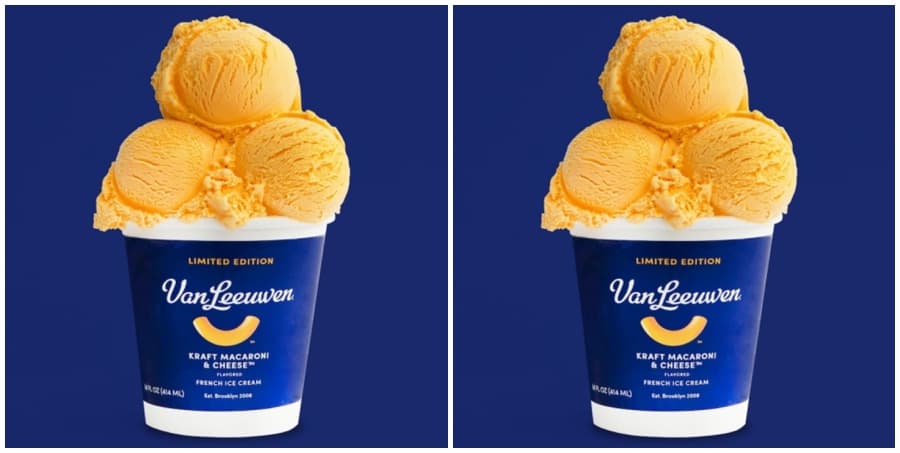 What do you think? Will you be trying this crazy sweet and savory nostalgic ice cream combo?