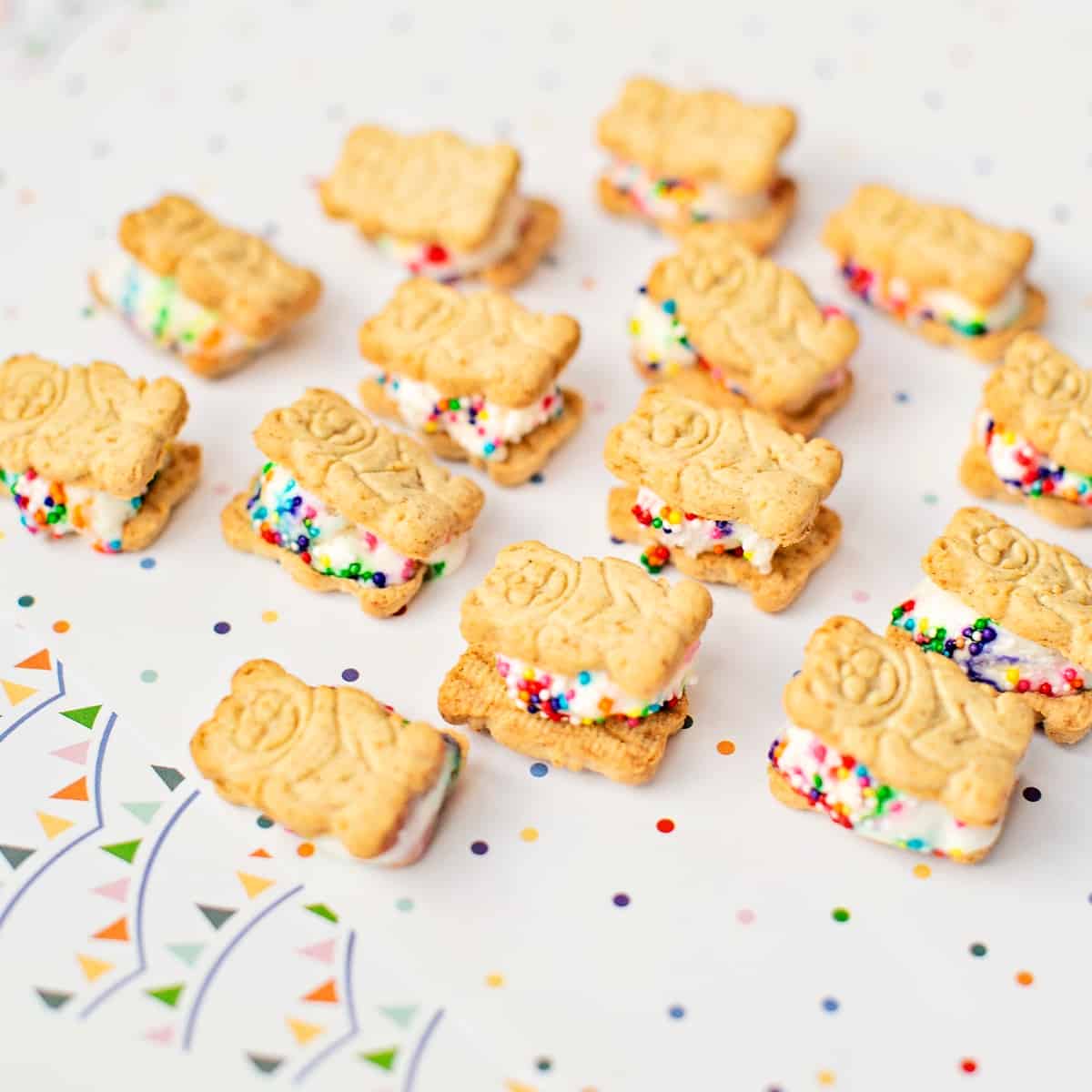 By using this site, you agree to our Terms of Use. This post may contain affiliate links. Read our disclosure policy.
Follow us on Instagram for more fun food ideas for kids!
These Teddy Bear Graham Ice Cream Sandwiches couldn't be any cuter or any tastier! Talk about the perfect kid-friendly tiny treat.
If your house is anything like our house, we're always looking for quick and simple treats for the kids. While I'm a fan of making most things homemade, I'm not silly enough to think that sometimes, store bought items make some of the best and easiest snack ideas, ever.
What we love most about these tiny ice cream sandwiches is that there's literally no waiting time at all.
When the kids are craving something sweet, this is a great go-to treat that they're certain to enjoy. As a matter of fact, this simple treat just might be one of their favorites treats that you make.
Their little hands are the perfect size to pitch in and help, too! And once they realize how simple and quickly they can make them up, they'll love that they can gobble them up just as fast!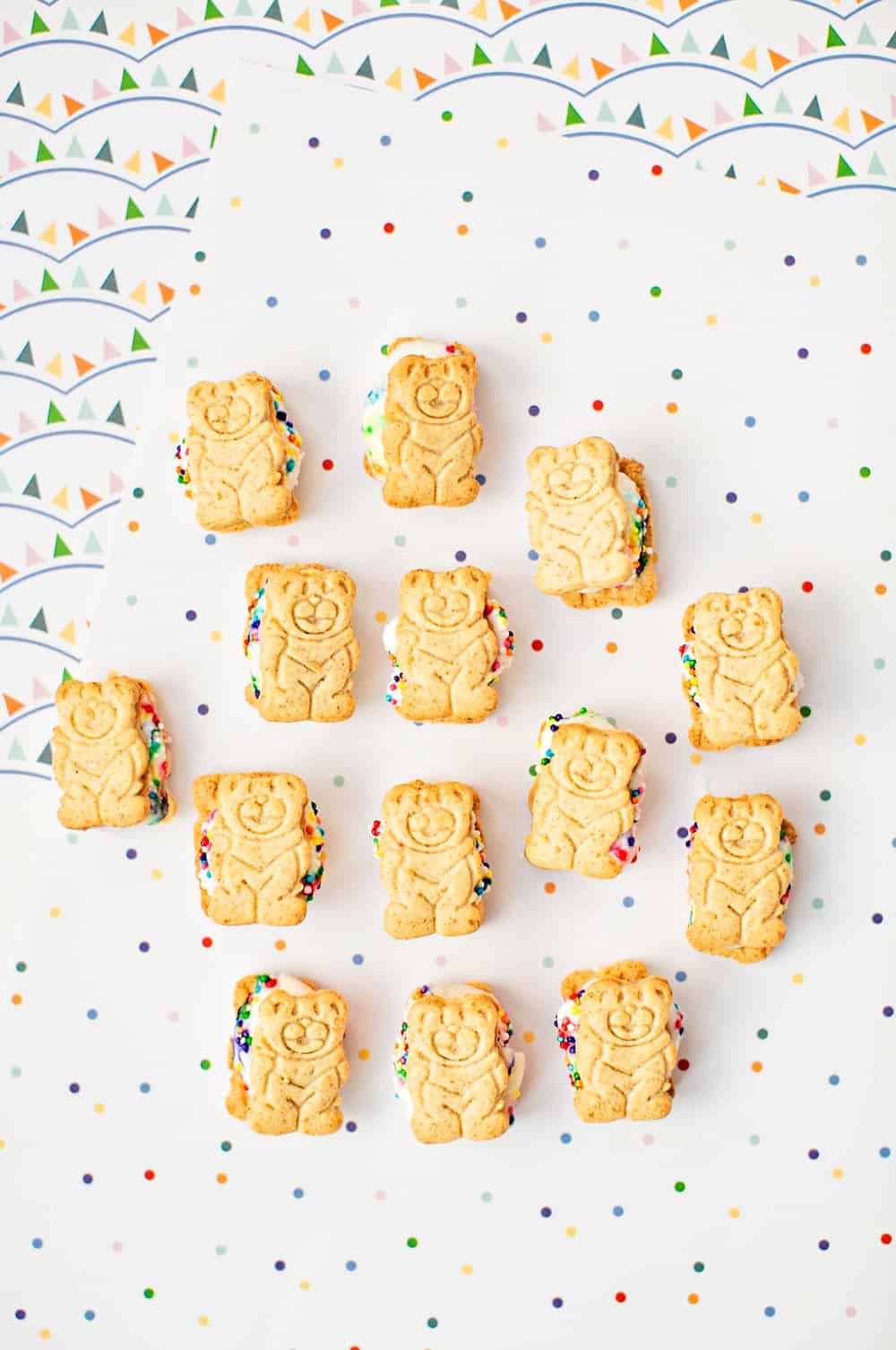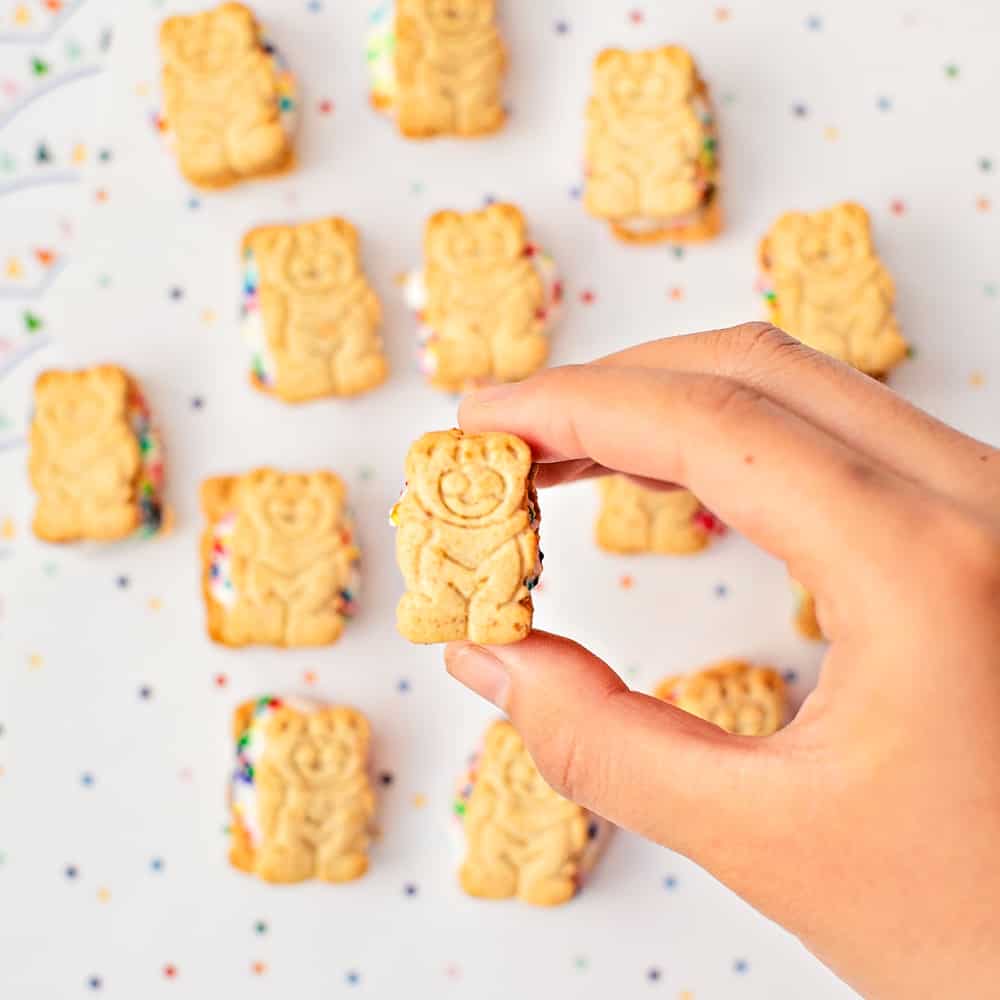 Can I use any flavor of Teddy Bear Grahams for these mini ice cream sandwiches?
You can! This is what makes this simple dessert recipe so much fun. If you have one child that likes vanilla and one who likes chocolate, you can buy different flavors of bear grahams and let them have a blast. There are even other flavors out there that you can mix and match as well.
The top later can be vanilla while the bottom layer could be chocolate…the options are just so much fun! Once your child realizes that they can be as creative as they want with making these mini treats, they're going to have so much confidence in being able to whip them up.
What else can you use besides sprinkles for the outer edges?
While we're a big fan of sprinkles, you can use other fun ingredients as well. Mini chocolate chips would be really good to sprinkle or even dip on the outer edges of this treat.
Another fun idea is to have a little bit of chocolate syrup to drizzle over the top as well. (even though that idea might get a little messy, it still sounds super yummy to think about!)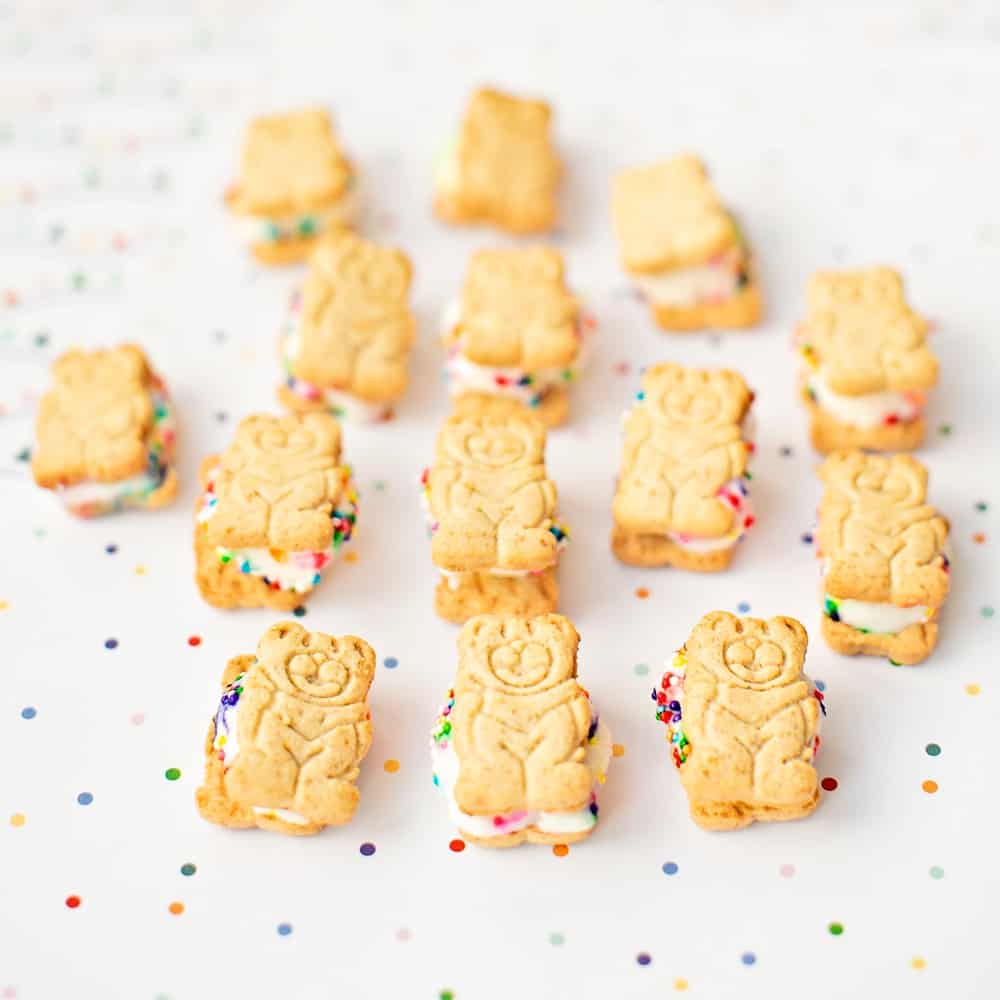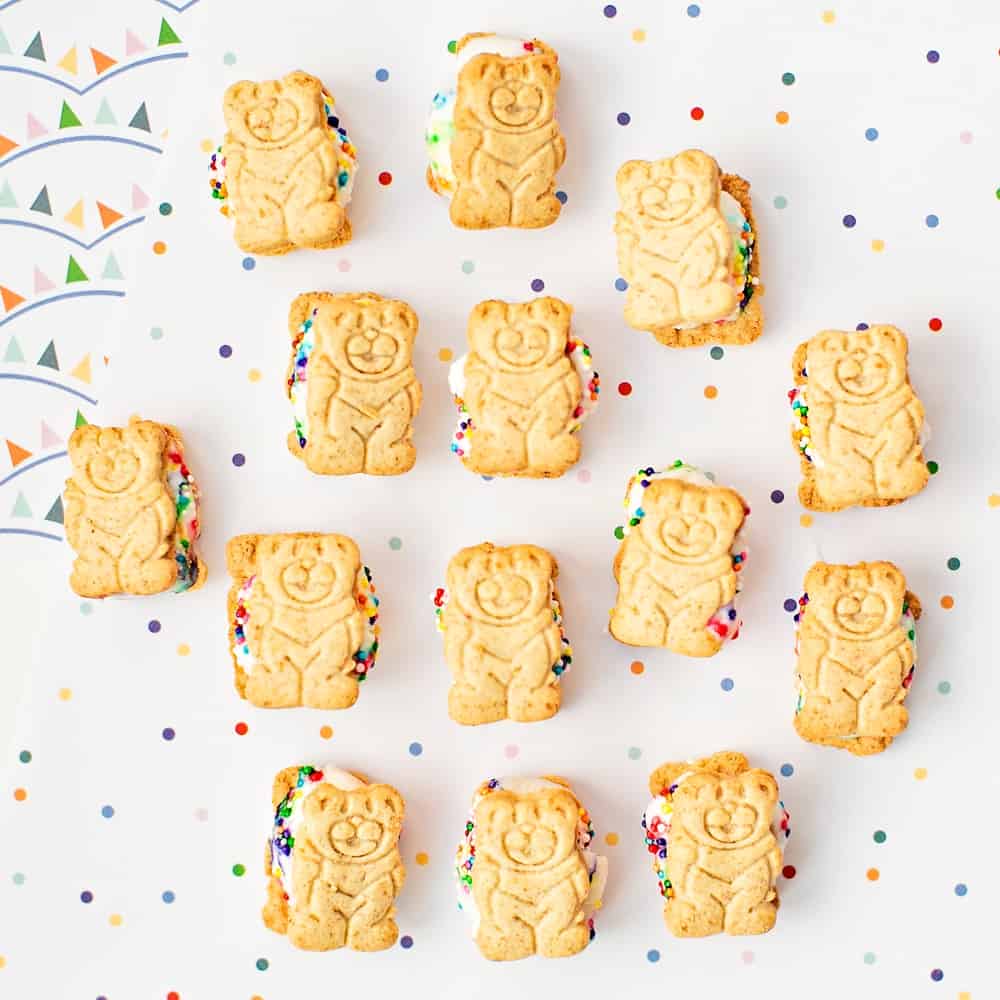 Teddy Bear Graham Ice Cream Sandwiches – Ingredients
Teddy Bear Graham cookies

Ice Cream (any flavor)

Sprinkles (we used rainbow non-pareils)
INSTRUCTIONS:
Step 1. Add a teaspoon of ice cream in between two Teddy Grahams. Squish down a bit.
Step 2. Shake some sprinkles on the side. Make a bunch at once and freeze to make sure the ice cream gets nice and cold again.
Take out in half an hour or so to enjoy or keep in the freezer in an air tight container and grab one when you want a tiny frozen treat!
As you can see, you really just need three simple ingredients to make up this treat. Once you have those items, there's nothing stopping you from creating and eating them!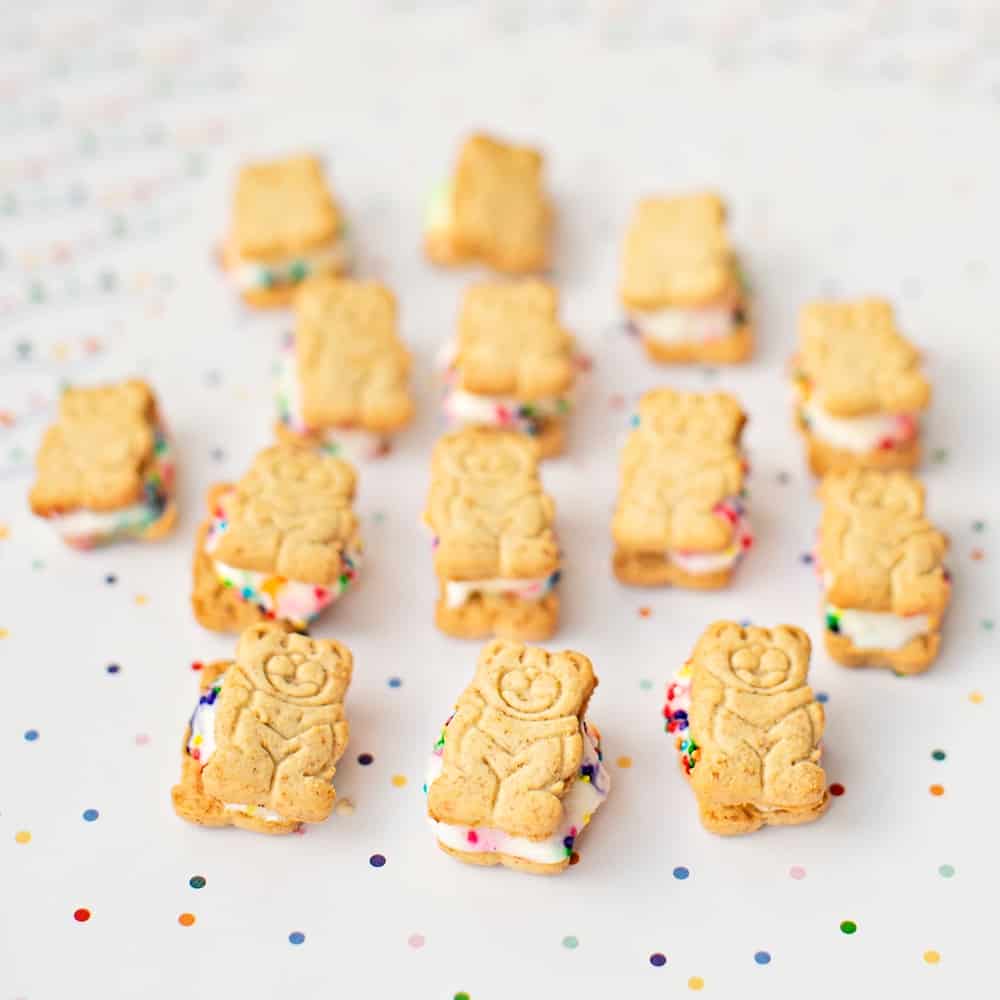 Simple tips for making these Teddy Graham Ice Cream Sandwiches
Let the children help out and take charge of making this dessert. Having them help out in the kitchen is a great way to build their confidence and peak their interests, too.

Don't forget to try out other flavors of ice cream, too! You can really have so much fun with creating so many different tastes for this simple treat.
More delicious dessert recipes to try: