By using this site, you agree to our Terms of Use. This post may contain affiliate links. Read our disclosure policy.
Follow us on Instagram for more fun food ideas for kids!
This Easter Fruit Salad is fresh and delicious and full of cute little fruit bunnies! Super fun for a healthy Easter dessert!
When it comes to Easter treats, I'm always trying to think of fun ways to add more fruit into our diets. This is because we get a lot of sugar from the Easter Bunny so why do I need to make even more at home? Once I realized that I cute make cute little edible Easter bunnies that were actually fruit, I knew that the kids were going to love this simple recipe!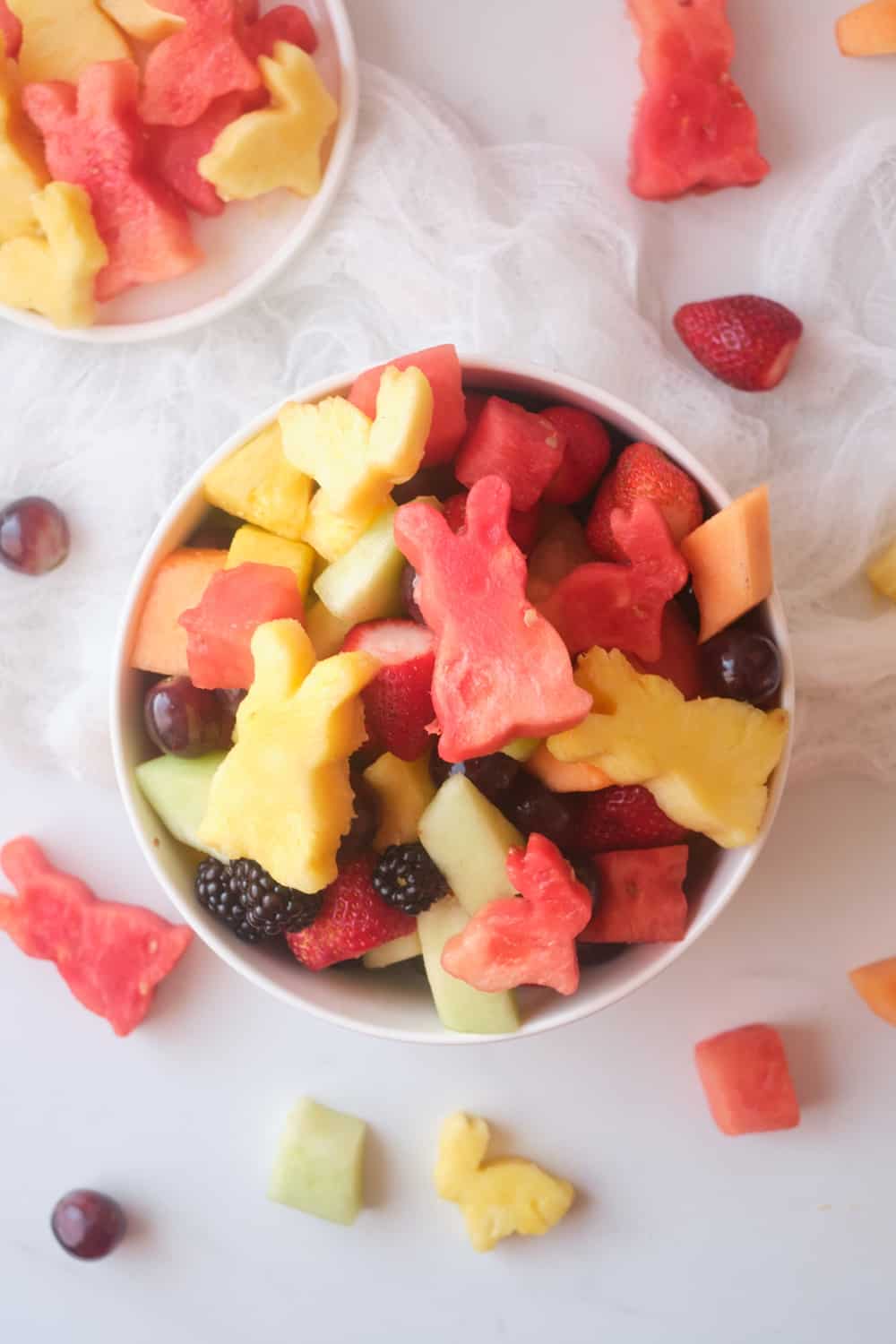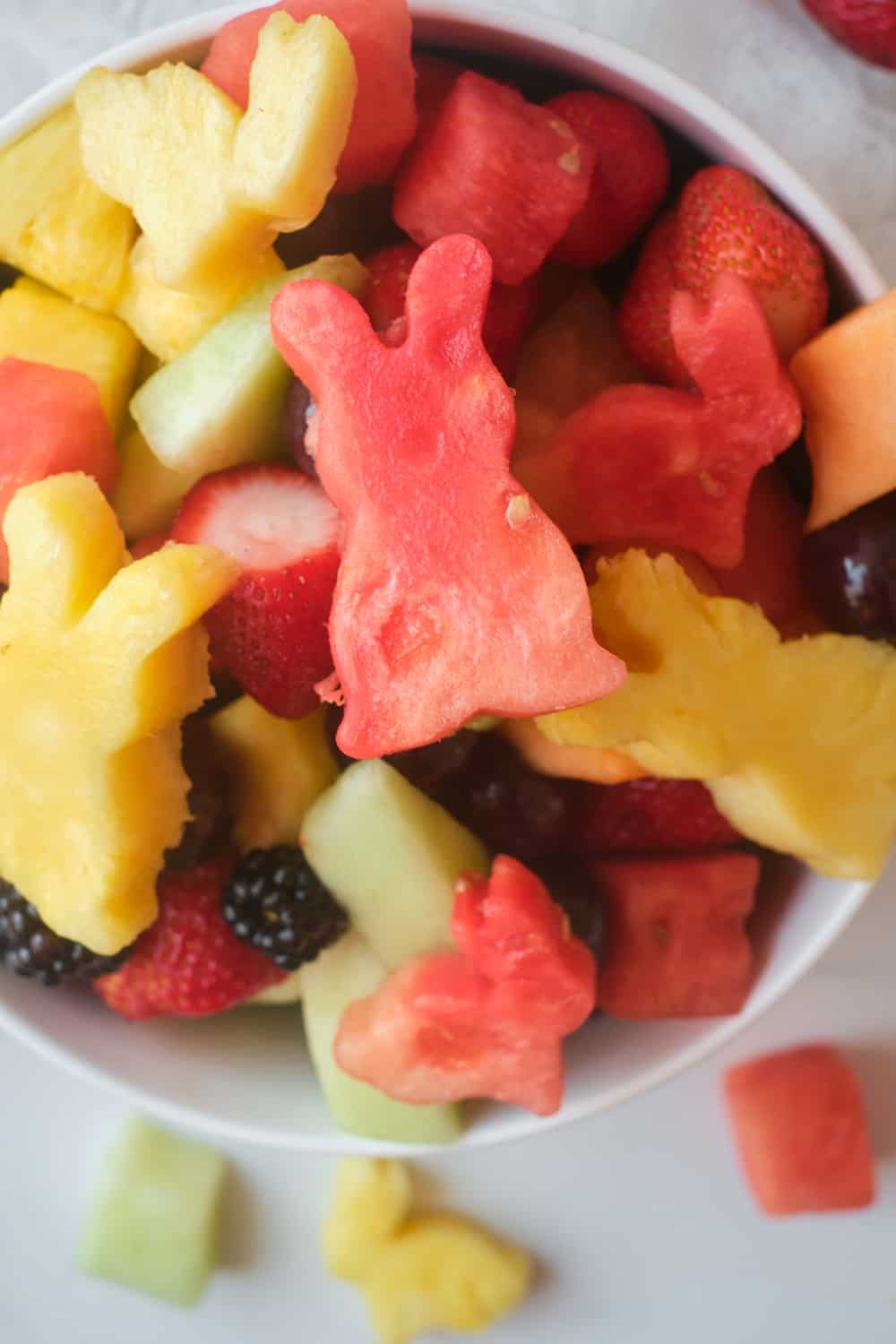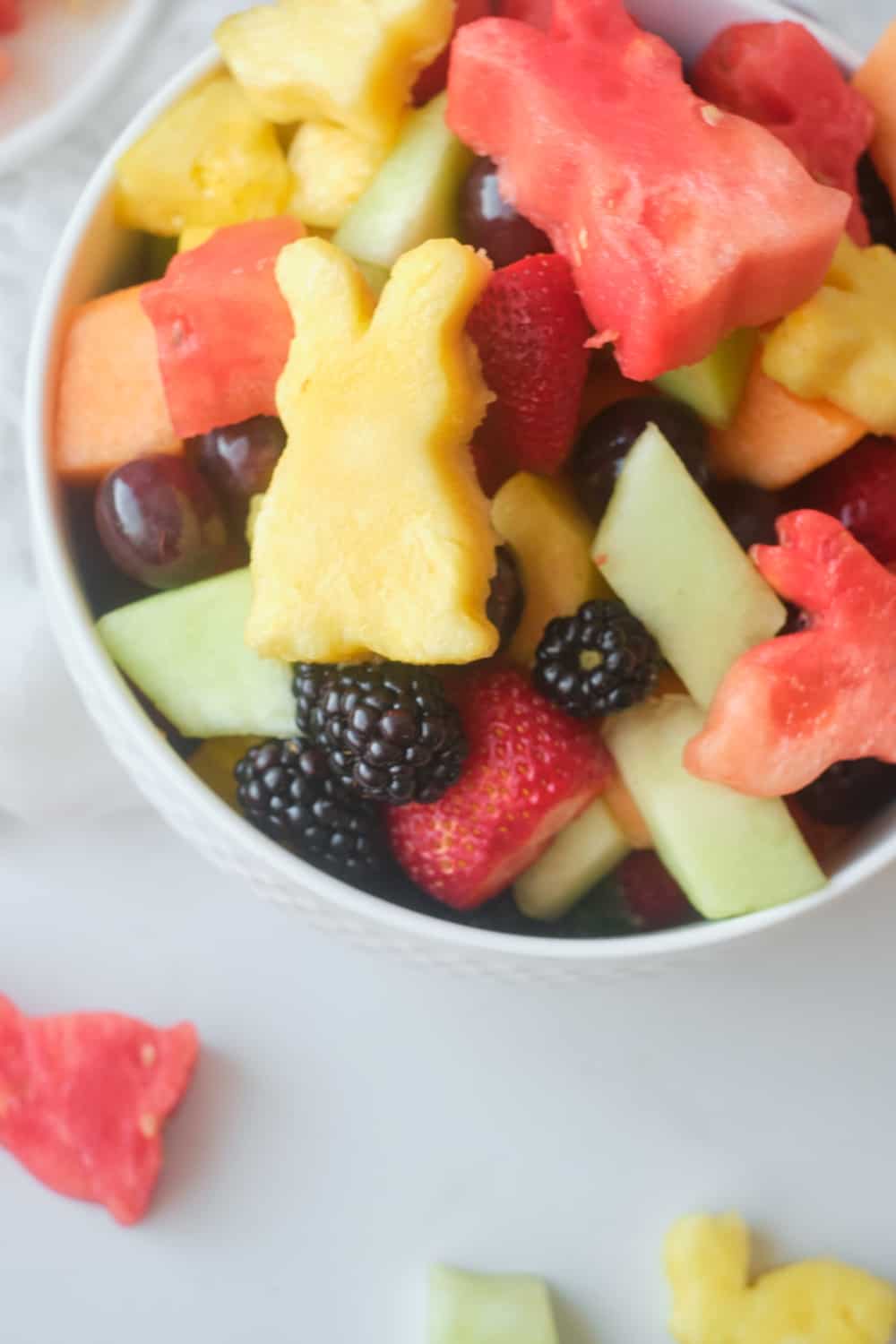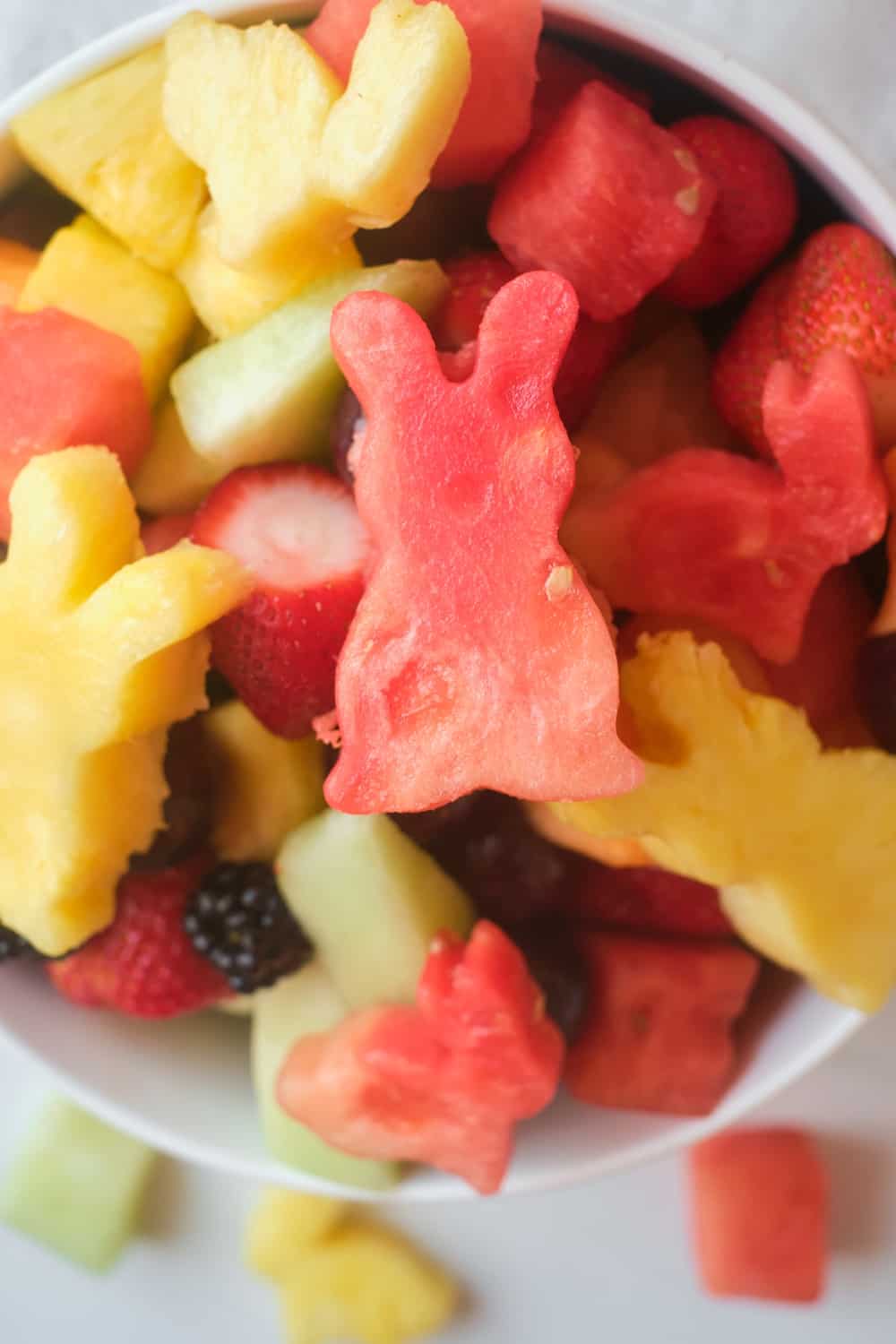 How do you get the cute little bunny shapes?
It's all about the cookie cutters! You can easily order whatever size cookie cutter that you're wanting and that makes the process so simple and easy to do! You can try to make the bunnies freehand for your Easter fruit salad, but using a cookie cutter is so much easier! Make it a simple process and give yourself a break!
Can you add other fruit to this fruit salad recipe?
You bet. That's what makes this easy fruit salad so good. You can add any type of fruit that you love and take out any type of fruit that you don't love.
Bunny Fruit Salad – Ingredients
8 cups of chopped fruit
Grapes
Melons
Strawberries halved or whole
Pineapple
Berries
½ of a small watermelon
3 slices of a pineapple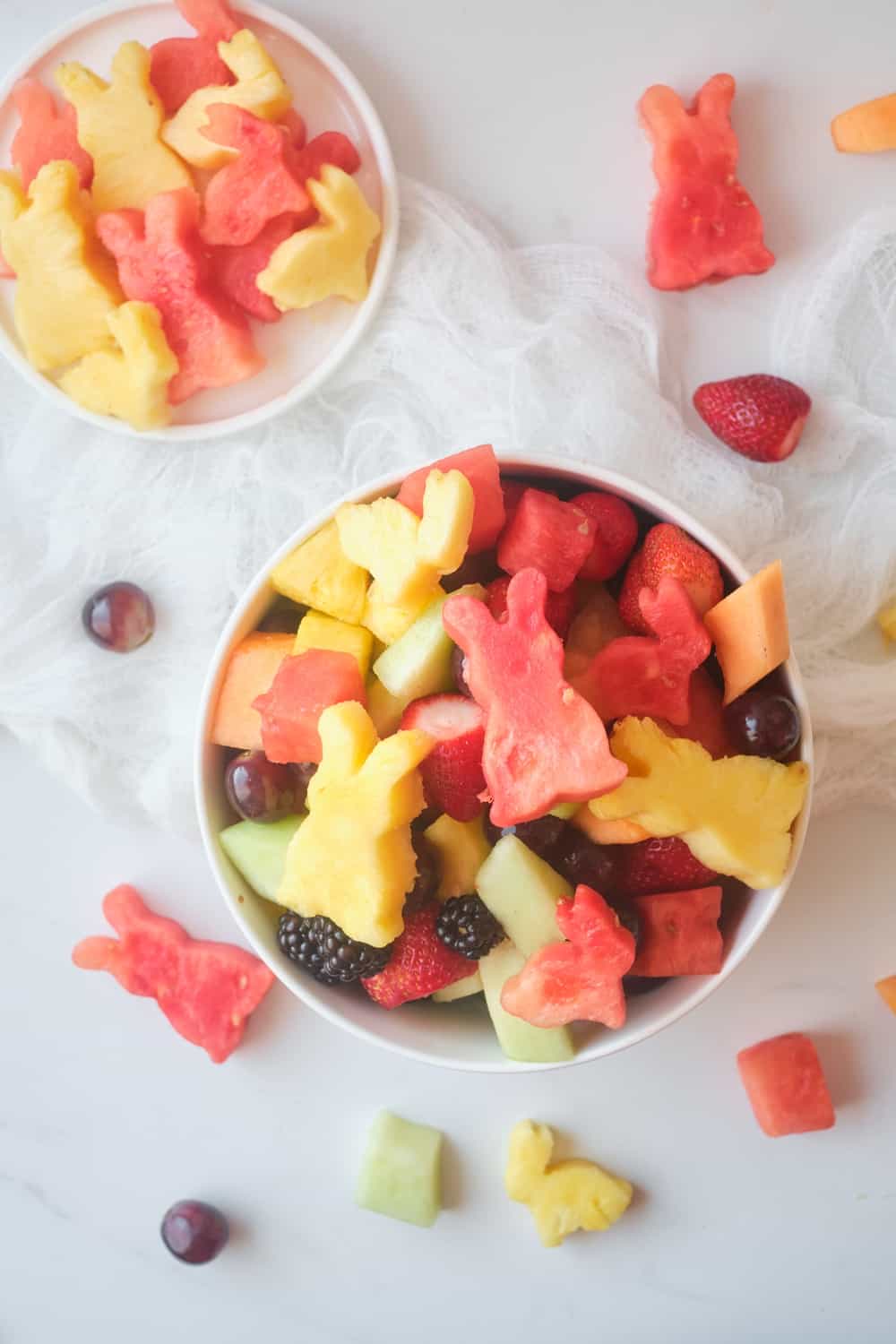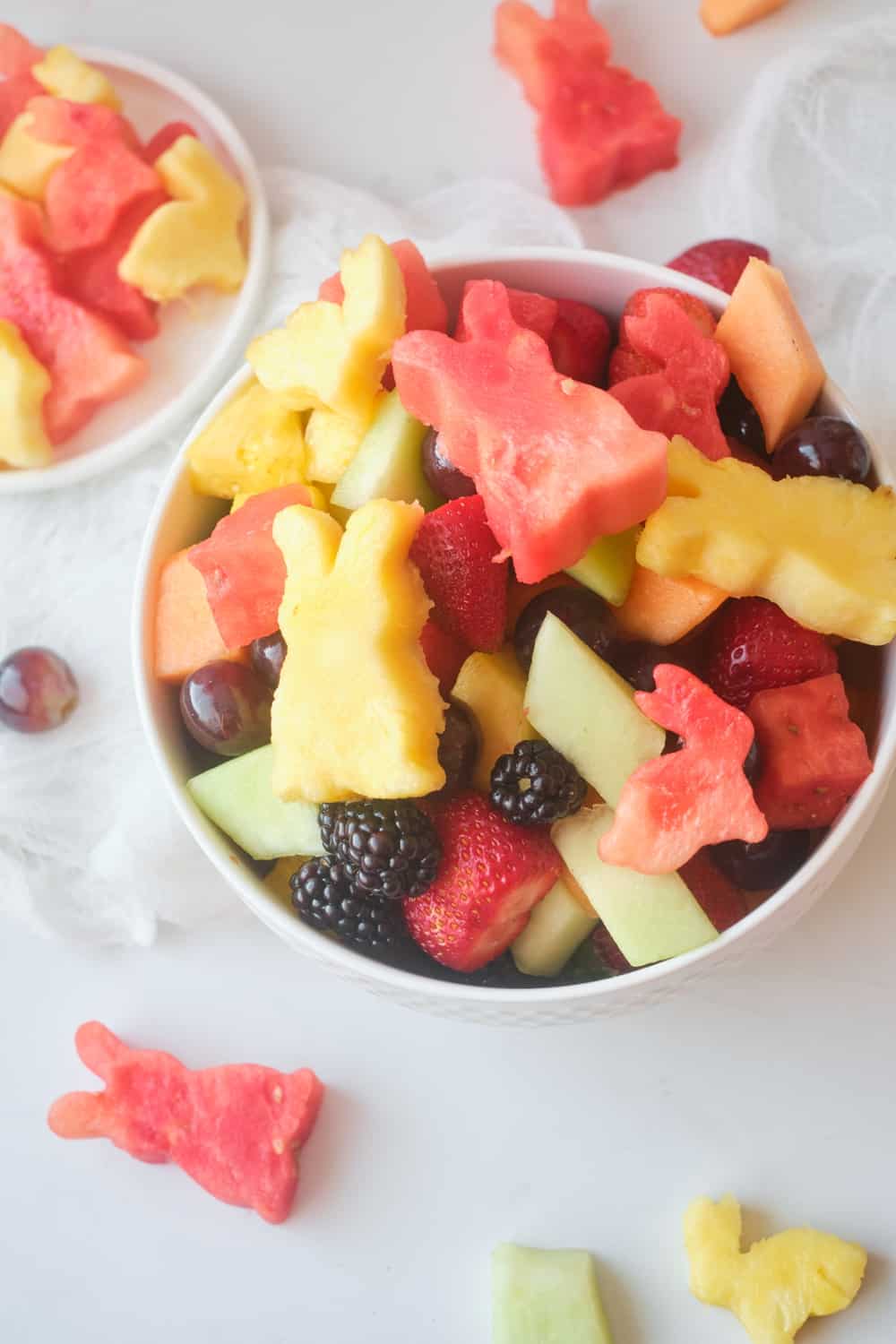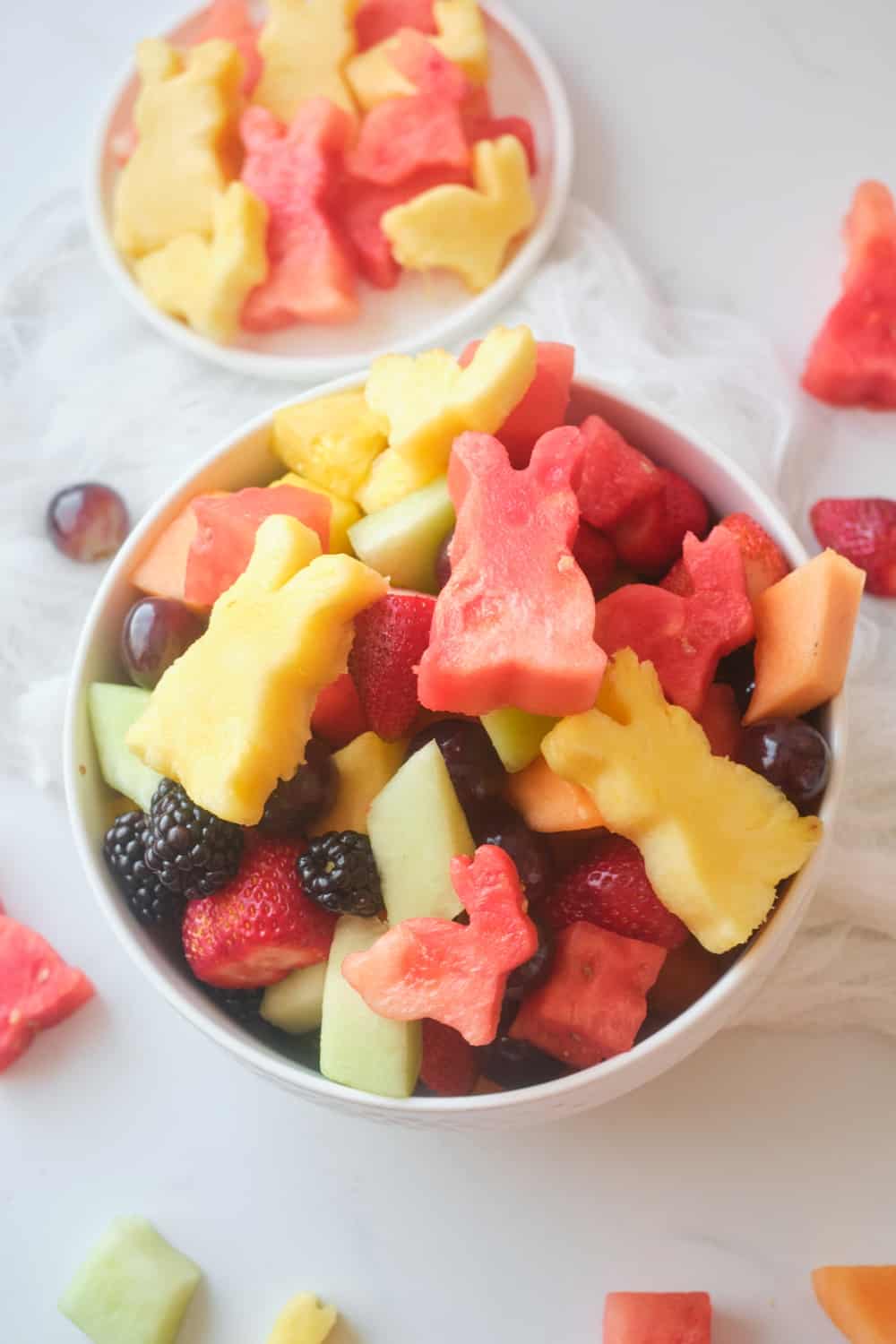 Can you make this healthy salad ahead of time?
You can but just don't make it too far ahead of time. One day ahead is just about perfect so that the flavors can mesh and meld together. Anything longer than that is too long.
Can you freeze fruit salad?
Yes, you can freeze fruit salad. All you have to do is store any leftover fruit in a freezer-safe bag and keep it safe in the freezer. It's as simple as that. INSTRUCTIONS
Easter Fruit Salad
This simple salad recipe is a great way to have some healthy options during Easter.
Ingredients
8 cups of chopped fruit (Grapes, Melons, Strawberries halved or whole, Pineapple, Berries)

½ of a small watermelon

3 slices of a pineapple
Instructions
Prep, wash and cut fruit.

To make the cut out fruit bunnies slice the watermelon into circles and using the cookie cutters cut out fruit shapes. Do the same with the pineapple.

Place cut fruit into a serving bowl and garish with the bunny fruit on top.
YOU MAKE ALSO LIKE