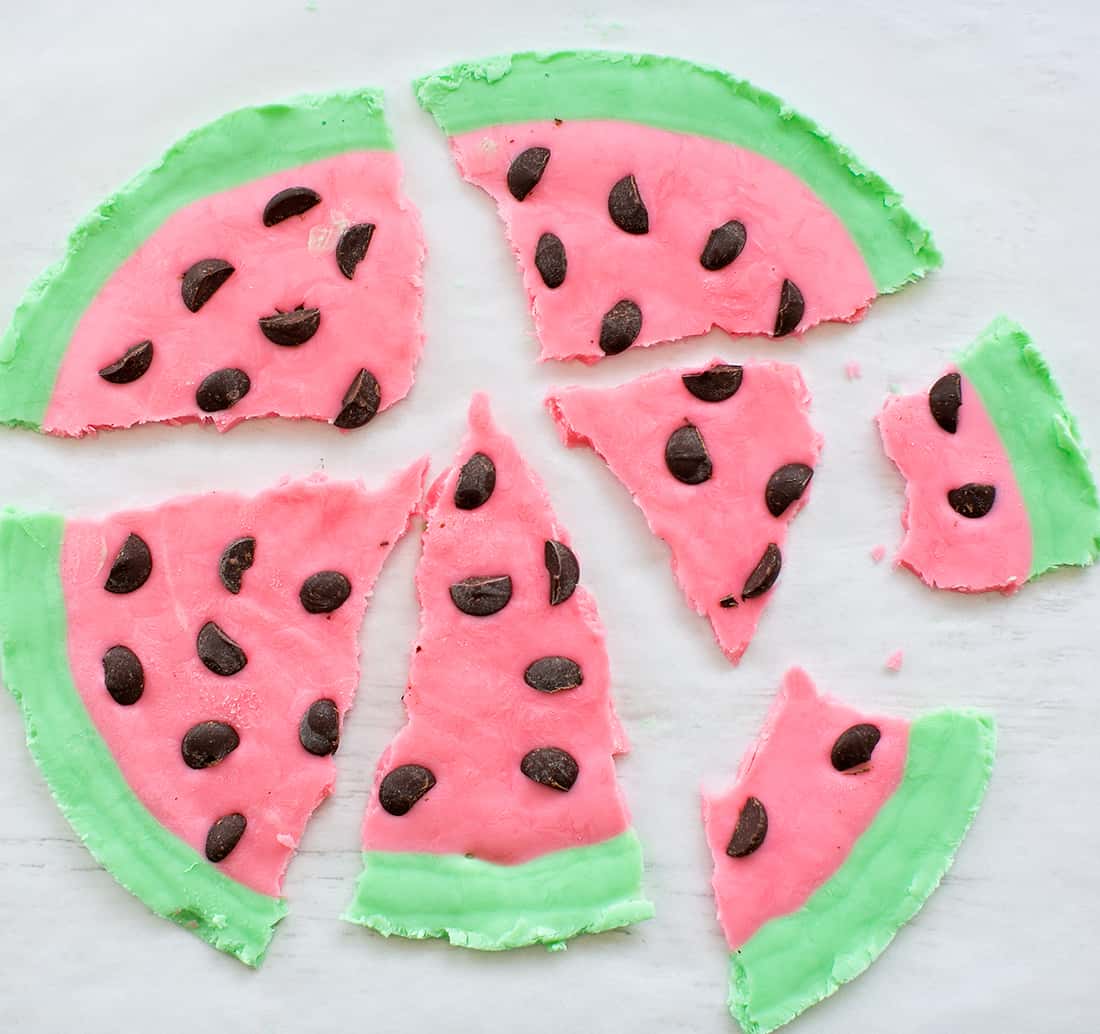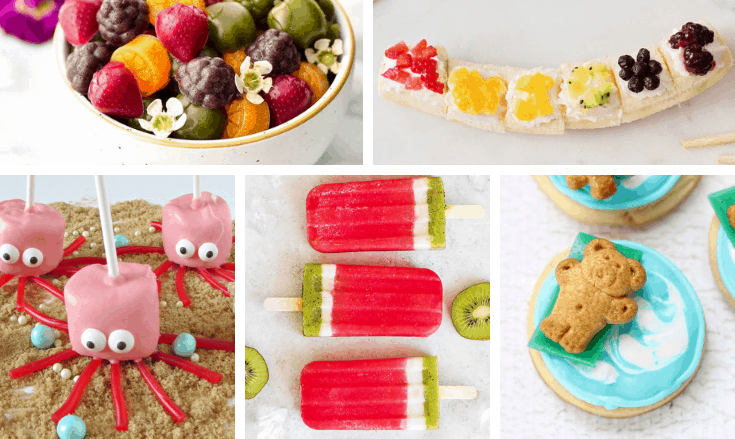 Summer is all about the fun and summer snacks for kids should be fun too. We gathered the cutest summer snacks for kids that we could find and put them all in one place for you.
If you're looking for a healthy snack for the kids, we have plenty of those, but you'll also find some special sweet treats. Even your pickiest eater will love these snacks!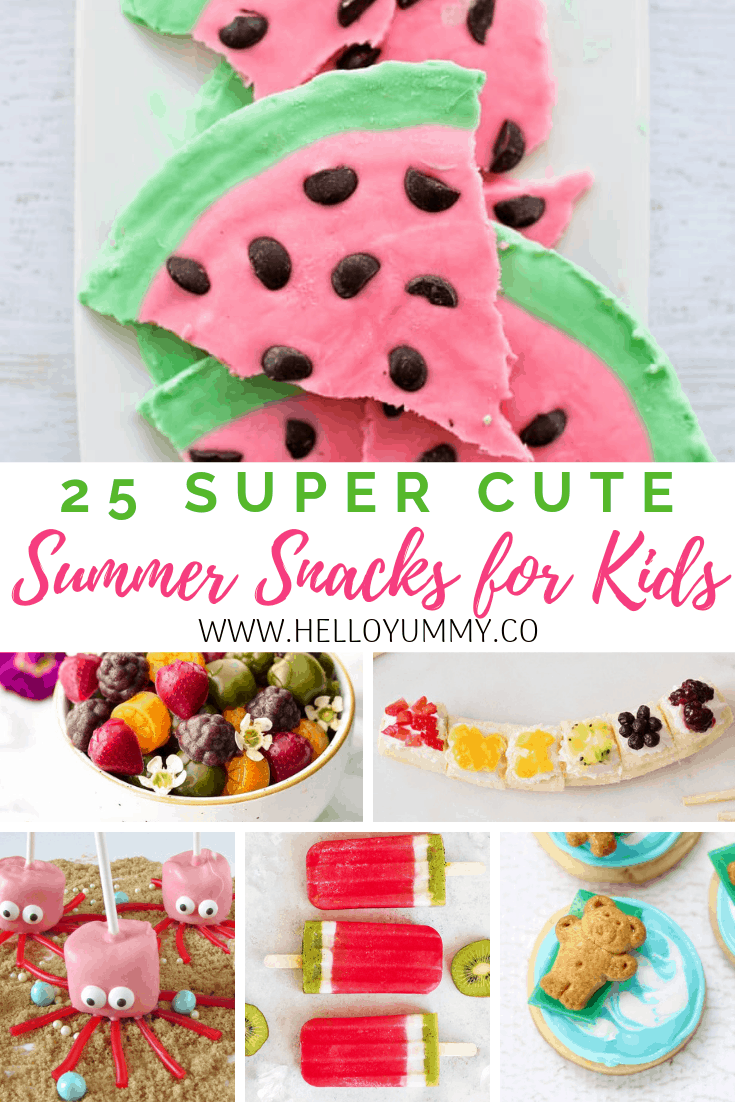 Make these cute, easy, and mostly healthy summer snacks for kids to keep them happily playing and eating all summer long!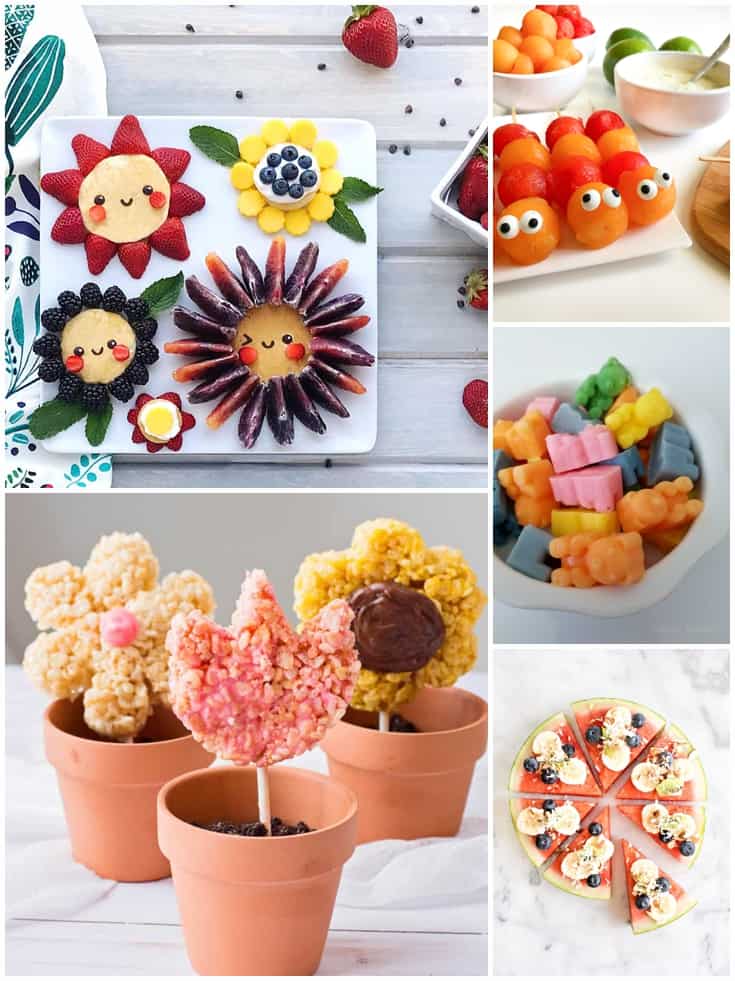 Flower Rice Krispies Treats – Surprise someone special with a colorful edible bouquet of yummy and sweet potted flower rice krispies treats!
Frozen Yogurt Bears and Dots – Rainbow Yogurt Bites are such a fun and colorful treat that the kids won't know they're healthy! Obviously you can make them in any shape, but these bears are the cutest!
Spring Flowers Pancakes – Get the kids involved in these super cute fruit and yogurt pancakes! They can help decorate the pancakes with their favorite fresh fruit, more yogurt, and even some chocolate!
Caterpillar Summer Fruit Kabobs With Easy Yogurt Dip – Fruit kabobs are always a hit with kids, and an easy yogurt fruit dip to go with it makes these adorable caterpillars even more fun. Your kids will love dunking their kabobs in the creamy yogurt dip.
Watermelon Fruit and Nut Pizza – Spruce up your watermelon this summer with additional fruits and nuts. You can pretty much add any of your favorite toppings to this healthy "pizza" kids will love snacking on.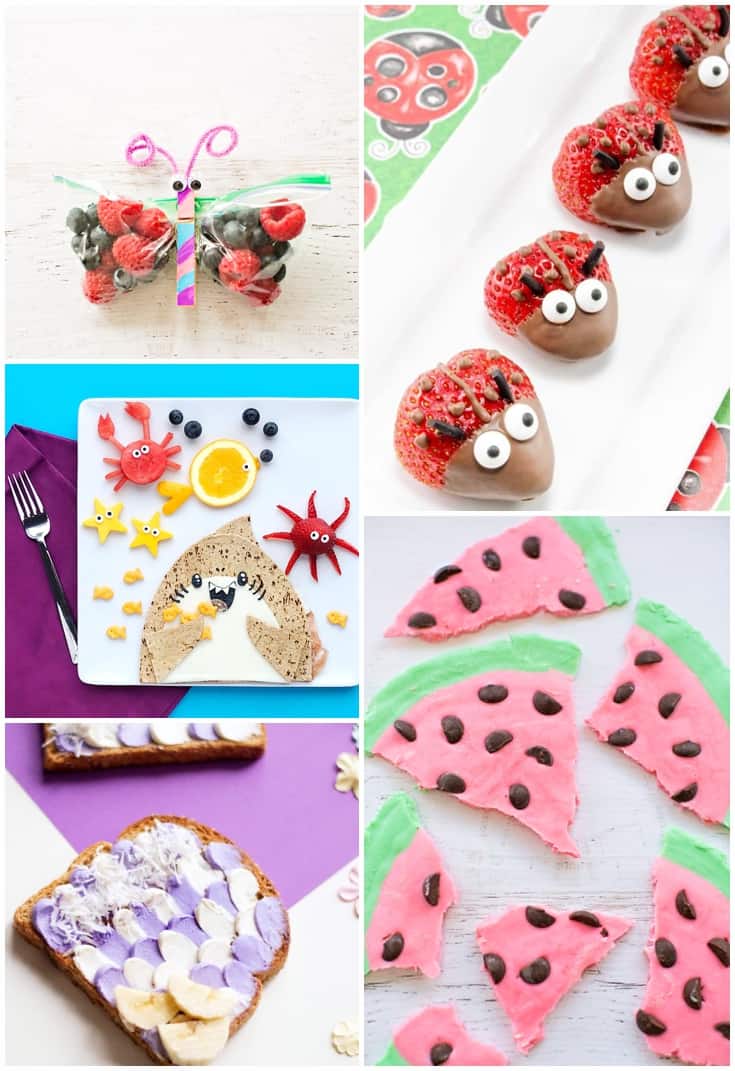 Mermaid Toast – This mermaid toast would be the perfect snack for a mermaid lover! I love that it's made with cream cheese, but looks like frosting!
Easy Watermelon Yogurt Bark – Watermelon just screams summer! This yogurt bark looks just like the real deal!
Butterfly Snack Bags – These Butterfly Snack Bags are the perfect way for kids to eat a healthy snack. They are perfect to send off to camp in the lunch box or store in the fridge for grab and go snacking.
Strawberry Ladybugs – These adorable chocolate covered strawberry ladybugs are the perfect treat for your next summer party. Fruit and chocolate are always a good idea and the candy eyes really make them pop!
Cute & Easy Shark Sandwich Lunch – The kids won't be afraid of this shark! It can easily be customized with your favorite ingredients and personality. It pairs swimmingly with a simple sea creature fruit salad and baby goldfish crackers for a truly fintastic meal.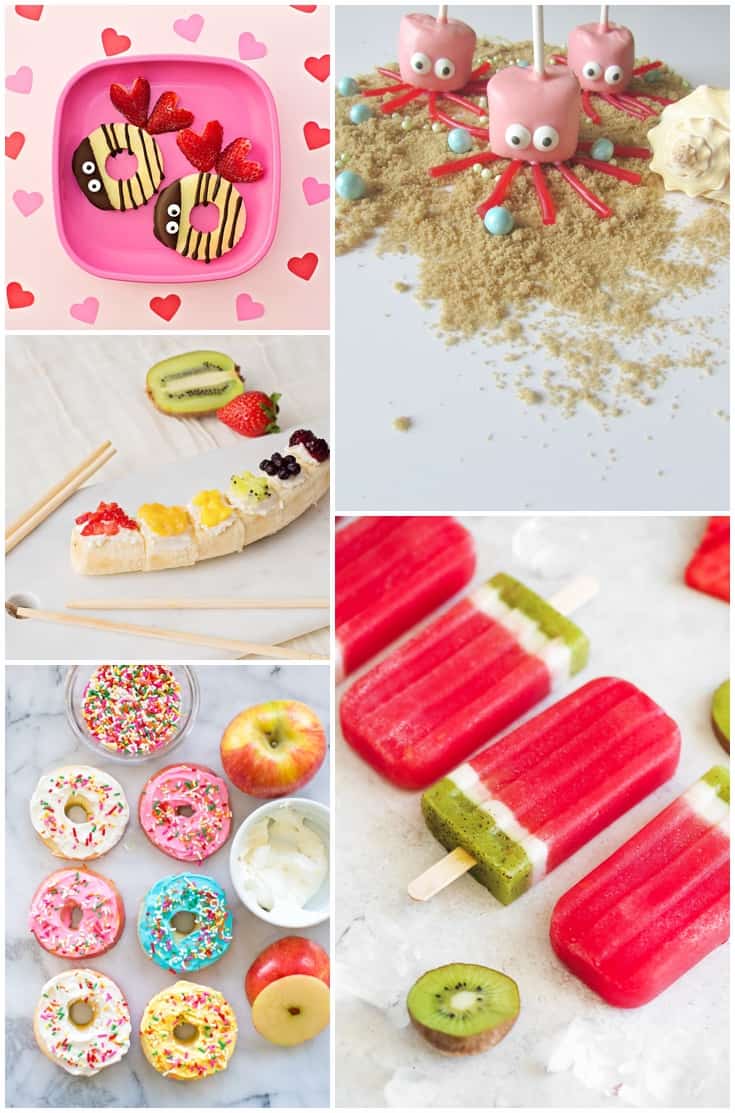 Jellyfish Marshmallow Pops – If you don't think jellyfish are cute, you need to see these! They are super easy to make and adorable for an under the sea or mermaid party.
Rainbow Fruit Banana Sushi – While the kids may not get excited about traditional sushi, I'm sure they will love this fun spin! It's a great way to "eat the rainbow" and pile on all your favorite fruits in a few bites.
Watermelon Popsicles – These delicious, adorable layered watermelon popsicles are made with the healthiest ingredients possible and are 100% natural, refined sugar-free, gluten-free, low carb, vegan.
Valentine Bee Mine Fruit Snack – Kids will love this adorable Valentine bee any time of year! It makes the perfect refreshing snack with just a bit of sweetness.
Apple Fruit Donuts – Don't worry, mom! The donuts are made of apple fruit! You can let the kids go crazy with their favorite toppings on these donuts and you're going to have trouble keeping their hands off of this easy healthy snack recipe.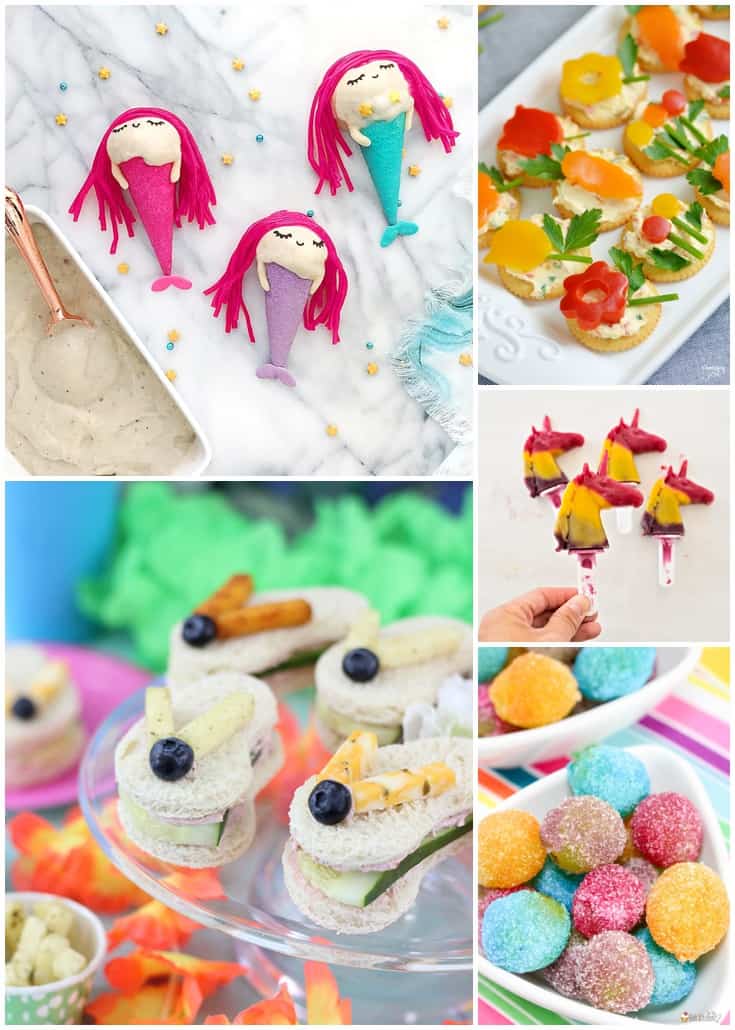 Mermaid Ice Cream – All the kids will have a blast turning this 2 ingredient nice cream into beautiful mermaids! How cute are their colorful chocolate cone tails and licorice hair?
Rainbow Jello Frosted Grapes – It doesn't get much easier than 2 ingredients! Rainbow sugared grapes are guaranteed to be a hit with both kids and grown-ups alike!
Flip Flop Sandwiches – These adorable little sandwiches (shaped like flip flops) are a fun summer play on a cucumber and cream cheese sandwich. They're topped with small cheese sticks and blueberries.
Rainbow Fruit Unicorn Popsicles – Summer is all about the popsicles, right? These Rainbow Fruit Unicorn Popsicles are a cool, colorful treat that doubles as a serving of fruits and vegetables when made from healthy homemade purees. No judgement if you serve them for breakfast.
Veggie Flowers – The kids will be gobbling up these cute little crackers that are covered in veggies! Make your own homemade vegetable cream cheese and use flower cookie cutters to add more veggies.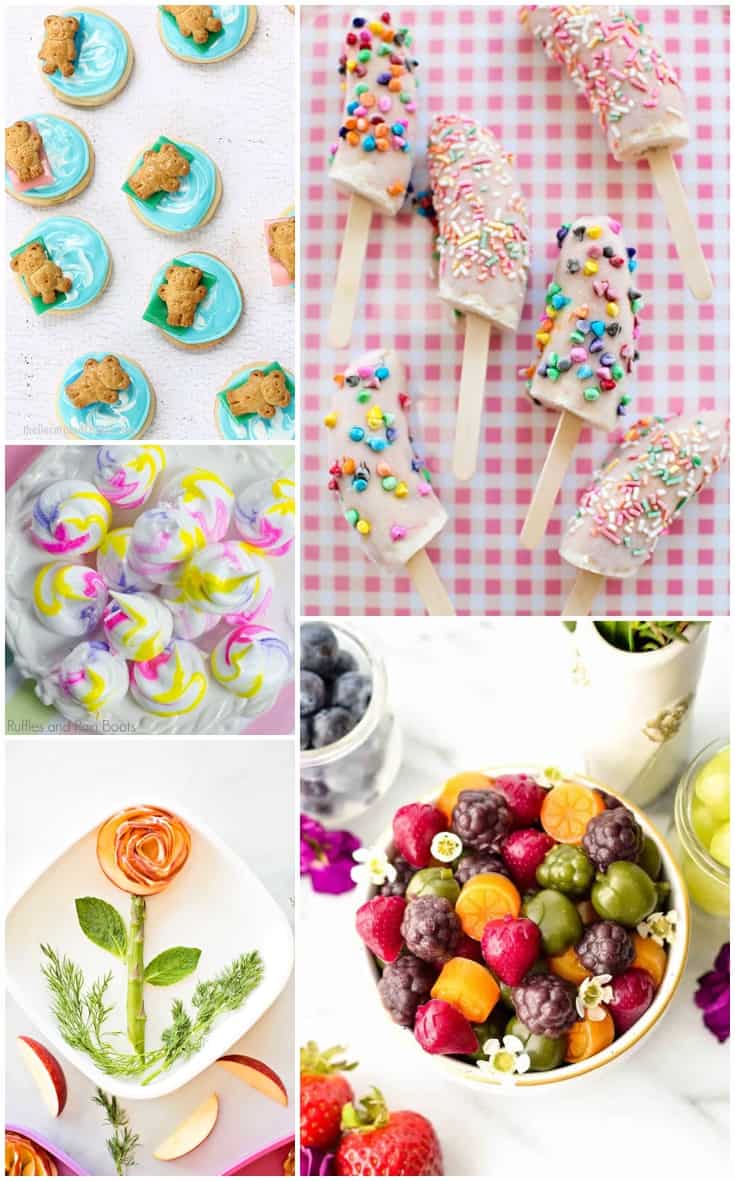 Healthy Homemade Fruit Snacks – These are not your average fruit snacks people! They are made with whole fruits and vegetables! Plus they are paleo with no refined sugar, and have a whopping 45 grams of protein per batch!
Apple Roses – I wanted to keep things simple and cute, so we dressed up these roses with some veggies to look like real roses.
Pool Party Cookies – These sweet little teddies know how to get their summer on. They're perfect for a fun summer dessert.
Fruit Squeezer Frozen Banana Pops – These frozen banana pops are great frozen treat for summer. We love sneaking in extra fruit so the coating is made from a fruit squeezer. Add a dash of sprinkles and you've got a yummy kid-approved treat that just the right size to handle for kids.
Easy Unicorn Meringues -With this simple recipe for unicorn meringues, you'll be the hit of any party or get-together this summer.
What are your favorite summer treats?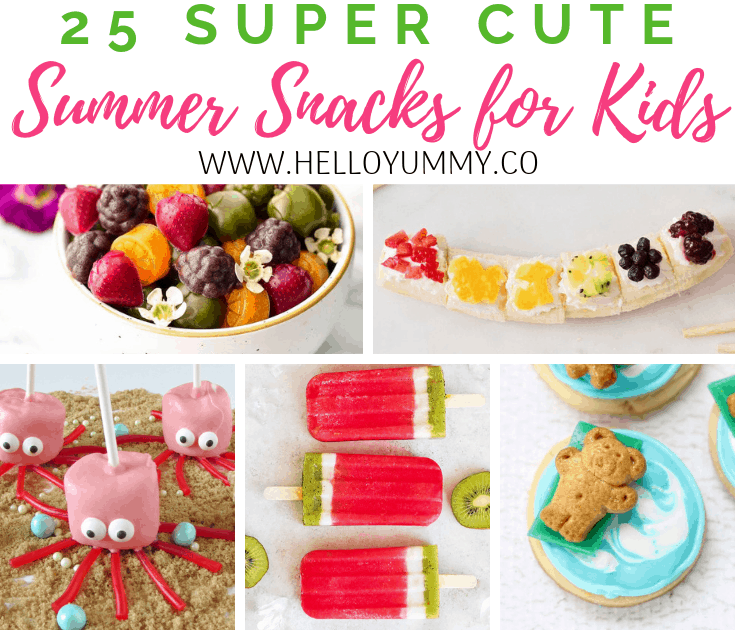 Also check out more cute foods for kids!