By using this site, you agree to our Terms of Use. This post may contain affiliate links. Read our disclosure policy.
Follow us on Instagram for more fun food ideas for kids!
Here's how to make the viral TikTok Yogurt Custard Toast that's trending all over your FYP (for your page) feed.
We're always game to try the latest TikTok food trends as they haven't disappointed yet. Our favorites are the genius baked feta pasta, delicious salmon rice and most recently the ultra viral Green Goddess salad. Now Yogurt Custard Toast is currently trending on TikTok and looked really tasty so we decided to try it for ourselves. Breakfast, or breakfast for lunch or dinner, either way, this Custard Toast food hack is a win! It's so easy to make and will have the kids rushing to the breakfast table in the morning.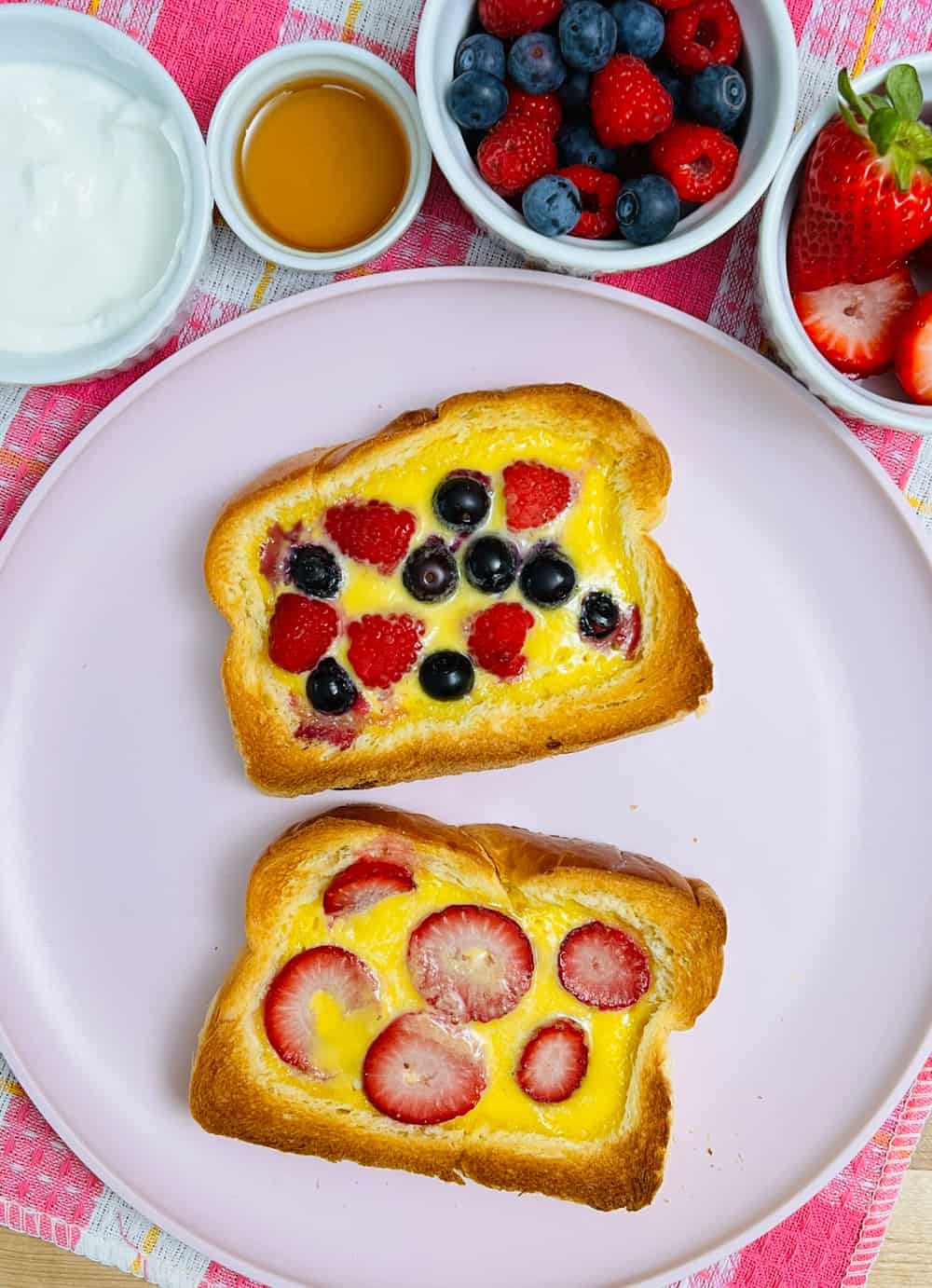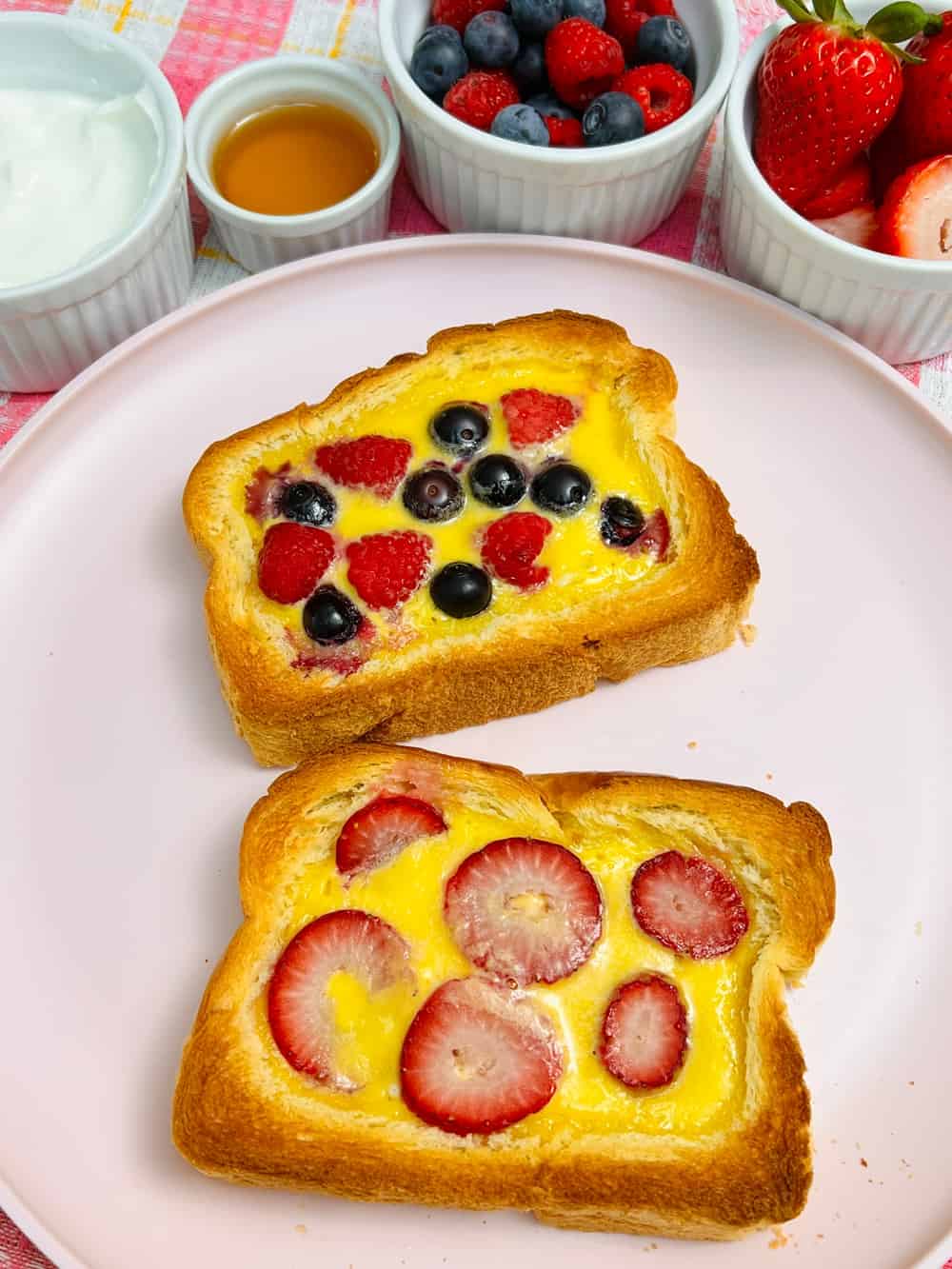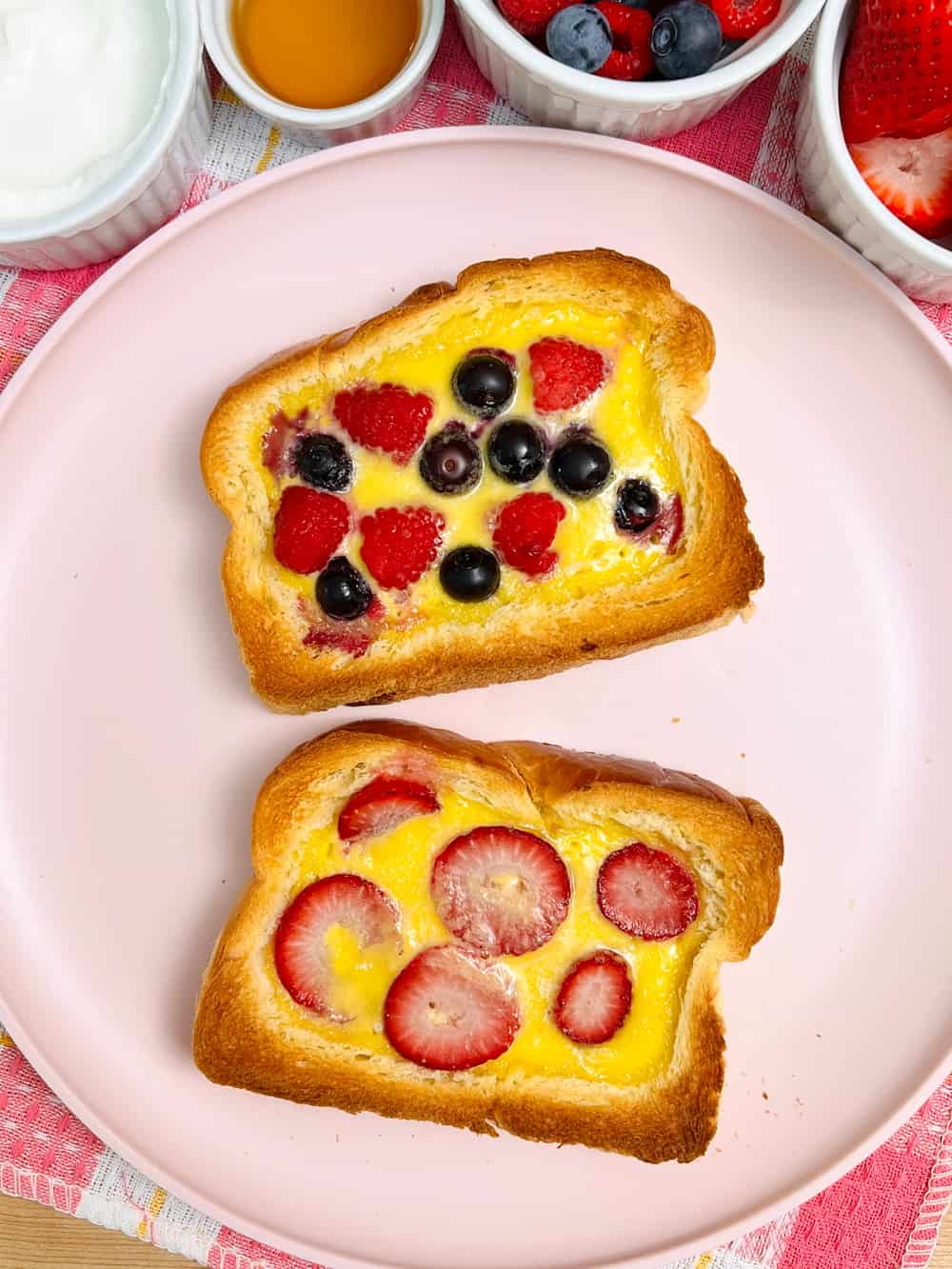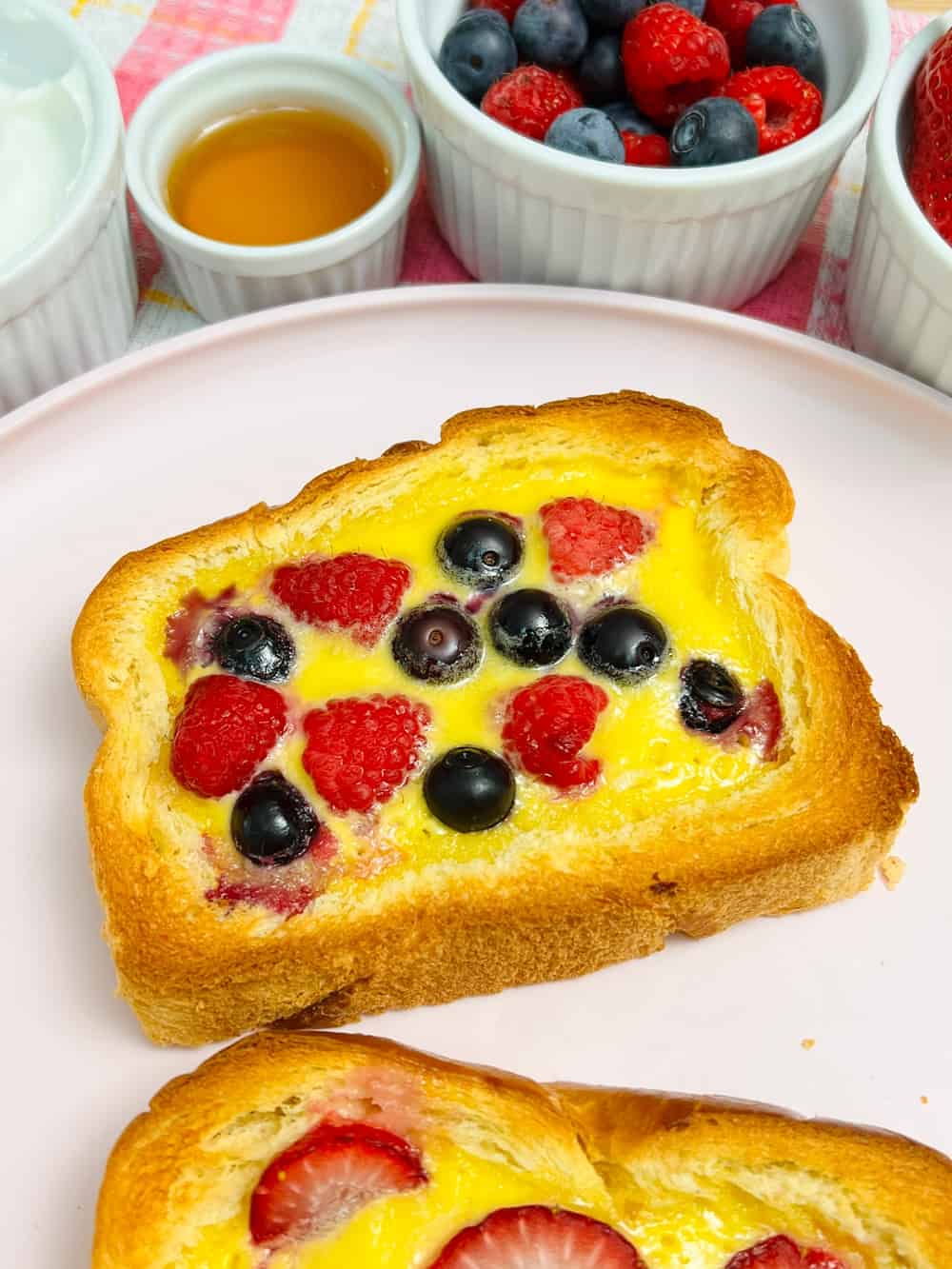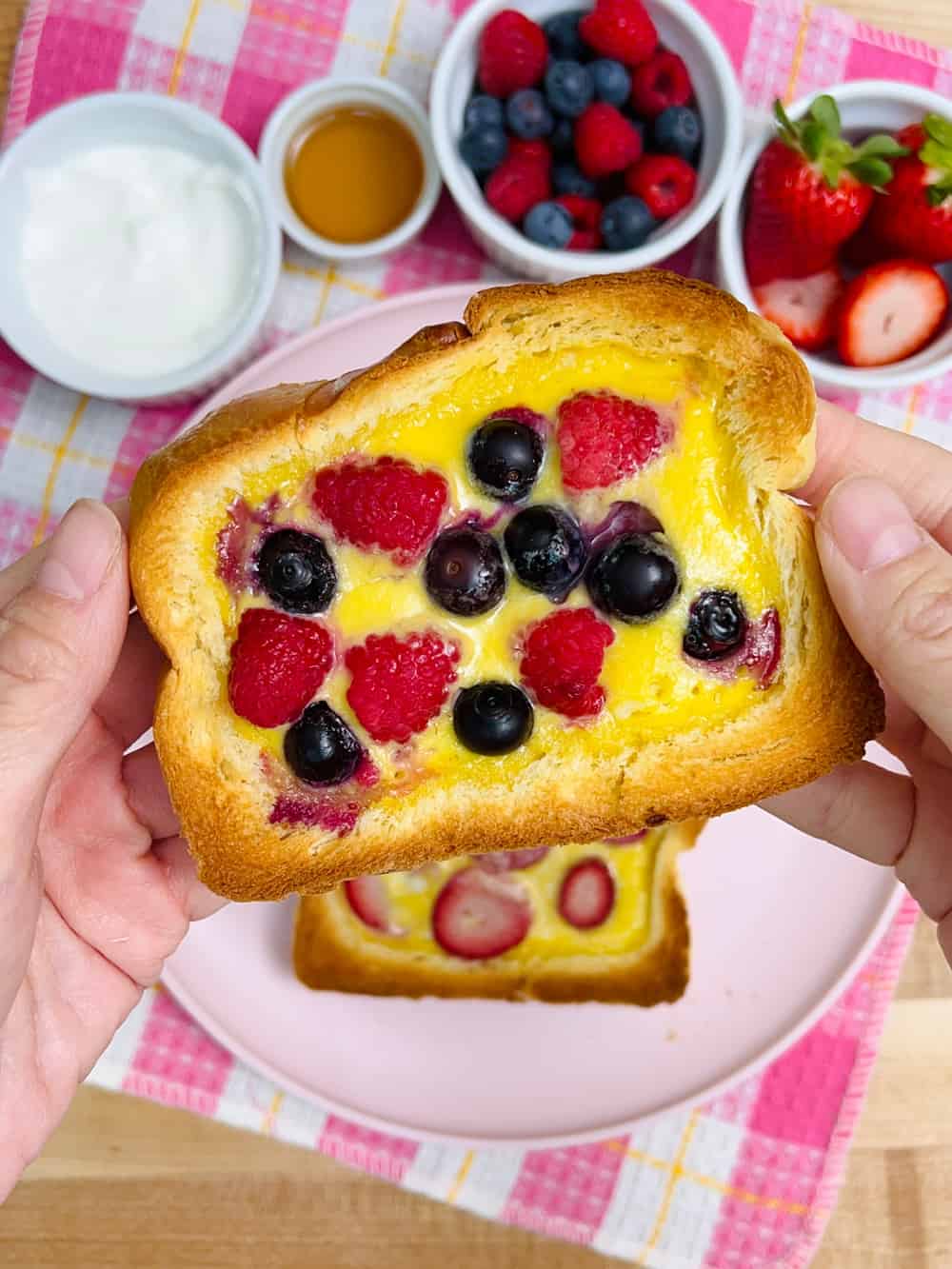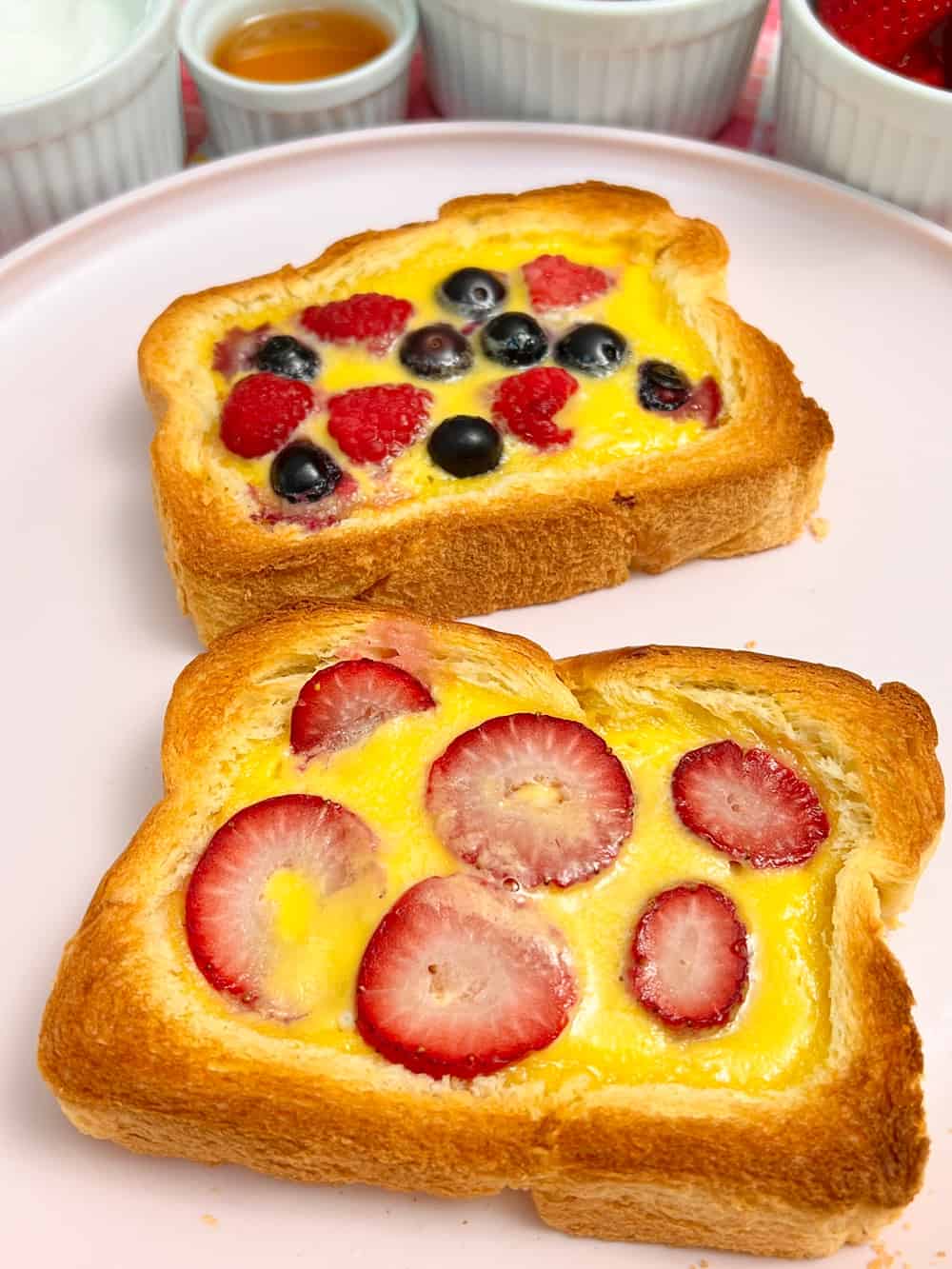 What is Custard Toast?
Yogurt Custard Toast is the latest in viral food TikTok trends. While avocado toast is also delish and definitely worth all the hype, this simple new custard toast ranks right up at the top for an easy, healthy, and delicious breakfast.
The custard toast is a piece of bread with a custard filling in the center, and then topped with your favorite fresh fruit. Baked and ready to enjoy! I would agree with some of the other online reviews as well, I think the quality and type of bread takes this recipe to a new level of tasty.
If you've ever made custard from scratch you'll know it's not a fast and easy recipe. You often have to beat egg yolks and combine with milk and sugar over simmering heat and cornstarch to get that thick, yellow, custard-y texture. Then you have to chill at least for several hours until it's nice and cool to pipe or spread as a topping or on desserts.
This easy yogurt custard makes it so simple to make a custard-like toast. We used brioche to make it reminiscent of those cream custard danish pastries you get at fancy French bakeries!
Who was the TikTok user inspiration behind the viral new Custard Toast recipe?
Although so many have tried it and resposted as well, @sweatspace also known as Mike Martin on TikTok, has 3.5 million views for his Mixed Berry Custard Yoast (Toast). The simplicity and deliciousness of the recipe is what has people trying it for themselves. The hashtag #CustardToast is currently trending at 3.6MM at the time of this writing.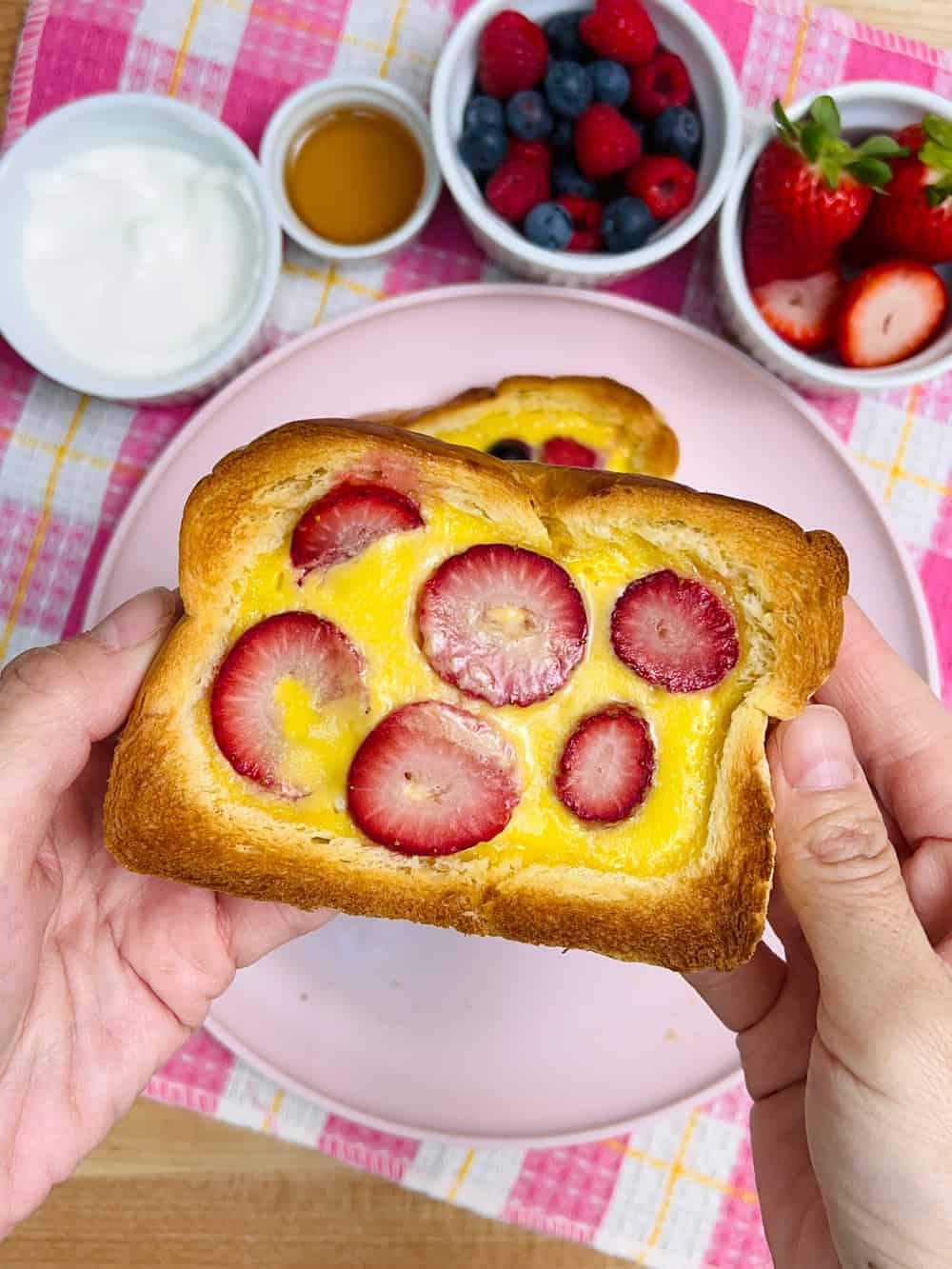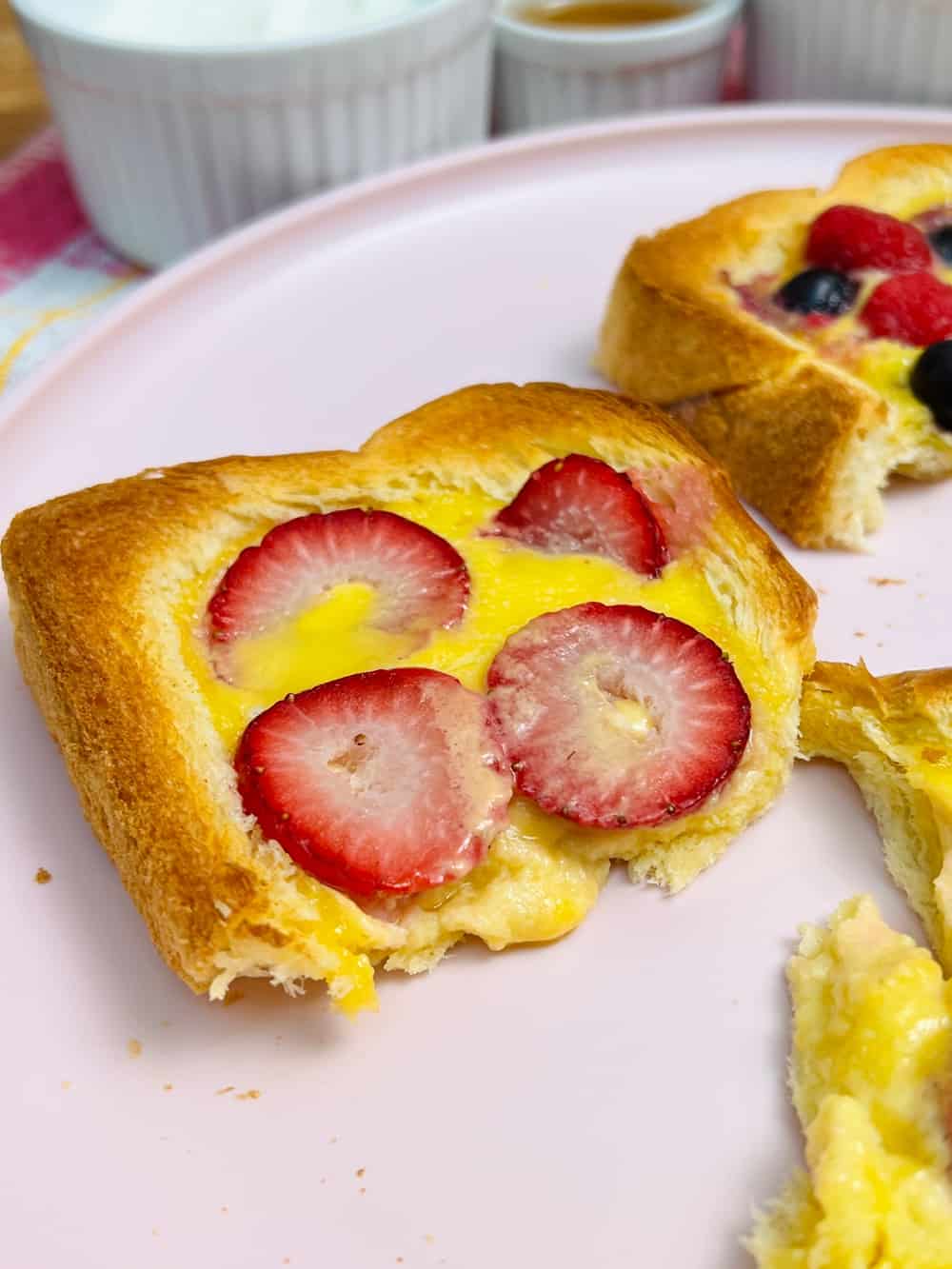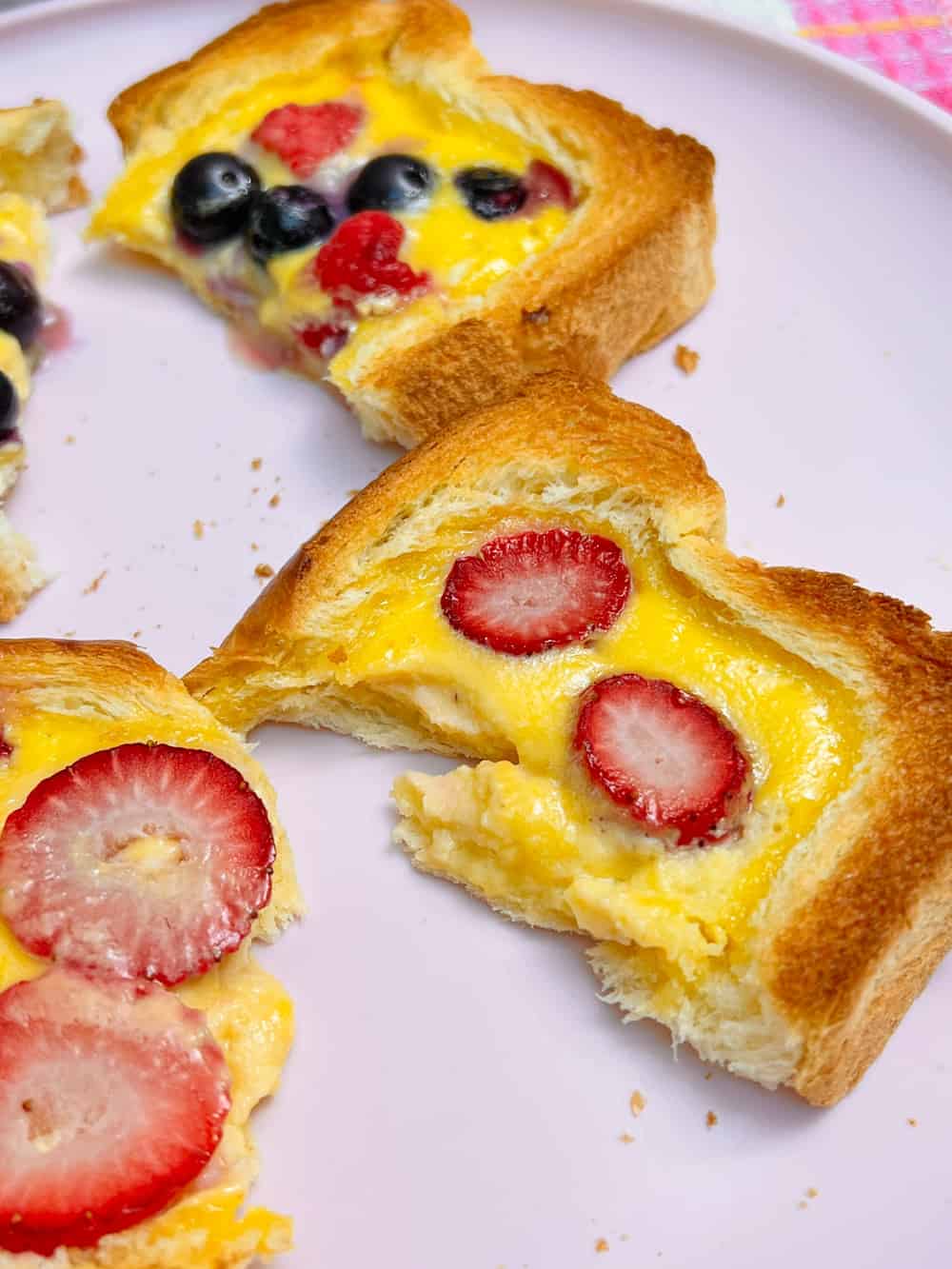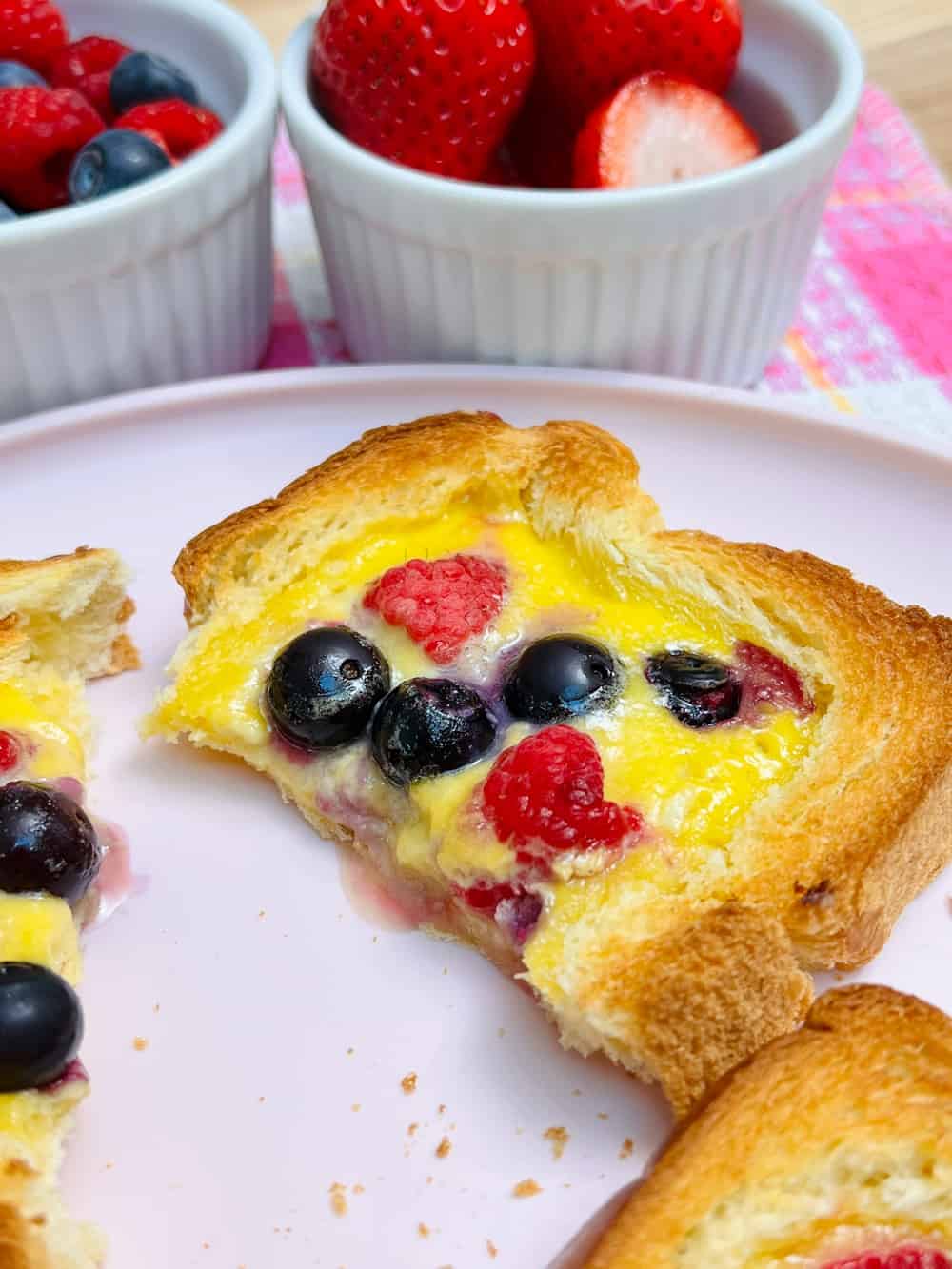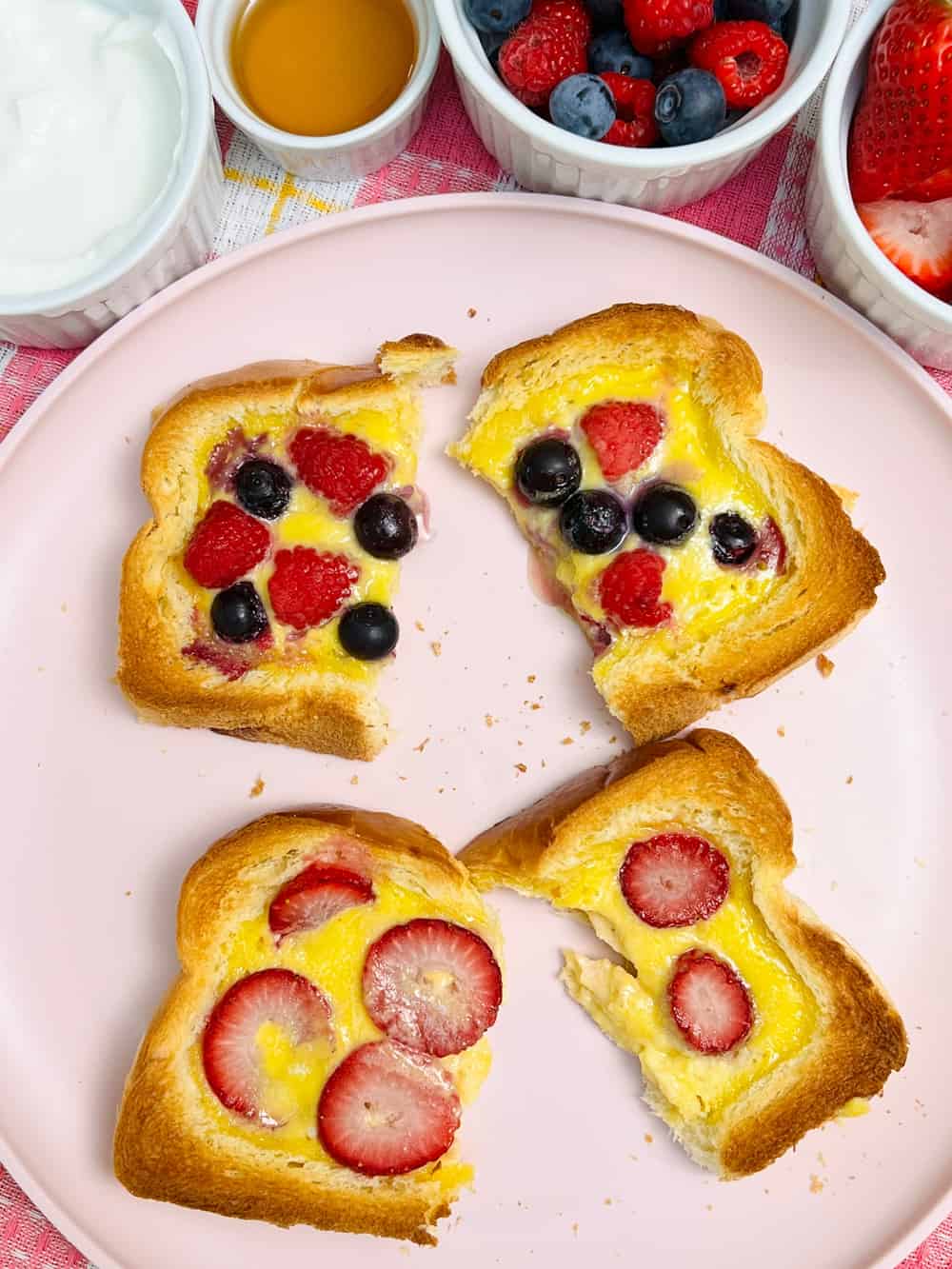 How do you make Yogurt Custard Toast?
In a small bowl, whisk together Greek yogurt, egg, and honey to make your custard. For the bread, use a good crusty artisan slice, sourdough, whole grain slice, or brioche. Flatten out the slice of bread with the back of a spoon or fork.
Slowly pour the custard on top of the bread and top with fruit. Place in the toaster oven at 350 degrees for 15-20 minutes. Another option is to cook it in the air fryer at 350 degrees for 8-10 minutes.
Yogurt Custard Toast Ingredients:
Egg
Greek Yogurt
Honey
Bread
Fruit Toppings: blackberries, strawberries, blueberries, or raspberries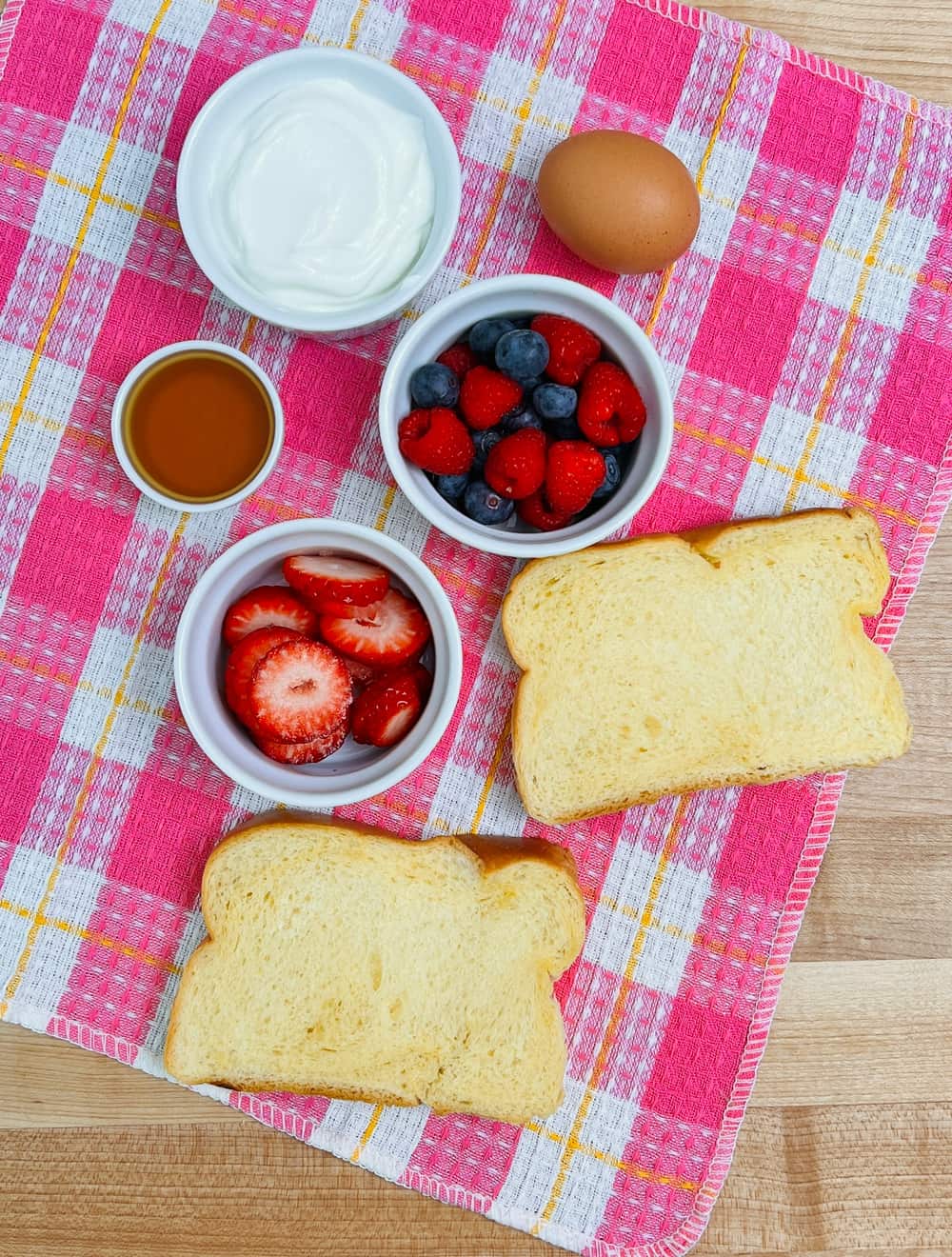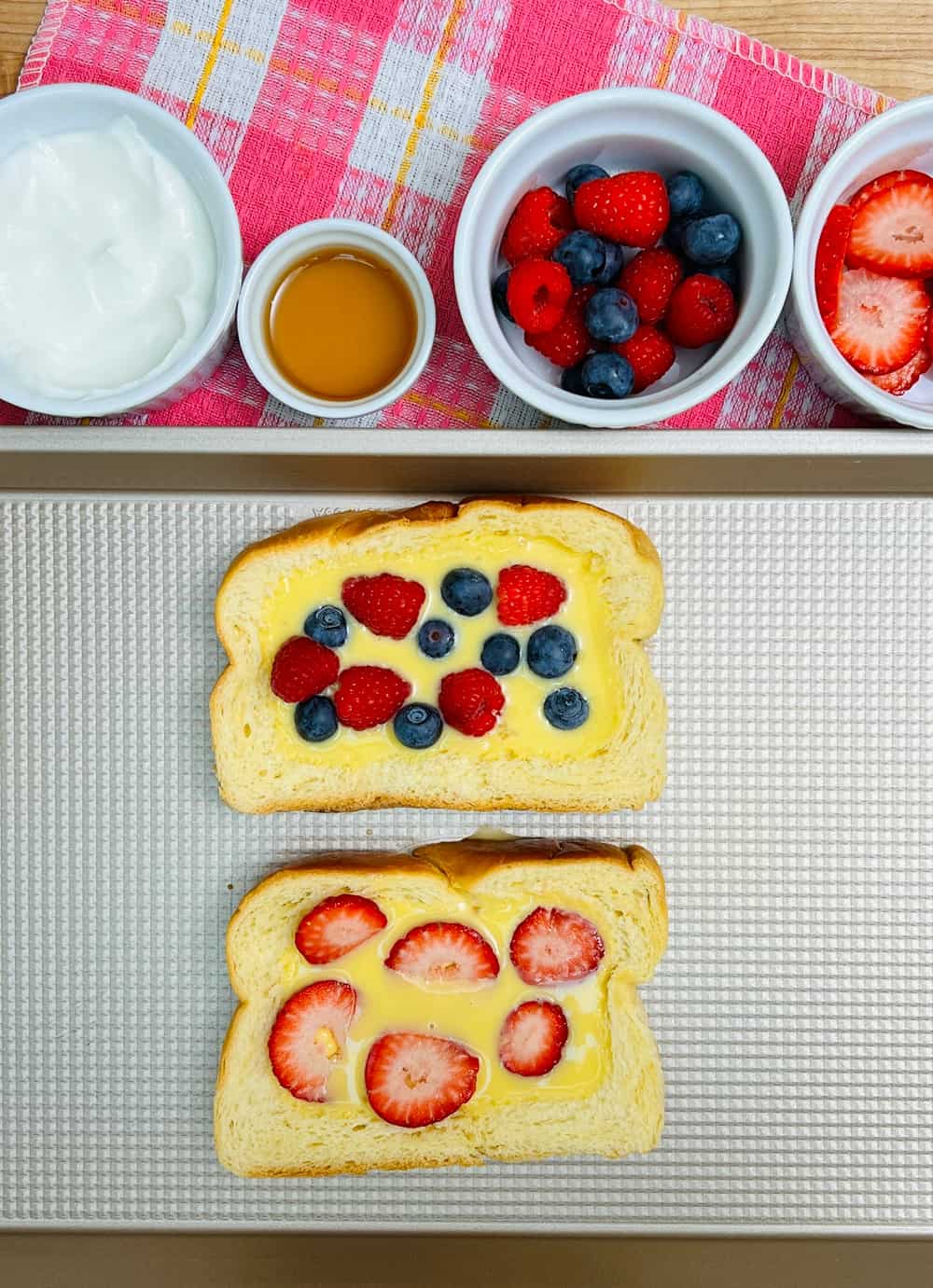 What can I add to this Custard Toast recipe?
There are so many ways you can change the flavor of this breakfast or snack. Use your favorite flavor of yogurt, plain, greek, even a dairy-free alternative. Instead of honey, try maple syrup.
Bread options are also somewhat unlimited, including artisan, sourdough, whole grain, or brioche like we used.
Fruit options are unlimited. Sprinkle with powdered sugar or even a dash of cinnamon. Or eat them like pancakes with maple syrup drizzles or Belgian waffles with whipped cream topping.
RECIPE INSTRUCTIONS
Watch the video in this post to watch how to make this custard toast.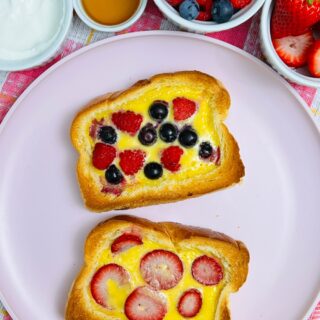 TikTok Yogurt Custard Toast Recipe
Here's how to make the viral TikTok Yogurt Custard Toast that's trending all over your FYP (for your page) feed.
Ingredients
1

Egg

1

Tablespoon

Greek Yogurt

we used full fat, but you can use lowfat

2

Teaspoons

Honey

2

Pieces

Brioche Toast

Berries like sliced strawberries, blueberries, or raspberries
Instructions
Preheat oven to 350 degrees

Combine the yogurt, honey and egg, beat with a whisk until mixed well.

Take a flat spoon and flatten around your bread leaving the crust intact around it.

Lay toast on a baking pan. Evenly pour your custard filling in the two pieces of toast.

Bake in an oven or toaster oven for 15-20 mintues or until the center of egg custard is not jiggly anymore.
Notes
If your toast is starting to get too brown at the edges (crust) but custard not finished cooking you can either:
Take foil and wrap around crust alone and continue baking until custard is set
Reduce oven temperature and bake longer.
Remove toast, place on a plate and microwave in small 5-10 second intervals until the middle custard part is cooked.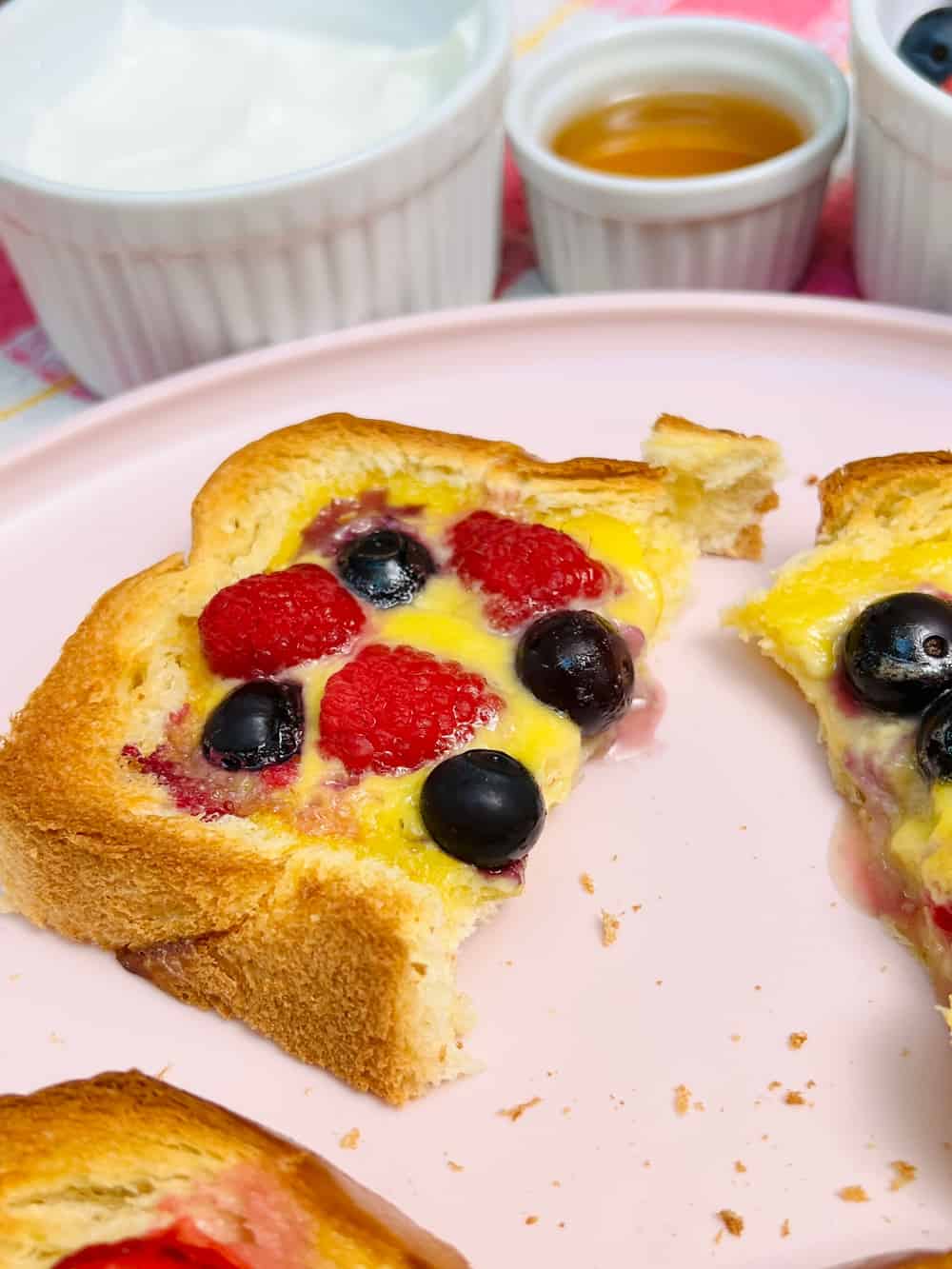 Here are some other fun TikTok Recipe Hacks to try!