By using this site, you agree to our Terms of Use. This post may contain affiliate links. Read our disclosure policy.
Follow us on Instagram for more fun food ideas for kids!
This DIY Fruit Bouquet is a perfect sweet treat! Cut down on sugars and give this delicious fresh fruit basket instead!
Don't get me wrong. I'm a fan of cupcakes and cakes and candies all day long. But there's something about this DIY Fruit Bouquet that draw me in, too.
I love using fruit that is fresh and in season, especially for spring because the flavors truly are out of this world. This gift is great for family and friends and is super easy to make, too. If you're ready to learn how to make fruit flowers, you're in the right place! Fresh fruit is also a yummy healthy snack for the kids!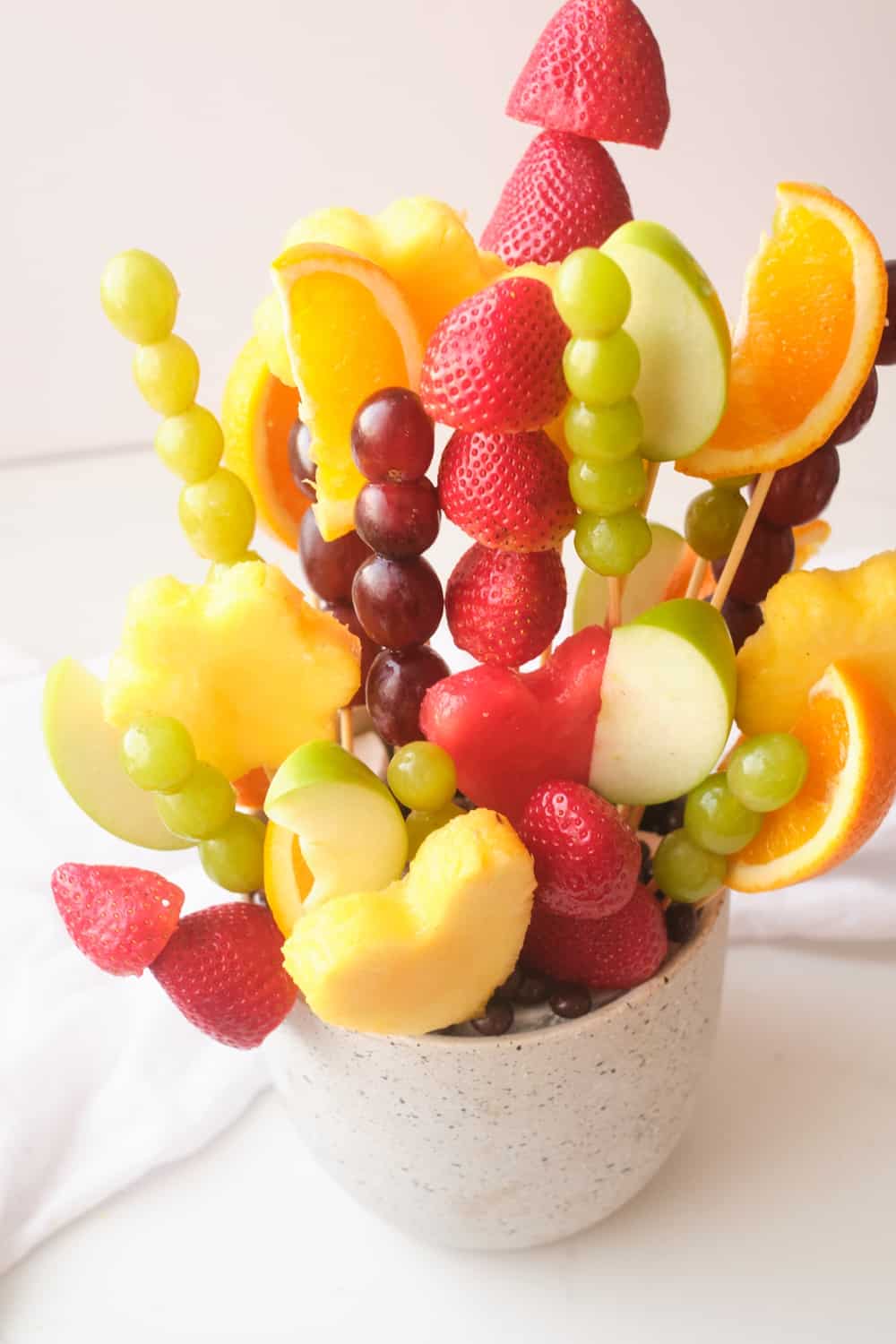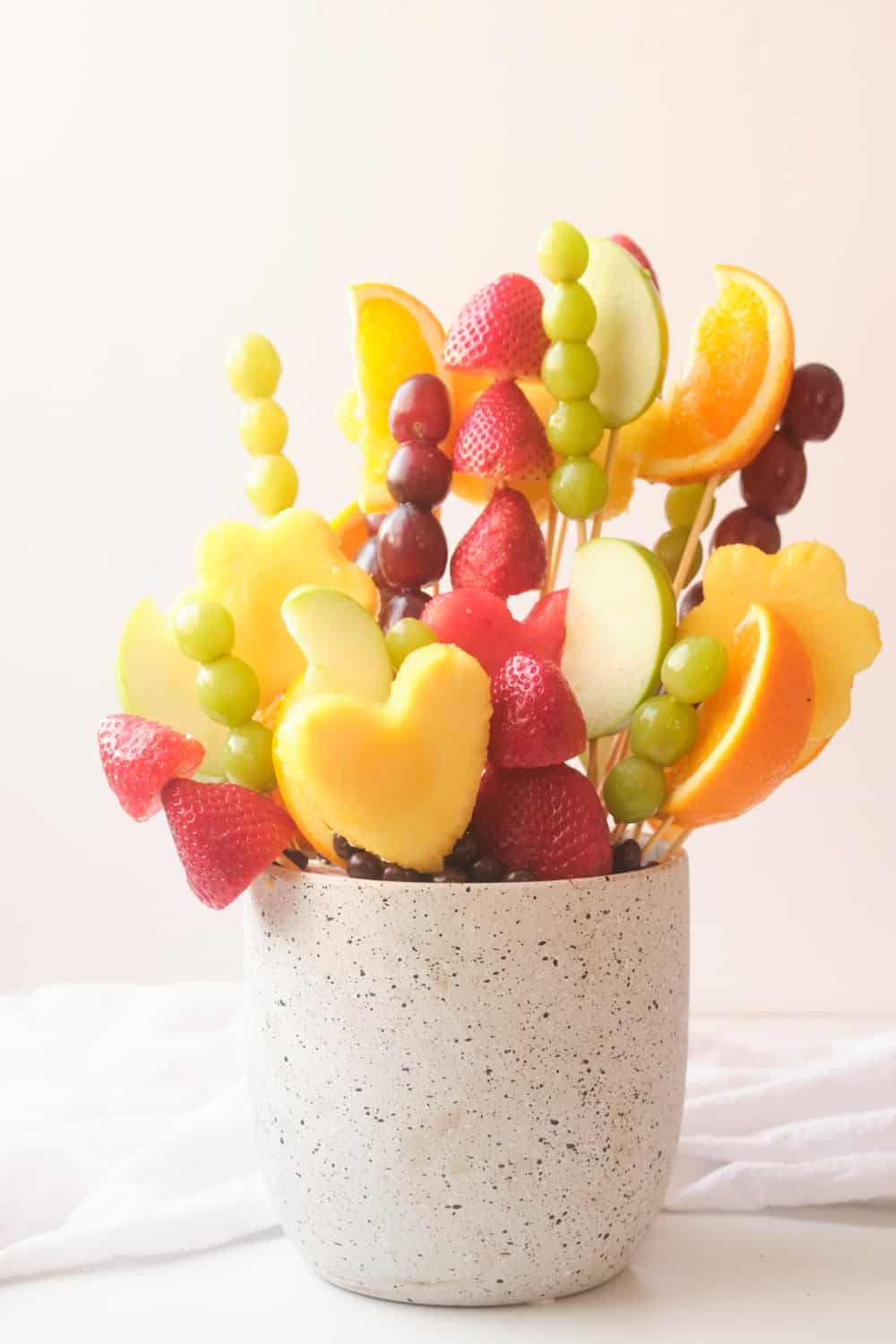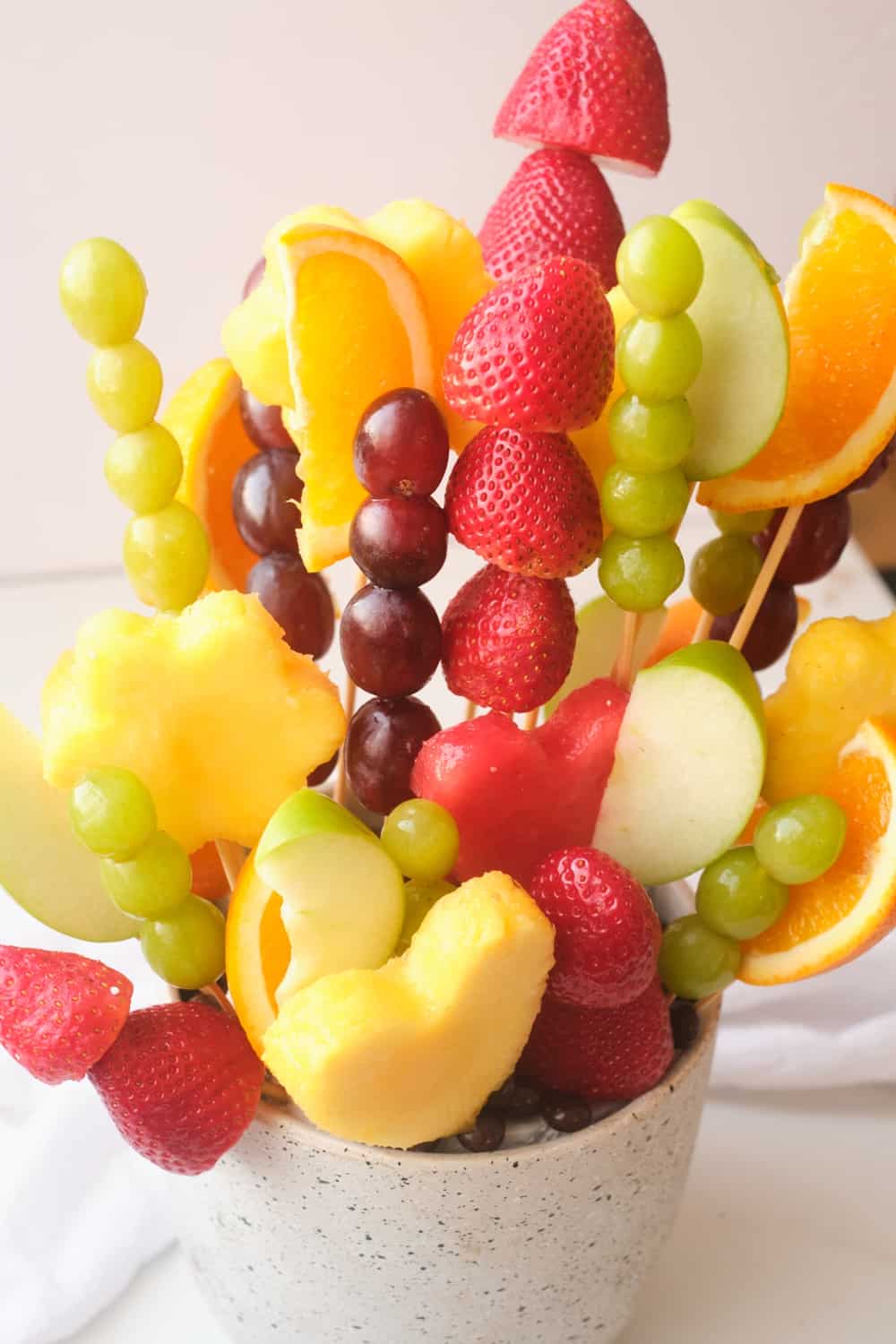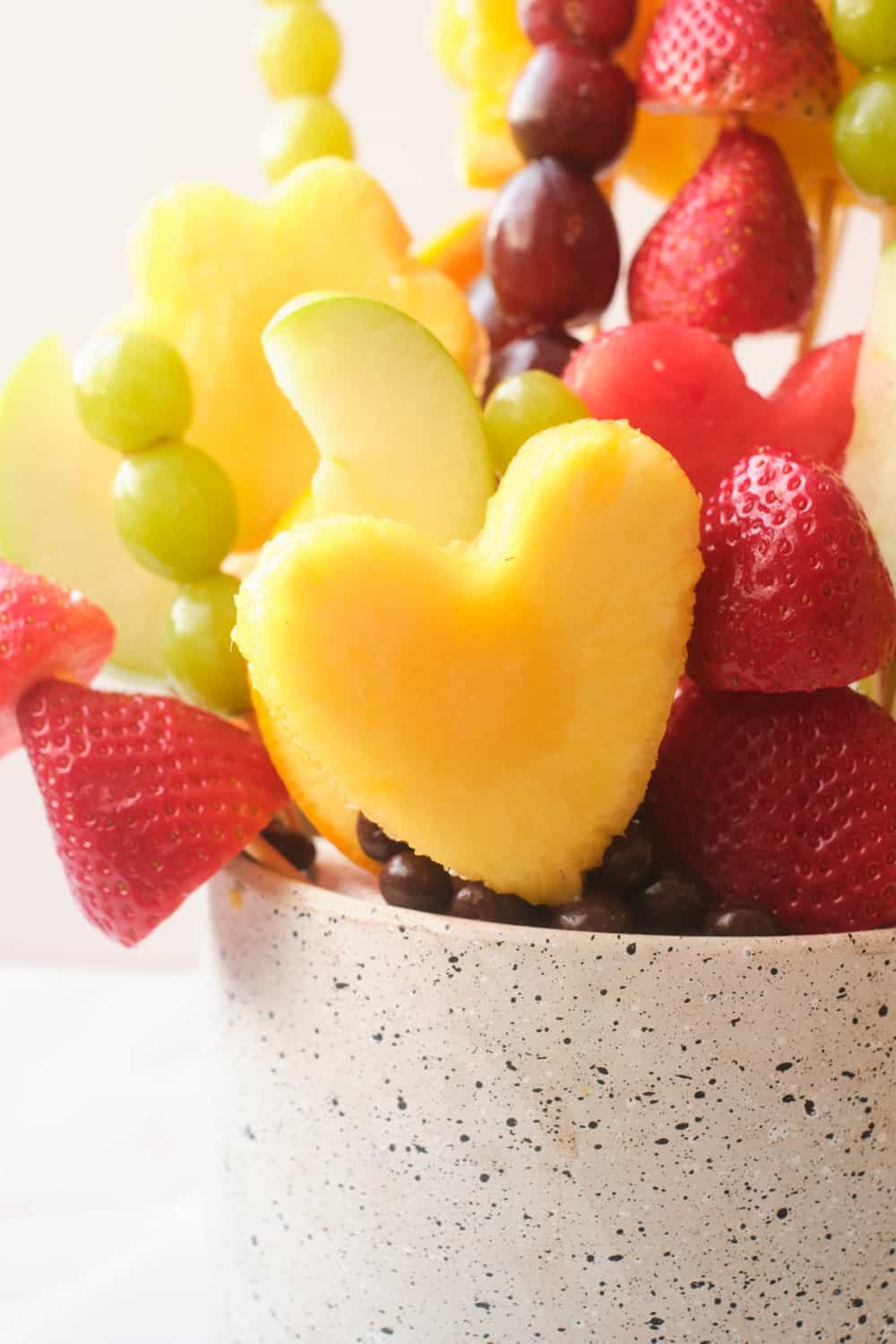 What type of fruit works best for fruit arrangements?
The biggest thing to keep in mind when adding fruit to skewers is that you want to use fruit that has a thickness to it so it'll actually stay on the skewers. Fruits like melons and grapes are great as are strawberries as well.
Can you use frozen fruit?
Nope, this recipe needs fresh fruit. Frozen fruit will unthaw and store a lot of liquid and just won't hold shape as fresh fruit will.
DIY Fruit Bouquet – Ingredients
Fruit (melon, grapes, strawberries, oranges, apples etc)
Cookie cutters
Skewers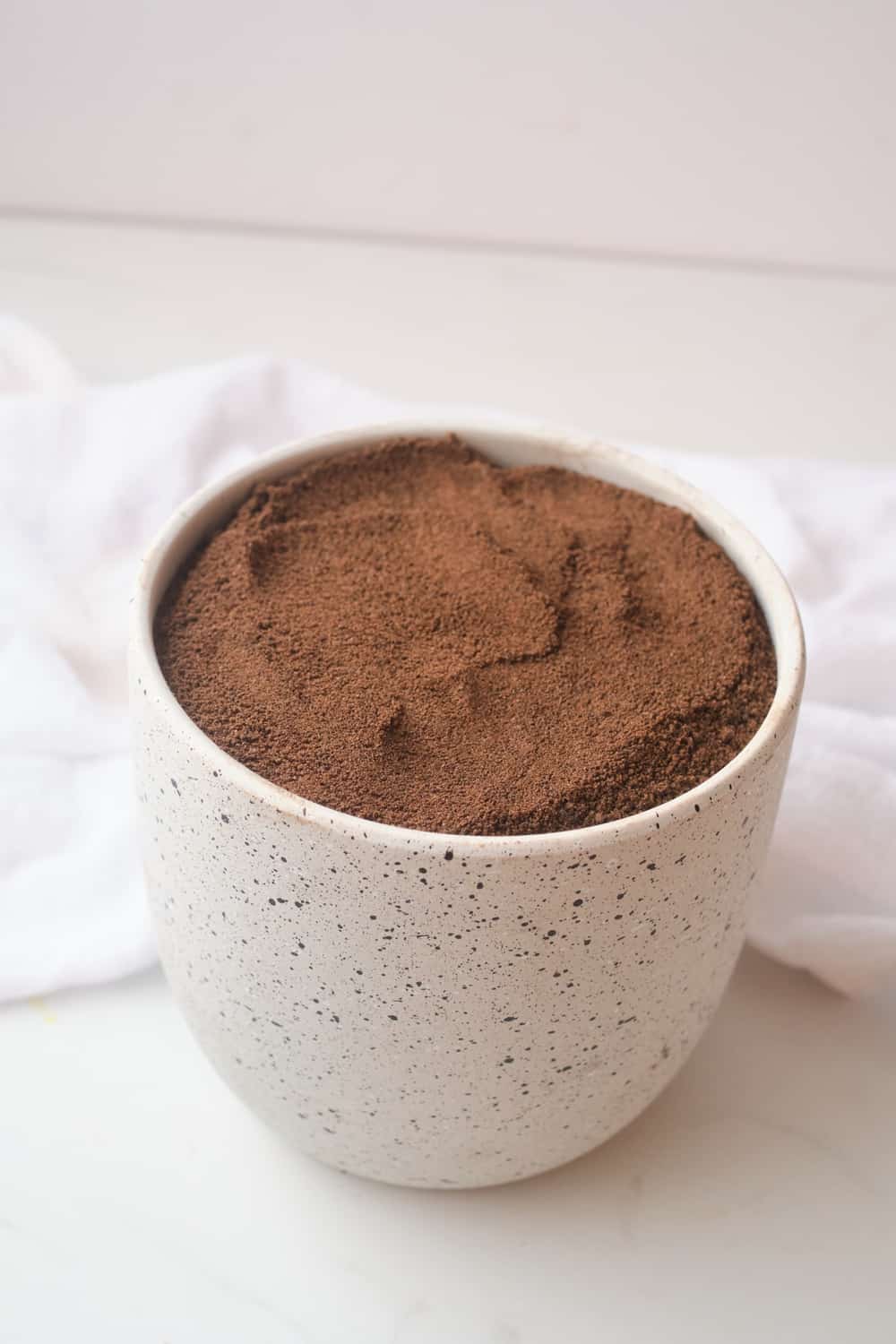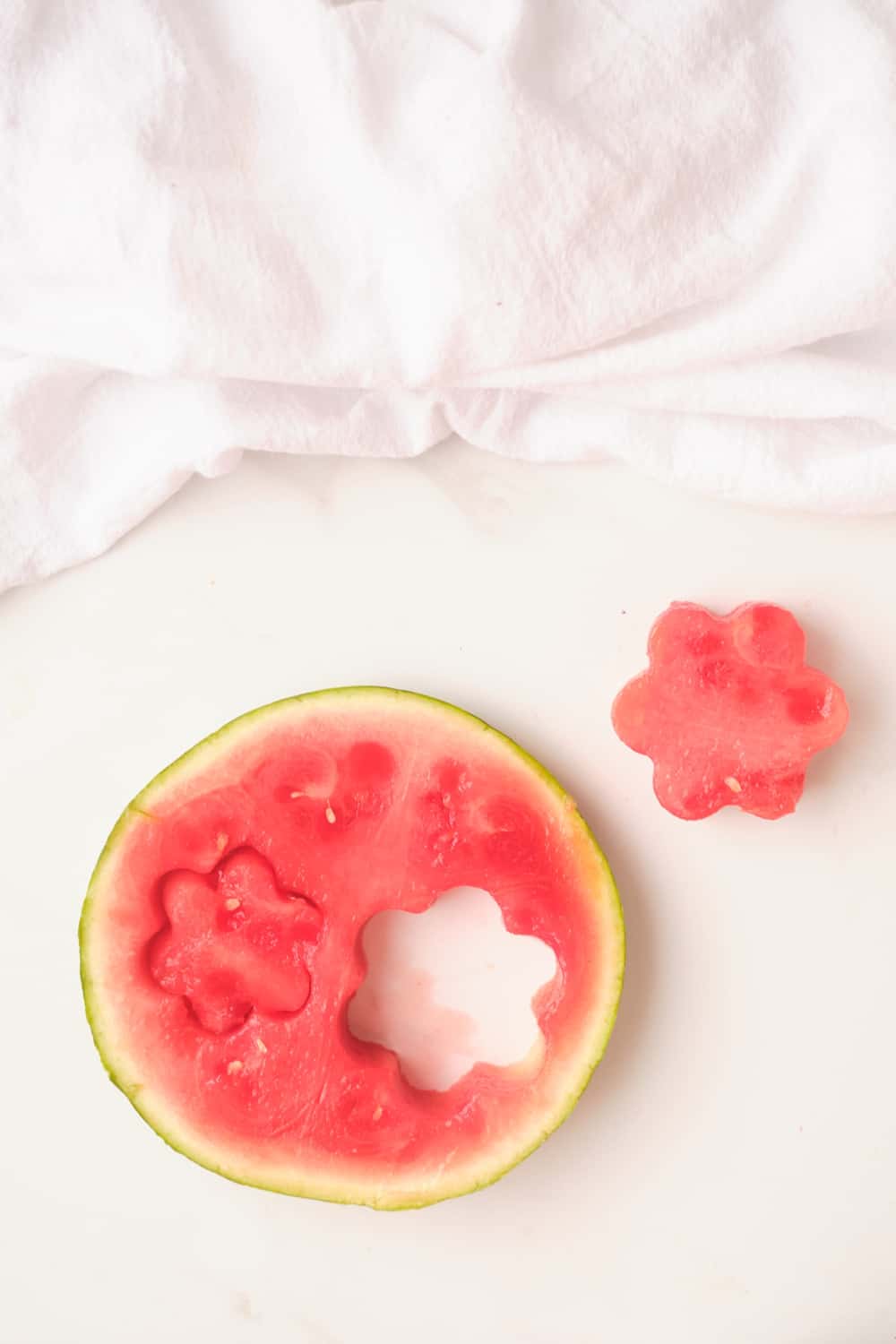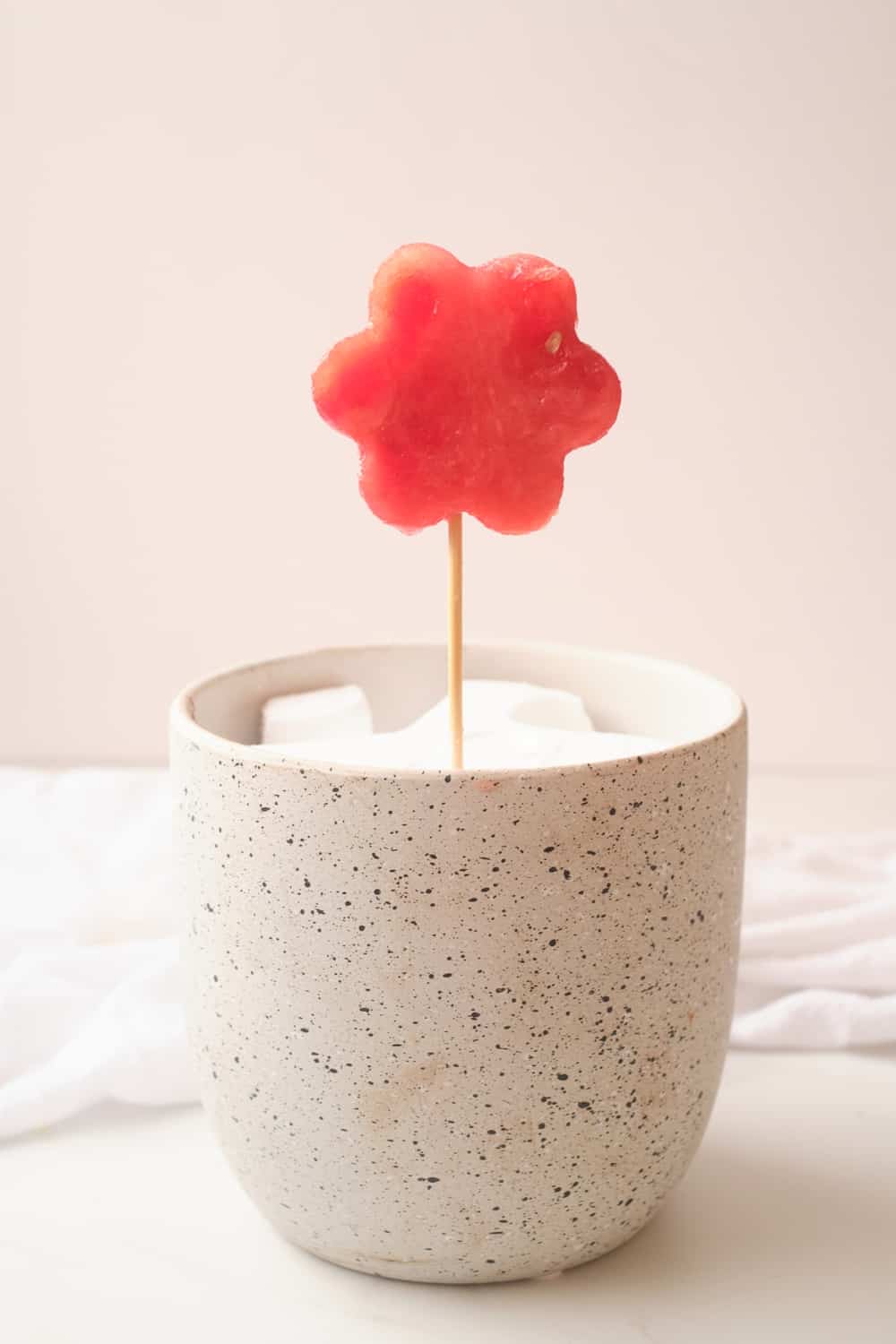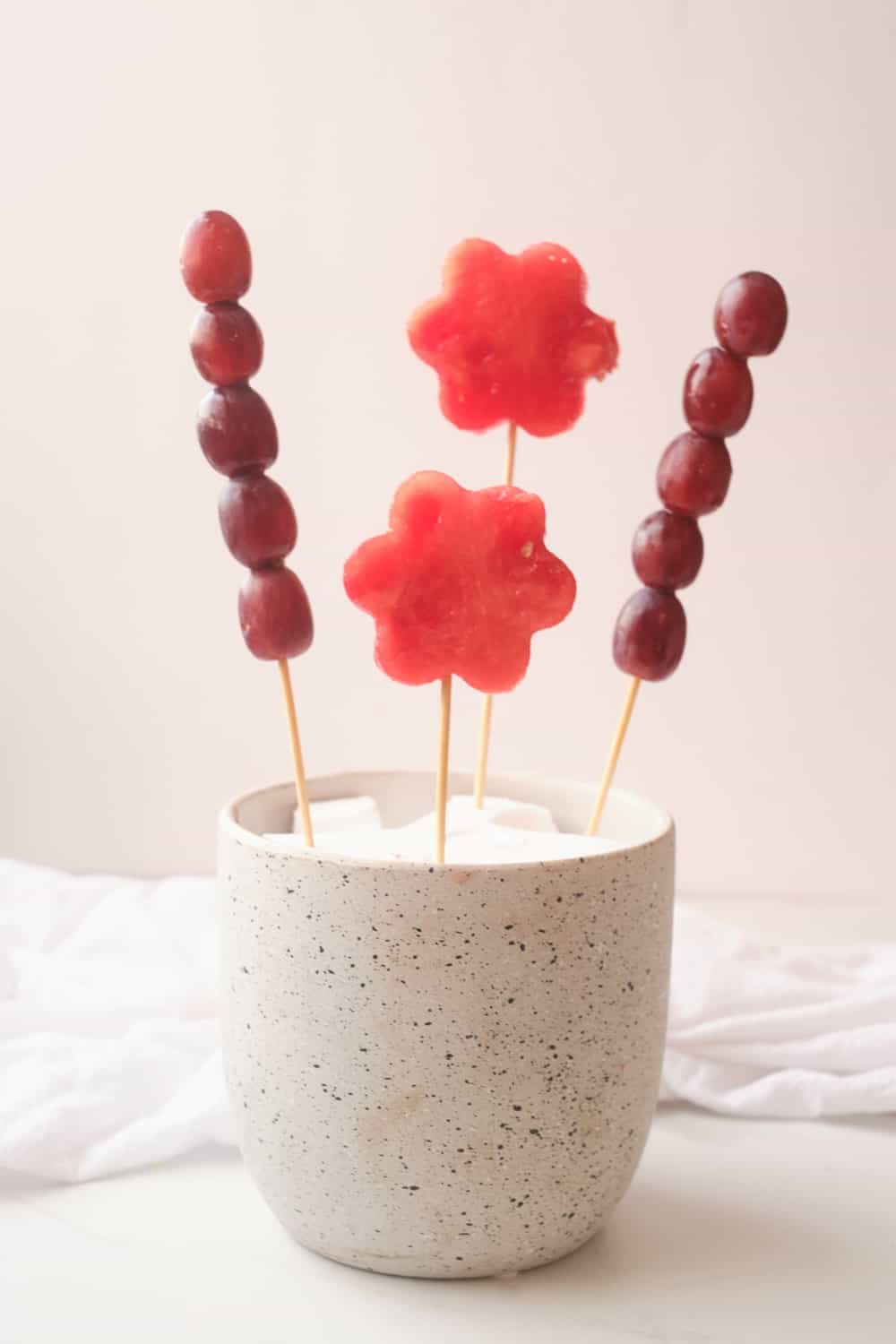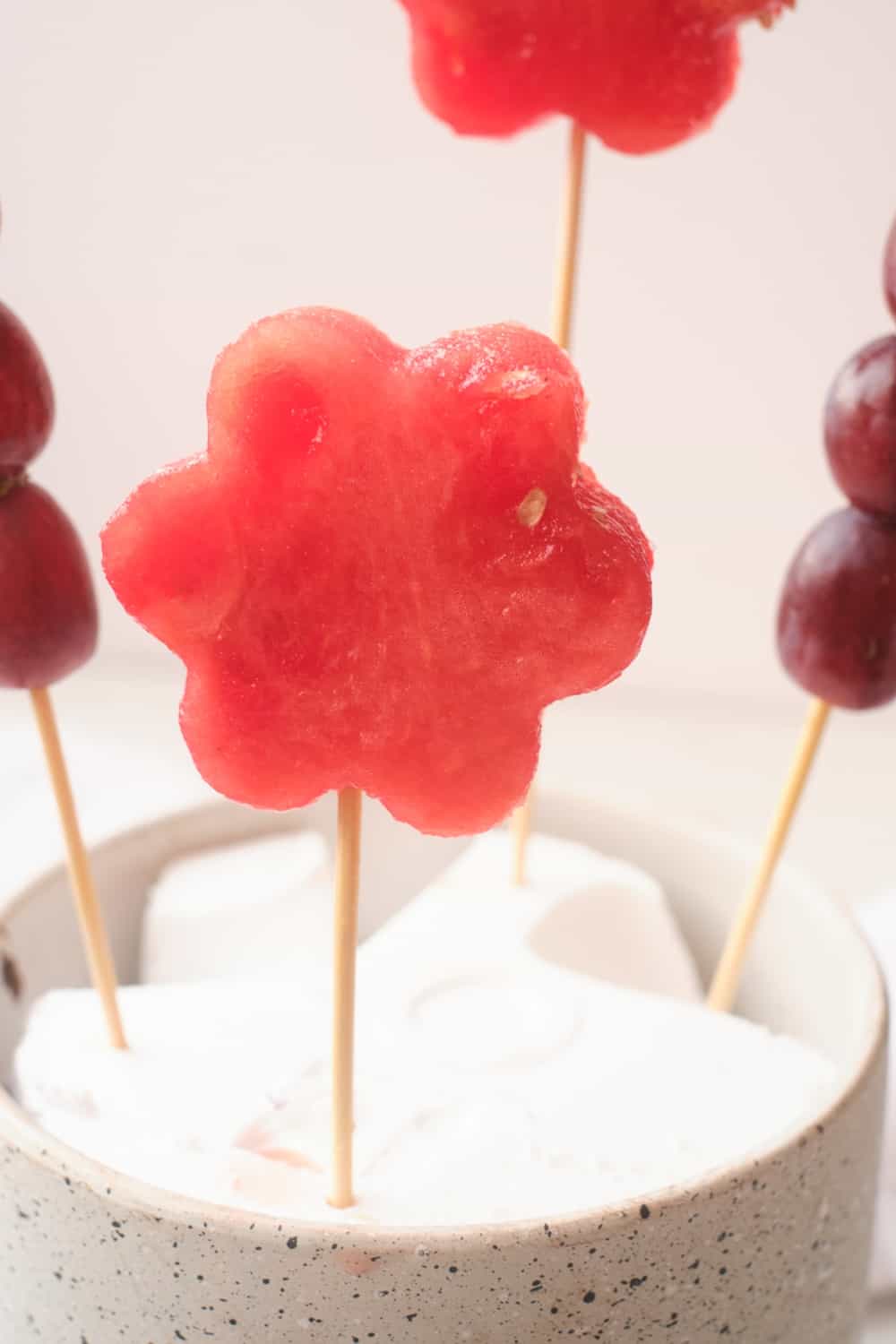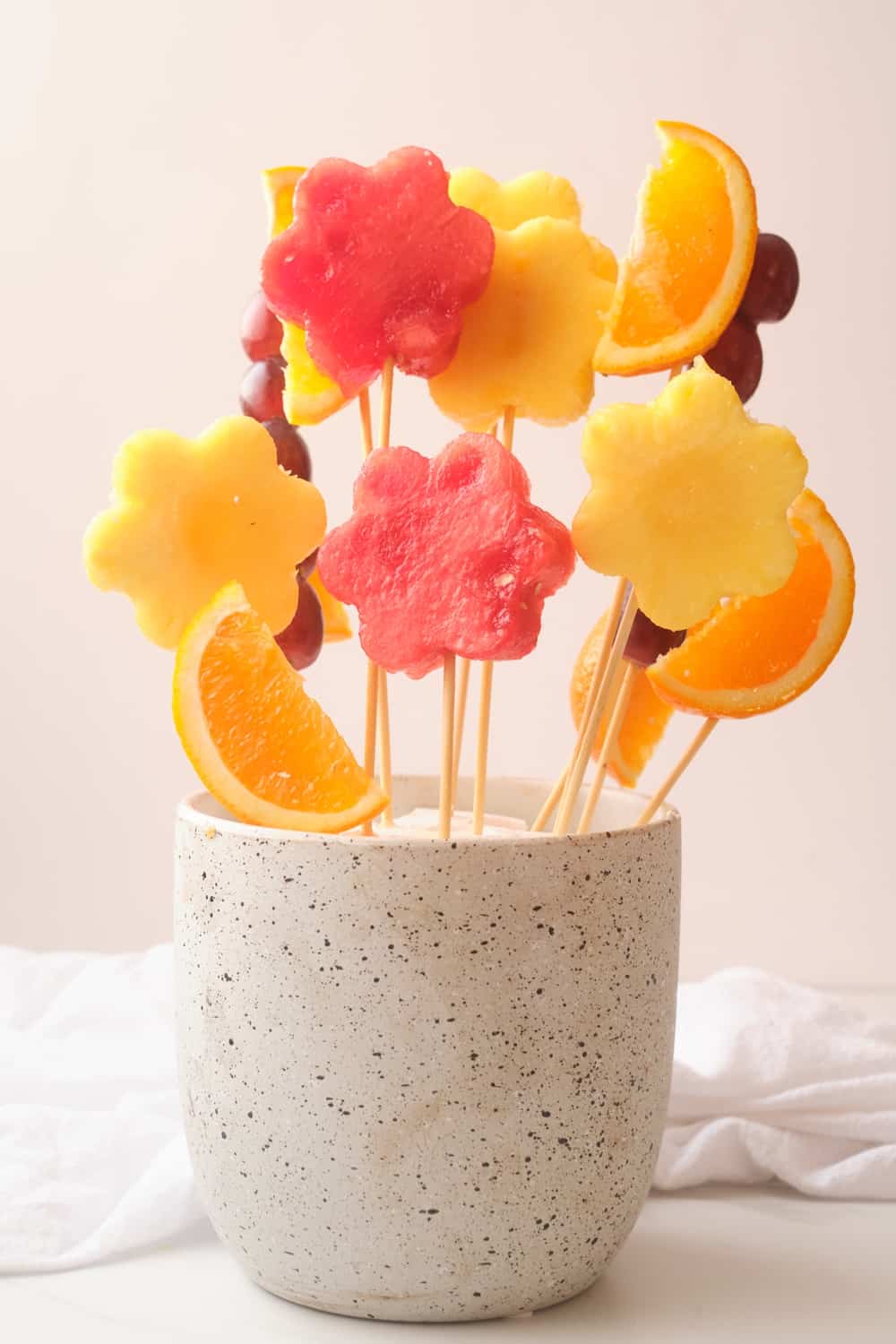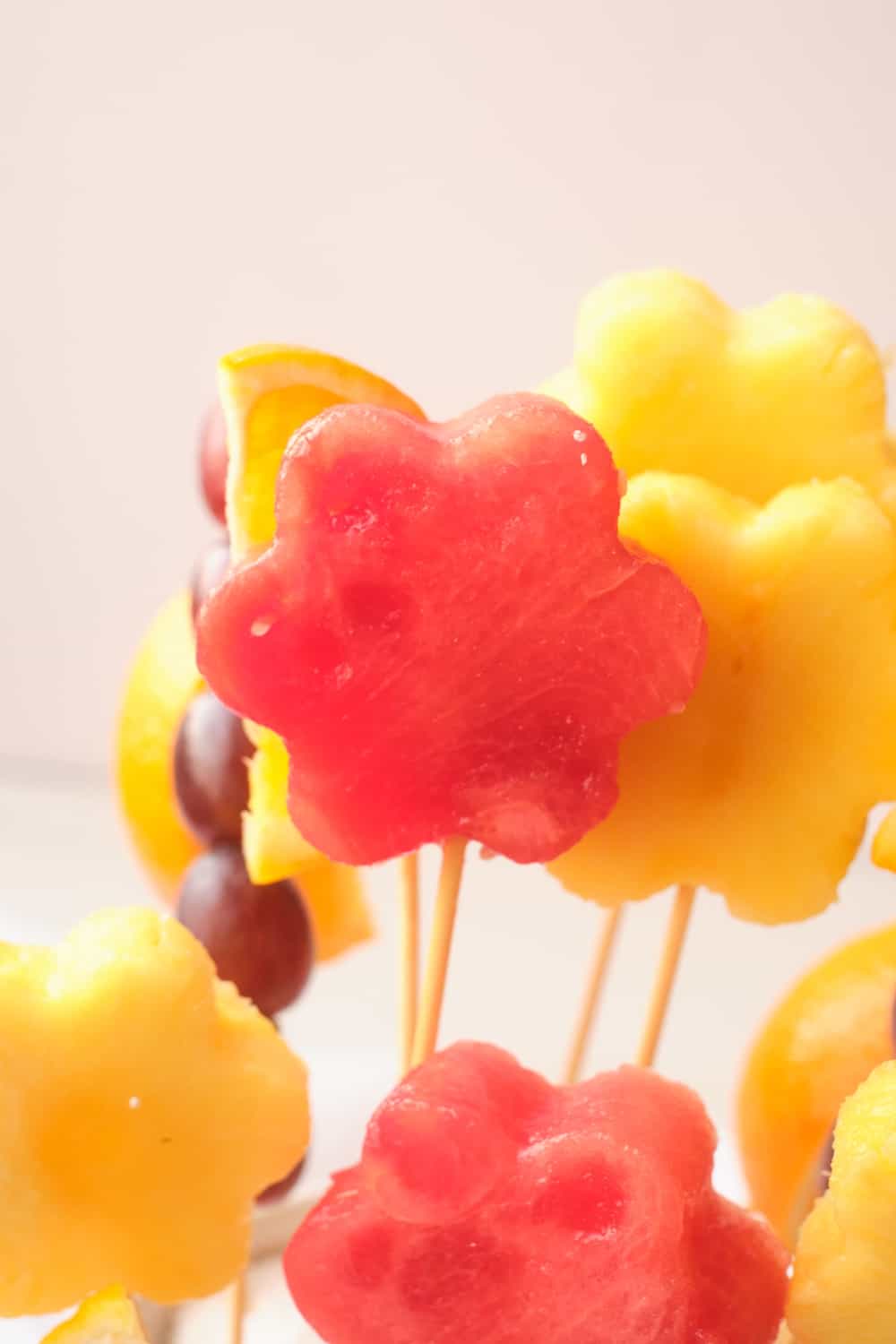 Why is my fruit not staying on the skewer?
Make sure that you're using big enough chunks so that you can add the skewer into the center. If the fruit isn't thick enough or you put the skewer in crooked, the fruit is going to end up falling right off.
How do you store this fruit flower arrangement?
If you're not snacking on it right away or making it and are waiting to give it to someone, keep it covered and in the fridge. You can easily wrap it with saran wrap to keep it as fresh as possible.
Keep in mind that if you're using a banana or apple, they will change color once cut. You can help by mixing them with a little bit of lemon juice to help with the changing of color.
Have fun making these fruit skewers! They're fun to make and super fun to eat.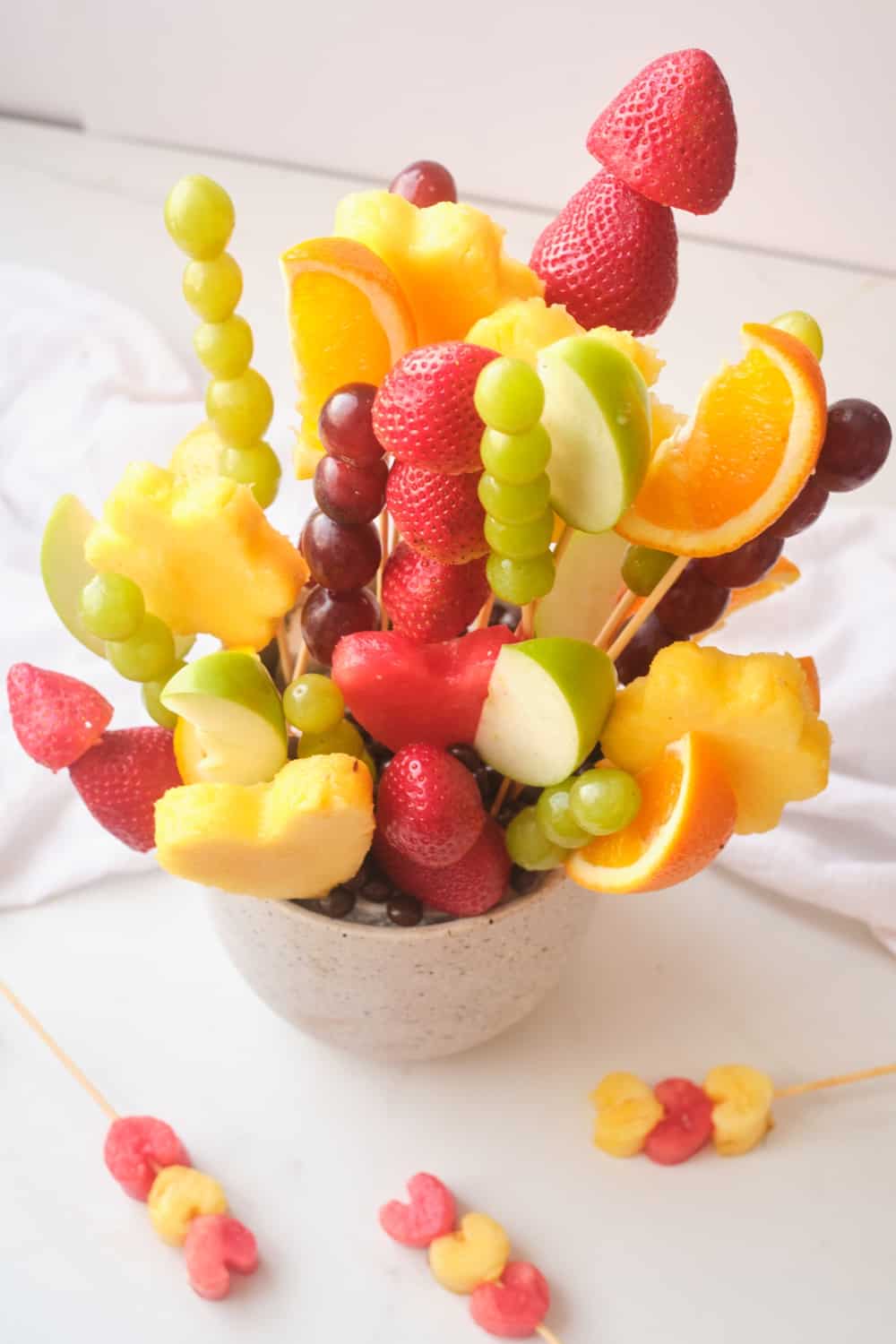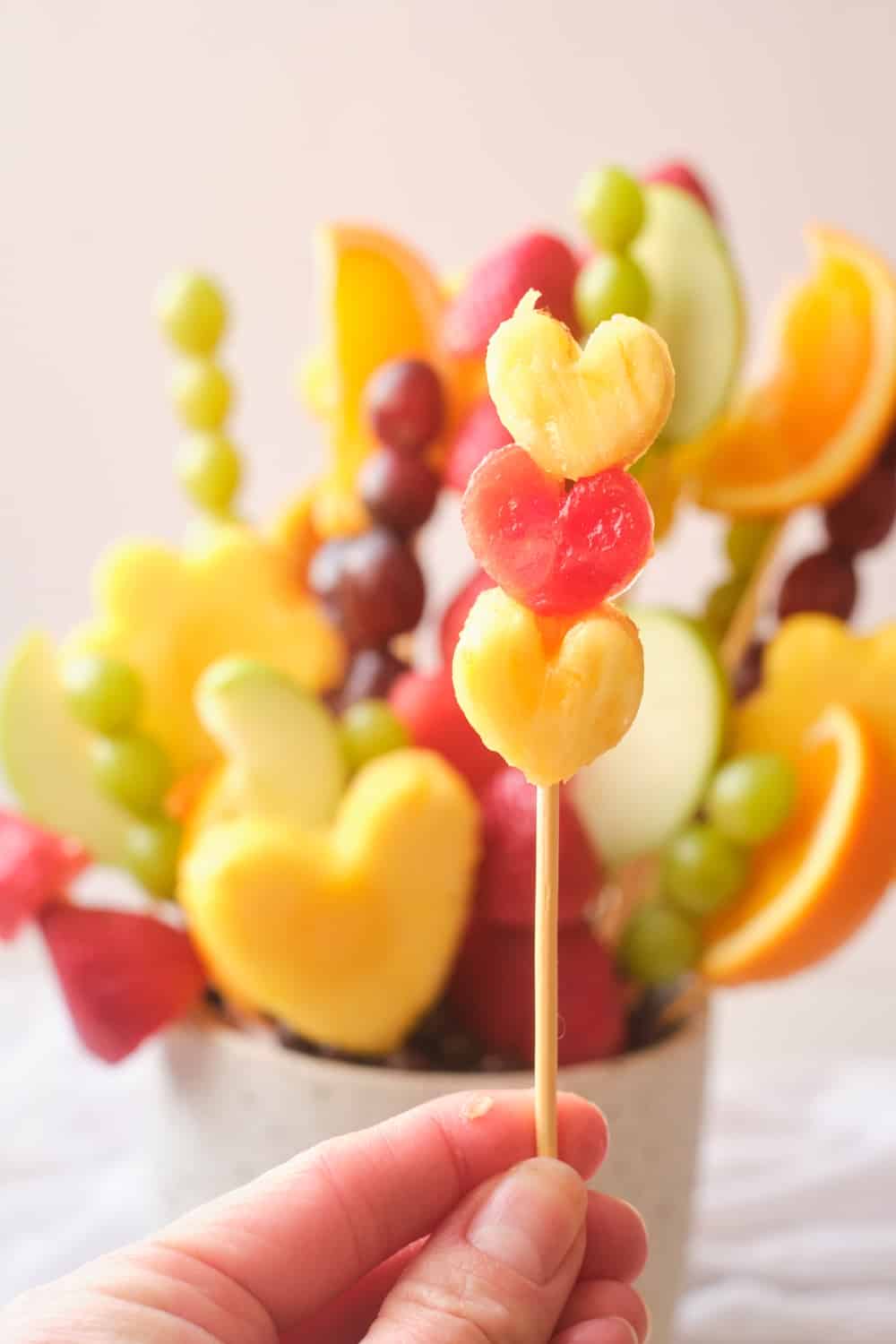 INSTRUCTIONS
DIY Fruit Bouquet
This fruit arrangement is a great way to enjoy fresh fruit!
Ingredients
Fruit (melon, grapes, strawberries, oranges, apples etc)

Cookie cutters

Skewers
Instructions
Clean out a pot to place your flower bouquet into.

I used a piece of Styrofoam to be a base so that I could stick my skewers into it. You could also use crushed cookies (shown)

Cut out melons with cookie cutters and place on a skewer and start arranging your bouquet. I started with a couple of each fruit and then built on it.

I ended up finishing my bouquet with some "chocolate" dirt, but you can use whatever you feel looks best.
You May Also Like