By using this site, you agree to our Terms of Use. This post may contain affiliate links. Read our disclosure policy.
Follow us on Instagram for more fun food ideas for kids!
These Mini Air Fryer Biscuit Pizzas are the perfect quick dinner for busy families. Simple ingredients the result in personal pizzas for all!
If I've failed to mention it before, I'm a huge fan of using my air fryer. It's a fast and easy way to cook dinner perfectly each and every time. The kids love when I make pizza in the air fryer because they know that it's going to have that crisp outer crust that they love with the soft and flaky dough on the inside.
This is literally their version of the perfect pizza recipe. And when you can make it be the perfect size for little hands to grab and enjoy, it's always a lunch or dinner recipe that they LOVE to eat.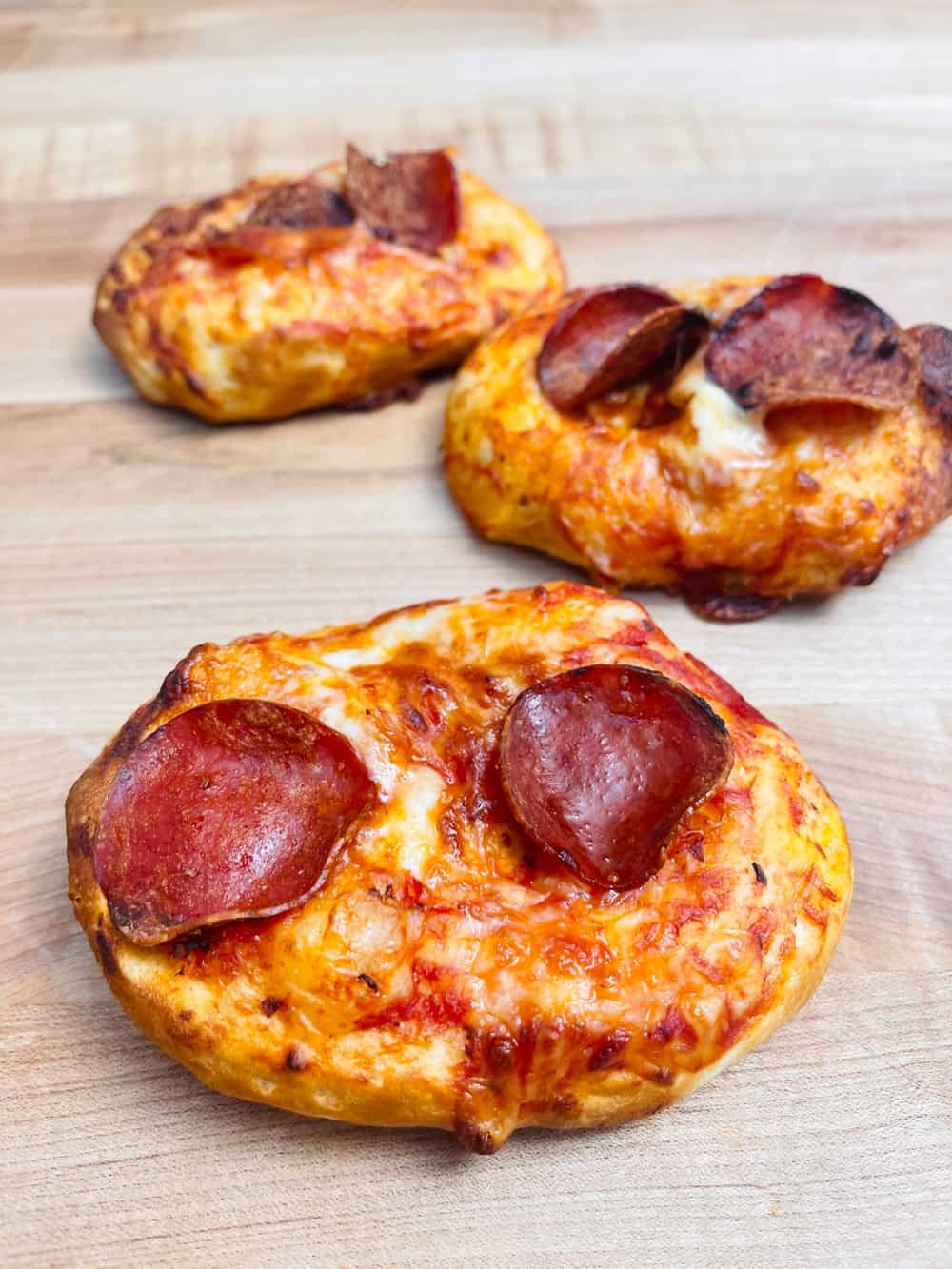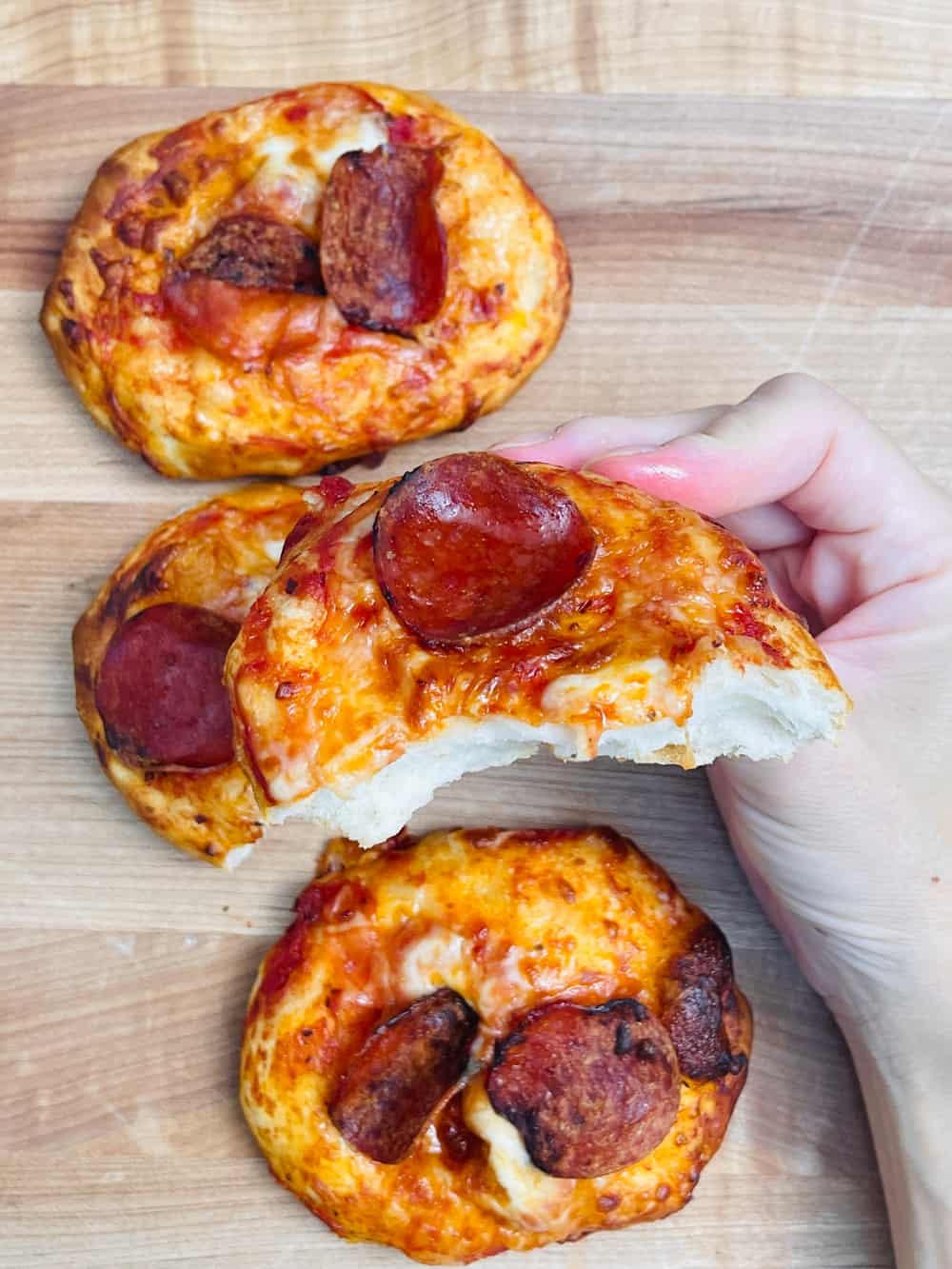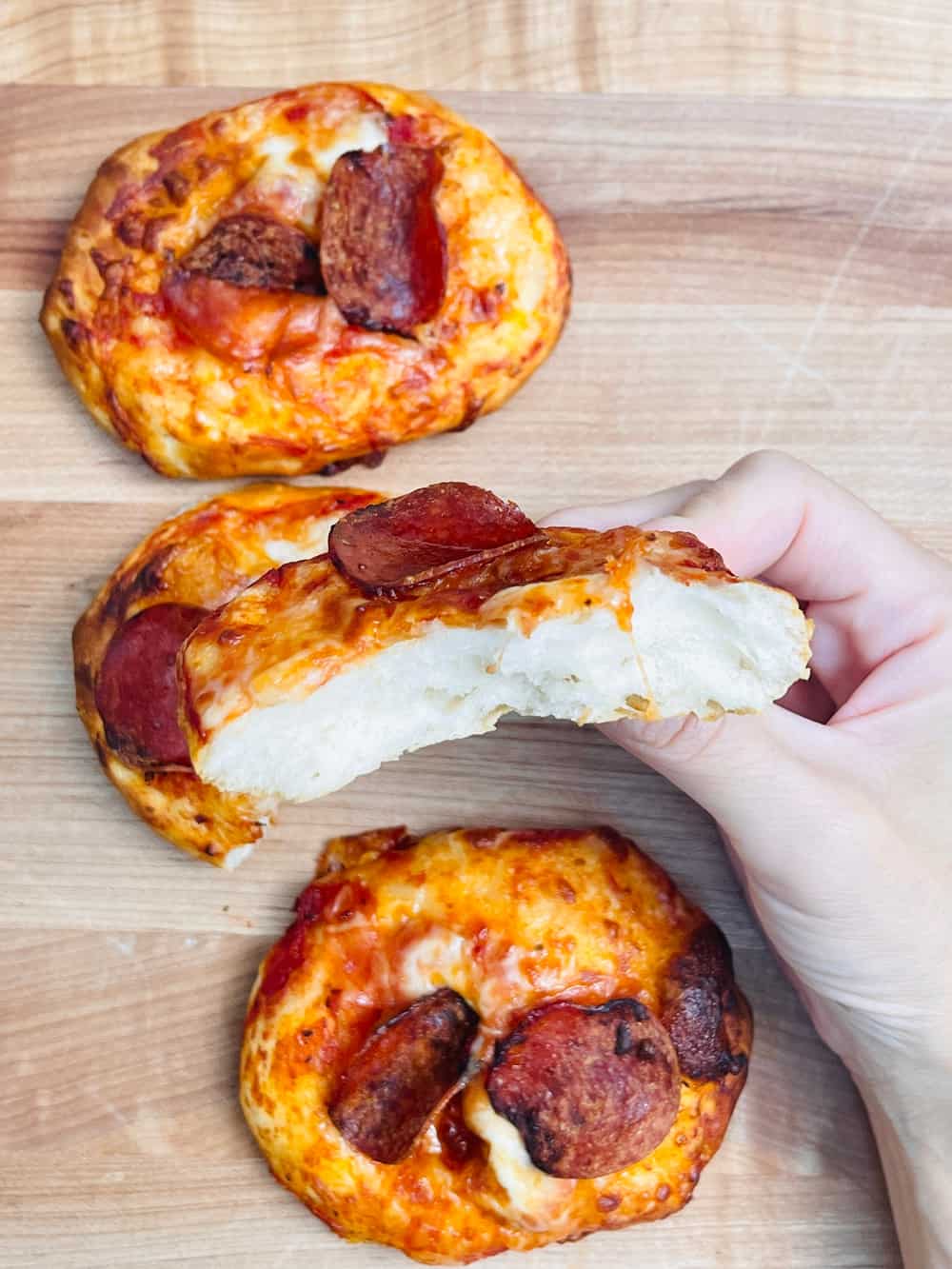 What is the difference between pizza dough and biscuit dough?
Using premade biscuit dough for this recipe is going to just give a little bit more of a fluffy and flaky texture. Pizza dough is denser while biscuit dough is a bit flakier.
Why didn't my air fryer biscuit pizzas have a crispy crust?
If you overcrowd the biscuits in the air fryer, it's not going to give them enough room to have the air circulate properly. To overcome, just give them enough space so that they can cook perfectly.
I only put three in the air fryer at a time to be on the safe side.
Mini Air Fryer Biscuit Pizzas – Ingredients
canned refrigerated biscuits (we used Trader Joe's Buttermilk Biscuits)
olive oil
pizza sauce
shredded cheese
pepperoni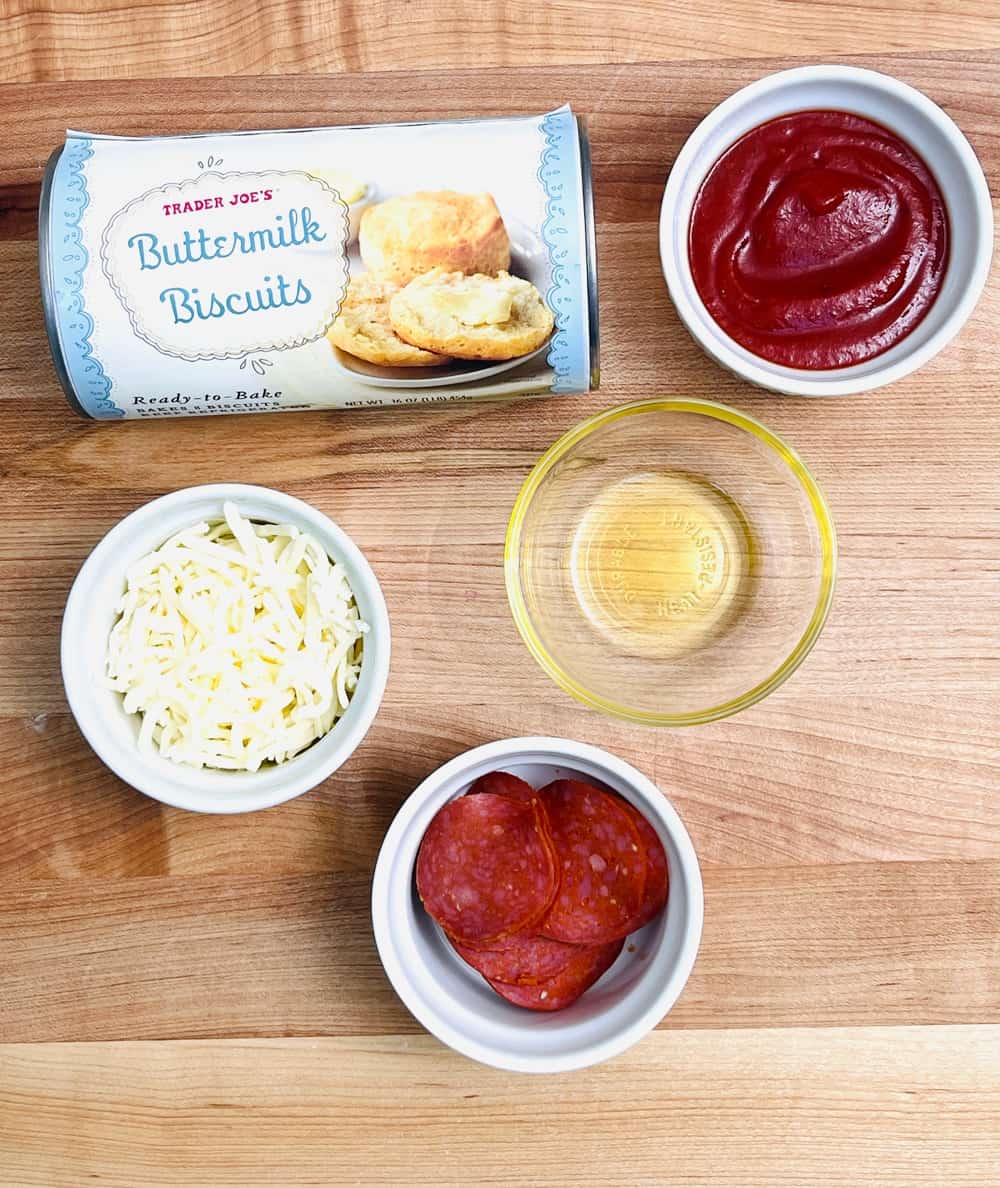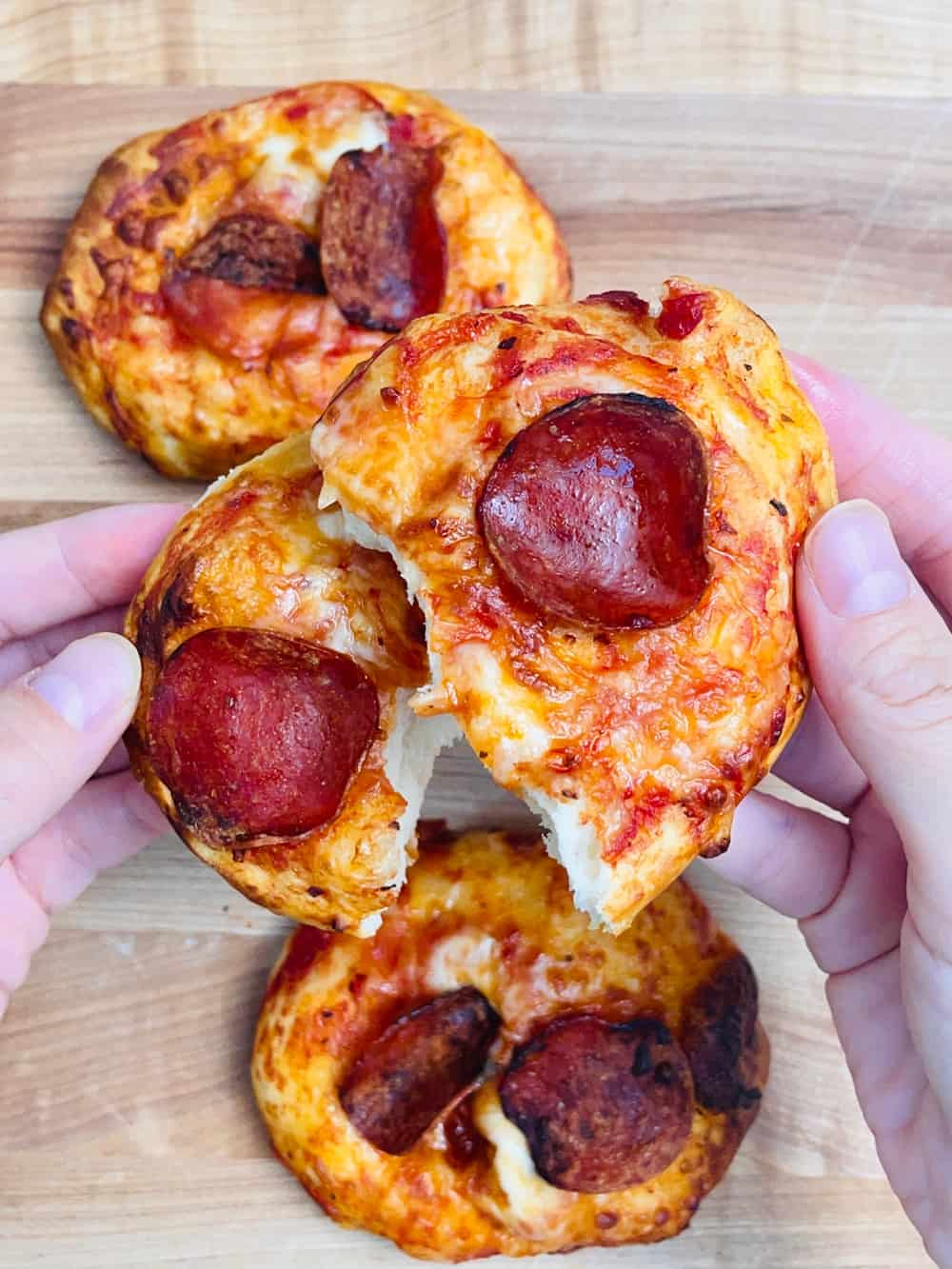 Can I add other toppings to this air fried pizza?
You can. Just add toppings that are already cooked like pepperoni or vegetables and you should be just fine. One of my kids just likes cheese on their pizza so doing this recipe allows me to customize each piece for them.
How do you reheat biscuit pizzas that are cooked in the air fryer?
You can put it back into the air fryer for a shorter period of time to reheat or use the microwave as well. If you do reheat in the microwave, the pizza biscuits are not going to be crispy so keep that in mind.
INSTRUCTIONS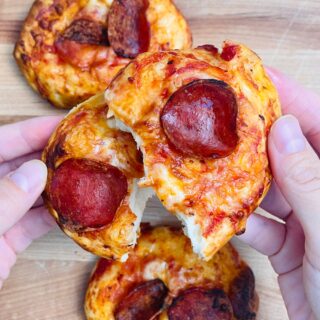 Mini Air Fryer Biscuit Pizzas
These Mini Air Fryer Biscuit Pizzas are a fast and simple weeknight recipe that everyone will love.
Ingredients
1

Can of refrigerated biscuits

Pizza sauce

Shredded cheese, of your choice

Pepperoni
Instructions
Open the can of biscuit dough and seperate out the piecs.

Use a small rolling pin to flatten out the biscuit.

Add a little bit of olive oil on top and then add the pizza sauce, cheese, and toppings.

Spray the air fryer basket with cooking spray and then add in three biscuits at a time.

Cook at 375 degrees for 6-8 minutes.
You'll May Also Like