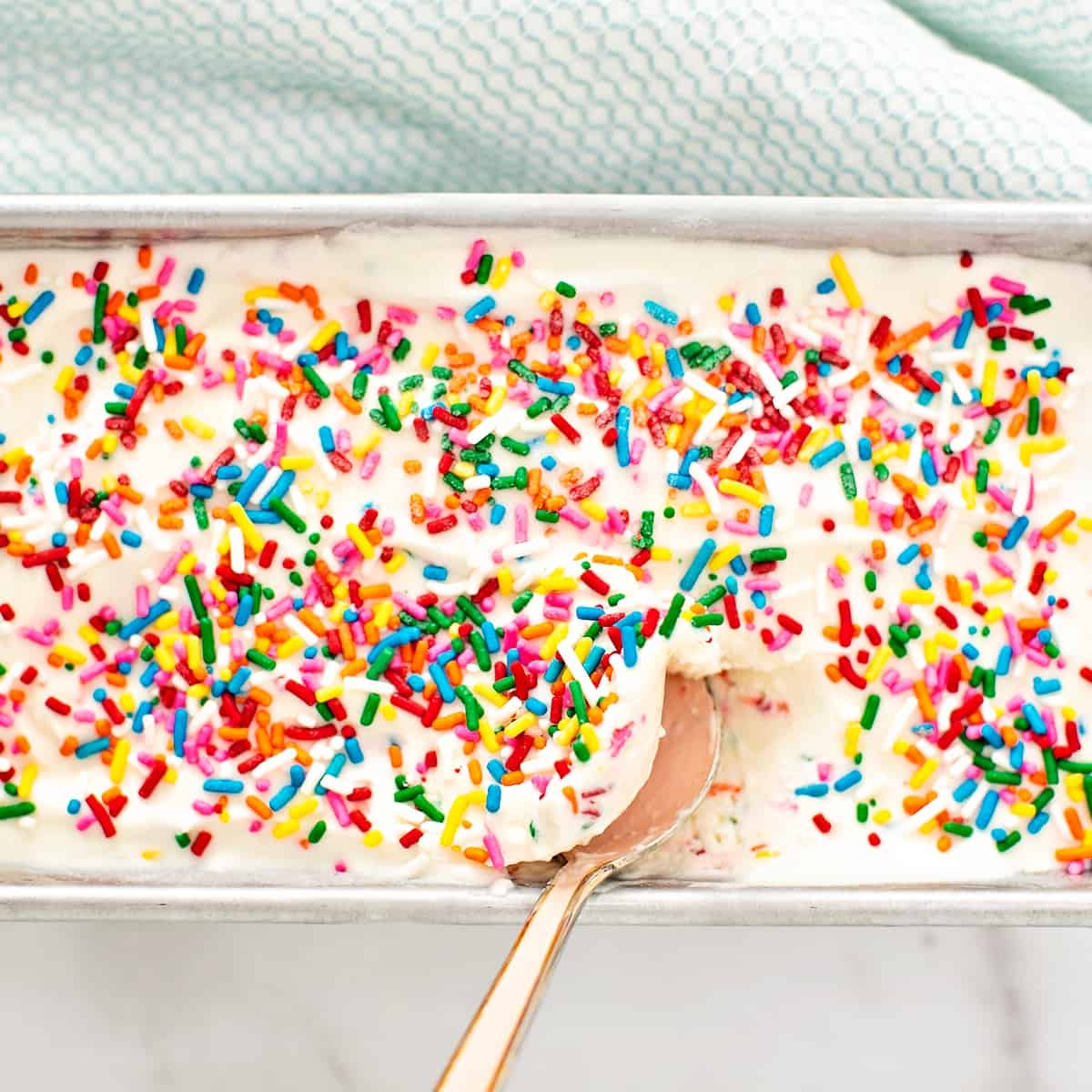 By using this site, you agree to our Terms of Use. This post may contain affiliate links. Read our disclosure policy.
Follow us on Instagram for more fun food ideas for kids!
This delicious Sprinkles No Churn Ice Cream is literally made using only 3 simple ingredients!
Watch the video in this post to make this easy sprinkles no churn ice cream.
You scream, I scream, we all scream for ice cream. But when it comes to making homemade ice cream at home, who really has the time for that? That is until I found out about no churn ice cream! We've been making this easy two ingredient ice cream for years, and it's a commonly known food hack using just whipping cream and condensed milk.
In this case we added a third ingredient, rainbow sprinkles because who doesn't like sprinkles ice cream?!
I used to put off making ice cream because of the long process but that was before I discovered this delicious recipe. The sooner that you realize that making ice cream at home doesn't have to be hard, you'll be making this recipe over and over again. You could easily incorporate this into a homemade ice cream sundae bar!
When you're looking for something sweet to share with the kids, this needs to be your go-to recipe. In fact, it's so simple that they'll be able to join in and help make it right along with you.
The hardest part of this recipe is waiting to take the first bite. And once you do, you'll discover instantly that it was all worth the short wait! It's creamy and nothing short of delicious.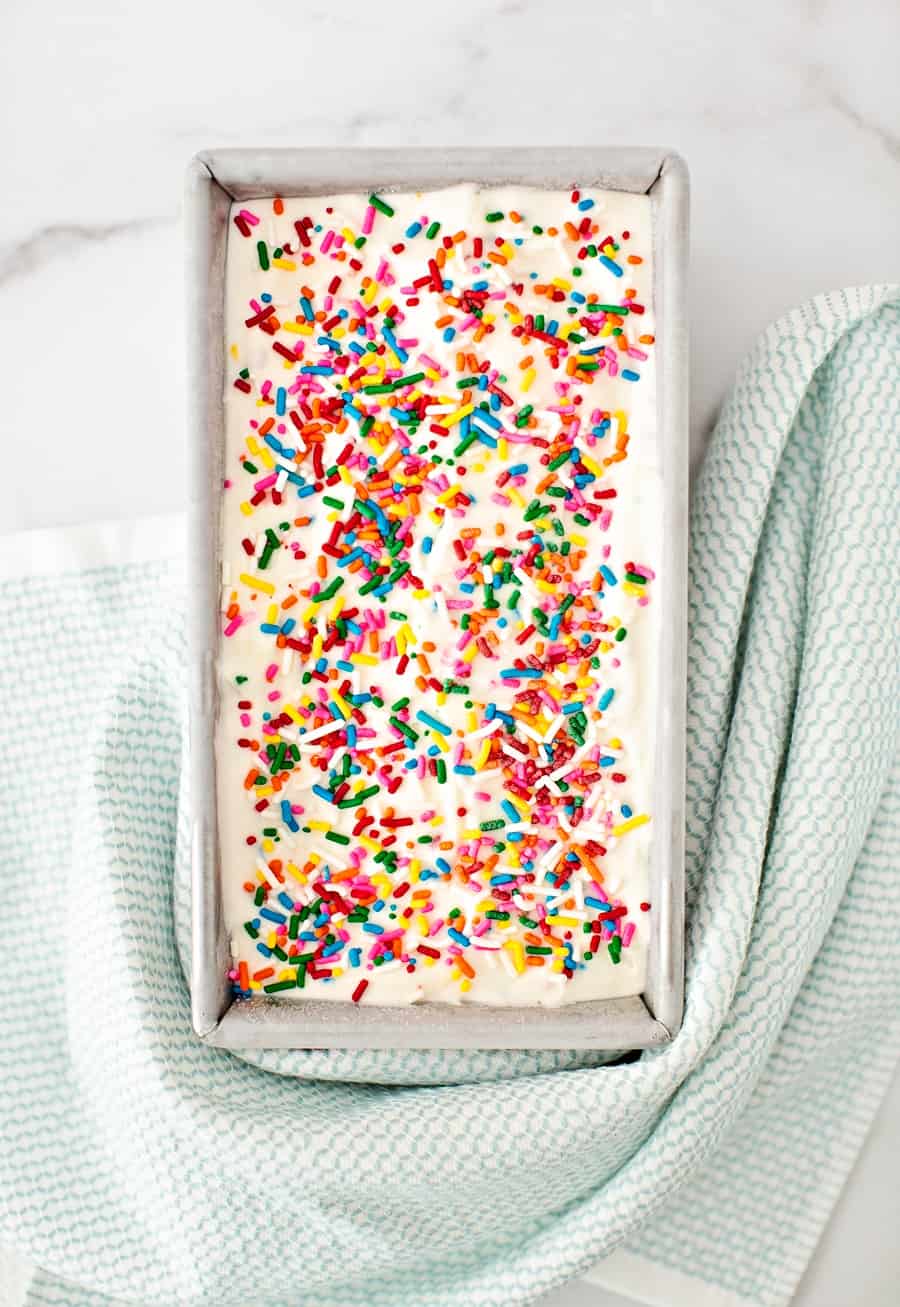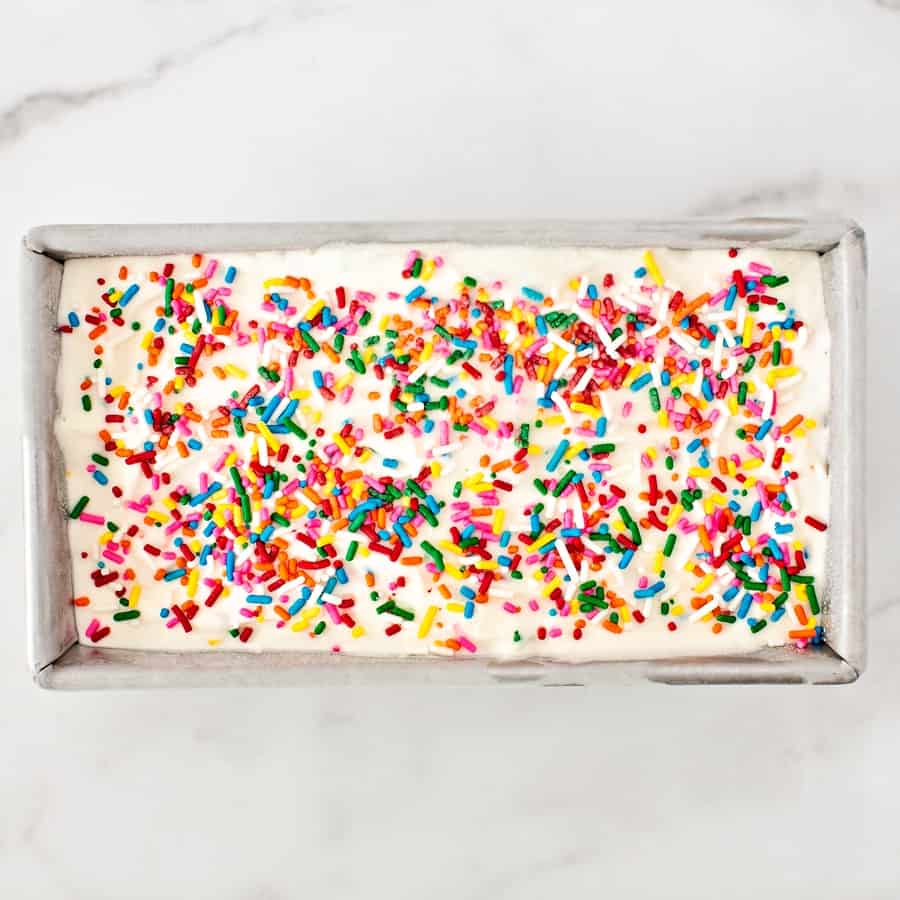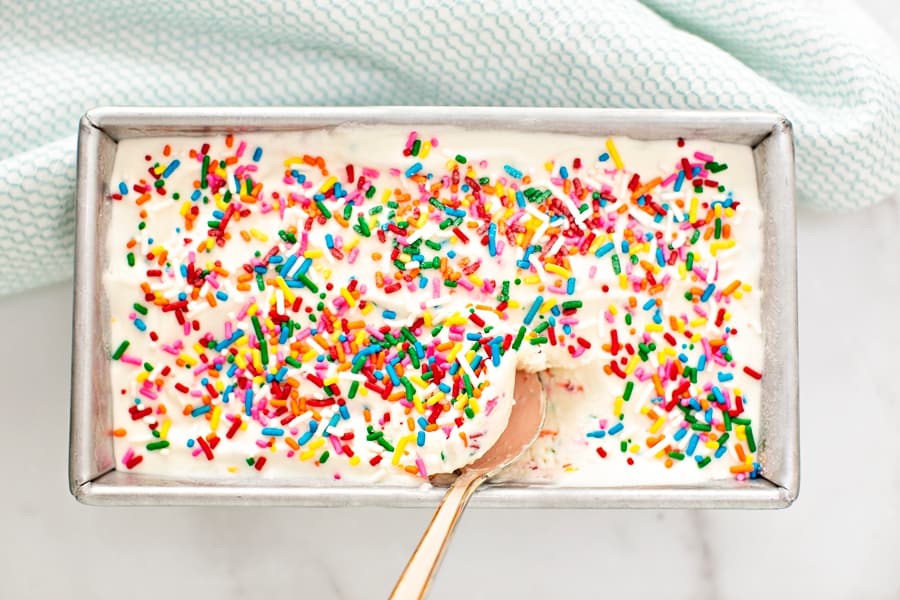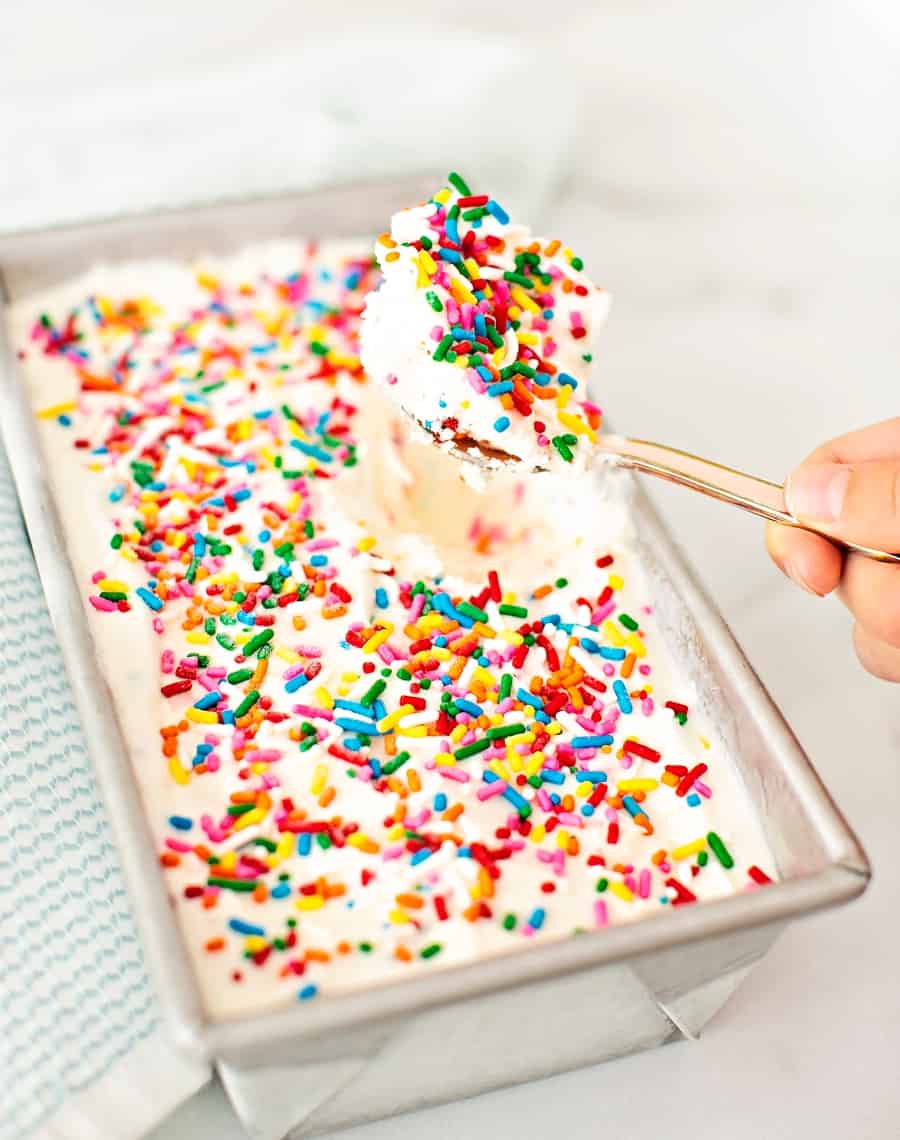 What are some other things that you could add to this ice cream recipe?
Sprinkles are always a hit but you can take this recipe up a notch and add in a few other fun tastes, too. It's as simple as adding in chunks of fresh fruit, chocolate chips, or even some sliced almonds or chunks of candy bars.
Whatever toppings that you normally like on your ice cream, you can add to this and mix it in. Then, when it's setting up and freezing, the taste and flavor will be spread all throughout already.
How long will this simple ice cream last once made?
That all depends on how fast everyone eats it! But in all reality, once you make it up fresh, it should be kept well sealed in the freezer in an air tight container or double wrapped over with plastic wrap for at least two weeks.
However, I'm pretty certain that there's no way that it's going to last much longer than a few minutes once everyone starts taking a taste. It's so good that it's going to get eaten up pretty quickly.
This easy no churn ice cream is fun and easy for kids to make.
What I love about this easy ice cream recipe is that it requires no difficult machinery or complicated tools. That means kids can easily help make this ice cream. It does require a mixer so if your kids can't operate that yet, they can easily help by pouring in the condensed milk and cream.
As well as add their favorite mix-ins to the ice cream base.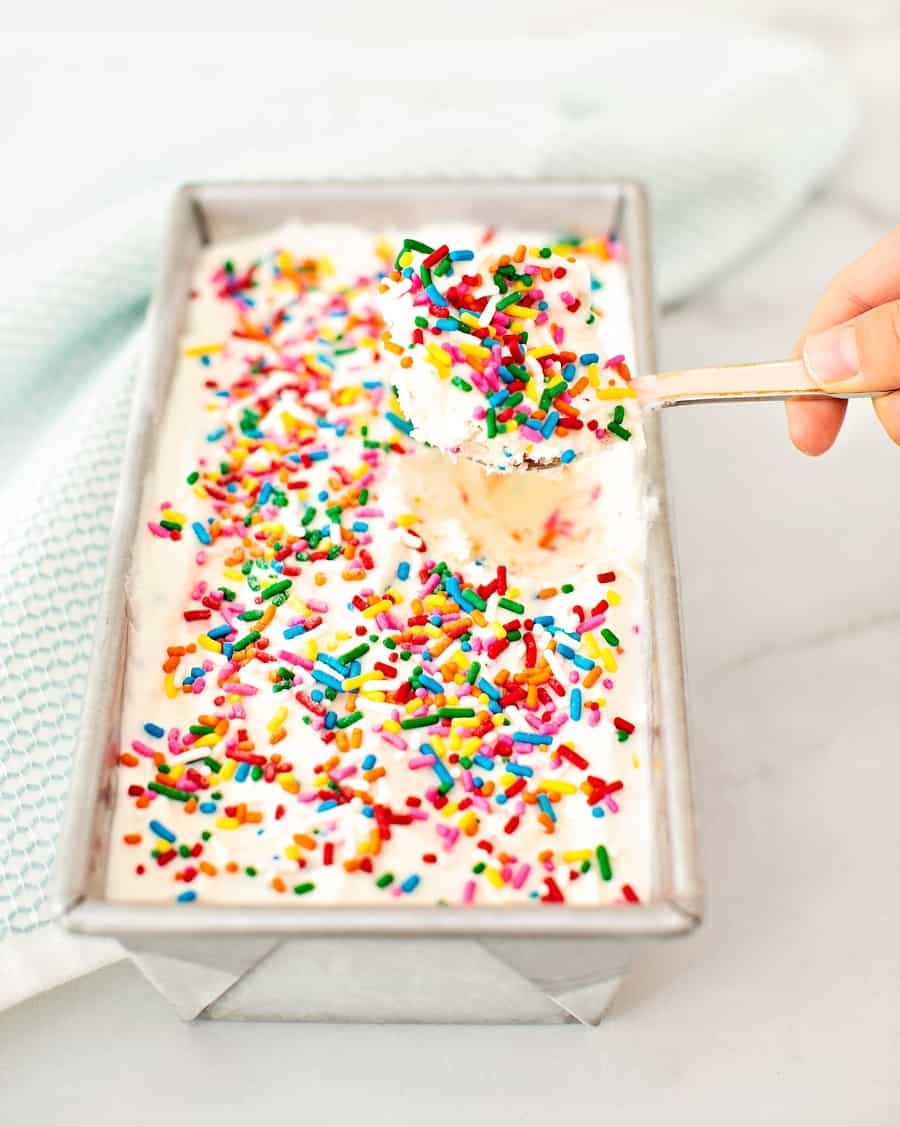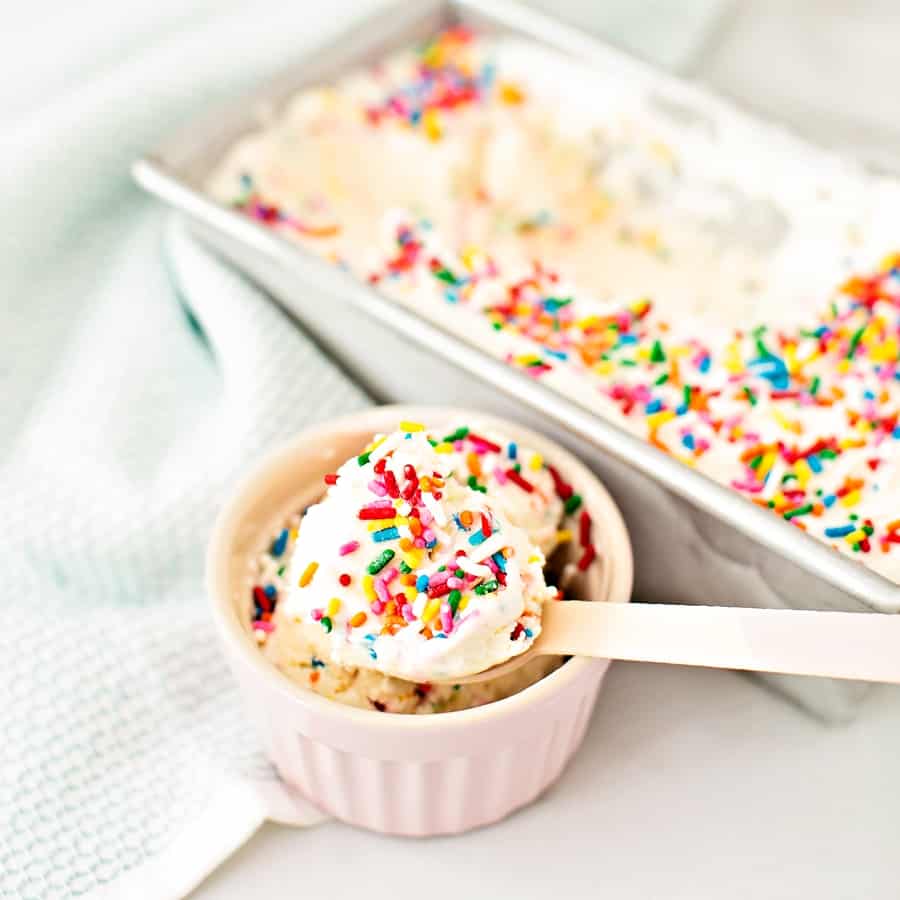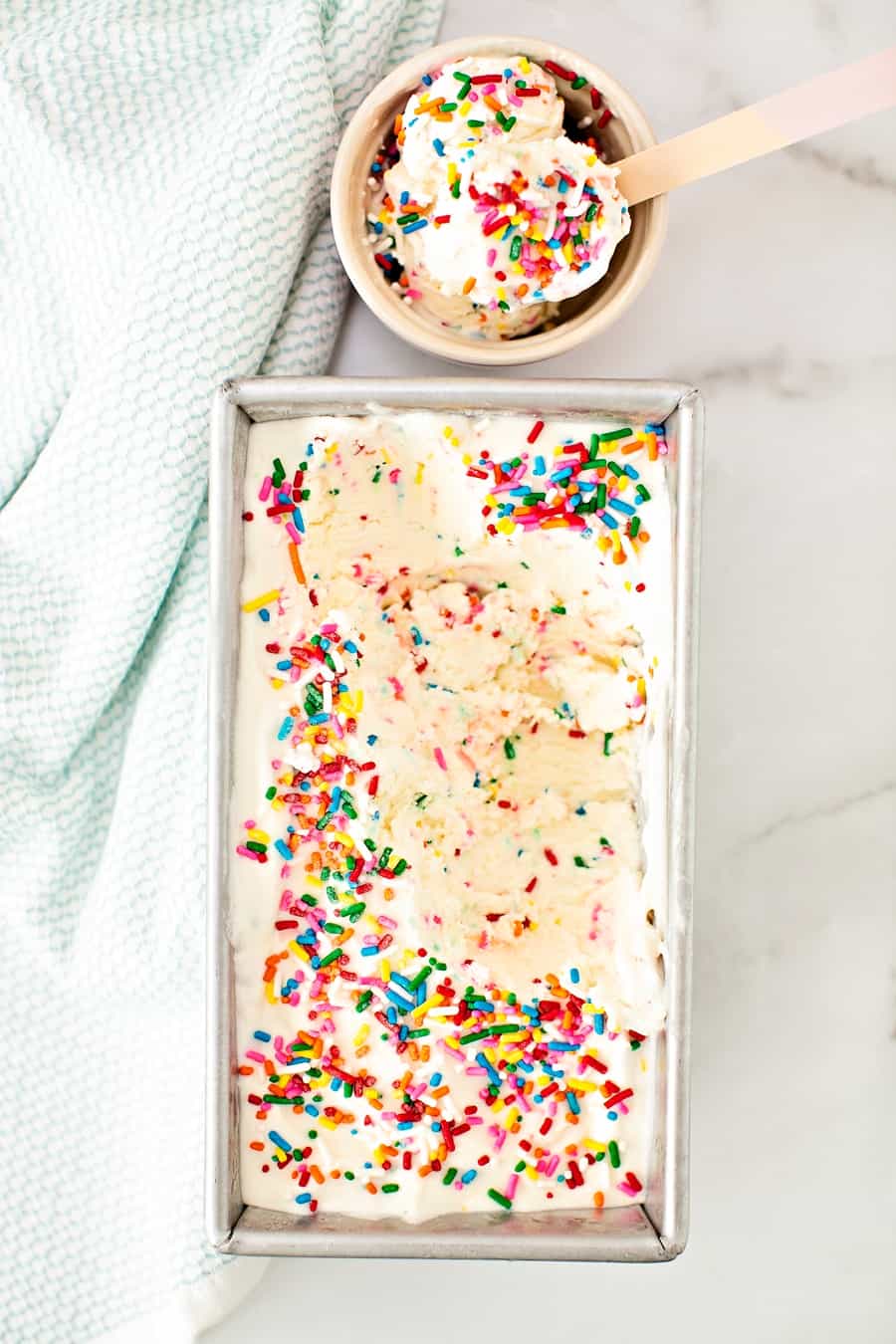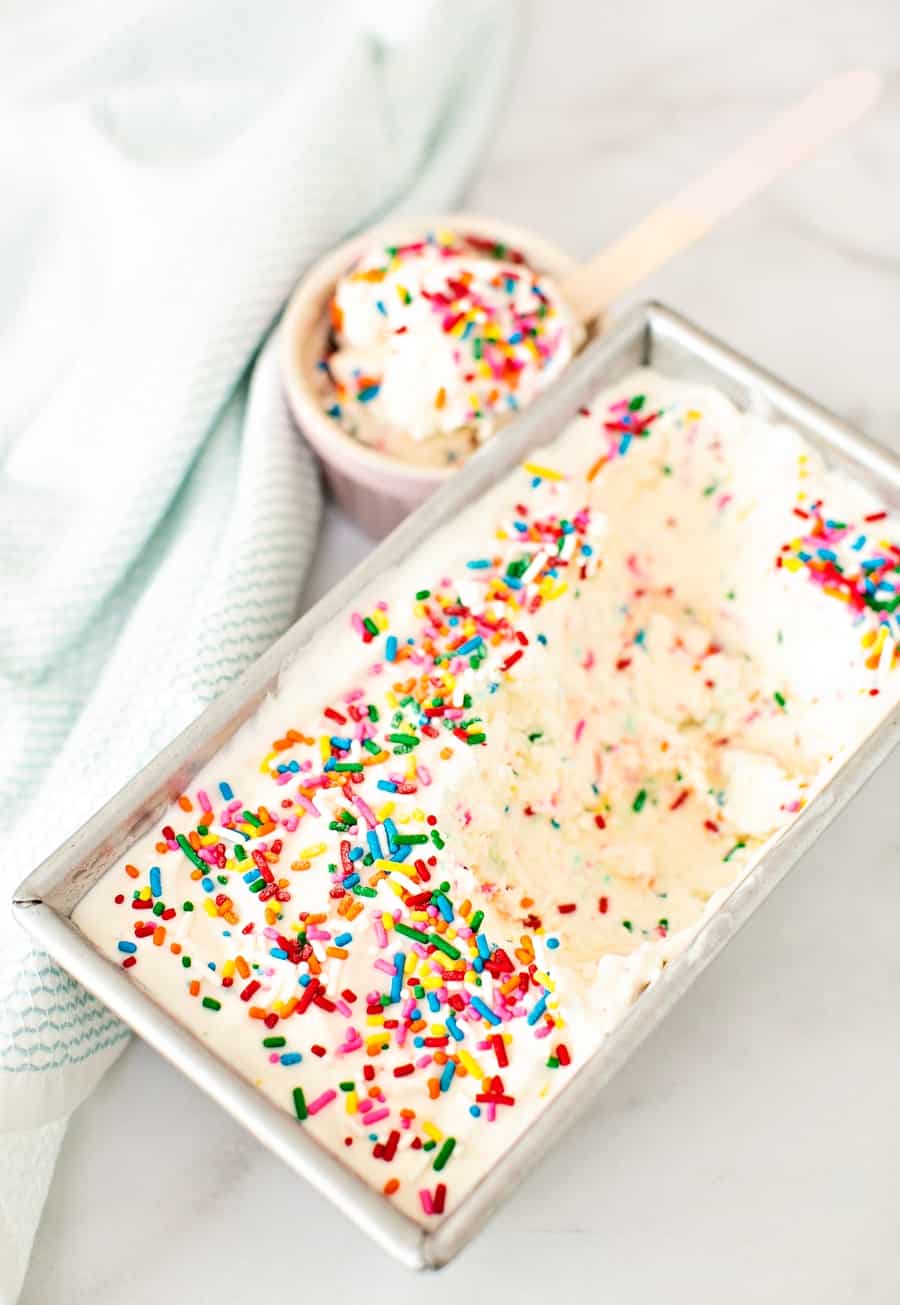 Make sure to scroll down to watch the video below to see how we made this delicious Sprinkles No Churn Ice Cream!
Sprinkles No Churn Ice Cream – Ingredients
Condensed Milk

Heavy whipping cream

Vanilla extract (optional)

Rainbow sprinkles

9″ x 5″ loaf freezer safe loaf pan
Once you combine the ingredients together, you'll start to notice that it gets thicker and creamier over time. Using your stand mixer or hand mixer is what gives it that "fluff" and texture that you love to have when eating ice cream.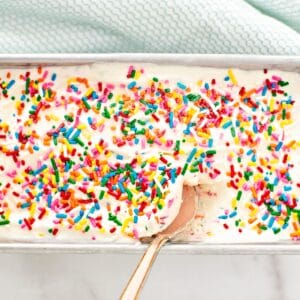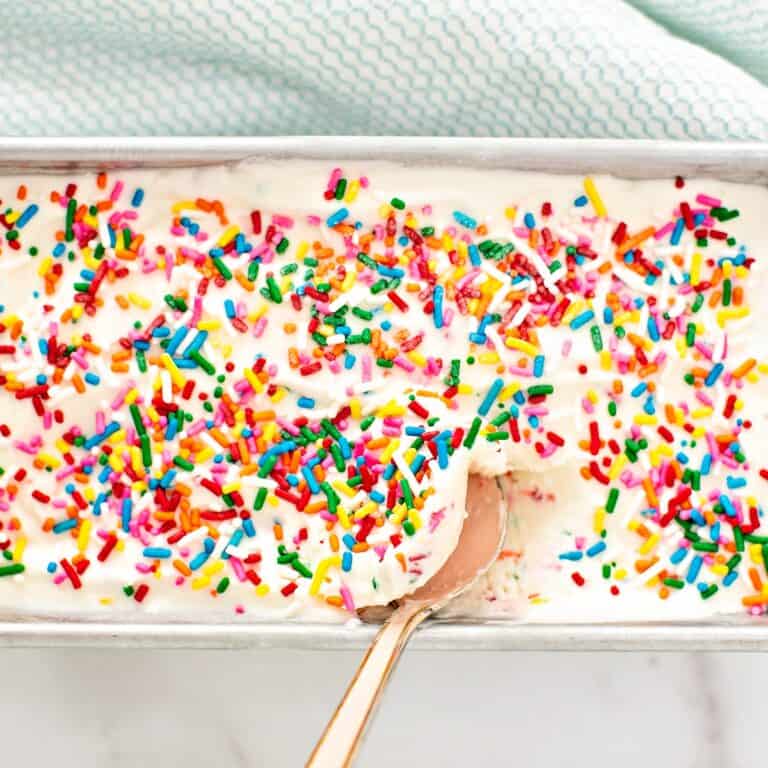 Sprinkles No Churn Ice Cream
This delicious Sprinkles No Churn Ice Cream is literally made using only 3 simple ingredients!
Equipment
9" x 5" loaf pan

Hand or stand mixer
Ingredients
2

Cups

Heavy whipping cream

cold

1

14 oz

Can sweetened condensed milk

1/2

Cup

Rainbow sprinkles, plus extra for topping

1

tsp

Vanilla extract

optional
Instructions
Add your cold cream and condensed milk to mixing bowl. Whip on high speed for 5-8 minutes until soft peaks form. Add vanilla extract (optional for additional flavor) and fold in.

Add 1/2 cup sprinkles. Fold to mix.

Add to your loaf pan. Add sprinkles on top. Cover top with plastic wrap tightly and make sure no wrap touches your sprinkles.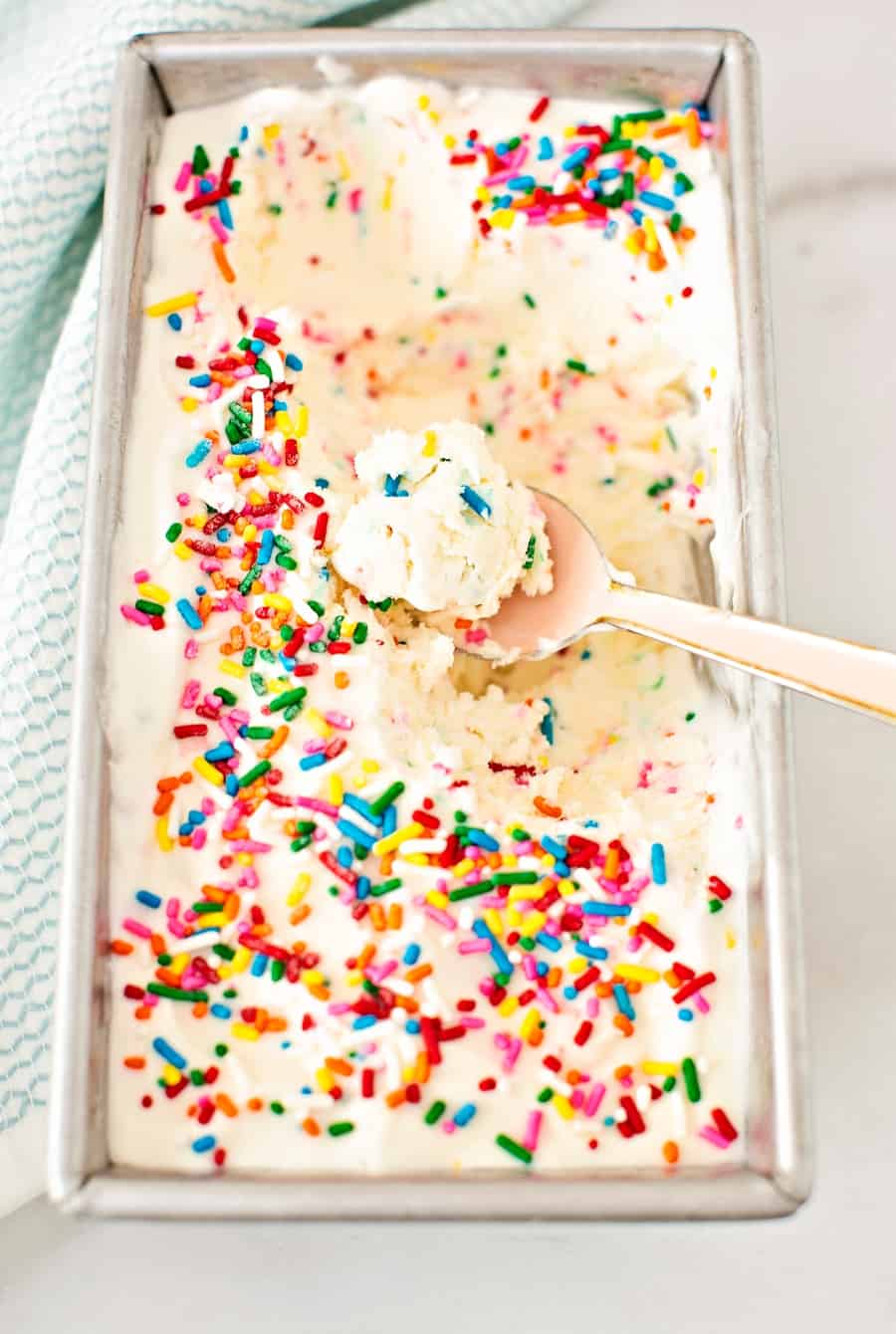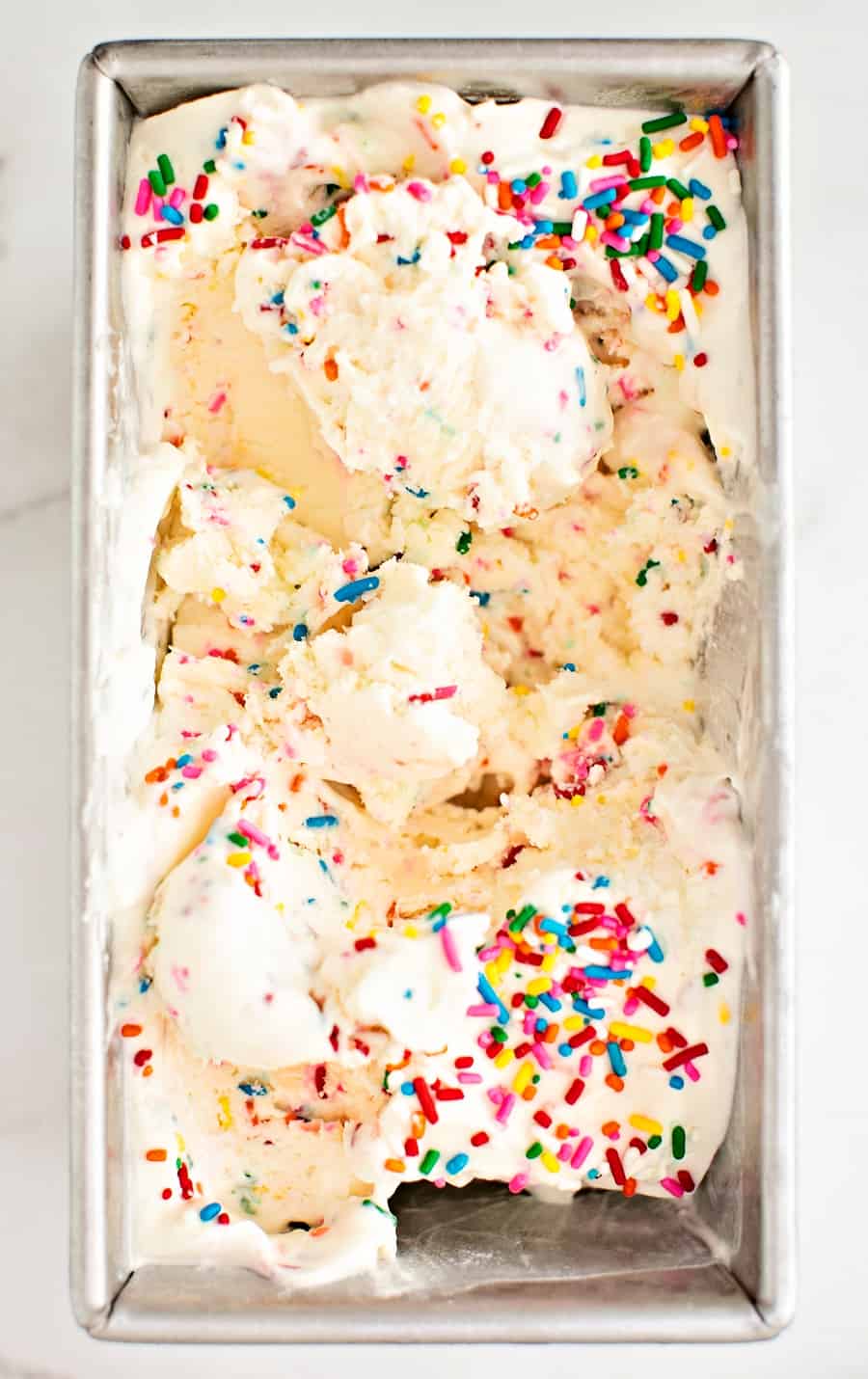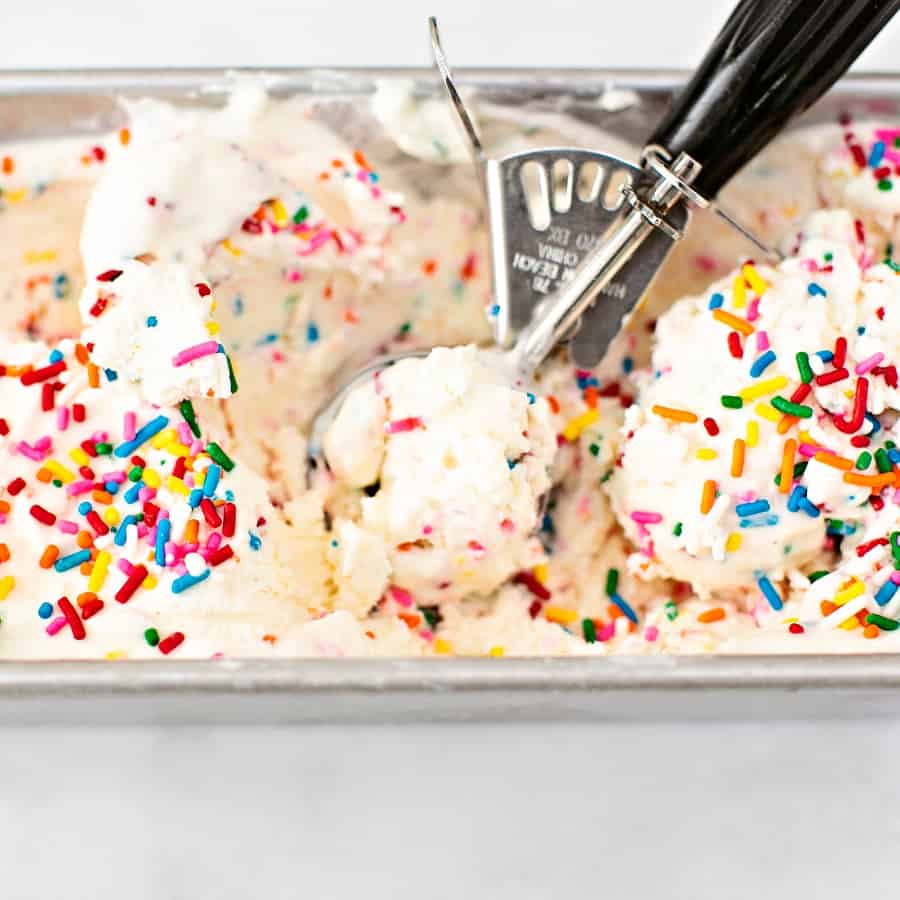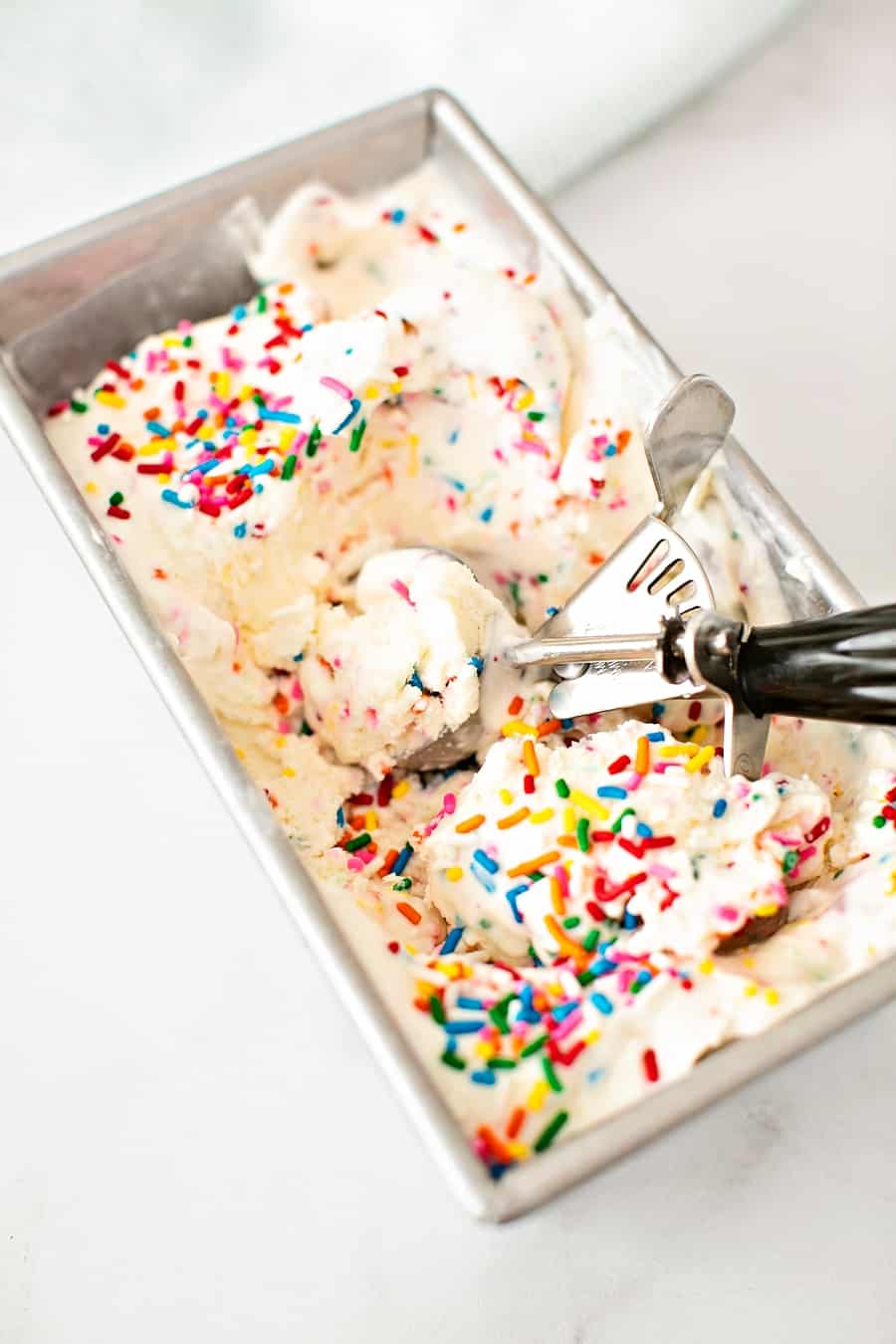 Simple tips for making this Sprinkles No Churn Ice Cream
There's no way to really overmix this simple ice cream recipe so have fun and get it all whipped up! Make certain to add the sprinkles in at the end and stir those in with a spatula. Otherwise, they might break up because of the beaters and turn your ice cream into a rainbow-streaked mixture! (which is still totally fun!)
Pop it in the freezer and let it get set up for as long as you can stand to wait. Then, enjoy every single bite!
More delicious dessert recipes to try: