By using this site, you agree to our Terms of Use. This post may contain affiliate links. Read our disclosure policy.
Follow us on Instagram for more fun food ideas for kids!
Make the easiest mini Bûche De Noël (yule log cakes) with this easy hack for using chocolate snack cakes. A simple holiday treat even kids can make!
If you're looking for a hassle-free way to make a yule log cake, this easy Büche de Nöel hack is perfect for you! Perfect for the holiday season, this cake is a classic French holiday dessert that has been around for centuries.
It is a classic holiday favorite that is sure to bring a smile to your face. Unlike traditional yule logs where you have to prepare the bread, this can be made in a matter of minutes.
Not only does it make for an easy dessert to make at home, but it also tastes fantastic! It's a great one to make with the kids. Watch my 5 year old @DashBakesTheGreats below whip some up in no time!
If you're feeling intimidated by the thought of making this classic dessert, however, don't sweat it – this easy bûche de Noël hack will give you the same impressive results without the fuss.
Read on to learn how to make this elegant dessert without breaking a sweat in the kitchen.
Who inspire these mini Bûche De Noël snack cakes?
We got the idea from these we saw on the Food Network. They used yodel cakes but we used Little Debbies swiss rolls! You could really use any small store-bought chocolate cakes as long as they resemble logs or are long, square or round.
We also simply used these mini mushroom cake toppers and some faux greenery we had to complete the festive winter log look. Easy peasy for a beautiful winter cake decor!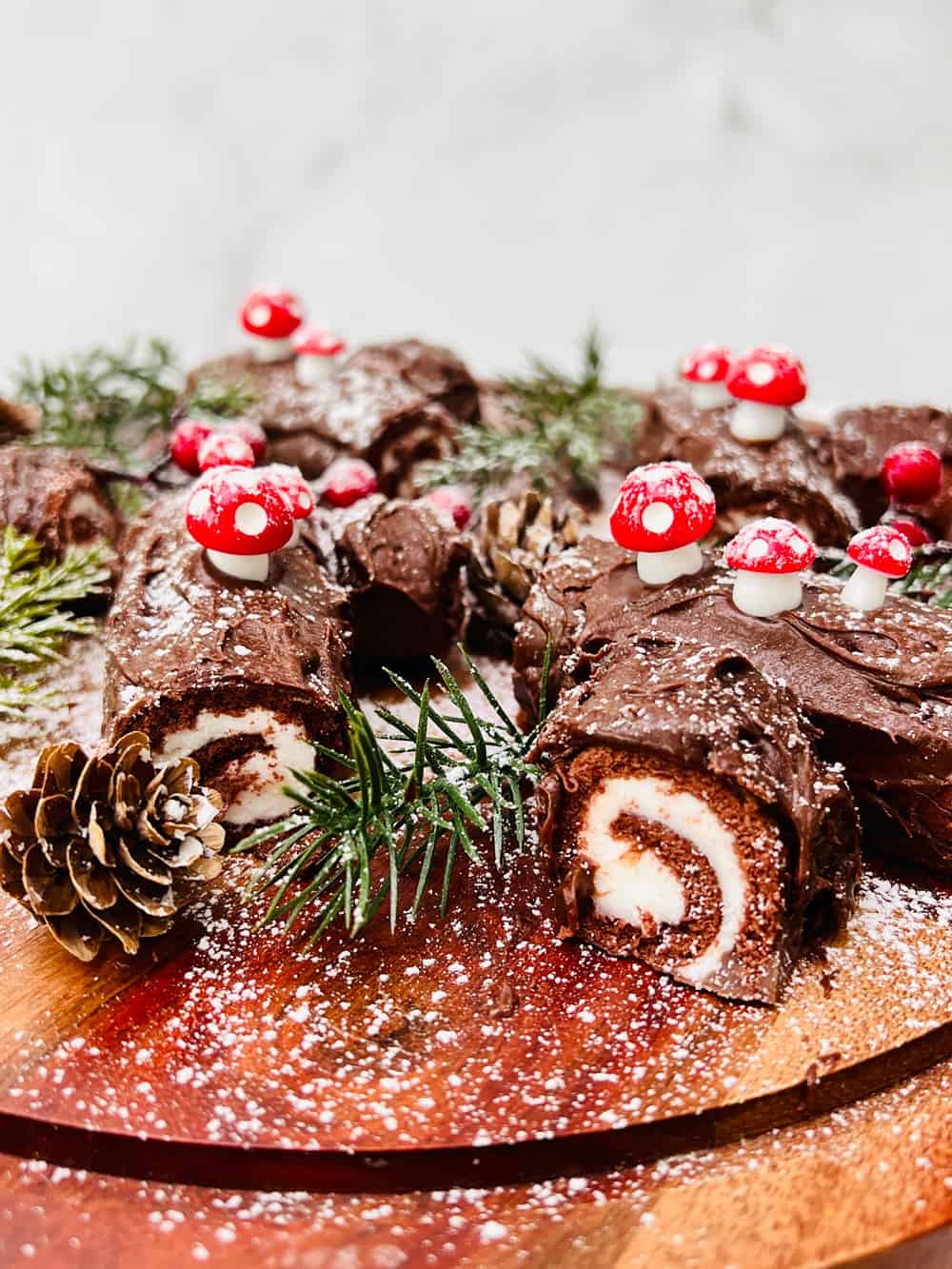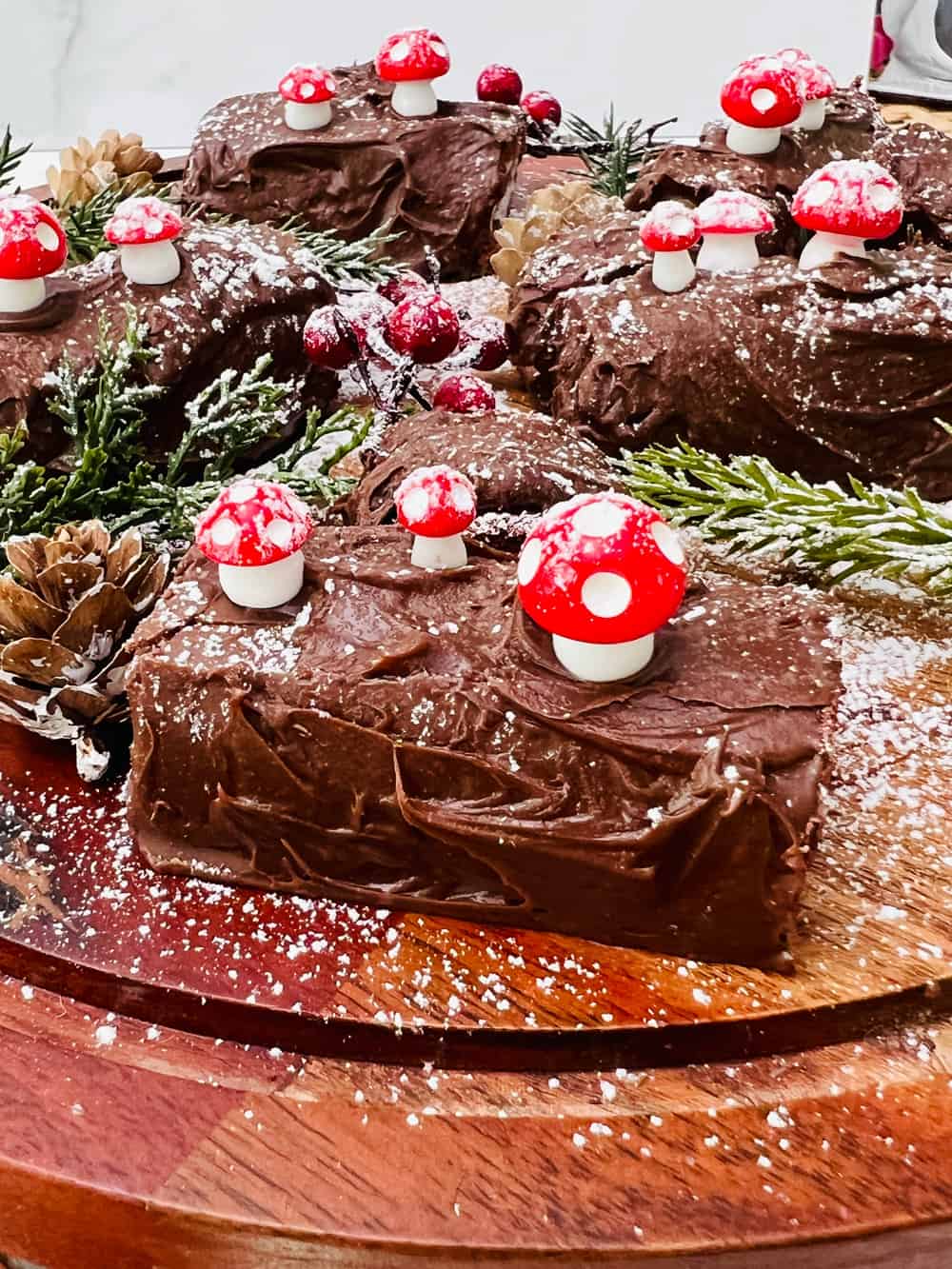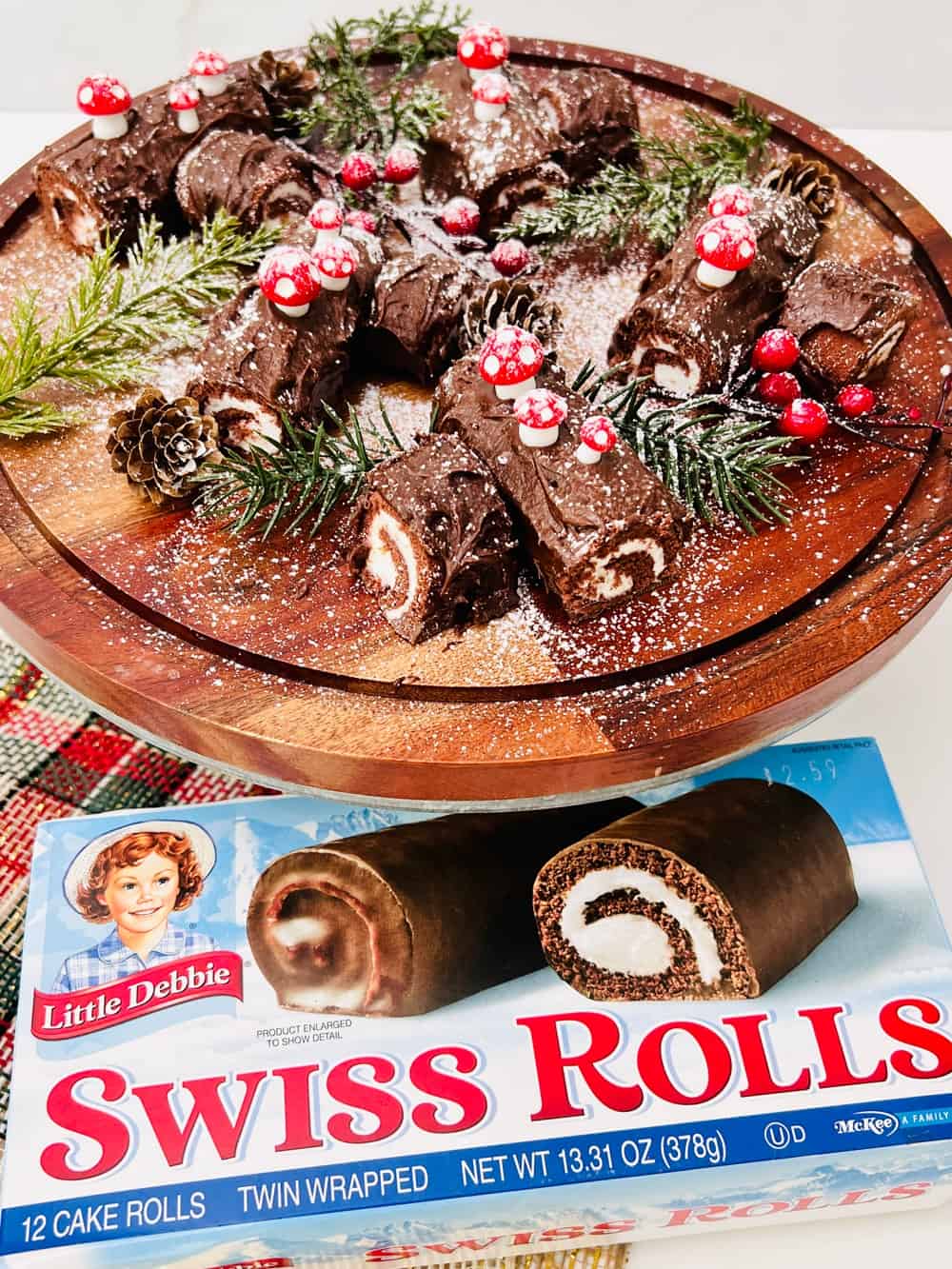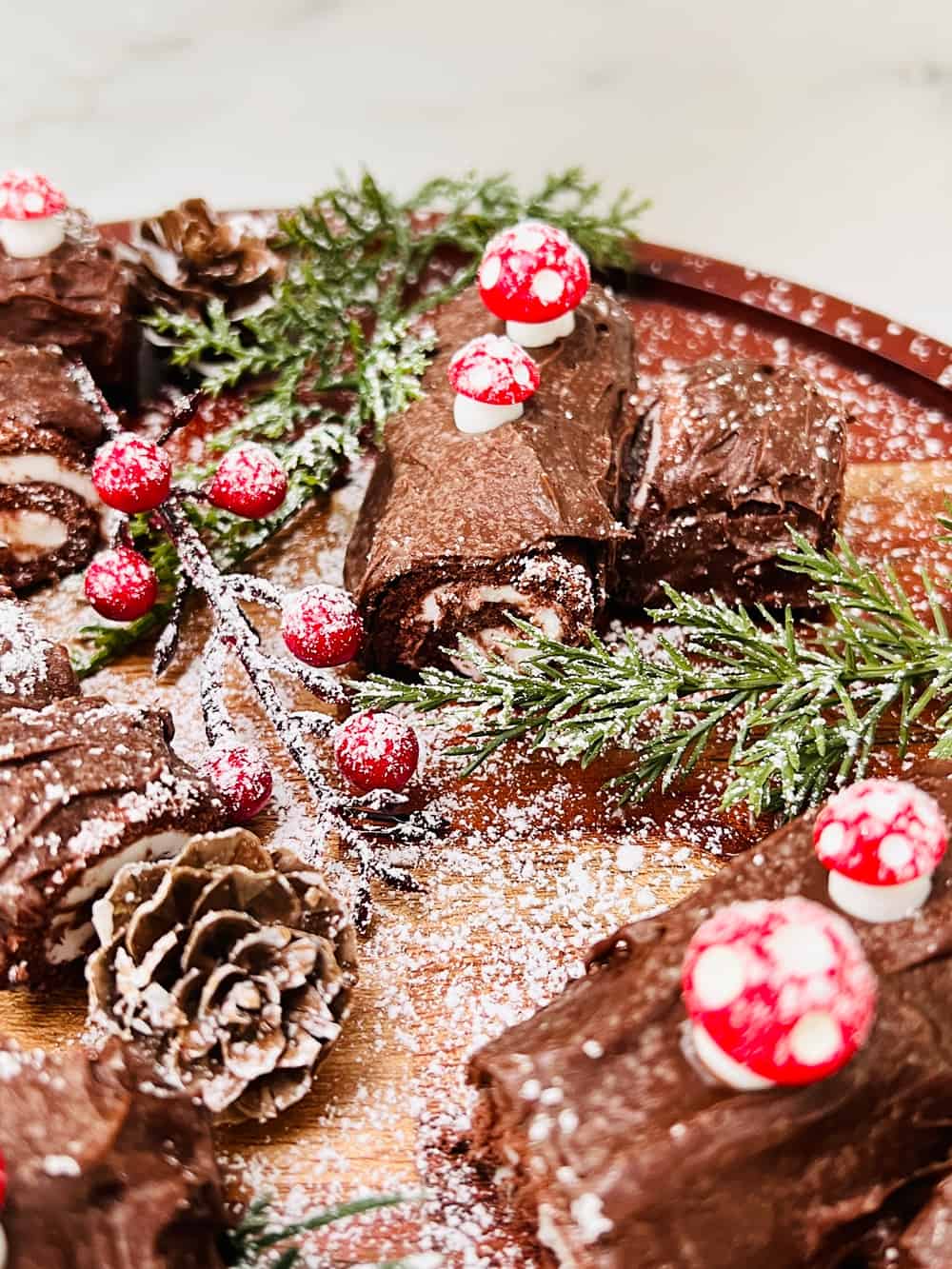 The History and Origins of the Bûche De Noël
The Yule Log was originally a real log that was burned on the hearth of the fireplace on Christmas Eve in honor of the winter solstice.
The tradition dates back to the ancient Celts, who would burn logs to celebrate the shortest day. The longest night of the year (Christmas Eve) represented death and the birth of a new year.
The burning of the log was a way to honor the past and look forward to the future.
The Yule Log tradition was adopted by the Christian church and eventually became known as the Bûche de Noël. The Bûche de Noël is a type of cake made to resemble a log.
It is typically made of a chocolate cake rolled with chocolate buttercream, and often decorated with meringue mushrooms, sugared pine cones, and other winter decorations. Super fun!
Mini Bûche De Noël Snack Cakes – Ingredients
Store-bought mini snack chocolate cake rolls like Little Debbie Swiss Rolls or Yodels
Store-bought chocolate frosting (we used Betty Crocker)
Powdered sugar for snow
Faux craft pine greenery and mini pine cones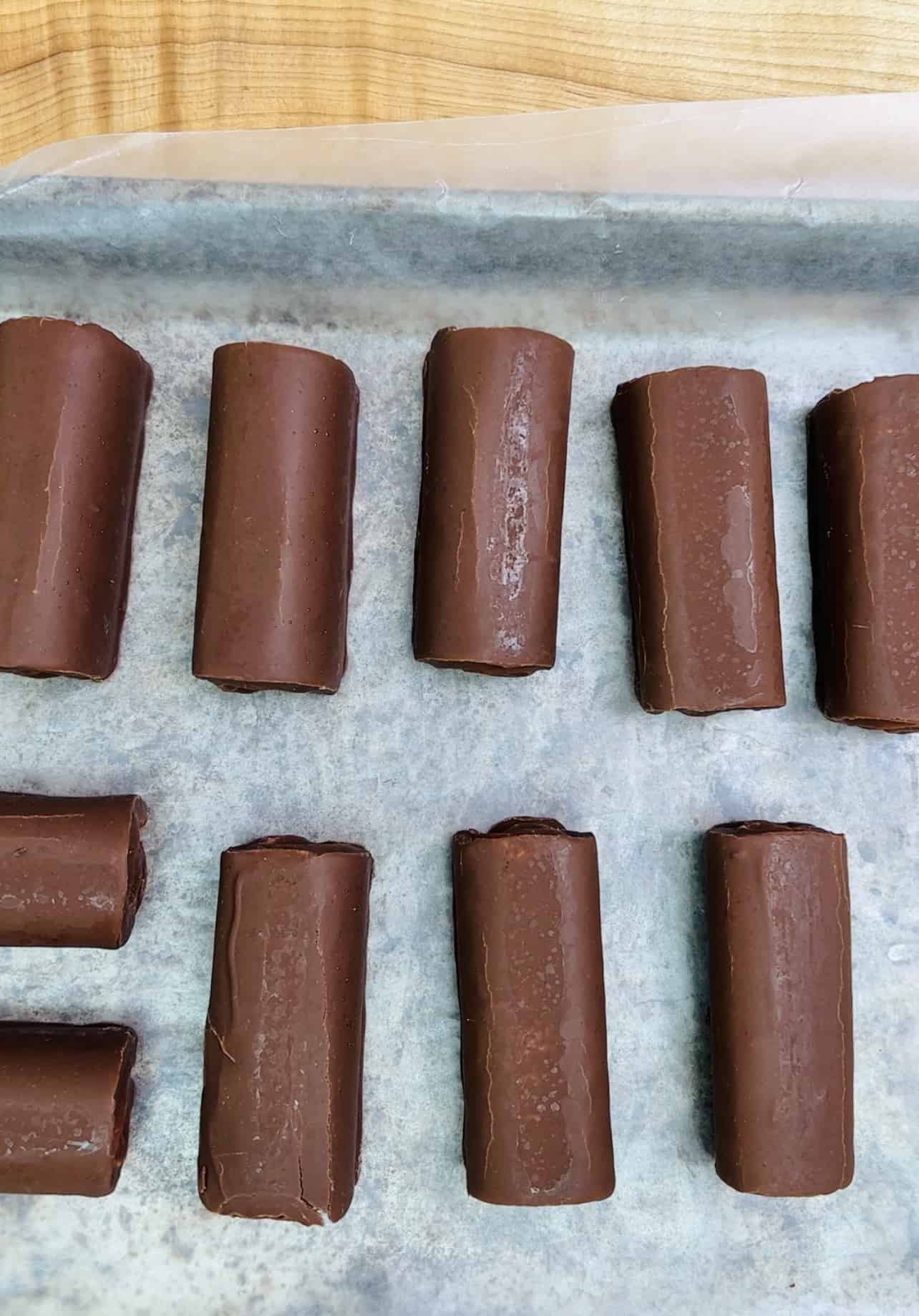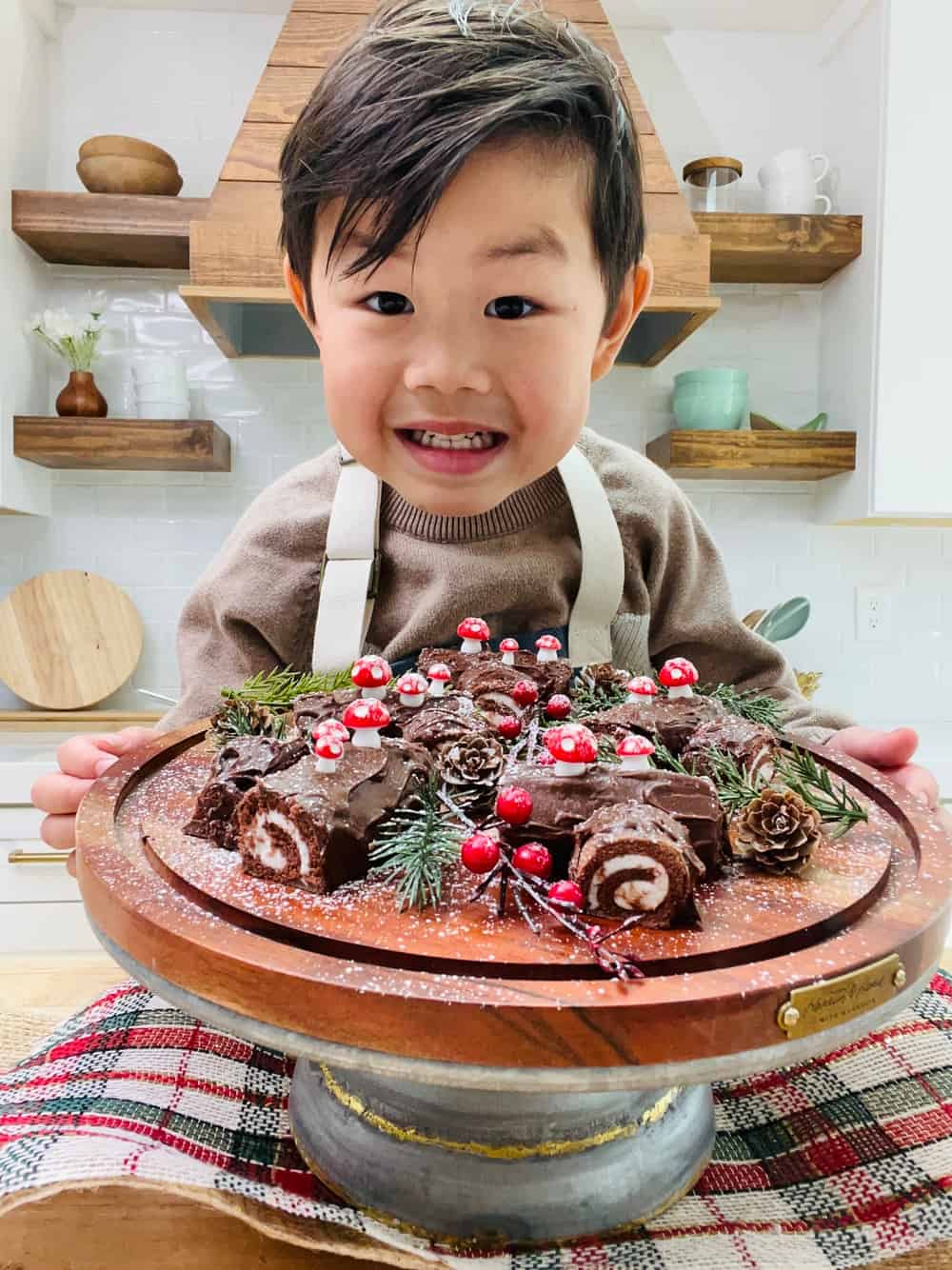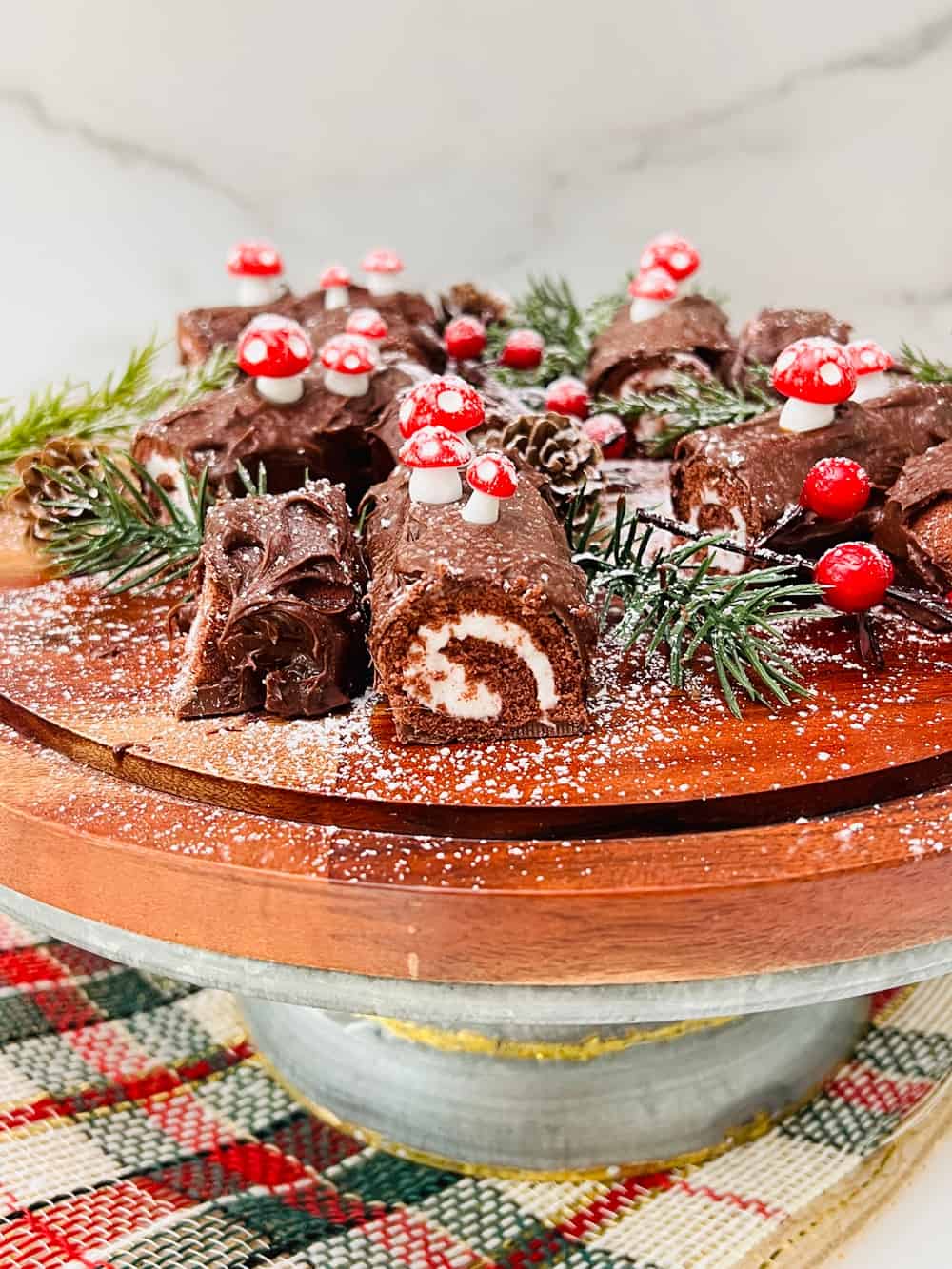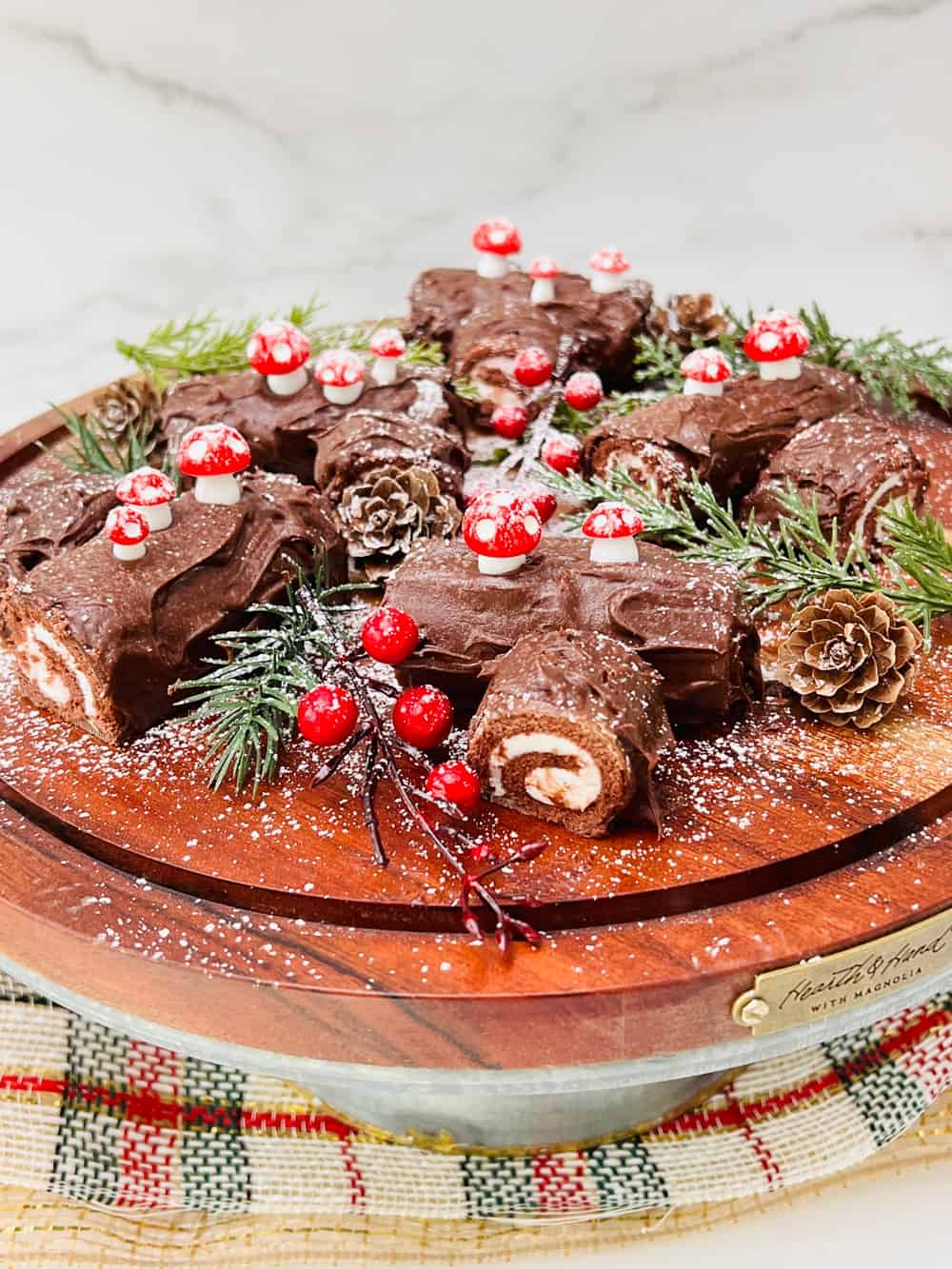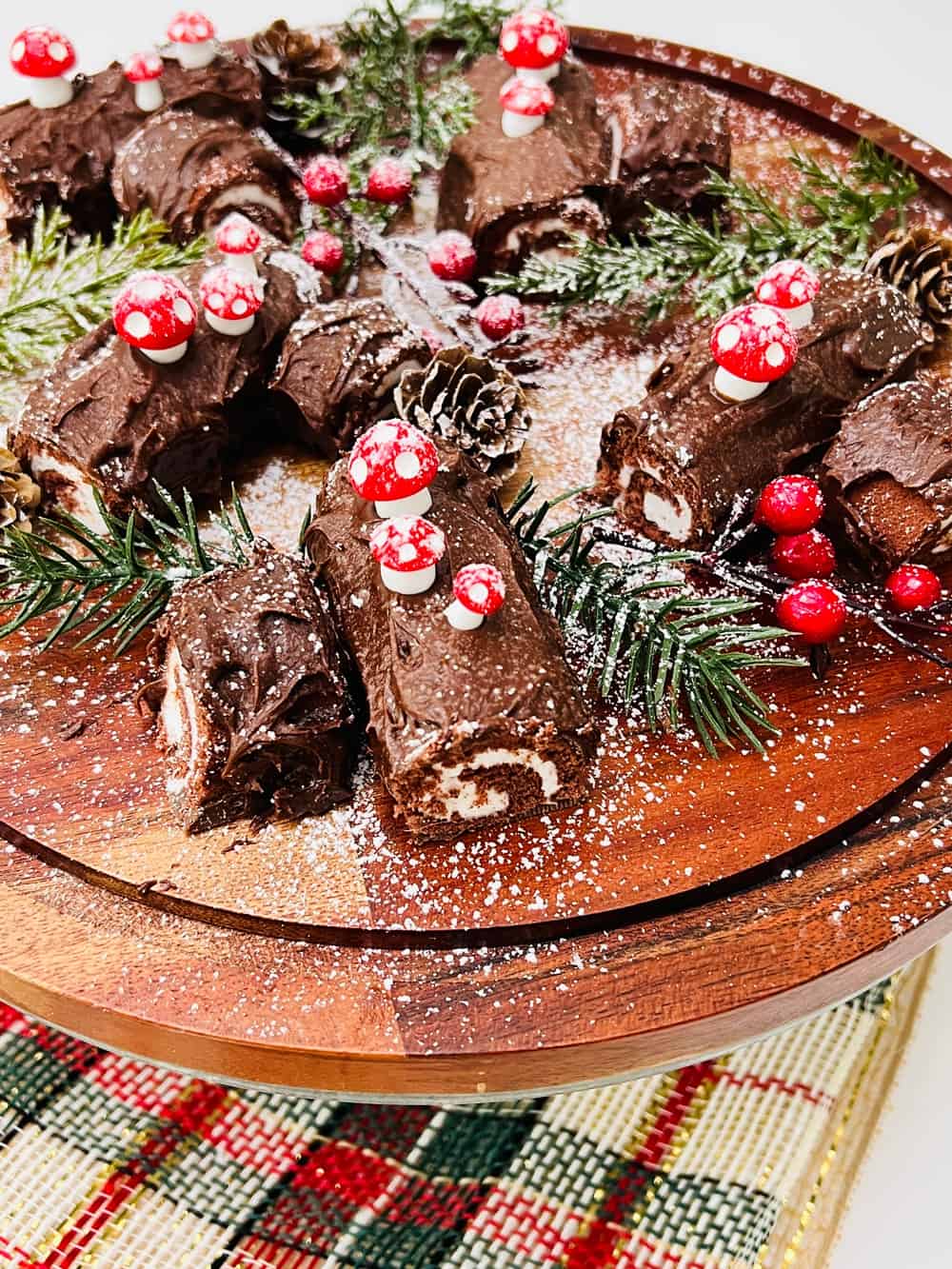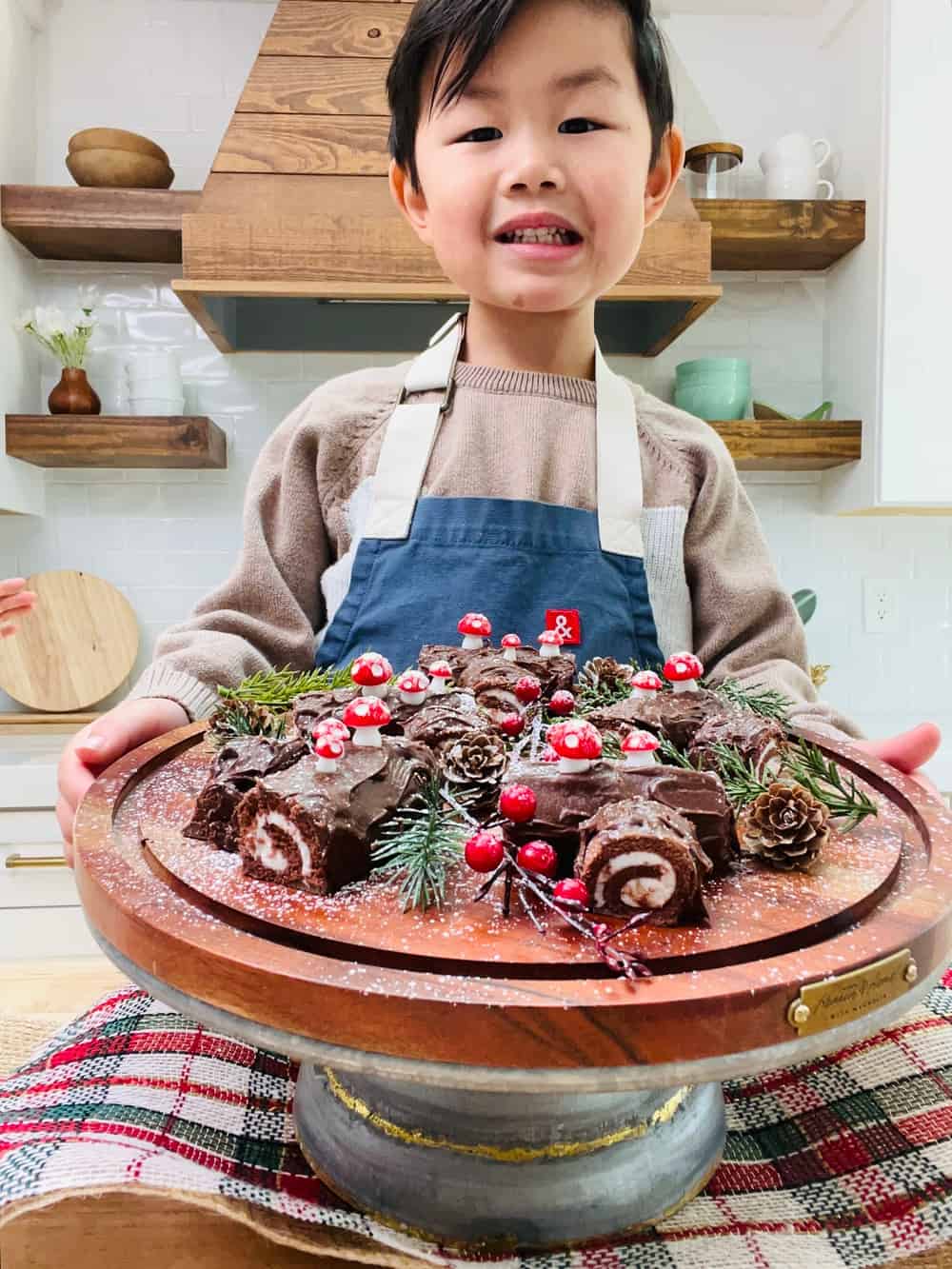 The Best Easy Bûche De Noël (Yule Log) Hack – Step-by-Step
Step One: Start by adding Chocolate Frosting
To make a delicious and easy Bûche de Noël (Yule Log), start by taking Little Debbie's Swiss Rolls and laying them flat on a parchment-lined baking pan. Freeze for at least 30 minutes so they are easier to handle.
Spread some ready-made chocolate frosting over the rolls to create mini "logs". If you do not have Betty Crocker chocolate frosting around, any chocolate frosting will work.
Cut some snack cakes in thirds to add to the sides of a whole cake to more resemble fallen logs.
Step Two: Add Some Mushrooms and Pine Decorations
Next, take some craft mushroom cake toppers and place them around and on the rolls for a festive design.
We put the mushrooms directly on top of the rolls and the pine and greenery surrounding them.
Step Three: Top it Off With a bit of Powdered Sugar
Lastly, sprinkle it with powdered sugar to give it a light snow-like effect. If you're feeling fancy, you can even add a "snow drift" on top.
Now all you have to do is enjoy your delicious and easy Bûche de Noël.
Note: if serving later don't add the powdered sugar until right before you serve the cakes as it will "melt" into the frosting shortly after you sprinkle over the top of the frosting due to the moisture.
Brilliant Ways to Enhance Bûche de Noël Rolls
Try Adding Some Sprinkles
Decorating the Bûche de Noël rolls with colorful sprinkles can add an extra layer of holiday cheer to the presentation.
Sprinkles in the colors of red and green, or even a combination of jolly colors, can give the rolls a more jovial look. This is a great way to individualize the rolls for each guest!
Dust the Rolls With Cocoa Powder
Adding cocoa powder to the rolls can give them a characteristic "chocolatey" smell and taste, and add to the overall aesthetic of the rolls.
Adding small amounts of cocoa powder will impart a subtle flavor without overwhelming the delicate taste of the rolls itself.
Top them off with Whipped Cream
Topping the Bûche de Noël rolls with a dollop of whipped cream or a scoop of vanilla ice cream can add a creamy and delicious flavor to the rolls.
Whipped cream or ice cream can be decorated with cheery sprinkles as well, adding a delightful touch of color and festivity to the presentation for your guests.
Add Some Sprigs of Holly
For an extra festive touch, add a few sprigs of fresh holly, or other holiday greenery, to the top of the Bûche de Noël rolls.
The greenery will look beautiful, and can also add a nice fresh scent to the rolls. If you don't have any fresh holly available, you can use a few pieces of artificial holly instead.
Add a Caramel Drizzle
Drizzle the top of the bûche with a salted caramel sauce for a sweet and salty flavor. Plus, the caramel will add a nice glossy sheen to the rolls.
Salted caramel is delicious and addictive, so adding a bit to the top of the rolls will make them irresistible to your guests.
Add Some Candied Fruit
Finally, a few pieces of festive-colored candied fruit or nuts on top of the rolls can add a nice yuletide touch, perfect for the holidays.
If you have any leftover fruit or nuts, these can also be used in lieu of candied fruit.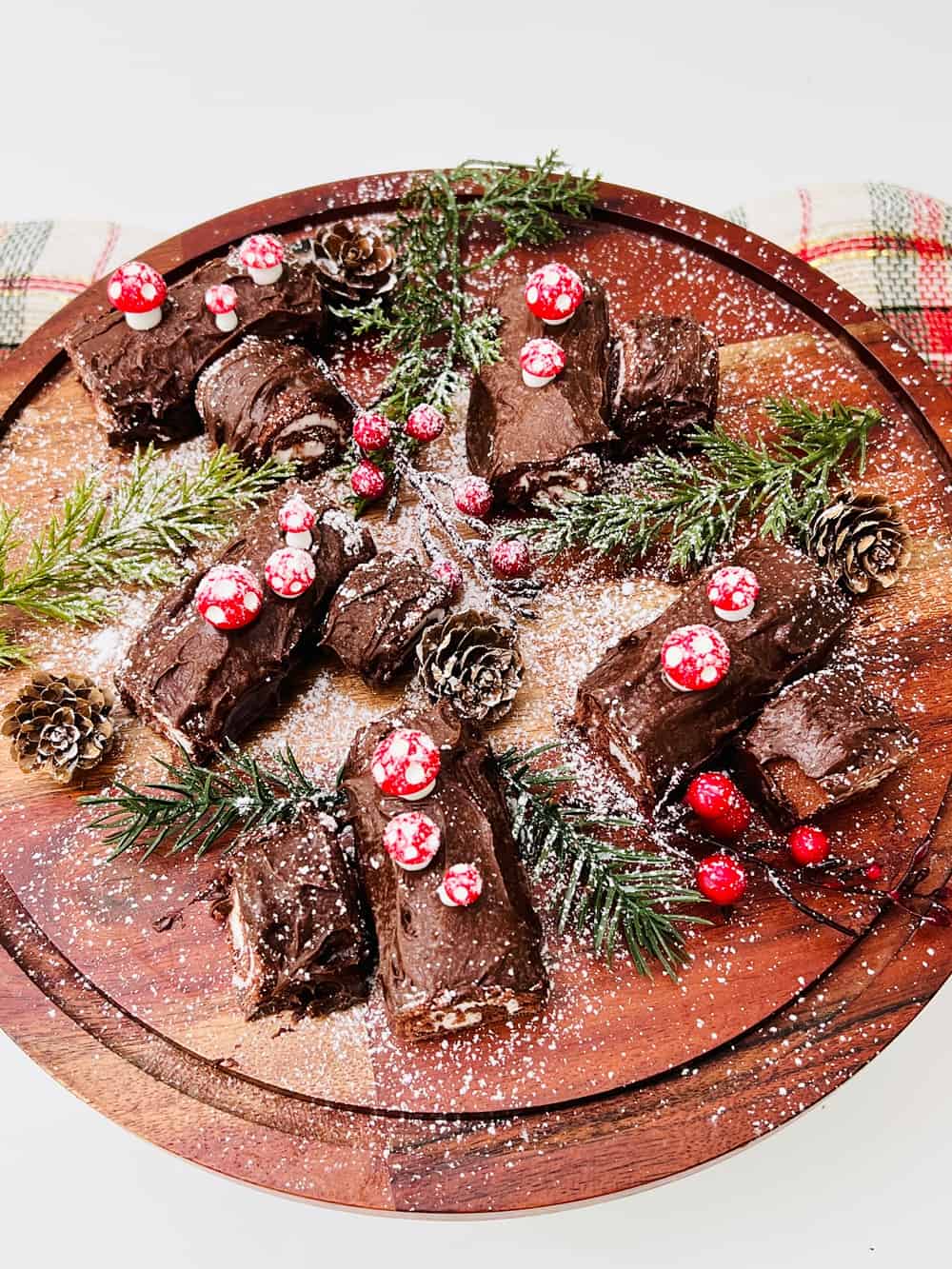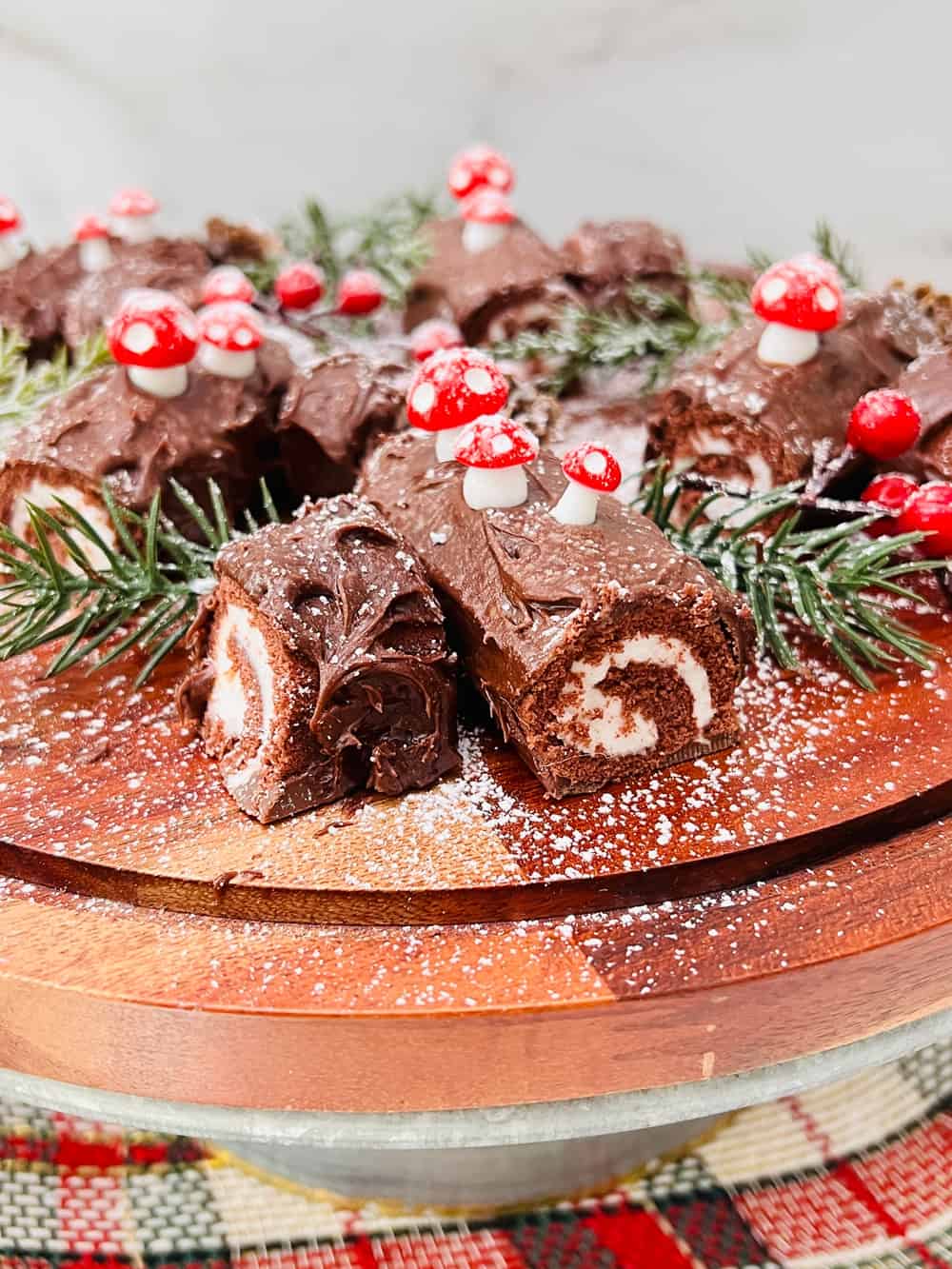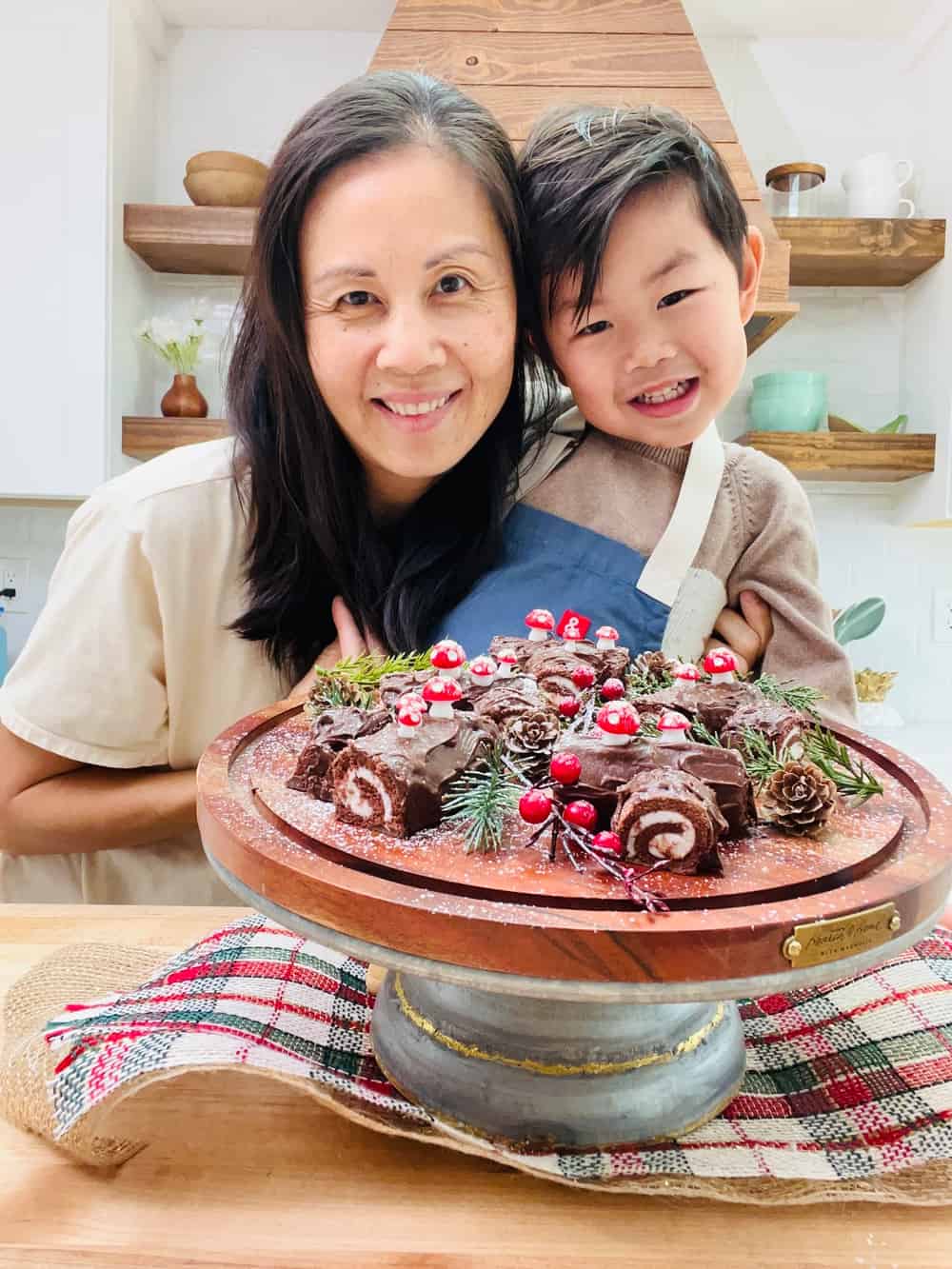 Takeaway
The Bûche de Noël Roll is a yummy pastry that is perfect for celebrating the holidays. Plus, they can be topped with sprinkles or candied fruit to add extra flavor and style.
Kids and adults will love these rolls, and they are the perfect dessert to serve at a holiday gathering. Not to mention, they are easy to make – ideal for busy holiday baking schedules!
You can also customize these rolls by using different types of toppings like nuts or candies. So, whether you want them to be simple or elaborate, there is something for everyone!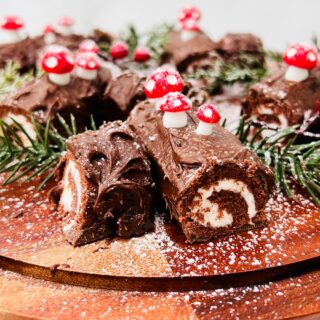 Easy Mini Bûche De Noël Cakes
Make the easiest mini Bûche De Noël (yule log cakes) with this easy hack for using chocolate snack cakes. A simple holiday treat even kids can make!
Ingredients
Store-bought mini snack chocolate cake rolls like Little Debbie Swiss Rolls or Yodels
Store-bought chocolate frosting (we used Betty Crocker)
Mini Mushroom cake toppers
Powdered sugar for snow
Faux craft pine greenery and mini pine cones
Instructions
To make a delicious and easy Bûche de Noël (Yule Log), start by taking Little Debbie's Swiss Rolls and laying them flat on a parchment-lined baking pan. Freeze for at least 30 minutes so they are easier to handle.

Spread some ready-made chocolate frosting over the rolls to create mini "logs". If you do not have Betty Crocker chocolate frosting around, any chocolate frosting will work.

Cut some snack cakes in thirds to add to the sides of a whole cake to more resemble fallen logs.

Next, take some craft mushroom cake toppers and place them around and on the rolls for a festive design.

We put the mushrooms directly on top of the rolls and the pine and greenery surrounding them.

Lastly, sprinkle it with powdered sugar to give it a light snow-like effect. If you're feeling fancy, you can even add a "snow drift" on top.

Now all you have to do is enjoy your delicious and easy Bûche de Noël.

Note: if serving later don't add the powdered sugar until right before you serve the cakes as it will "melt" into the frosting shortly after you sprinkle over the top of the frosting due to the moisture. Step Two: Add Some Mushrooms and Pine DecorationsStep Three: Top it Off With a bit of Powdered SugarBrilliant Ways to Enhance Bûche de Noël Rolls