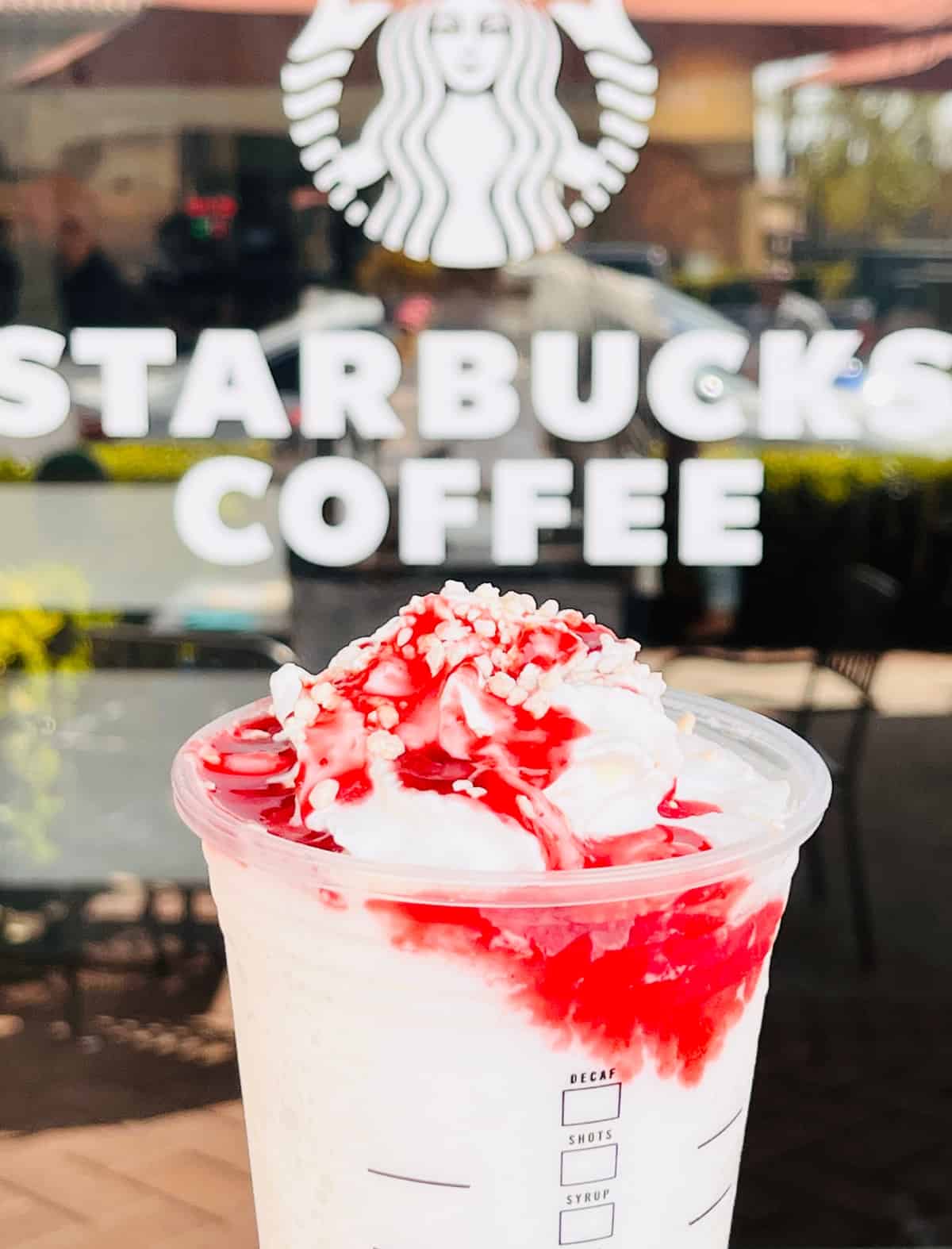 By using this site, you agree to our Terms of Use. This post may contain affiliate links. Read our disclosure policy.
Follow us on Instagram for more fun food ideas for kids!
We tried Starbucks' New Strawberry Funnel Cake Frappuccino and it tastes like a nostalgic summer day at the carnival. With a side of sugar.
Here's some exciting news to get you revved up for summer snacking, especially if you're a coffee fan. The new Starbucks Strawberry Funnel Cake Frappuccino released May 11, 2021 just in time for summer. The new flavor is their first limited edition Frappuccino flavor in more than 3 years. The berry blended drink is part of their new summer line up which includes other fun treats such as the return of past favorites, unicorn cake pops, along with colorful beverages like Dragon Drink and Pink Drink.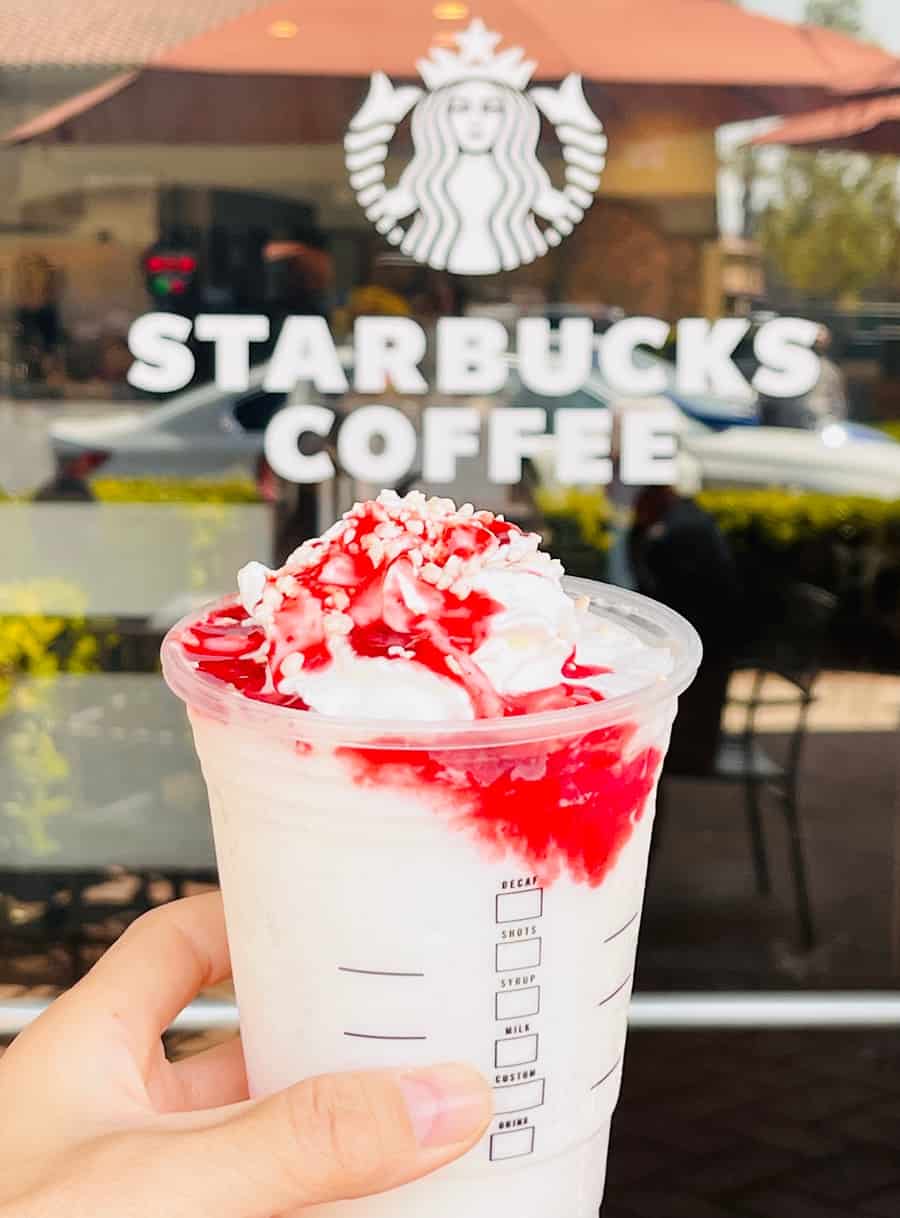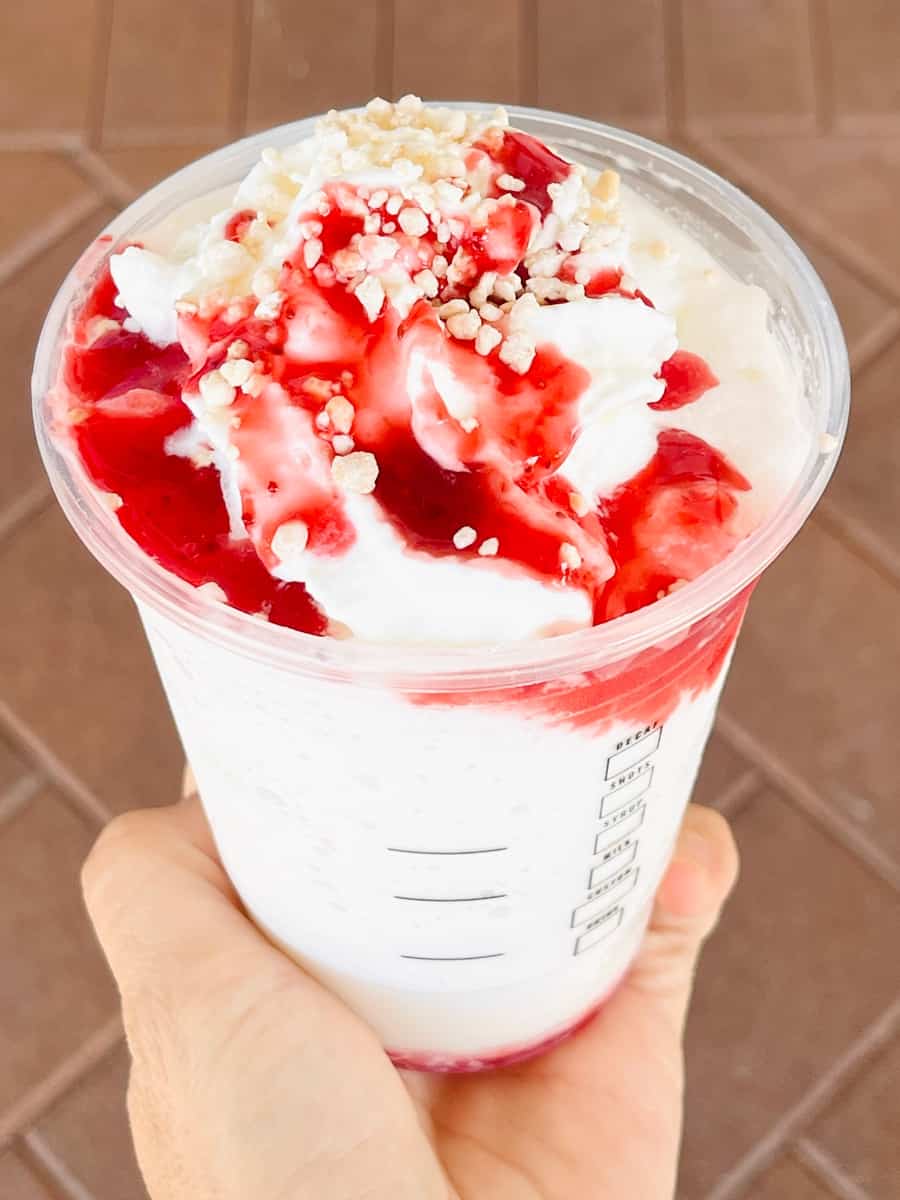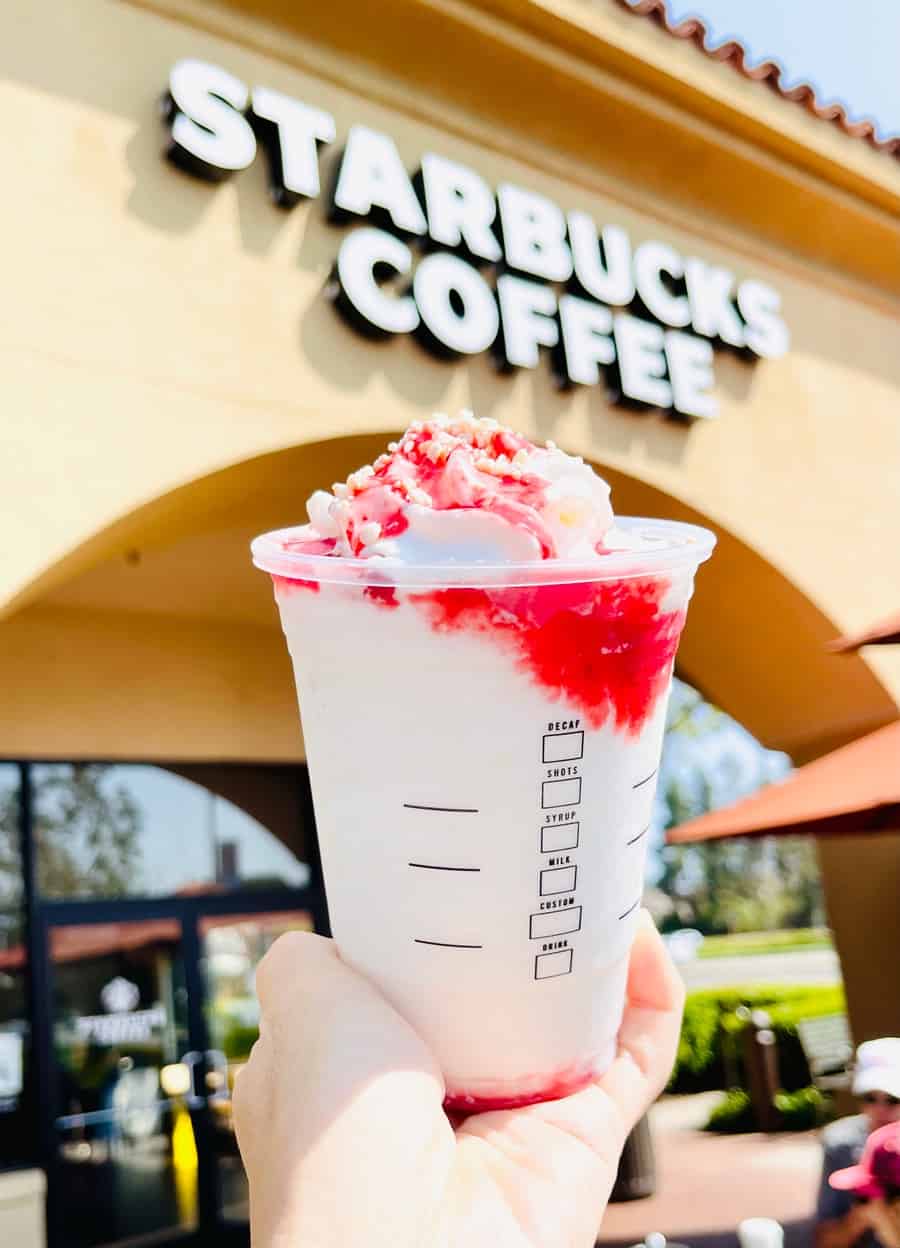 What does the Strawberry Funnel Cake Frappuccino taste like?
According to Starbucks the drink features "funnel cake–flavored syrup blended with coffee, milk and ice, layered with strawberry puree, whipped cream and powdered-sugar-funnel-cake pieces." We had to get our hands on one to try. Since this was for my 12-year-old daughter, we ordered the non-caffeinated creme version. The toppings stayed the same, however. The drink is topped with crunchy bits that are supposed to be funnel cake pieces. They tasted a bit like "crunchy churros" with the texture of Rice Krispies according to my daughter.
The funnel bits are not at all like the soft fried cakes you get at carnivals. We saw the Starbucks employee shake them out of a bottle like salt and pepper. So these funnel pieces are definitely more similar to manufactured bits of sugary cookies or carbs. The puree isn't fresh either – it's poured out of a plastic bottle (but what can you expect, it's Starbucks and they have hundreds of thousands of customers). I don't think anyone expects fresh blended strawberry puree, although that would be fantastic. The puree, although not fresh has a nice strawberry flavor, but it's on the syrupy side.
We wished our drink had more strawberry puree on the bottom and we actually had to ask for more on top!
Like all Frappucinnos these strawberry blended drinks are on the sweet side. The funnel cake syrup is vanilla-y and super sweet. These blended drinks are definitely considered a dessert and less a coffee beverage.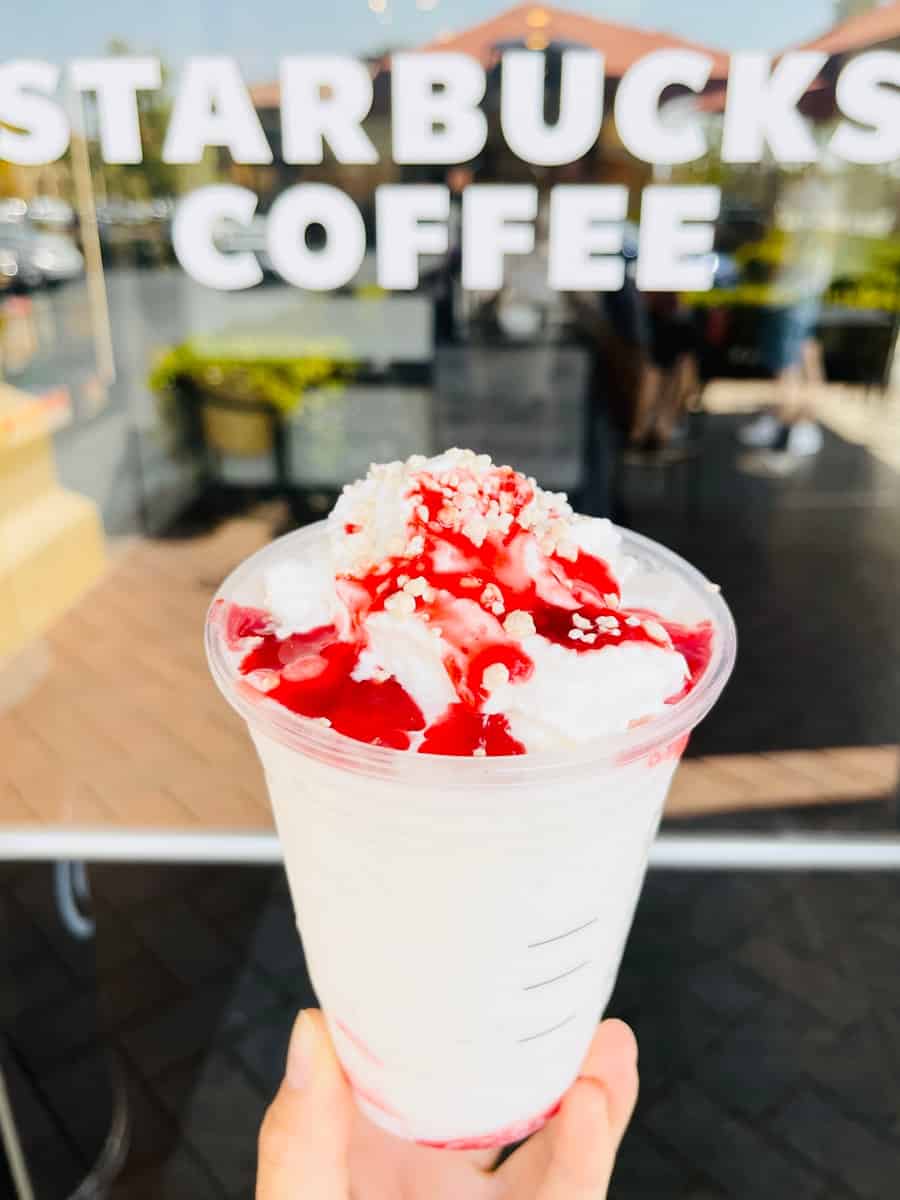 What are the calories in this Strawberry Frappuccino?
We got a Strawberry Funnel Frappuccino Grande size which clocks in at a whopping 410 calories and 51 grams of sugar. Did we mention this drink is sweet? Bottom line, would we get this again? Probably not because for the sugar amount and empty calories the caliber of ingredients wasn't up to par. If the funnel cake bits were fresh as well as the strawberry puree, we'd probably be heading straight back.
Get the Starbucks Strawberry Funnel Frappuccino for a limited this time summer. Check here for store availability.
You Might Also Like