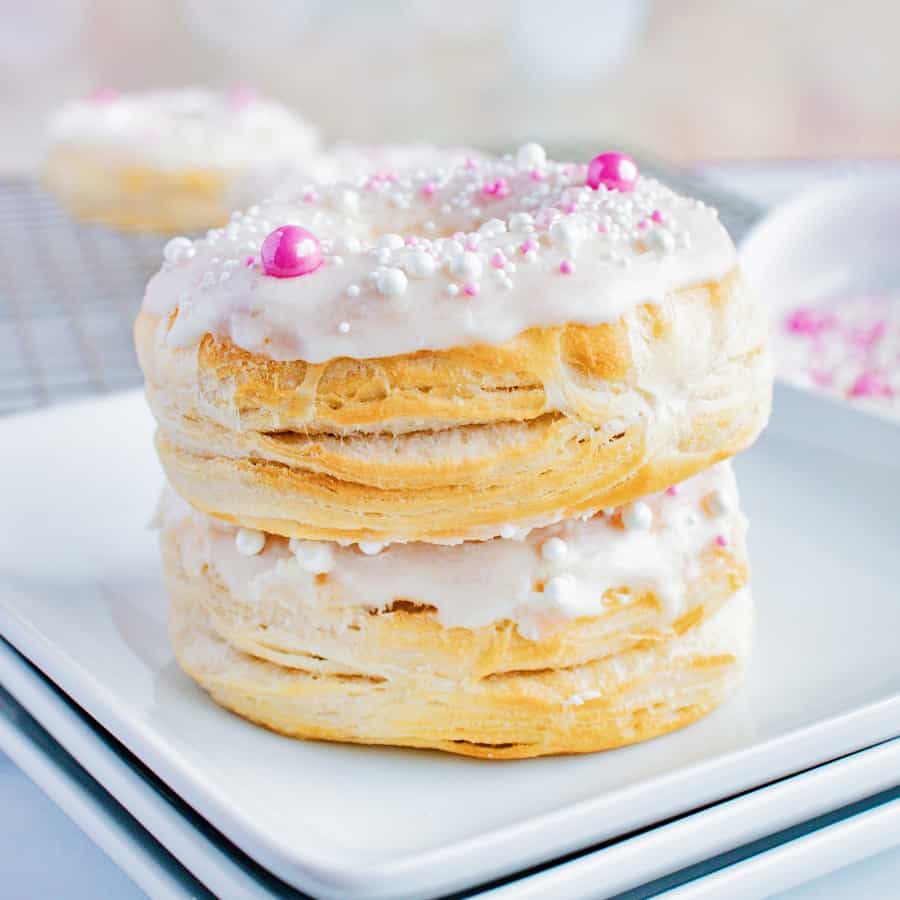 By using this site, you agree to our Terms of Use. This post may contain affiliate links. Read our disclosure policy.
Follow us on Instagram for more fun food ideas for kids!
These Biscuit Air Fryer donuts are the easiest homemade donuts ever and are even more fun to decorate with your kids.
Air Fryers are the latest appliance that everyone is enjoying. It seems everyone is trying different foods to make in the Air Fryer. Desserts are a great meal to make. If you are craving warm donuts, these Biscuit Air Fryer Donuts can be made with just a few simple ingredients. We love making biscuit donuts in the oven for a quick and easy food hack and realized you could make them in the air fryer too! In about 15 or 20 minutes you can have fresh donuts with your favorite sprinkles. Donuts always make everyone happy! These vanilla air fryer donuts are fun to make and even more fun to decorate with your kids.
What Ingredients do you need to make Biscuit Air Fryer Donuts?
Refrigerated biscuit dough is what makes this recipe super simple, with no dough to measure and fuss with. The glaze is a simple mix of melted butter, powdered sugar, vanilla extract, and milk. The best part of making these at home is the sprinkles since there are so many fun kinds on the market these days. Choose your favorites and get in the decorating spirit with them.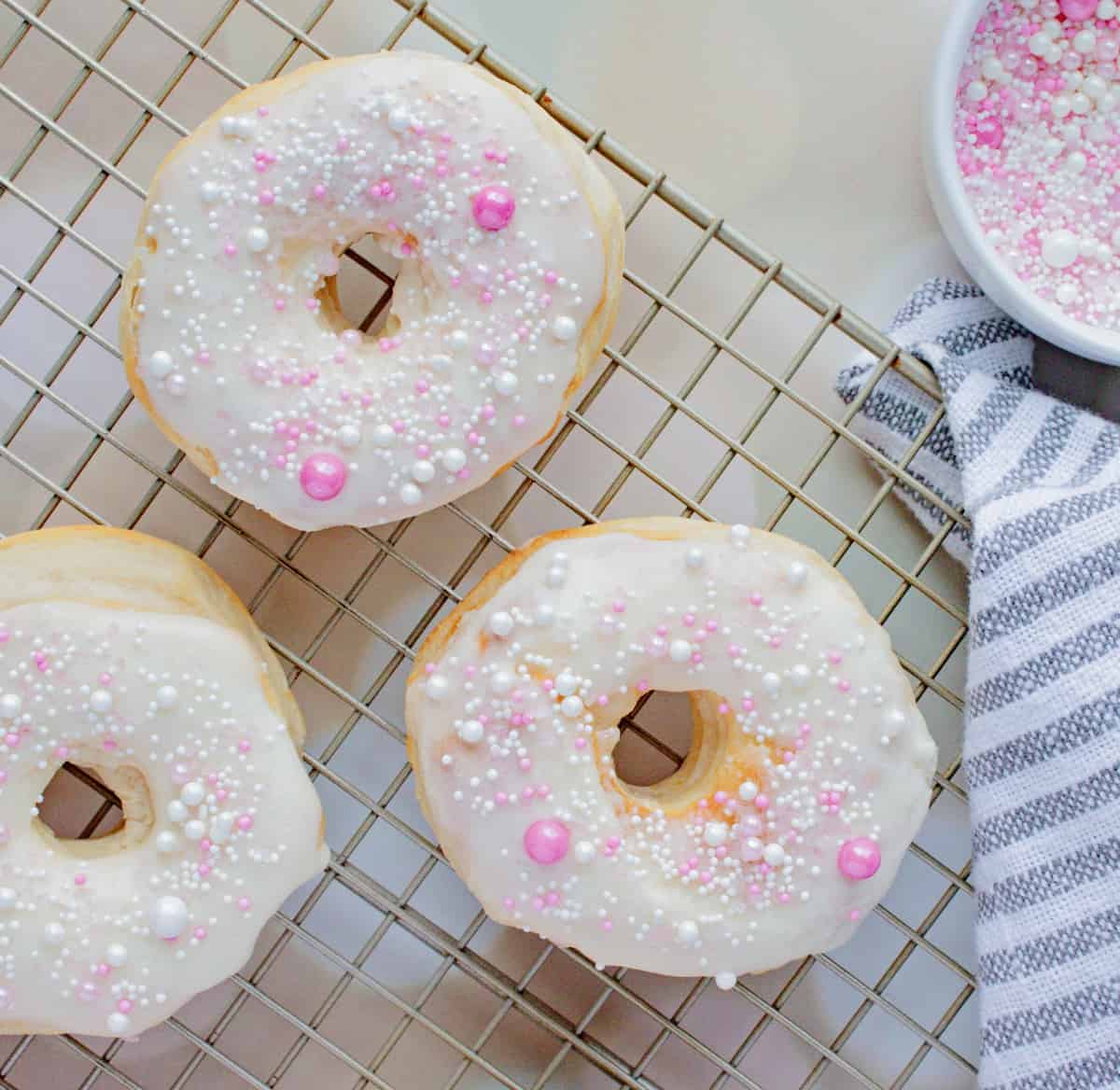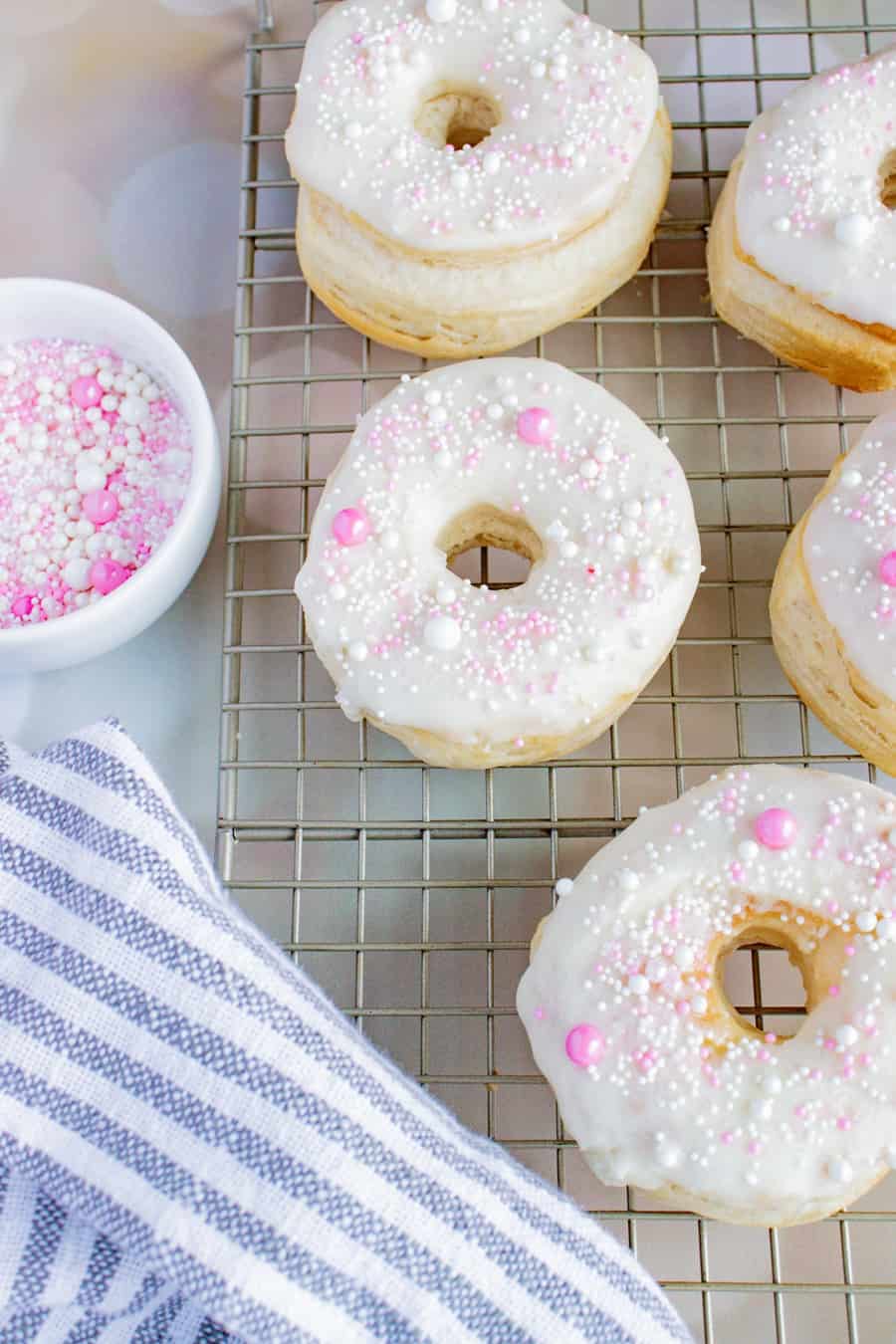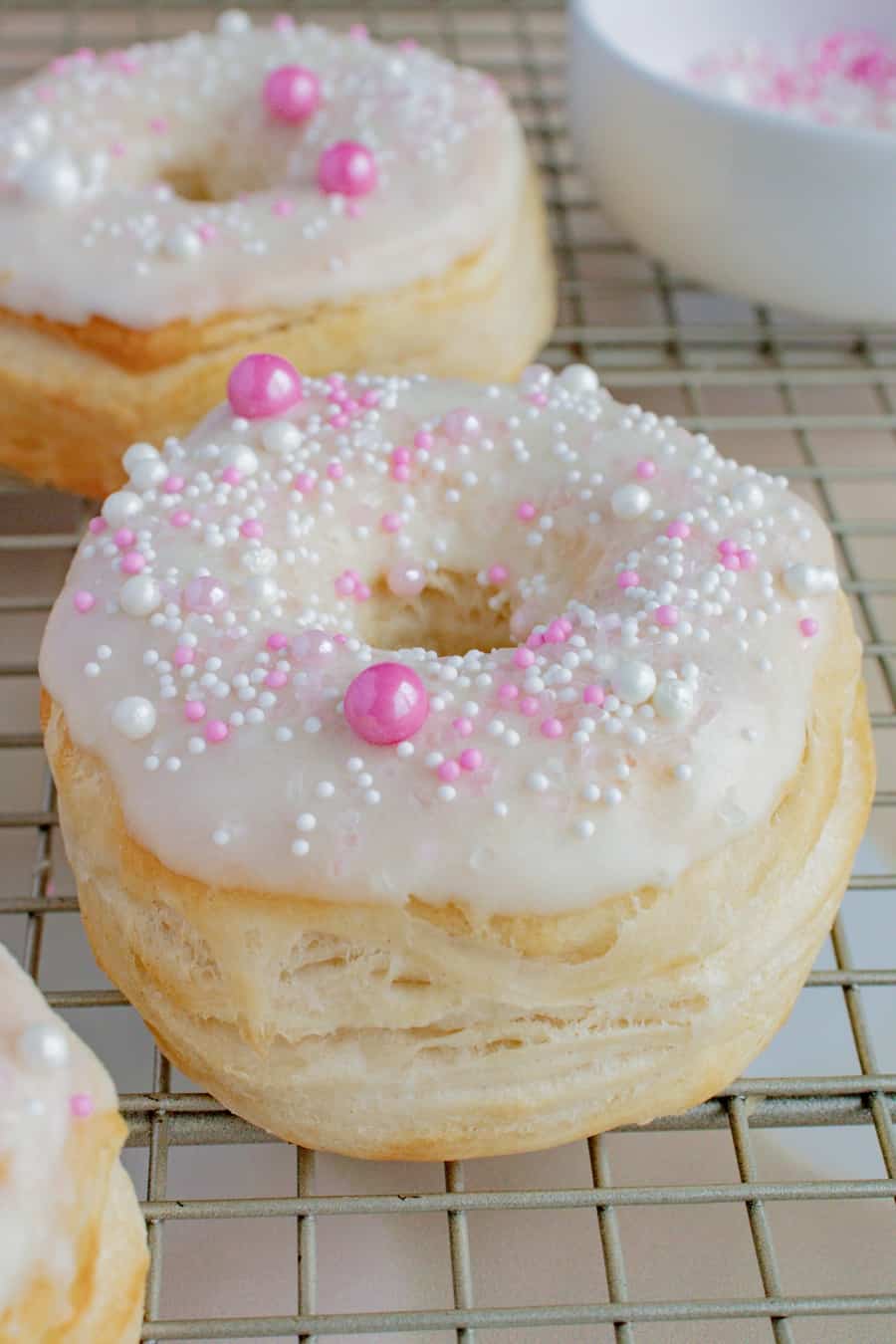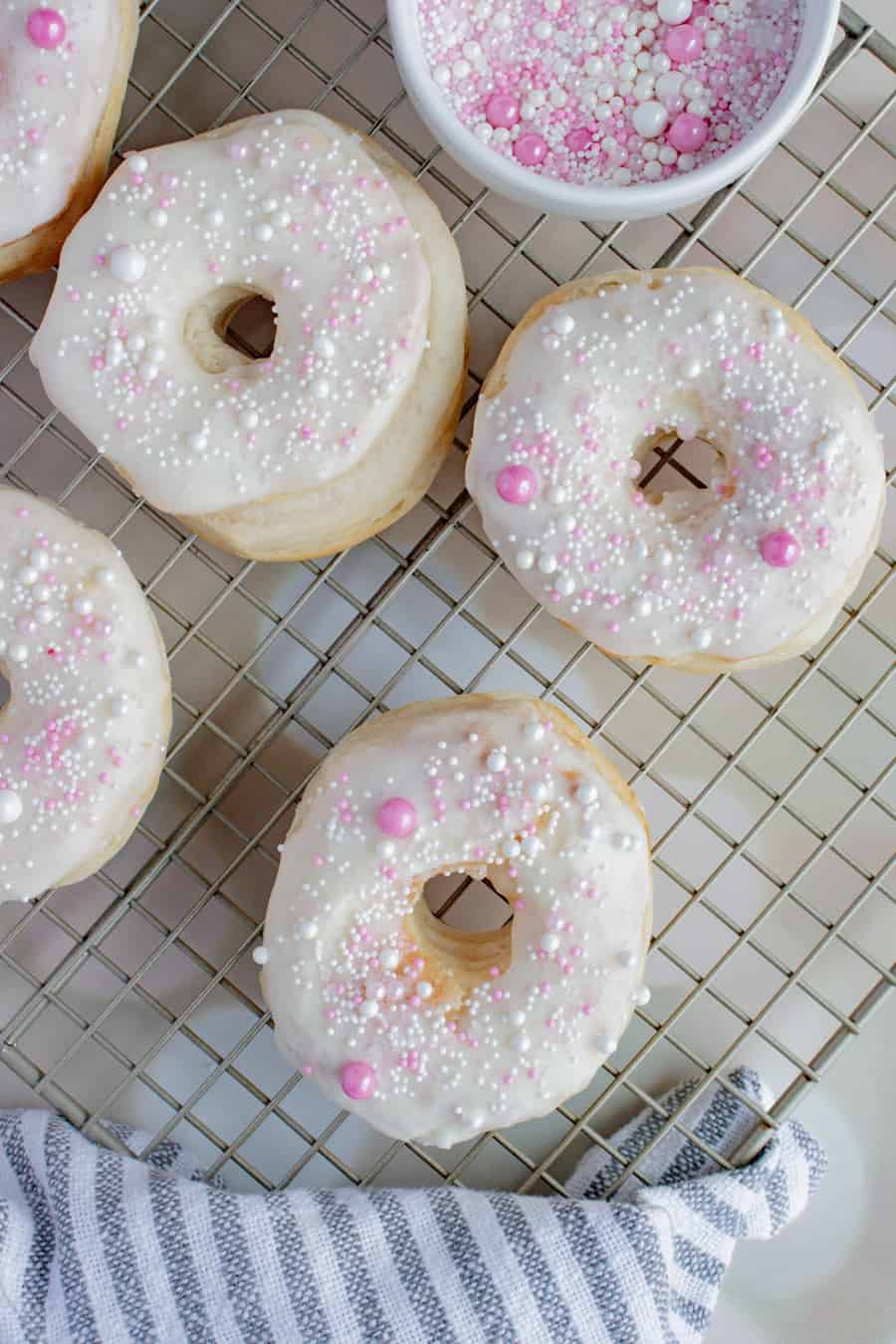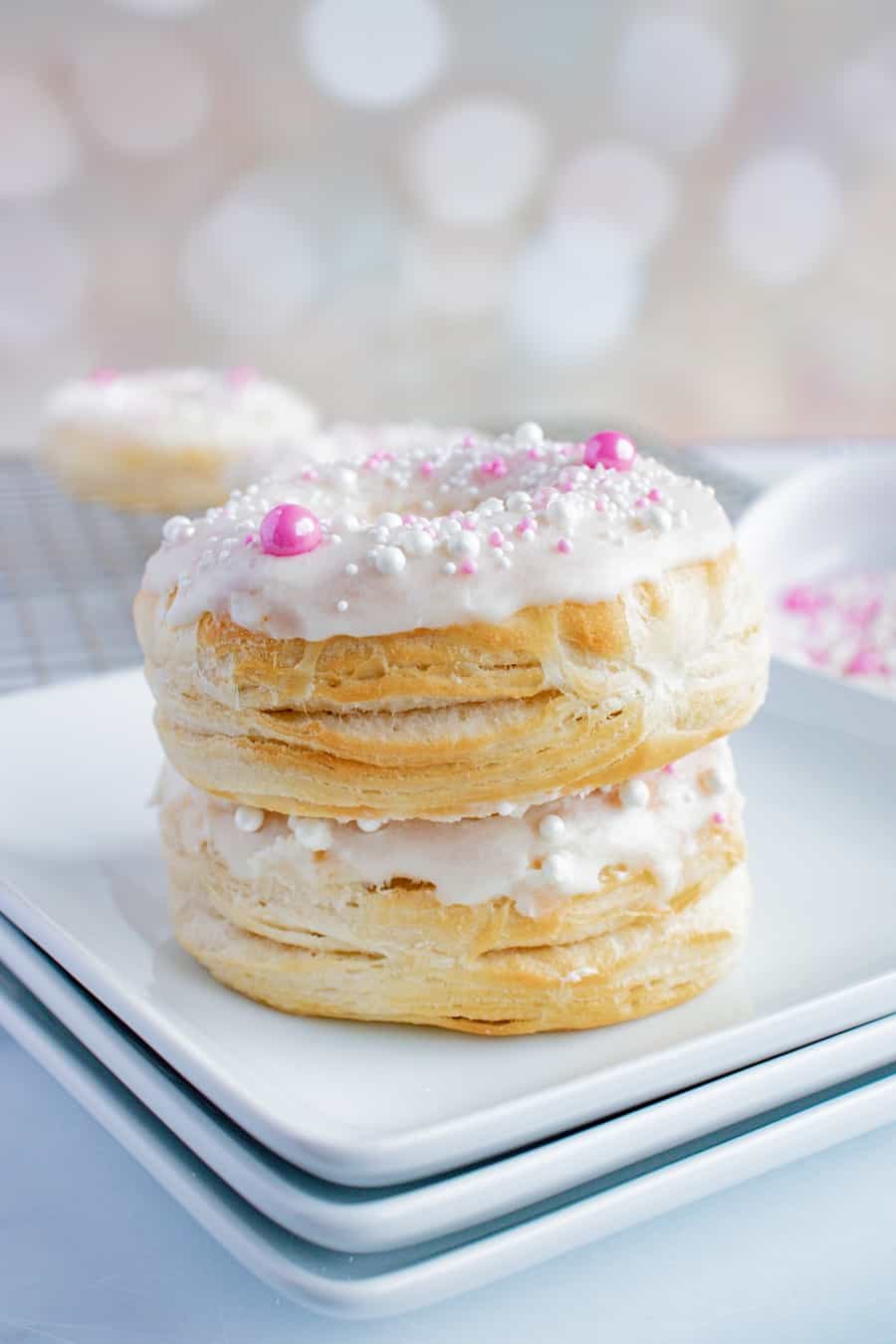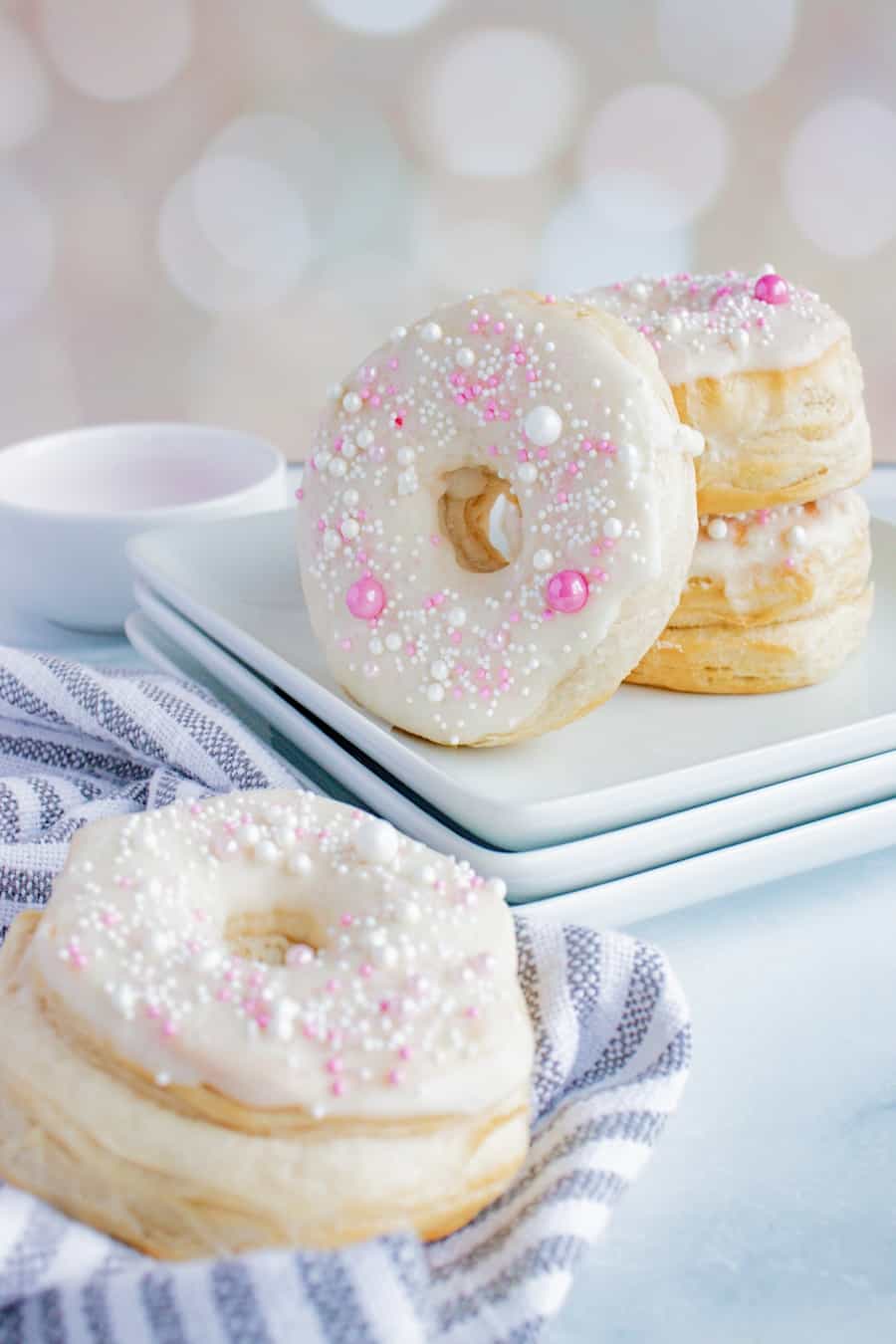 How do you make easy homemade biscuit donuts?
The biscuit dough is separated out from each other and a small hole is cut out of each one. Make the hole with a small round cookie cutter of the large end of a piping tip. Spray them with cooking spray and then add to the air fryer. Flip them halfway through cooking and then pull them out to glaze and decorate.
The glaze should be in a bowl that is wider than the width of the donuts which makes for easy dipping. If your glaze is too thick, add more milk. You can also substitute water for milk or try non-dairy alternatives like oatmilk or almond milk.
Your imagination is the only limit to the flavors of the donuts. Instead of milk, you can use lemon or orange juice to flavor the glaze. If you wanted different color glazes, you can add food coloring. Cocoa powder would make for a yummy chocolate glaze. As for sprinkles, you could change it up and use Oreo cookie crumbs, coconut or mini chocolate chips.
These homemade baked donuts are a great recipe to make with kids. The glazing can be done by dunking the donuts in a bowl of glaze so it isn't too messy. Let them choose the toppings and enjoy a day of baking without even turning on your oven. Let the Air Fryer work its magic and you will have yummy donuts in no time.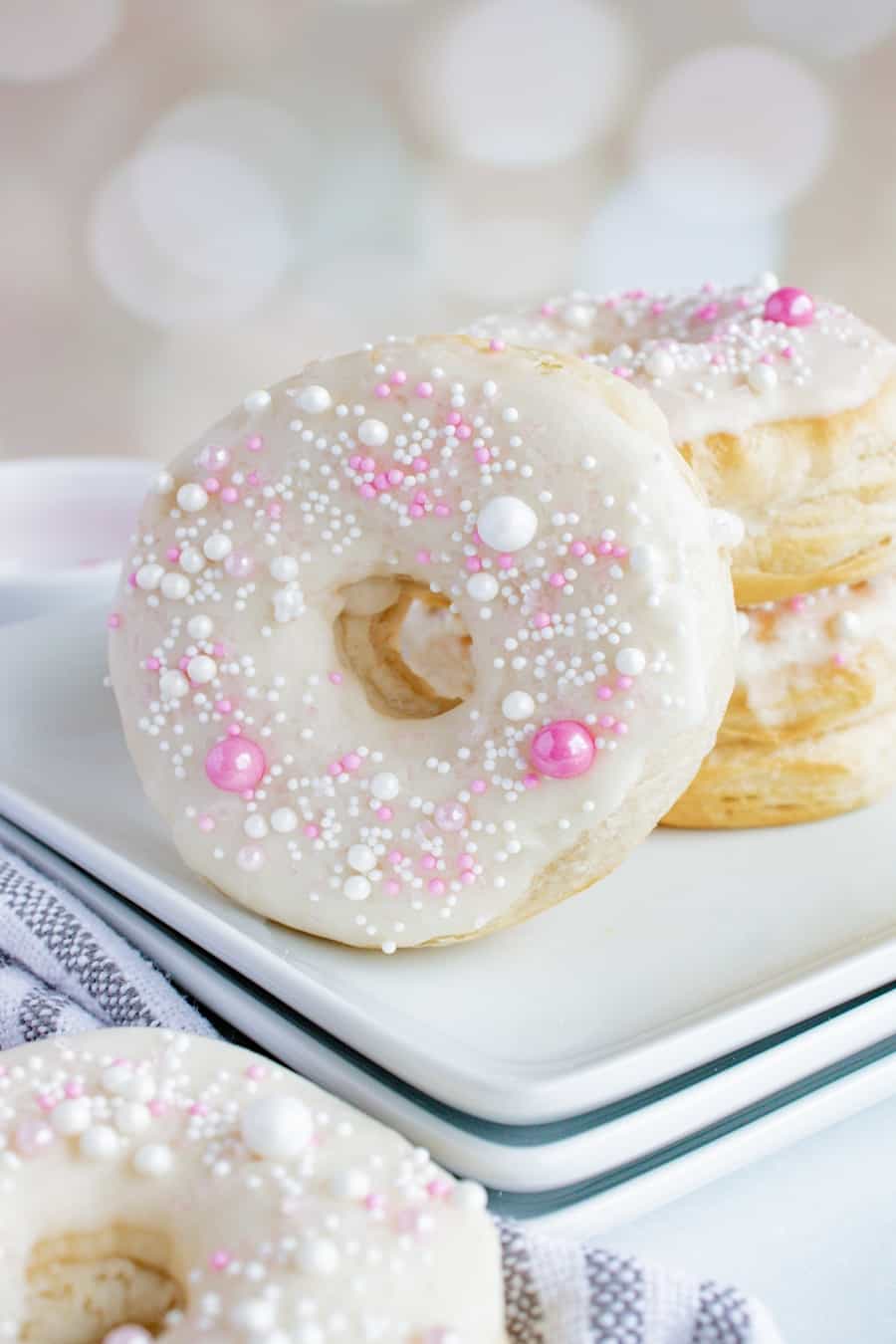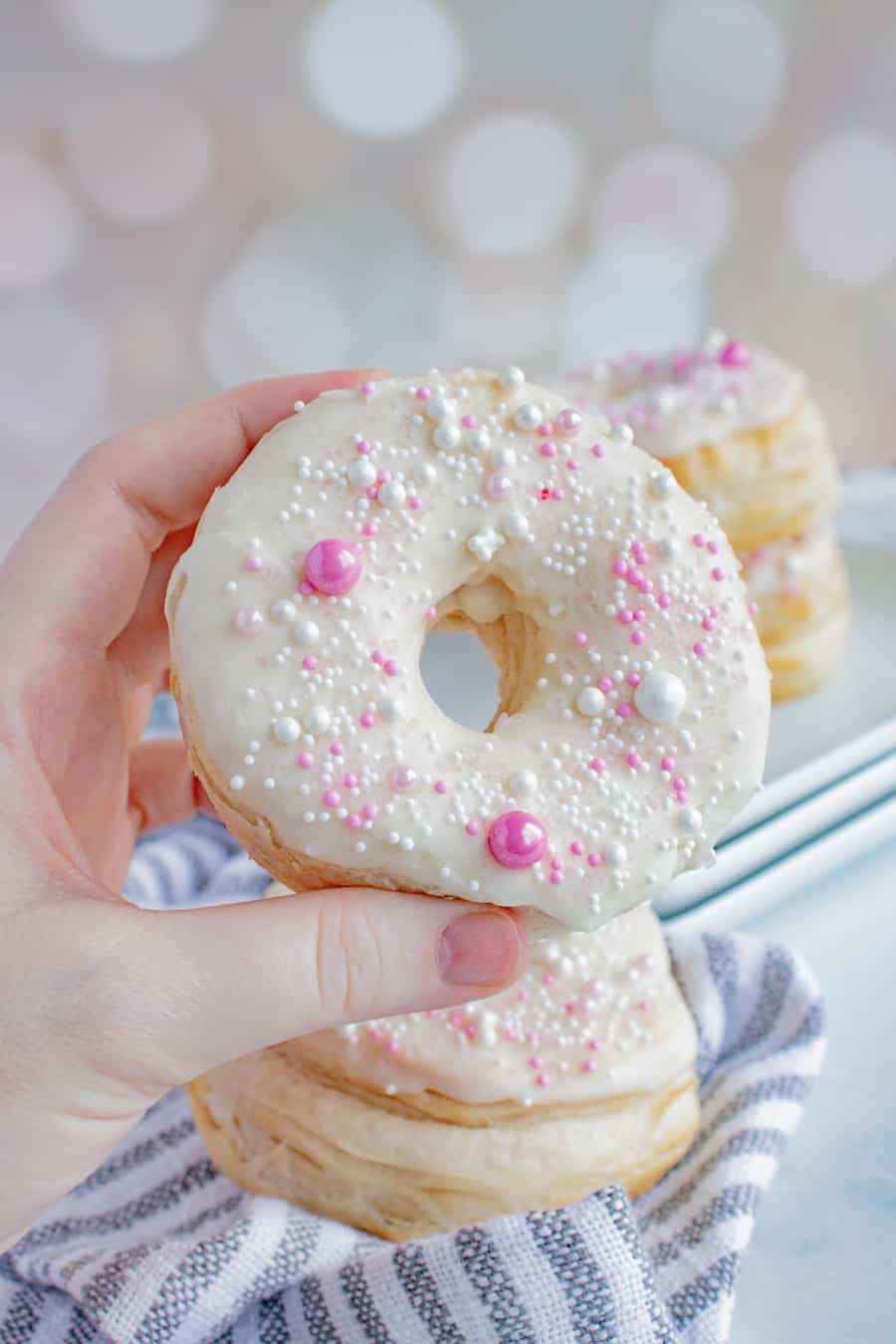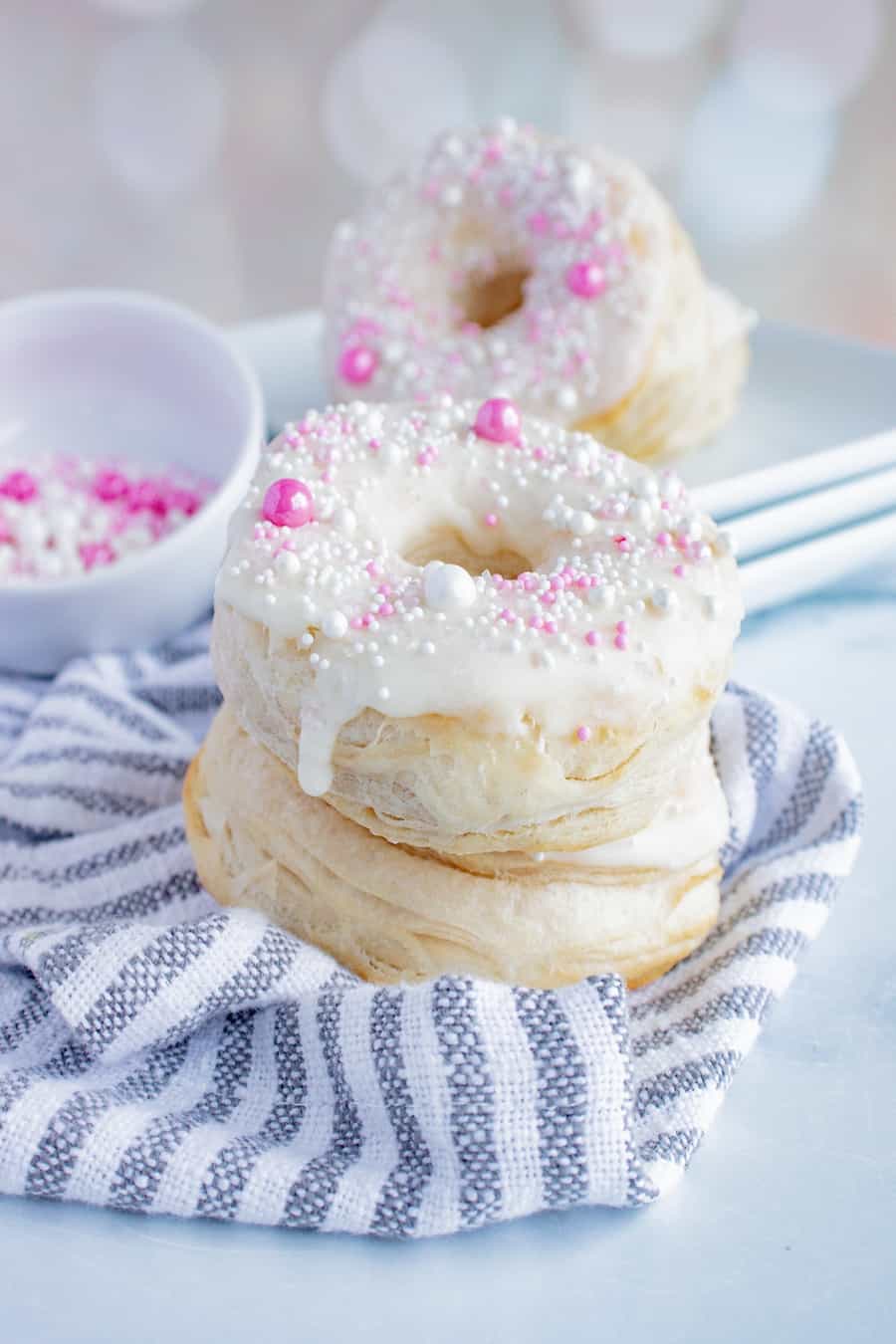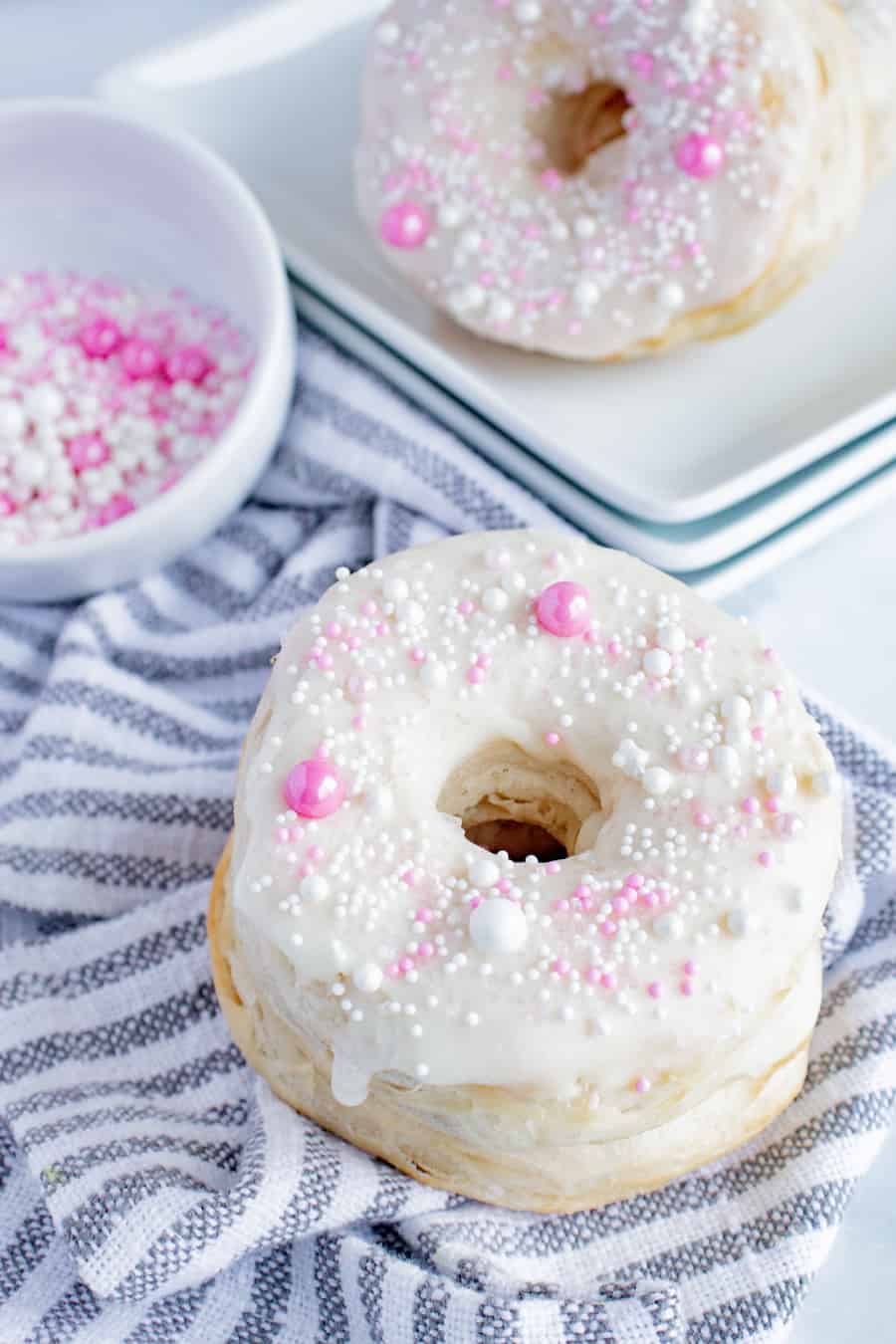 Vanilla Sprinkles Air Fryer Donut Ingredients
1 8-pack can of refrigerated biscuits (such as Grands Flaky Layers Biscuits)

Cooking Spray

2 tbsp butter, melted

1 cup powdered sugar

½ tsp vanilla extract

1-2 tbsp milk

Sprinkles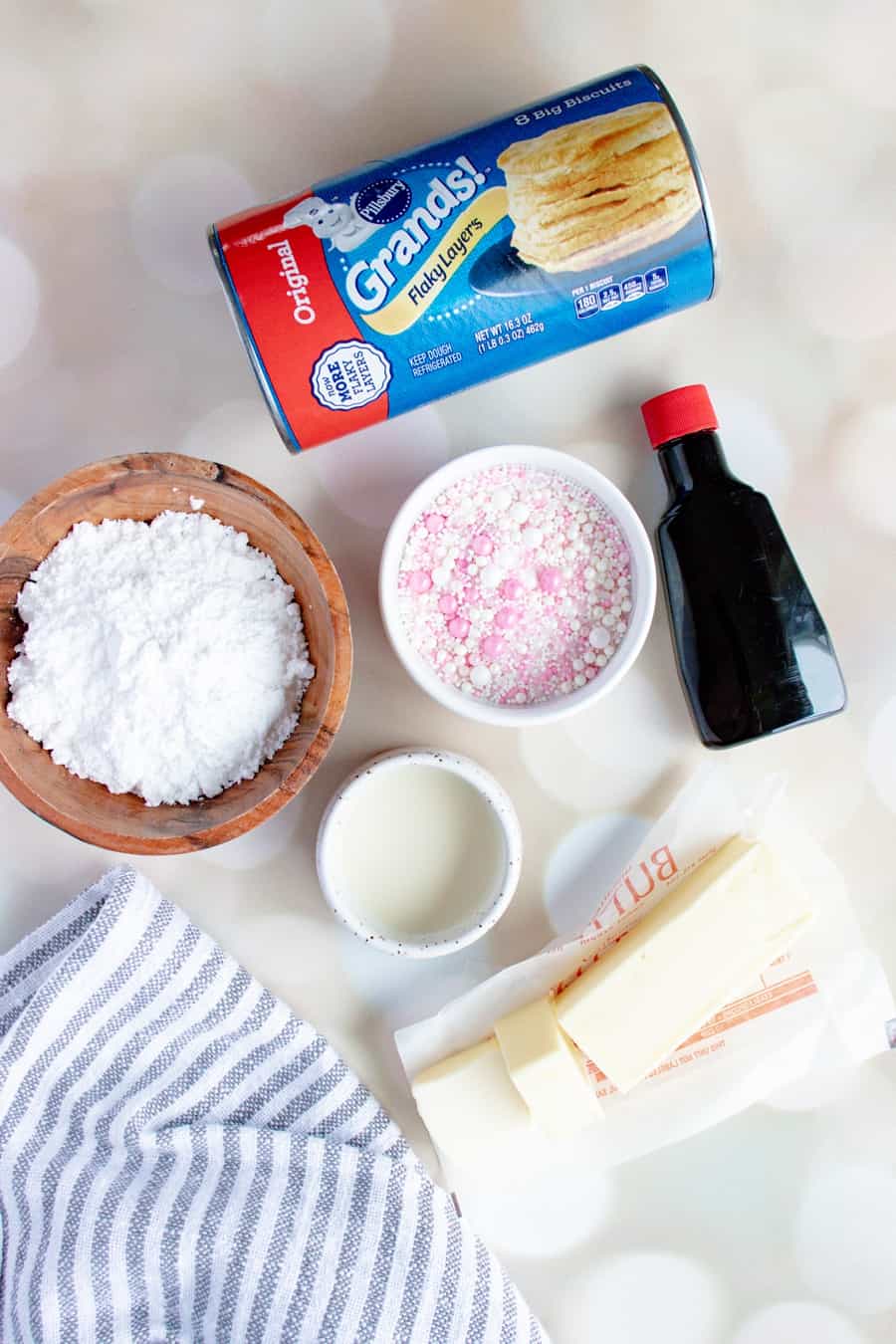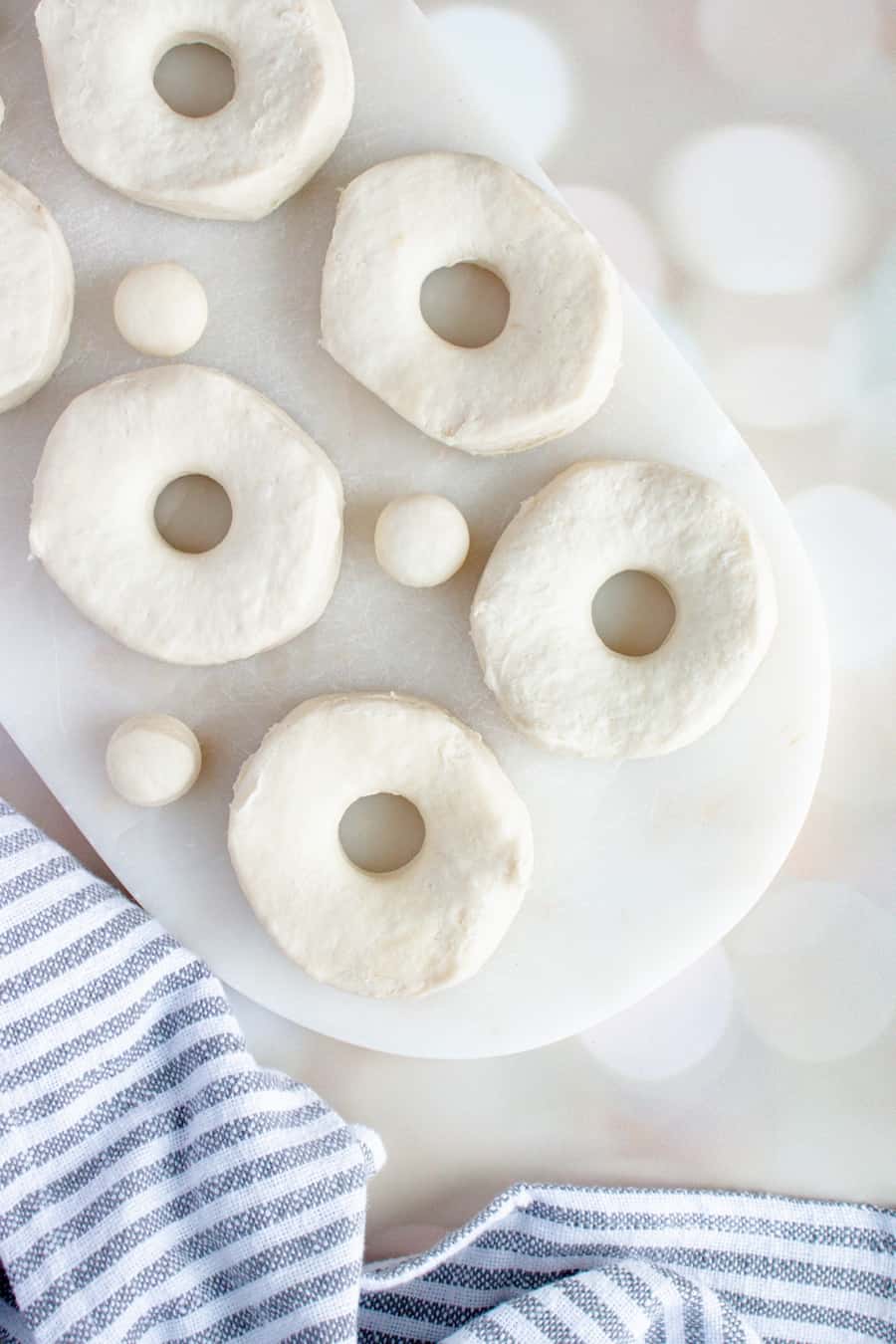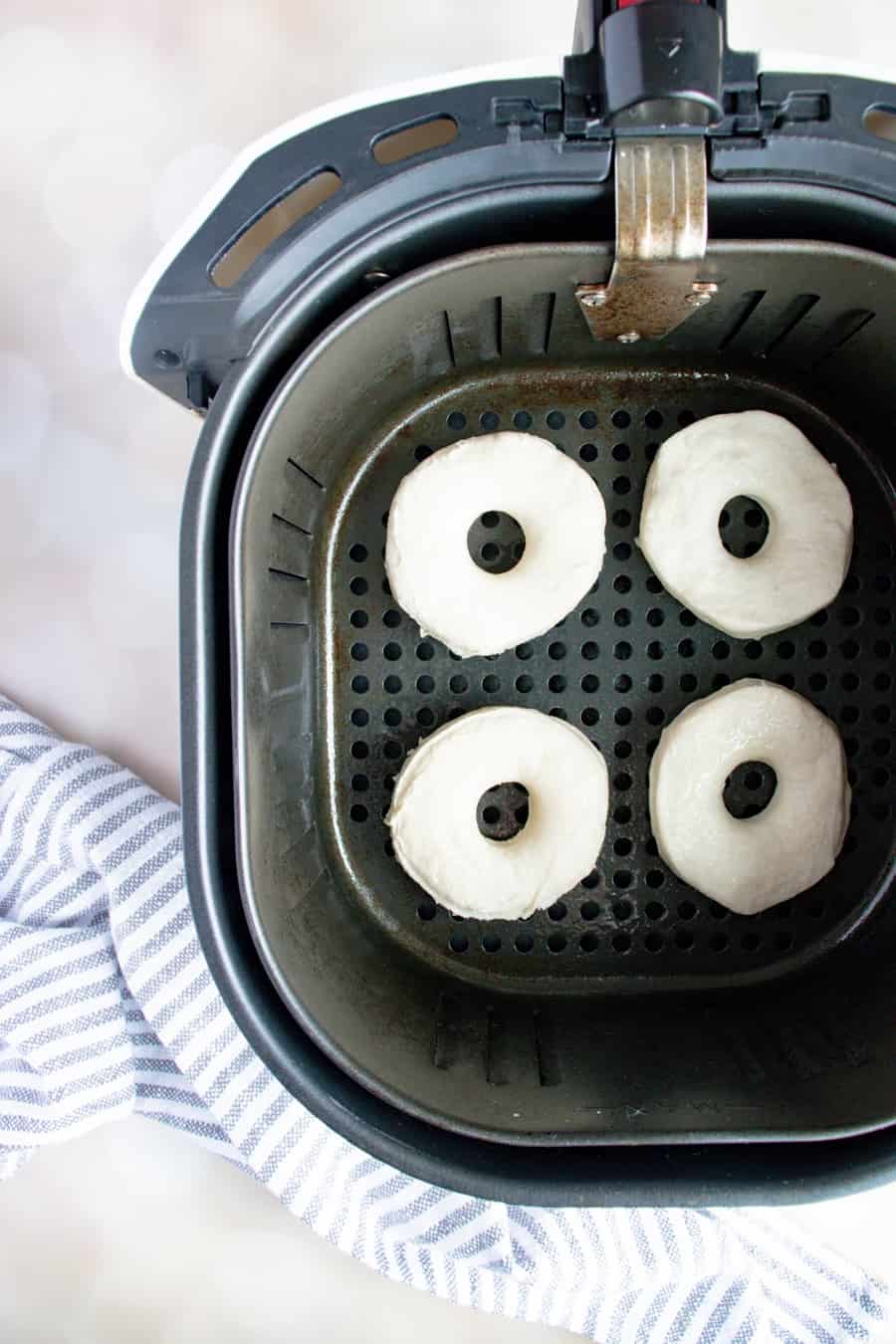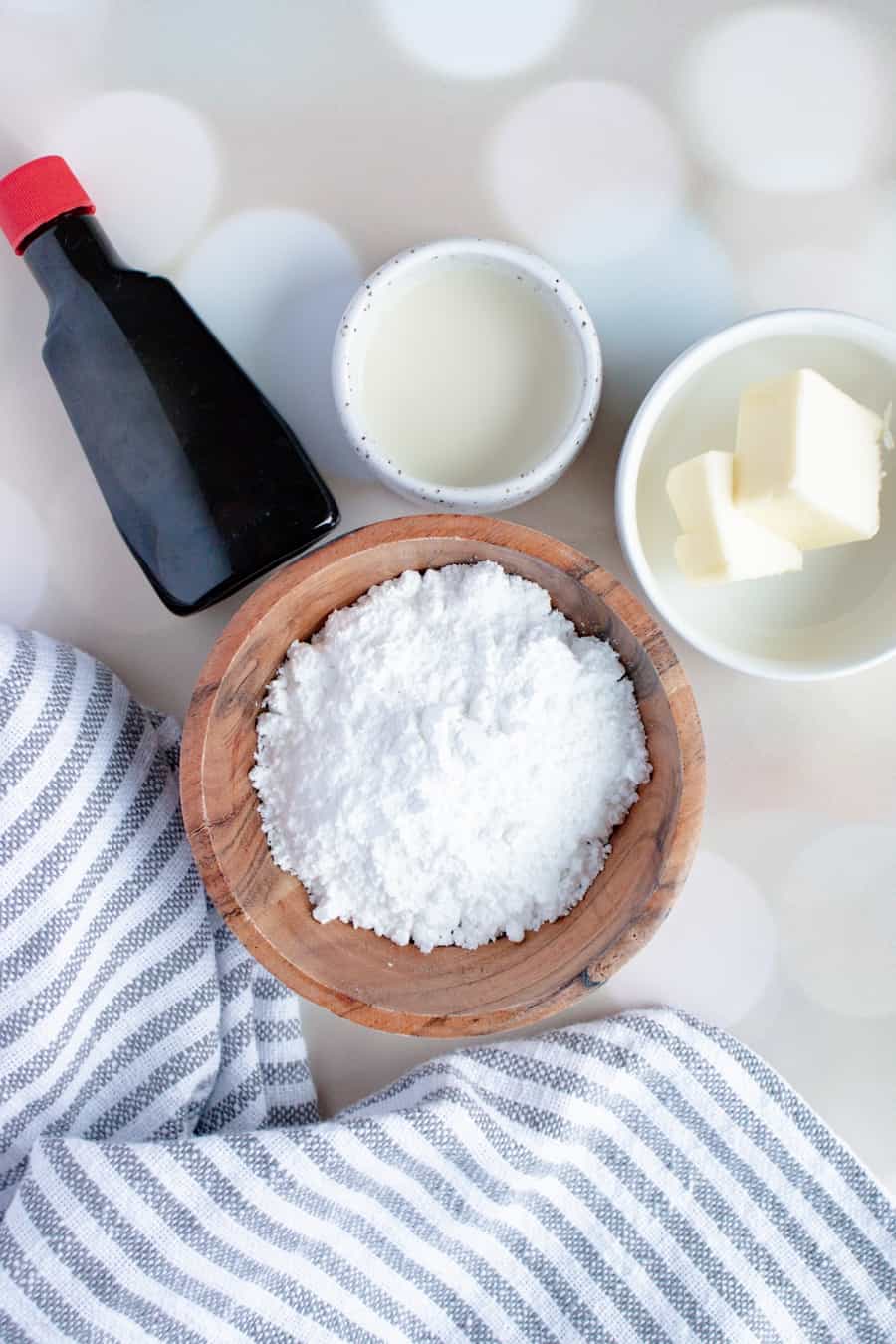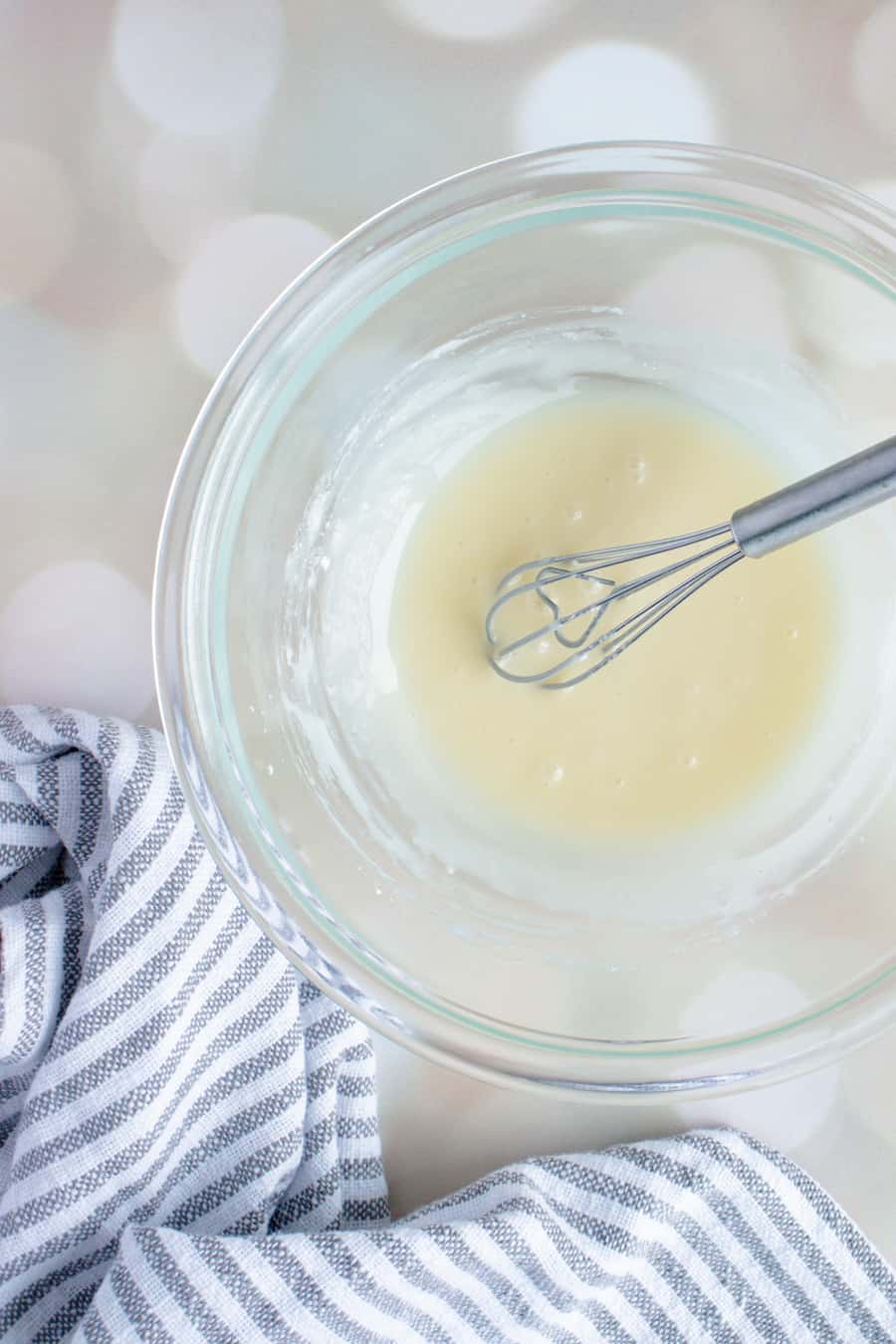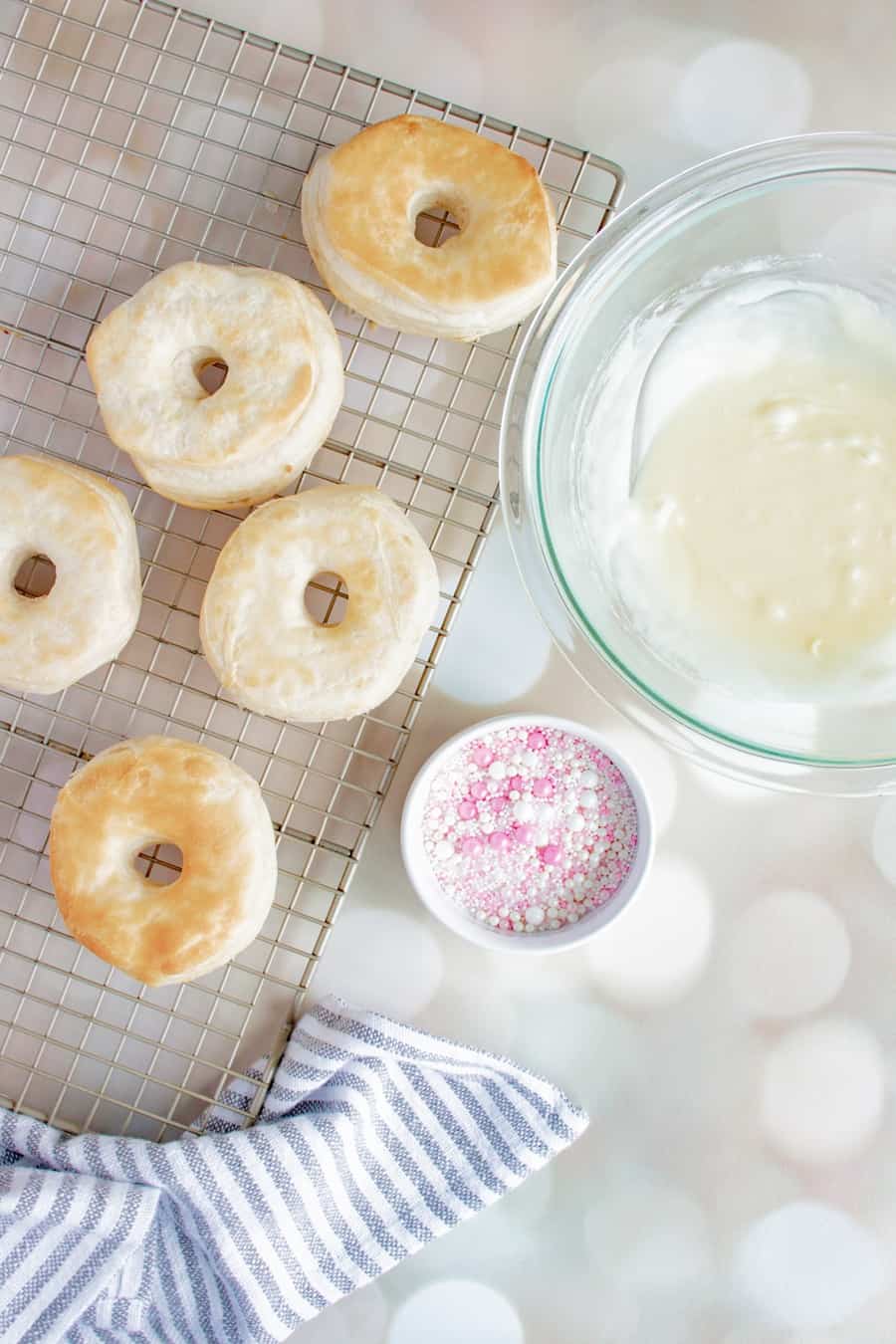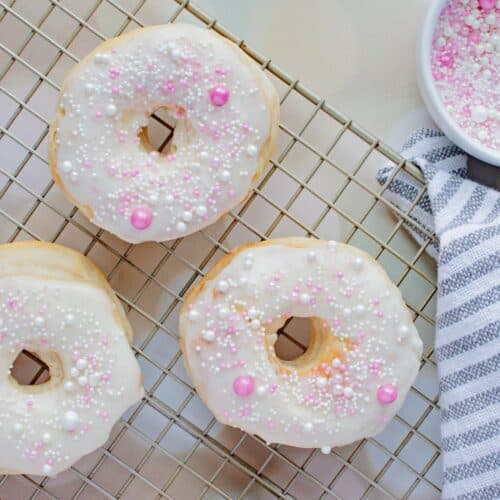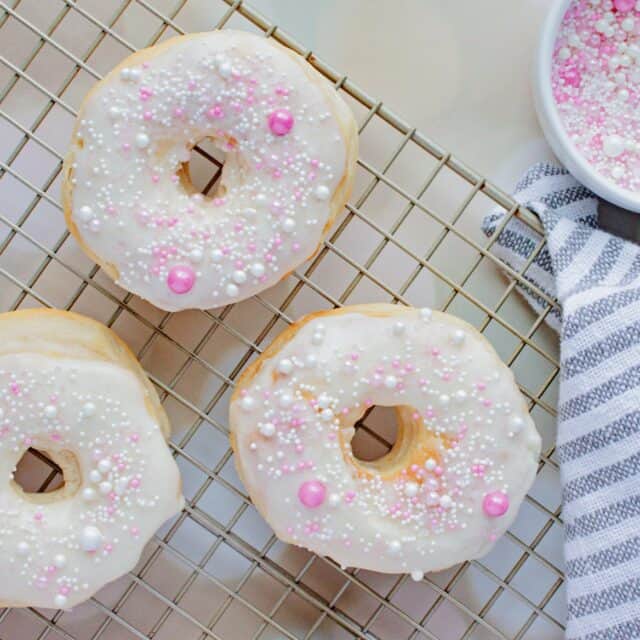 Biscuit Air Fryer Donuts
Ingredients
1

Can of refrigerated biscuits

We used 8 pack Grands Flaky Layers Biscuits

Cooking Spray

2

Tablespoons

Butter, melted

1

Cup

Powdered sugar

1/2

Teaspoon

Vanilla extract

1-2

Tablespoons

Milk

Sprinkles
Instructions
Take the cooking spray and spray the inside of your air-fryer basket.

Open the canned biscuits and pull them apart into individual biscuits.

Place the biscuits on a flat surface or cutting board and use a small round cookie cutter or piping tip to cut the center to form the donut. (Pro tip: use the large end of a piping tip to get a perfect center cut).

Place 4 donuts at a time in the air-fryer. Add a few donut holes where you can find room, but make sure there is about 1-inch of space between donuts. Spray the donuts with cooking spray.

Cook at 350 degrees for 5 minutes, flipping the donuts halfway.

Carefully remove the donuts to a cooling rack.

Repeat the steps until all donuts and donut holes are done.

While the donuts cool, let's make the glaze. Whisk together the melted butter, powdered sugar, vanilla, and milk in a small bowl. Whisk until smooth.

Dip donuts in the glaze and top with sprinkles. Enjoy donut warm!