By using this site, you agree to our Terms of Use. This post may contain affiliate links. Read our disclosure policy.
Follow us on Instagram for more fun food ideas for kids!
These Thanksgiving Turkey cupcakes are a delicious and festive way to celebrate the holidays and are a wonderful way to get kids involved!
Thanksgiving is a time to celebrate with family and friends. There is no better way to do that than by baking delicious Thanksgiving turkey cupcakes.
These little treats are easy to make and are perfect for bringing the Thanksgiving spirit into any room. Not to mention, they are very tasty – your family and friends are sure to love them!
Whether you're hosting a small get-together or having a larger Thanksgiving feast, these cupcakes will be a hit.
They're perfect for a traditional Thanksgiving feast or as an addition to any dessert table. Be sure to leave plenty of these delicious treats around so that everyone can enjoy them!
Plus, Thanksgiving cupcakes are perfect for a school function or party. They are simple and easy for little kids to make! Watch my 4 year old son @DashBakesTheGreats make them below. Let's get started!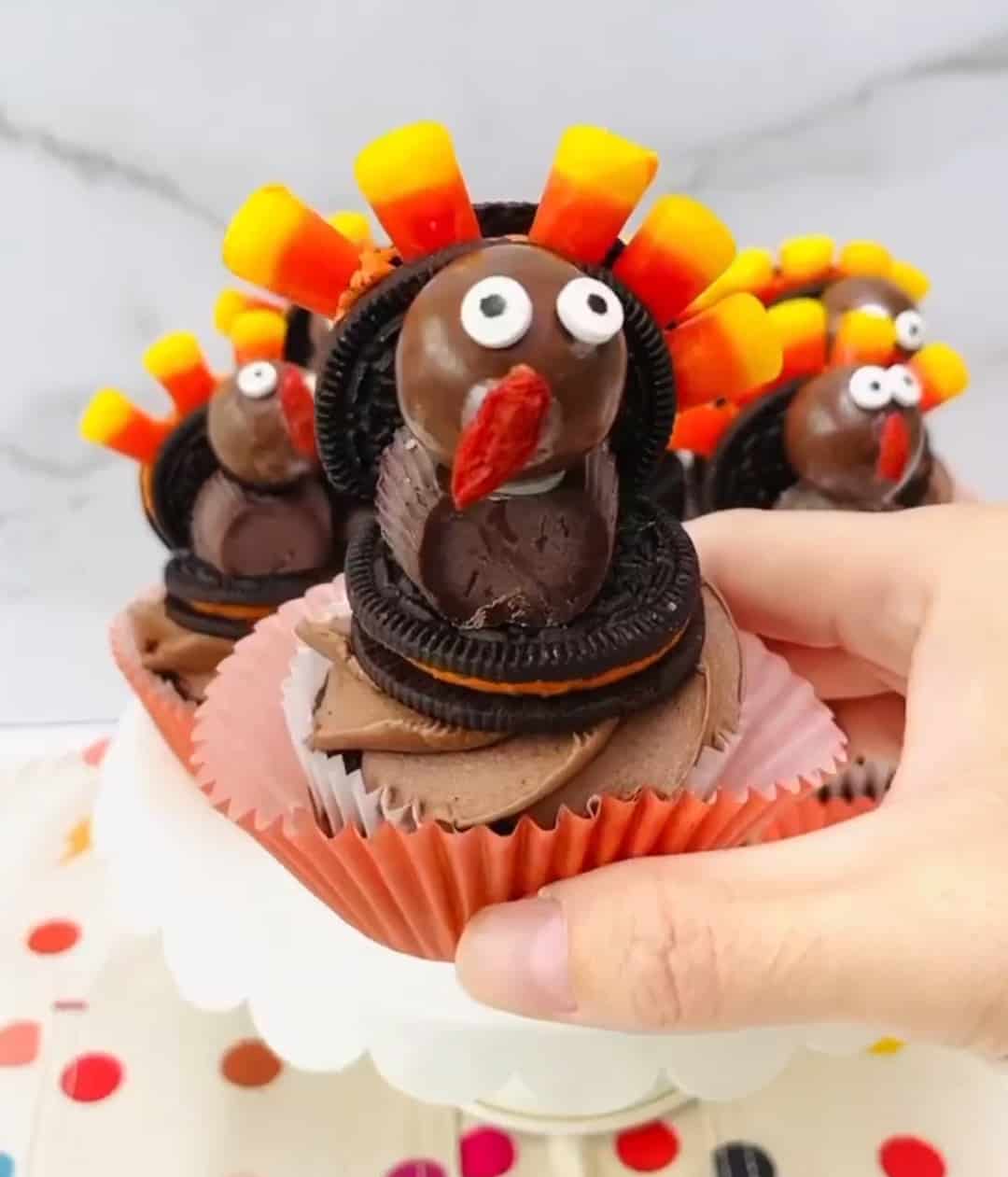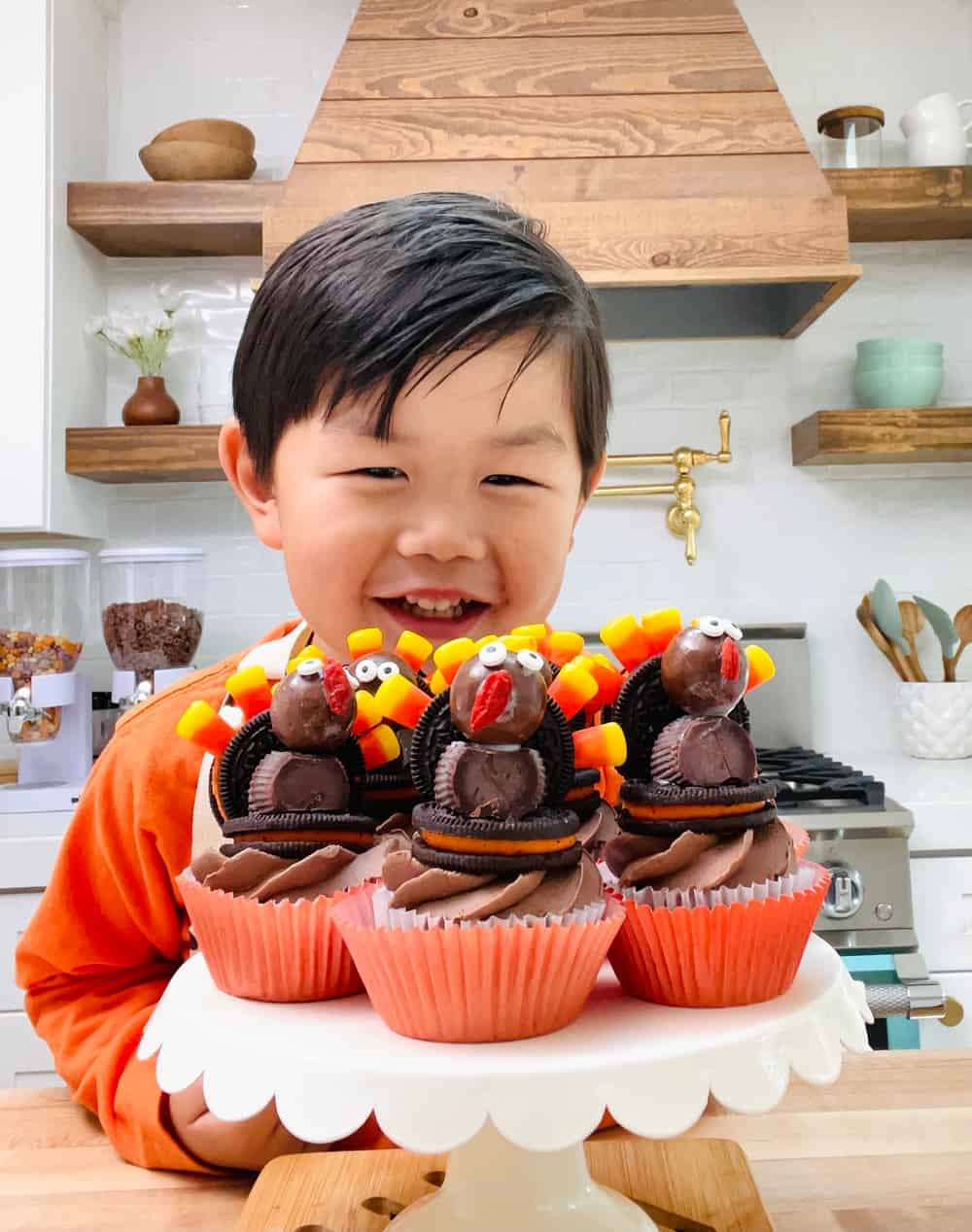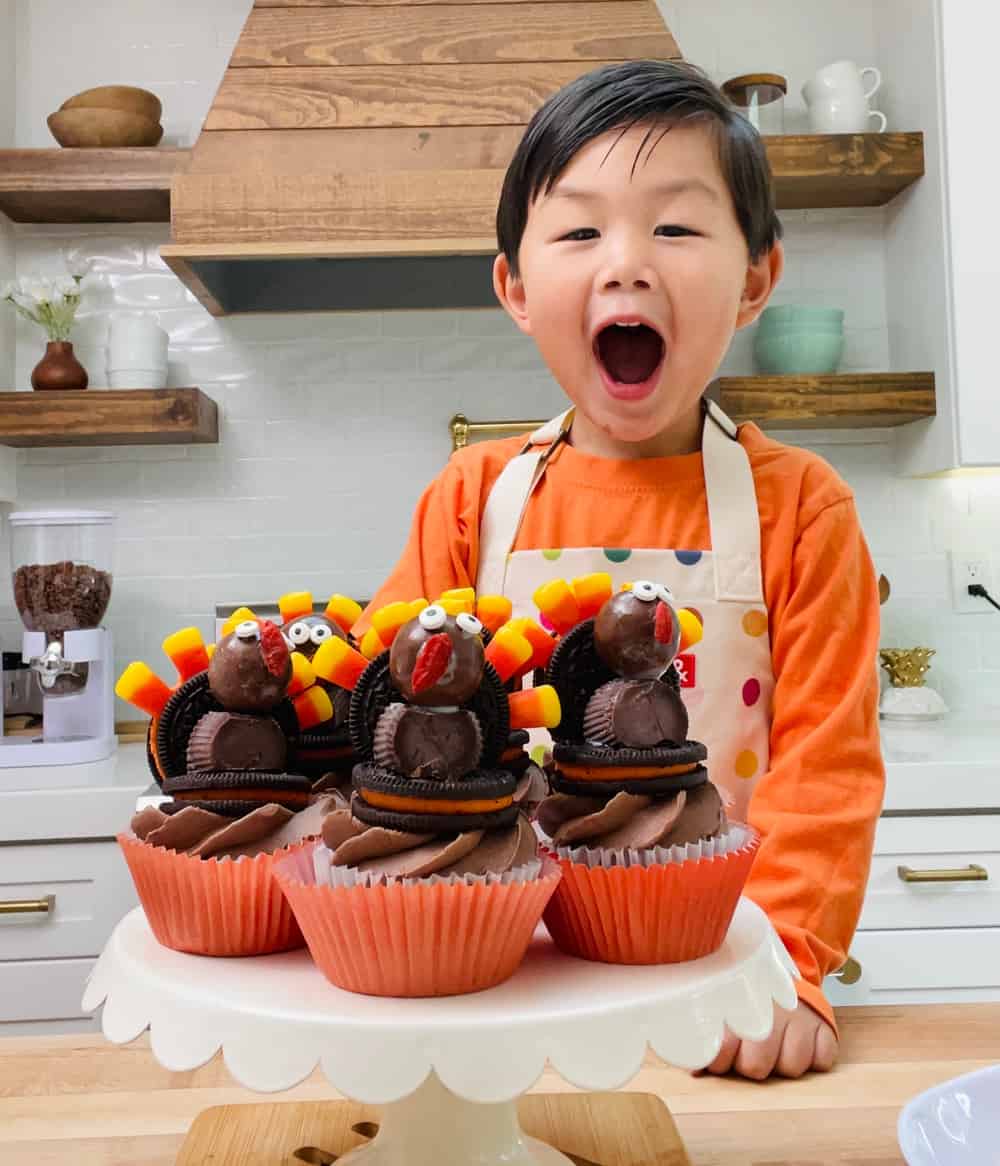 Thanksgiving Cupcakes – Ingredients:
Frosted chocolate cupcakes (store-bought or make your own)
Oreo cookies or chocolate sandwich cookies
Candy corn
Candy googley eyes
Mini Peanut Butter Cups
Dried Goji berries
Gel icing
How to Make The Best Thanksgiving Turkey Cupcakes
Step One: Use Oreos to Build Turkey
We used store-bought chocolate frosted cupcakes but you can always make your own from scratch or a cake mix!
First, place two Oreo or chocolate sandwich cookies onto the icing. One should be sitting flat, and the other should be sitting upward.
Step Two: Create the Feathers
Place a few candy corn to act as the turkey feathers on the upright Oreo cookie. It helps to separate the cookies and then place the candy corn inside the frosted part.
Step Three: Add the Final Touches
Finally, Place a peanut butter cup upright onto the flat oreo. Use gel icing (we used store-bought) as "glue." Then, add a malted chocolate ball for the head on top of the peanut butter cup.
Use gel icing to add candy eyes on the malted ball and a dried Goji berry for the wattle. Other things you can use for the wattle are a tiny piece of fruit leather, mini candy M&Ms, dried strawberries, or even the end of a candy corn!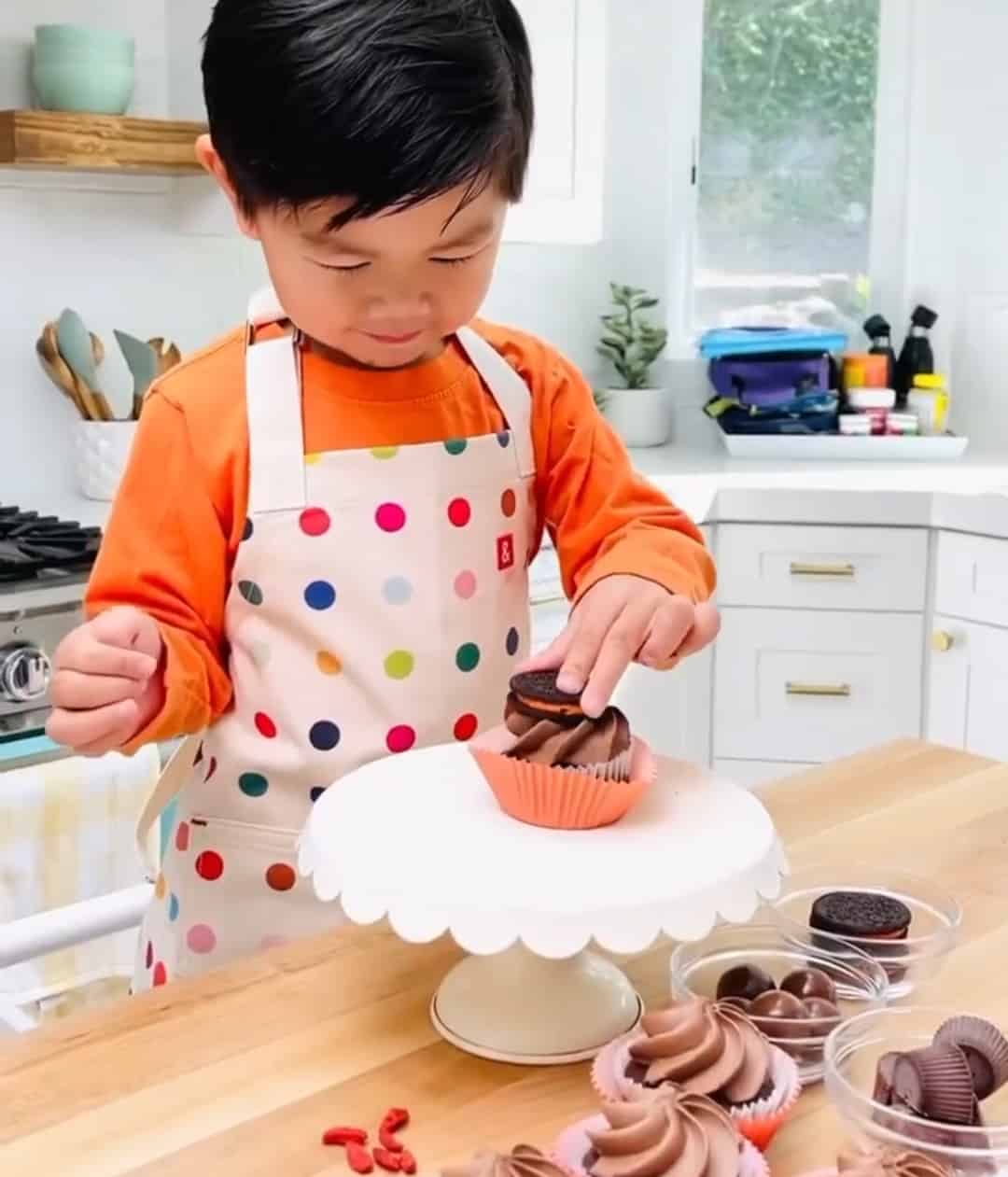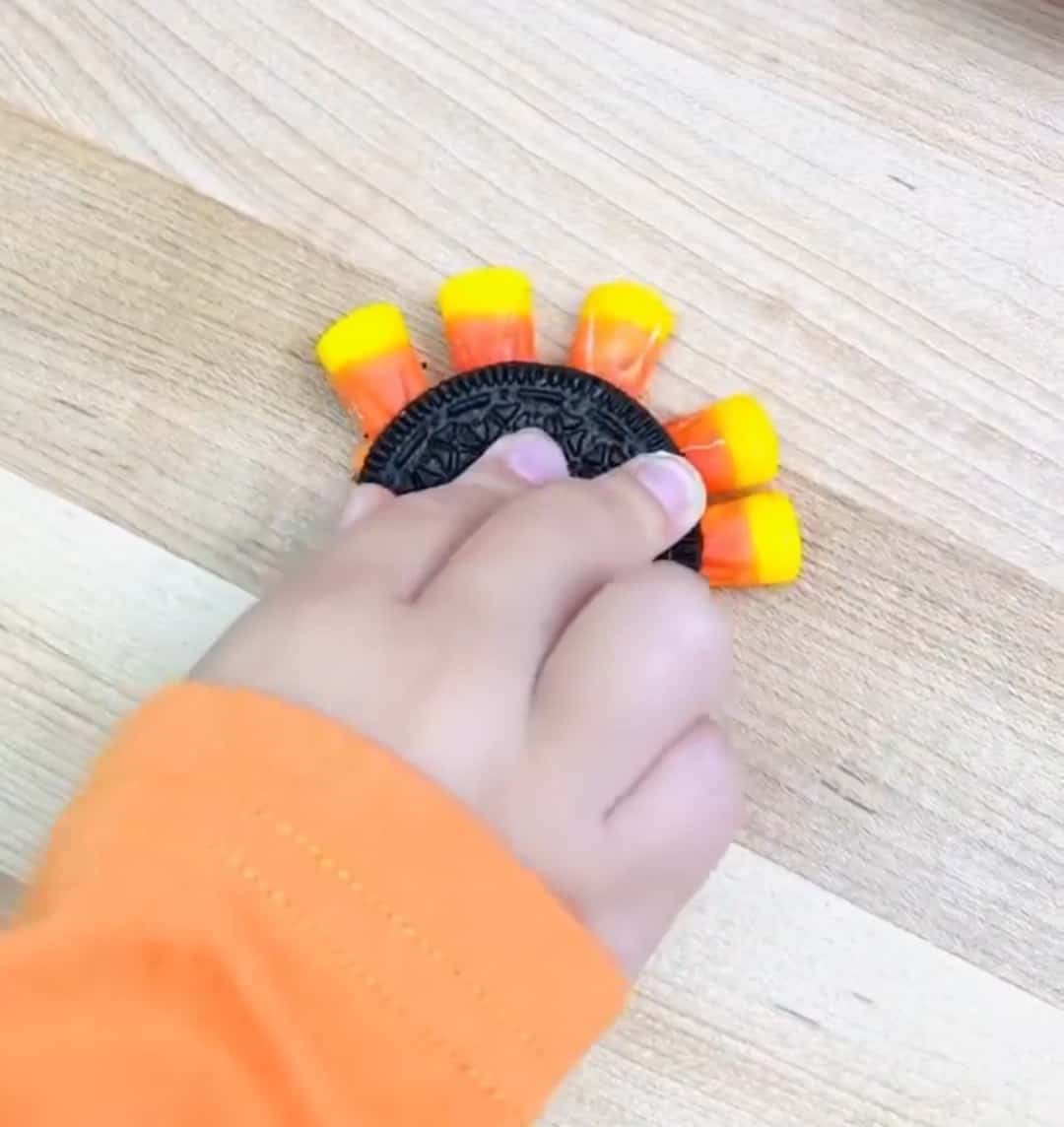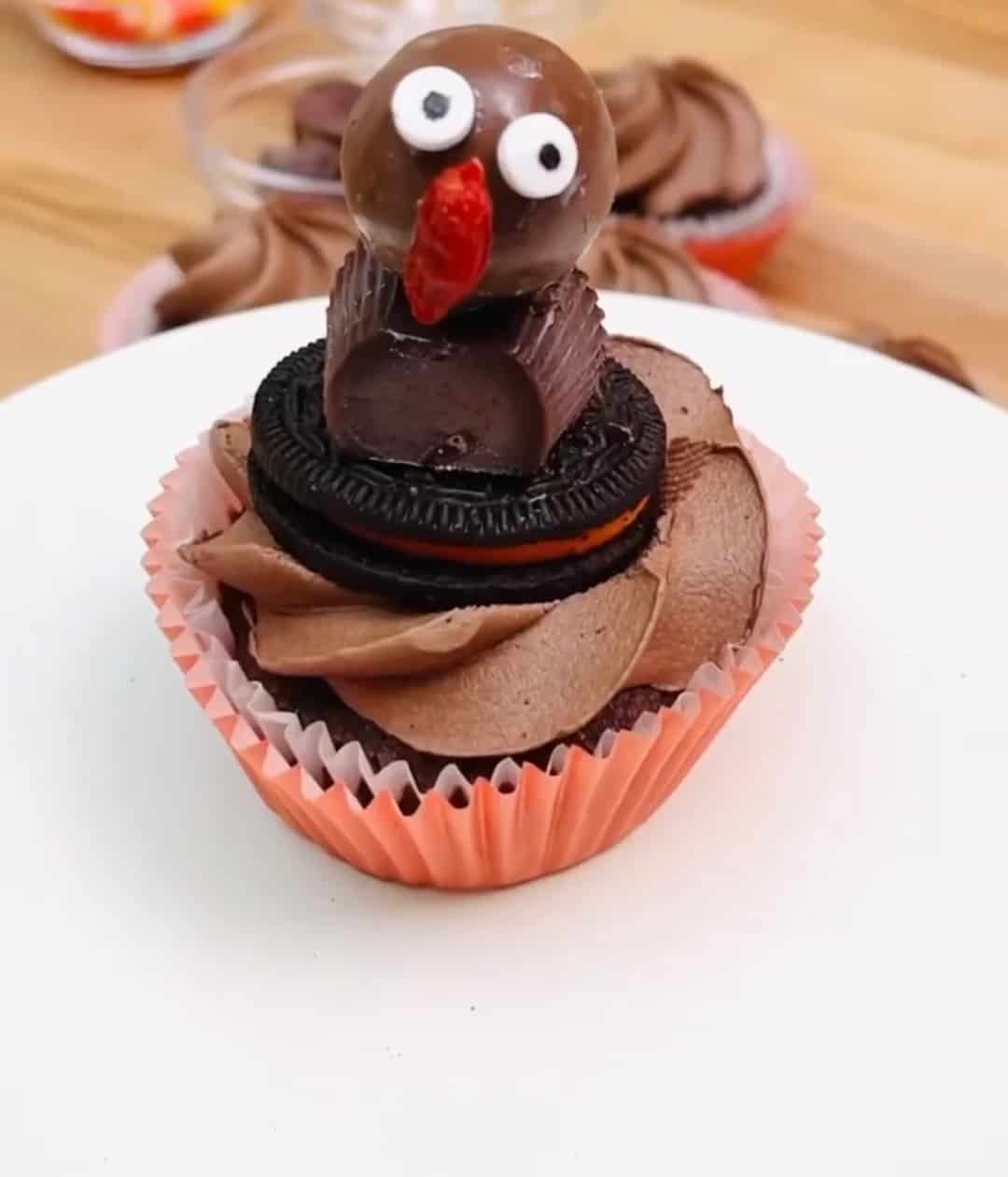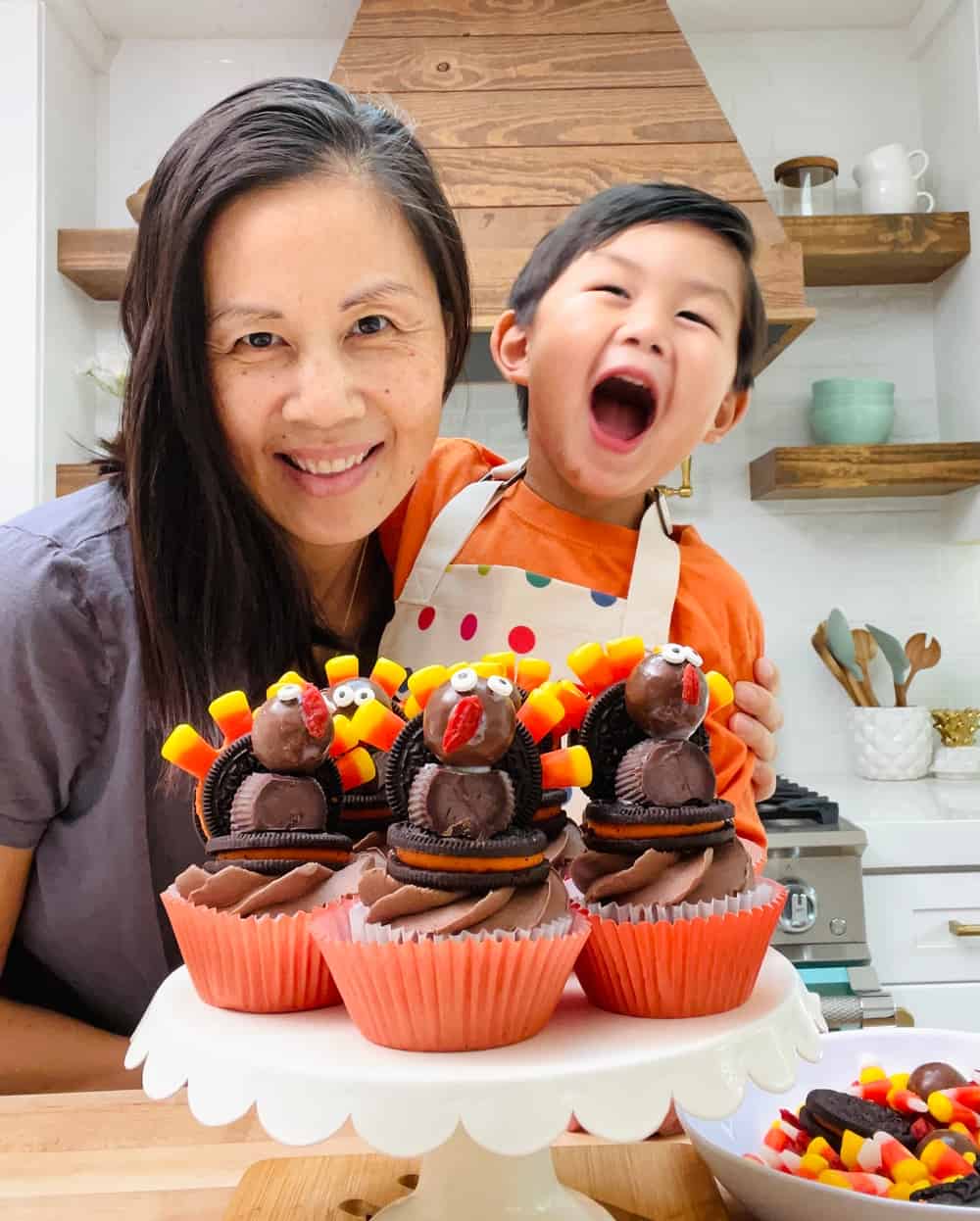 How to Make Thanksgiving Turkey Cupcakes More Festive
Decorate your Cupcakes with Festive Toppings
Turkey Cupcakes are a fun and festive way to celebrate Thanksgiving. They're easy to make, and the flavors are fantastic.
You can choose whatever flavor you want, but we suggest sticking with classics like cranberry or pumpkin spice.
If you're looking for something a little more special, try adding some other fun ingredients to your cupcakes. Try stuffing them with spicy pepperoni or creamy cheese sauce!
Make a Thanksgiving Turkey Cake Topper
If you're looking for something even more special, try making a Thanksgiving turkey cake topper that says "Happy Thanksgiving!" This is a fun and easy project that will give your cake an extra festive look.
You can make your own sign by using a simple design free program like Canva and then stick the signs onto toothpicks!
Try out Different Flavors of Frosting
You can also choose to frost your cupcakes in a variety of different flavors. Try pumpkin spice, peppermint icing, or anything else you can think of!
This will give each cake its own unique personality, and it'll be sure to turn heads at your Thanksgiving celebration!
An ombre red, yellow and brown frosting would be amazing!
Don't forget to serve them up with a big helping of turkey and all the fixings! You won't be disappointed with these festive cupcakes!
Frost the Cupcakes with Pumpkin Cream Cheese Frosting
Many people enjoy frosting their cupcakes with a creamy pumpkin cream cheese frosting. This is a delicious and festive frosting that will add an extra touch of flavor to your cake.
Simply mix together some softened cream cheese, canned pumpkin, and powdered sugar until you have a smooth consistency.
Then spread the frosting evenly over each cupcake before decorating as desired.
How To Serve Turkey Cupcakes
One idea is to use them as a place setting for people's names at the Thanksgiving table!
You could place them in individual favor cupcake boxes and also send them home as a treat!
These would look great as the centerpiece of your Thanksgiving dessert table on a tiered cupcake or cake tray or surrounded by fall leaves for gorgeous rustic decor!
The kids will love collecting leaves to create this beautiful centerpiece!
Takeaway
These cupcakes are a delicious and festive way to celebrate the holidays. They make a delicious and sweet addition to your Thanksgiving table and are a wonderful way to get kids involved!
They're perfect for a family gathering or a special holiday meal. Plus, they're easy to make – just follow these simple steps and you'll have a delicious treat in no time!
Follow @DashBakesTheGreats on Instagram and view all Dash recipes HERE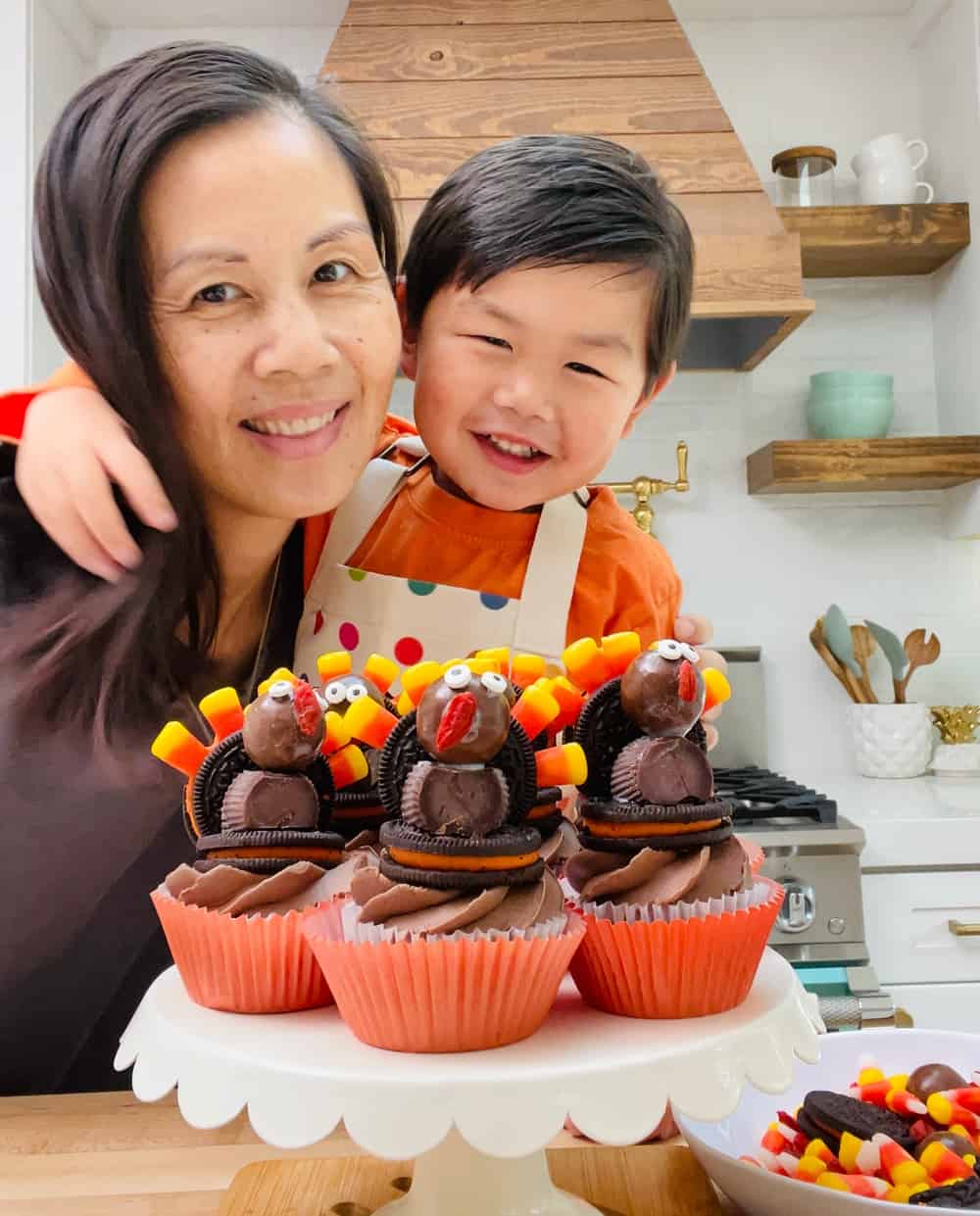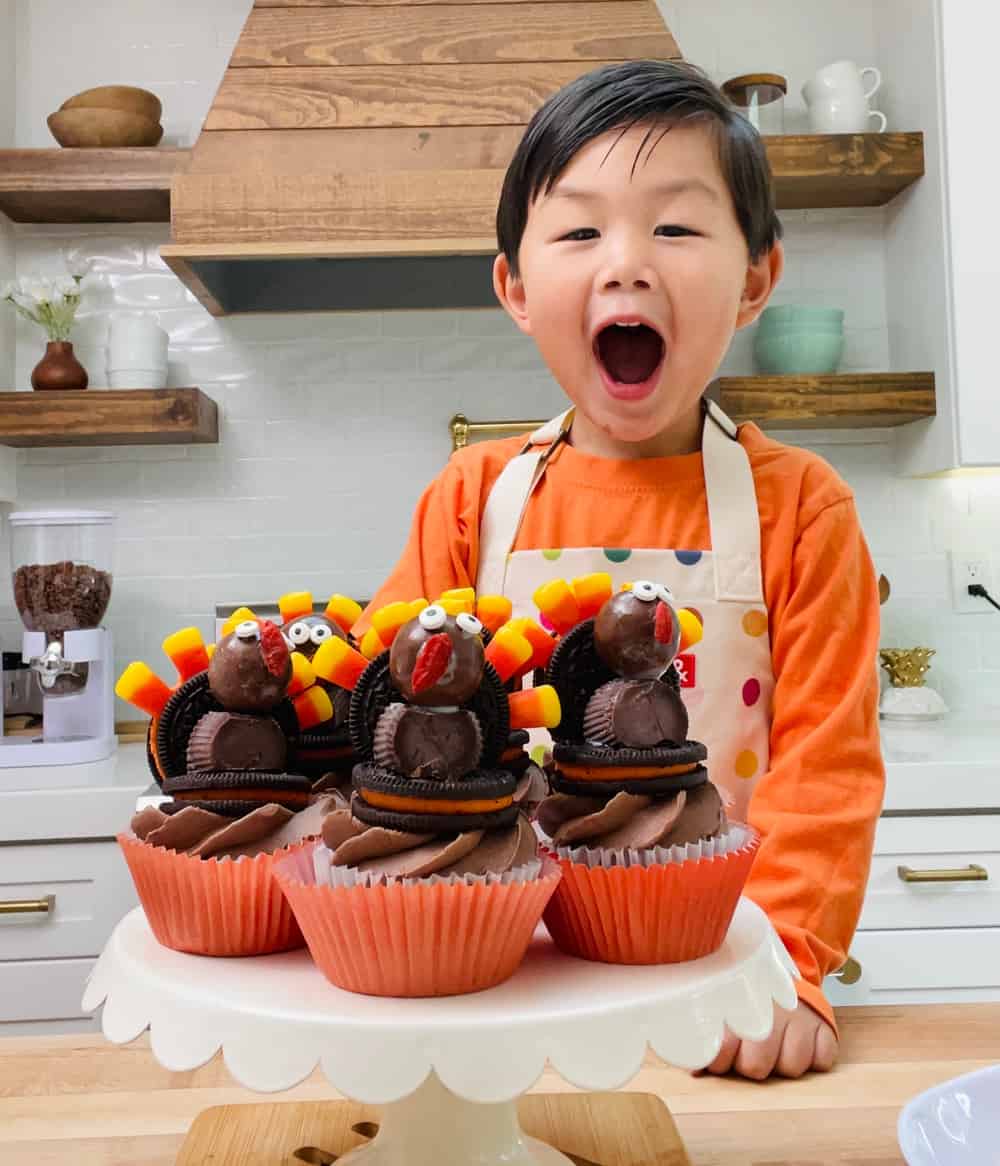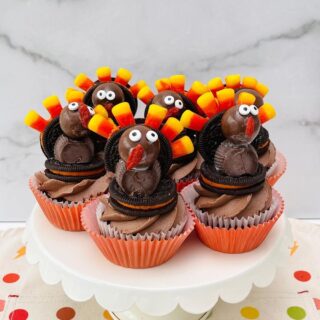 Thanksgiving Turkey Cupcakes Recipe
These Thanksgiving Turkey cupcakes are a delicious and festive way to celebrate the holidays and are a wonderful way to get kids involved!
Ingredients
Frosted chocolate cupcakes (store-bought or make your own)
Oreo cookies or chocolate sandwich cookies
Candy corn
Candy googley eyes
Mini Peanut Butter Cups
Dried Goji berries
Gel icing
Instructions
We used store-bought chocolate frosted cupcakes but you can always make your own from scratch or a cake mix!

First, place two Oreo or chocolate sandwich cookies onto the icing. One should be sitting flat, and the other should be sitting upward.

Place a few candy corn to act as the turkey feathers on the upright Oreo cookie. It helps to separate the cookies and then place the candy corn inside the frosted part.

Finally, Place a peanut butter cup upright onto the flat oreo. Use gel icing (we used store-bought) as "glue." Then, add a malted chocolate ball for the head on top of the peanut butter cup.

Use gel icing to add candy eyes on the malted ball and a dried Goji berry for the wattle. Other things you can use for the wattle are a tiny piece of fruit leather, mini candy M&Ms, dried strawberries, or even the end of a candy corn! Step Two: Create the FeathersStep Three: Add the Final Touches