By using this site, you agree to our Terms of Use. This post may contain affiliate links. Read our disclosure policy.
Follow us on Instagram for more fun food ideas for kids!
These easy Back to School Lunch Ideas are a creative break from the boring sandwich and will spruce up your kids' lunch with a variety of foods to try!
Are you looking for some easy back-to-school lunch ideas for the kids? There are so many simple lunch recipes that you can easily make at home. These 5 simple lunch ideas for kids prove that you don't have to make packing a lunchbox or bento box complicated at all! Below are easy lunch recipes that the kids LOVE every time I make them and send with them to school!
The kids are going to have so much fun opening up their lunch boxes and seeing these delicious treats! They are simple, tasty and perfect for the lunchbox! Your kids will love the variety, and you'll love the convenience of having some of these prepared in advance.
It's easy to go the school lunch route but let's be honest : they're usually not the healthiest options. Besides, when you know what your kids are eating, you don't have to worry — and these recipes take a big load off wondering what to pack for lunch the next day. You could easily make some of these a rotating weekly schedule.
If you're stuck in a rut of not knowing what to pack your kids for school lunch, these creative ideas will provide you with some great inspiration!
Take a break from the boring ham and cheese sandwich and give your kids some delicious and creative lunches to look forward to.
These unique and tasty ideas are perfect for picky eaters, too!
5 Easy Back to School Lunch Ideas
Watch the video in this post to see how to make these easy kids' lunches!
The kids are going to love opening up their lunch boxes and seeing these delicious school snacks and treats!
Waffle Grilled Cheese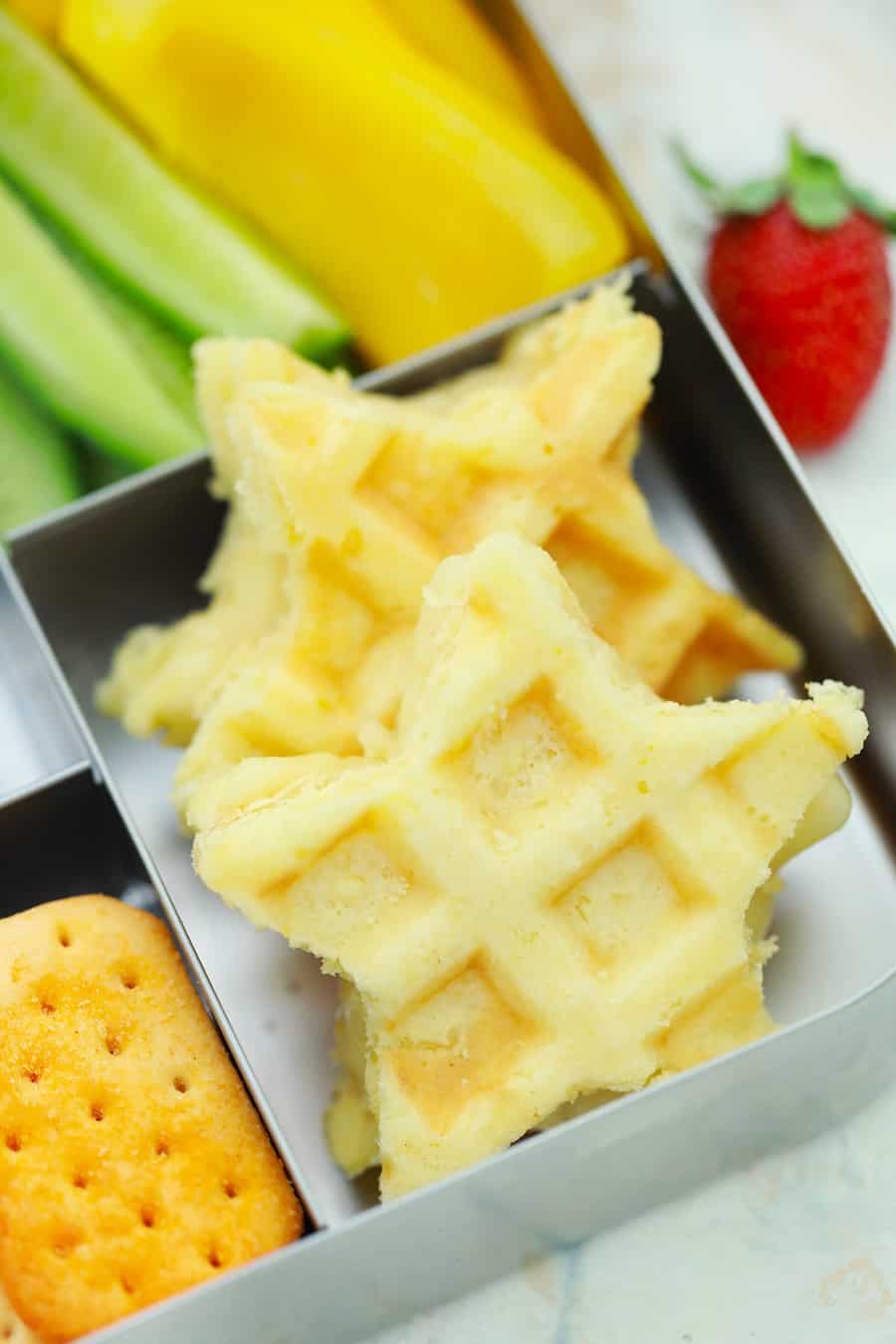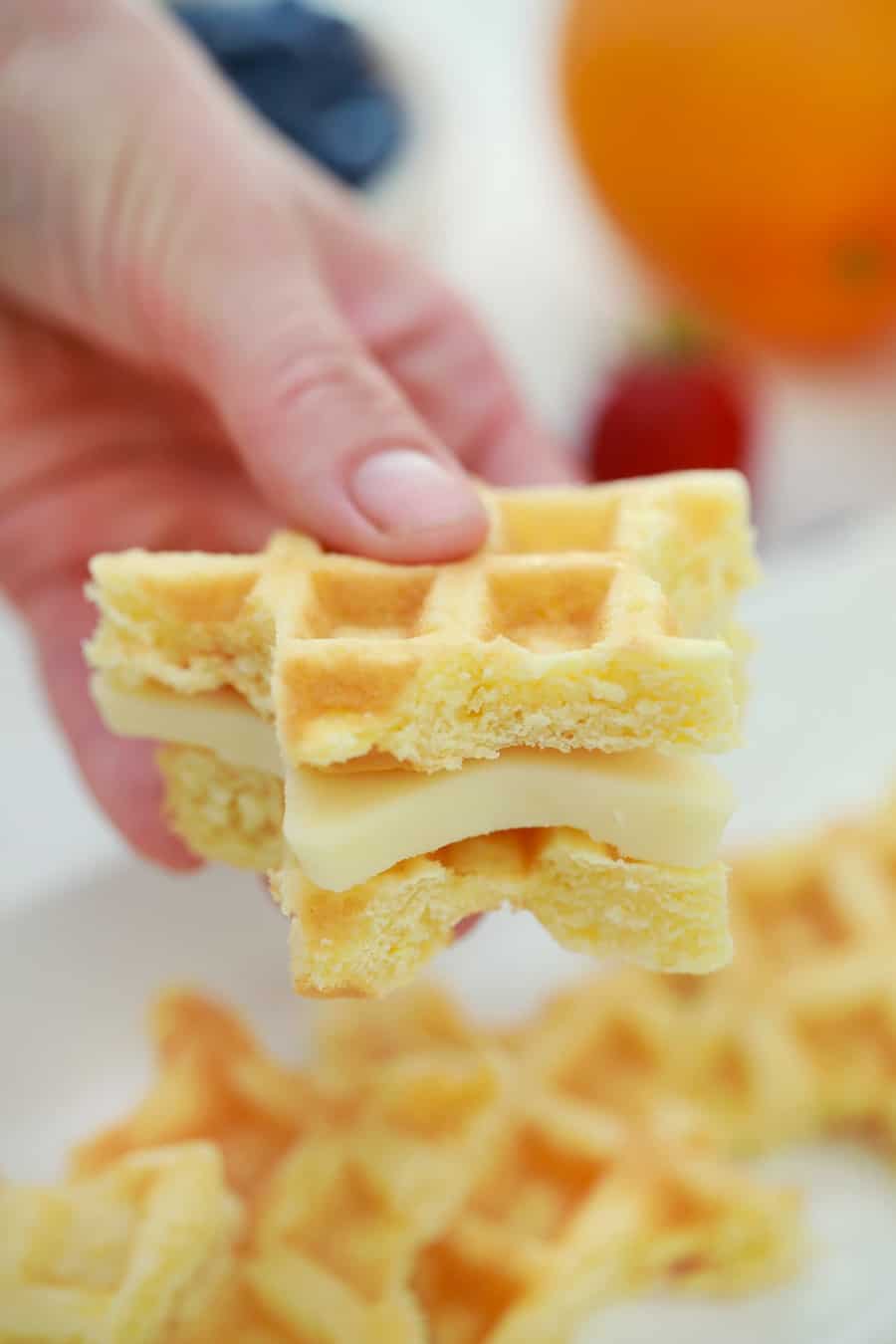 This recipe is just like it sounds! All you need are waffles and a household favorite type of cheese and your kids will have a sandwich that they'll gobble up.
You can leave the waffles circular or use cookie cutters to make cute and fun shapes as well. When I make them into stars or hearts, the kids love them. You don't have to melt the cheese beforehand. You can simply toast the waffles in the morning and add cheese!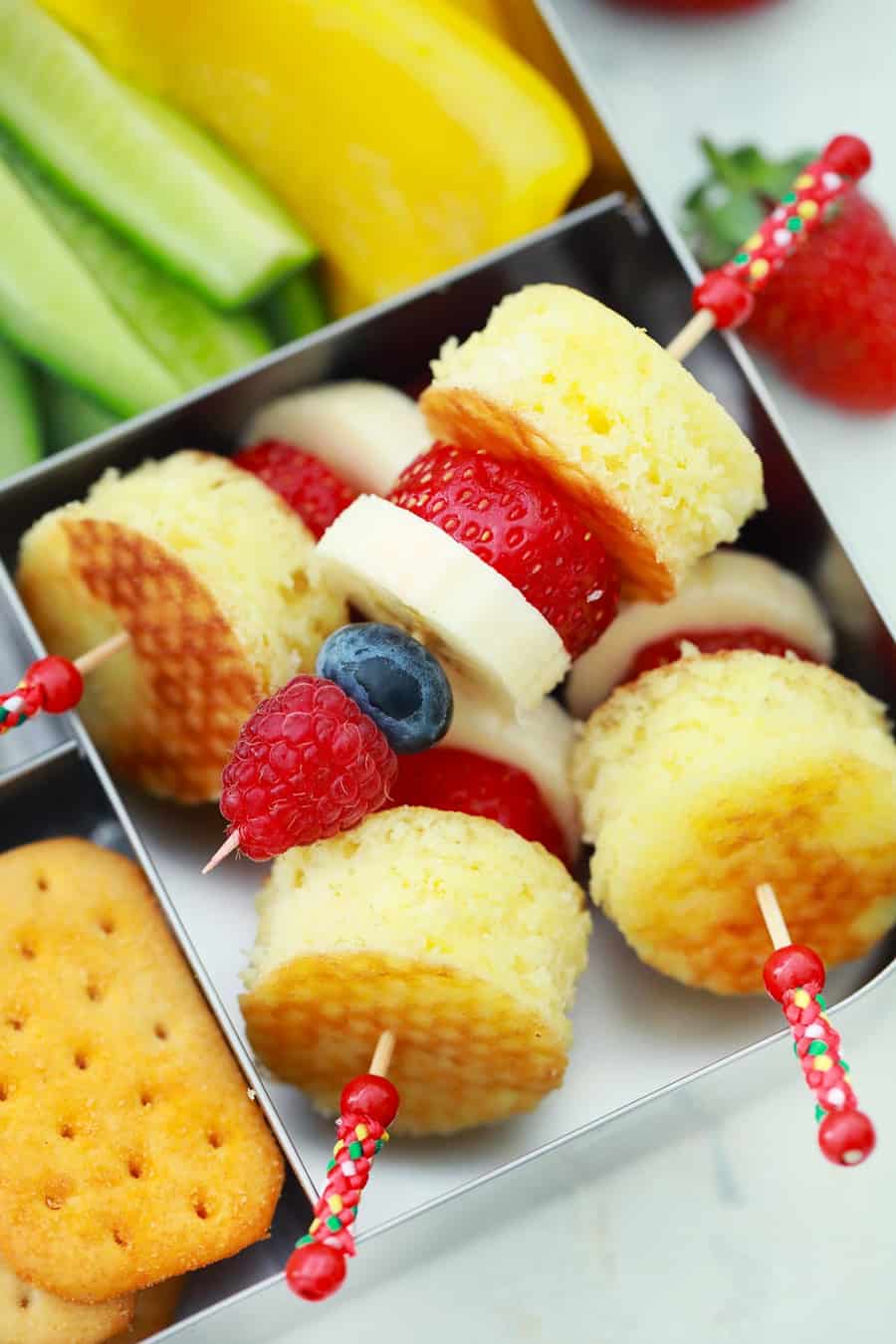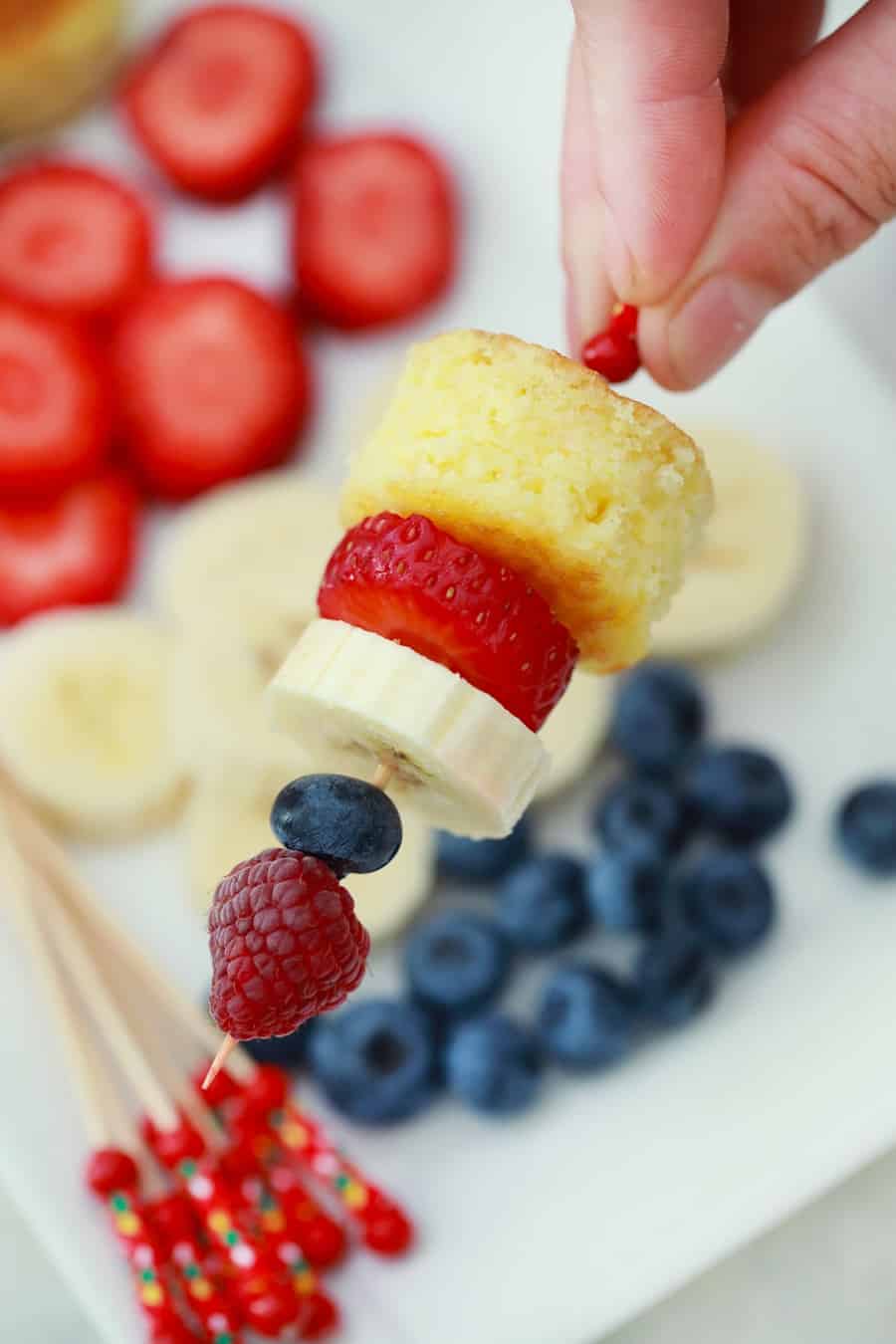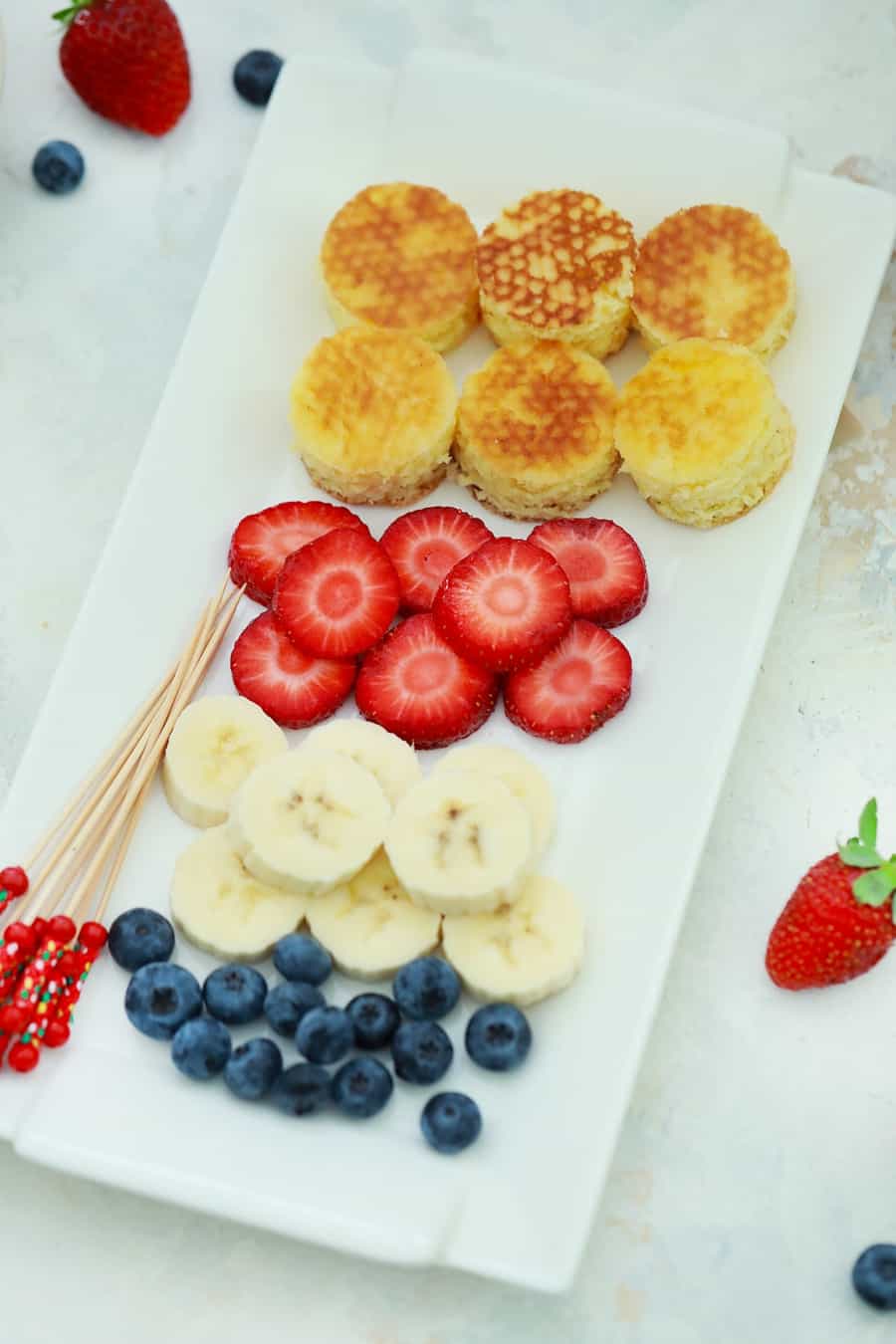 It's always fun to eat off a stick! This recipe is a breeze to make as well which makes it high up on my list. Grab some mini pancakes and some cut-up fresh fruit and that is literally all you need. You can make your own mini pancakes from a mix prior and store them in the fridge in a zipper or air tight container prior to skewering. Or you can use frozen mini pancakes that will defrost by lunchtime!
We really like bananas, blueberries, and strawberries for these fruit skewers but you can easily use any type of fruit that your kids love to eat.
Peanut Butter Bear Toast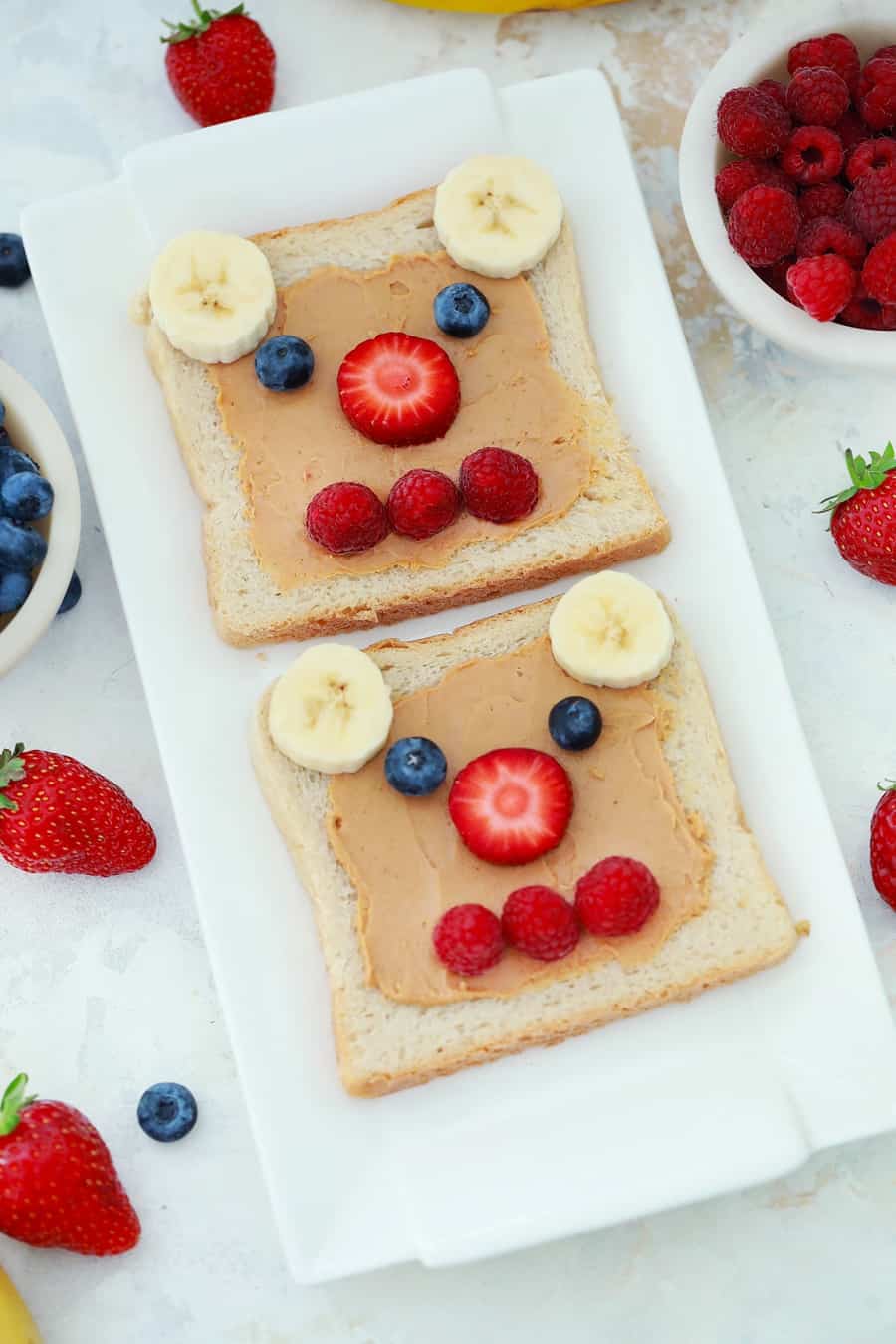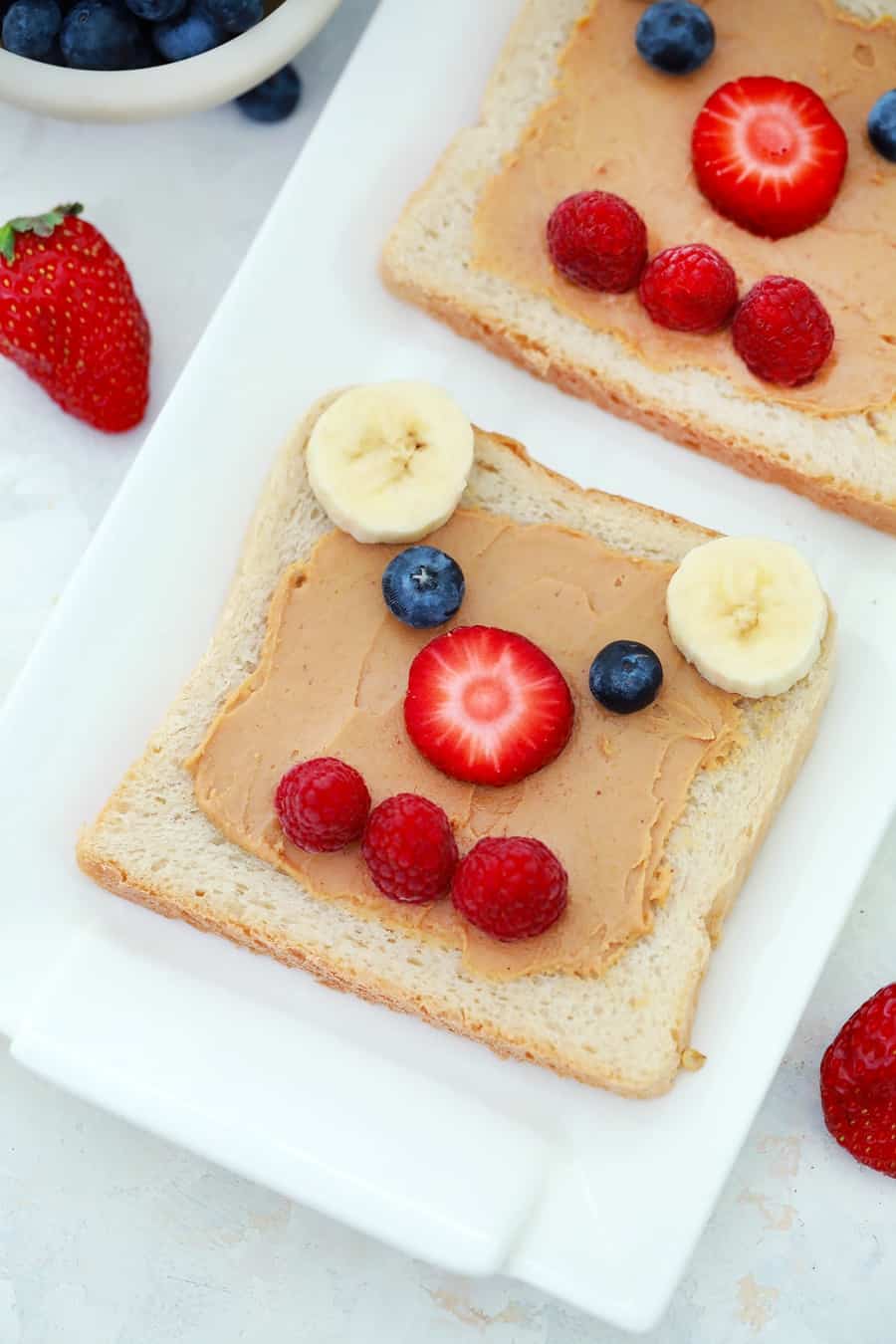 Who says that food can't be adorable and delicious? This simple peanut butter toast really does look like a cute little bear! Just toast up a slice of bread and add your favorite peanut butter. Once you have that done, it's time to make the bear.
I use sliced bananas for the ears, blueberries for the eyes, a strawberry for the nose, and raspberries for the mouth. Every time I make it, the kids have a big smile on their faces before they gobble it up.
Pizza Roll Ups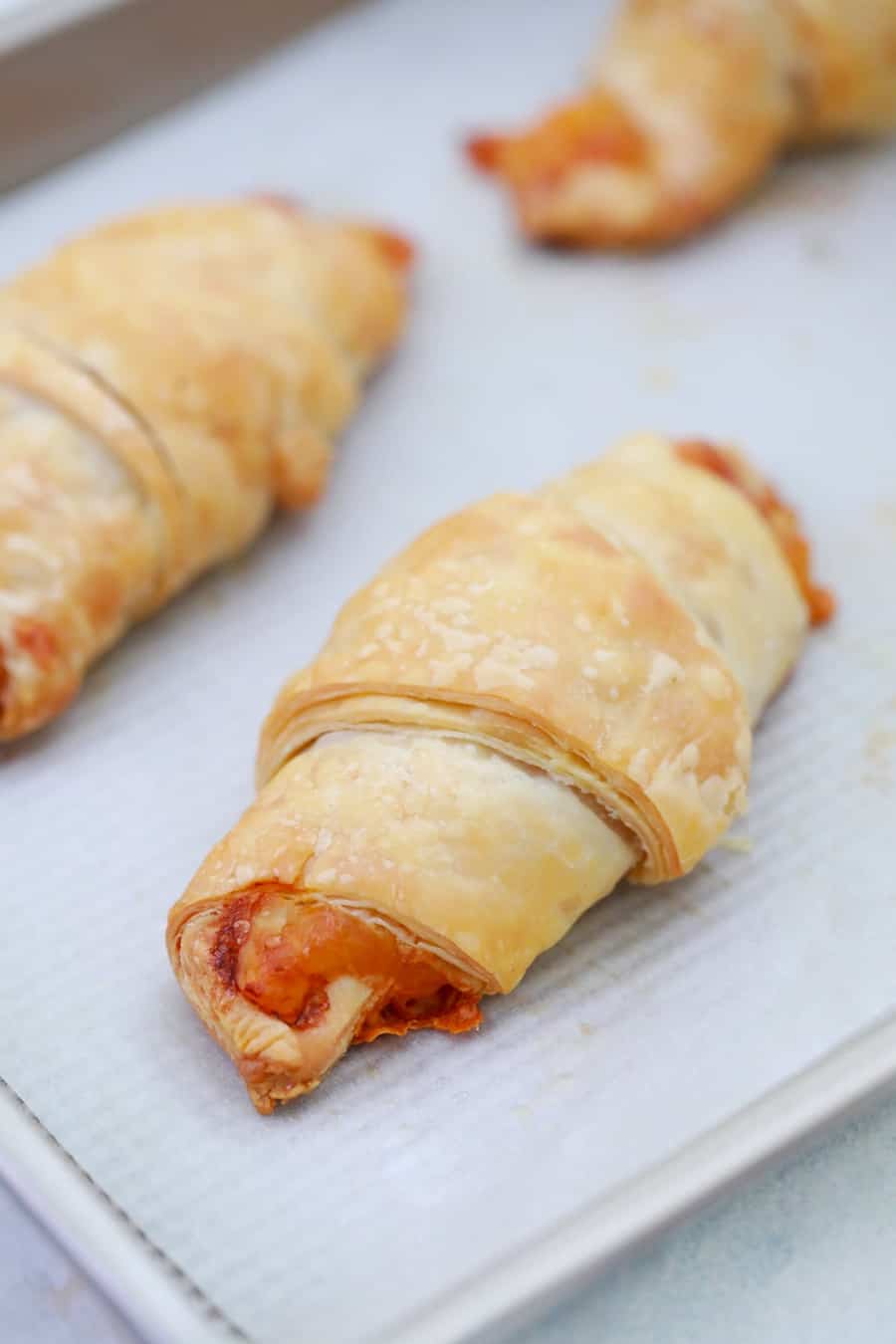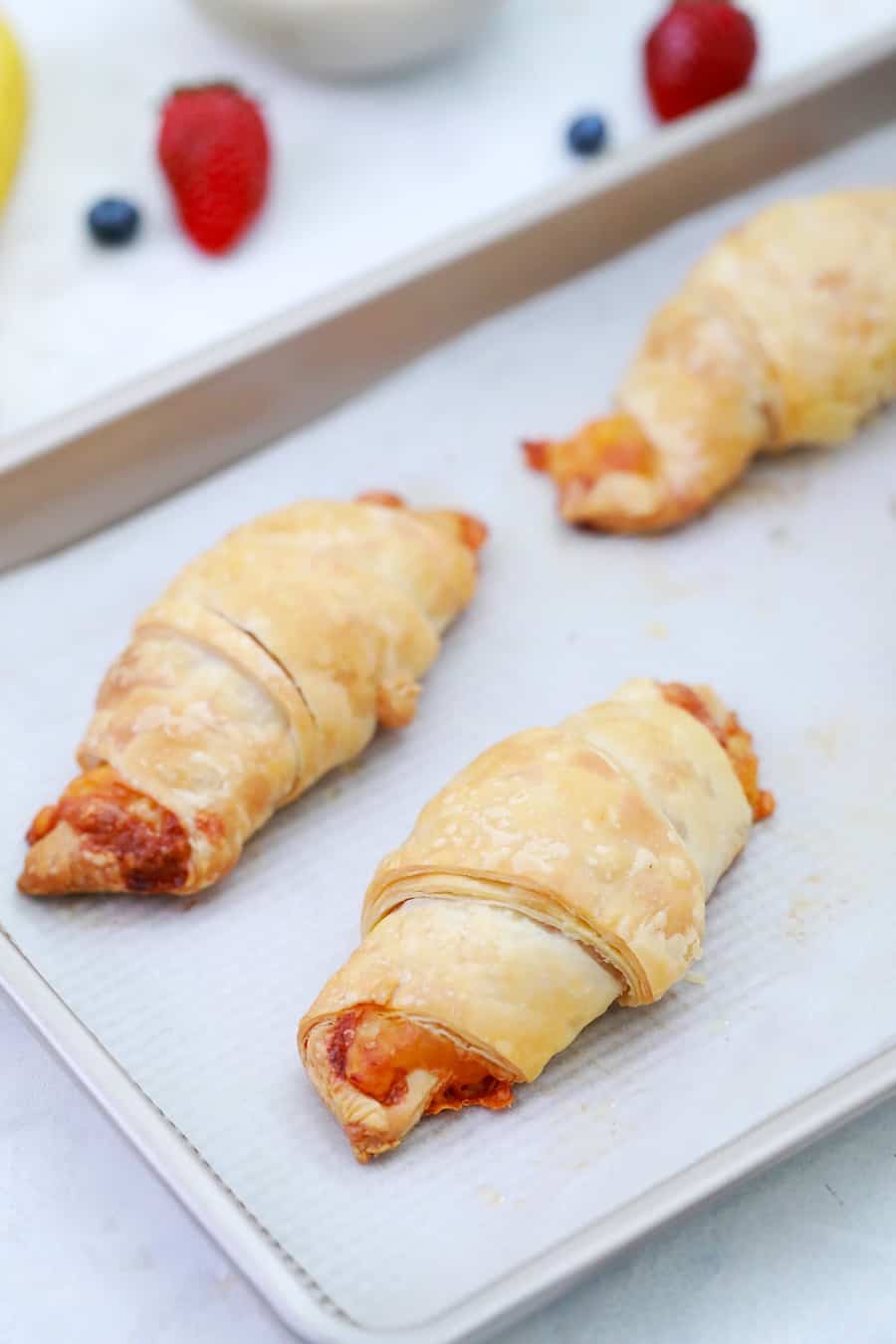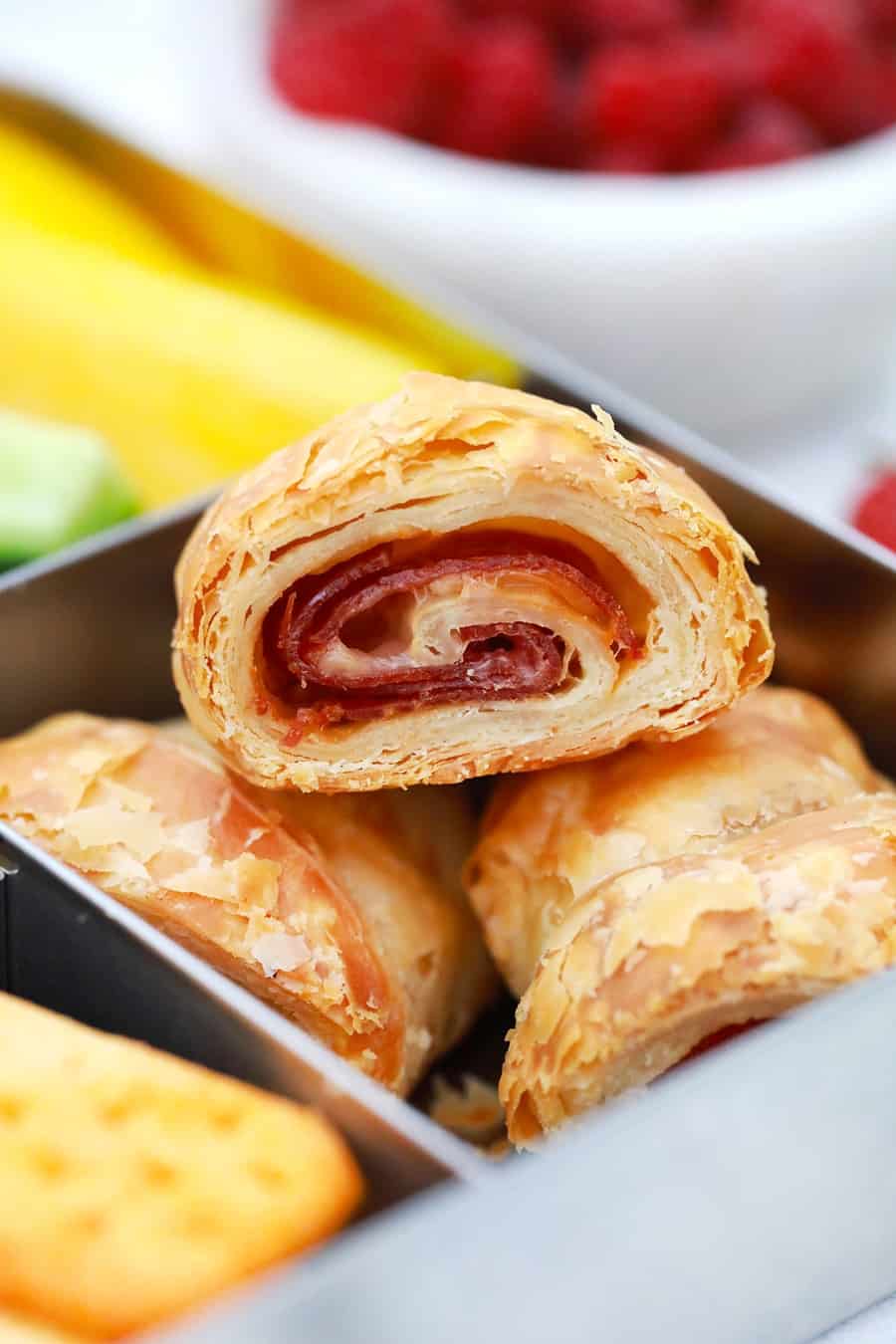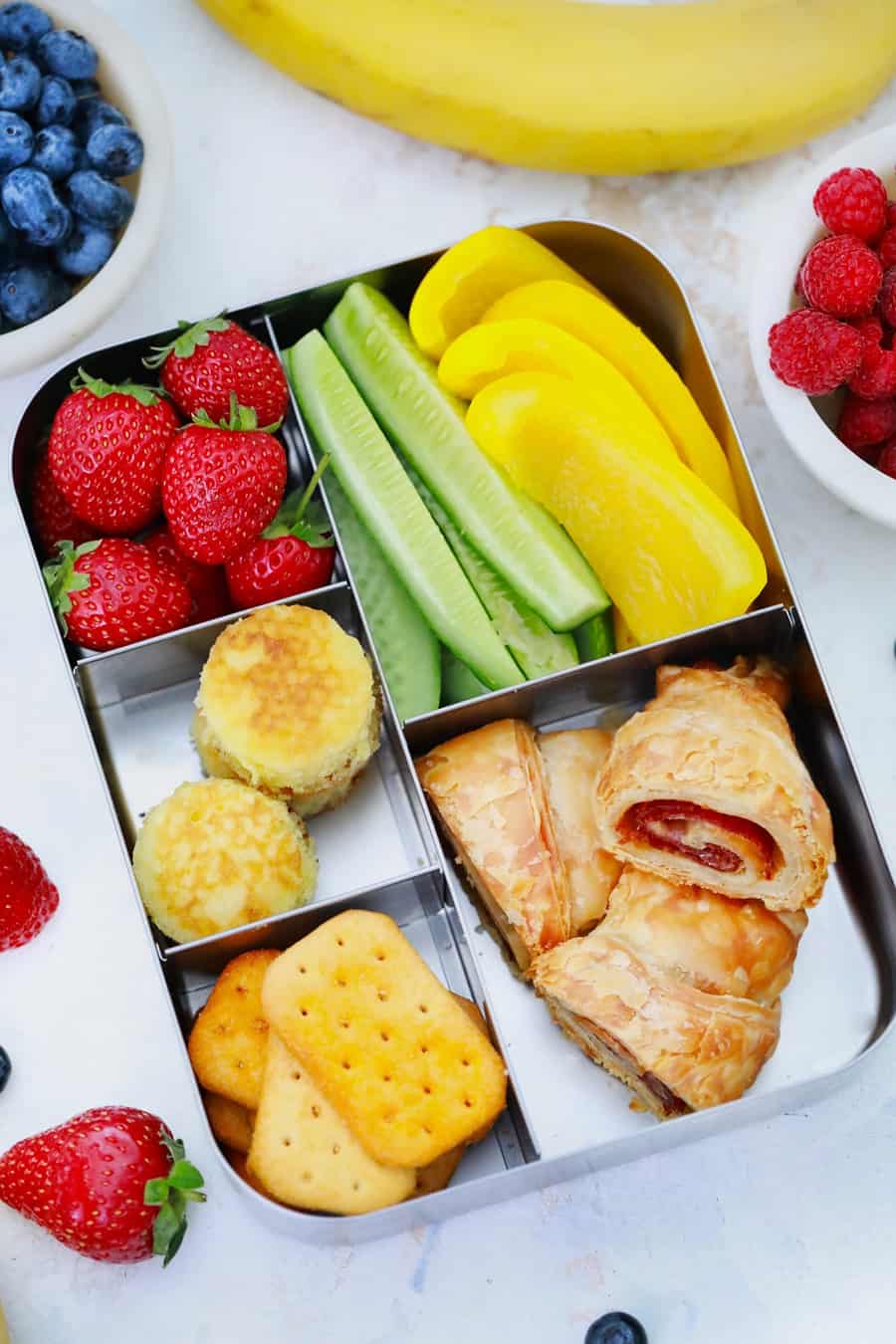 Everyone loves pizza so when the kids open up their lunch boxes and see this recipe waiting, they're going to know it's a great day. We've made pizza in muffin tins, but this one is a simple roll up using your favorite refrigerated crescent dough. Since you get to use the premade dough, it's a really simple recipe to do.
To make this simple pizza recipe, you roll out the pizza dough and slice it into triangles. Add the pepperoni and shredded cheese into the middle and roll them into a crescent roll shape. Pop them in the oven and enjoy. You can store them baked in the refrigerator in an air tight container and lightly toast or reheat them for lunch to pack the next day.
Veggie Toast Tacos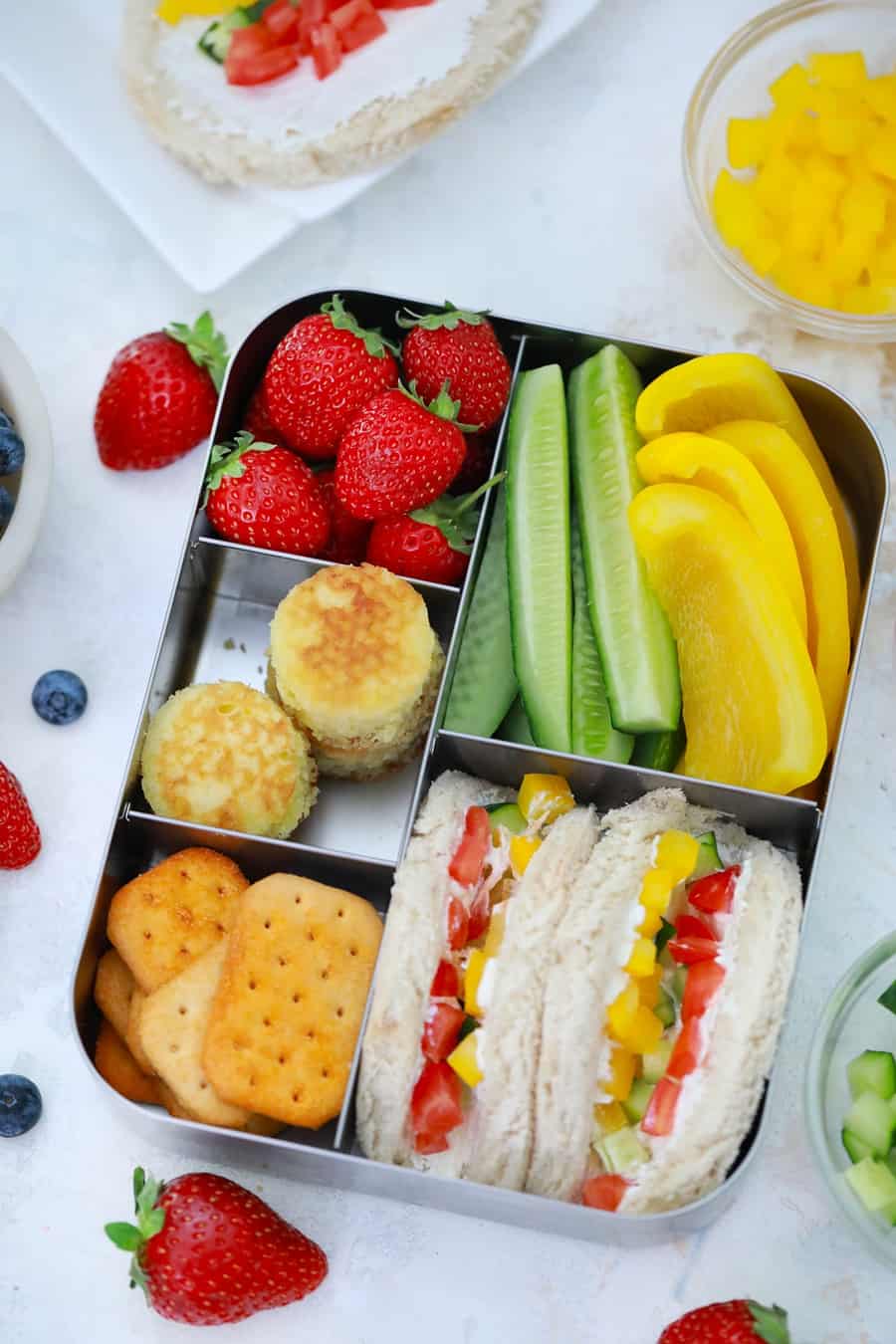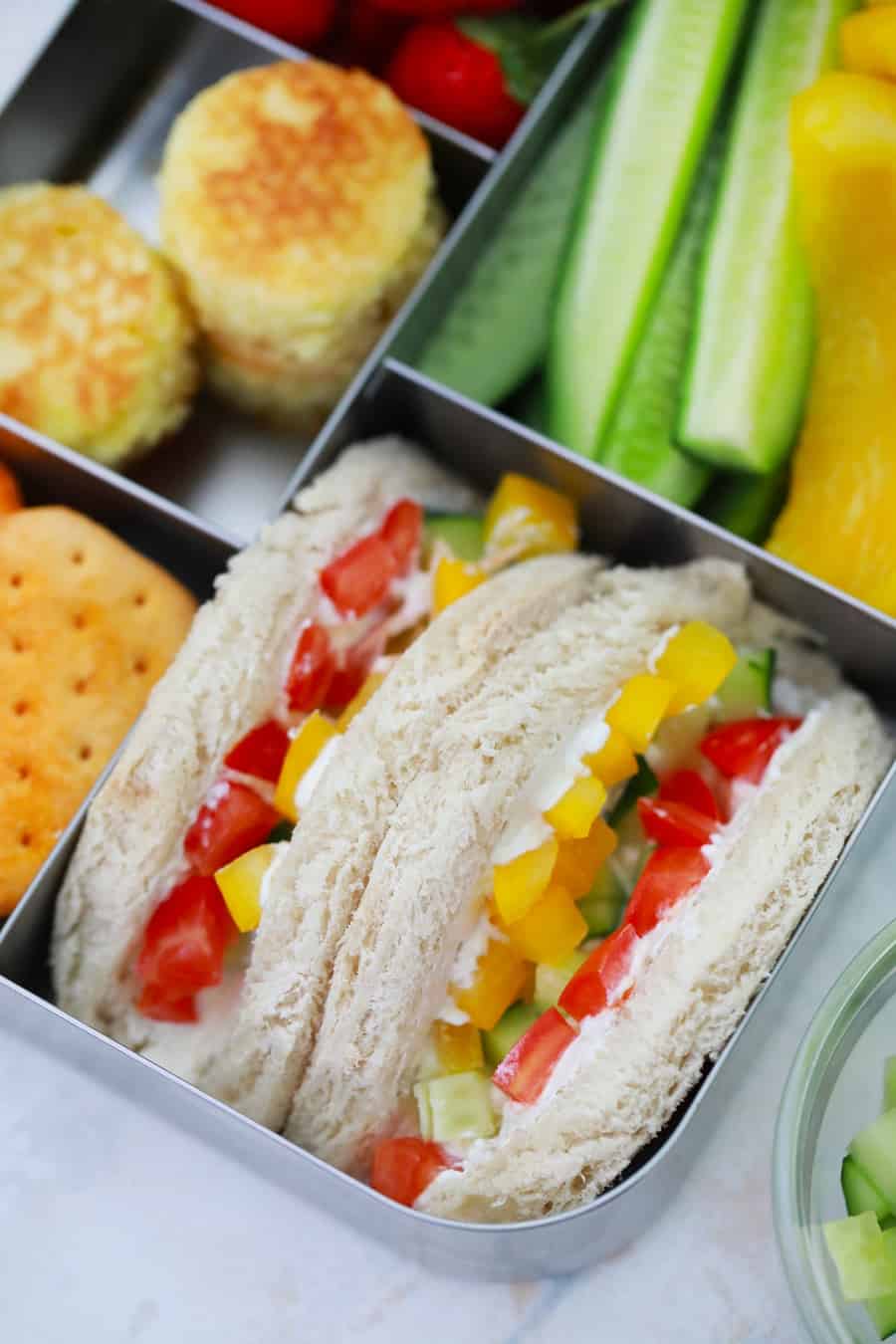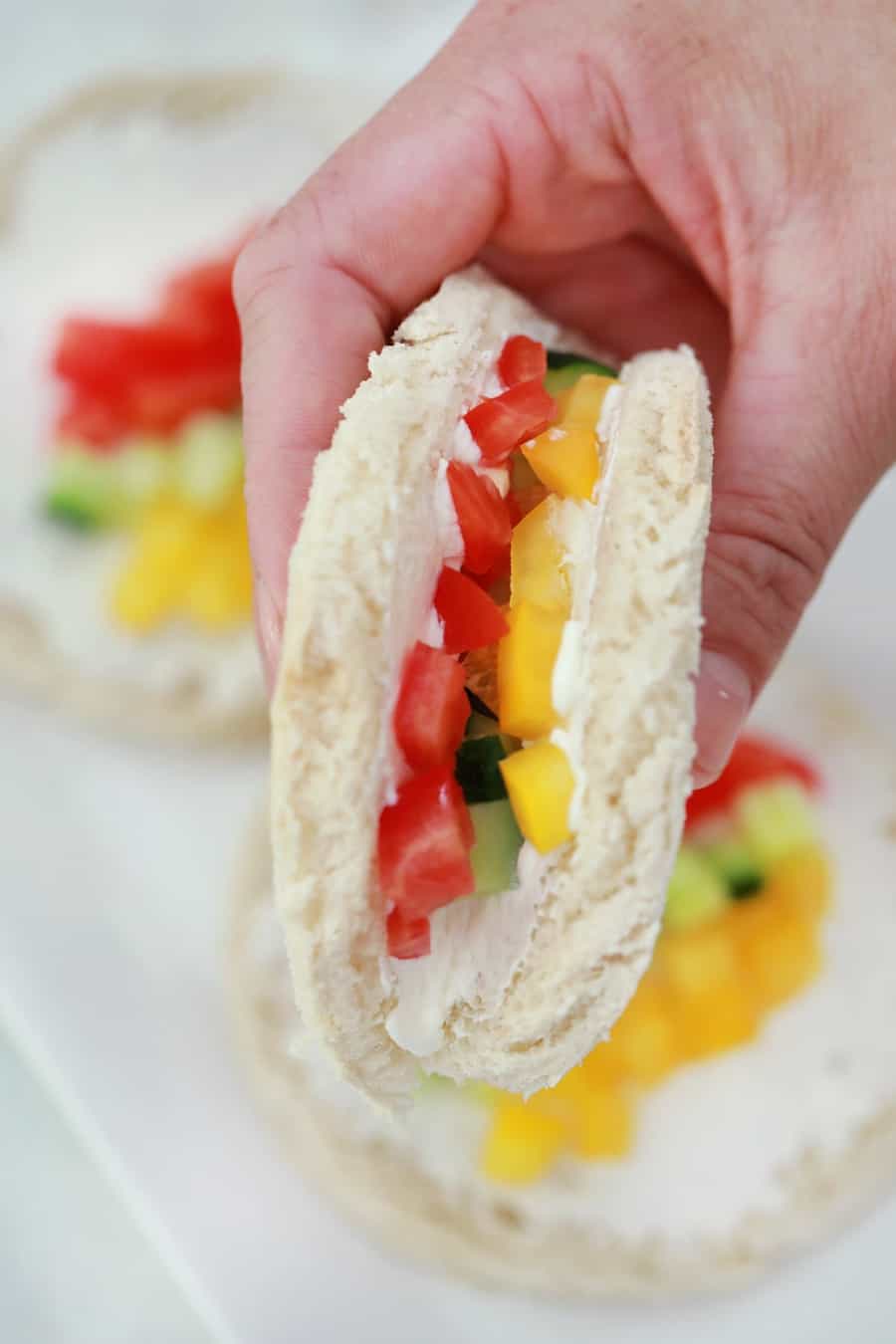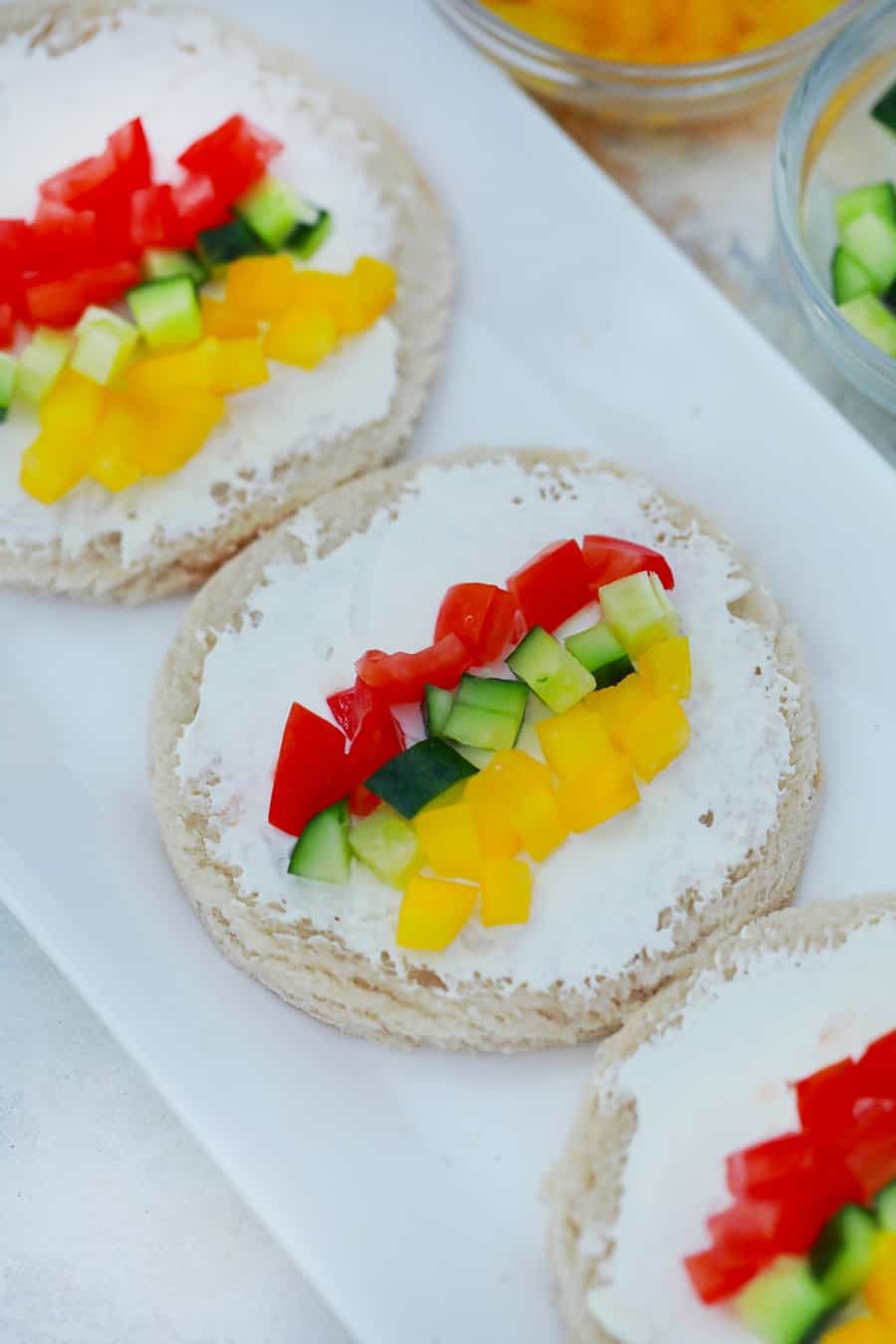 This is a great way to put a spin on Taco Tuesday! We've done something similar with pancake fruit tacos too! This is a more savory version that is more appropriate for lunch vs a dessert. Use a piece of bread and a cookie cutter and cut it into a circle. Once you have a circle spread cream cheese on top and sprinkle with veggies.
We love to use chopped peppers, celery, and crunchy veggies like that. The kids then just pick it up and eat it just like a taco! This is a great way for kids to try different vegetables!
See how simple it can be to make lunch for the kids to take to school? All of these simple back-to-school lunches ideas are fast, easy, and delicious!
Love these back-to-school lunch ideas? Don't forget to add in a few sweet treats!
Fun Dessert Ideas for Kids
These Mini Oreo Cakes Are the Perfect Tiny Rainbow Cakes