By using this site, you agree to our Terms of Use. This post may contain affiliate links. Read our disclosure policy.
Follow us on Instagram for more fun food ideas for kids!
These fruit mini pancake stacks are a fun breakfast idea for kids and make a creative, bite-sized brunch recipe!
It's not breakfast without pancakes, am I right? Breakfast is our family's favorite meal of the day. From morning coffee to warm syrupy pancakes, breakfast is truly our favorite morning routine. However, having the same thing every day for breakfast can get a little tiresome. That's why I created these adorable fruit Mini Pancake Stacks, to give the kids a new way to eat pancakes, but in a much more creative fashion! We love making mini pancake cereal, so this is another twist to have fun with them! Keep reading if you want to see how I make these fruit Mini Pancake Stacks in under 30 minutes!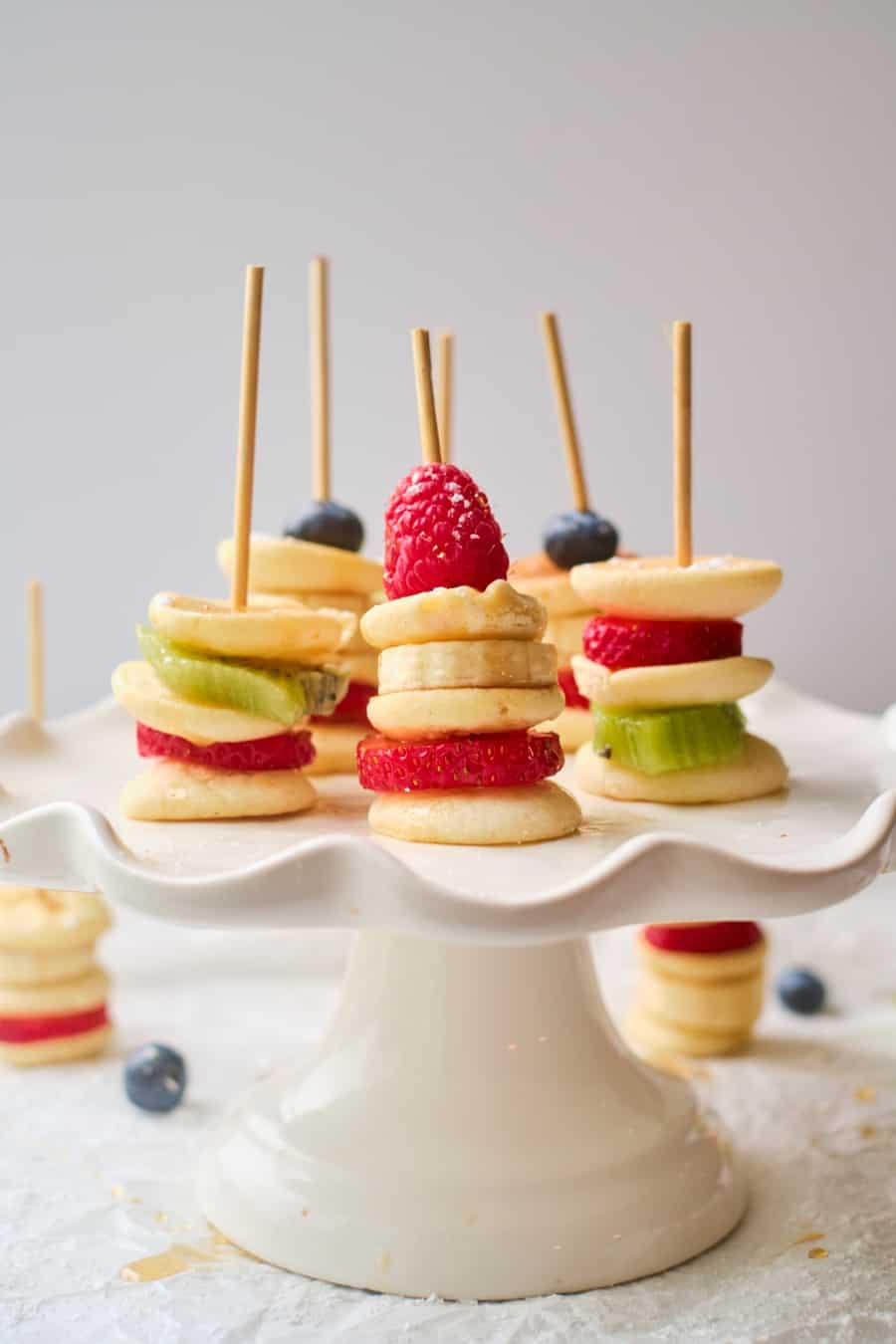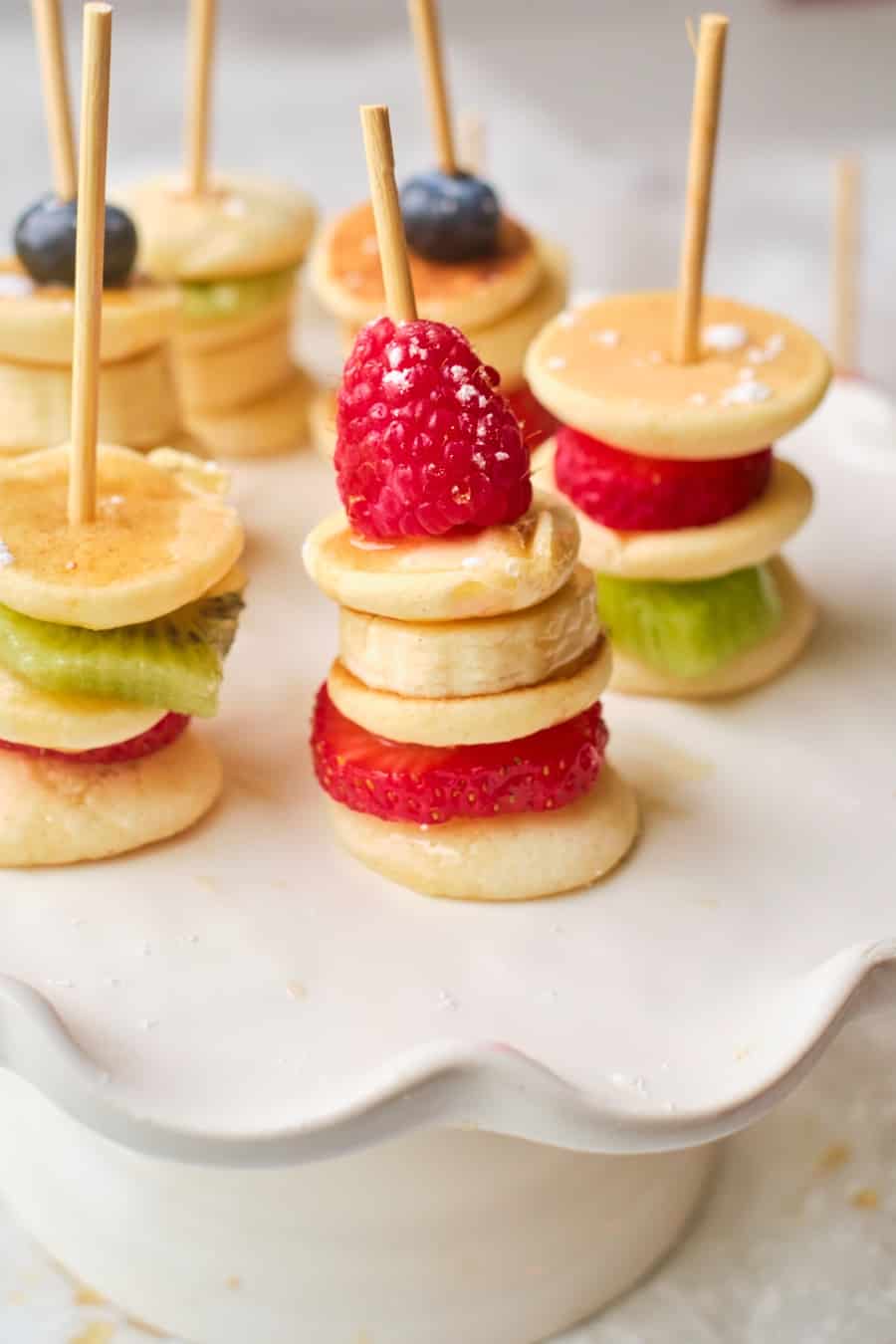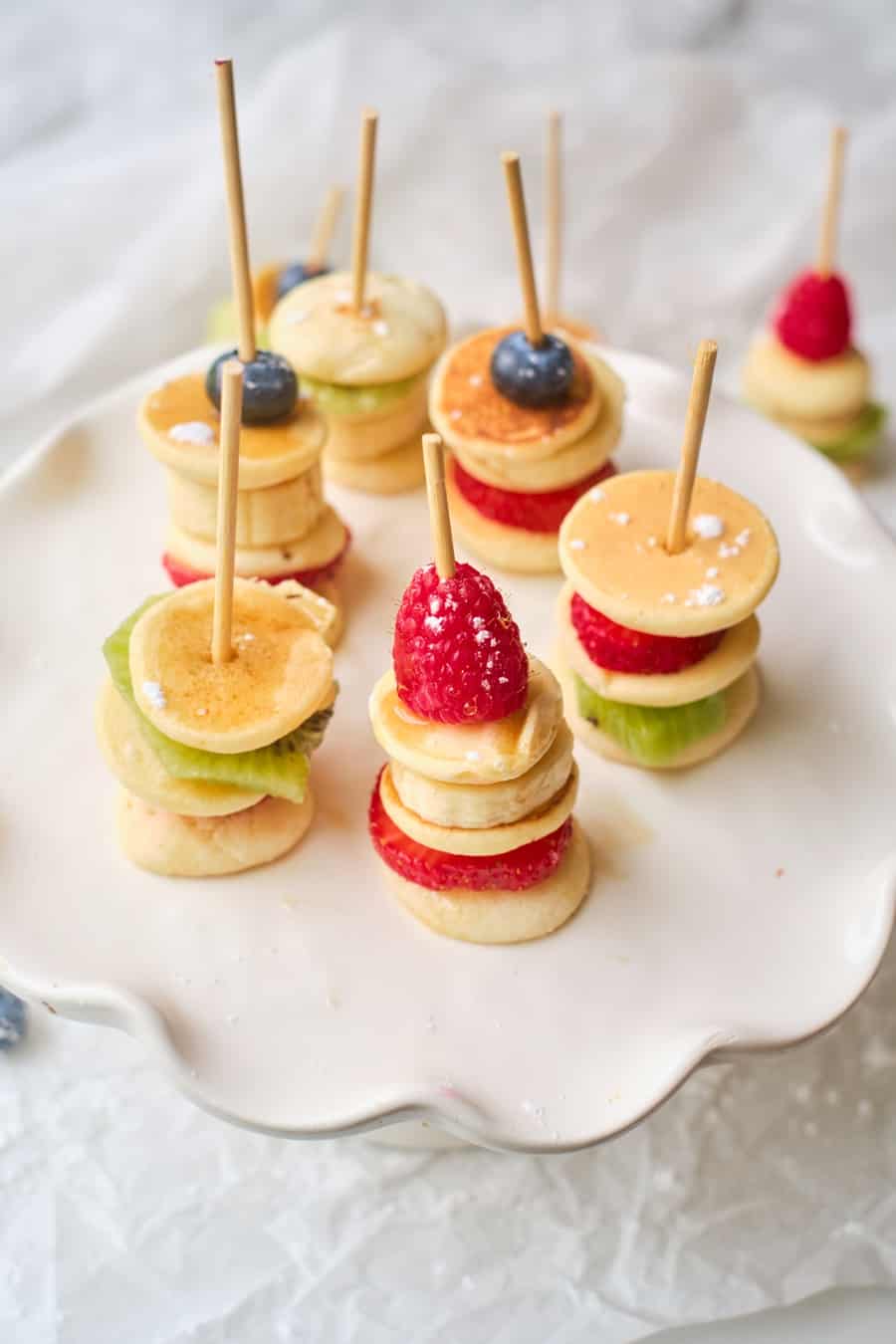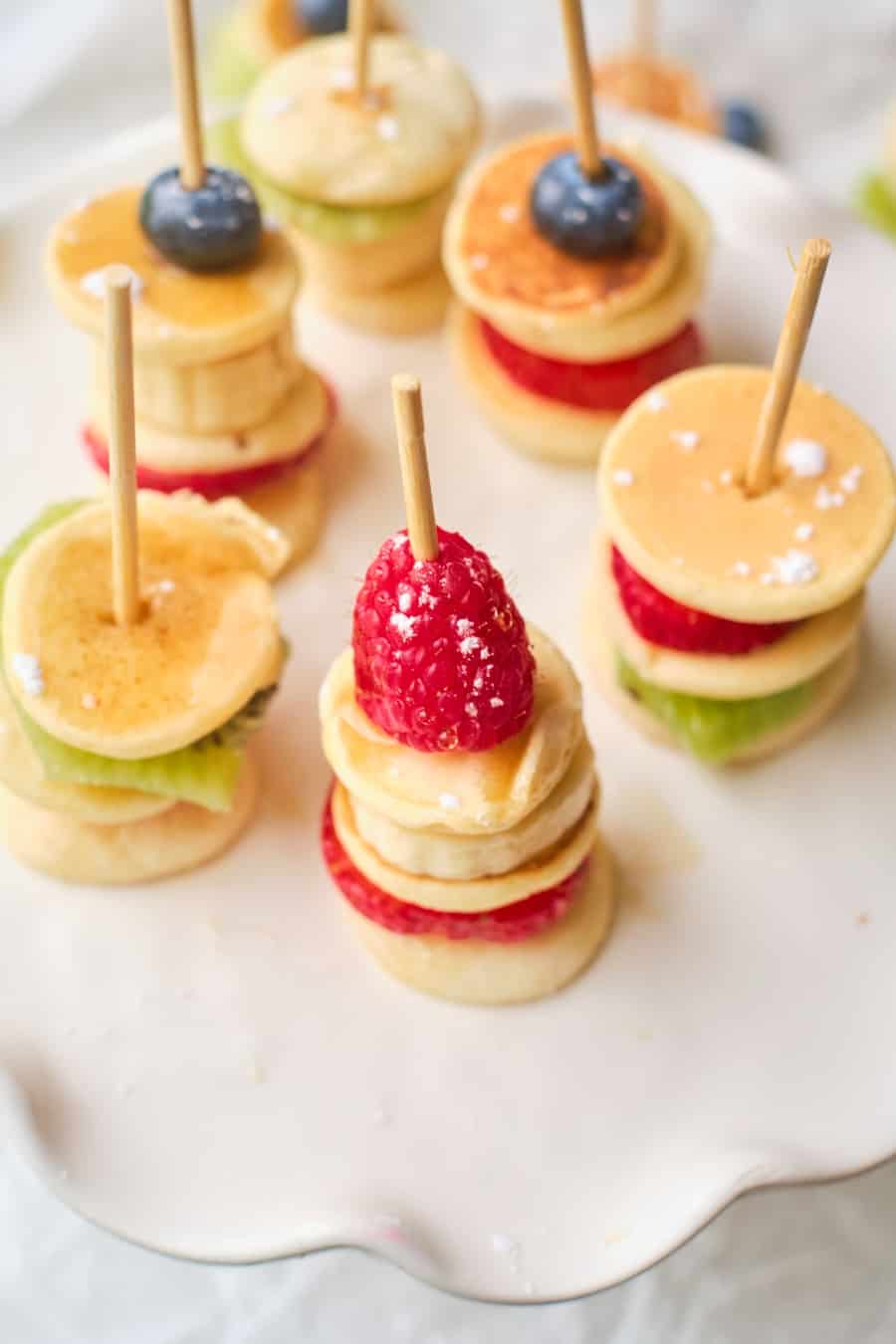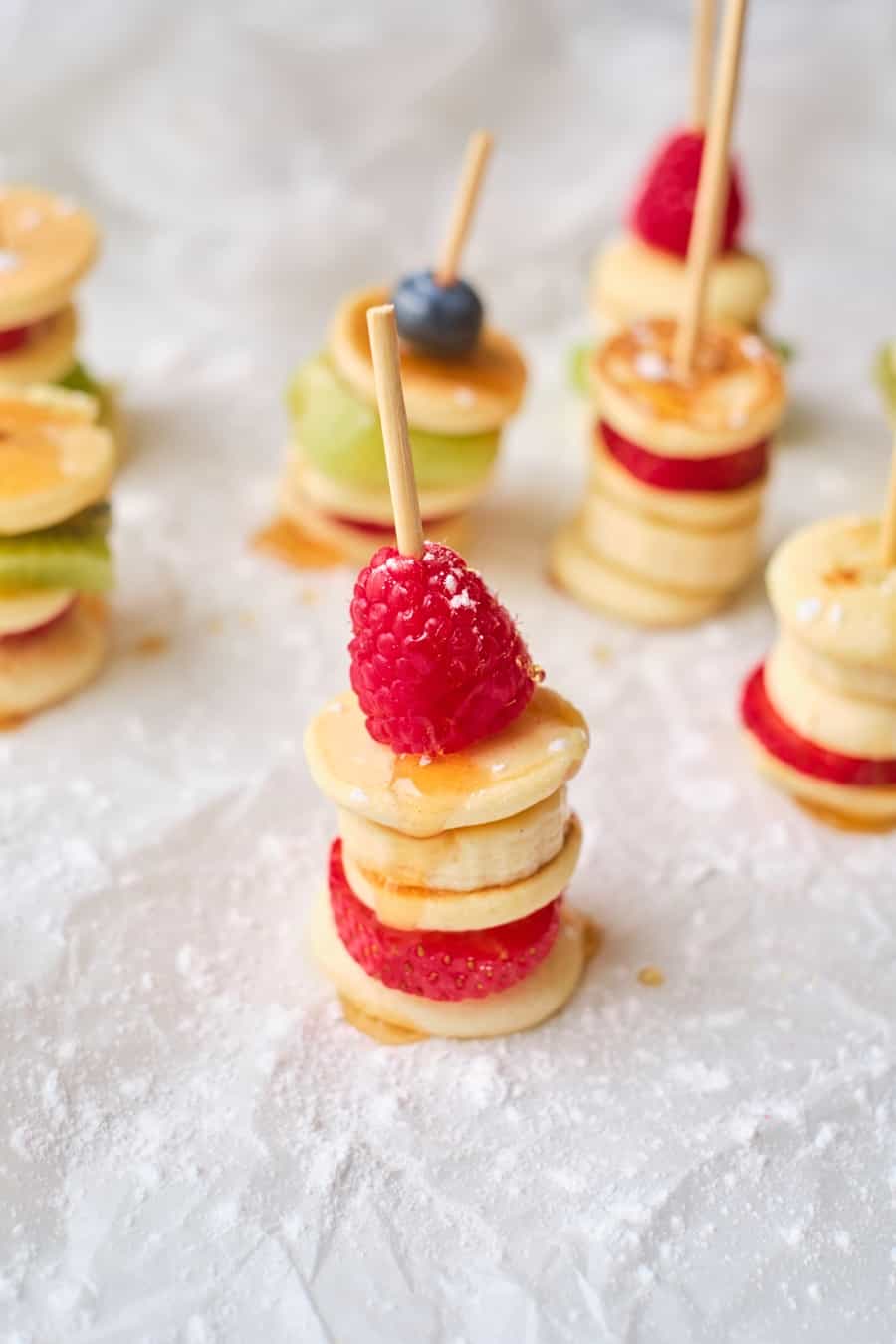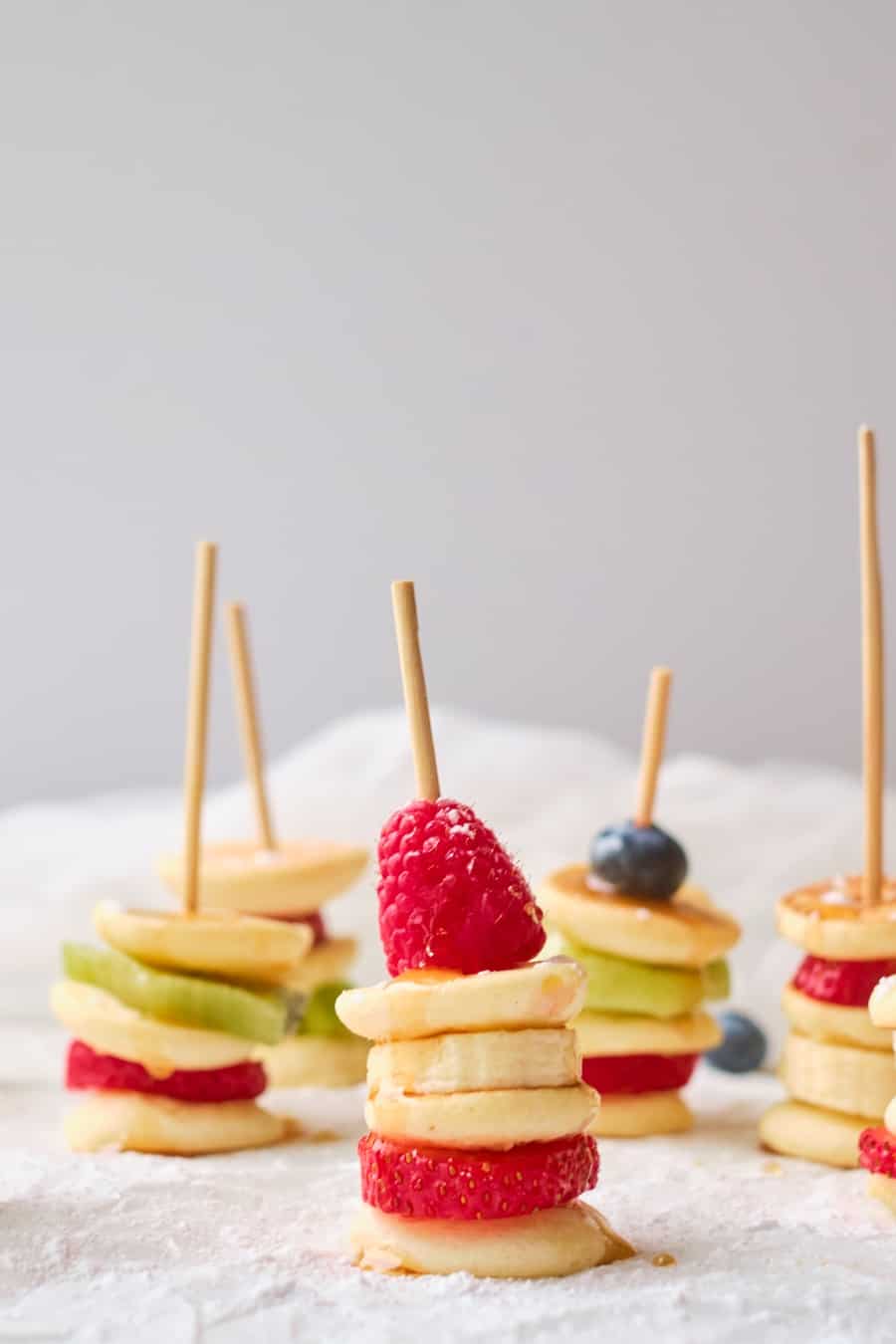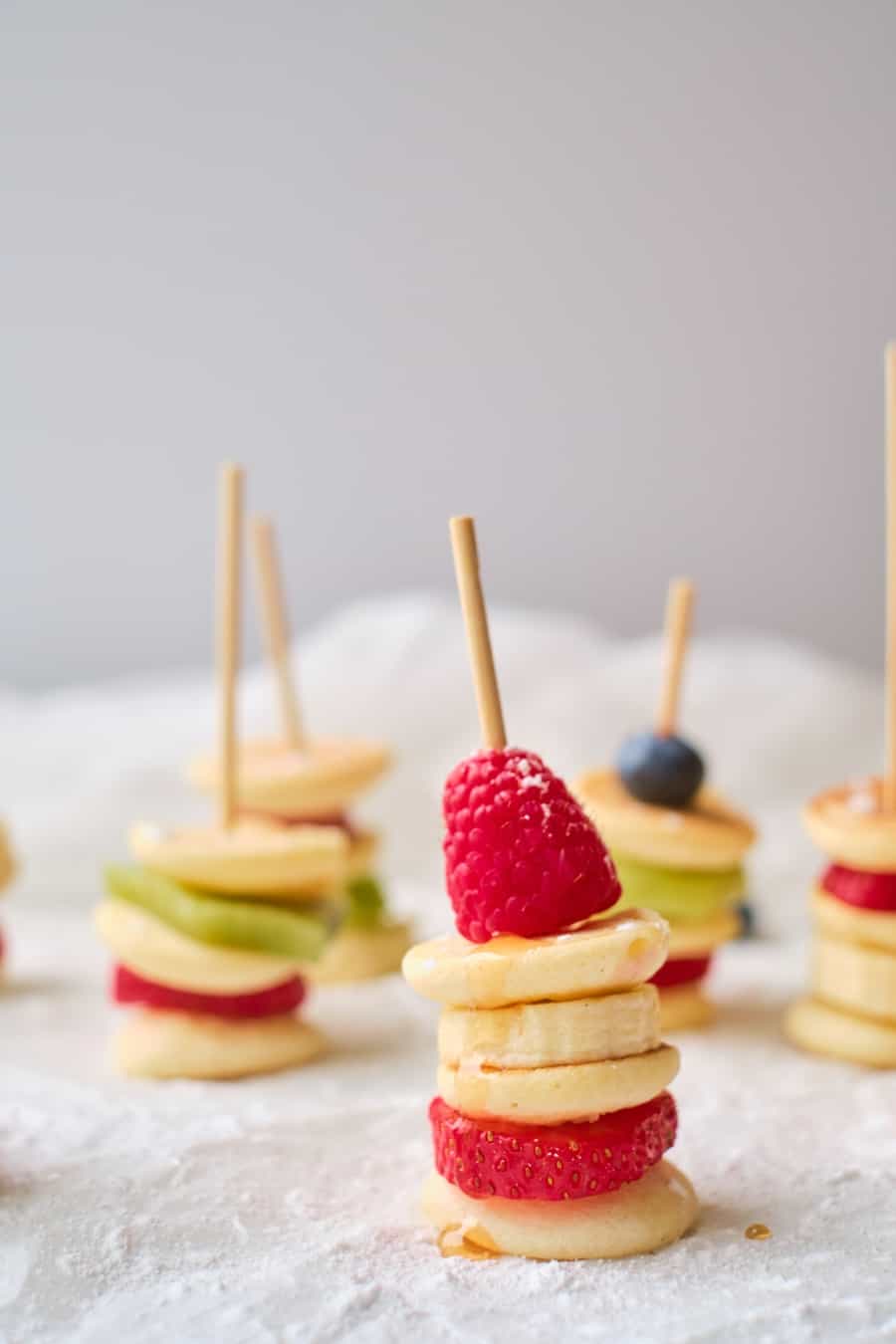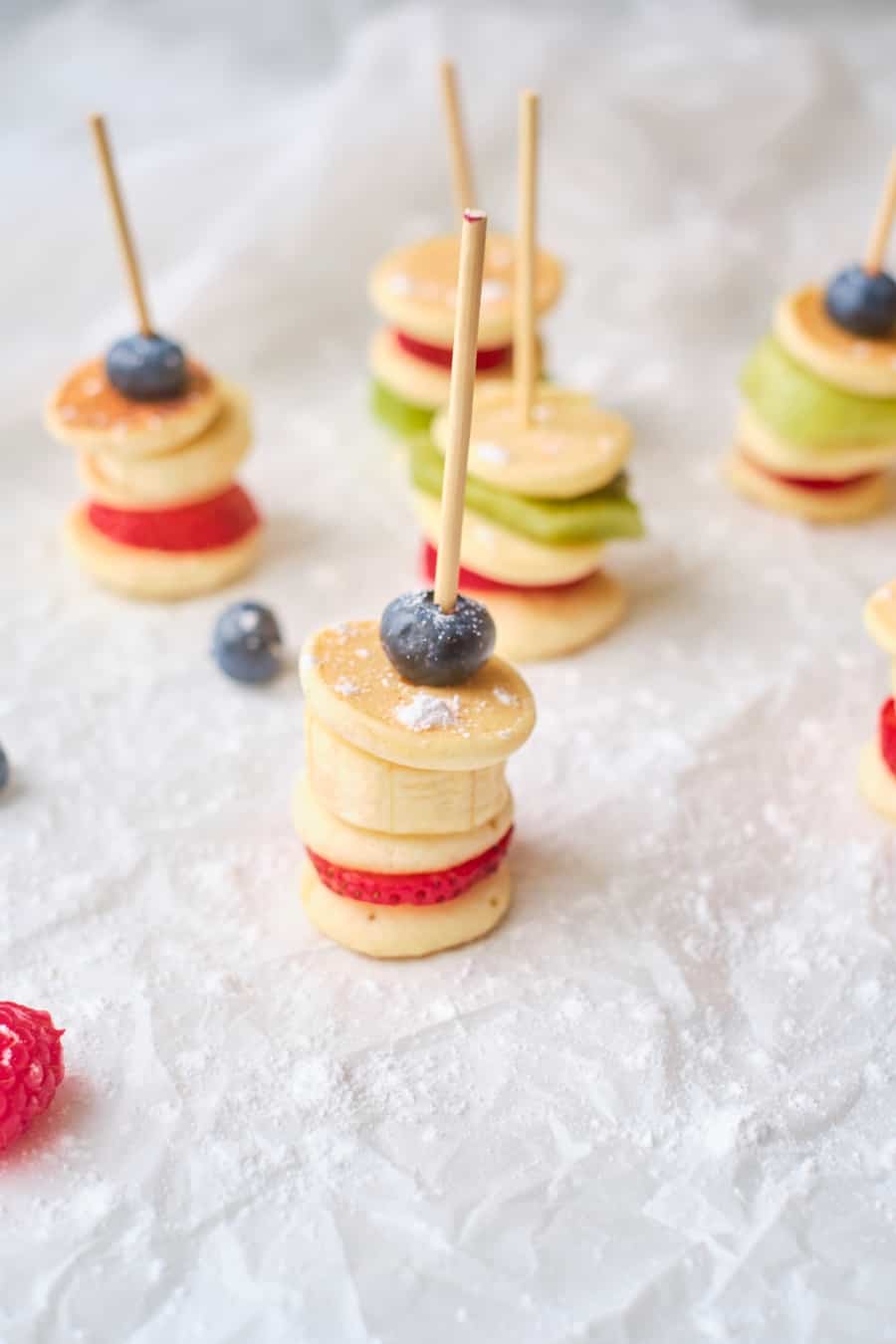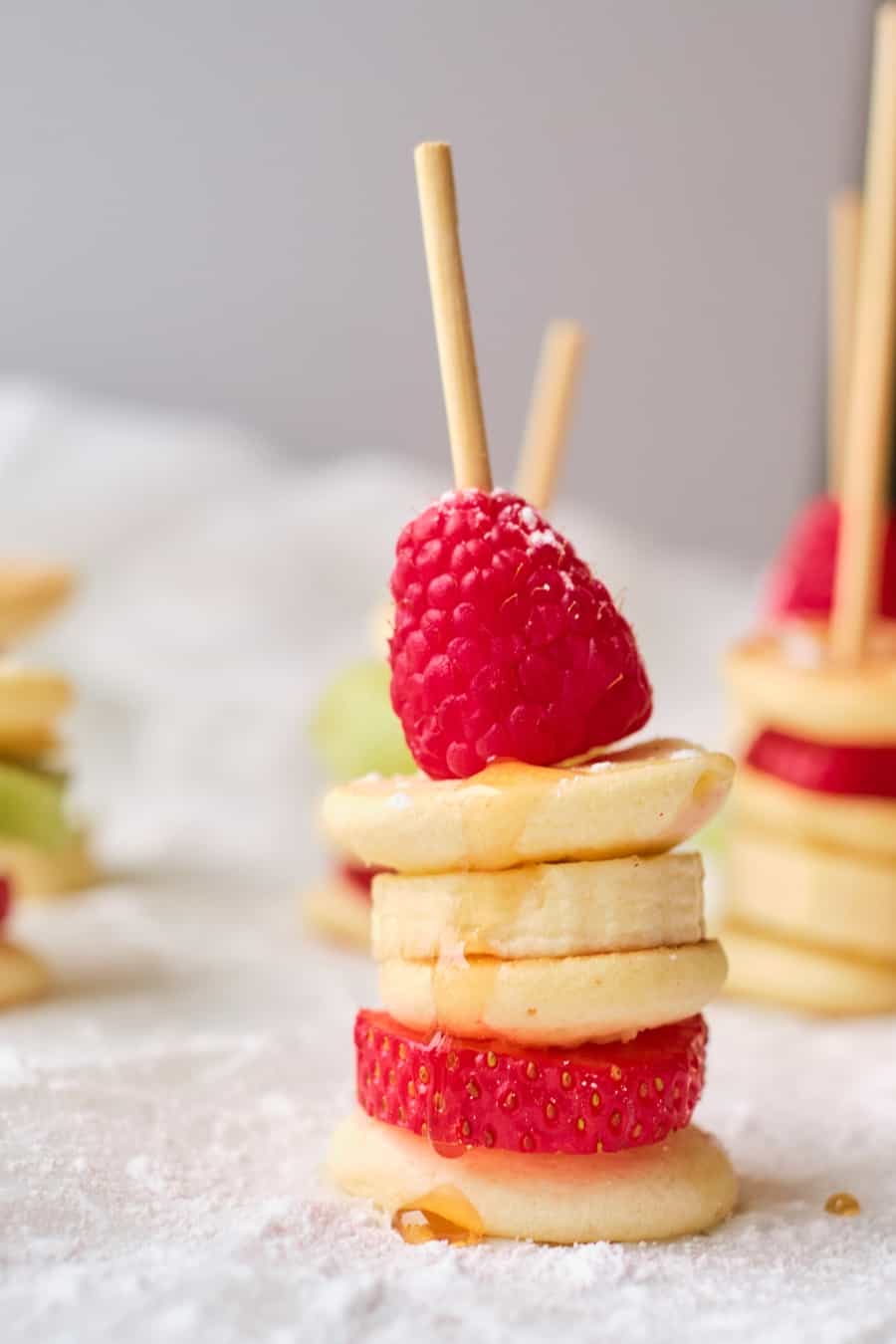 How to Make Fruit Mini Pancake Stacks
What you'll need for this recipe is 1.5 cups of prepared pancake mix, 1 kiwi, 5 strawberries, and 1 banana. To top the pancakes, you'll need syrup, icing sugar, and sticks to hold the mini pancakes. To make these Mini Pancake Stacks, you'll need to start off by prepping 1.5 cups of pancake mix. Using a bottle filled with your prepped pancake mix, make small circles of batter in a hot pan. Flip the mini pancakes, and remove them from the heat once they become golden brown. Then, you'll want to prep your fresh fruit by slicing it. Taking one small skewer, you're going to make pancake kebabs. First, you want to push a small pancake towards the base of the stick, add a small piece of fruit, another pancake, another small piece of fruit, and finish with a final pancake. Repeat these steps with the other pancakes and fruit. Lastly, drizzle the kebabs with syrup and dust with icing sugar! Now it's time to dig in!
Mini Pancake Stacks Variations
If you're not a huge fan of plain pancakes, there are several variations you can try to make them just right! You can make mini chocolate chip pancakes, chocolate pancakes, blueberry pancakes, and so much more! It's totally up to you and how you want to eat your pancakes. You can also cut them into shapes like bear pancakes.
Another variation you could do is substitute the icing sugar for coconut shavings and sprinkle them on top of your tropical pancakes! One more variation you could do is using a flavored syrup if you want to switch it up from maple. You could do blueberry, strawberry, orange, chocolate syrup, etc. These tropical fruit Mini Pancakes are super flexible, so you can put whatever you like on top!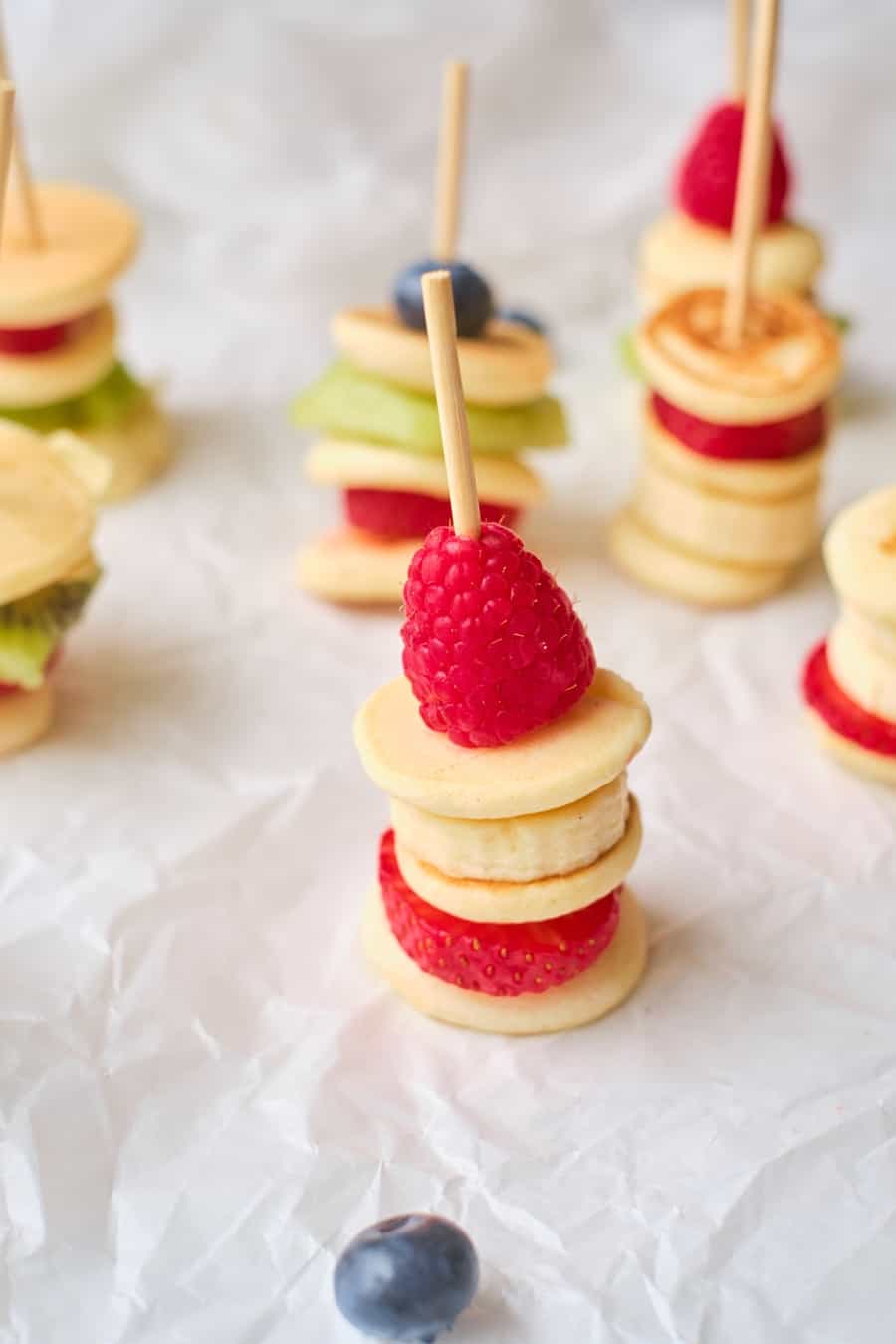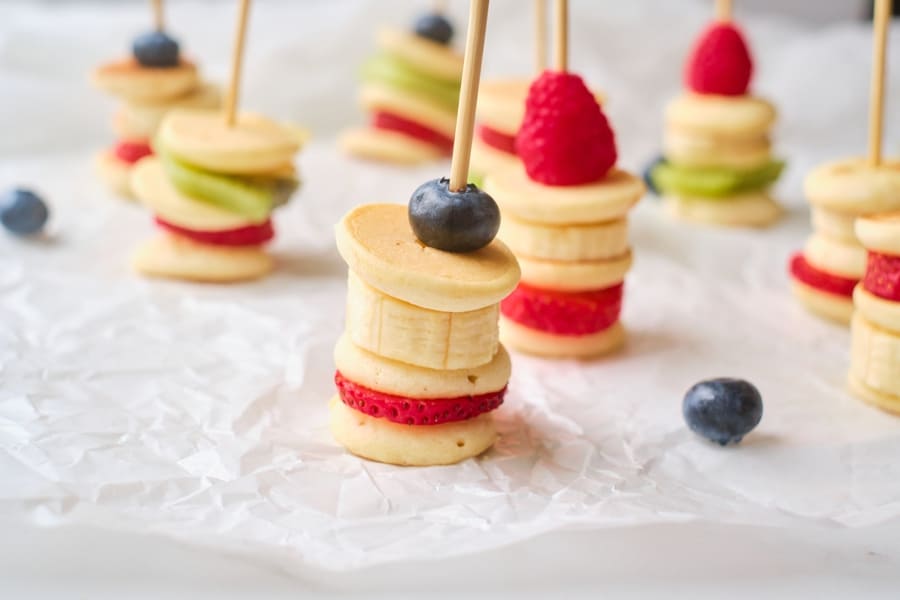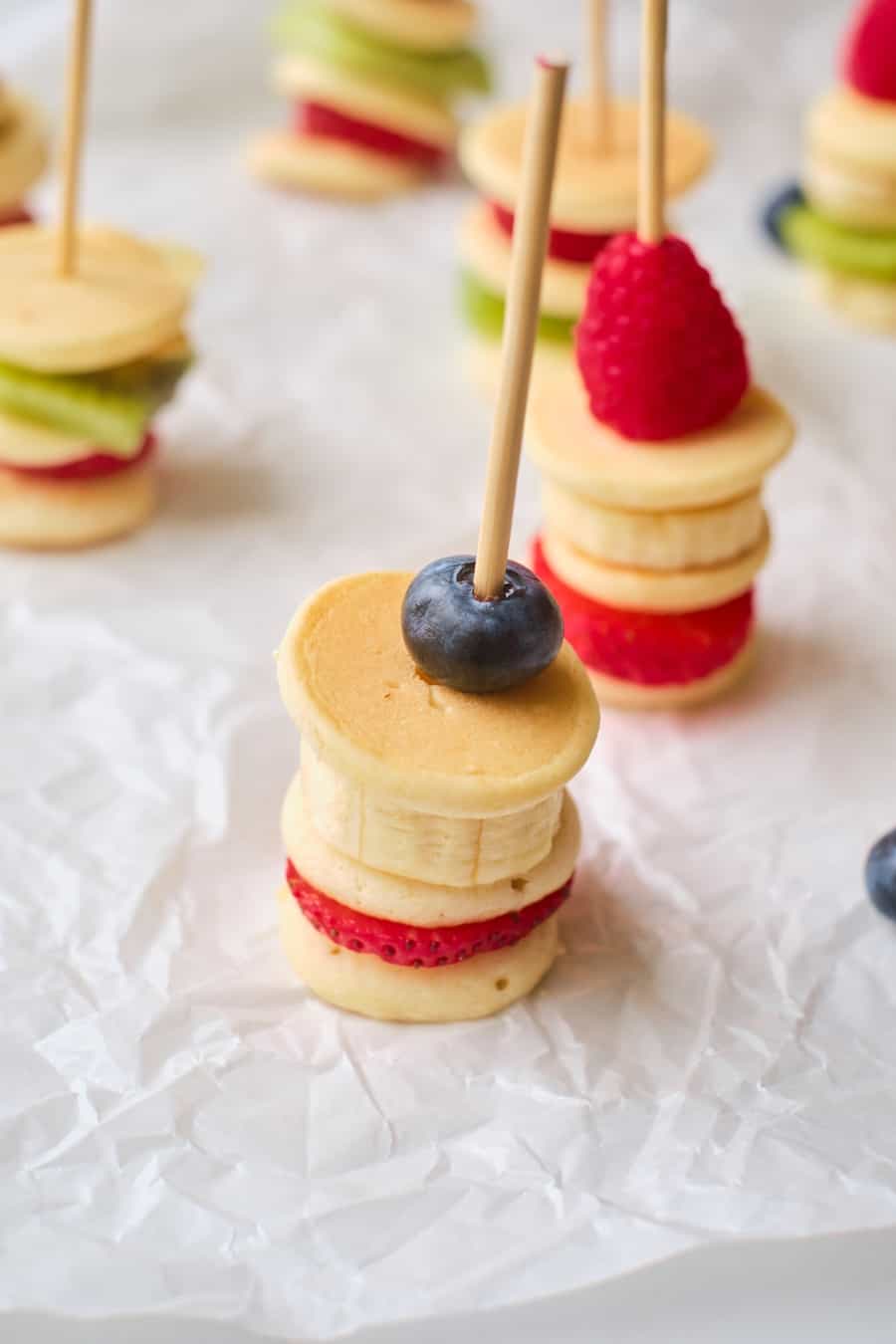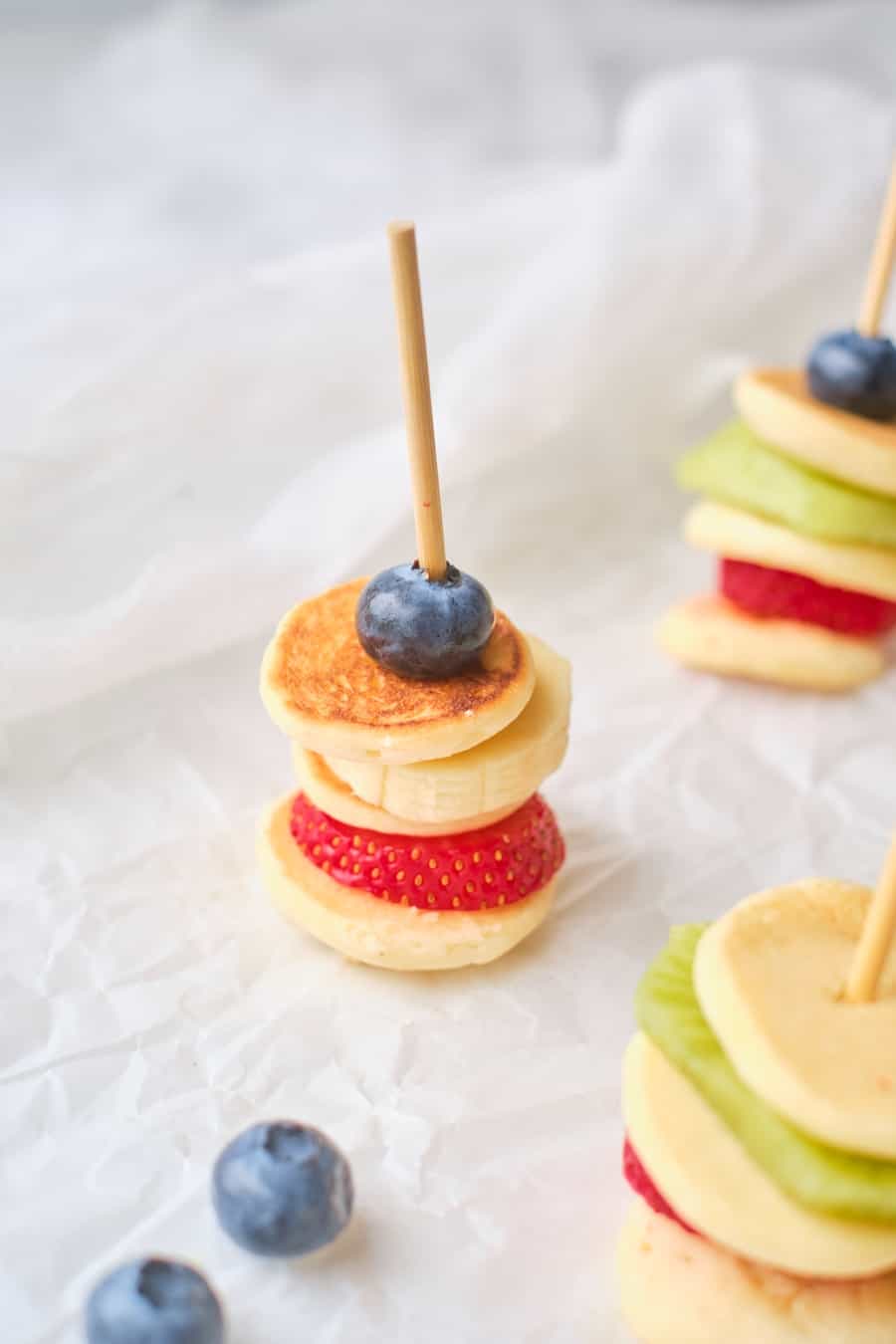 Why This Pancake Recipe Hits a Home Run
I personally love this recipe because it takes your morning pancakes to a whole new level! You can personalize these any way you want, which makes this recipe suitable for any palate and fun for kids to make! This recipe is also super simple. It doesn't require a ton of ingredients, which you can find at your local grocery store! This recipe is also perfect for picky eaters, especially kids. Even if they don't like pancakes, I guarantee they will love these cute mini pancakes! Lastly, this recipe is perfect for sleepovers, brunch, or a baby/bridal shower. You can whip these up in a short amount of time, and create super cute pancake kebabs that will leave your guests impressed!
How to Store Your Pancakes
If you're not eating your Pancake Stacks right away, you can either put them in the refrigerator or freezer, depending on how soon you will use them. But make sure to not do that with the fruit on because it will get frozen and soggy at room temperature! Best to make the mini pancakes ahead and freeze tightly in an airtight container or freezer zipper bag. I would recommend not leaving them in the freezer for too long, though, or they might not taste very good in a month or two!
I loved making this recipe, and I hope you will too! It's so easy and kicks your pancakes up a notch! Switch up your morning routine with these fun Mini Pancake Stacks that will soon become a staple in your household!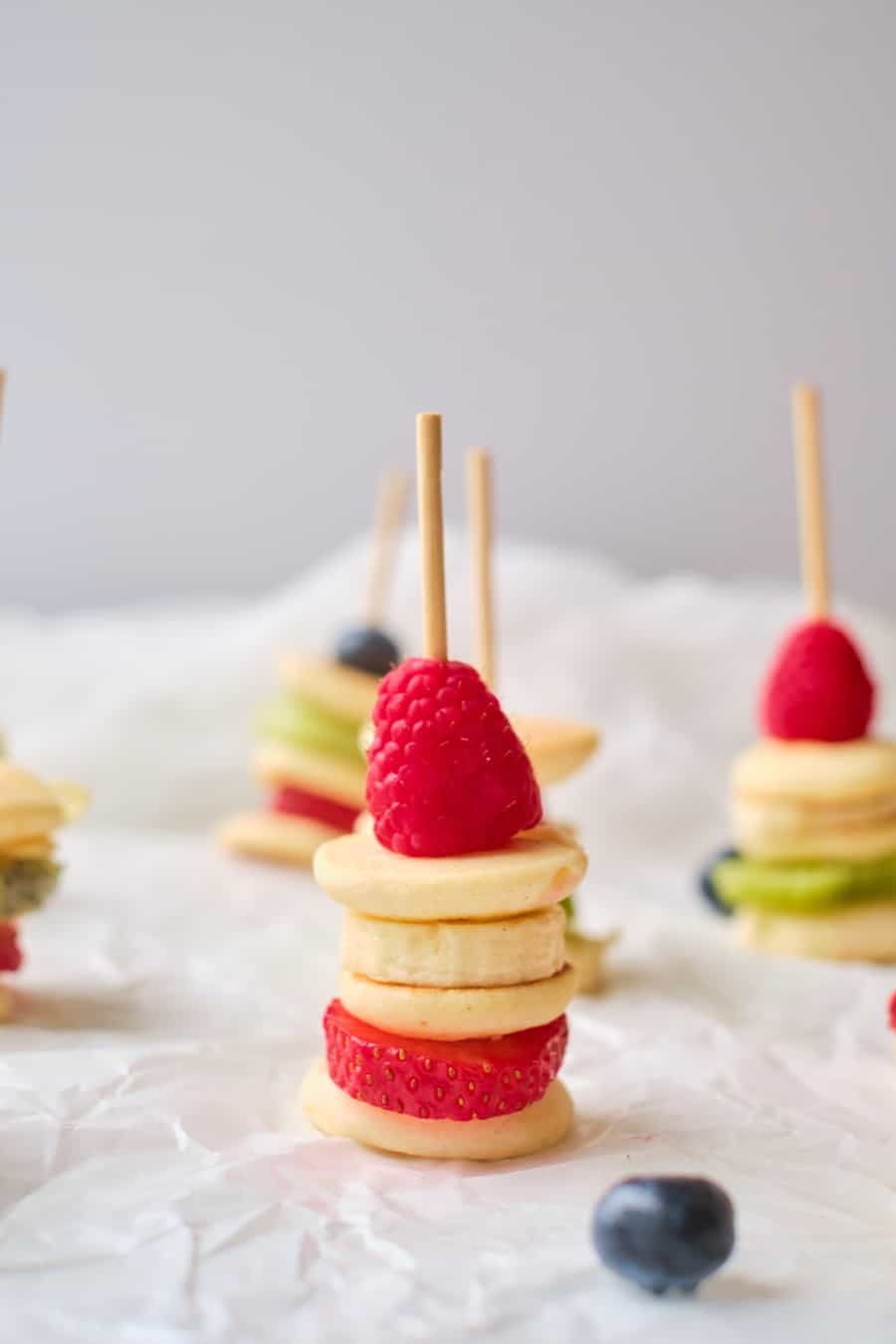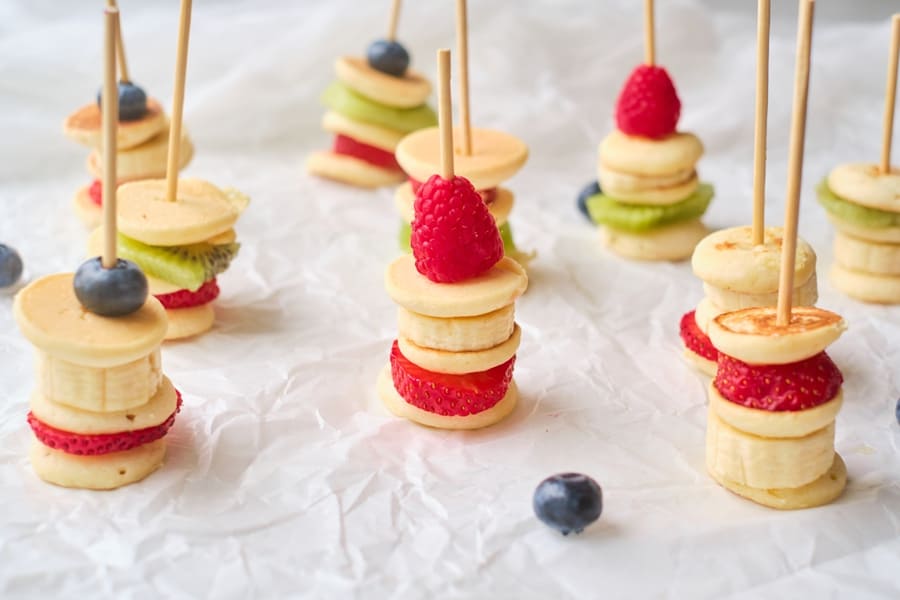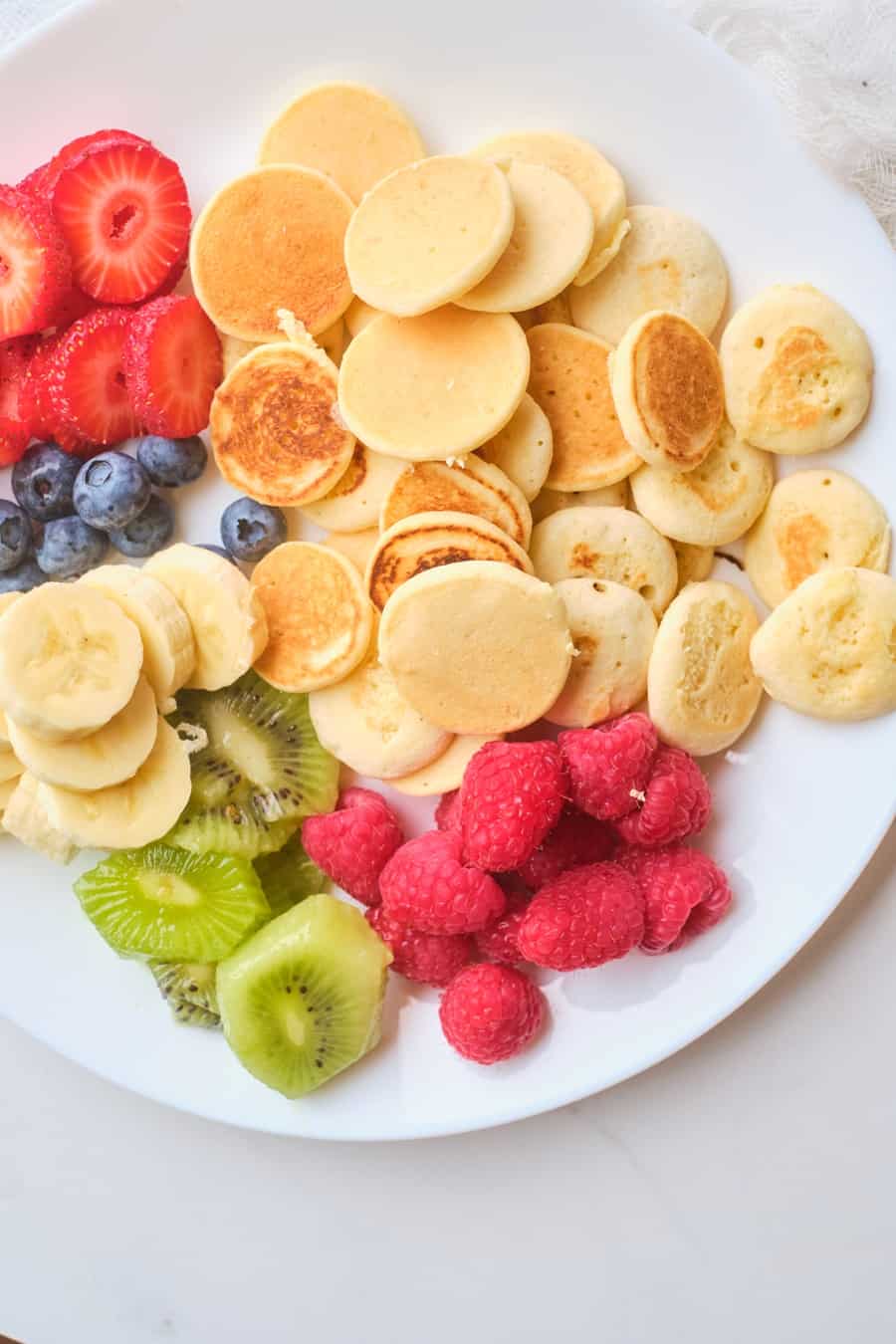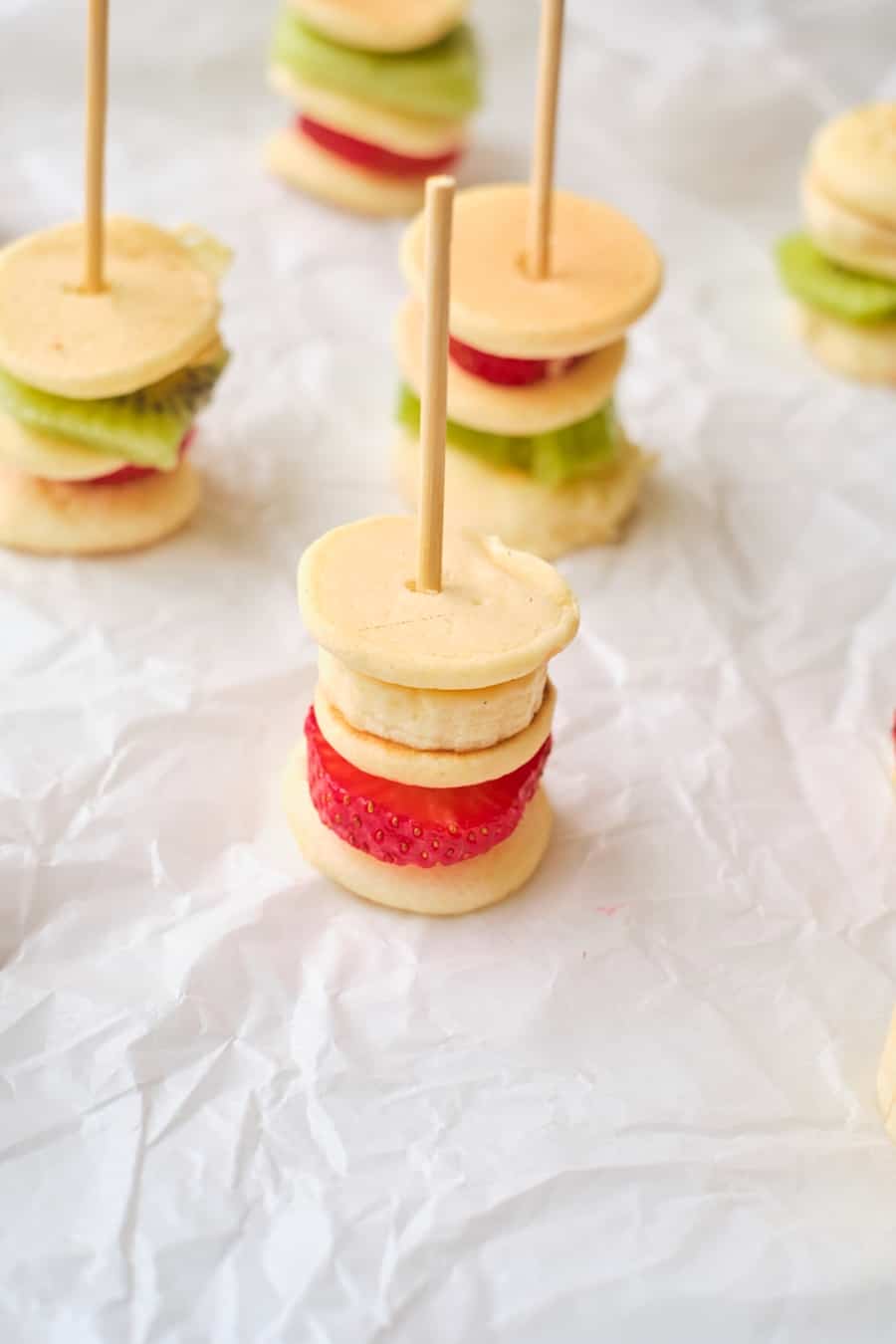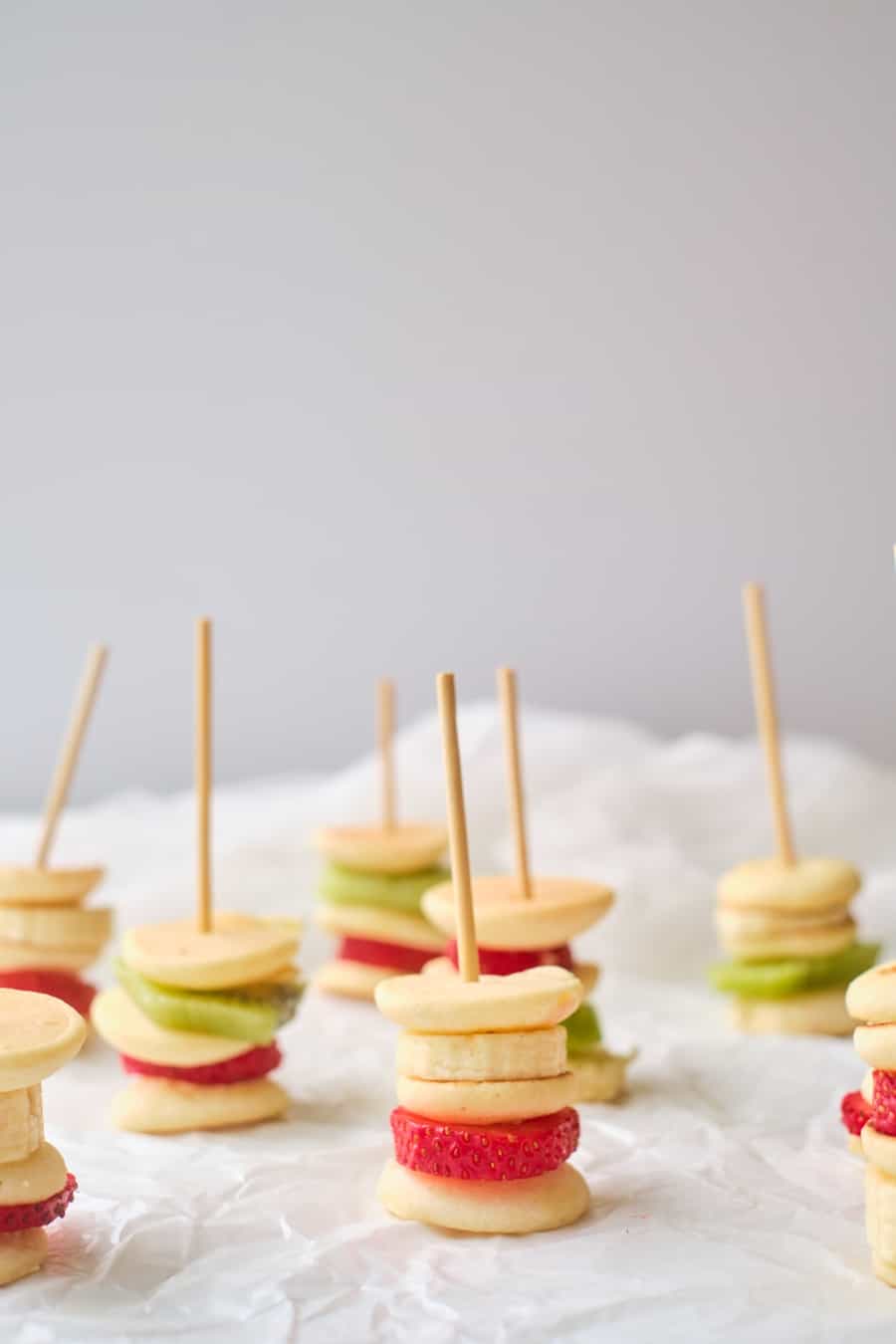 Mini Pancake Stacks – Ingredients:
1.5 cup of prepared pancake mix
1 kiwi
5 strawberries
1 banana
Syrup
Icing sugar
Sticks to hold pancakes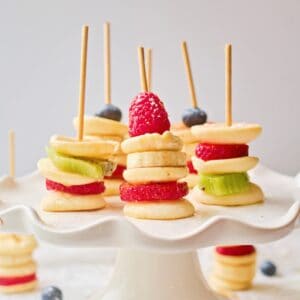 Mini Pancake Stacks
These fruit mini pancake stacks are a fun breakfast idea for kids and make a creative, bite-sized brunch recipe!
Ingredients
1.5

Cups

Prepared pancake mix

1

Kiwi

5

Strawberries

1

Banana

Maple syrup

Powdered sugar

Sticks to hold pancakes

Can use skewers cut in half

Small squeeze bottle
Instructions
Add your pancake mix to your small squeeze bottle. Make small circles of batter on a greased hot pan. Flip and remove from the hot pan after both sides are golden brown.

Take 1 small skewer and place a small pancake, and then a piece of fruit, and then pancake and then a fruit. Finish with

Repeat with rest of pancakes.

Drizzle with syrup and dust with icing sugar.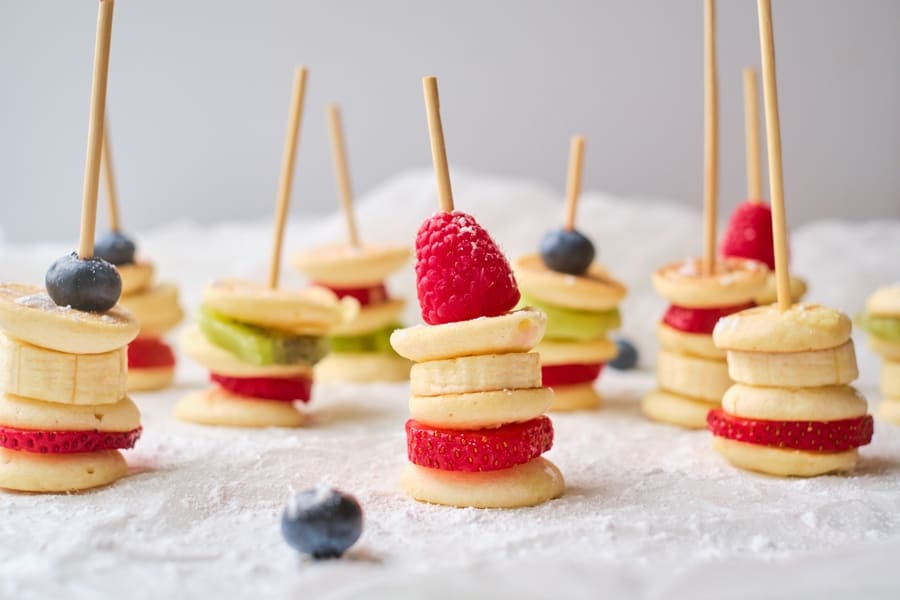 More Pancake Recipes You'll Love: