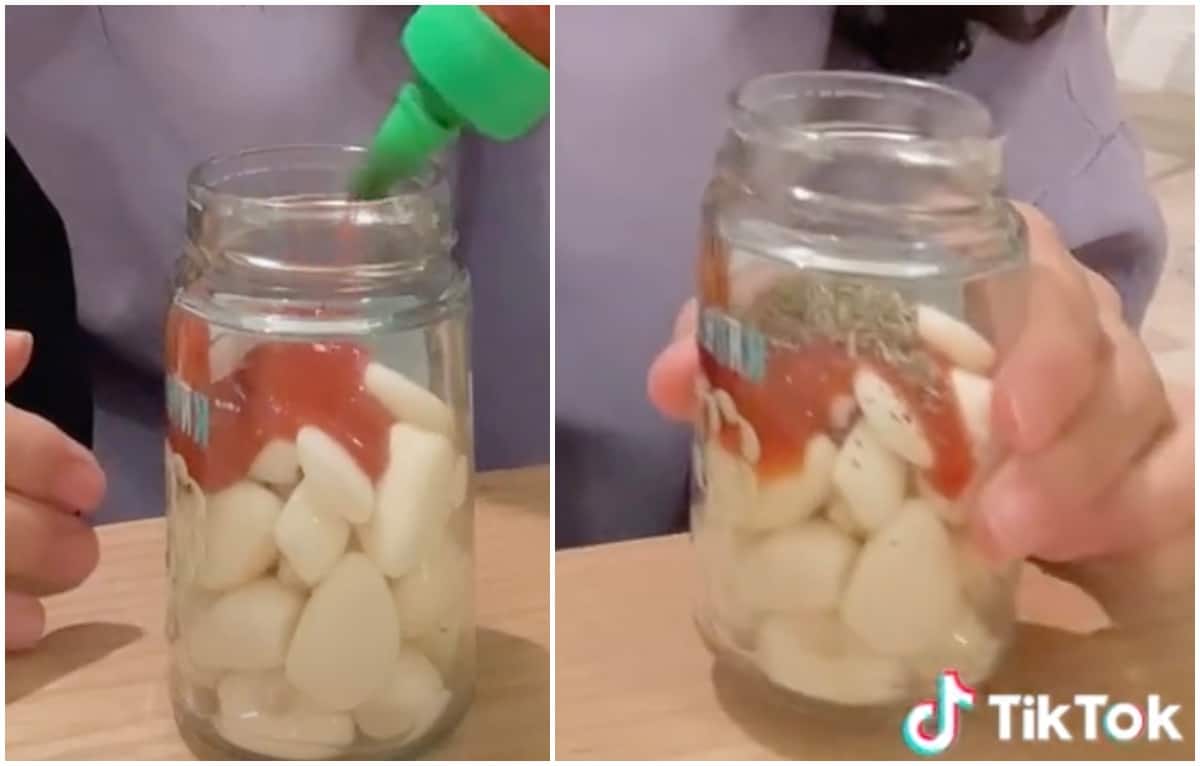 When it comes to making lunch or dinner dishes for my family, garlic is a staple ingredient. I love how the flavor pairs well with a variety of different meals and as a bonus, I've read that it also comes with a long list of health benefits. While my relationship with garlic has been strong thus far, this new Tik Tok trend has me questioning my dedication to this delicious clove. If you haven't heard or seen the original, Tik Tok food star Lala, represented by her Tik Tok handle @lalaleluu shocked the internet with her TikTok Spicy Pickled Garlic, claiming that she eats a jar of garlic cloves by the spoonful.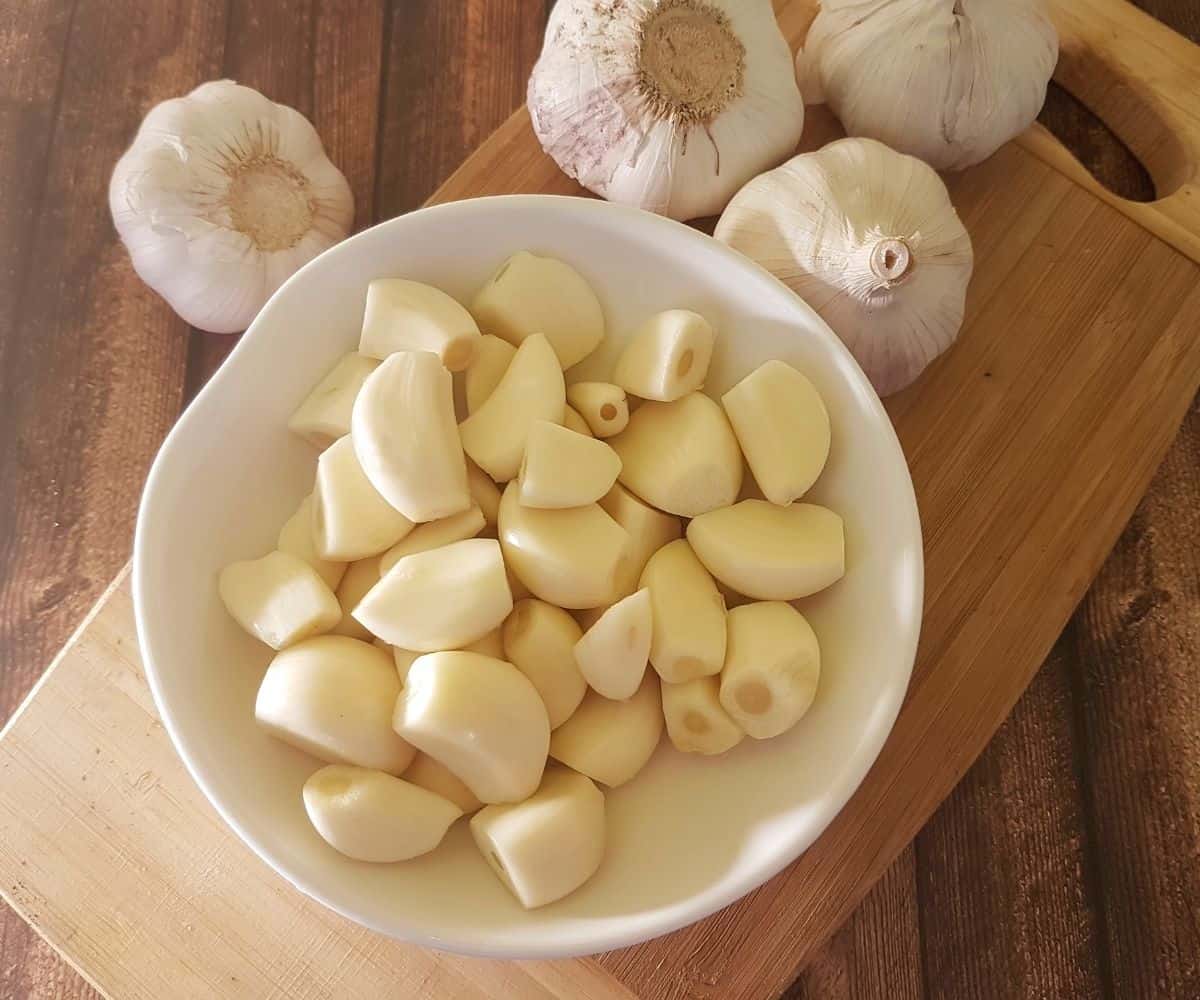 TikTok Spicy Pickle Garlic Recipe
According to Lala, making TikTok Spicy Pickled Garlic is easy! All you must do is drain a jar of pickled garlic and add some sriracha and other seasonings. She likes to add chili flakes and thyme before shaking…Spicy! Before continuing, I do want to make sure I emphasize the fact that she uses pickled garlic and not raw garlic. Pickled garlic is usually stored in vinegar, not oil, and when compared to raw garlic, has a milder and sweet taste.
While I have not personally tried this Tik Tok trend myself, like most people, I am very curious. So instead of taking the risk of smelling like garlic for the next week, I have decided to take the easy way out and do a quick round-up of other people's pickled garlic recipes. Keep reading to find out more!
How to Make Pickled Garlic
When Lala (@lalaeluu) made her pickled garlic recipe, she simply used premade pickled garlic. You can find your own premade pickled garlic at your convenience store or on Amazon. After doing some digging, I also learned many Tik Tok creators made their own from scratch.
Another Tik Tok foodie, @myhealthydish made her own after all premade pick garlic jars were sold out at the store (the power of Tik Tok always amazes me). Read below for her simple recipe:

Add 1 cup of hot water, 1 tsp of salt, and 1 ½ tbsp of sugar to a large jar.
Shake the jar for 1 to 2 minutes, to help dissolve the salt and sugar.
Add 1 cup of vinegar and garlic cloves
Refrigerate for 5-7 days and it will be ready to eat
Myhealthydish made her recipe relatively plain, but you can add some spices if you prefer. Food.com creates its version, adding celery seed, crushed red pepper flakes, dried oregano, peppercorns, and bay leaves. The full recipe can be found by clicking here.
The Good, The Bad, and The Spicy
Overall, the reviews for this new Tik Tok trend are all overboard. Some claimed that they loved this new snack, while others couldn't stand the taste. Those who did not like this recipe stated that it was too garlicky or too spicy. If extra spicy food isn't food you, limit or remove the chili flakes. If you just don't like spicy food, I would suggest skipping this spicy pickled garlic trend altogether.
While I may not be jumping with excitement to eat pickled garlic with a spoon, The Cookful says that pickled garlic is great in spaghetti sauces, salad dressing, sandwiches, mixed in sauteed vegetables, mashed potatoes, and more! If you're like me and not ready to eat it plain, try adding it to my lunch or dinner meals. As options, I highly recommend this TikTok Ramen Hack or Spinach Artichoke Dip Pizza!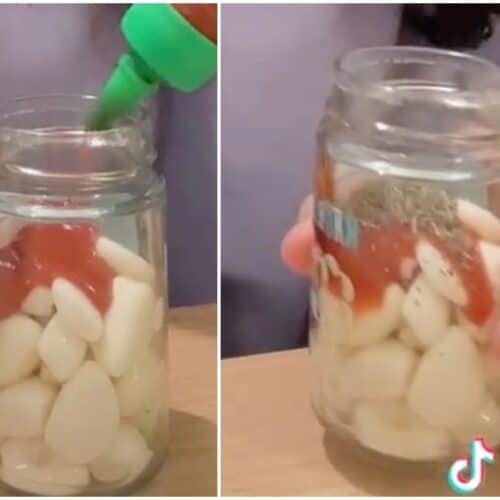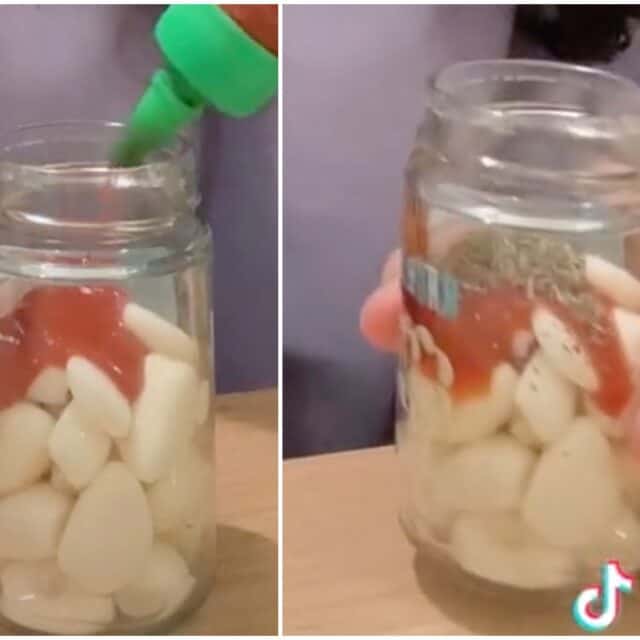 TikTok Spicy Pickled Garlic
This TikTok Spicy Pickled Garlic is taking the internet by storm and might just become your new favorite snack!
Ingredients
1

jar

Pickled Garlic

Siracha Sauce, as needed

Chili Pepper, as needed

Thyme, as needed
Instructions
Add the seasonings and spices to the jar of pickled garlic. Shake well and enjoy.