By using this site, you agree to our Terms of Use. This post may contain affiliate links. Read our disclosure policy.
Follow us on Instagram for more fun food ideas for kids!
Donut worry be hoppy: these adorable Bunny Donuts will have you springing for joy! They're easy and fun to make with kids for a cheery Easter dessert that takes minutes.
Get ready for some family fun in the kitchen with our easy bunny donut recipe! In this guide, we'll show you how to make these cute no-bake donut treats perfect for your Easter dessert table. With just a few simple ingredients and some creative decorations, you can whip up a batch of bunny donuts that are perfect for your springtime celebration.
The best part is that you don't need to be an experienced baker. Little ones and grown-ups who are kids at heart will love these cheery bunny donuts. Such a fun treat to get your little ones involved in the kitchen and have some fun together.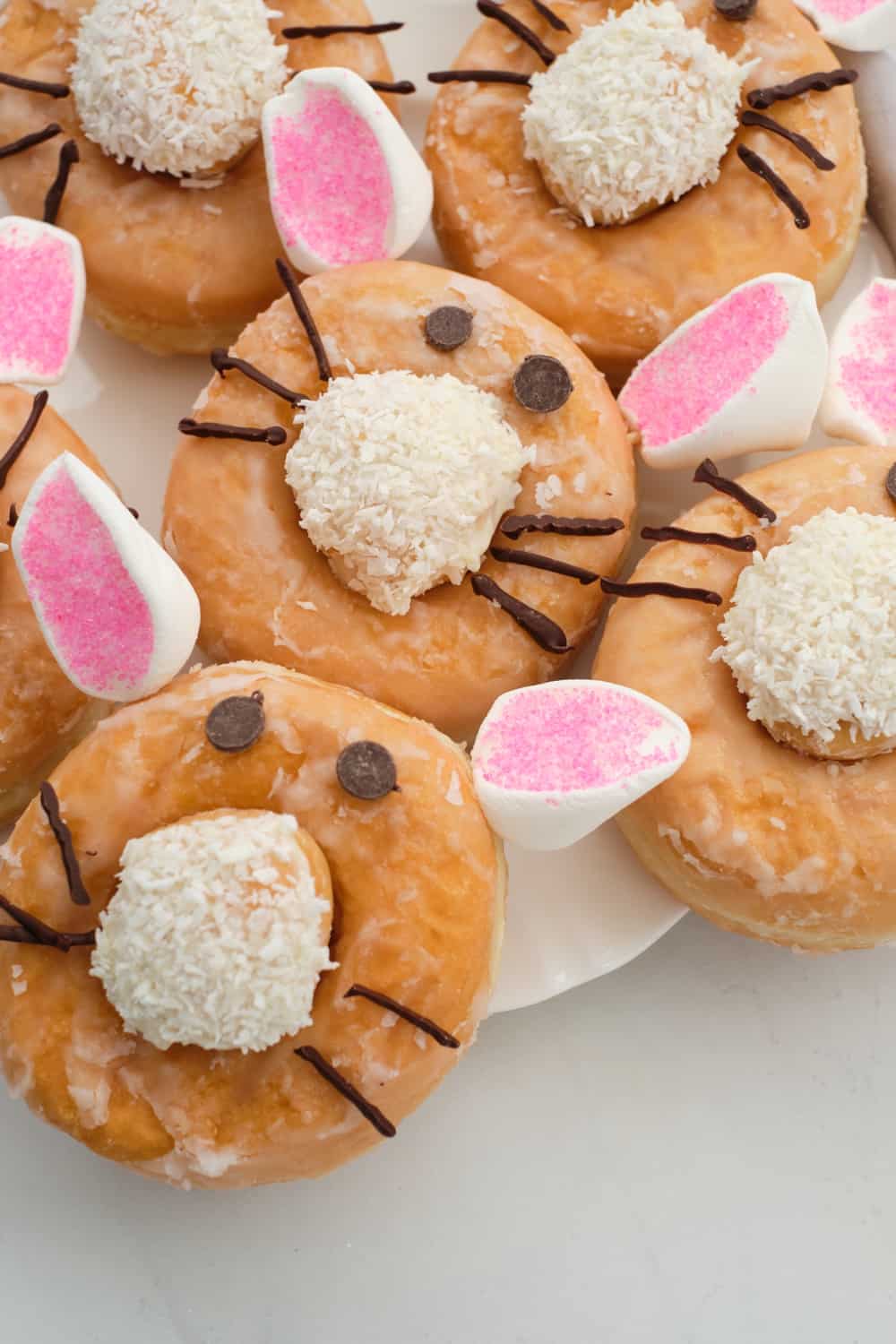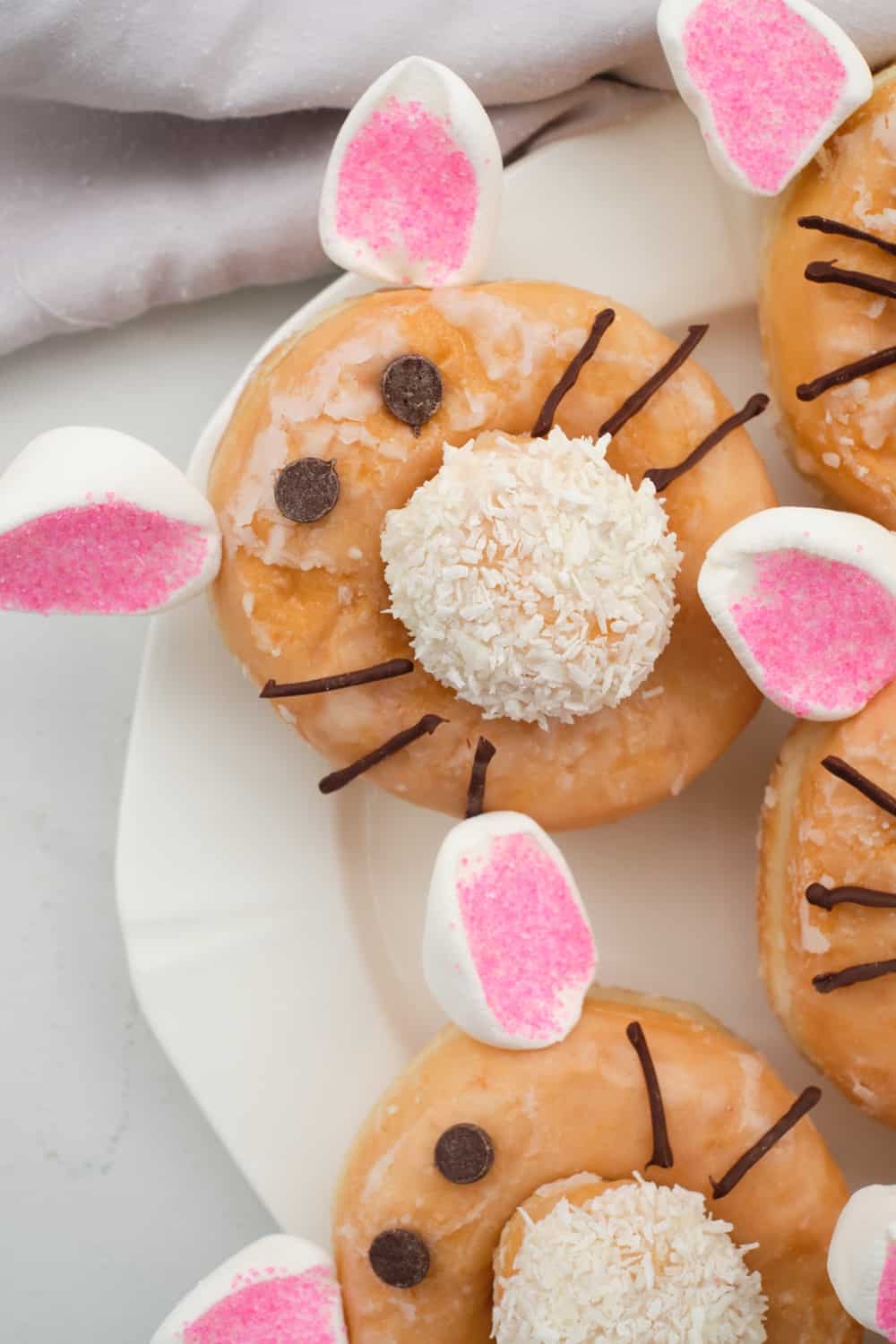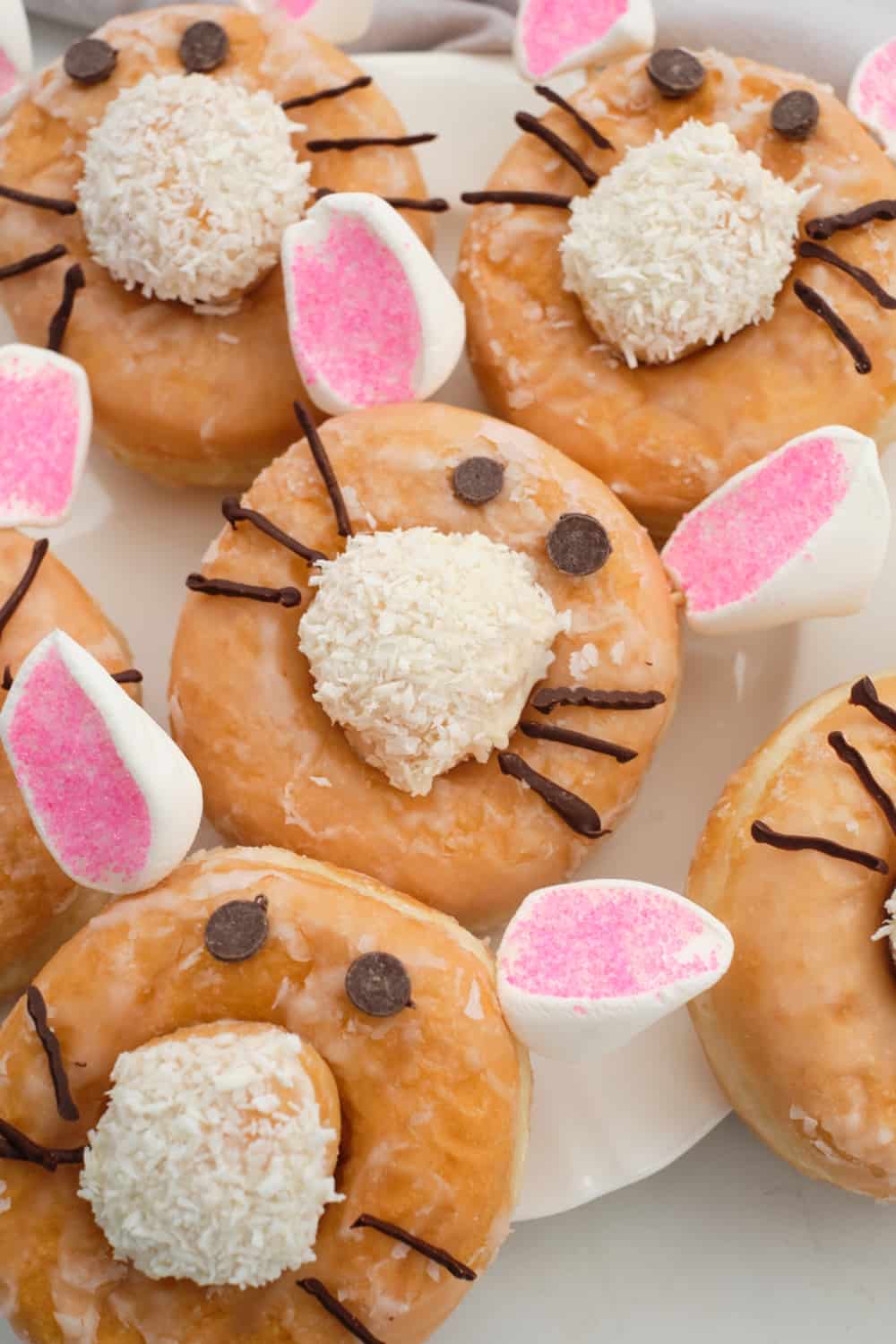 How to make easy bunny donuts?
We used store-bought donuts to make this food craft super simple. You'll need both the glazed donut holes and regular glazed donuts. Some other sweet ingredients are shredded coconut for the "fur," marshmallows for ears, sprinkles for inner hears and chocolate for face details.
Variations on your bunny Easter donuts
Different Donut Flavors: Try experimenting with different donut flavors such as chocolate, vanilla, or strawberry to add some variety. Try some with sprinkles already on them – even colorful ones like rainbow!
Decorations: Use different colored frosting, sprinkles, candy eyes (instead of chocolate chips), or other edible decorations to make your bunny donuts unique. If you want to make them sweet and springlike, try adding edible flowers!
Fillings: Fill your bunny donuts with your favorite filling, such as jam, jelly, cream cheese, or Nutella. This can be possible with homemade or store-bought as long as you can cut out a small hole and insert some of the fillings inside. You may want to consider closed donuts for these types of filled donuts.
Bunny Ears: Use, freeze dried fruits, pretzels, or cookie ears to create different bunny ear shapes and sizes.
Toppings. Instead of rolling the nose in coconut consider chopped nuts or mini chocolate chips to give your bunny donuts some texture.
Glaze: Experiment with different glaze flavors such as lemon, maple, or caramel to add some extra sweetness to your plain donuts.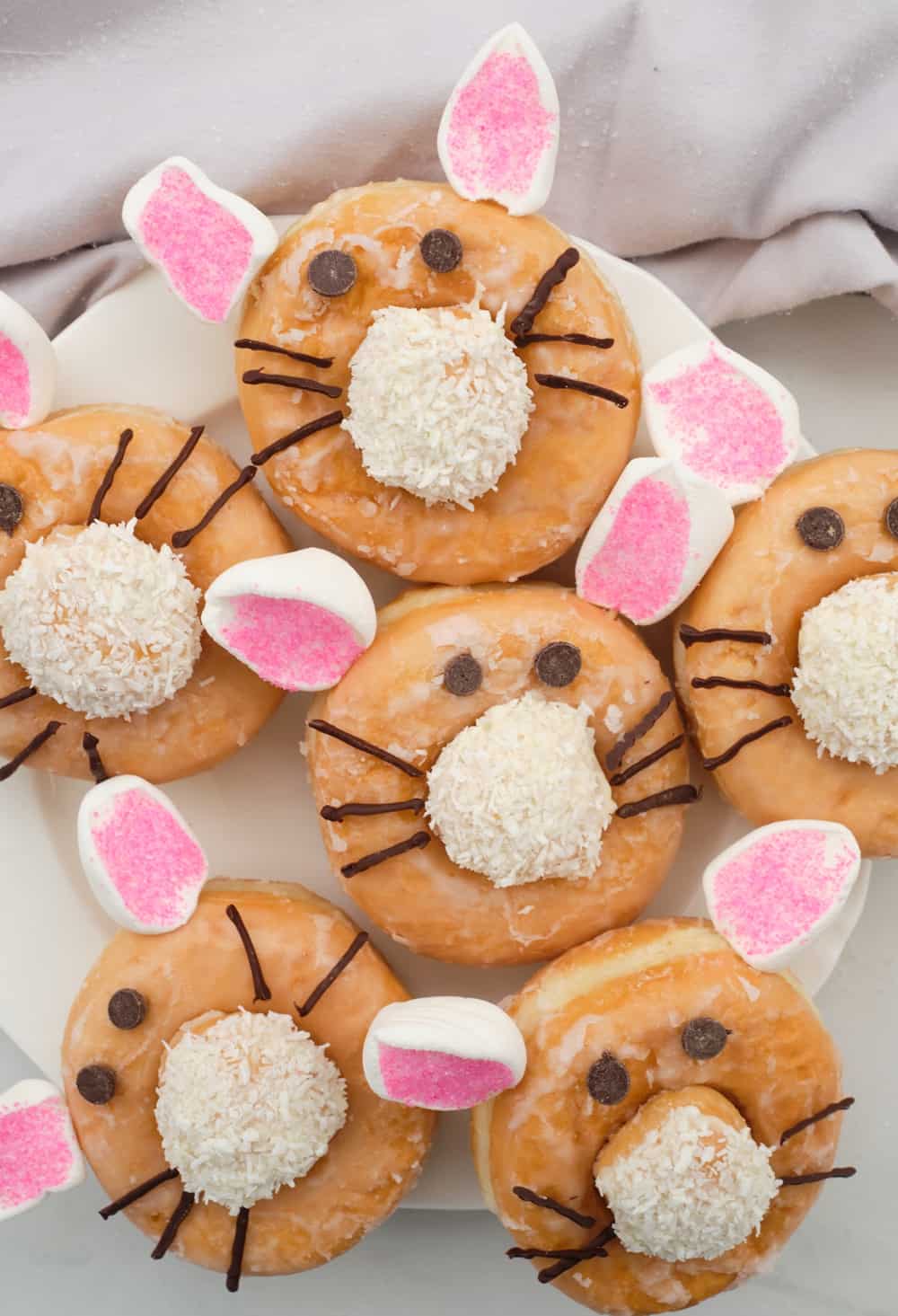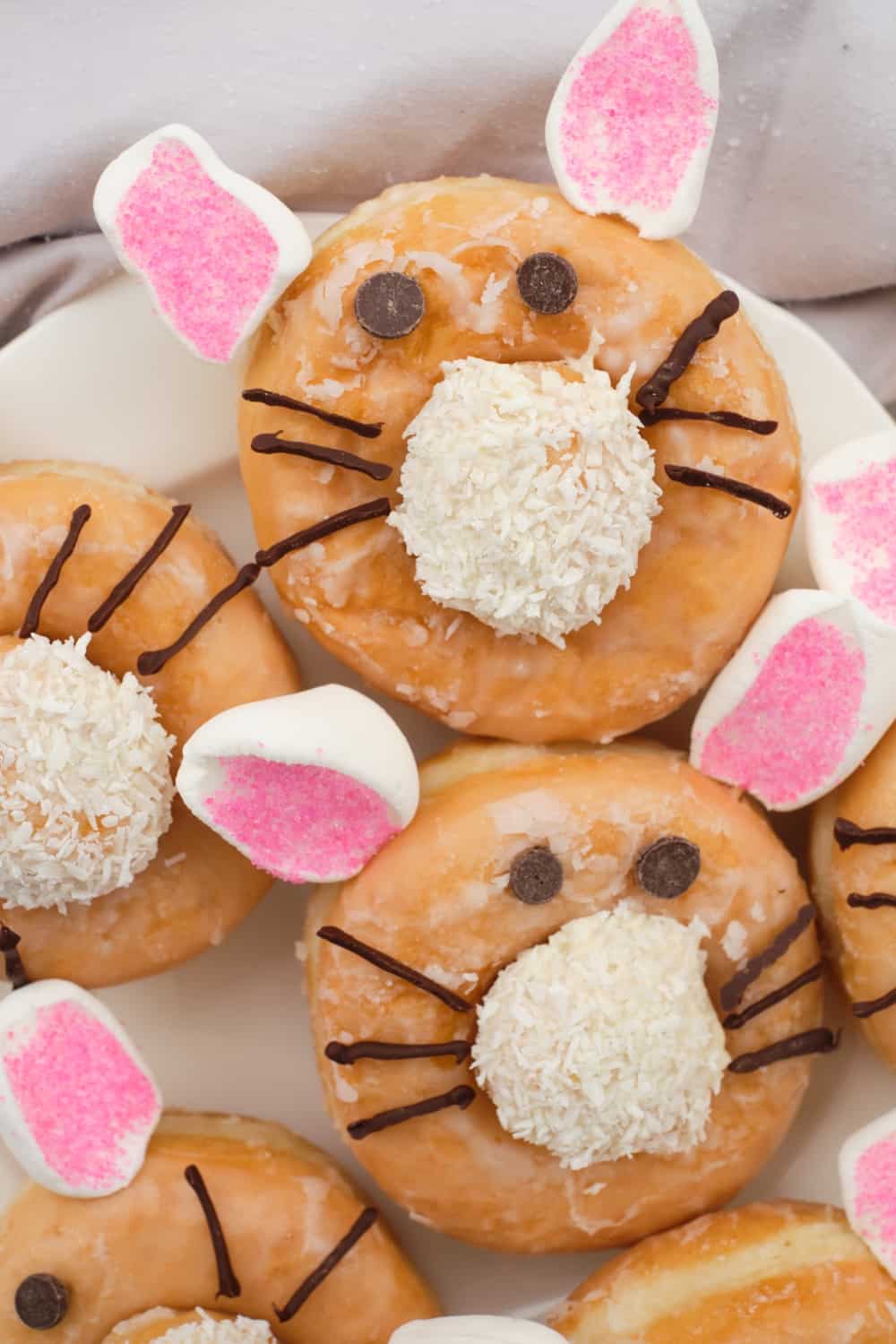 Bunny Donuts – Ingredients
Donut holes
shredded coconut
Large glazed donuts
Marshmallows
Pink Sugar Sprinkles
Melted Chocolate
Chocolate chips
Toothpicks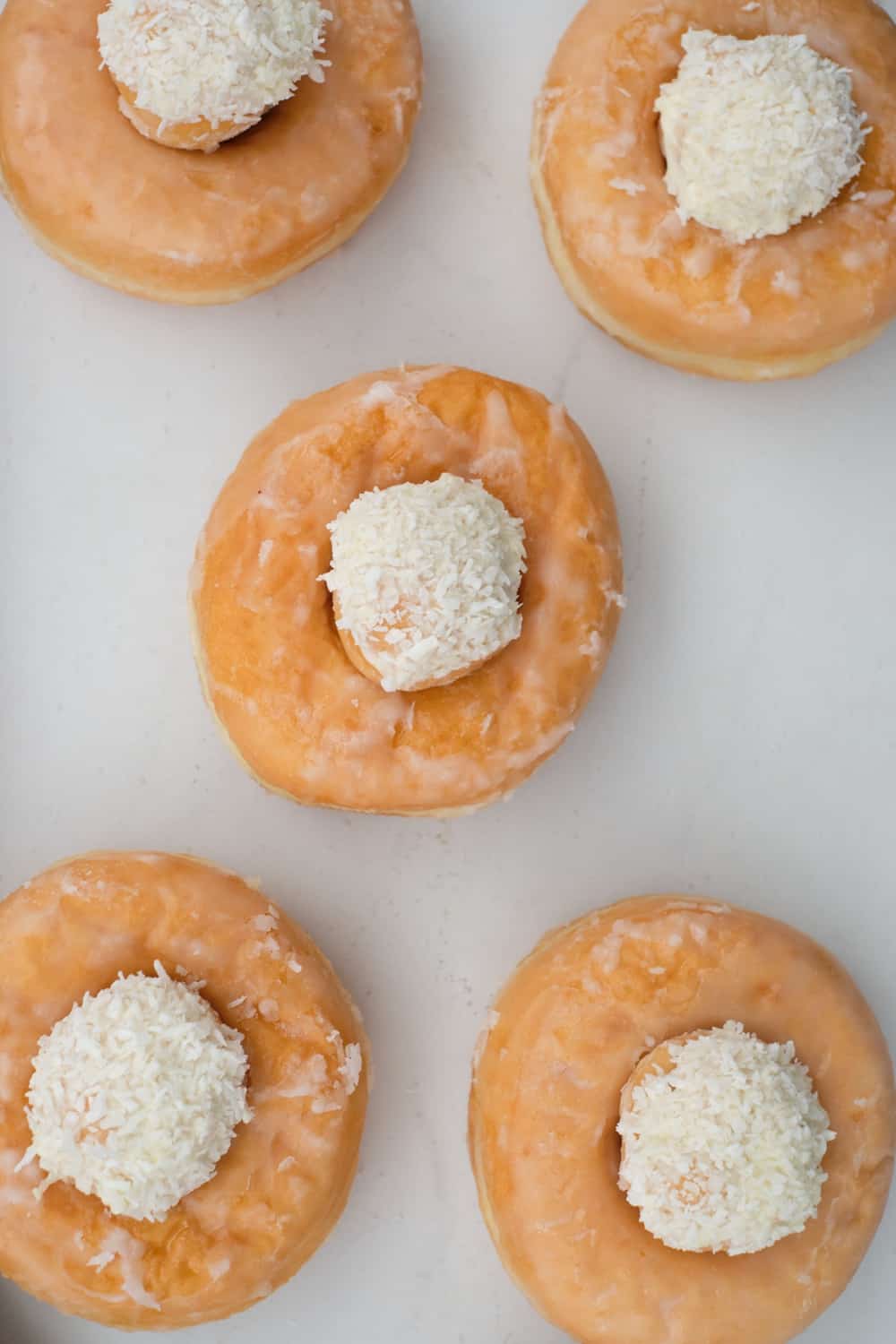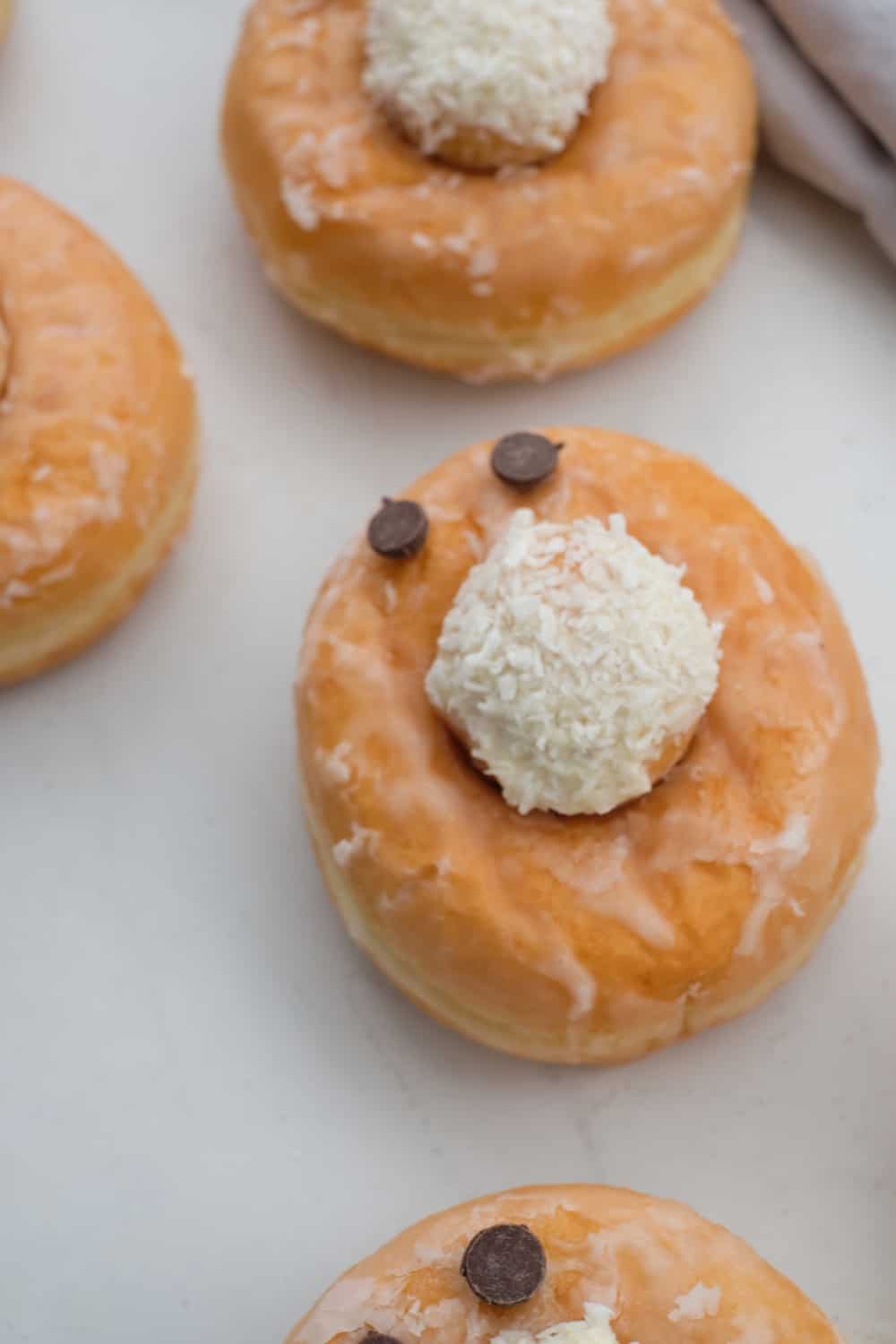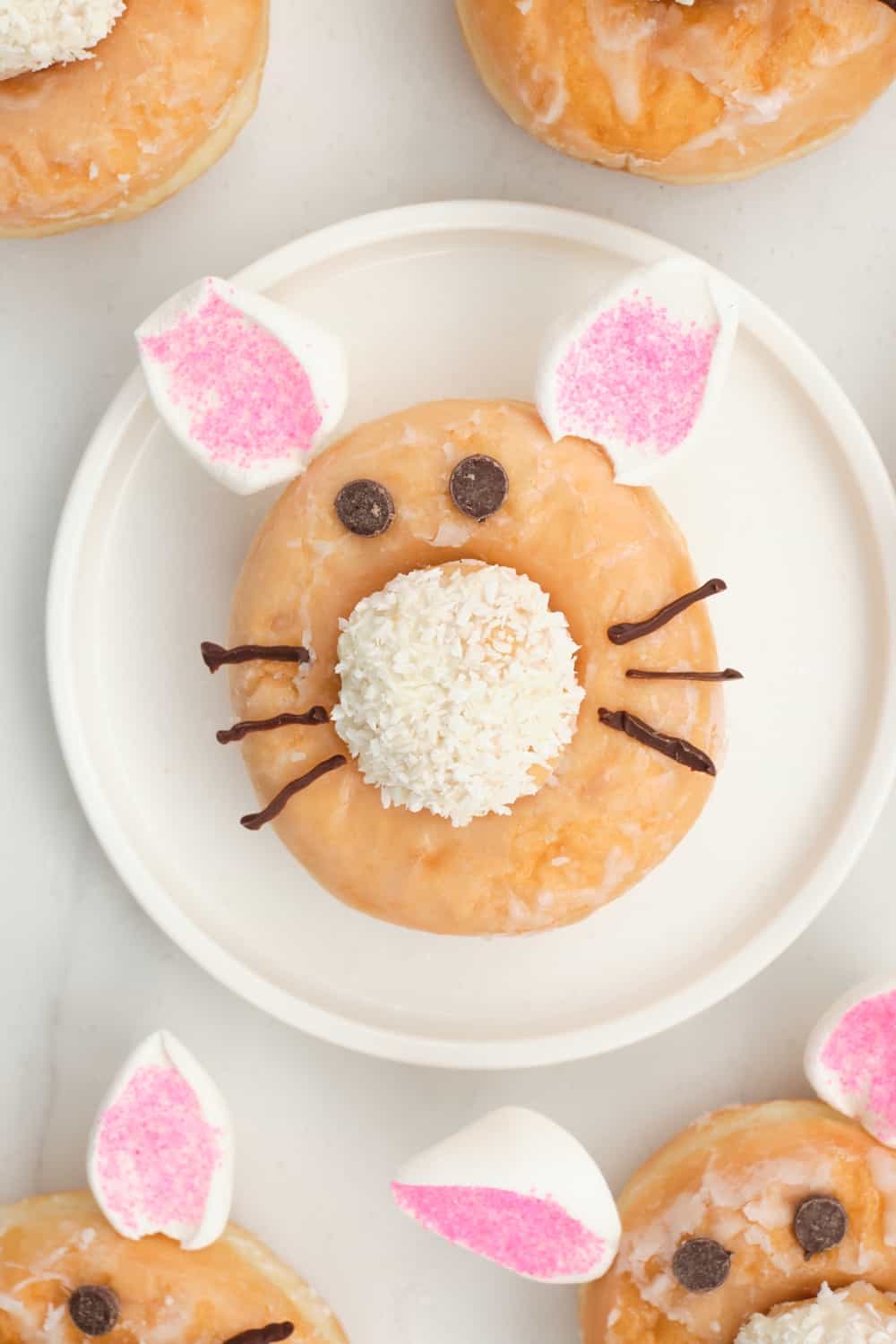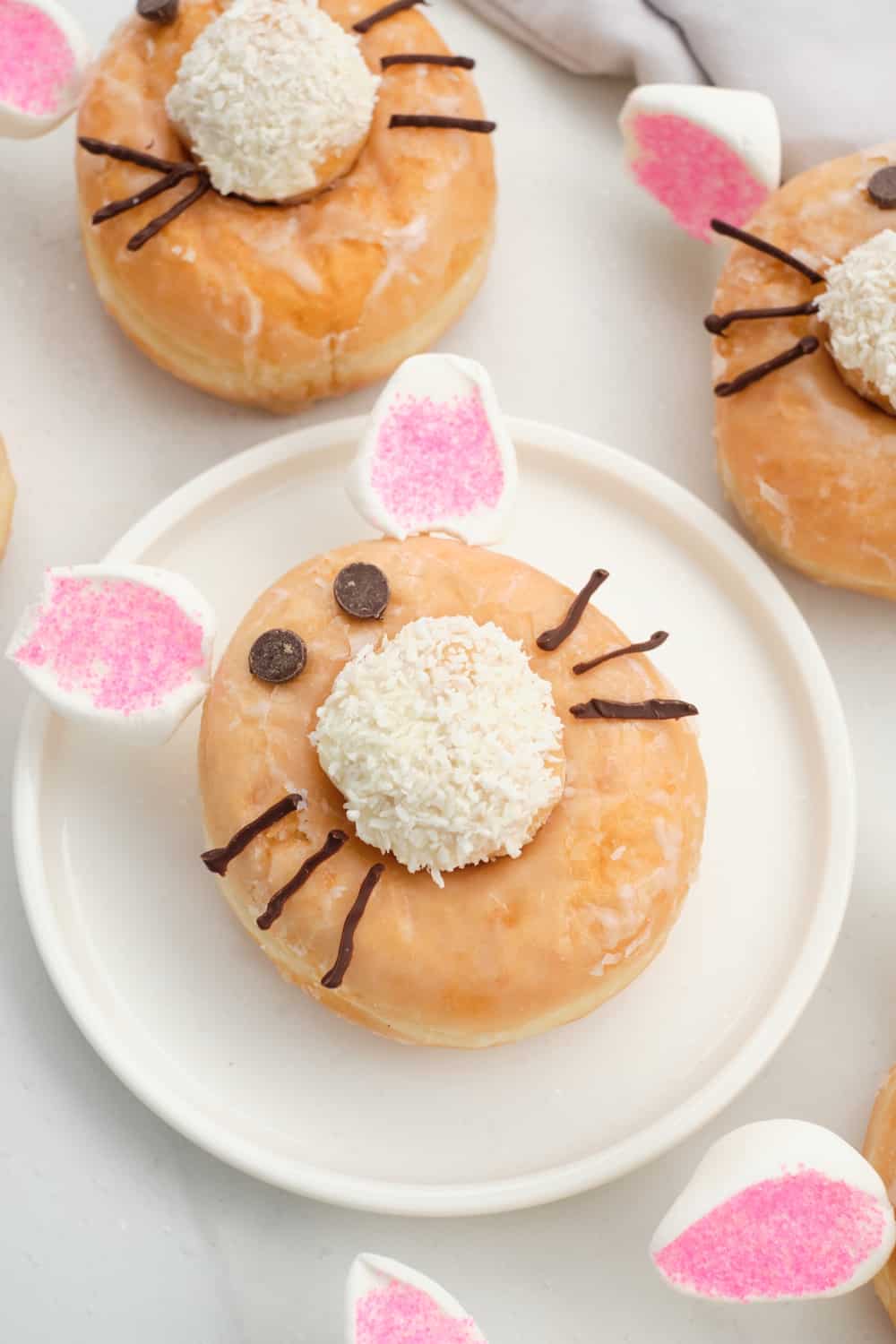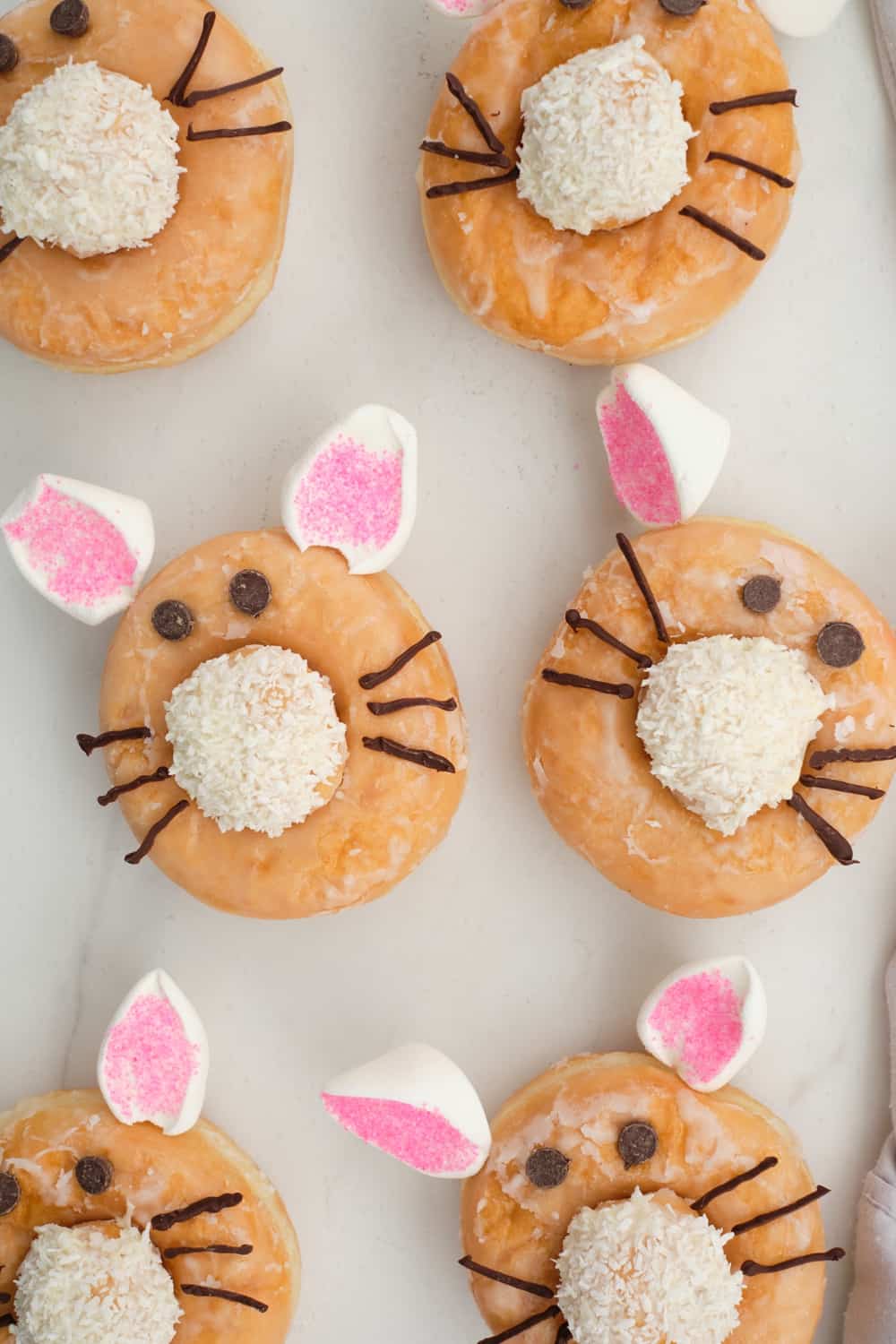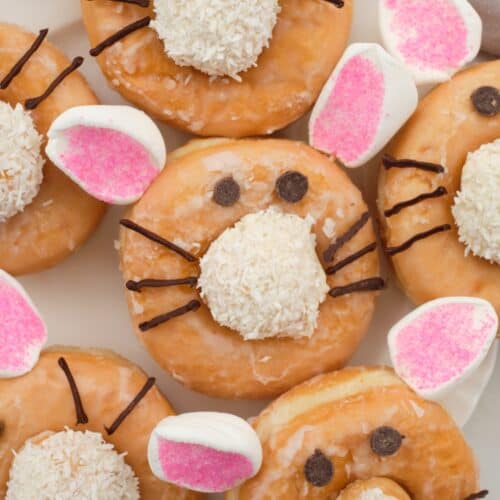 Easy Bunny Donuts
Ingredients
Donut holes
Shredded coconut

Large glazed donuts

Marshmallows
Pink Sugar Sprinkles

Melted ChocolateChocolate chipsToothpicks

Chocolate chips

Toothpicks
Instructions
Roll donuts in the coconut (mine were lightly glazed and the coconut stuck well). You may neee to brush on a light glaze of water to adhere if yours don't stick well.

Place "nose" in the center of the larger donuts.

Cut the marshmallows in half and quickly dip in pink sugar sprinkles to make the ears. Sticky side of the marshmallow down. Place the "ears" on the donuts with a toothpick.

Use two chocolate chips for the eyes. Melt chocolate and pipe on donut to make the whiskers.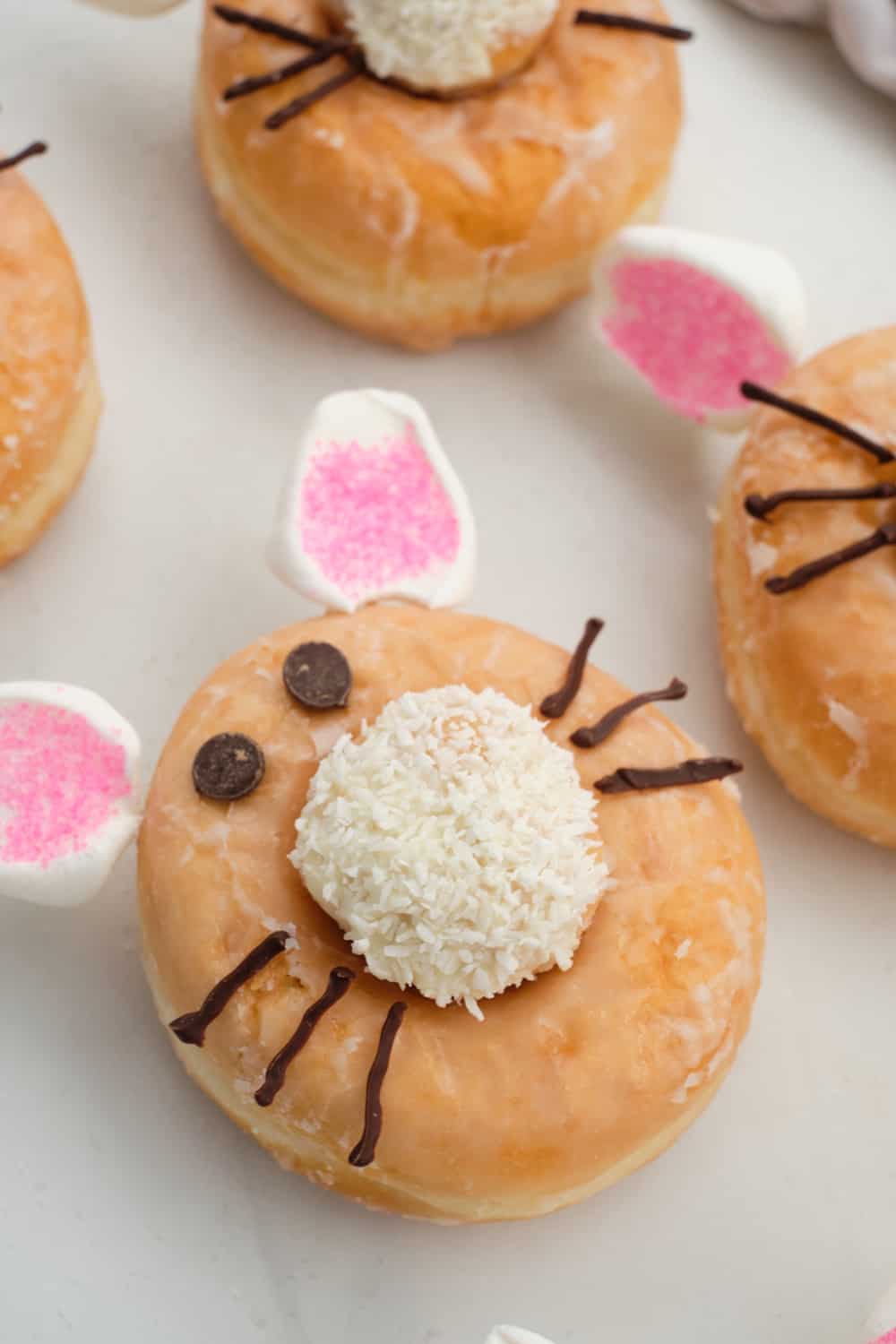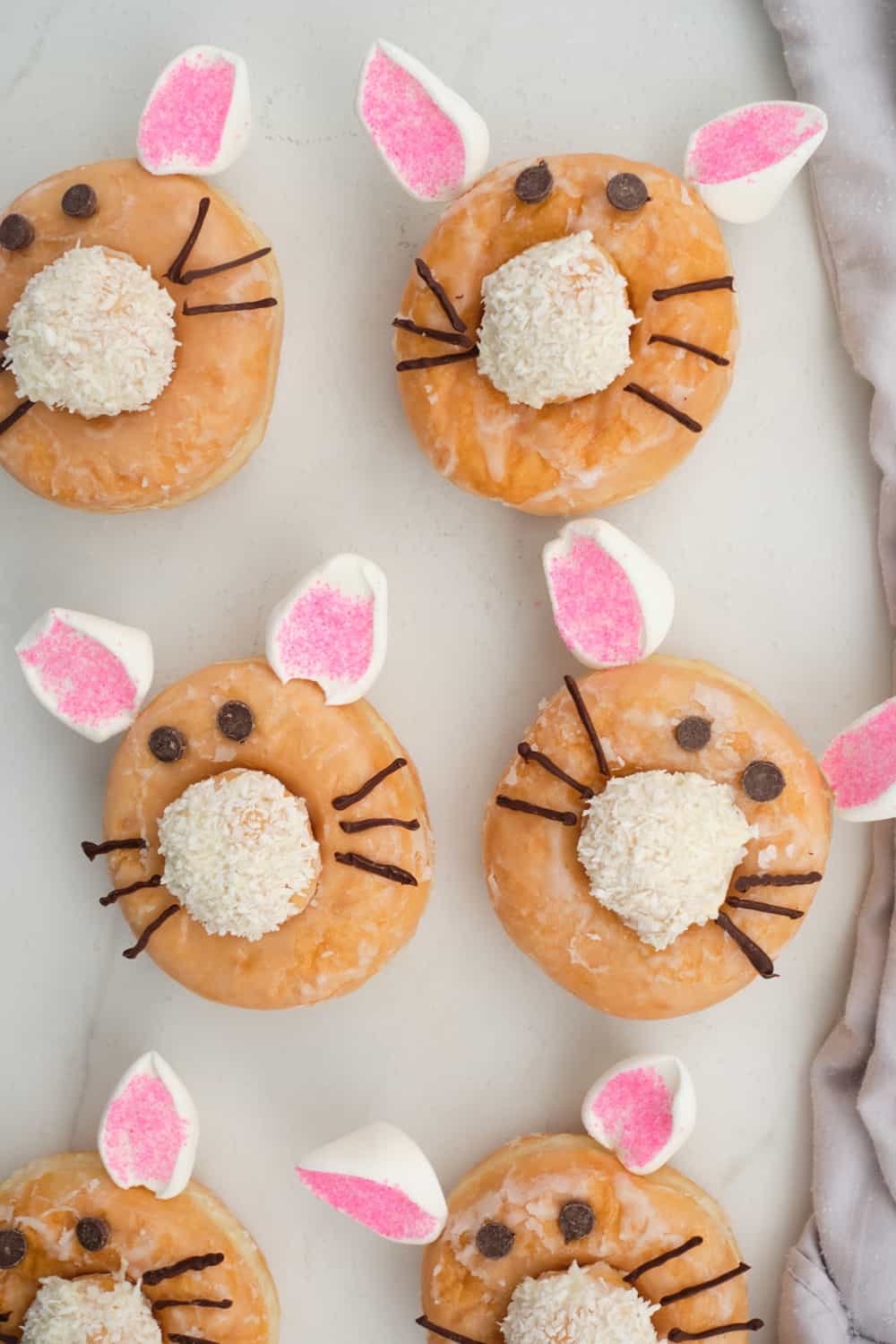 You May Also Like