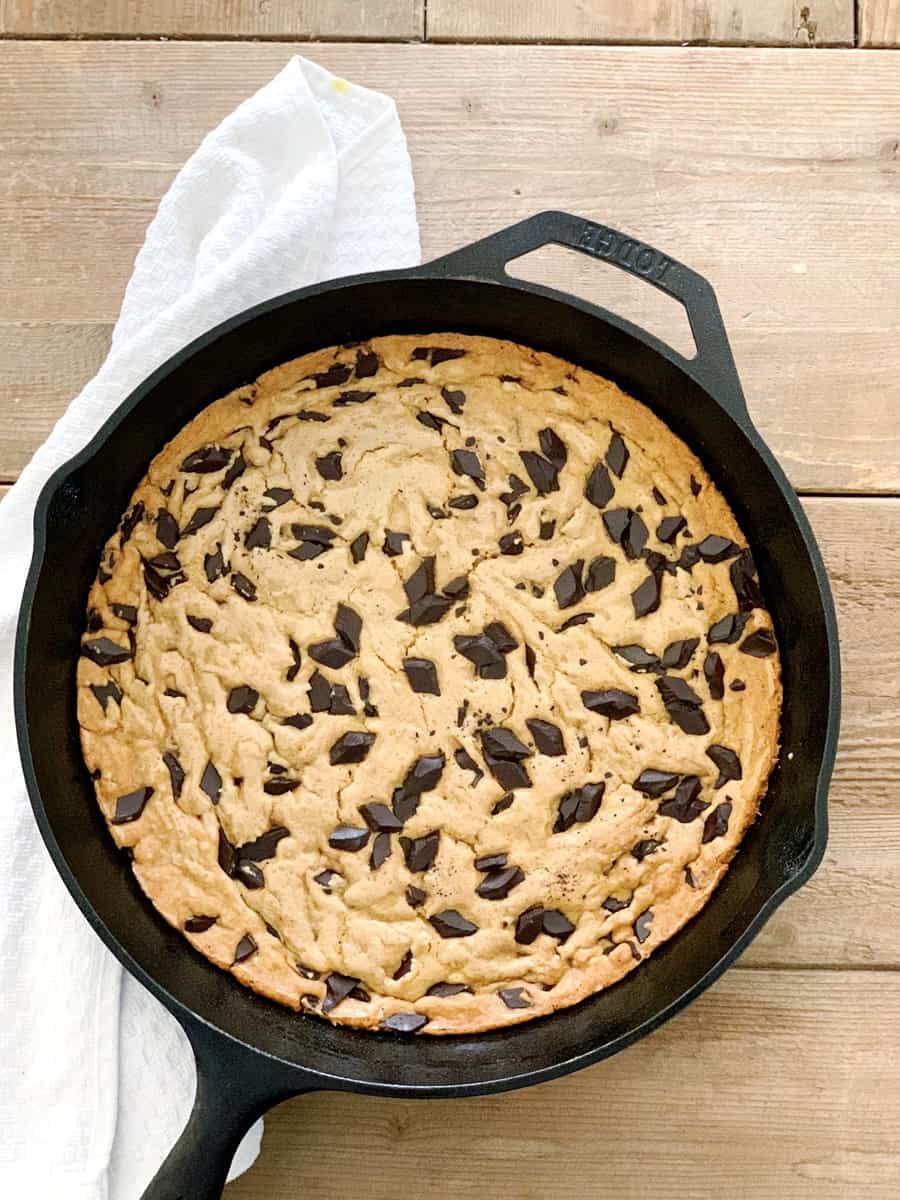 Follow us on Instagram for more fun food ideas for kids!
Watch the recipe video on our Facebook page.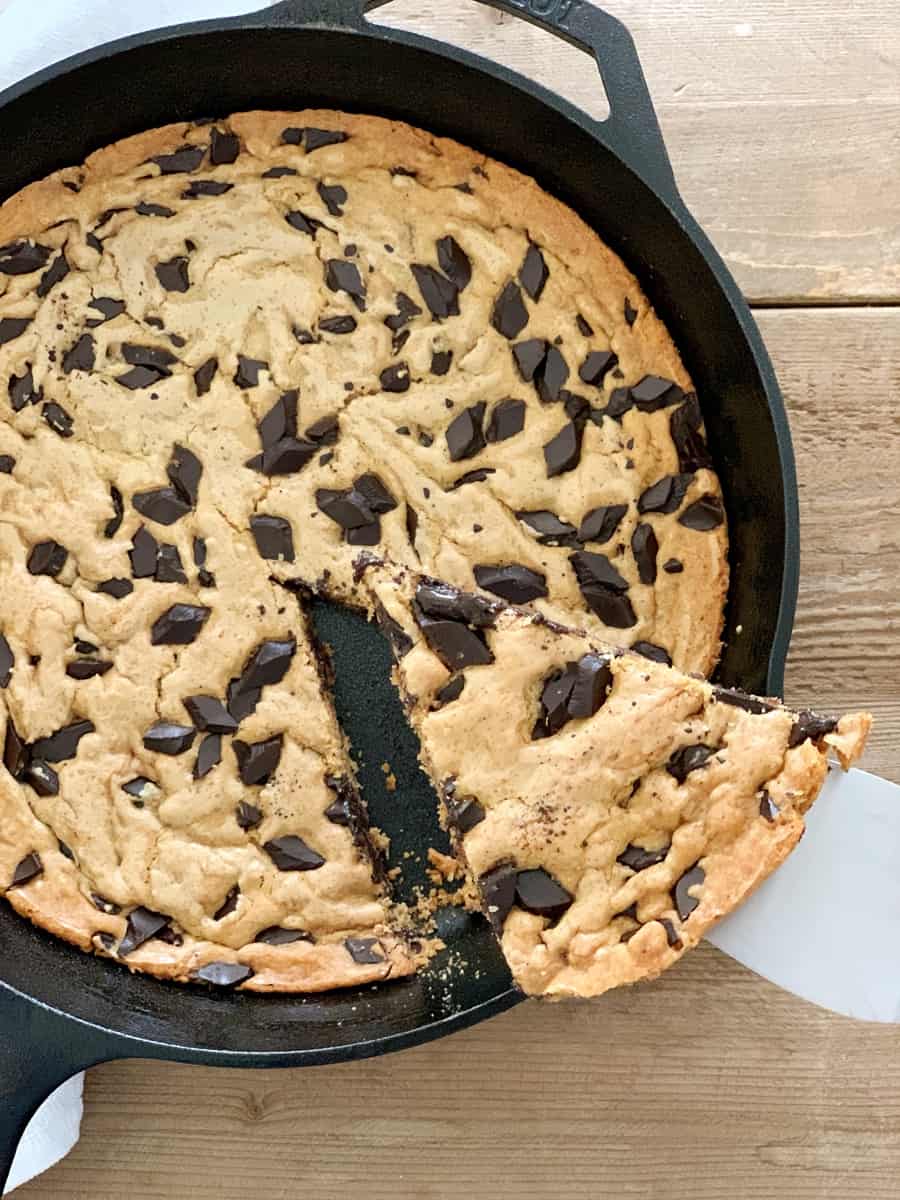 What's better than chocolate chip cookies? When they're warm and fresh and you can scoop them up straight out of the oven in a pan. This delicious, gooey One Bowl Skillet Chocolate Chip Cookie is a crowd pleaser, but we promise you won't need a big one to polish it off.
This gooey and delicious One Bowl Skillet Chocolate Chip Cookie comes together easily in one bowl and is a crowd-favorite dessert for kids and adults!
A quick Google search shows skillet chocolate chip cookies have been around for a while, but we were inspired to make one from this Bon Appetit recipe, making a few tweaks.
I used to own a bake shop and chocolate chip cookies were our top favorite seller! So you can say over the years, I've developed a knack for knowing what makes a GREAT chocolate chip cookie.
We always use melted butter for that chewy dense, nutty flavor that's so great in chocolate chip cookies. It's also much easier than creaming butter into sugar. This makes it an easy one-bowl recipe.
We also tweaked the flour, adding about a 1/3 cup extra flour to give the cookie more lift. Adding 2 extra tablespoons of brown sugar compensates for the extra flour by adding tenderness.
Read more below on how to make this decadent but dead simple dessert that will have kids (and grown-ups) clamoring for more.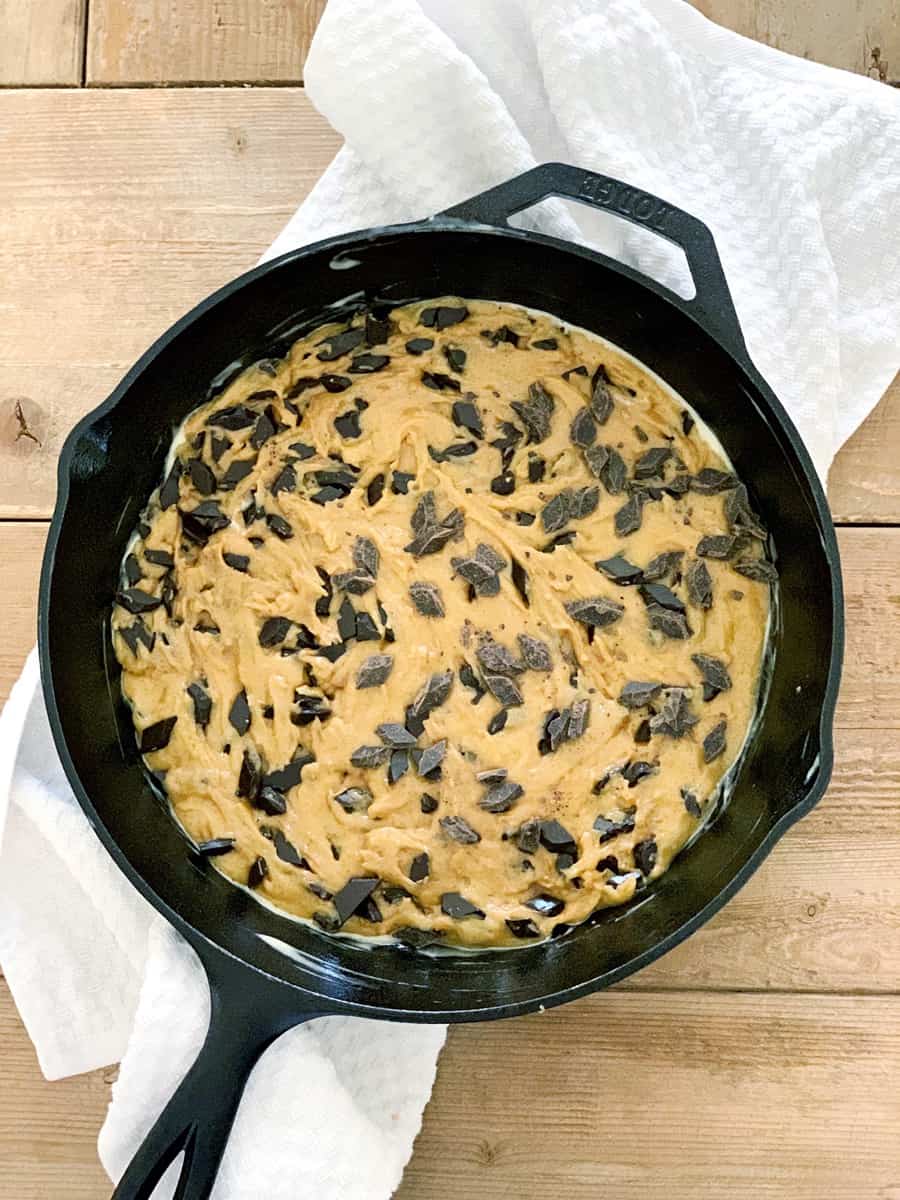 Cask-iron skillets are one of my favorite baking tools (basically a baking sheet with sides, right?) so using them to make ONE giant, classic chocolate chip cookie felt like a no-brainer. Once we took it out of the oven it was honestly difficult to wait to cut into all that deep dish goodness. The skillet allows for a delectably soft gooey center that just melts in your mouth! Another skillet baking bonus? My cleanup time never takes more than five minutes (seriously).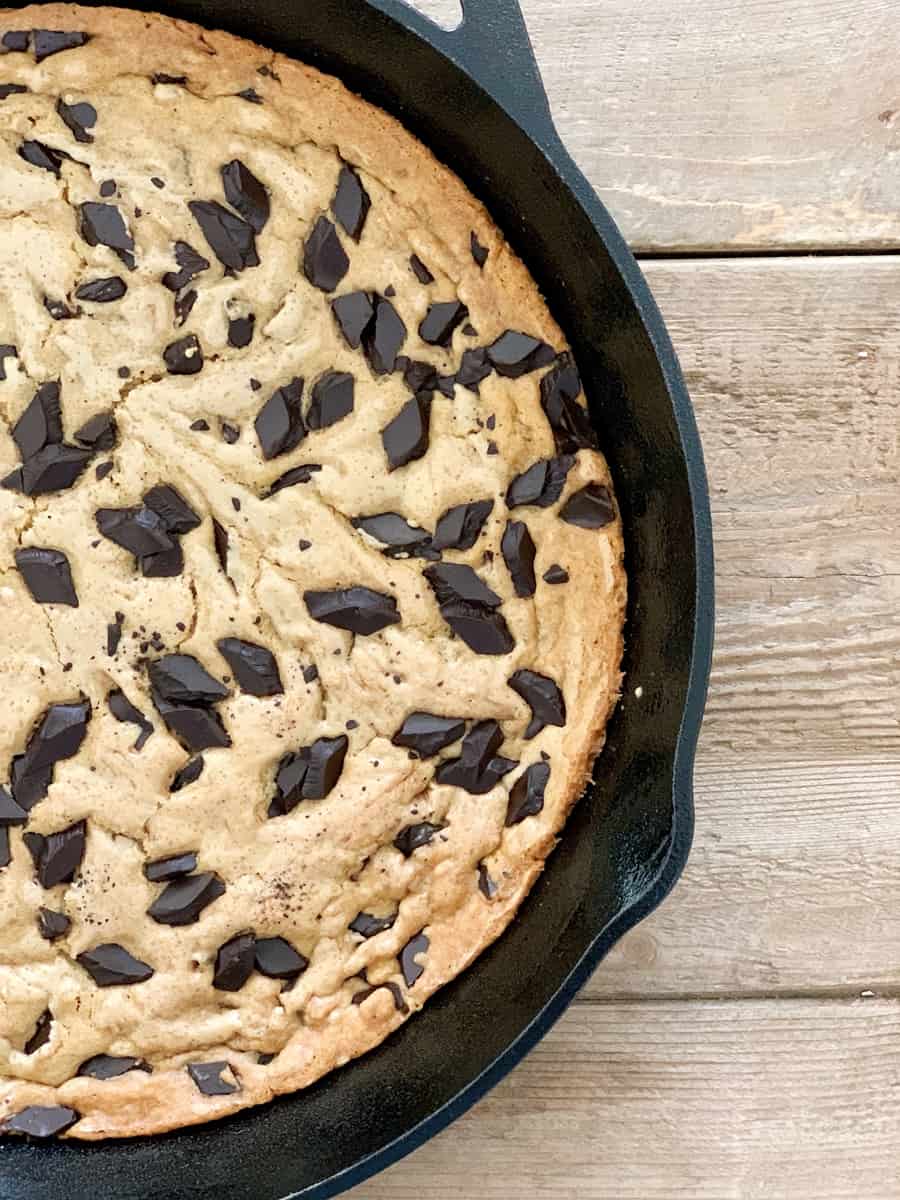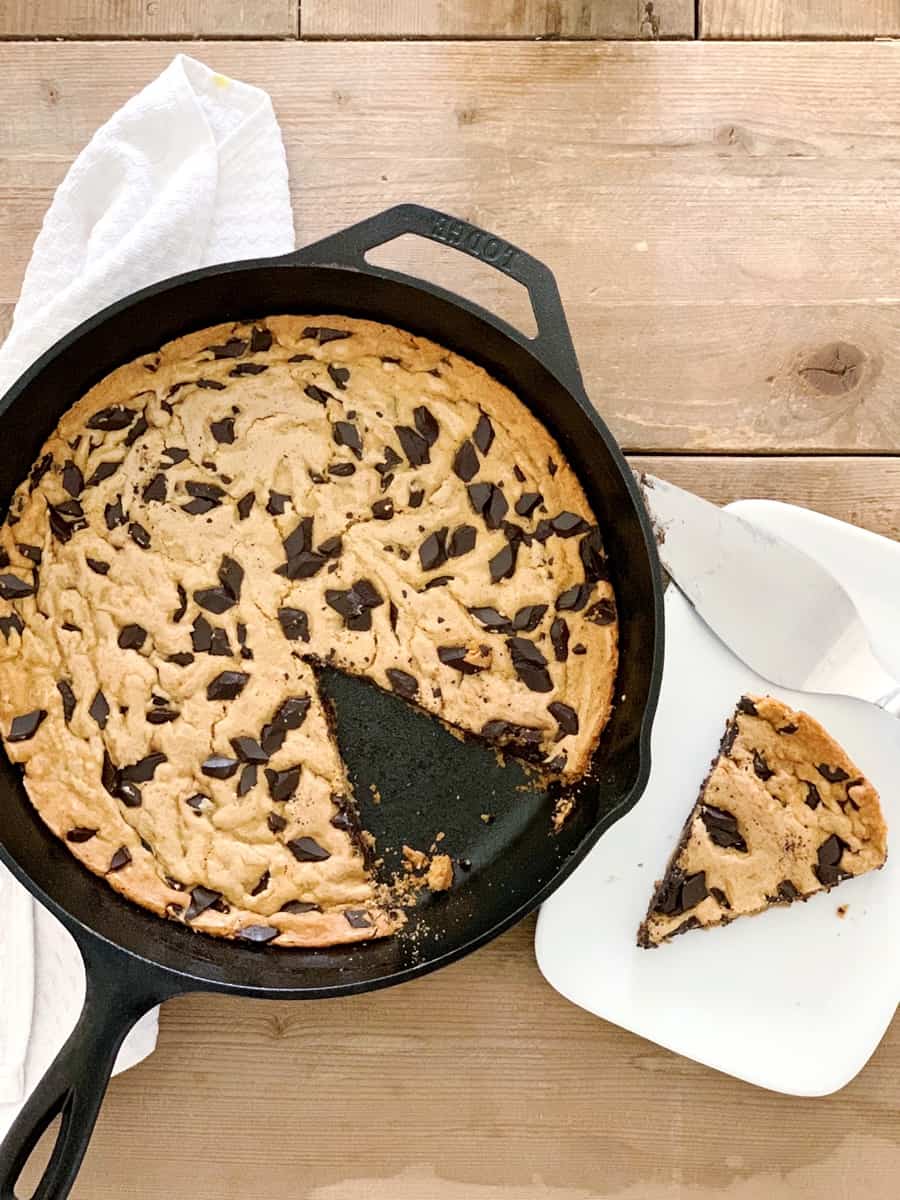 For a big event or party, this sliceable dessert is the perfect choice, as you only have to make ONE. Drizzle a syrup, chocolate or jam on top, slice into pie-shaped servings and top with ice cream to kick the decadence up to an 11! Really want to blow some young minds? Toss a few colorful sprinkles on top for a party-ready cookie cake!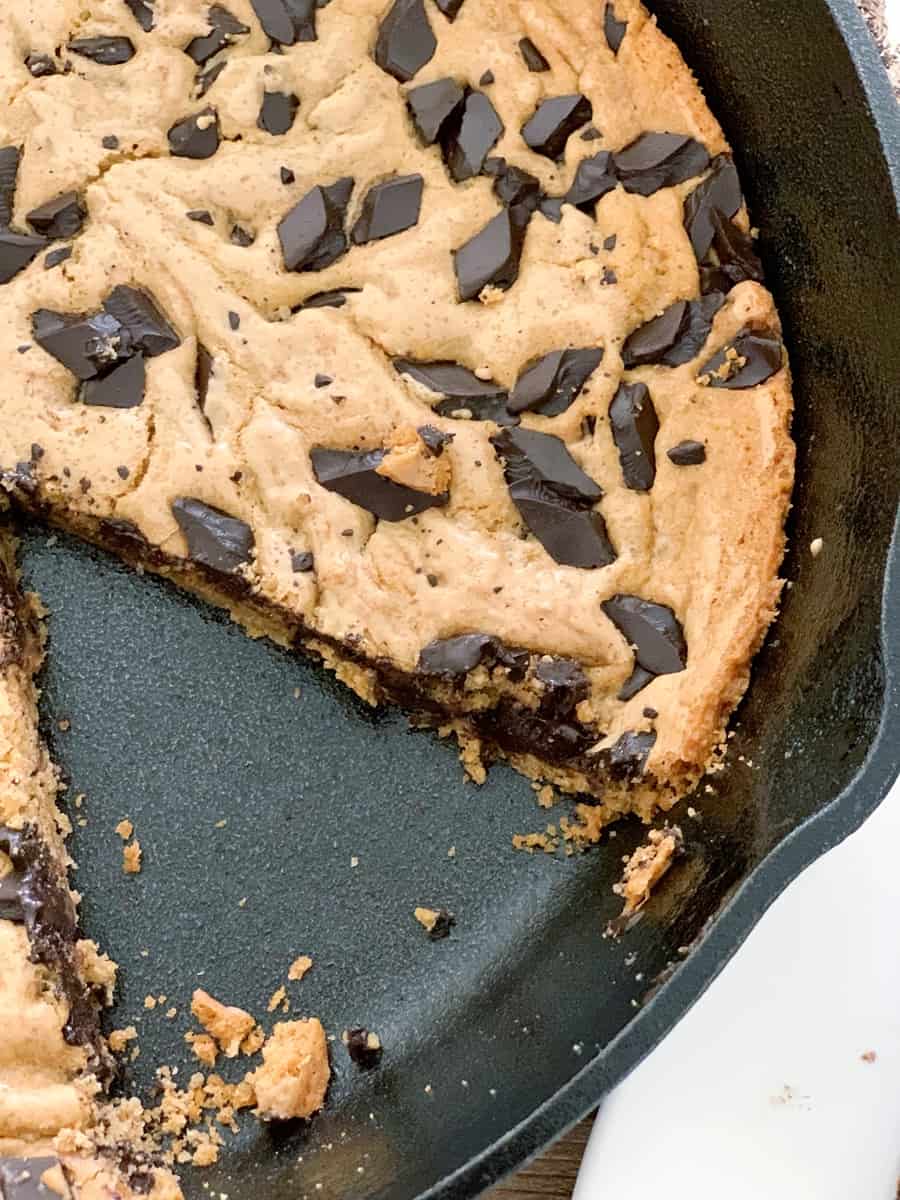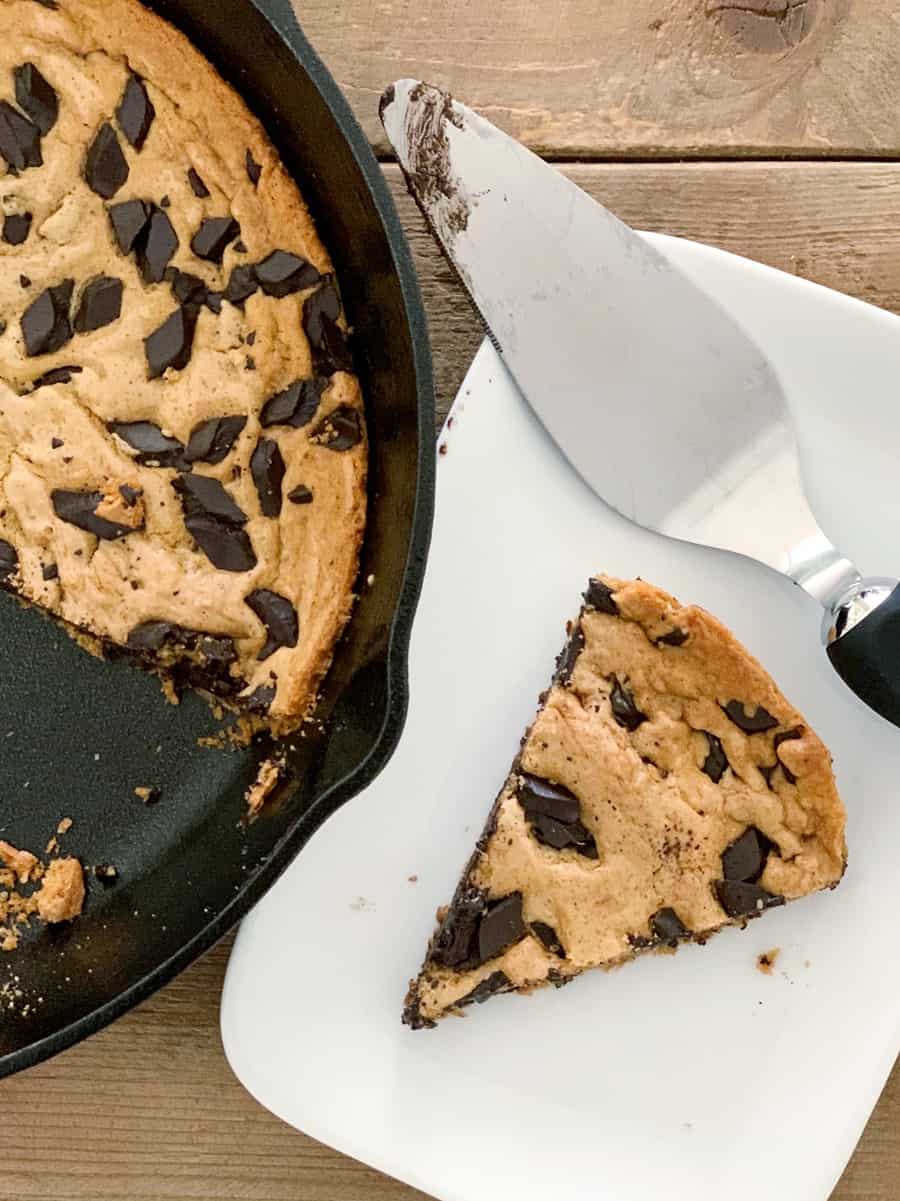 You just can NOT go wrong with this comfort food cookie classic!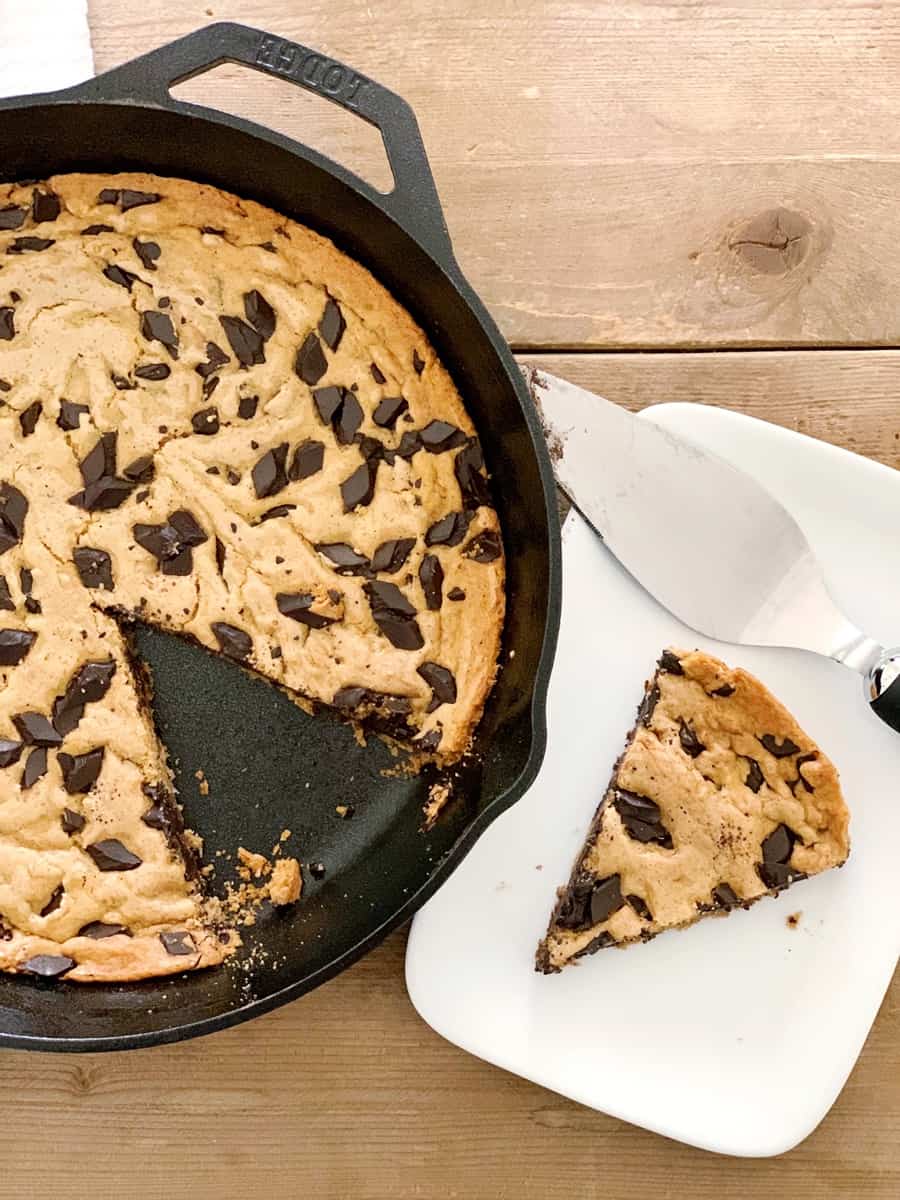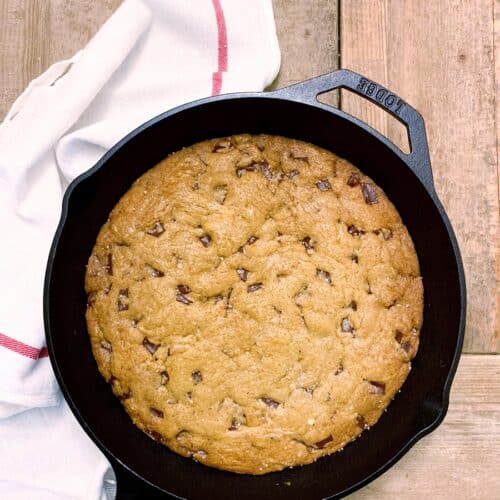 One Bowl Skillet Chocolate Chip Cookie
Adapted from Bon Appetit. This easy One Bowl Skillet Chocolate Chip Cookie is a breeze to make in less than an hour and is a crowd-pleaser every time.
Ingredients
8

oz

Dark or semissweet chocolate chunks

We love Scharffen Berger

3/4

cups

Dark brown sugar

1/3

cups

Granulated sugar

8

Tbsp

Melted butter

cooled

3/4

tsp

Kosher salt

1

Egg

room temperature

1 1/2

Tsp

Vanilla extract

1 1/3

Cups

All purpose flour

1/4

Tsp

Baking soda

Pink Himalayan Salt

Optional. That's what we had on hand you can use your favorite sea salt
Instructions
Preheat oven to 375 degrees. Spray a 10" cast iron skillet with cooking oil and set aside.

In a medium bowl, add your brown and white sugar, and melted butter. Stir until incorporated.

Mix in your egg and vanilla extract and stir until blended.

Add your flour, baking soda, and salt to the butter/sugar/egg mixture and stir until just blended.

Stir in your chocolate chips, give it a good fold.

Scoop your chocolate chip mixture into the cast iron pan. Spread evenly with a spatula.

Bake for 20-25 minutes. Take out when you see the edges start to brown. Sprinkle sea salt on top (we used Pink Himalayan salt which we had on hand) Allow to cool completely (if you can wait) before slicing and serving.
Nutrition
Calories:
316
kcal
Carbohydrates:
44
g
Protein:
3
g
Fat:
14
g
Saturated Fat:
8
g
Cholesterol:
35
mg
Sodium:
279
mg
Potassium:
142
mg
Fiber:
1
g
Sugar:
29
g
Vitamin A:
245
IU
Calcium:
31
mg
Iron:
2
mg
Every now and then we get a real hankering for classic homemade cookies, so I've spent a lot of time tinkering with variations on recipes. When a cookie craving strikes, here are a few of my family-favorite recipes…