By using this site, you agree to our Terms of Use. This post may contain affiliate links. Read our disclosure policy.
Follow us on Instagram for more fun food ideas for kids!
If you're looking for a fun and unique pancake breakfast idea, why not try some giraffe pancake food art? It's a great way to get your kids involved in the kitchen and they'll love eating their creation too! Plus, it's a lot easier than you might think. All you need are pancakes, bananas and chocolate spread. Plus a bit of imagination!
Who says breakfast can't be fun AND artistic? With these fun pancake food art examples, you and your kids can turn a delicious breakfast into a work of art!
In this blog post, we'll show you how to make some fun and festive designs using just a few simple ingredients. So grab your griddle and let's get started!
What do you need to make Giraffe Pancakes?
Just a few easy ingredients! First, it's important to have flat pancakes you can cut in various sizes to make different giraffe shapes. You can make one large sheet of sheet pan pancakes then cut as desired, or use frozen pancakes and cut shapes around those. You can also use your favorite pancake mix and griddle pancakes you can cut to size too!
To decorate your giraffe we recommend having some sort of chocolate spread like Nutella chocolate hazelnut. Peanut butter or nut butters would be fun too! Bananas are great to make ears and eyes. As well as marshmallows you can flatten and cut as well. Chocolate chips make great details for eyes and dots!
Another easy way to make chocolate designs is to get a bottle of chocolate syrup and pour into a squeeze bottle or plastic sandwich zipper bag with the tip cut off and drizzle chocolate designs on the ears and body.
What else can you add to your pancake food art?
You can add various fruits along it to make it a more nutritious breakfast. Think green fruits since giraffes eat leaves! Why not cut kiwi shapes or green apples into leaf shapes? Or use green grapes to feed the giraffe!
If you want to add a celebratory touch, add sprinkles over the chocolate spread!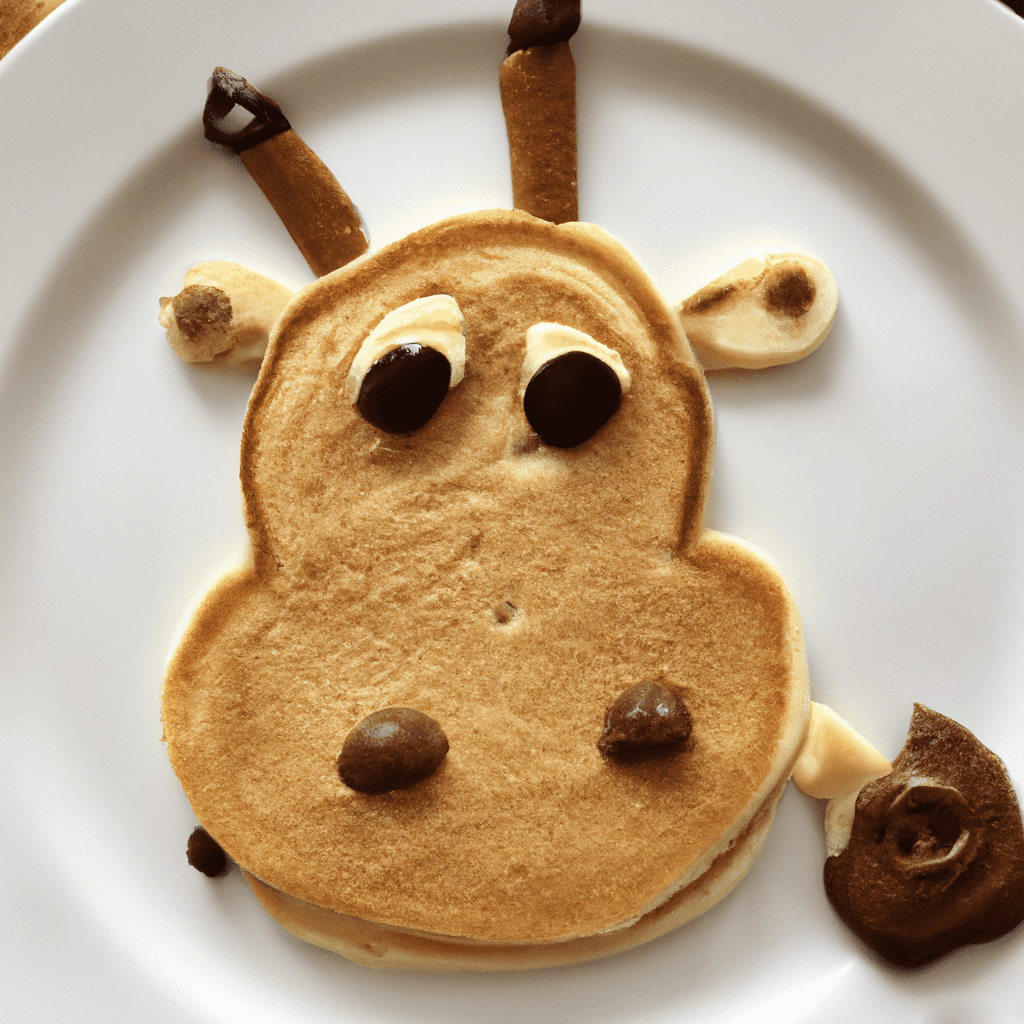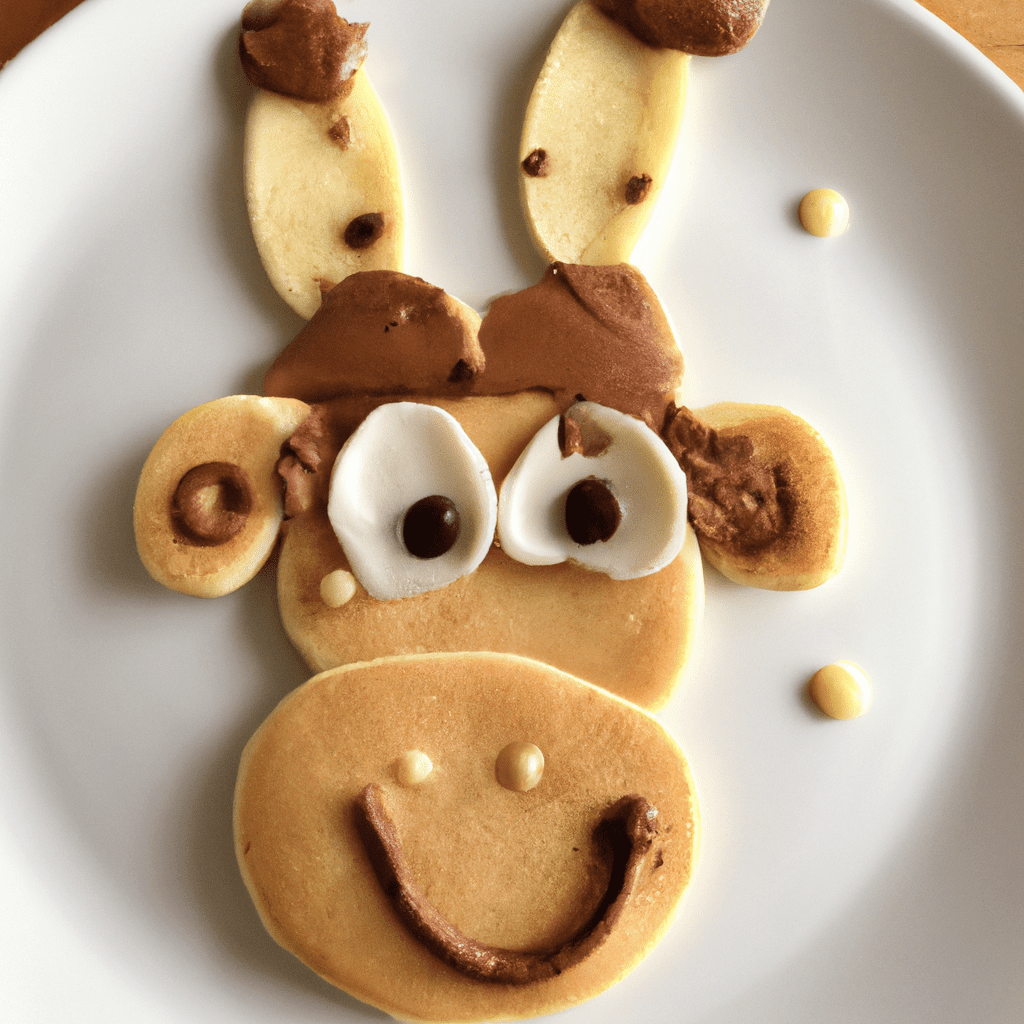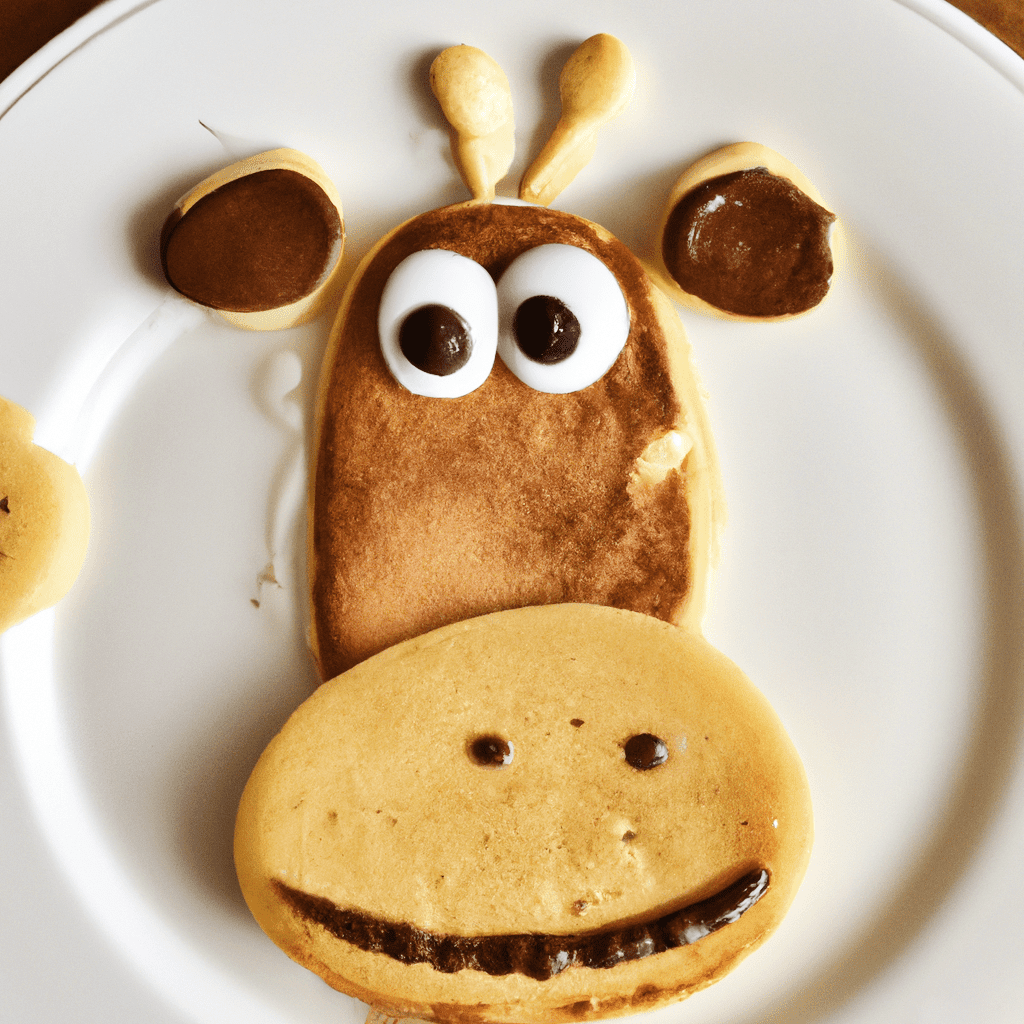 Giraffe Pancake Food Art – Ingredients:
Pancakes
Chocolate spread or syrup
Chocolate chips
Bananas
Marshmallows
Kitchen scissors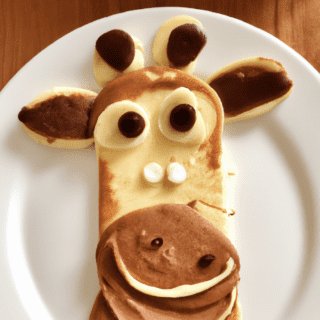 Pancake Giraffe Food Art
Ingredients
Pancakes
Chocolate spread or syrup
Chocolate chips
Bananas
Marshmallows
Kitchen scissors
Instructions
Using our examples as shown cut your pancakes to similar giraffe sizes.

Use chocoalte spread/syrup, chocolate chips, bananas and marshmallows to add details such as eyes, ears, body and facial features on the giraffe.

Have fun with it! Use these to inspire your own giraffe pancakes and let the kids in on the fun!
Pancakes are usually thought of as a simple breakfast food. But with a little bit of creativity, you can turn them into something special! Whether it's to make your kids smile or a fun weekend breakfast, these easy giraffe pancake designs are sure to impress your friends and family.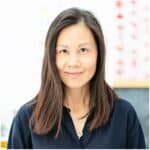 Agnes Hsu is a mom of three and has been inspiring parents and kids to get creative with easy activities and family friendly recipes for over 10 years. She shares her love for creative play and kids food to her 2MM+ followers online. Agnes' commitment to playful learning and kindness has not only raised funds for charity but also earned features in prestigious nationwide publications.