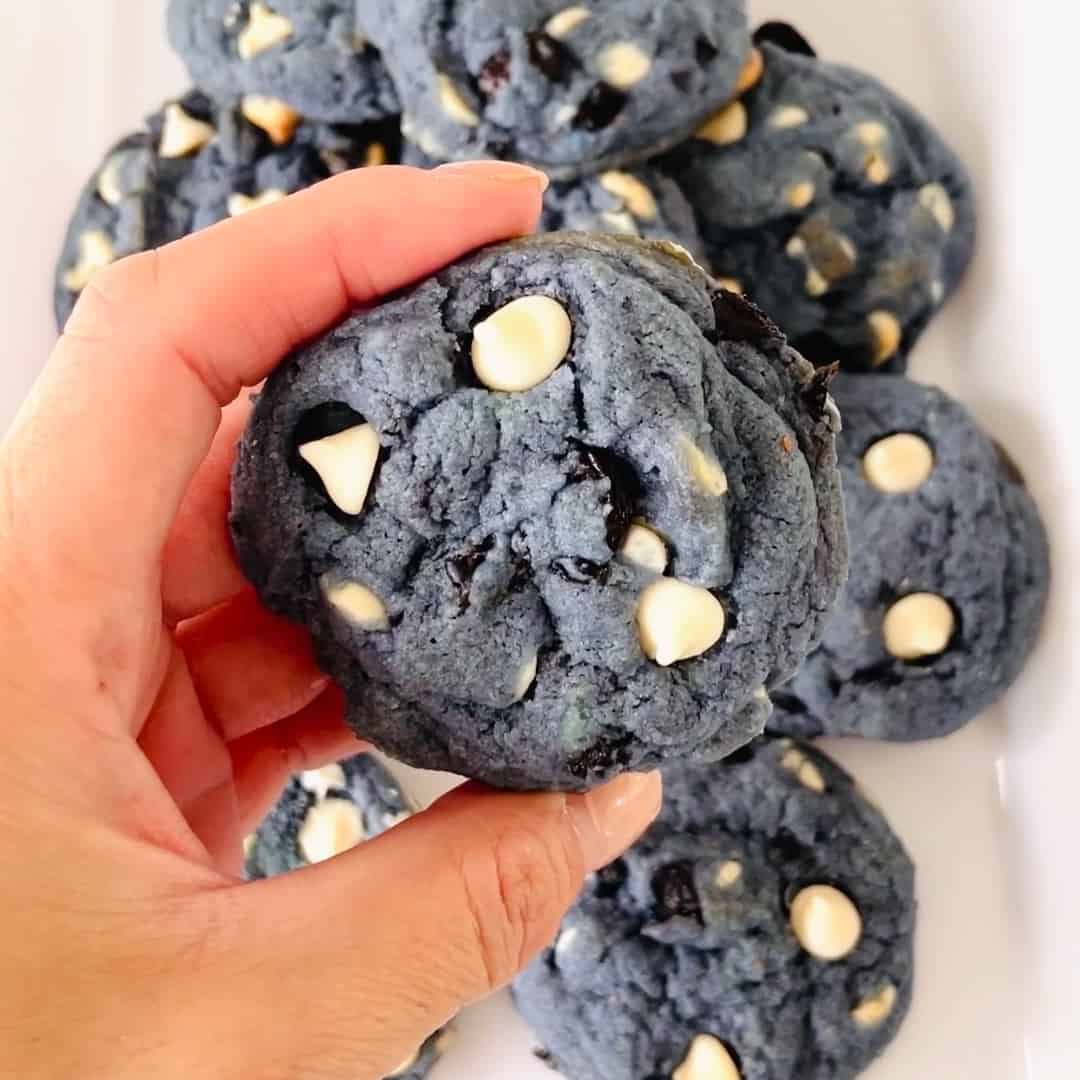 By using this site, you agree to our Terms of Use. This post may contain affiliate links. Read our disclosure policy.
Follow us on Instagram for more fun food ideas for kids!
There's a reason the TikTok Blueberry Cookies went viral. This simple cookie is super easy to make and has a beautiful impressive color!
A while back I shared my 3-year-old son @DashBakesTheGreats' version of the TikTok Blueberry cookies on his Instagram and it got such a popular reaction I thought I'd outline how we made them and what we did!
First, the credit for these insanely delicious and easy blueberry cookies goes to Justine Snacks who made them vegan and naturally blue! Please make sure to check out her recipe where she uses vegan butter to make hers.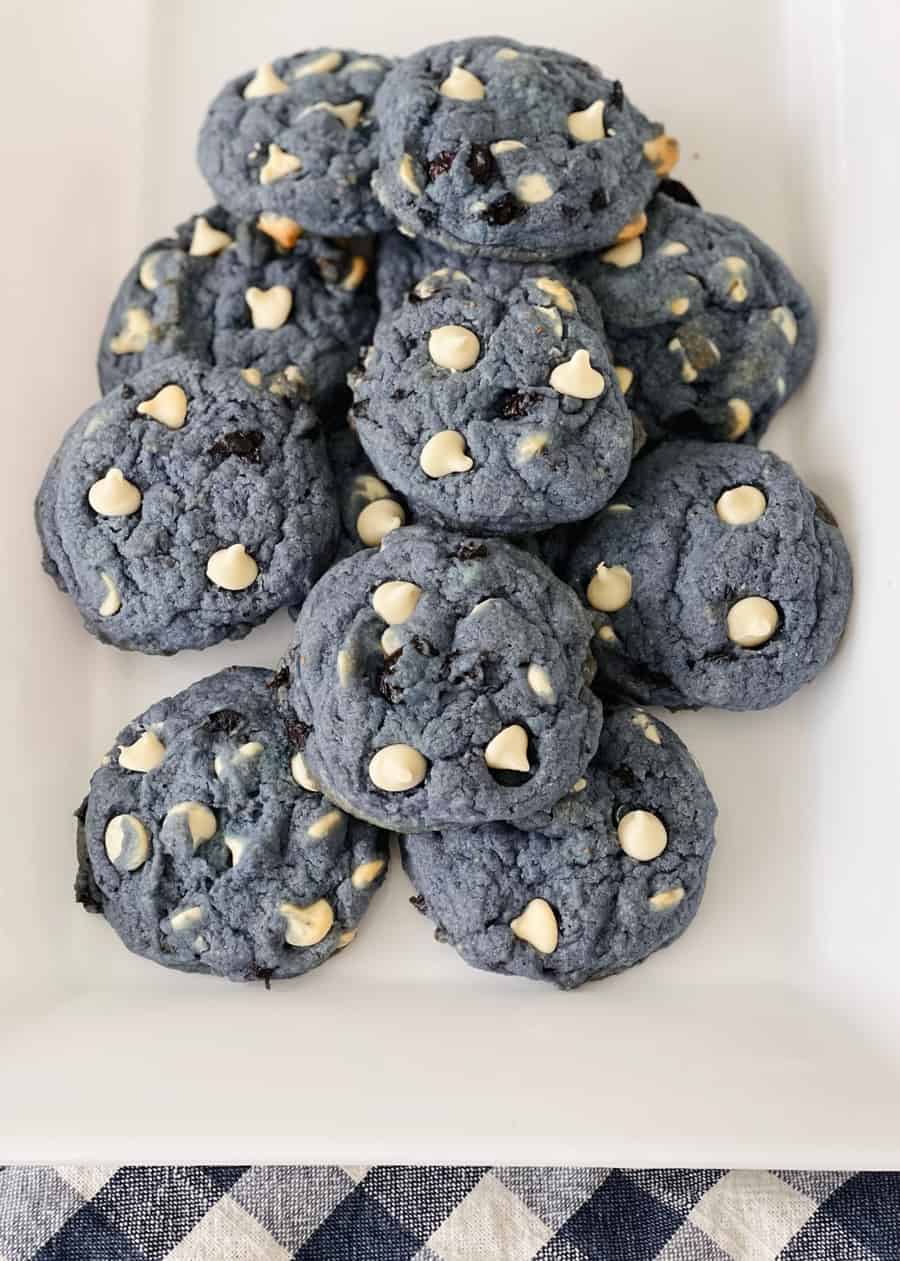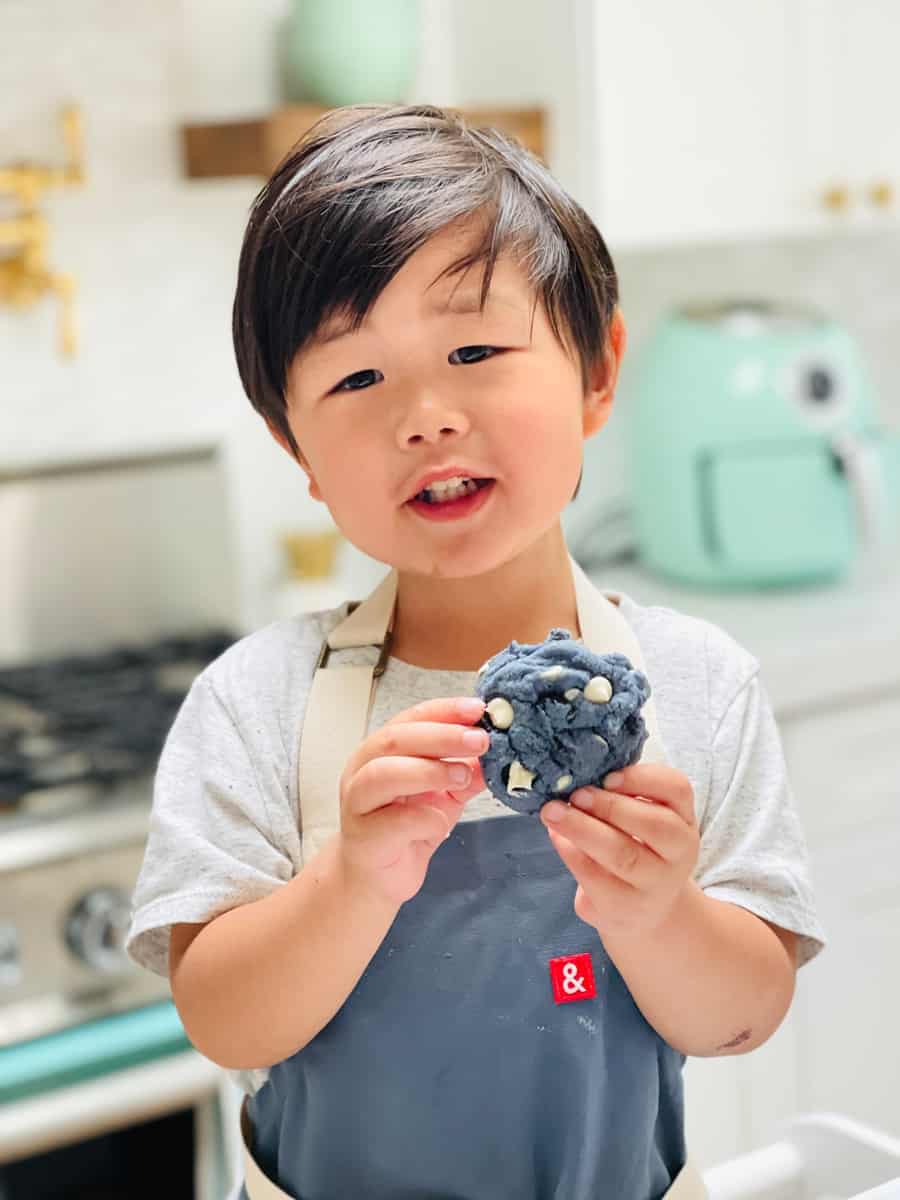 What Ingredients Do You Need For Blueberry Cookies?
You only really need a few common baking supplies to make these delightful cookies! You'll need flour, butter, sugar, frozen blueberries, white chocolate chips. baking powder, and a pinch of salt.
How do you make TikTok Blueberry Cookies?
The steps are just like a regular drop cookie where you will cream the butter and sugar together. For the blueberries you'll want to soften them in the microwave and mash them up until they are more of a puree-like consistency. This is a great way to get your kids helping out in the kitchen and practicing those fine motor skills! My 3-year-old enjoyed this step.
The exception to these cookies is that they are vegan and contain no eggs, but you honestly don't miss them. They are moist from the blueberries and get their lift from baking powder.
After creaming the butter and sugar you'll add your blueberries then your flour, baking powder and salt mixture. Give the mixer a good whirl and you should have the most beautiful blue cookies! The last step is just folding in the white chocolate chips.
I do want to note that Justine's recipe turned out more purple blue and ours more roya blue because we added a touch of blue gel food coloring. This is purely optional and could be omitted. I suspect ours did not turn as purple of a hue because we didn't mash our berries completely in to a jam as the recipe suggested.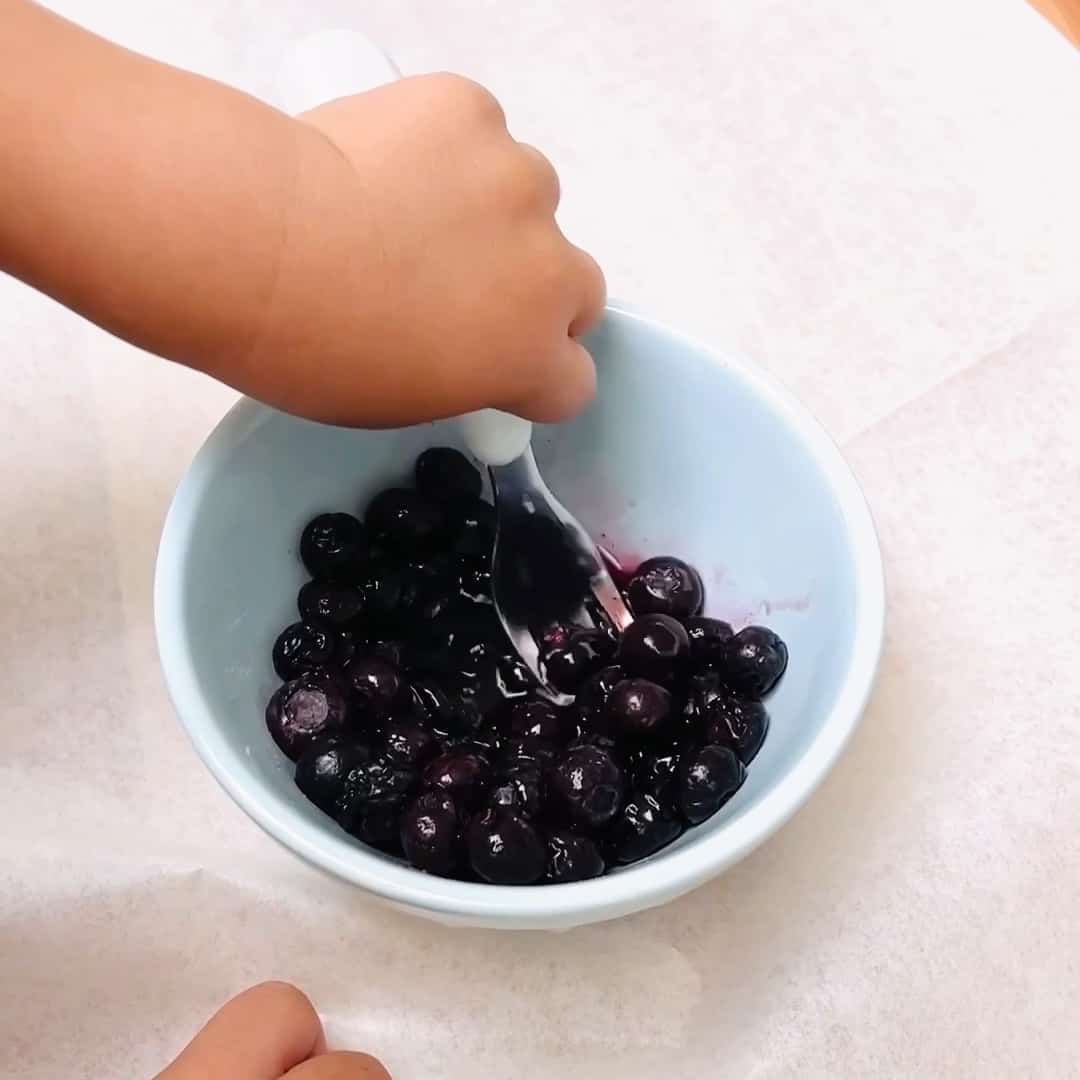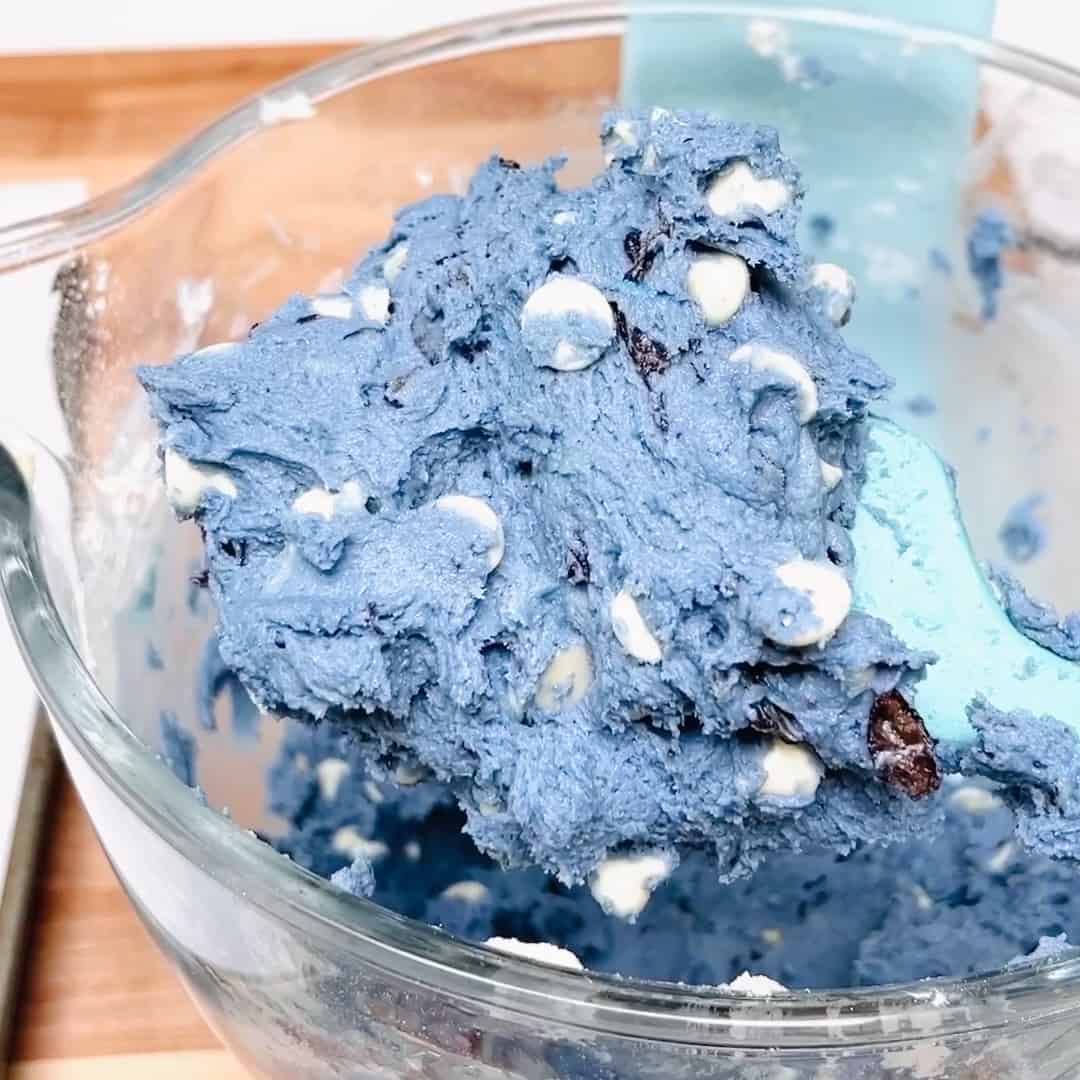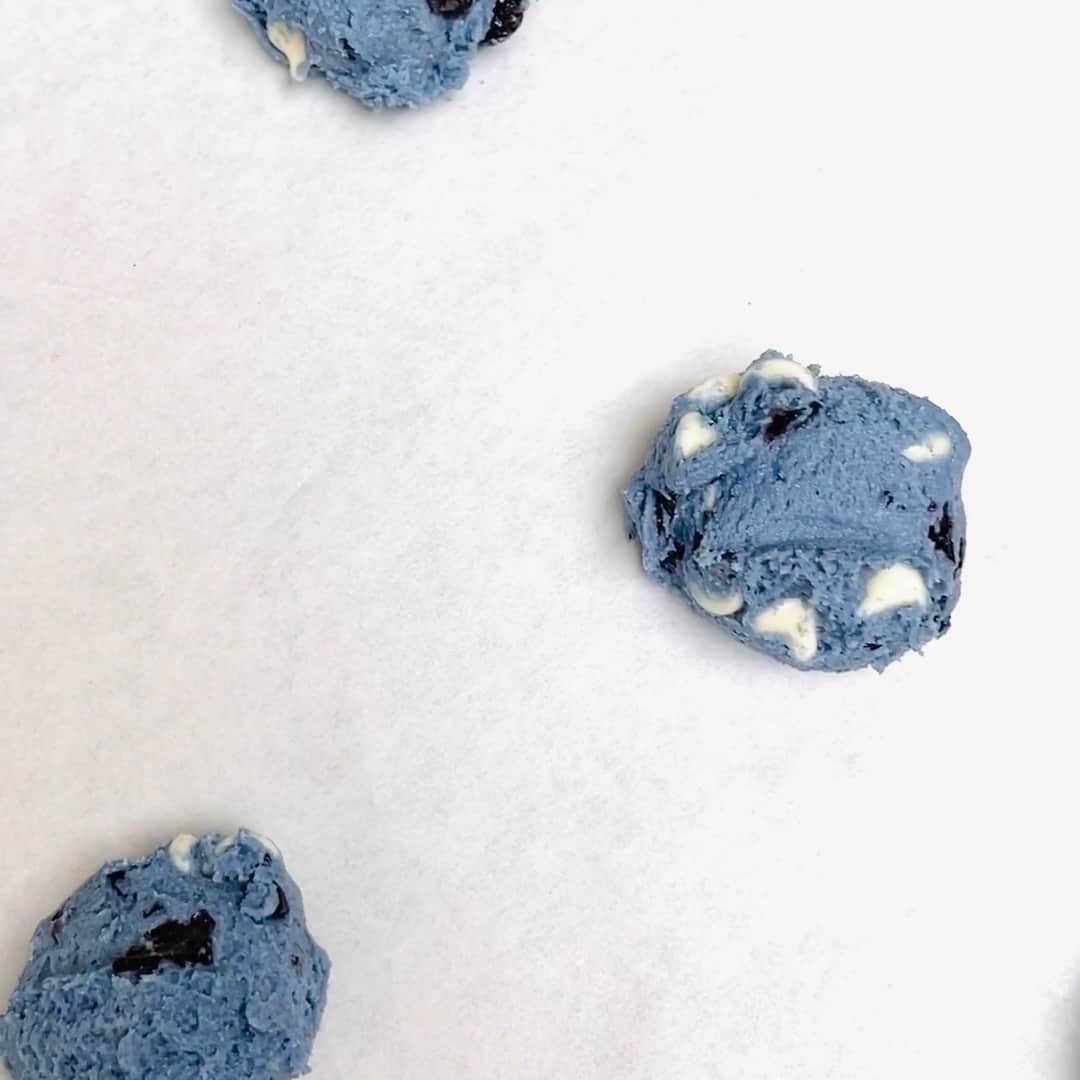 How Long Do You Bake These Blueberry Cookies?
We used a one oz scoop and baked them in the oven preheated at 400 degrees for 12-14 minutes! The original recipe calls for chilling the cookies first but we had no issue with placing them in the oven and with the lack of eggs, they held up the shapes well and didn't spread too much!
Watch the video in this post to see my 3 year old son @DashBakesTheGreats make them! This blueberry cookie is a fun and easy dessert recipe for kids!
You Might Also Like