By using this site, you agree to our Terms of Use. This post may contain affiliate links. Read our disclosure policy.
Follow us on Instagram for more fun food ideas for kids!
These Easter Mini Chicks Cheese Balls are the perfect Easter appetizer! Simple to make and perfect for not having to share!
This year, don't stress over the perfect appetizer for Easter dinner. Once everyone sees that they'll have their own cute little mini chick cheese balls, you're going to be nominated to make this simple appetizer every single year. Chicks make the cutest Easter treat and now also Easter appetizer!
I love making this and changing up the type of crackers that I use. You can use store-bought or even make your own.
Don't forget that you can use gluten-free crackers, too! The cheese ball will literally sit on top of any type of flat surface that you put it on.
We're really loving this recipe because it's insanely cute and delicious. The kids have a blast helping make it and then are even happier that they don't have to share.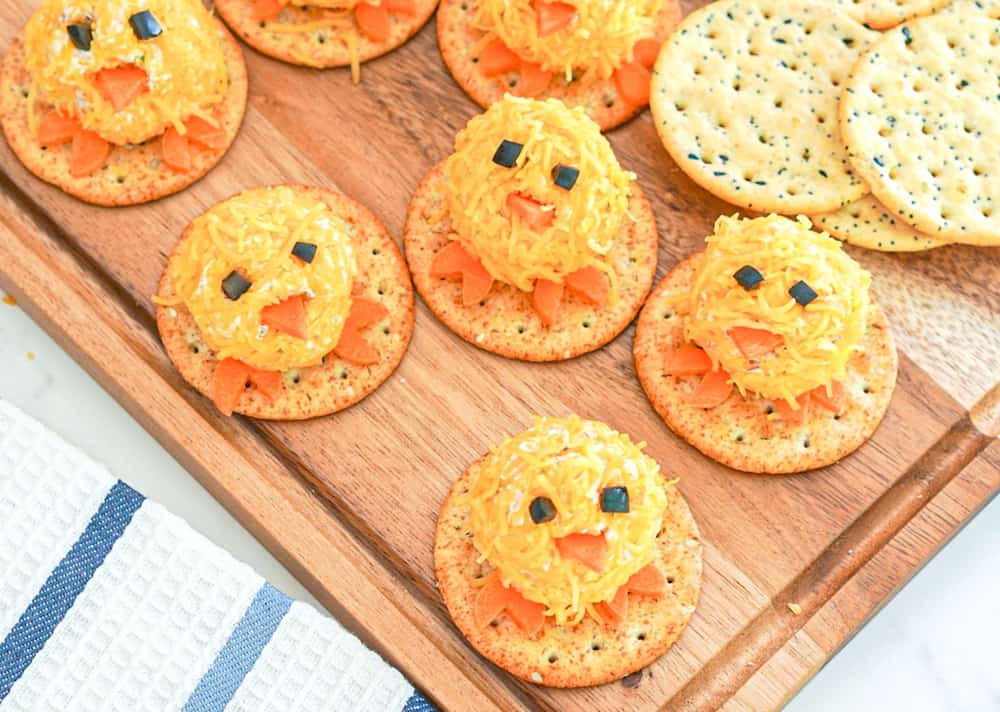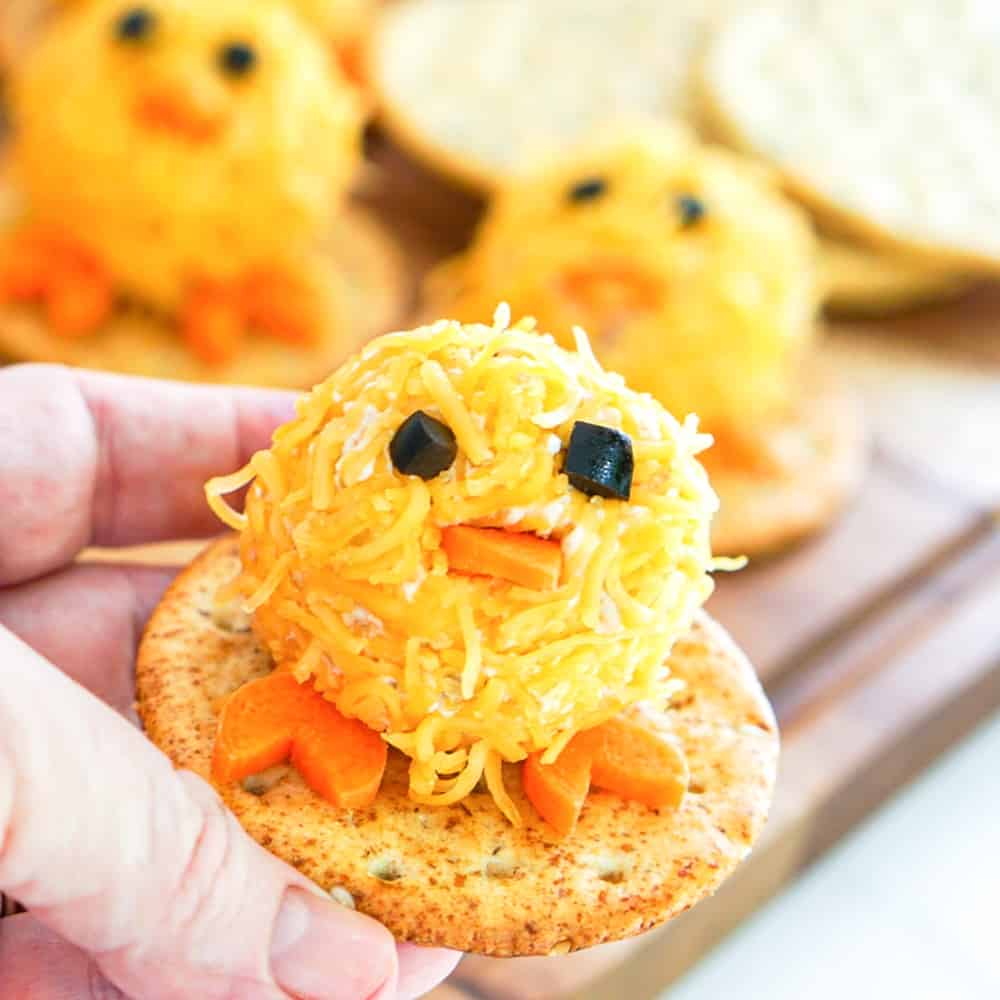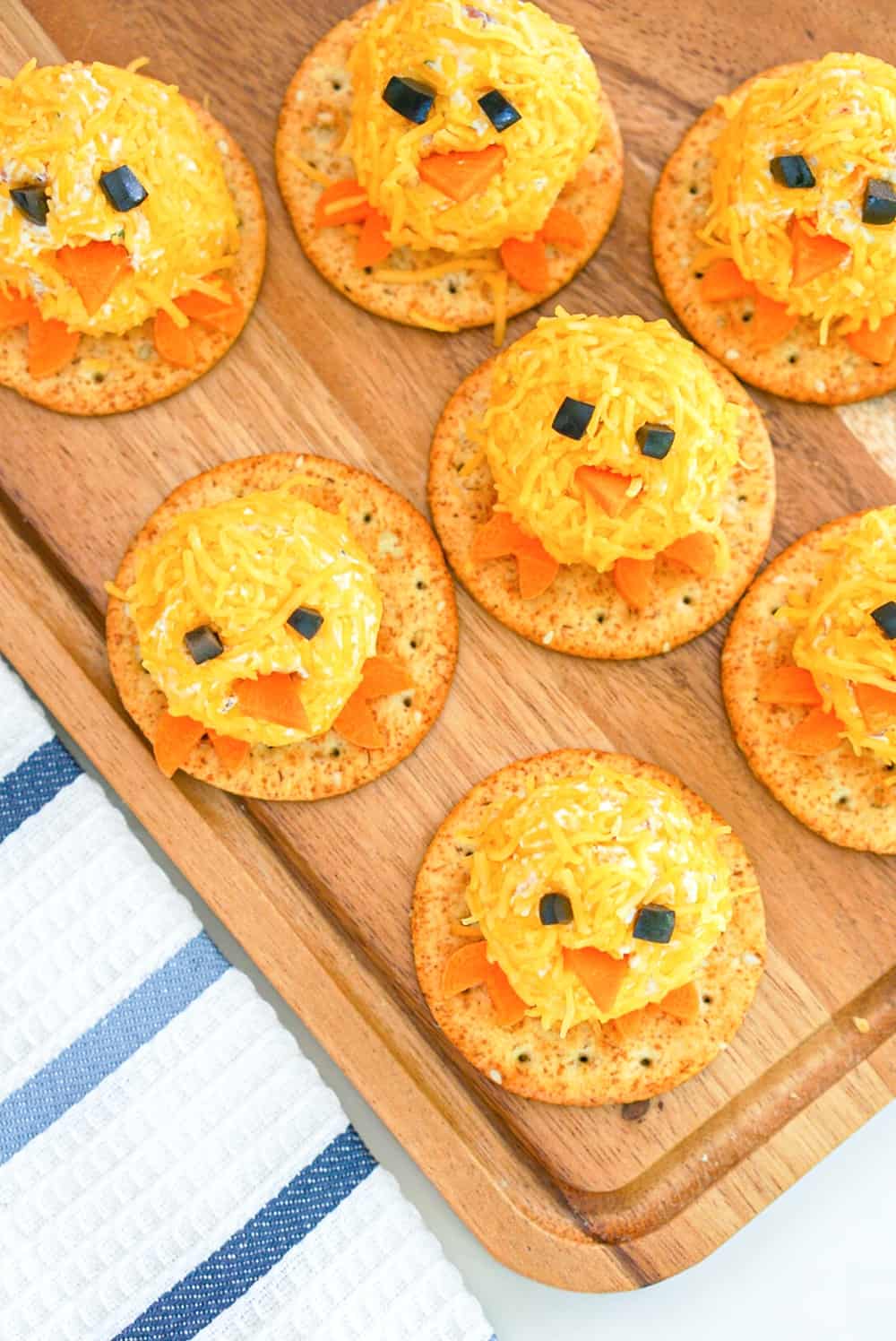 Do I need a hand mixer to make this simple appetizer for Easter?
As long as the cream cheese is at room temperature or softened enough, you shouldn't have to use a mixer at all.
I like to use a wooden spoon or a spatula for the flat surface level that it gives me to scoop and stir more at one time.
Can I use different types of cheese?
Absolutely. The biggest thing to keep in mind is that if you want them to resemble chicks, then this is where using some sort of yellow shredded cheese is best.
That doesn't mean that you can't use other types of cheese, but if you choose one that is white, it may not look like a chick. You could call it a goose – just kidding!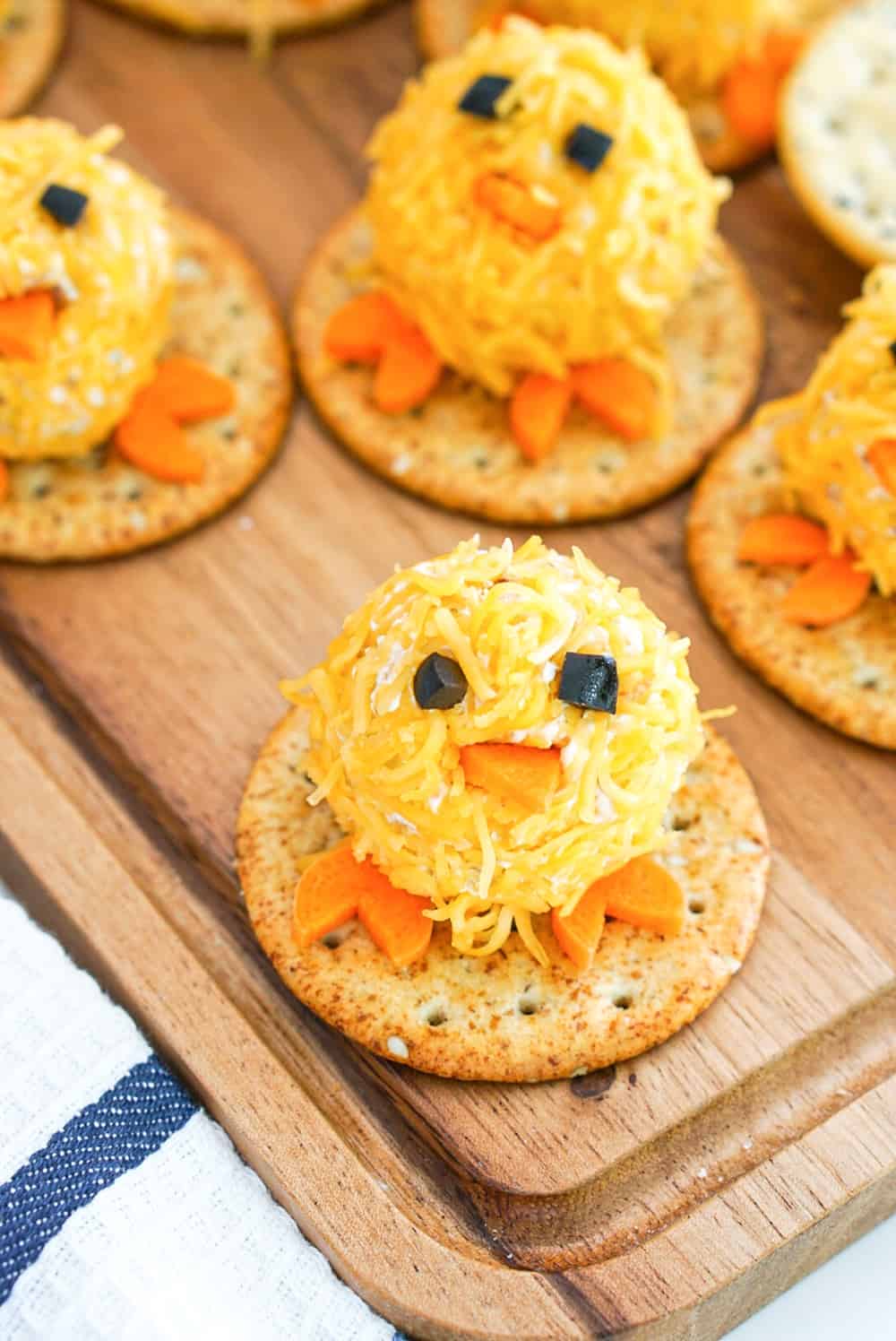 How do I keep the cream cheese from sticking to my hands?
This is where it's important that you don't let the cream cheese get warm. Because not only will it be unsafe to eat, but it will stick to your hands and be a giant mess.
As long as you roll it quickly into a bowl and then roll that ball in the shredded cheese, you shouldn't have any issues at all with the cream cheese ball sticking to your hands.
Simple Easter Appetizer Ingredients
Be sure to scroll to the recipe card below to get accurate measurements and step-by-step instructions.
shredded cheddar cheese
cream cheese
real bacon pieces
ranch seasoning mix
baby carrots
black olives, sliced
round crackers
The cheese ball bites flavor is cheddar bacon ranch.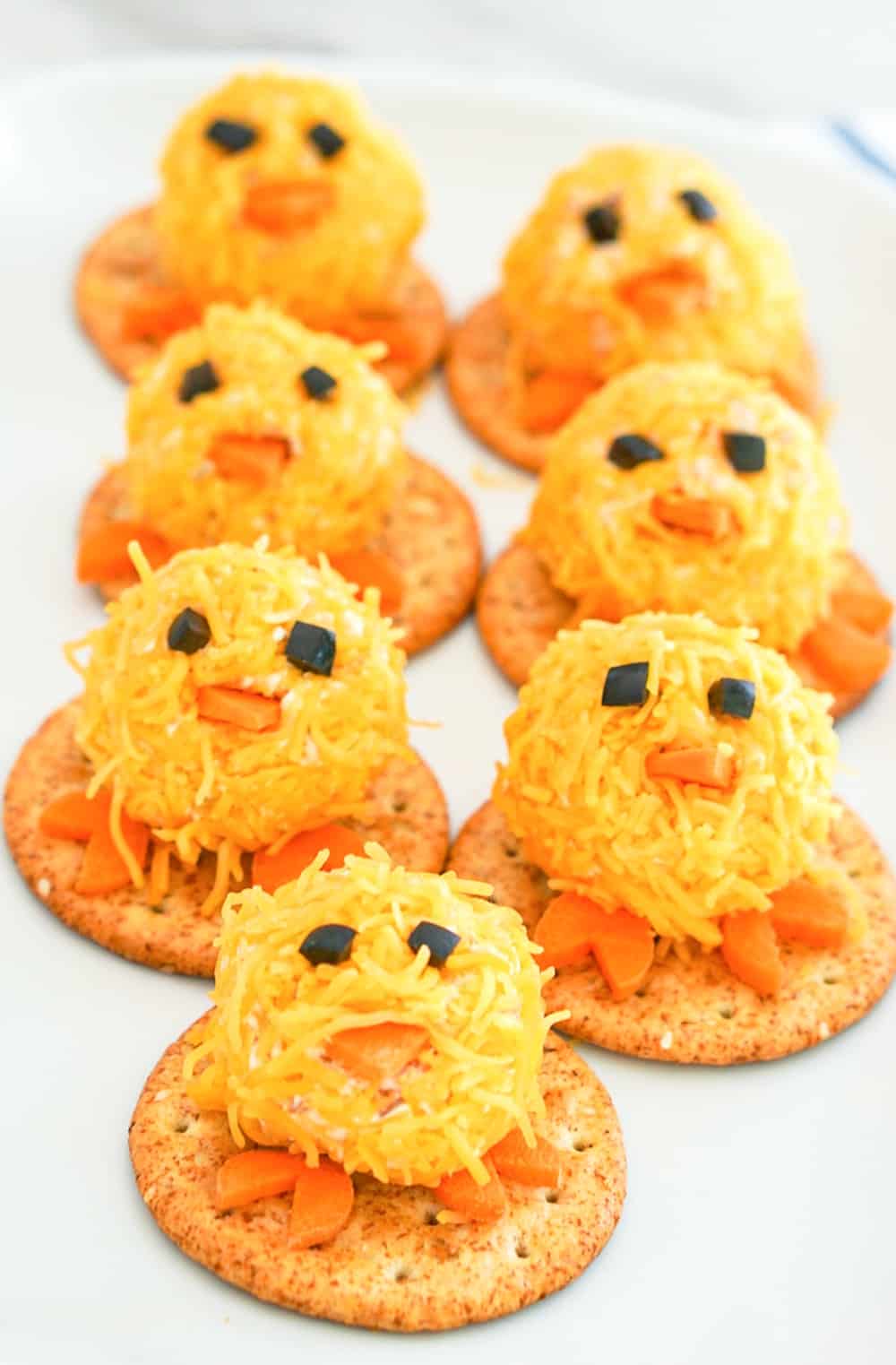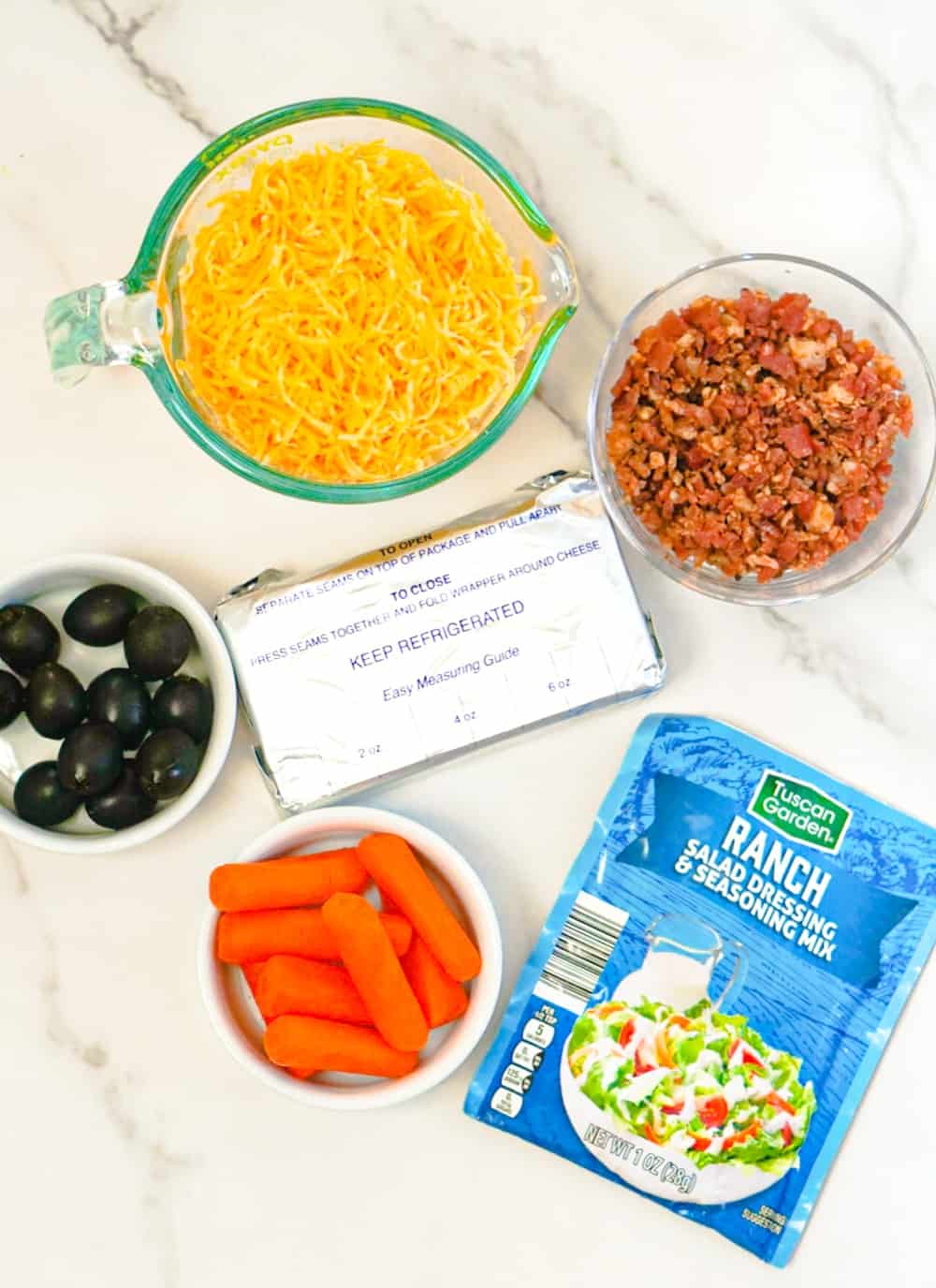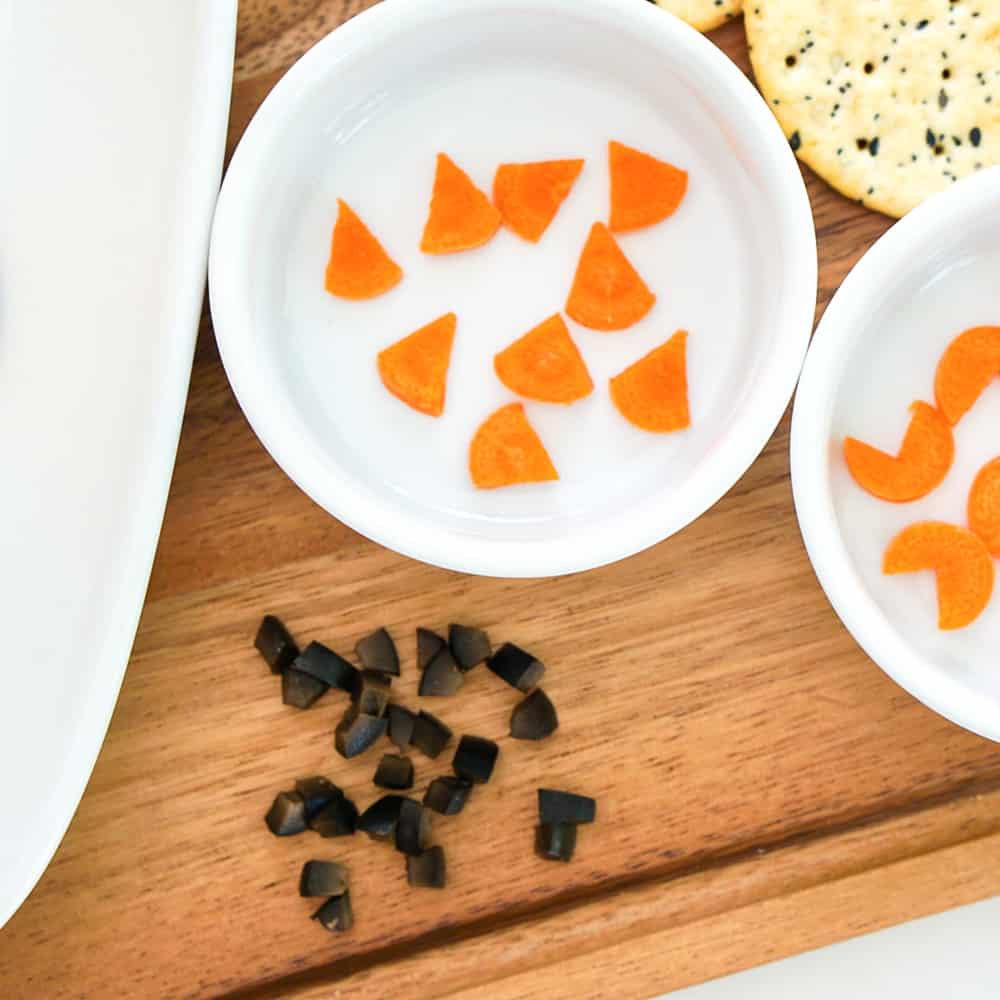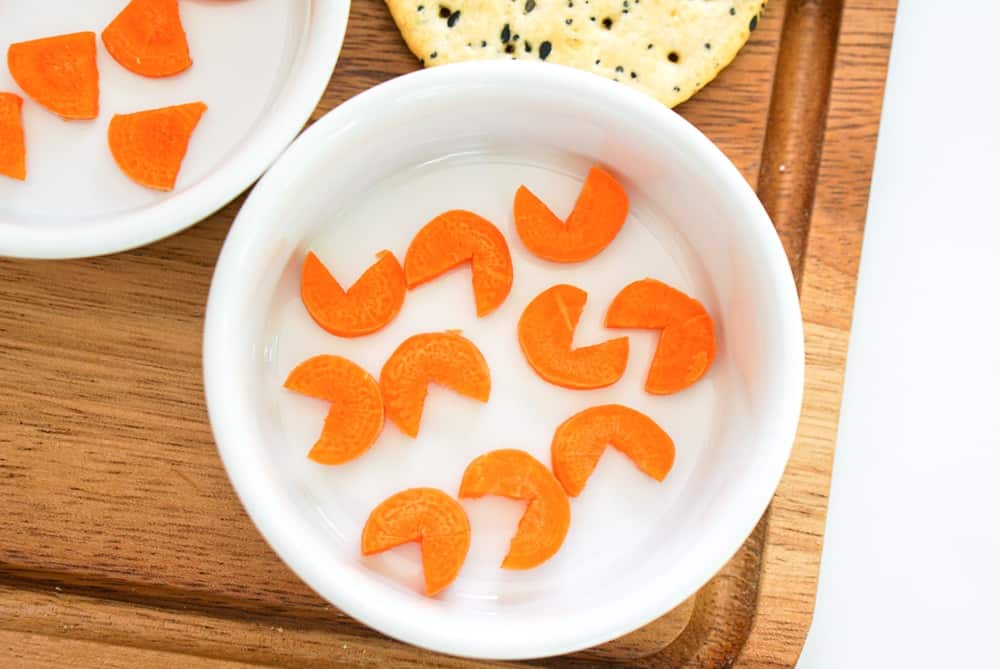 Variations
Add seasonings – If you want to add different flavors, you can add some garlic powder or onion powder to the cream cheese before mixing and rolling it.
Use varied crackers – While we used an assortment of crackers, change it up! Cheese crackers are delicious, and multigrain is yummy, too. And if you have someone that doesn't like crackers, put these cute little chicks into some scooped tortilla chips.
Change the shredded cheese – I mentioned this earlier, but you can change the type of shredded cheese or do a mixture of cheese. It's up to you.
Can I make this in advance?
If you want to prep and save some time, you can make this simple appetizer the day before. I wouldn't add them to the top of the crackers until you are ready to serve, though.
The rest of the chick and cream cheese portion can be rolled and prepared in advance. Save the cracker for the last portion so that it doesn't become stale or soggy.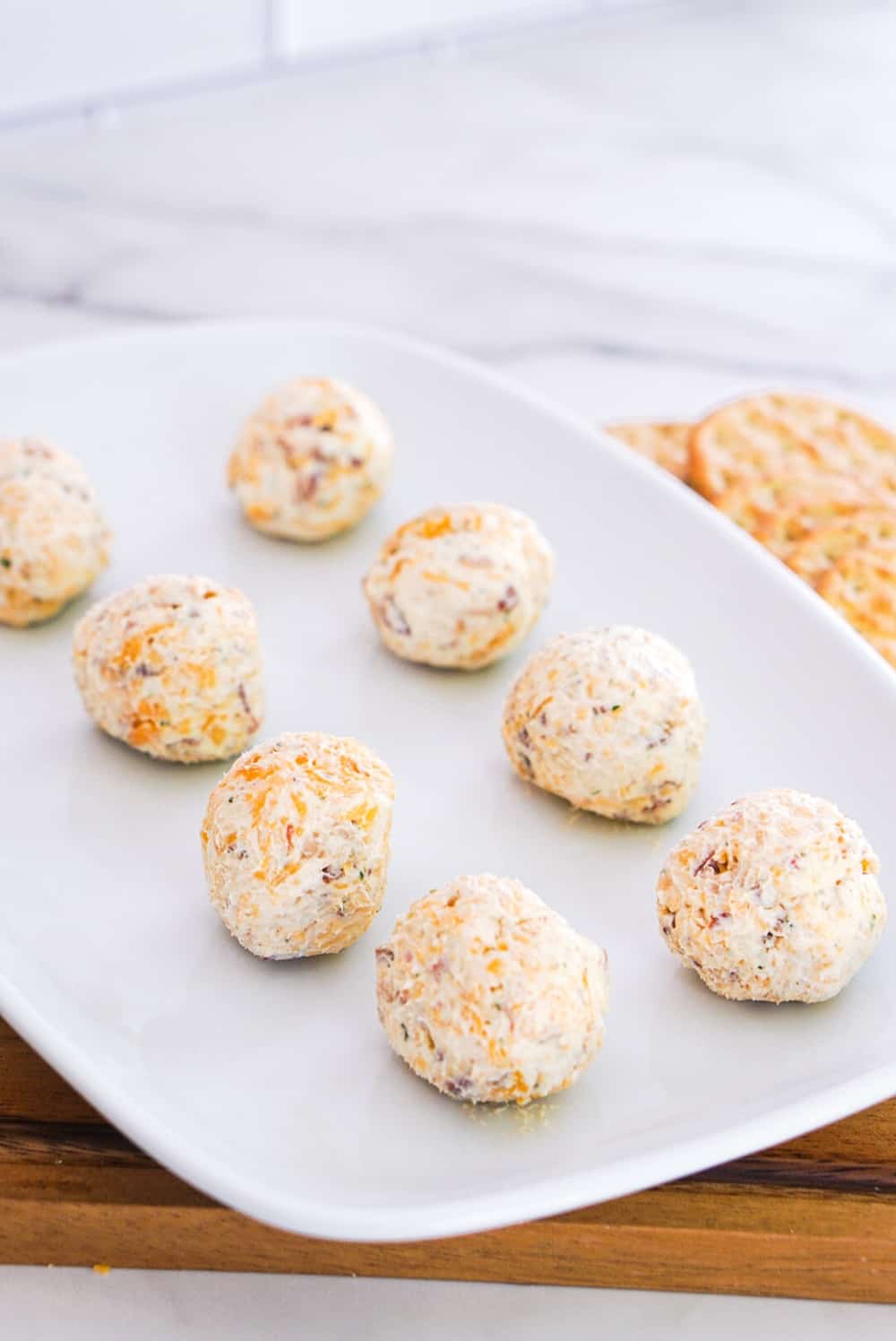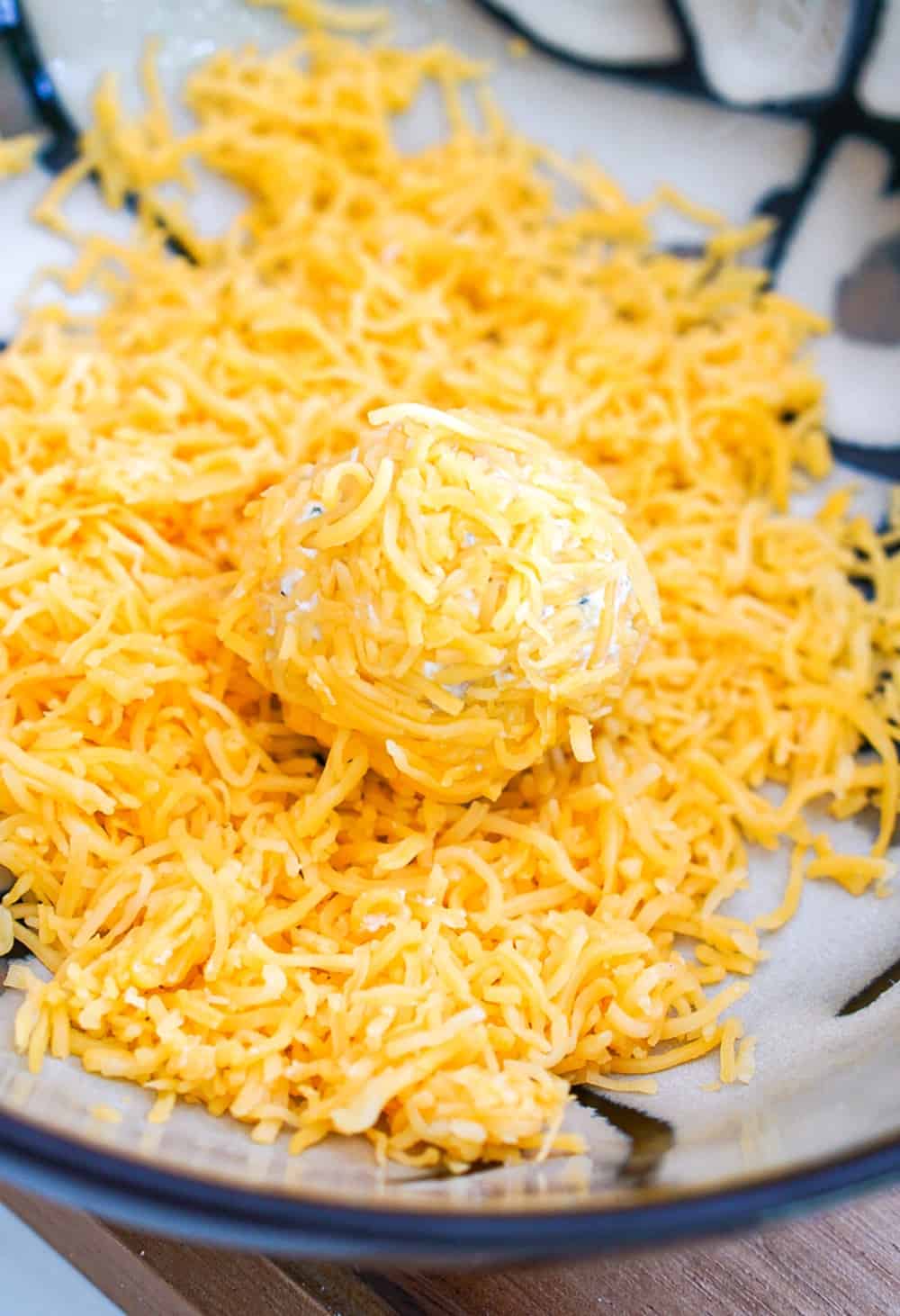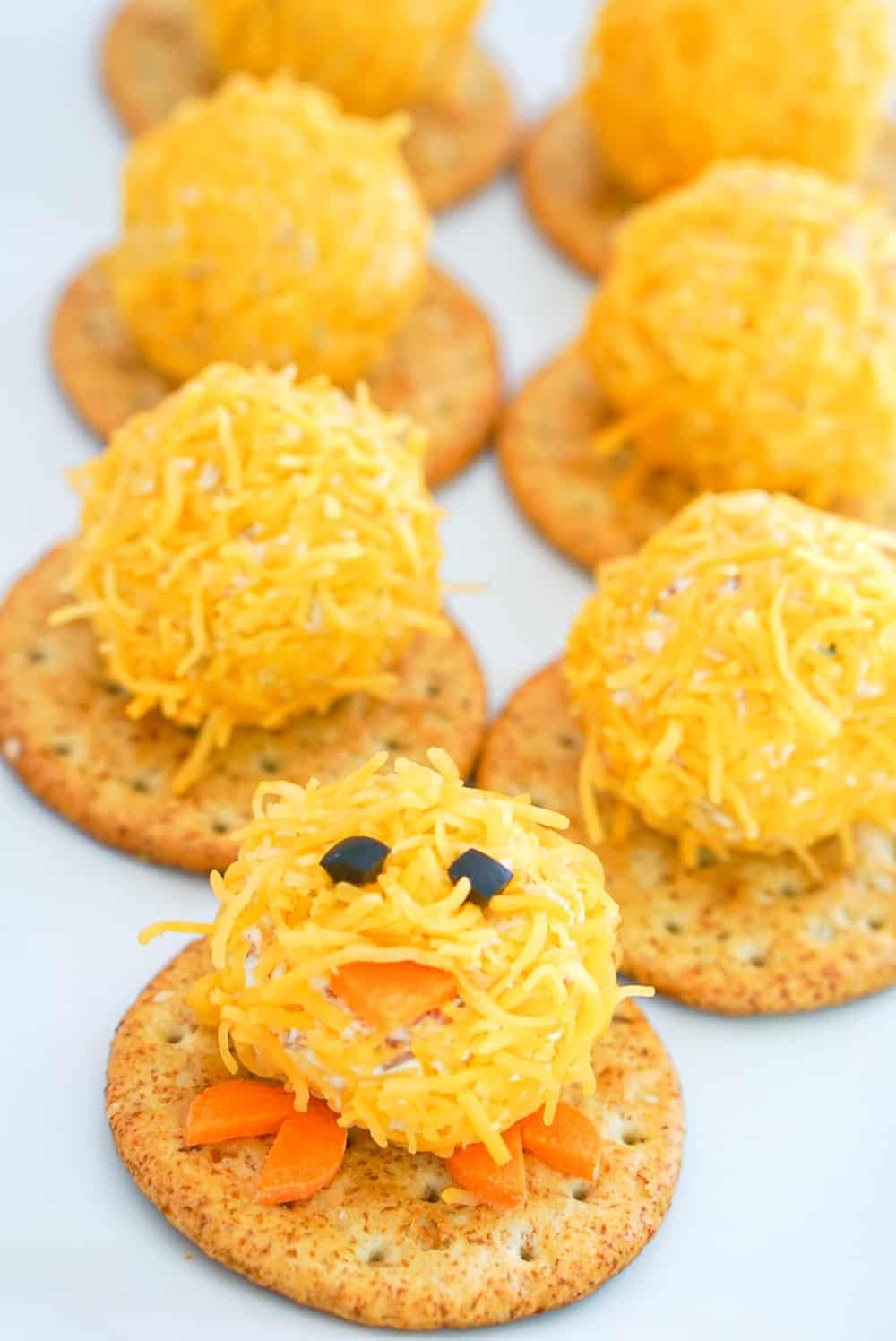 Can I freeze these?
Technically, you could – but you really shouldn't need to. Since you are using ingredients that have a decent shelf life, just keep the leftovers stored in the fridge.
I also remind the kids that just because we made the chick cheese balls doesn't mean they have to stay that way.
They're cute to serve during Easter, but they are spreadable and can easily be used and mixed together to form a spread or dip for crackers, too.
How to store leftovers
Since the main ingredient is cream cheese, these have to be stored in the fridge. Make sure to keep them in an airtight container so that the cream cheese doesn't absorb other flavors and tastes. (This does happen and is quite common for cream cheese.)
I would also recommend that you store them in the fridge without the crackers. The crackers will absorb any moisture, no matter if it's from the cheese balls or the fridge, making them stale and potentially soggy.
How can I save time making this appetizer?
The biggest and easiest way to save time is to have someone help! This is a cute recipe to eat, but it's also really fun to make.
If you want to start a new Easter tradition, why not have everyone help in making them? The kids can roll the cream cheese balls in the cheese, and you can work on cutting out the feet.
You can also save time by buying black olives that are already cut and sliced.
Can I buy and use already-cooked bacon?
This is another great idea to save time. If you want to use bacon that is cooked, you will need to have about 6 slices for this recipe.
Buying the bacon already cooked and ready to use is a great time saver, and the bacon won't be soaked in grease, either!
Easter Appetizer Recipe
Are you ready to learn how to make this simple cheese ball recipe? It's different from all the others out there because it's made to be individual serving sizes!
Never again will anyone have to worry about eating too much of the cheese ball with this recipe. It's already portioned and ready to grab and eat.
I can't wait to hear what the guests have to say about this cheese ball recipe! It's sure to be a favorite dish for all.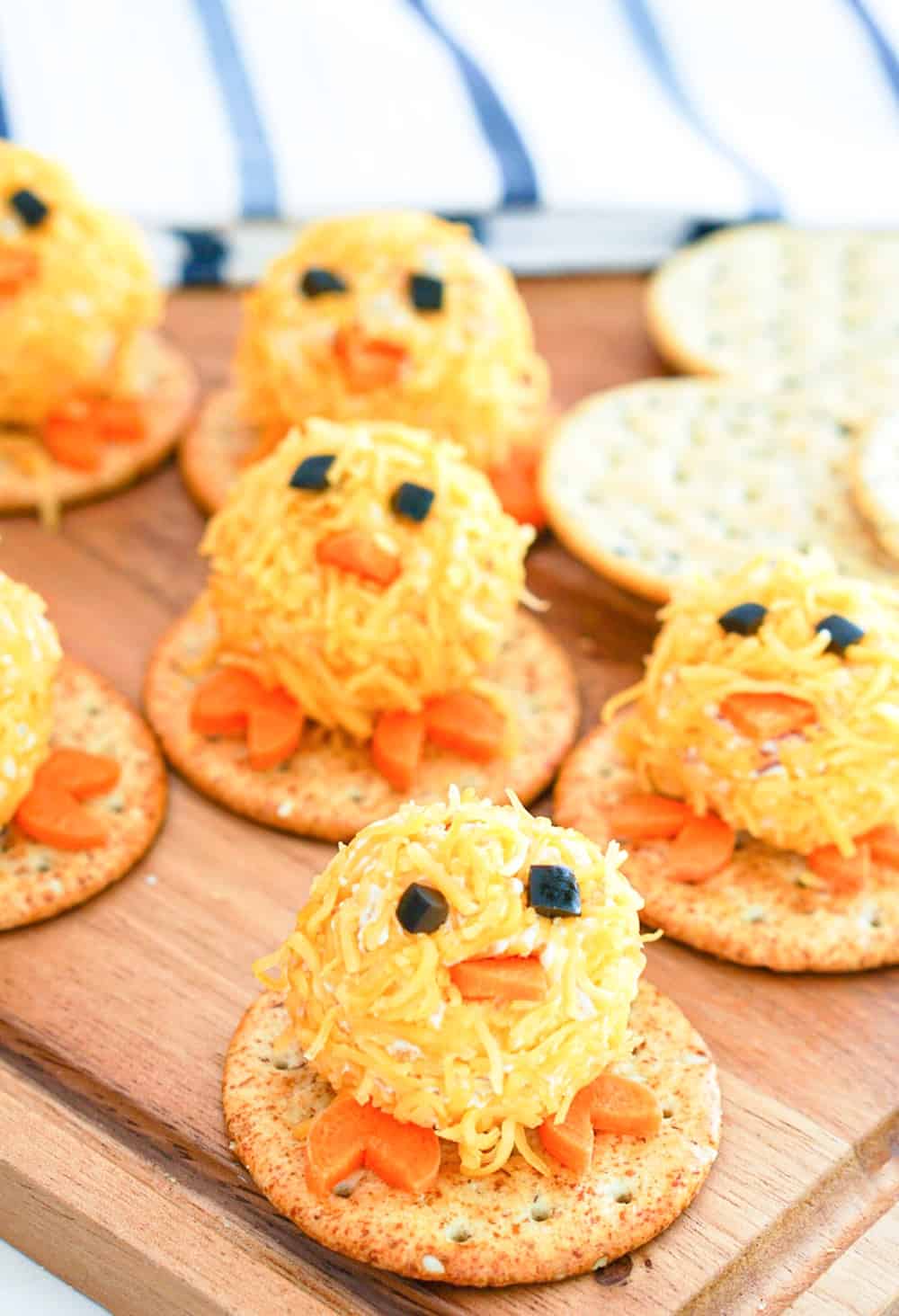 More Delicious Appetizers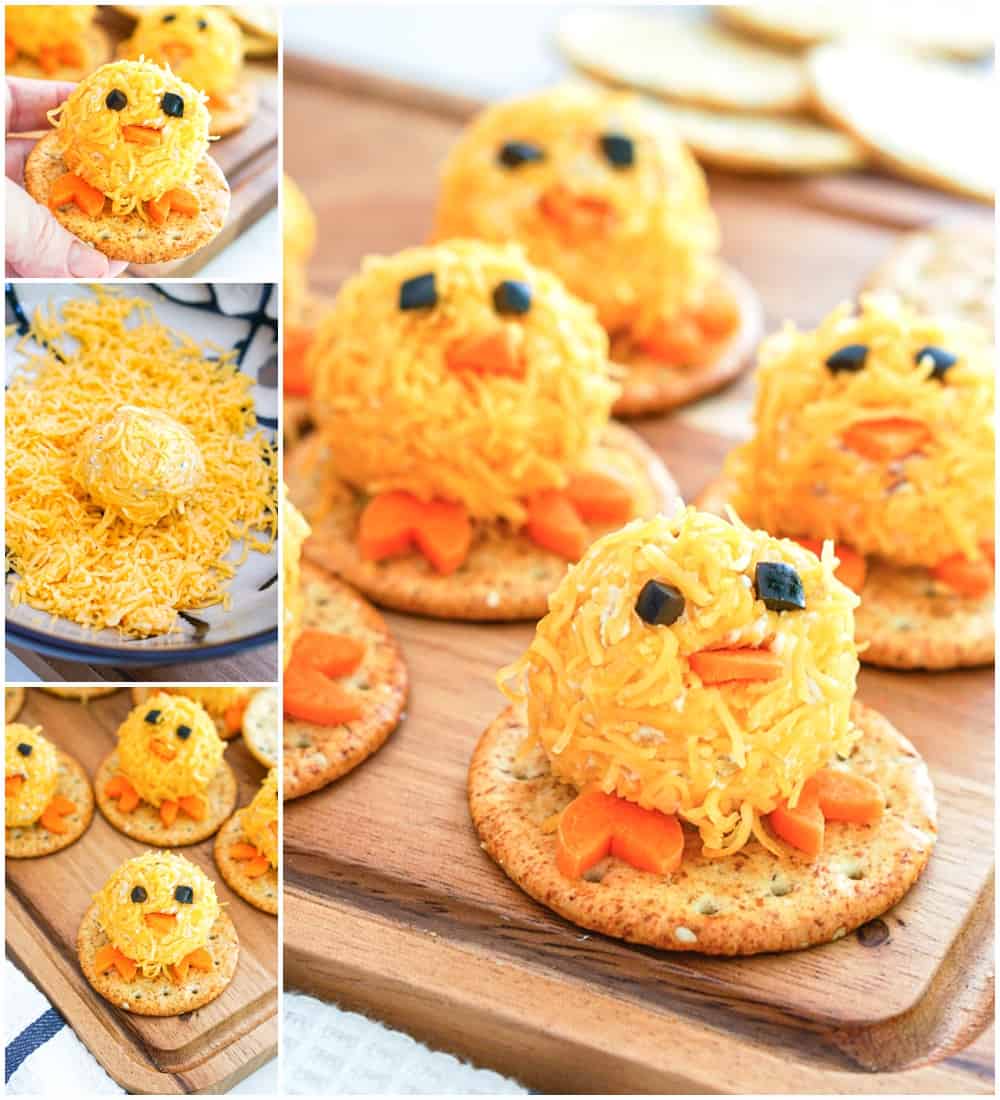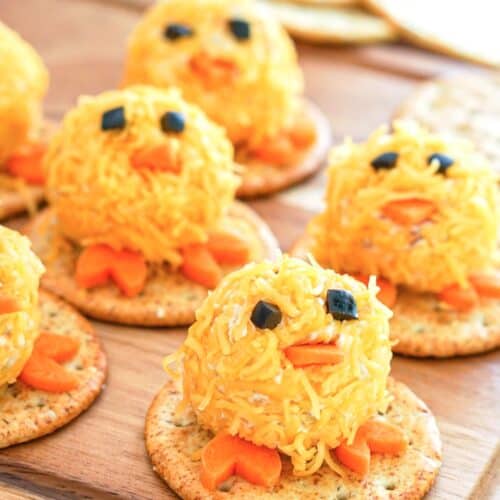 Easter Appetizer - Mini Chicks Cheese Balls
This Easter Appetizer is the perfect serving size to pop in your mouth and enjoy!
Ingredients
2

cups

finely shredded cheddar cheese

divided

2

packages

cream cheese

softened

2.5

ounces

real bacon crumbles

or 6 slices of cooked bacon, crumbled

1

package

ranch seasoning mix

1

bag

baby carrots

1

can

black olives

sliced

1

package

round crackers
Instructions
Mix cream cheese and ranch seasoning in a large bowl until evenly distributed.

Add 1 cup of cheddar cheese and bacon to the mixture. Stir until combined.

Using a tablespoon, scoop and roll the cream cheese mixture into small round balls.

Roll each mini cheese ball into the finely shredded cheddar cheese to cover.

Place each ball on a large round cracker.

Transfer the mini cheese balls to a serving plate or cutting board to decorate.

Cut sliced black olives into smaller uniform pieces to make each chick's eyes. Place olive eyes on each mini cheese ball, using photos as a guide.

Slice baby carrots into rounds.

Cut pie-shaped wedges from the carrot rounds for each chick's beak. Place carrot beak under olive eyes on each mini cheese ball.

Cut a "V" shape out of additional rounds to make each chick's feet. Place two feet on the bottom of each mini cheese ball.

Serve immediately or store in the refrigerator until ready to serve.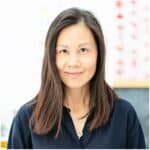 Agnes Hsu is a mom of three and has been inspiring parents and kids to get creative with easy activities and family friendly recipes for over 10 years. She shares her love for creative play and kids food to her 2MM+ followers online. Agnes' commitment to playful learning and kindness has not only raised funds for charity but also earned features in prestigious nationwide publications.