By using this site, you agree to our Terms of Use. This post may contain affiliate links. Read our disclosure policy.
Follow us on Instagram for more fun food ideas for kids!
The latest TikTok breakfast food trend is these delicious savory quiche stuffed bagels filled with egg, cream, and cheese plus your favorite meats.
What do you get when you combine two favorite breakfast foods? In this case, eggs and bagels combine deliciously to make a savory quiche stuffed bagel which is the latest viral breakfast food trending on TikTok. Quiche stuffed bagels are a great way to start your day. They're easy to make and can be made with any filling you want. These eggy bagels taste delicious for breakfast, lunch, or dinner. There's no reason not to try out this incredible recipe that will please everyone at the table, especially if breakfast is your favorite meal of the day!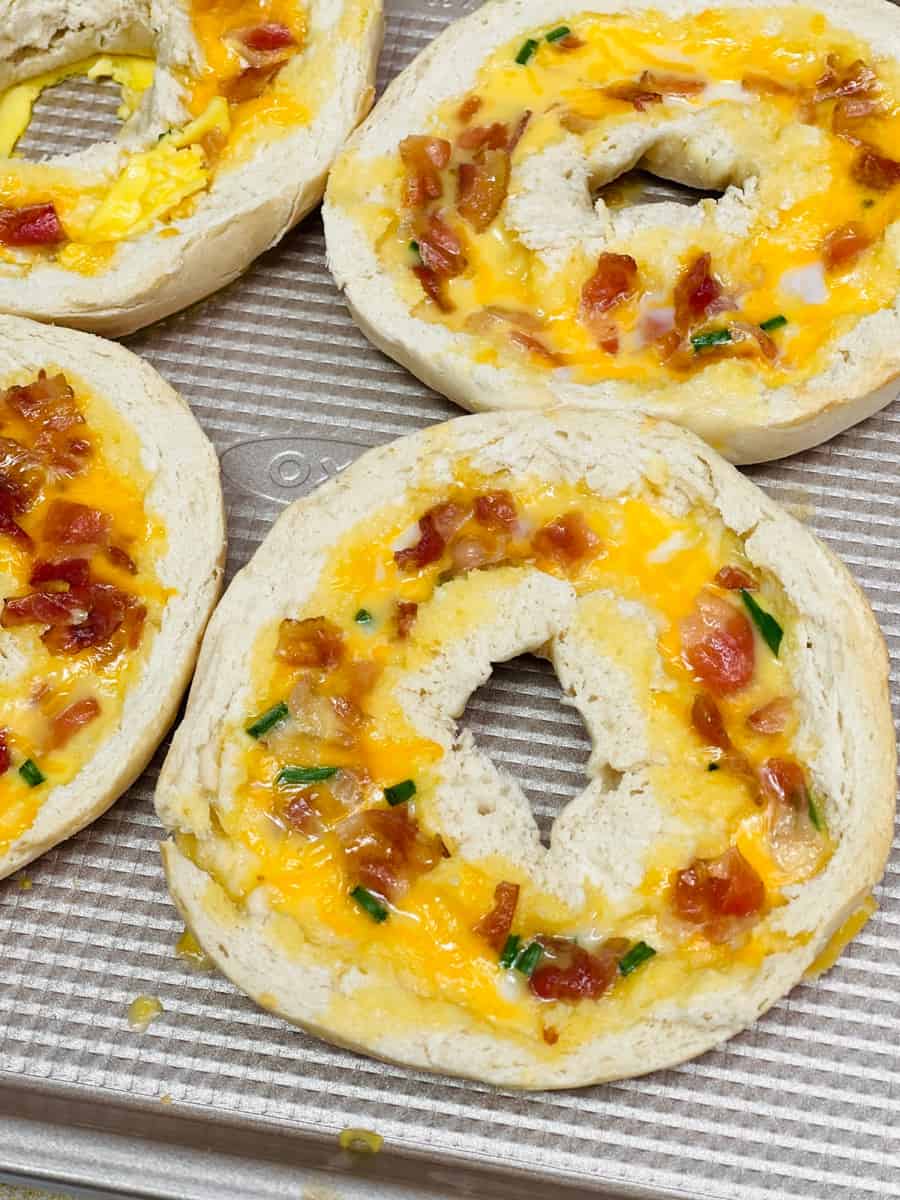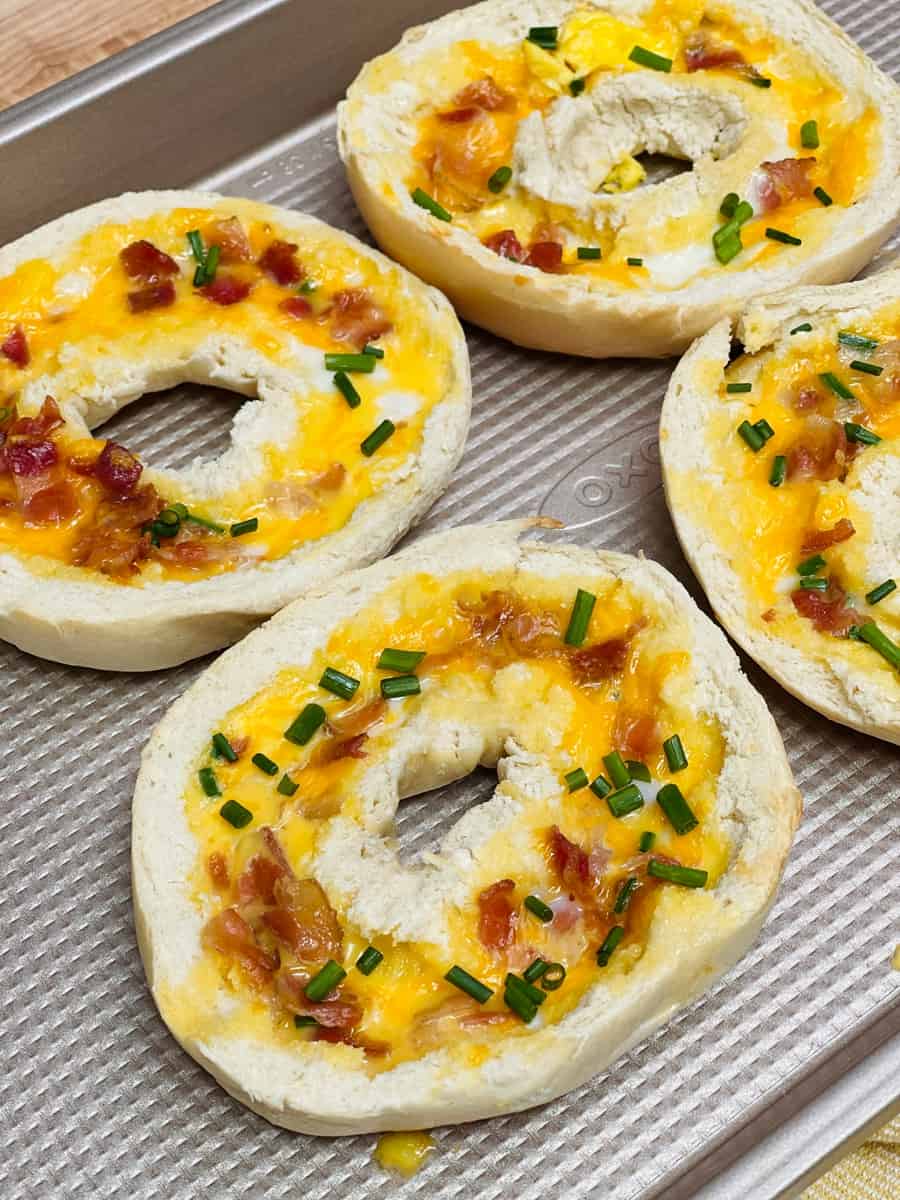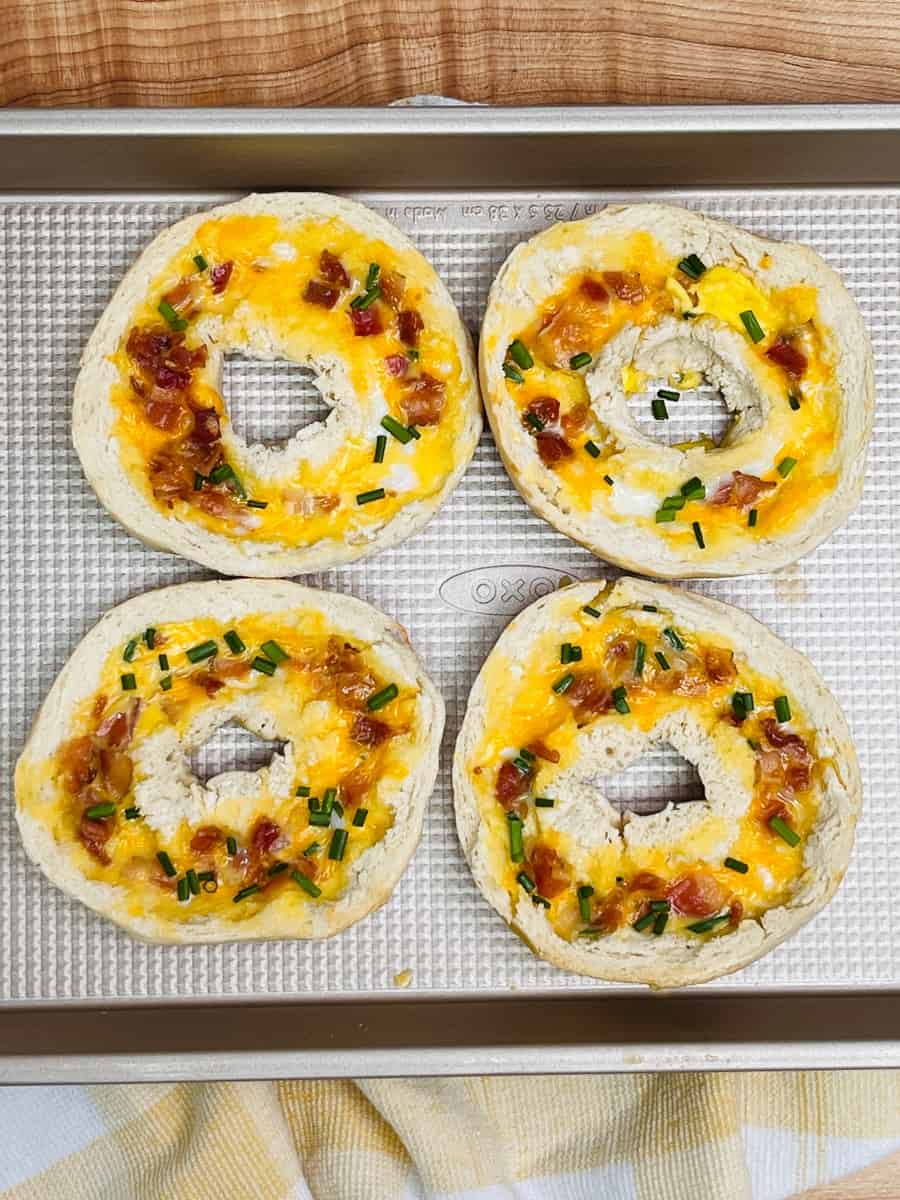 How do you make quiche stuffed bagels?
A hollowed-out bagel, cream, egg, cheese and some of your favorite egg filling like sausage and onions are mixed and stuffed together, creating the perfect food to start your day with. I would totally replace these hefty and filling bagels as a hearty food option to replace the more sugary low-nutrient foods like cereal my kids reach for in the mornings.
Quiche bagels are also very easy to make if you have some leftover egg batter. It's just a simple matter of adding your favorite quiche filling to a bagel and then topping with cheese. It's a great way to use up leftovers from dinner the night before or for whipping something up for breakfast that tastes awesome as a treat from the usual scrambled eggs. We've spotted a few variations of stuffed bagels on TikTok, but none quite as delicious looking as the one we've seen from @dontgobaconmyheart_ who combines eggs, cream, cheese, bacon, sausage, and onion in a hollowed-out bagel and bakes them all until golden brown on top.
What fillings can you add to quiche bagels?
Quiche stuffed bagels don't just have to be for breakfast. You can add them to your lunch or dinner as well for a delicious side dish. They even make great appetizers before the meal if you're planning on having quiche for dinner that night. Mini bagels would be an adorable appetizer option.
Here are some fillings you can add to stuffed quiche bagels:
cheeses (feta, cheddar, mozzarella, Monterey, jack, swiss)

meats like ham, ground beef, sausage, bacon, shredded chicken

veggies like mushrooms, bell peppers, onions, garlic, olives

herbs like sage, rosemary, basil, chives
It would be cool to make a pizza one with marinara sauce, pepperoni and mozzarella!
If you're looking for a new way to start your day that is healthy and delicious while also being filling then quiche stuffed bagels are the perfect food. They taste great for any meal, not just breakfast. They're also easy to make and can be made with any filling you want. There's no reason not to try out this incredible recipe that will please the whole family, especially if you love eggs and bagels!
We decided to make them a very simple way since my kids don't like onions or a lot of omelette type of stuffing.
Quiche Stuffed Bagels – ingredients:
2 large plain bagles

2 large eggs

1 TBSP cream or half and half

4 slices cooked bacon, chopped

1/4 Cup shredded cheddar cheese

Chives (garnish)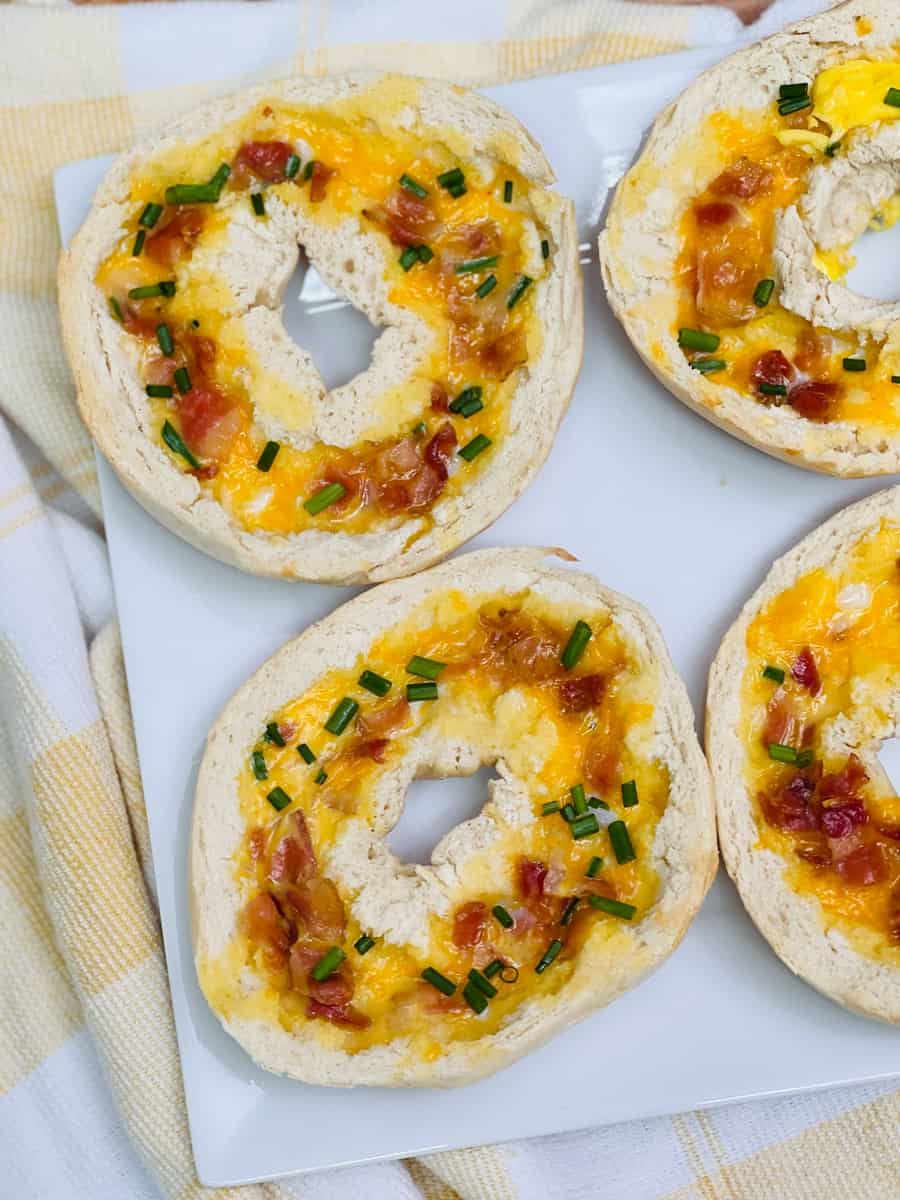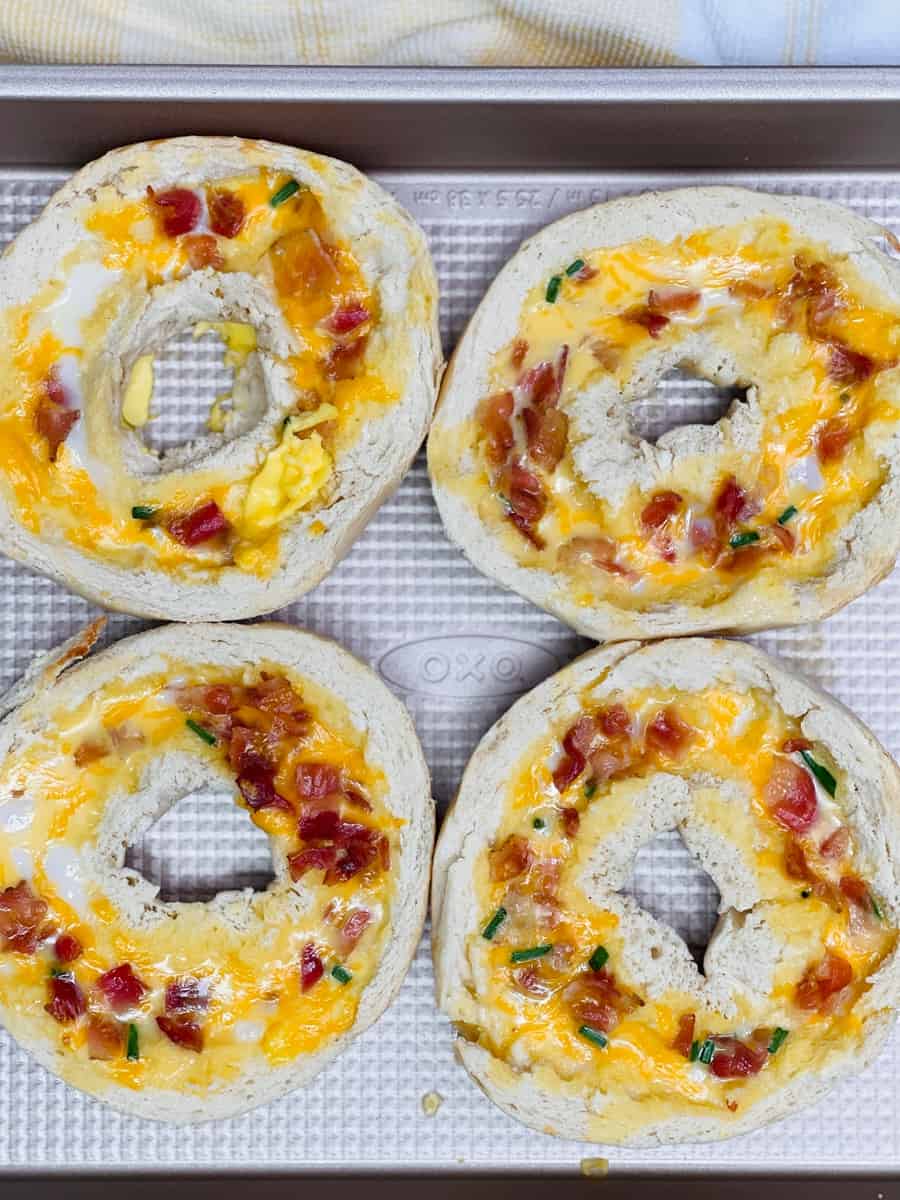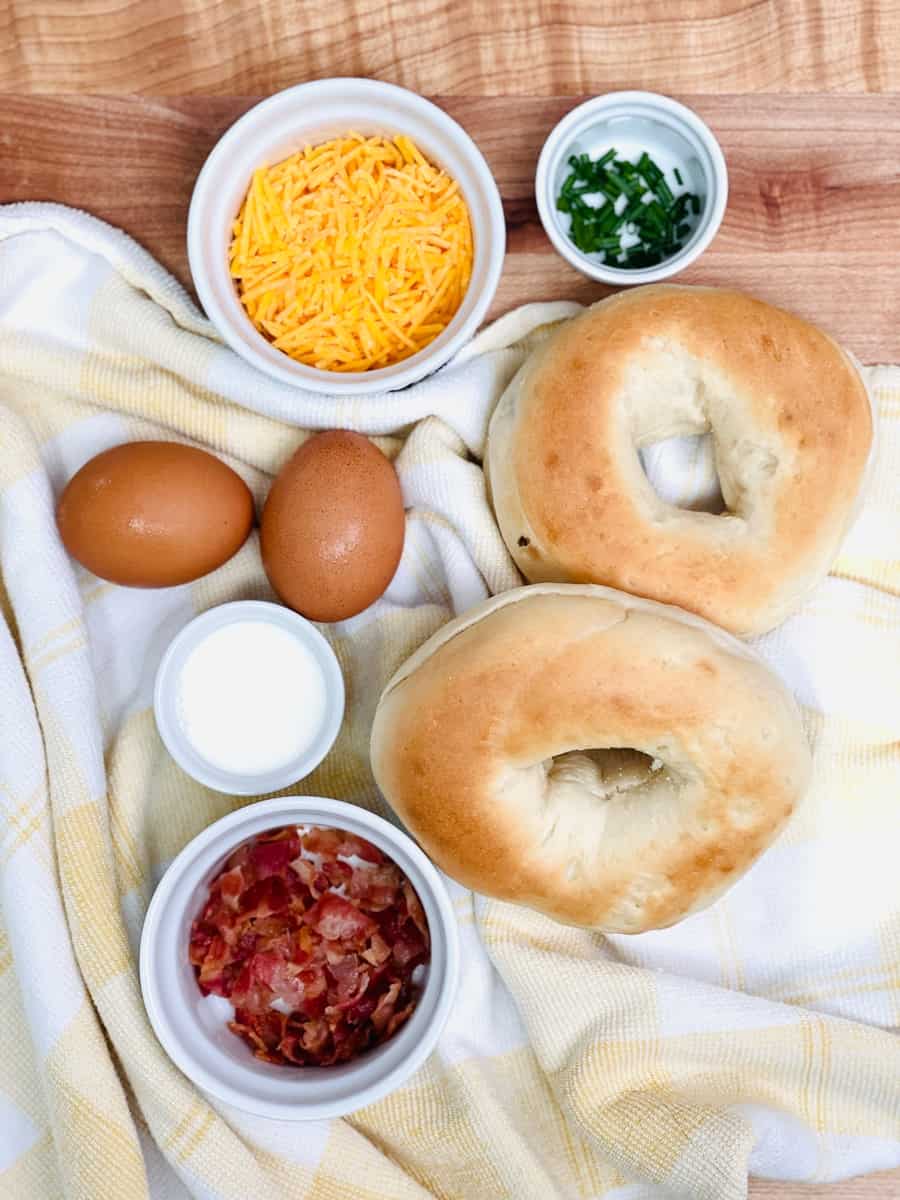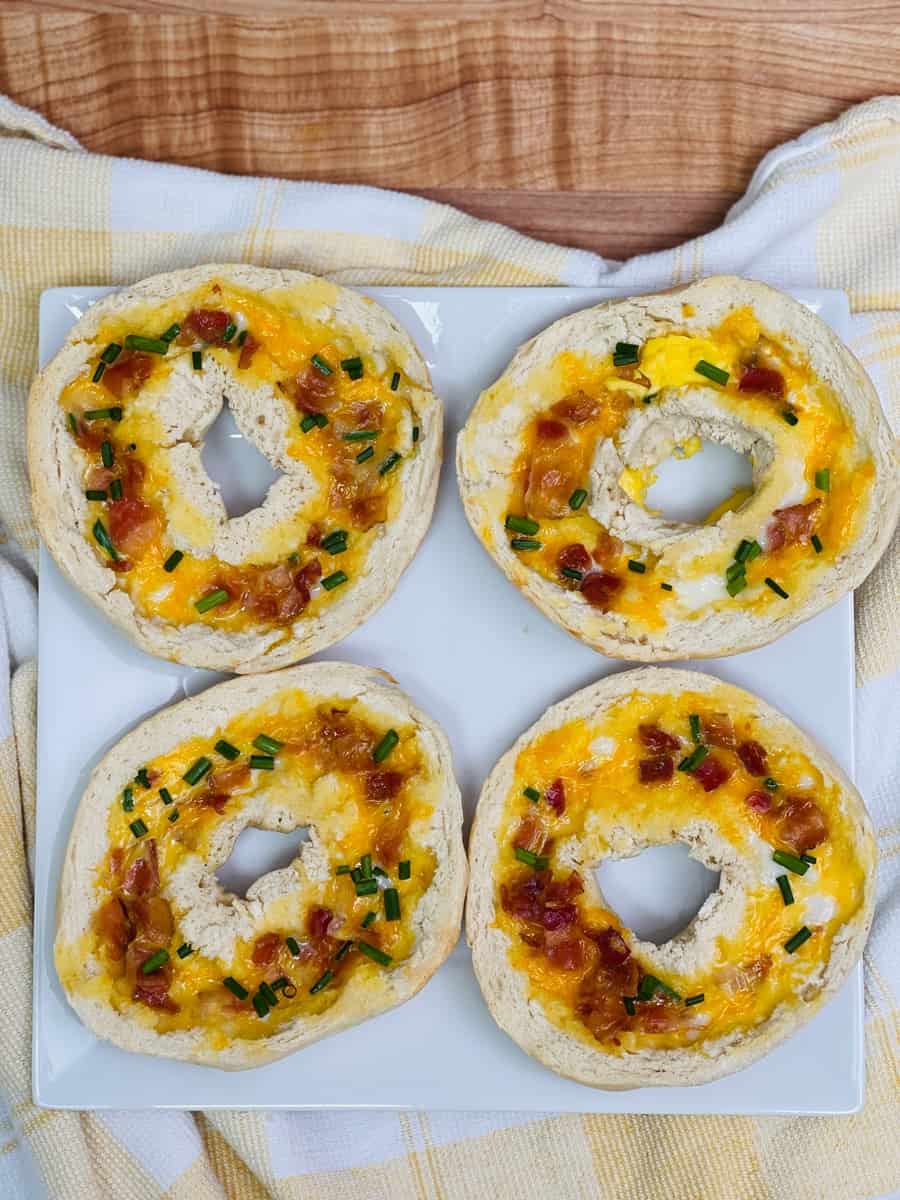 INSTRUCTIONS: (watch the video in this post. If you want your bagels eggier, add an extra egg to the recipe below. My kids love the bagel more than the eggs, so we adjusted for that!)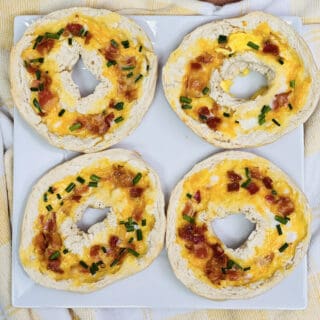 Quiche Stuffed Bagels
Quiche stuffed bagels make a hearty and delicious breakfast combining two favorite foods!
Ingredients
2

large

large plain bagles

2

large

large eggs

4

slices

slices cooked bacon

chopped

1/4

cup

shredded cheddar cheese

1

TBSP

cream of half and half

1

TBSP

chives

chopped
Instructions
Separate your bagels in half

With a knife run it around the middle lightly and push the inside bagel bread out. Take out some of the insides and then use your fingers to create a hollow center.

Mix your eggs, cream, bacon, cheese and chives.

Spoon egg mixtrue equally over 4 bagel halves.

Bake in preheated 350 degree oven for about 10 minute or until eggs are soft and look set. Garnish iwth more chives if you wish.
Check out more viral TikTok Food Trends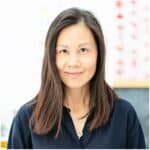 Agnes Hsu is a mom of three and has been inspiring parents and kids to get creative with easy activities and family friendly recipes for over 10 years. She shares her love for creative play and kids food to her 2MM+ followers online. Agnes' commitment to playful learning and kindness has not only raised funds for charity but also earned features in prestigious nationwide publications.