By using this site, you agree to our Terms of Use. This post may contain affiliate links. Read our disclosure policy.
Follow us on Instagram for more fun food ideas for kids!
The flavor of bacon and chicken combined in this Creamy Chicken and Bacon Pasta are perfection! The perfect weeknight meal to feed the family.
Everyone loves bacon! Pair that with the creamy chicken and you'll find out why everyone in my family loves this simple recipe! There's nothing quite like a good pasta dish and once you have this in your recipe book, you can rotate it in as much as you'd like.
There's even fresh spinach in this recipe! This is a great way to increase the veggie intake for the kids in a way that they'll love. The added ranch seasoning mix does a great job of adding a ton of flavor, too!
You'll find that this dish is really the perfect comfort food and is a great way to make a delicious family meal.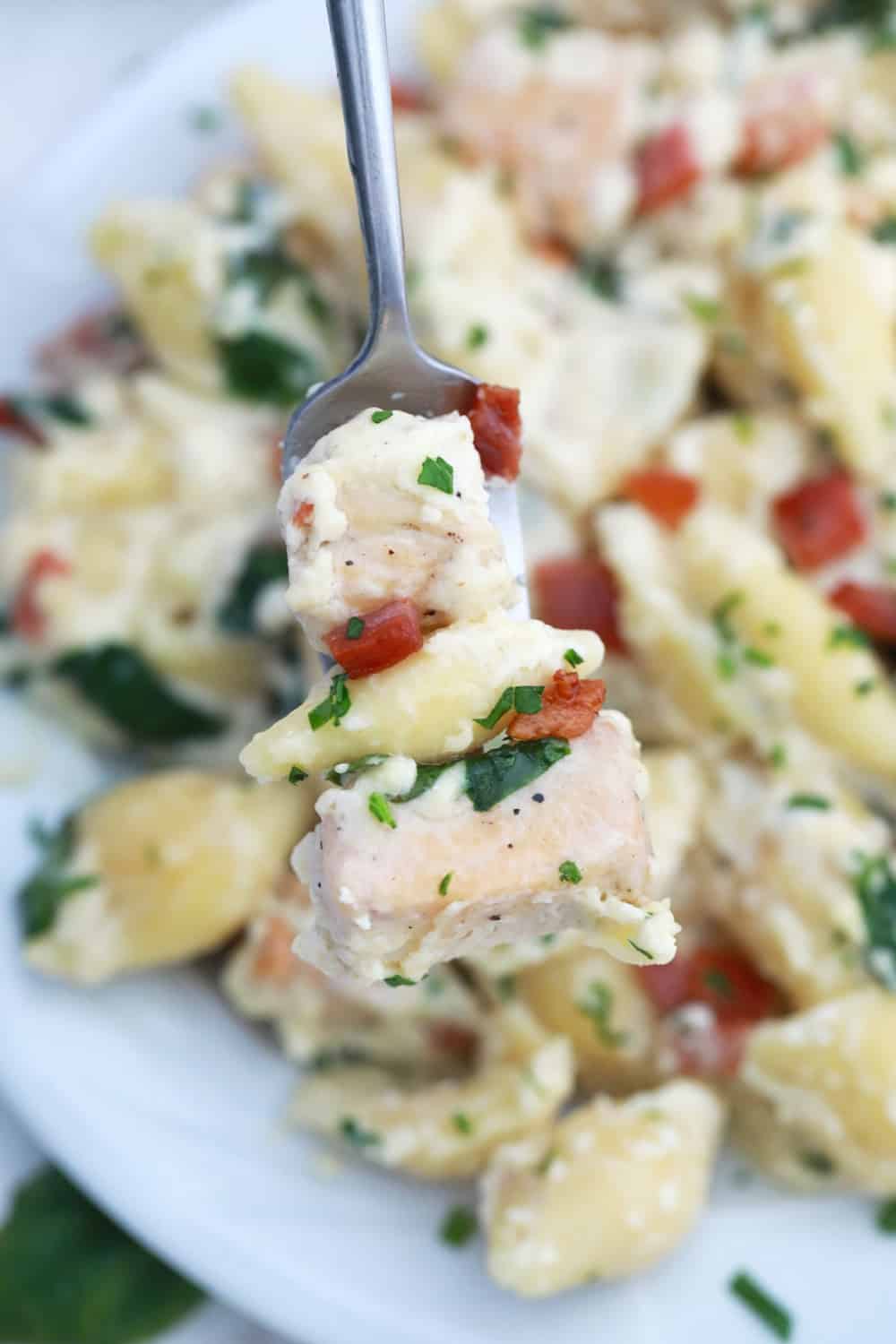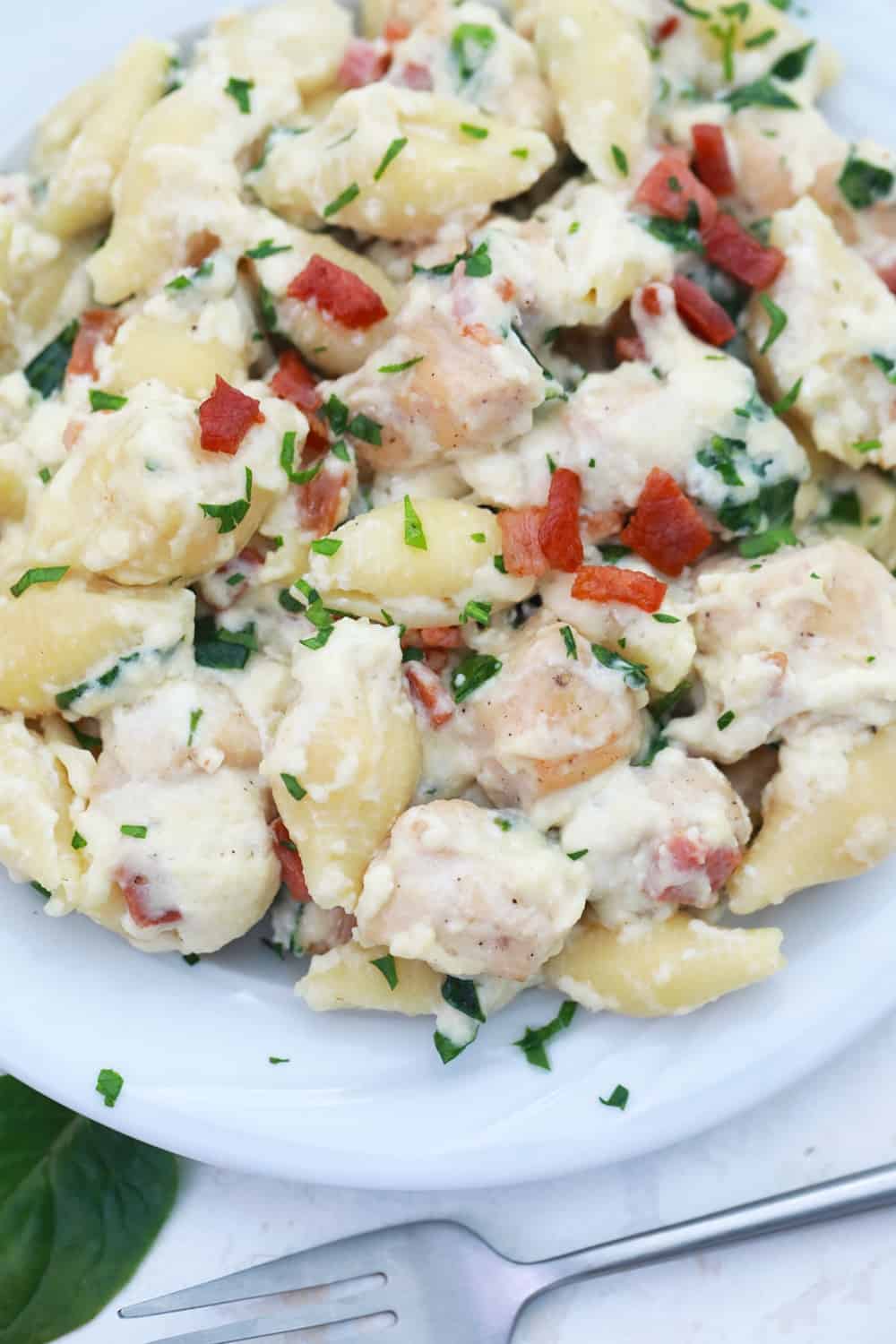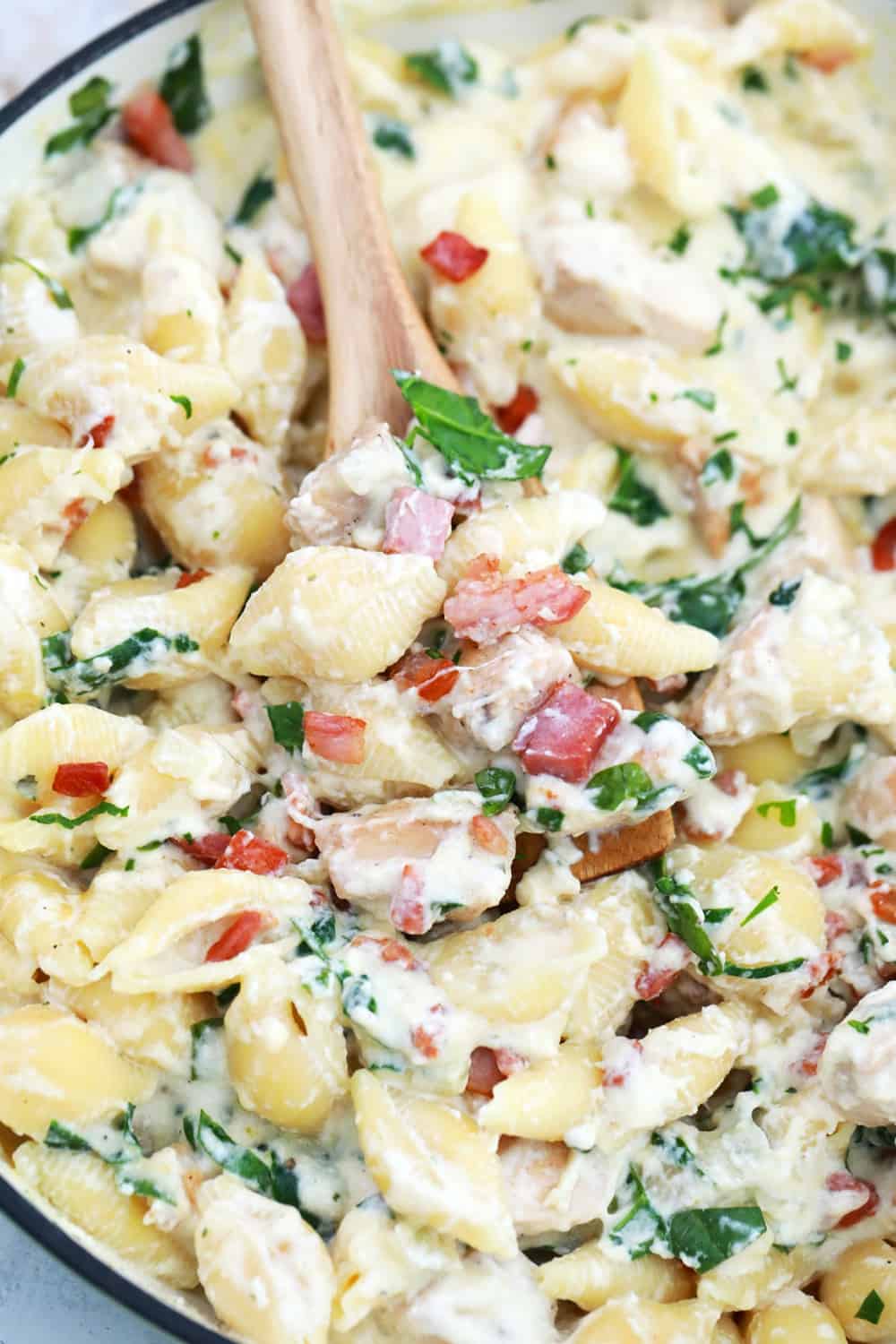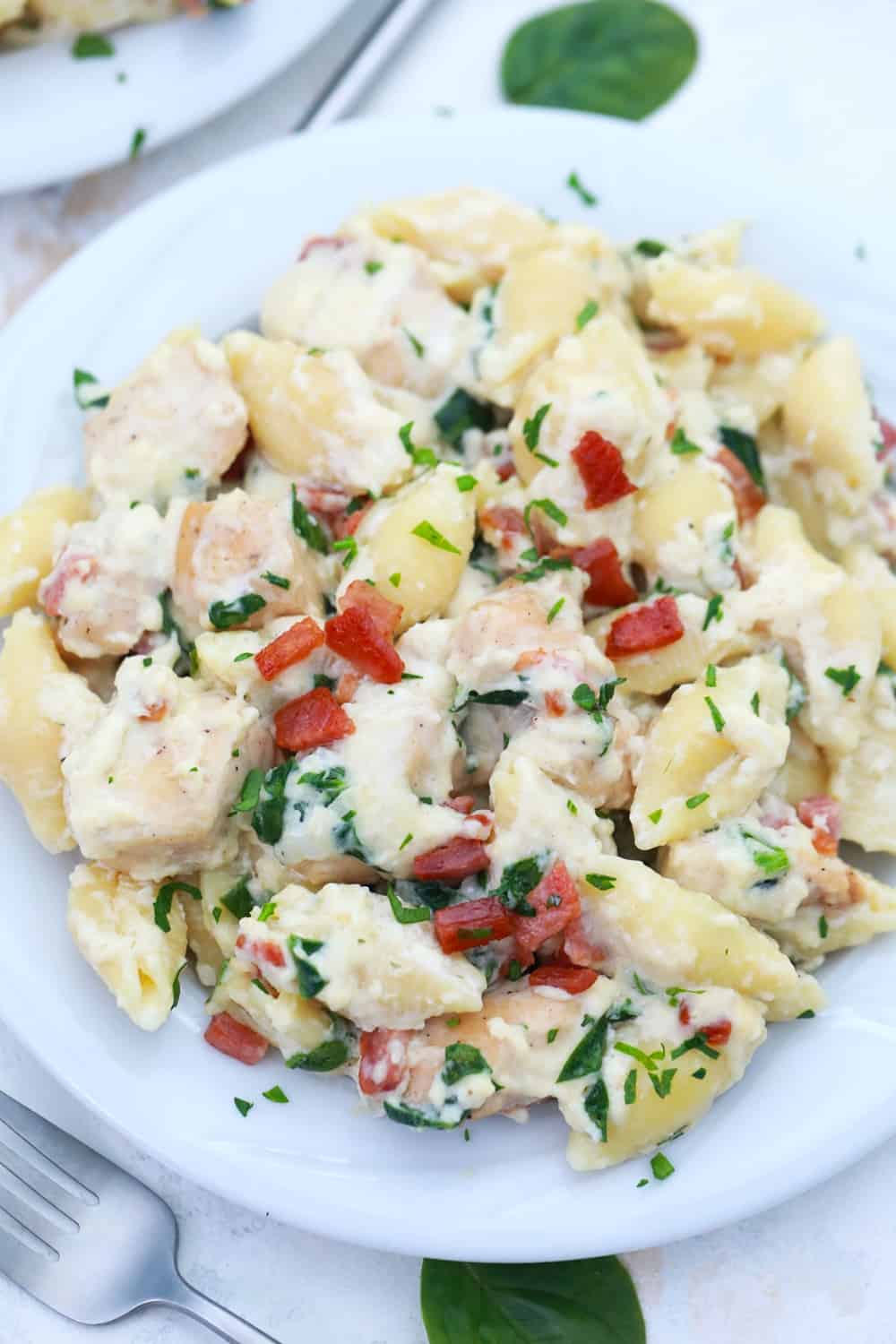 How do you know when chicken is done cooking?
It's really important to make sure that the chicken is cooked all the way. Using a meat thermometer is a simple way to check that the chicken is done. Insert the meat thermometer into the thickest part of the chicken to test the doneness. As long as the temperature is 165 degrees, the chicken should be cooked and safe to eat.
Creamy Chicken and Bacon Pasta – Ingredients
bacon
chicken breast
salt
pepper, to taste
ranch seasoning mix
garlic, minced
onion
milk
cream
small shell pasta
fresh spinach
ricotta
shredded cheddar cheese
shredded mozzarella cheese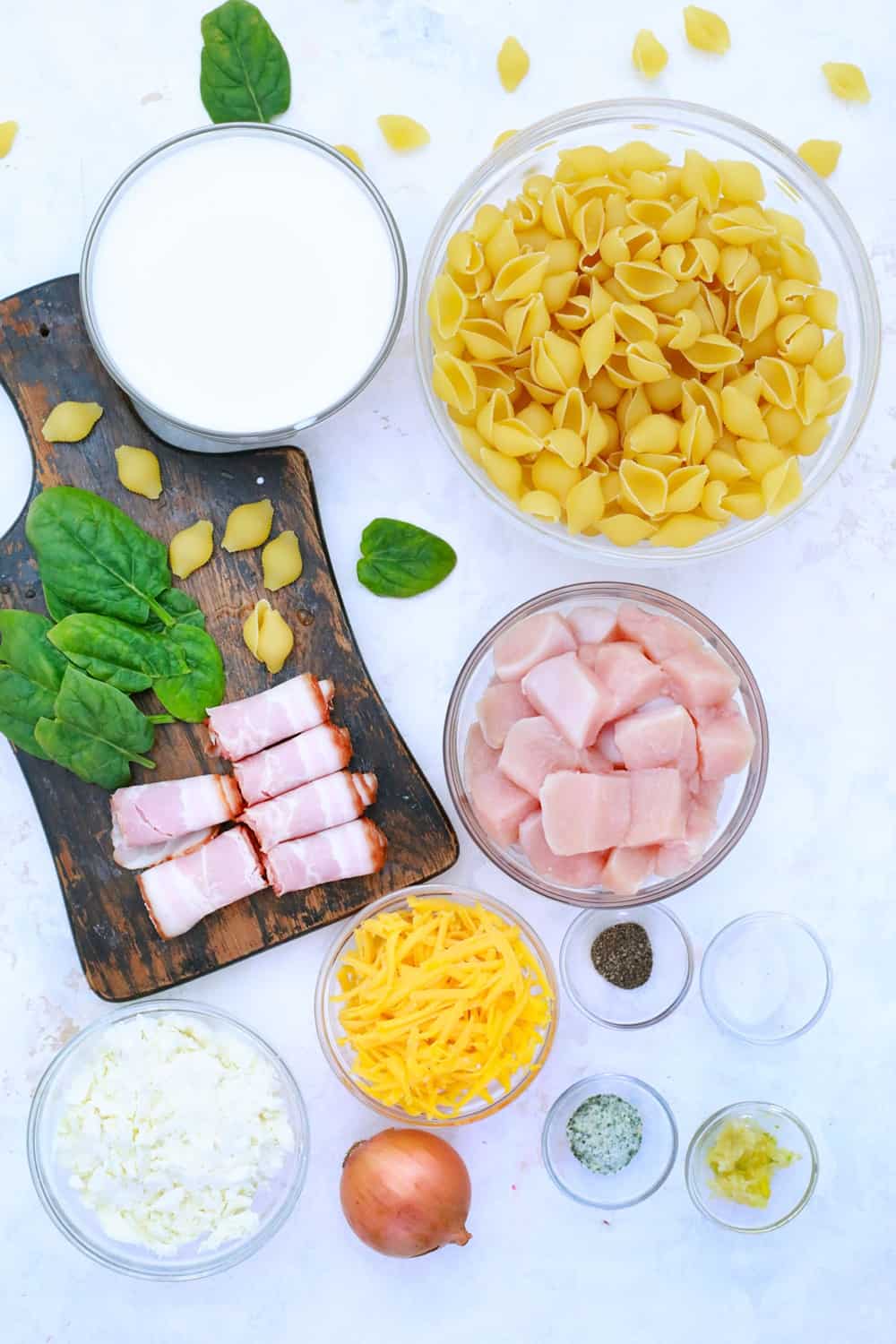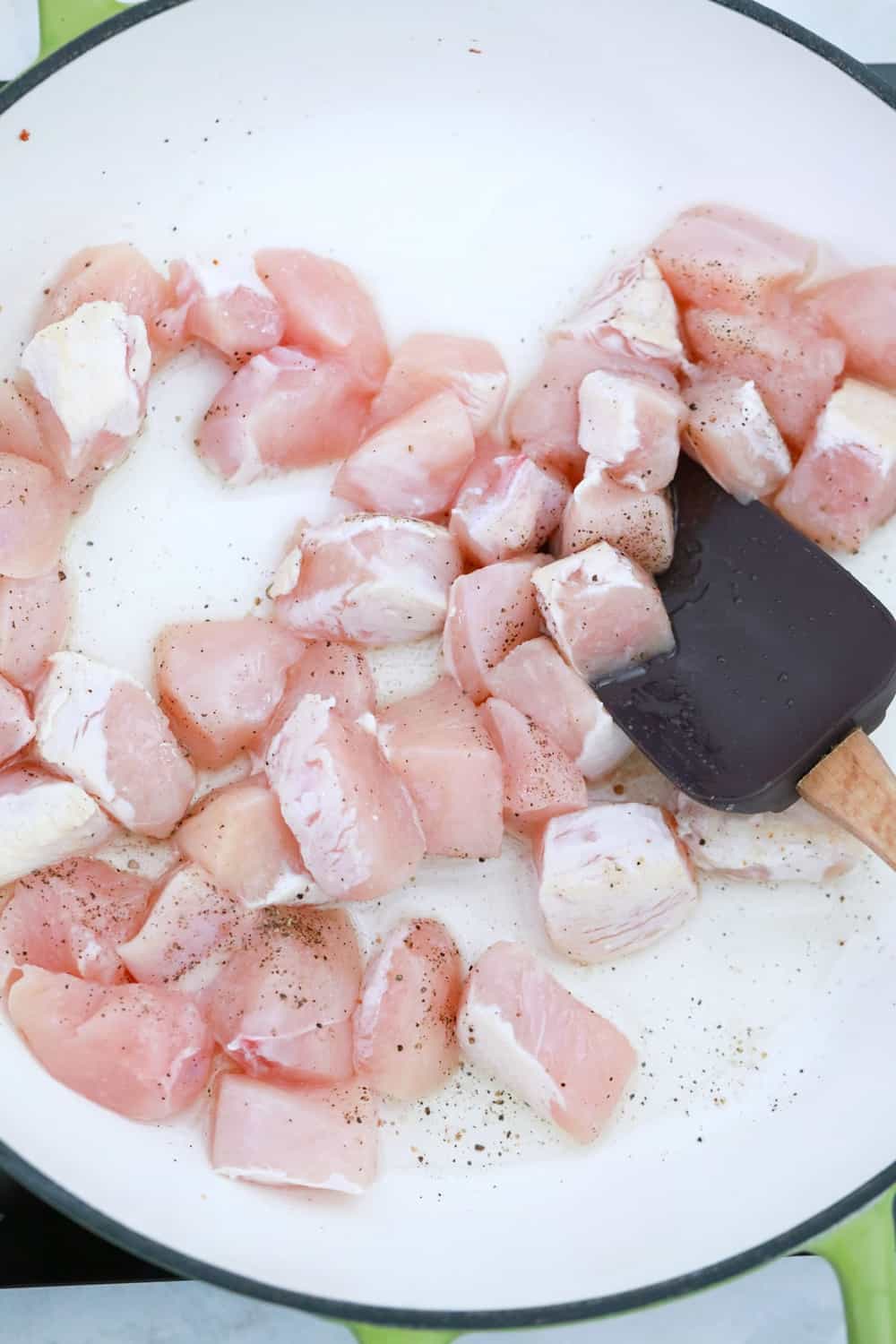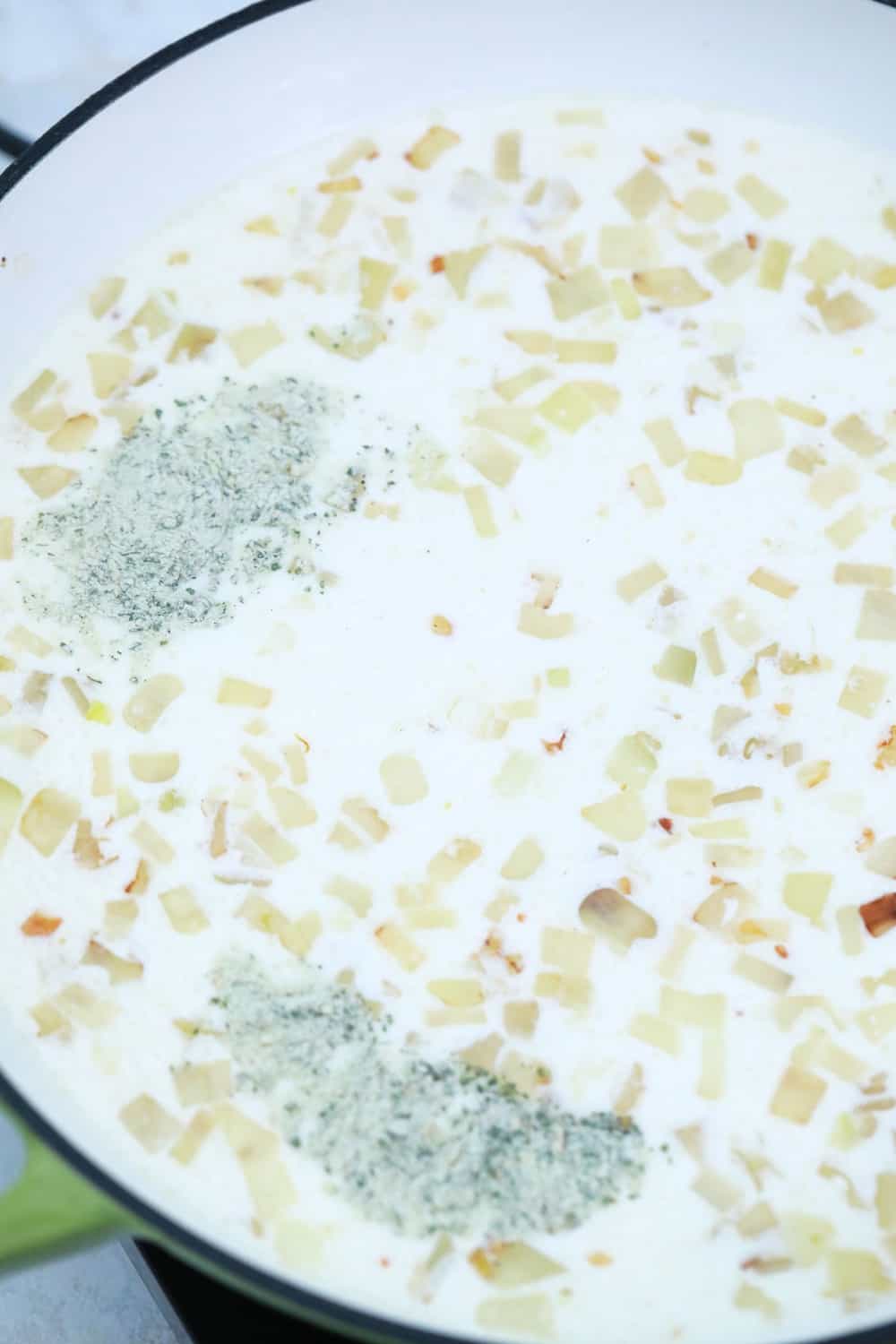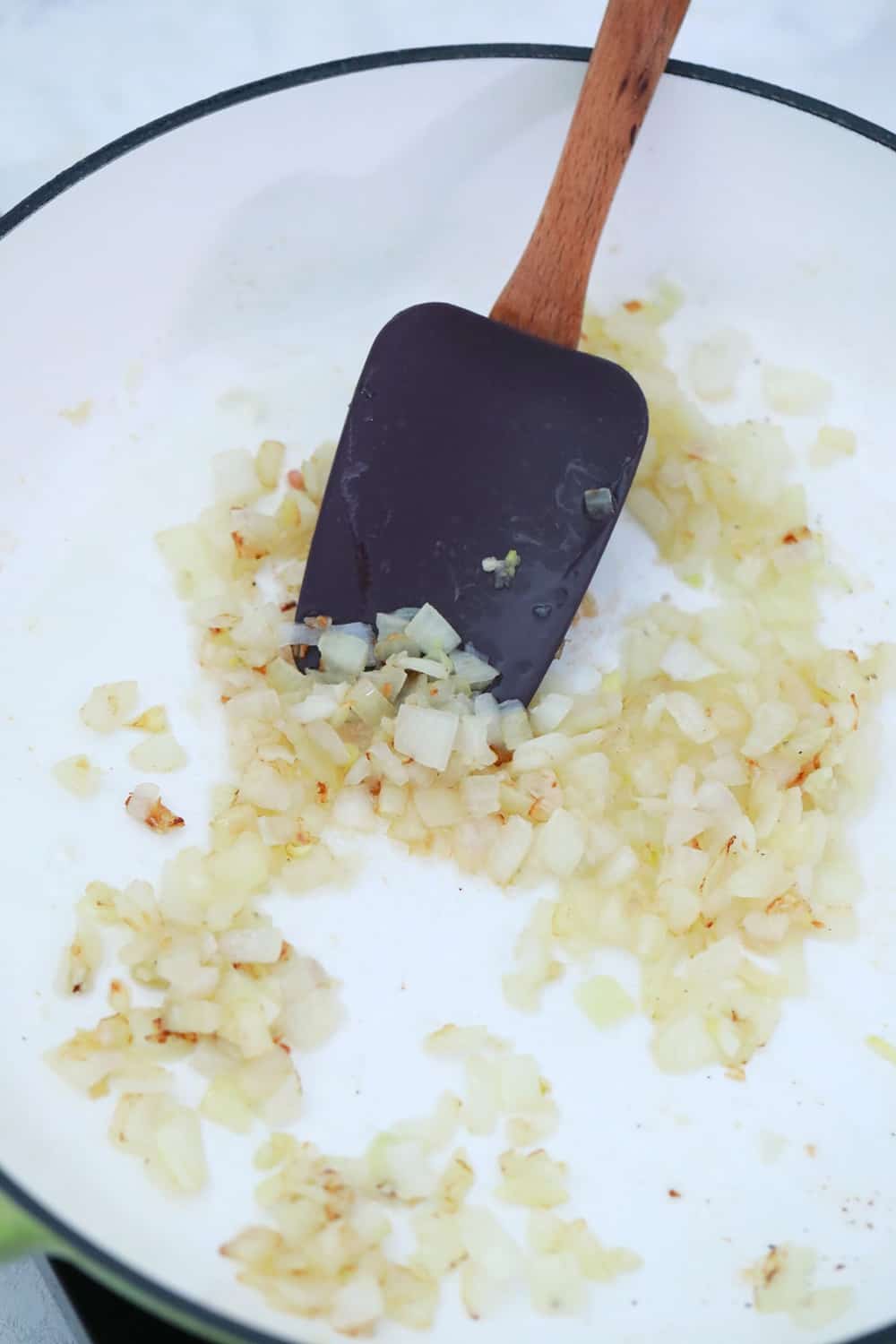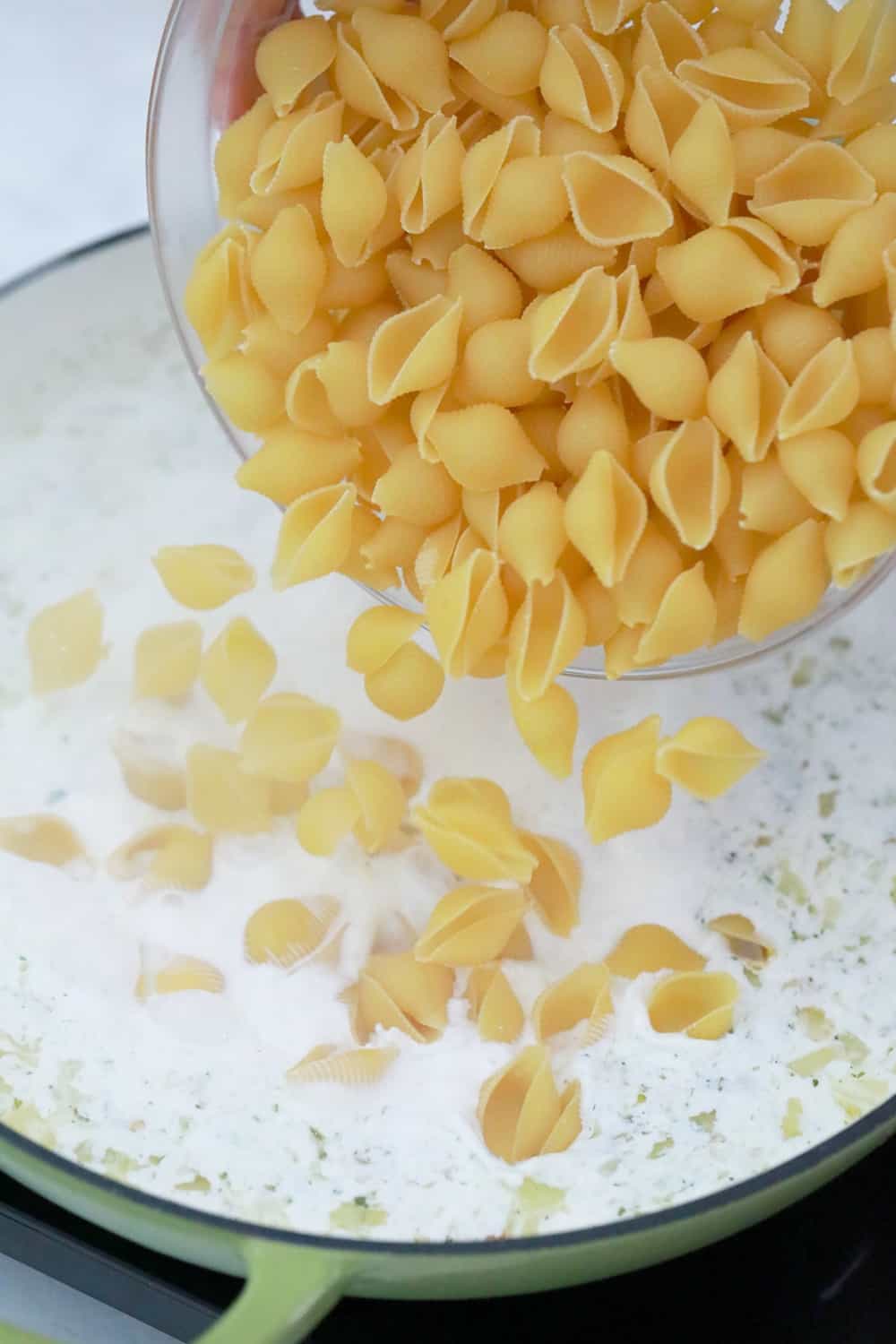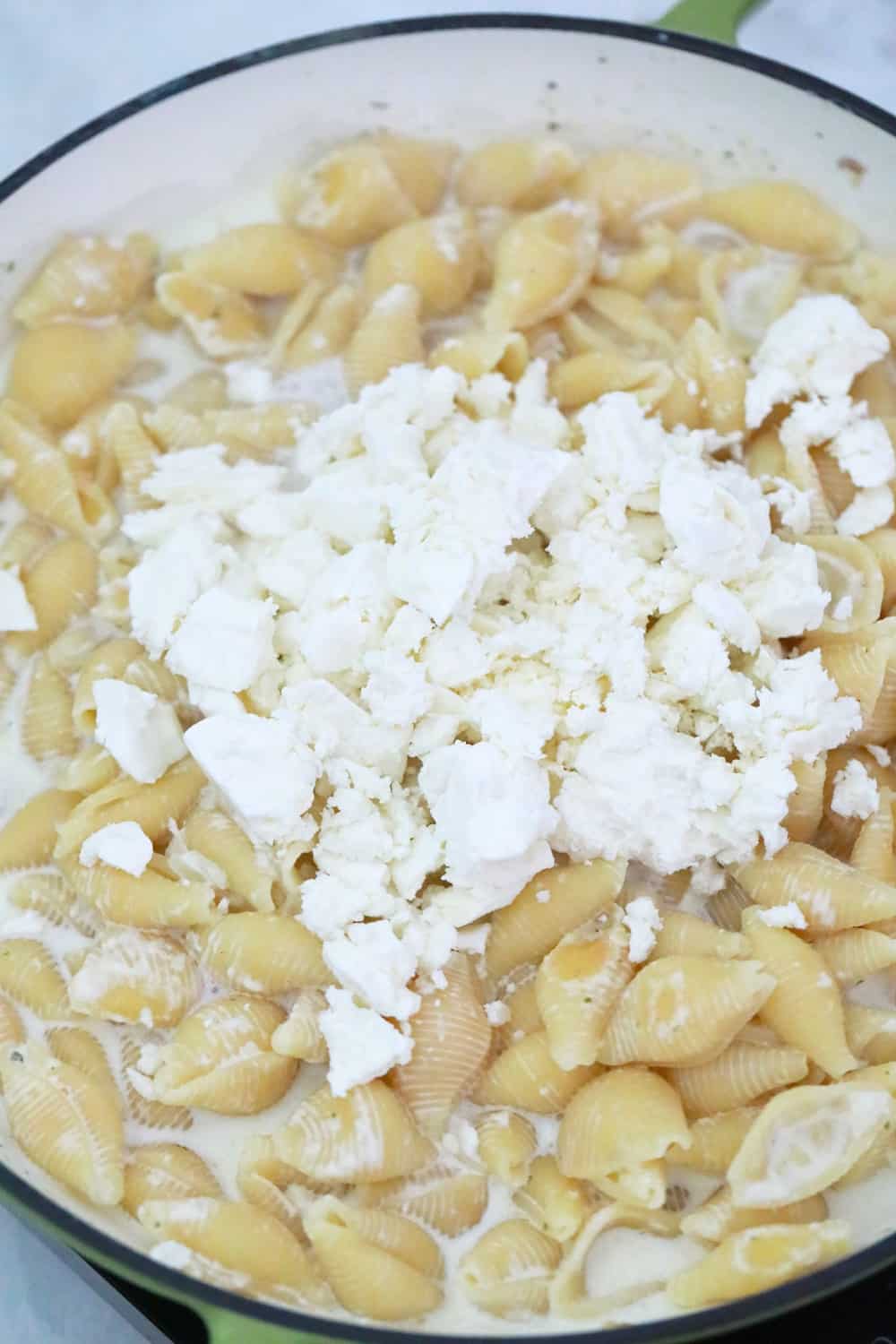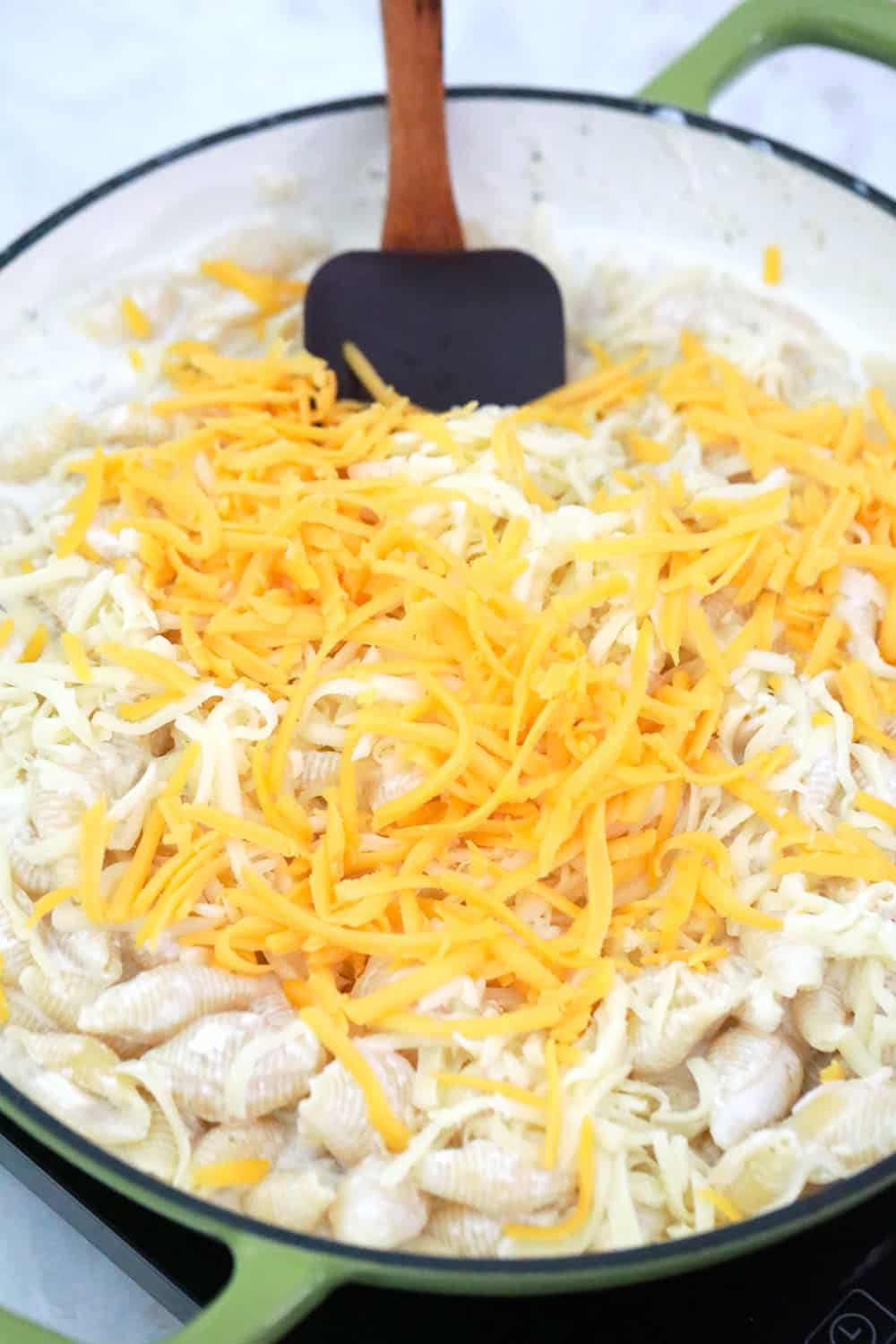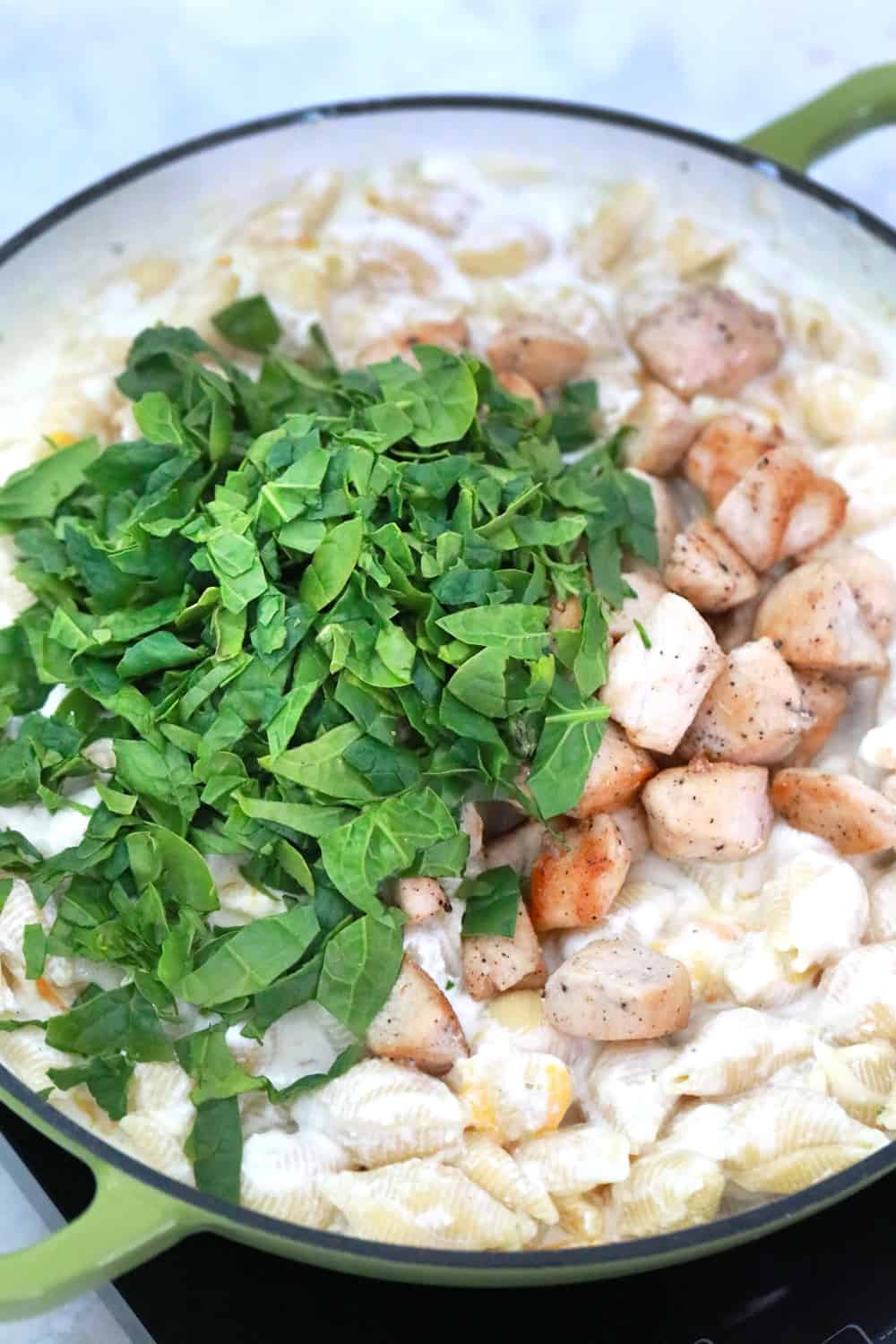 Can you use other greens beside spinach?
I think that kale would also work really well in this recipe. Using one, or both is a great way to add some health benefits to this dish.
How to reheat
If you're lucky enough to have some leftover, store it in the fridge. When you're ready to reheat, use the microwave and heat in 30-second increments until it's hot.
Can you freeze this pasta dish?
It is possible to put this in the freezer and save it for later, but I highly recommend eating this pasta recipe fresh. Just make a plan to eat it within 2-3 days of making it and you won't be sorry!
This chicken and bacon pasta dish is so simple to make! The pasta adds a hearty texture that the kids will love!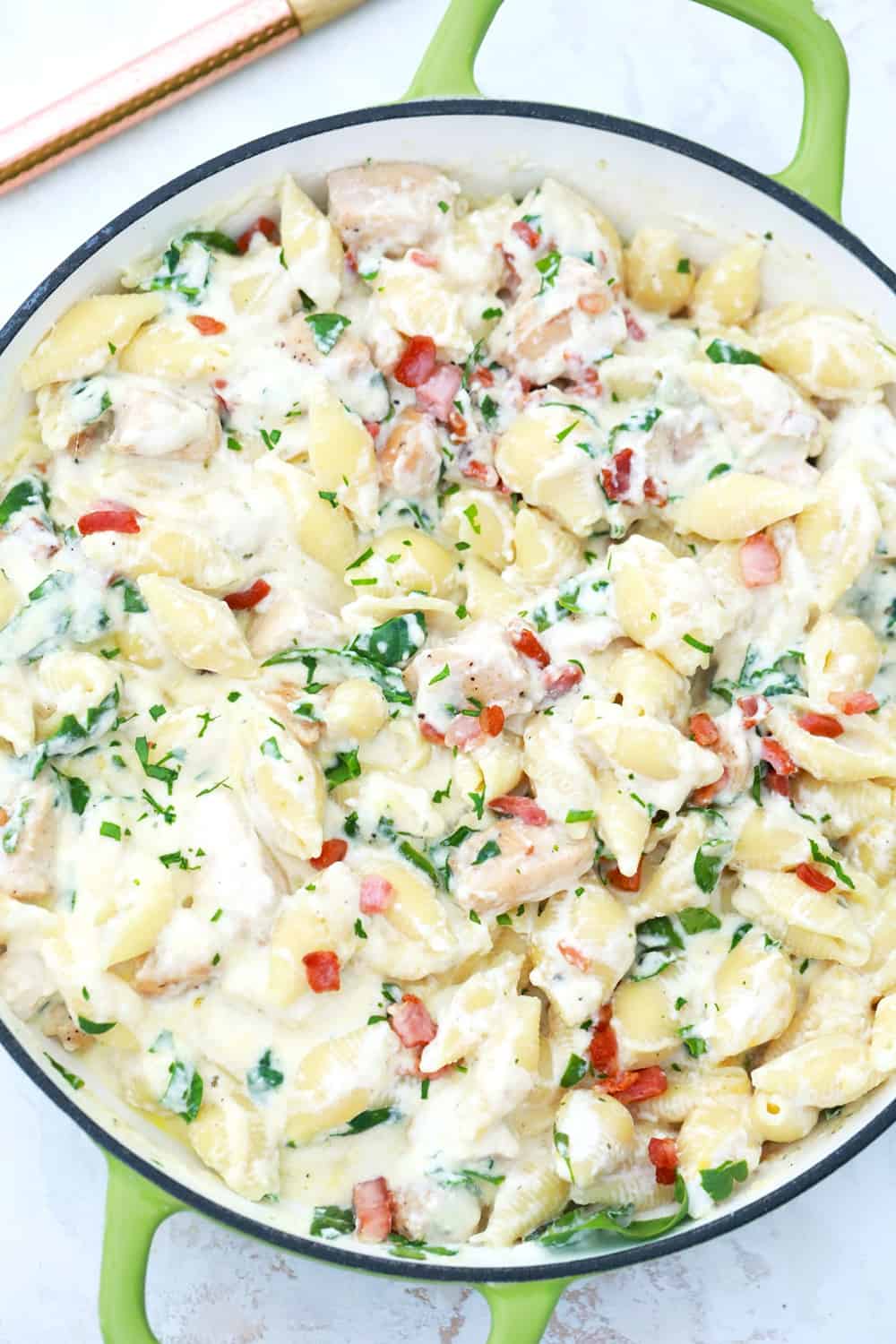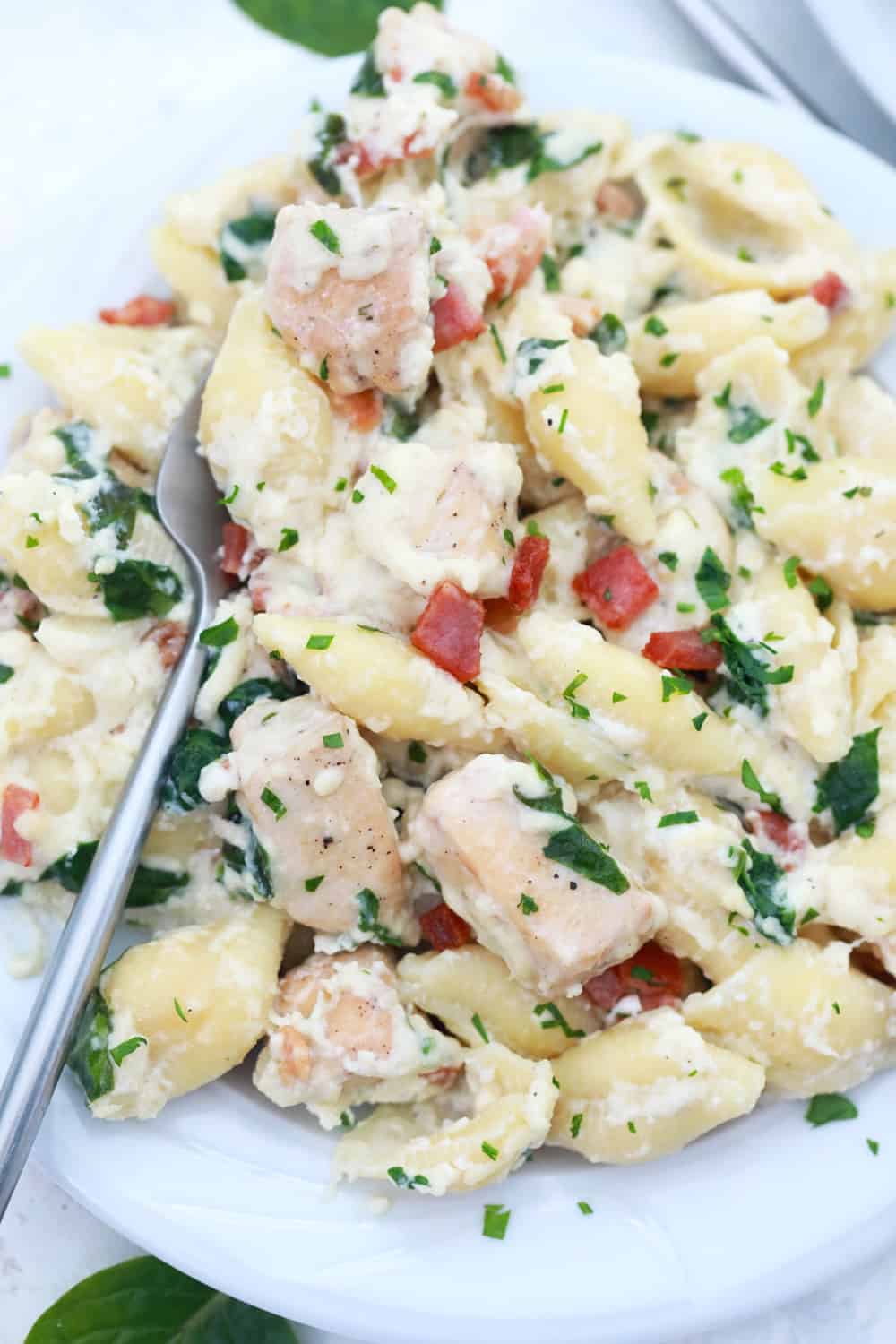 INSTRUCTIONS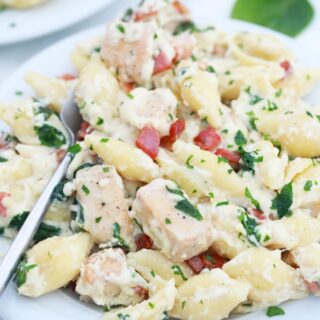 Creamy Chicken and Bacon Pasta
This Creamy Chicken and Bacon Pasta is a fun and easy pasta recipe that everyone in the family will love!
Ingredients
1

lb

bacon, chopped

2

lbs

chicken breast, cubed

1

tsp

salt & pepper, to taste

1

tbsp

ranch seasoning mix

2

cloves garlic, minced

1

small onion, sliced

3

cups

milk

3

cups

cream

1

lb

small shell pasta

2

cups

fresh spinach

8

ounces

ricotta

1/2

cup

shredded cheddar cheese

1

cup

shredded mozzarella cheese
Instructions
Place a large cast iron pan over medium heat. Add the chopped bacon, stir and cook until crispy. Set aside.

Leave only about 2 tablespoons of bacon grease in the pan, and add the chicken, season it with and pepper and cook until browned. Set it aside on a plate.

Add in the onion and garlic. Cook and stir until the onions begin to become translucent.

After that, add the milk, cream, and ranch seasoning, stir and bring the mixture to a boil. Make sure to stir periodically so the bottom does not burn.

Once the mixture is bubbling, add pasta, cook it over medium heat stirring frequently until it reaches the desired doneness, about 10-14 minutes. Add in the ricotta and stir to melt.

Add cheddar and mozzarella cheese. Stir until melted.

Stir in chicken and half of the bacon until well incorporated.

Garnish with the remaining bacon, chopped parsley, and serve.