Follow us on Instagram for more fun food ideas for kids!
These easy Watermelon Popsicles are made using three simple ingredients and are a healthy summer fruit treat for kids.
My kids are always asking for something cool and sweet like popsicles. And while I know that they're likely also asking for ice cream or some type of dessert such as that, I decided that it was time to have a healthy option in the house instead, like these easy watermelon popsicles.
After thinking about the best fruit to do this treat with, I knew that watermelon was a perfect choice. Not only do my kids LOVE watermelon but they also like to have a sweet treat that they can walk around and enjoy.
These two factors combined are what created these delicious Watermelon Pops and I have a feeling that your kids are going to love them as much as mine do as well. (and to be honest, I enjoy eating them just as much as the kids!)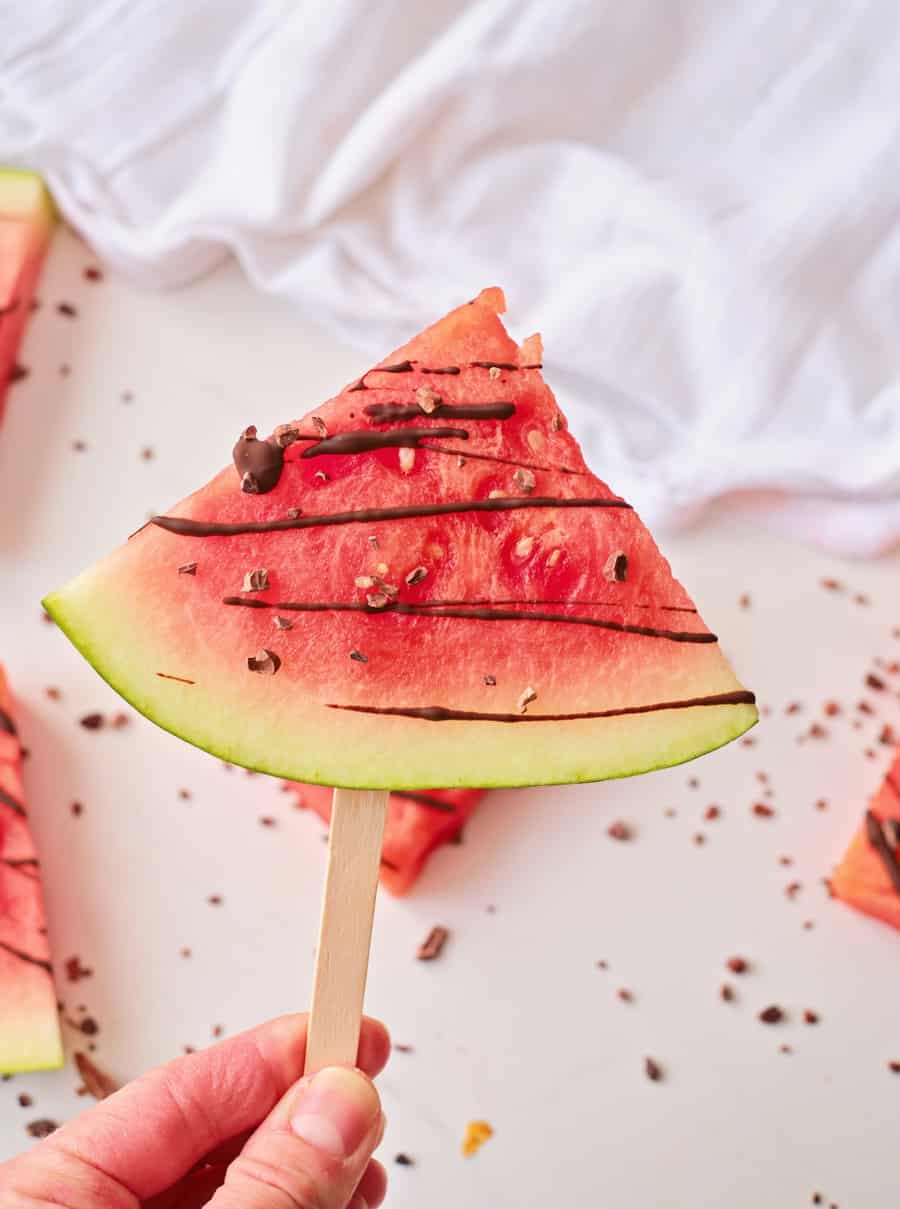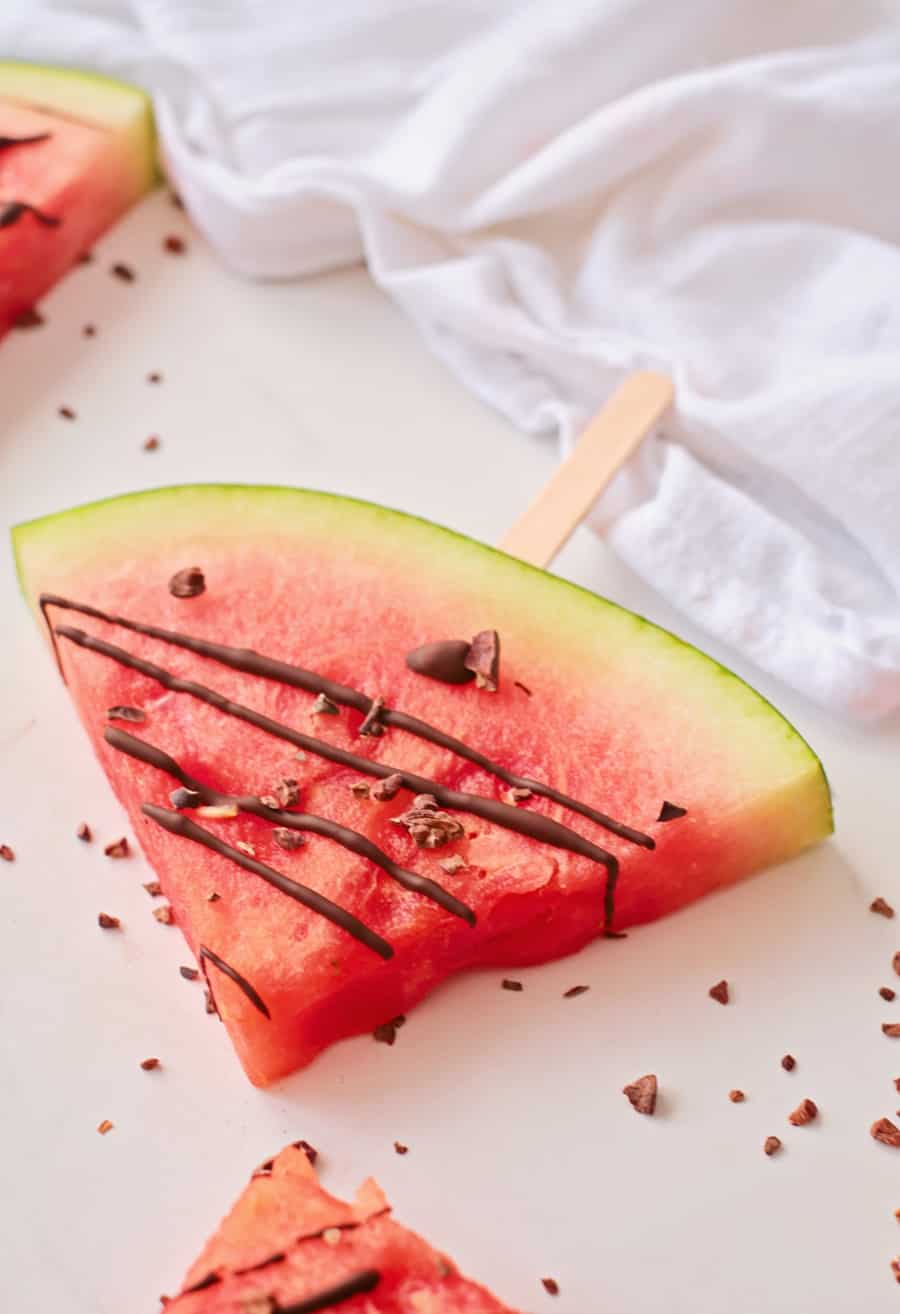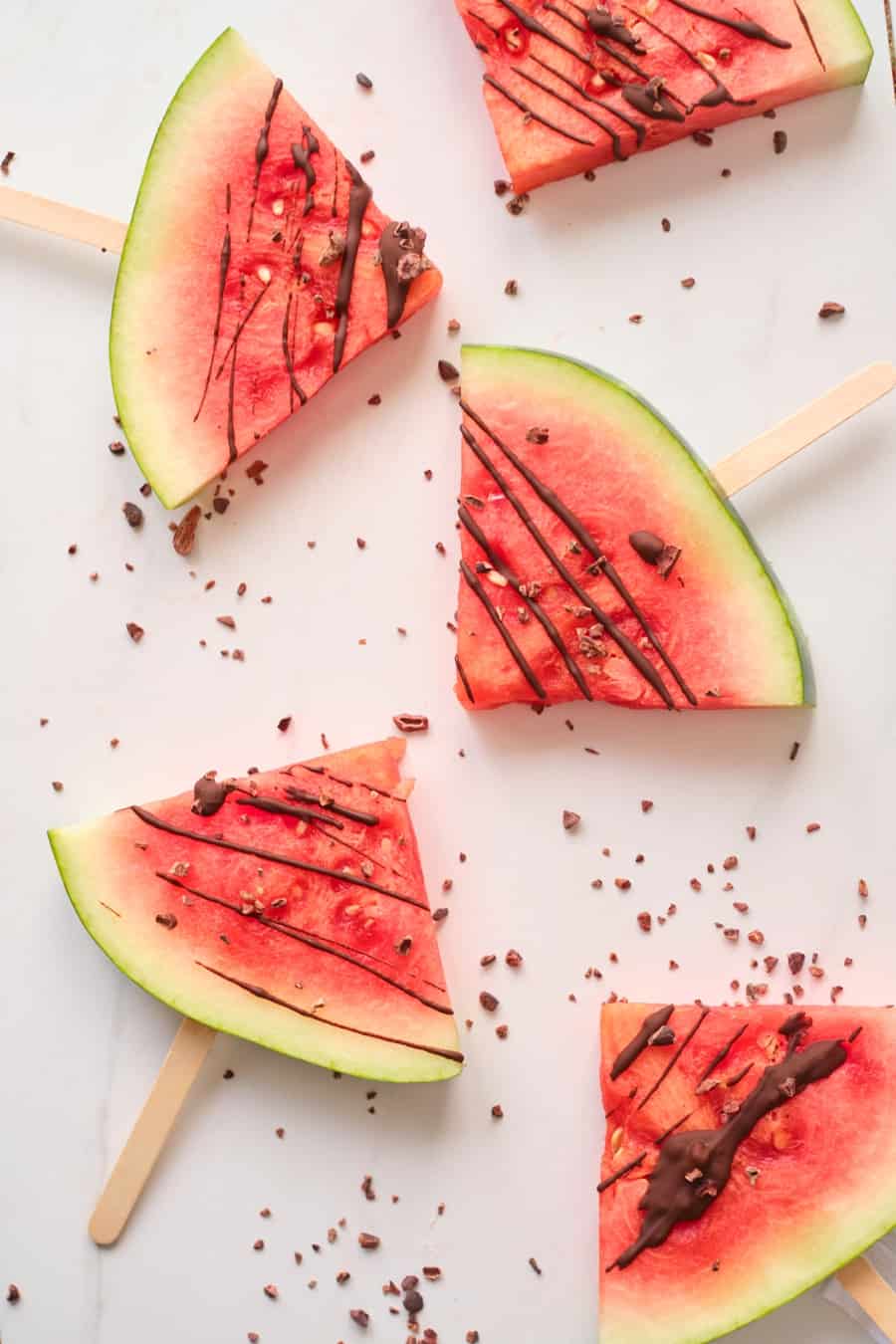 How to tell if a watermelon is ripe
Having a ripe watermelon is important! I've bought a few watermelons in my day so I've learned a few tricks about telling if a watermelon is ripe and ready to eat.
Be certain to tap it with your knuckles. A ripe watermelon should have a hollow sound to it.
Look for a watermelon that has a yellow spot on it. This is where the watermelon was sitting and ripening and indicates that natural sugars gathered in that area. Natural sugars = natural sweetness.
If you can follow those simple tips, you're well on your way to getting a ripe watermelon.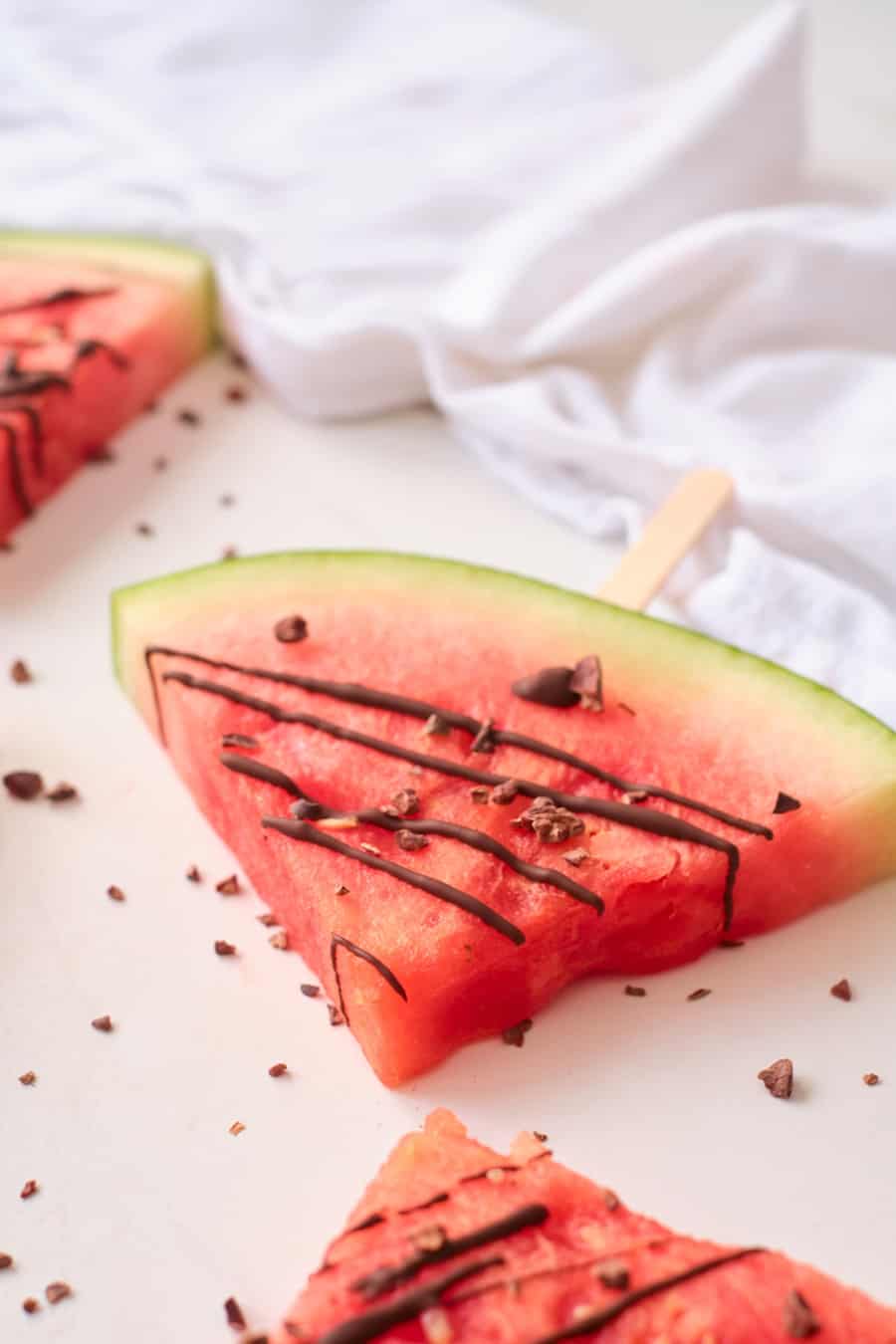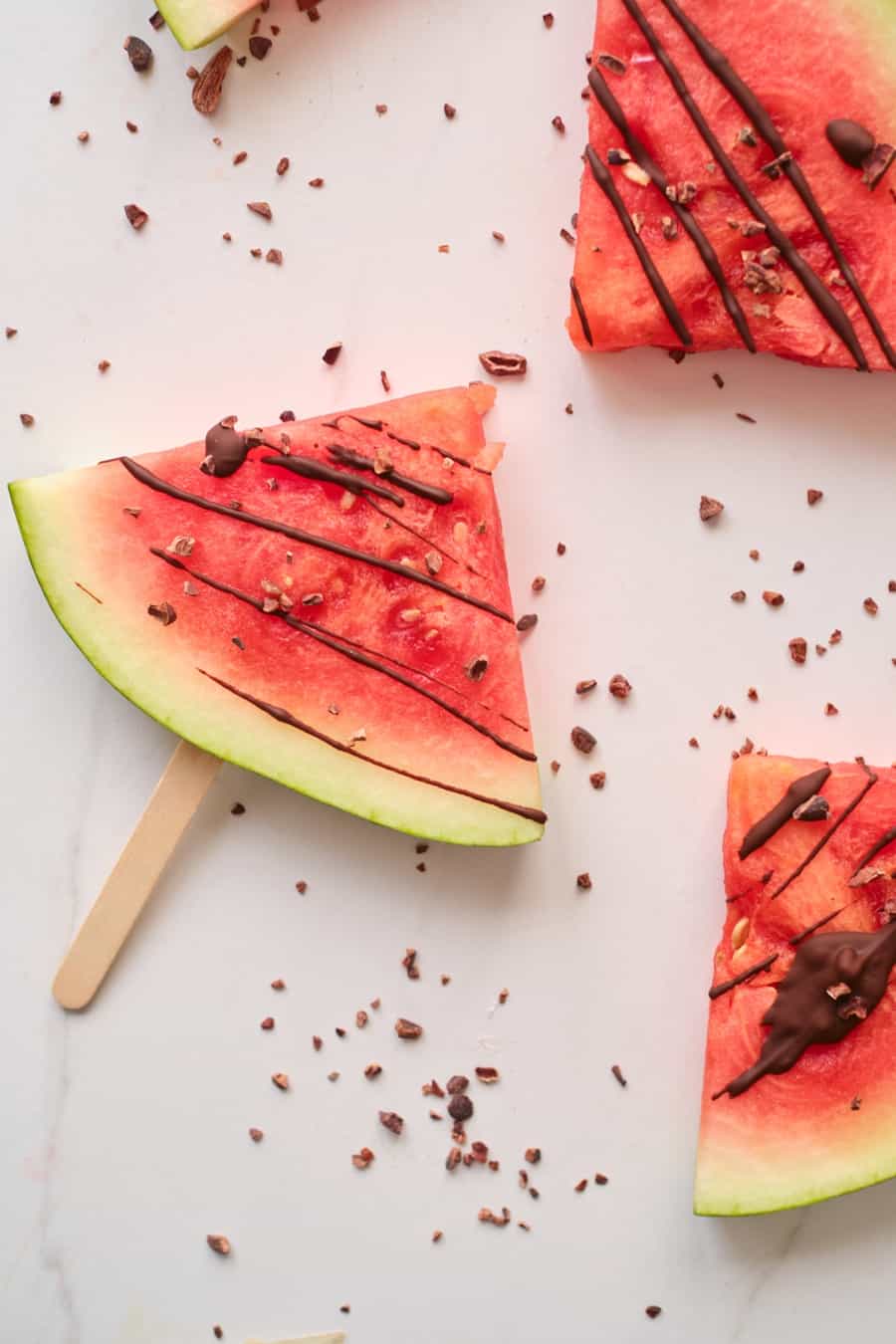 How to cut a watermelon
Since you're going to be cutting this watermelon into triangles, the best way to go about this recipe is to cut the watermelon in slices first. When you have the watermelon in slices, you can then cut each individual watermelon slice in 6-8 triangles, depending on how big you want them to be.
Watermelon Popsicle Recipe – Ingredients:
All you need to make this delicious watermelon recipe are the three simple ingredients listed below.
Watermelon
Chocolate
Cacao nibs
You're also going to want to have popsicle sticks to put the watermelon slices on!
Once you've gathered up the easy ingredients, it's time to get started on this simple recipe.
The kids are going to love this delicious pop recipe and crave this sweet taste. You can always make these up ahead of time as well and have them chilled and nice and cool in the fridge.
These Watermelon Pops are perfect for a hot summer day or a fun snack when they're coming from the pool. I literally keep this recipe made up and ready for the kids during any time of the year. As long as I can get a ripe watermelon, this recipe is one that I'll make forever and always. (and I think that the kids will forever request this simple treat, too!)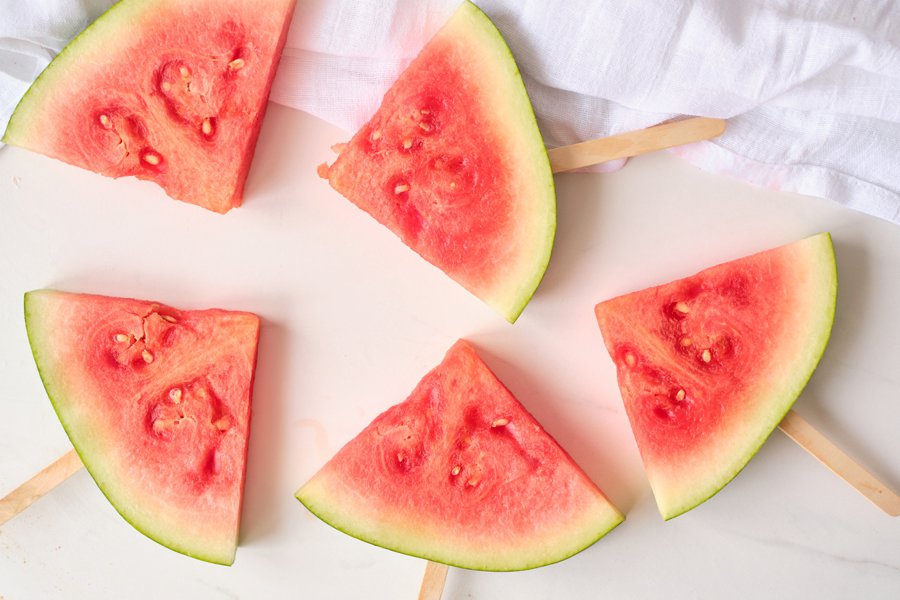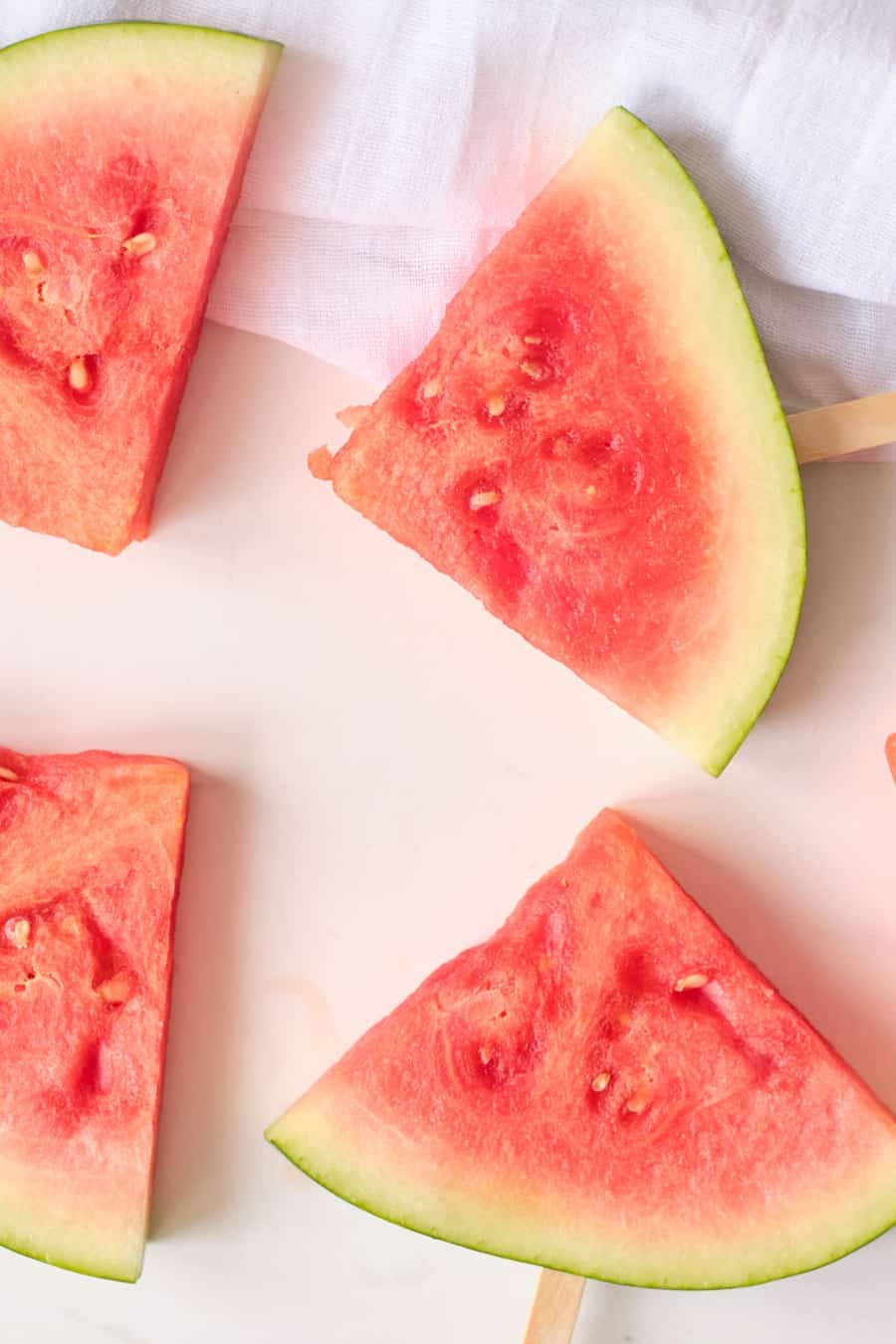 Watermelon Popsicles
These Watermelon Pops are an easy and healthy fruit treat to make! Great summer treat!
Ingredients
Sliced watermelon

Melted dark chocolate

Cacao nibs

Popsicle sticks
Instructions
Start by cutting the watermelon into triangles.

Once they're cut, insert the popsicle sticks into the watermelon rind. You may need a knife to make a cut first to make it easier.

Drizzle with chocolate and add the Cacao Nibs.

You may wish to set them in the fridge for several minutes or until the chocolate has hardened to conain any drippy mess.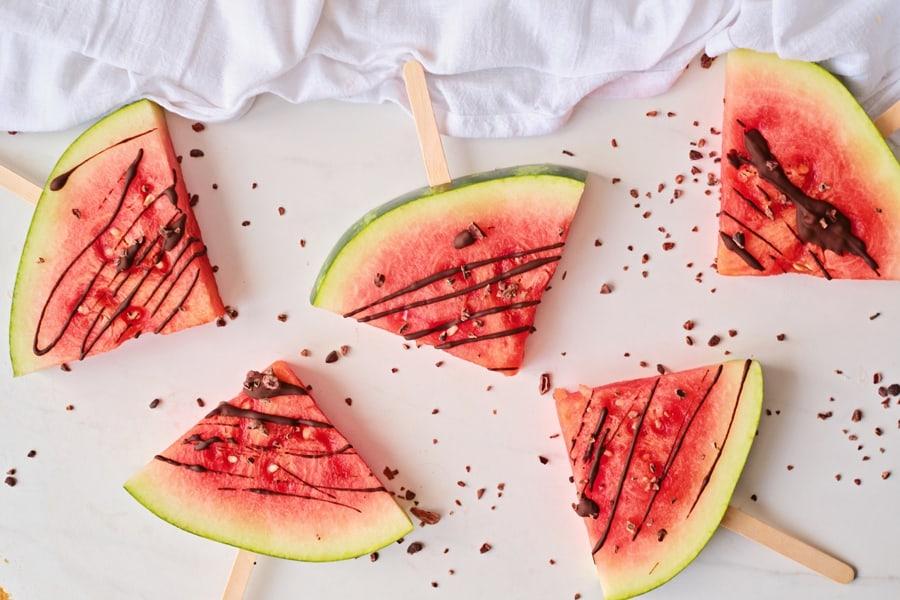 More Fruit Recipes