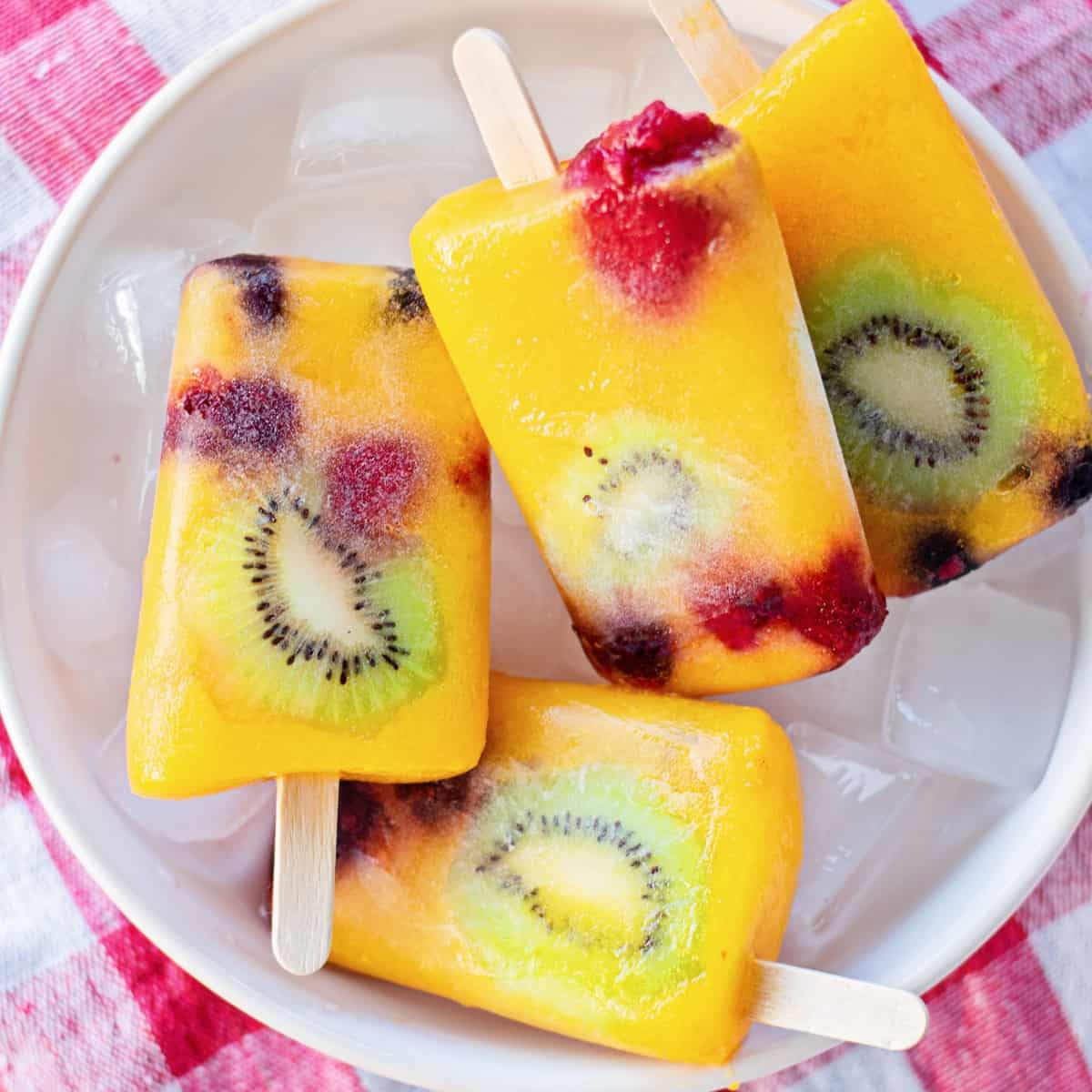 Follow us on Instagram for more fun food ideas for kids!
These Mango Fruit Popsicles are the perfect summer frozen treat. With only four ingredients, they're easy, healthy and delicious!
Summer is officially here and all we want to eat are frozen treats like these yummy Mango Fruit Popsicles.
We all know that kids love popsicles. (and let's be honest – adults do as well!) But the ones that they sell at the store are packed full of sugar and dyes that just aren't all that healthy or thrilling to think about.
And while I want my kids to have the fun of popsicles in the hot summer sun, I'm just not okay with them filling their body full of junk that doesn't offer any type of health benefits. Yes we do indulge in store bought frozen treats at times, but I also want to show them making your own is easy and much healthier!
This is why we've created these simple mango fruit popsicles for the kids to eat instead. Not only are they packed full of healthy fruit and ingredients but they really do taste quite amazing!
You know you're hit a home run with a recipe with the kids are begging you to make it over and over again. I just can't so "no" when they're asking for a healthy treat!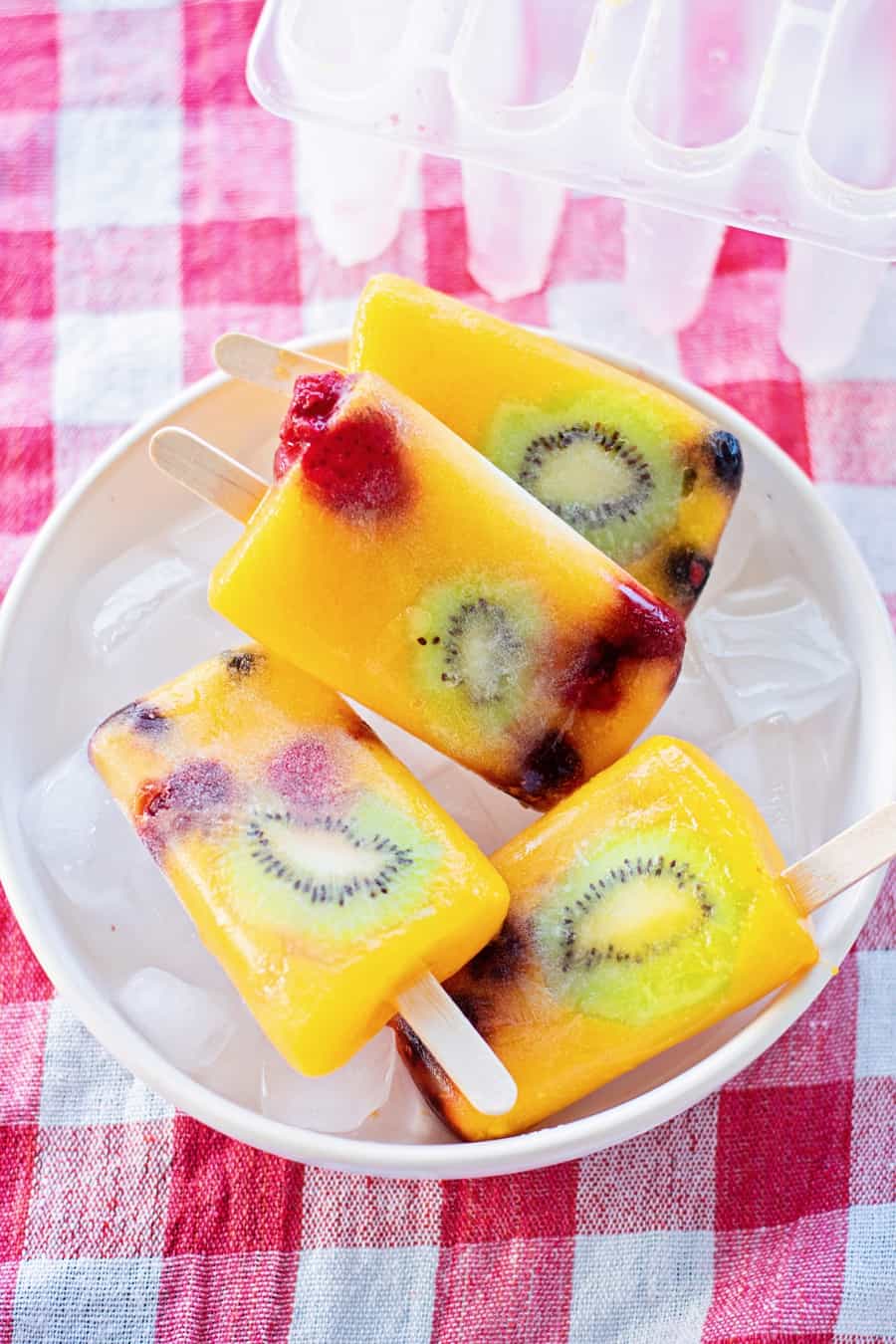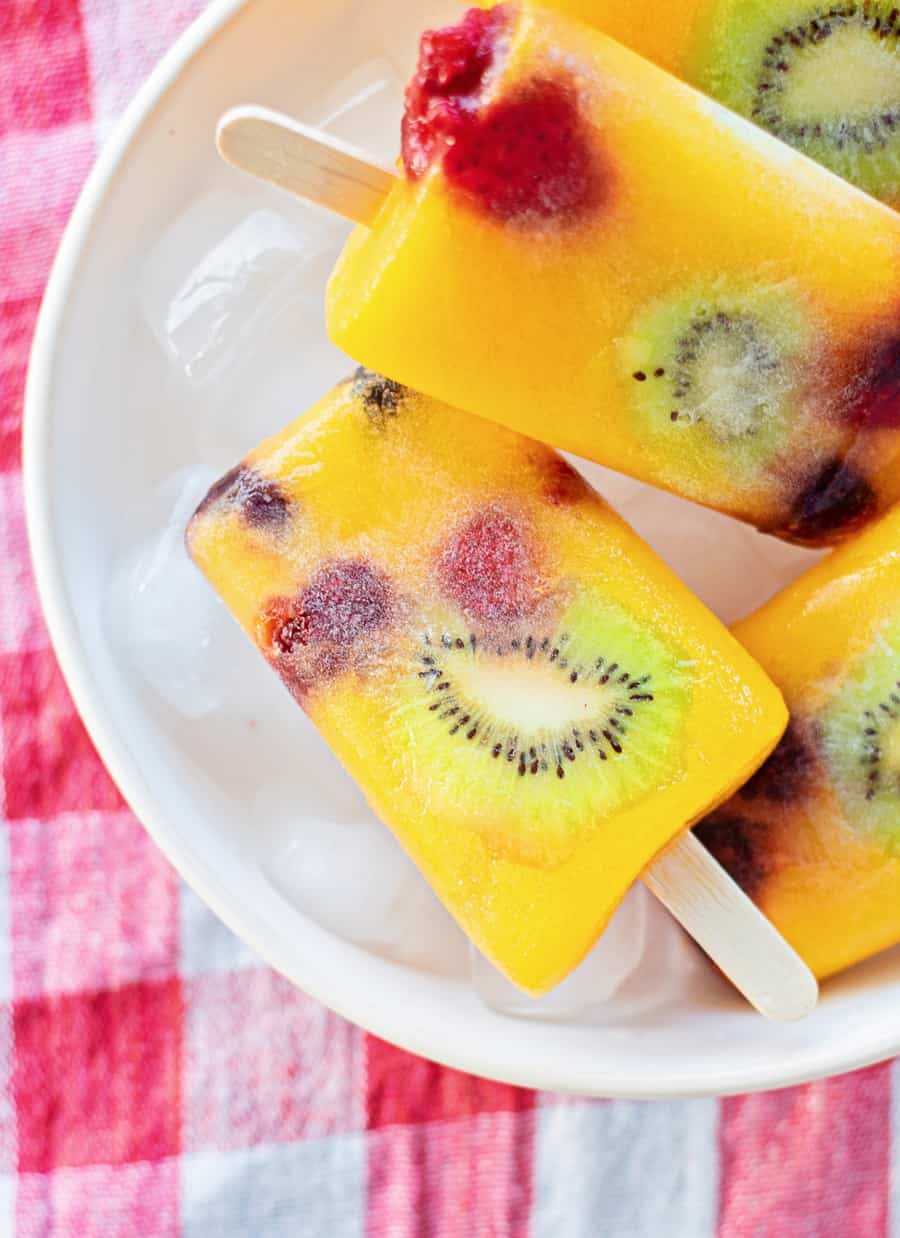 Can you add other fruit to this homemade popsicle recipe?
You can. We just really happen to like kiwi and berries but you can totally branch out and experiment with this recipe. I also think that pineapple would be really, really good, and even some cut up pieces of watermelon, too.
If you choose to add fresh fruit, just be certain that you wash them all well before adding them into the recipe. If you use frozen fruit like we did, it's even easier and there is no need to wash. It's also important to add in fruit that is softer in texture so that it's easy to blend and swallow as well.
There are so many great fruit ingredients that you can add-in. From peaches to berries or any type of of sweet fruit that is certain to be a hit.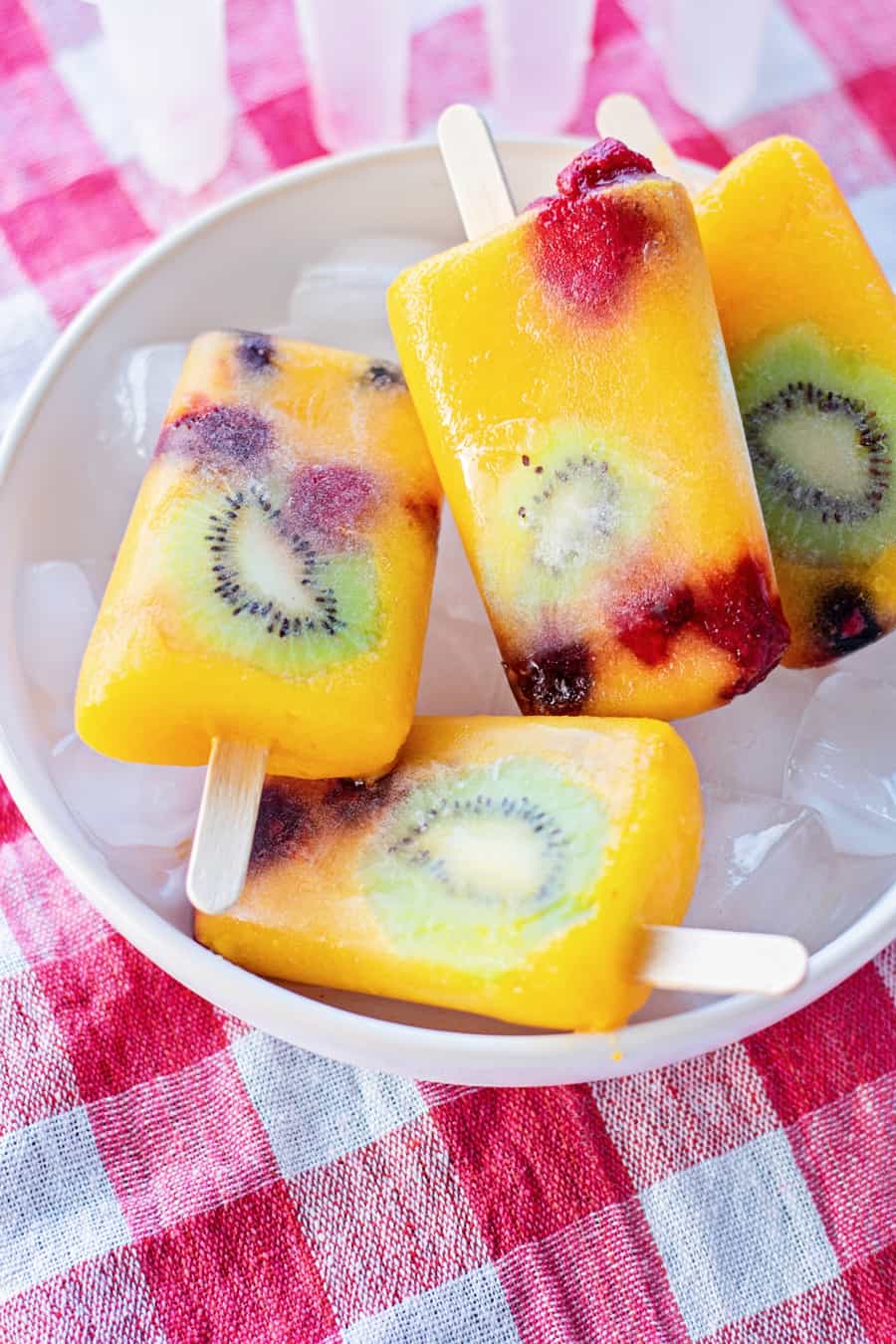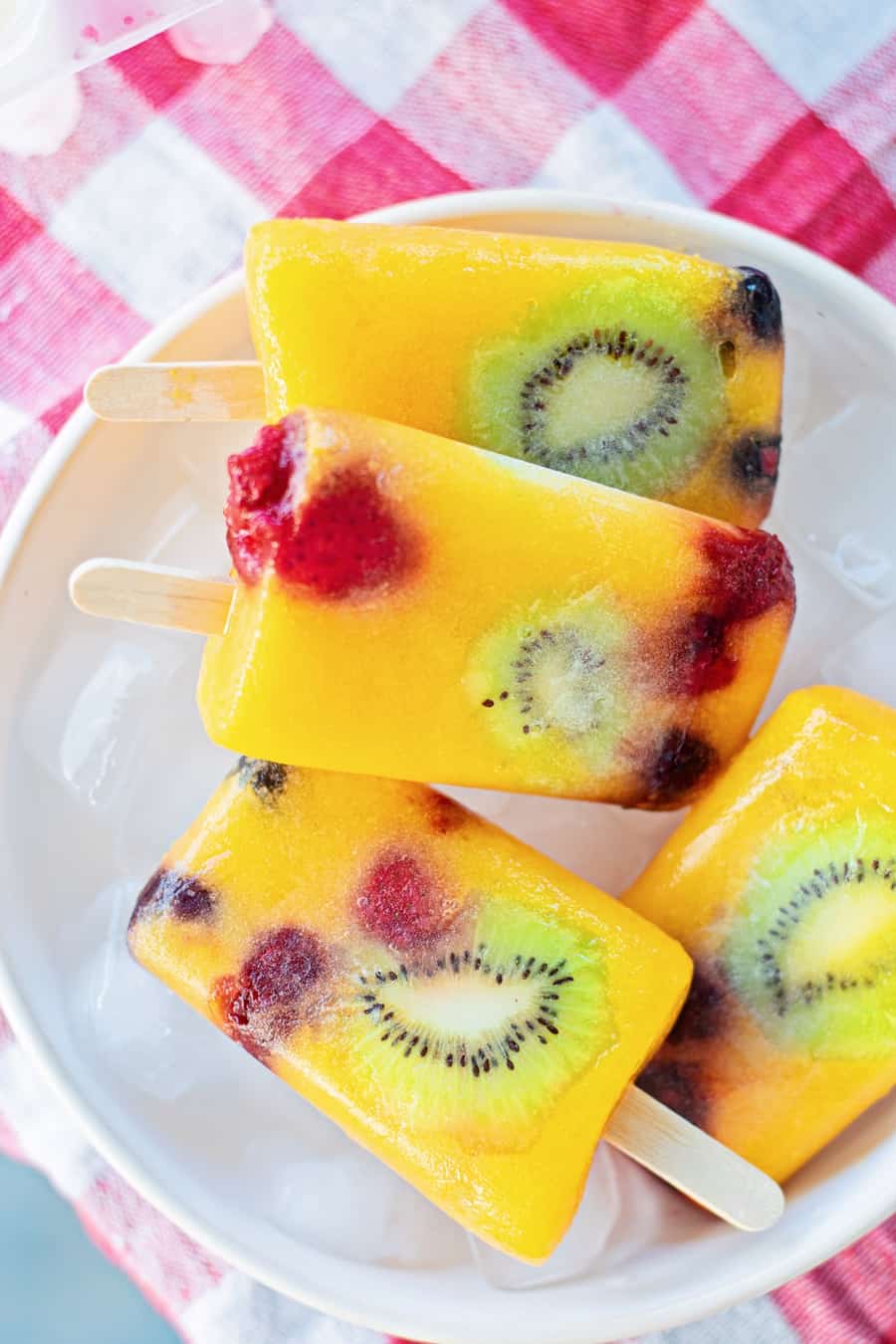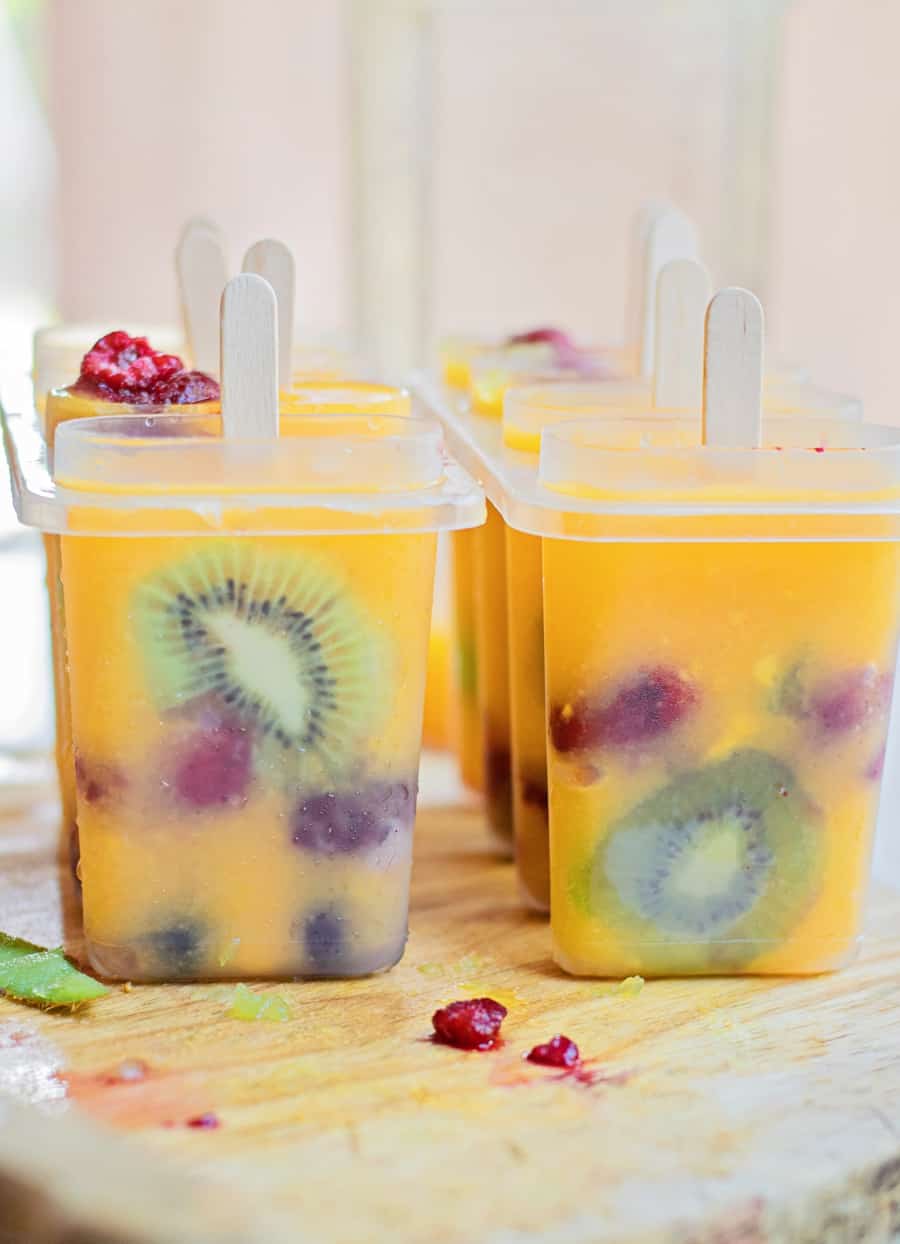 How long do these mango popsicles take to freeze?
You'll have to remind that kids that patience is important for this recipe or the frozen pops are not going to set up and form properly. They'll need at least 8 hours in the freezer but I've found the best success when I've made them later in the evening and let them set in the freezer overnight.
I also think that you might want to plan ahead a bit and make a double batch in the beginning. This is because the kids are going to love the taste so much that it's going to be a good idea to have a backup for them to enjoy as well.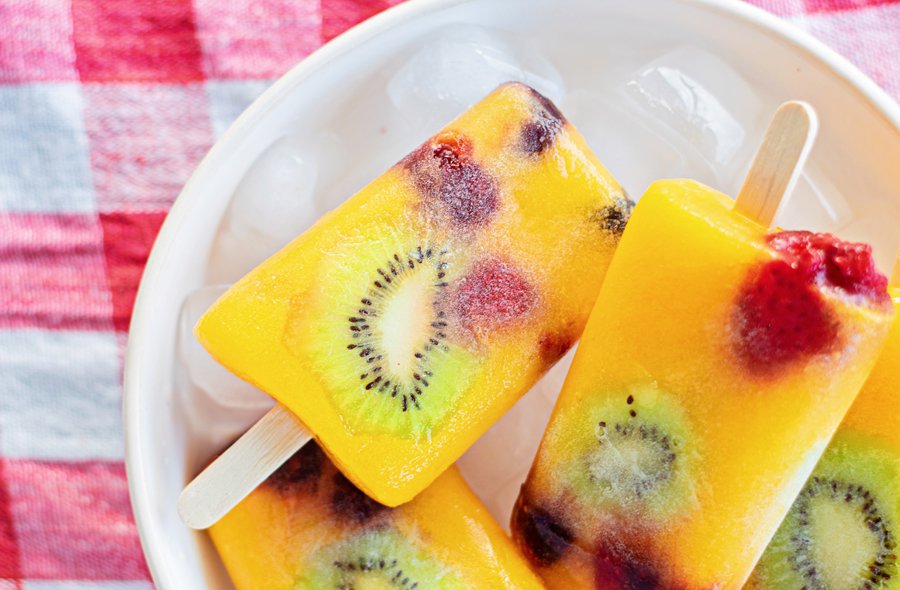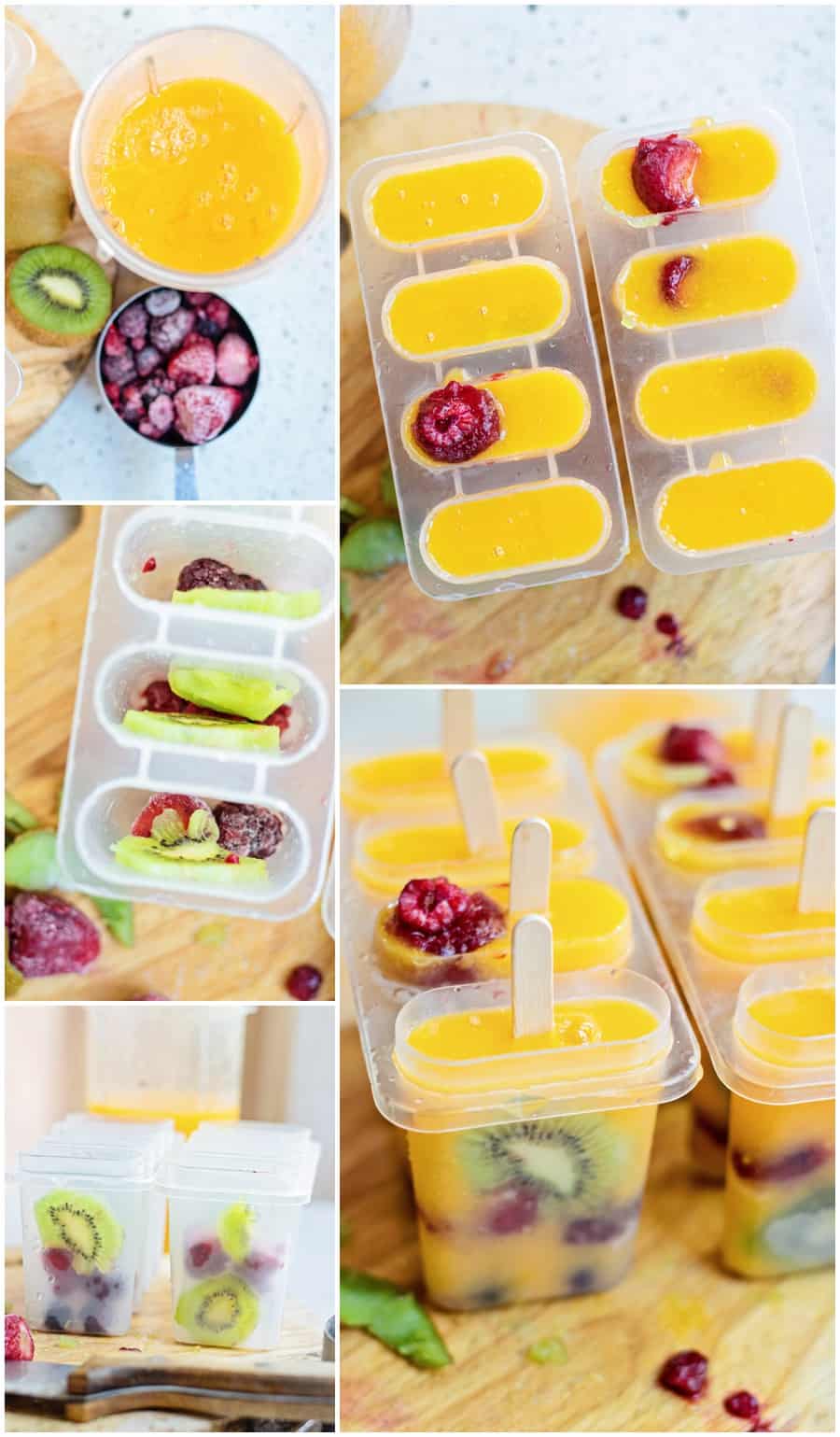 Mango Fruit Popsicles – Ingredients
Frozen mango

Water

Kiwi

Frozen berries
And most importantly, you'll need to have popsicle molds so that you can add in the mixture and freeze it.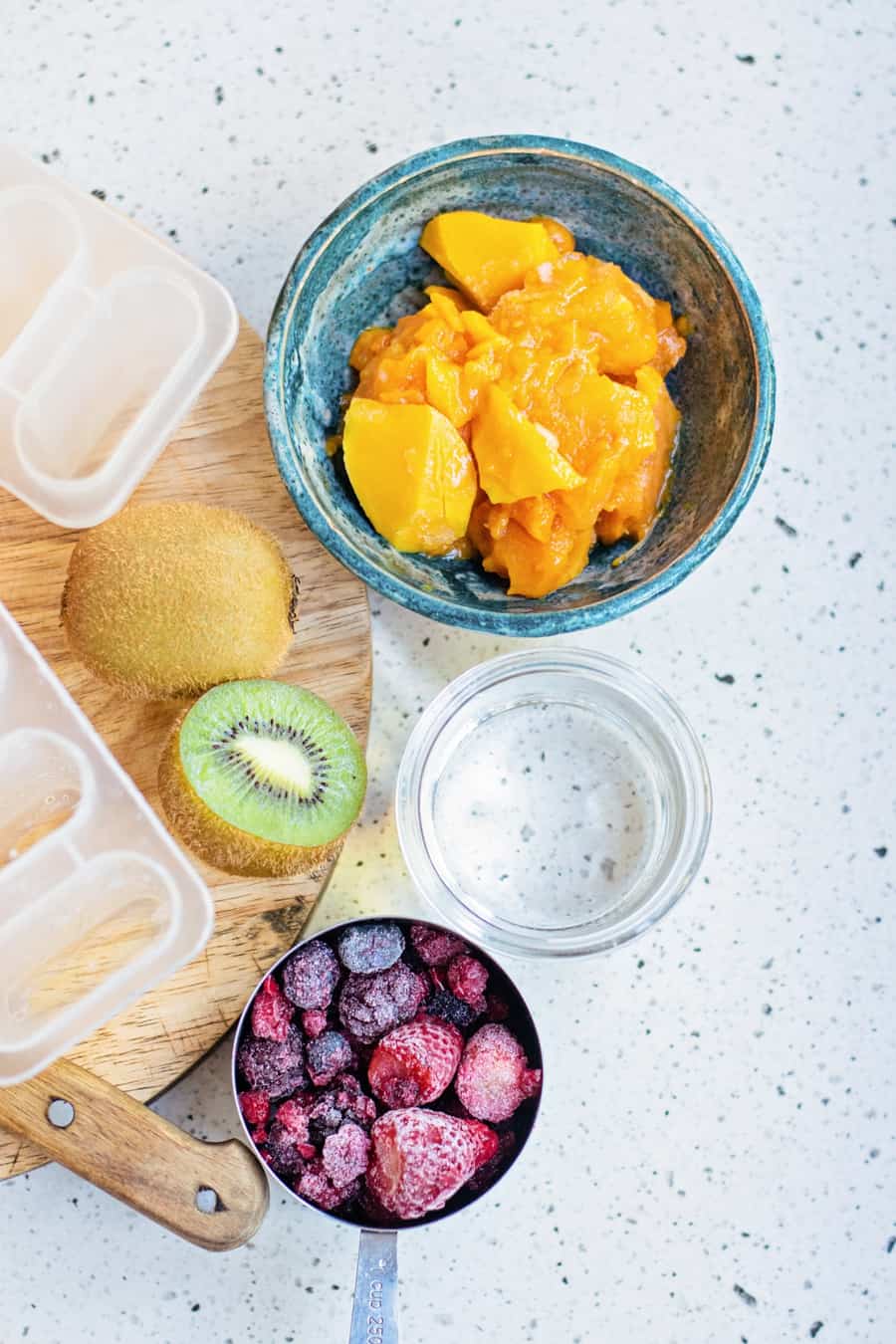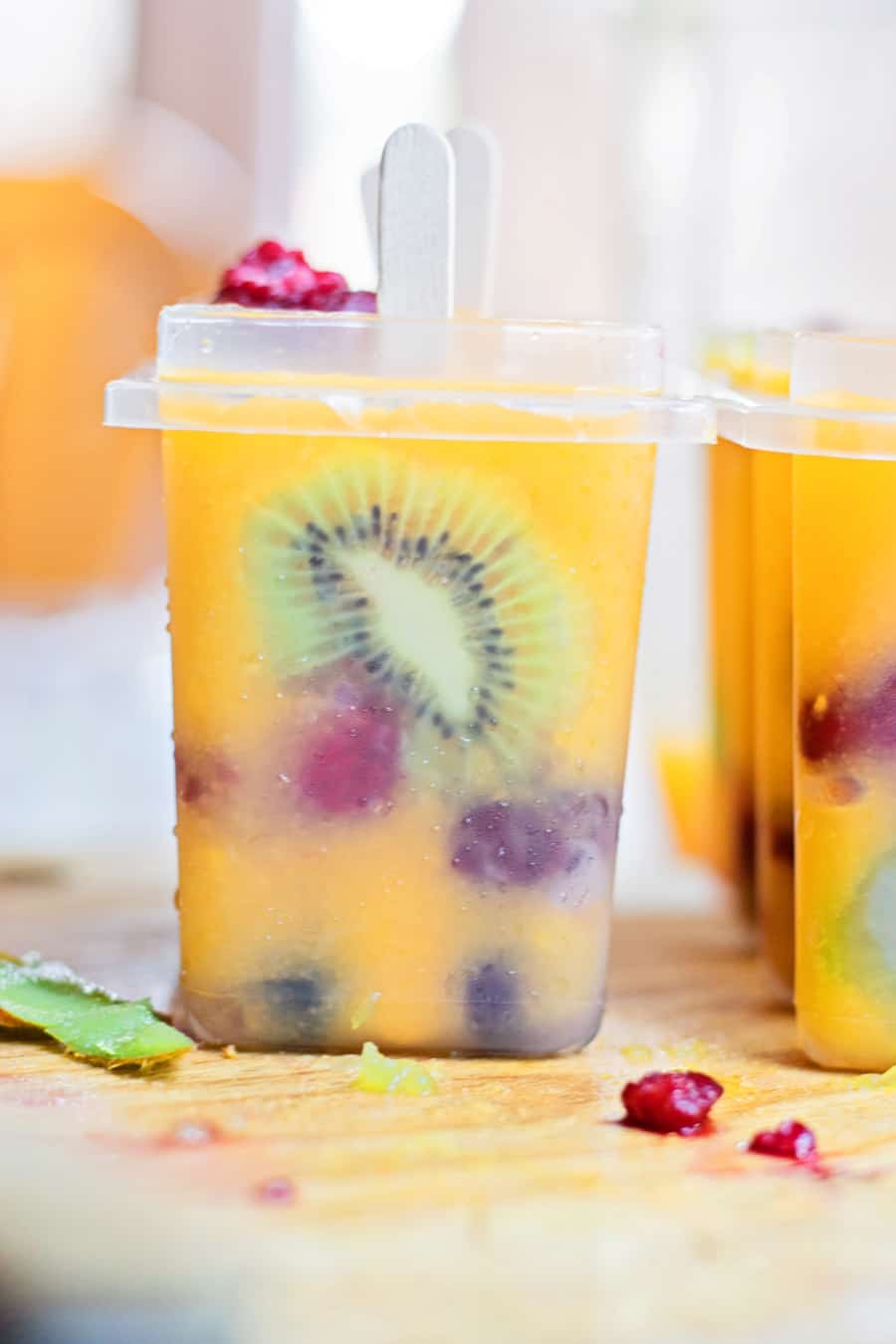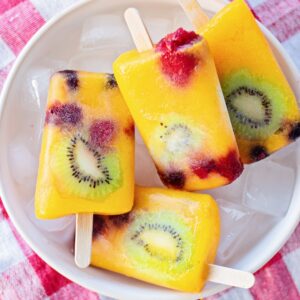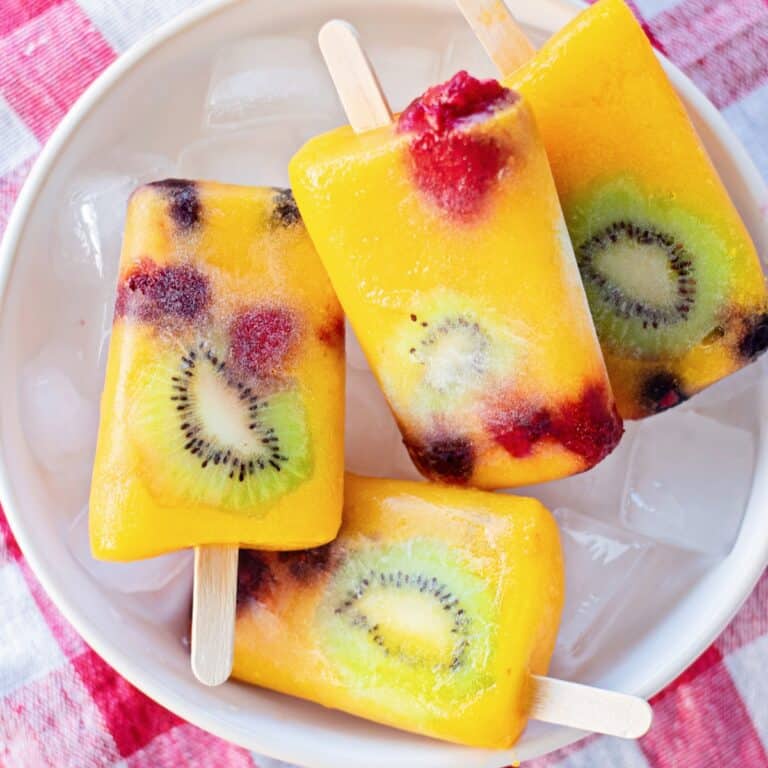 Mango Fruit Popsicles
These Mango Fruit Popsicles are the perfect summer frozen treat. With only four ingredients, they're easy, healthy and delicious!
Ingredients
1

cup

frozen mango

1 1/2

cup

water

1 1/2

kiwi fruit

peeled into 16 round pieces1

1

cup

frozen

berries
Instructions
Prepare your popsicle molds by separating kiwis and berries equally in each.

Mix mango and water in a blender until smooth.

Pour mango purée equally in each mold.

Place in the freezer for at least 8 hours. Best overnight.
Notes
Store up to one week in the freezer.
Simple tips for making these Mango popsicles
What I've found when making this frozen treat is that frozen fruit really helps the popsicles freeze faster and set up more quickly. But if you don't have frozen fruit, you can use fresh fruit without worry. Just know that it might take a little bit more time in the freezer.
More delicious dessert recipes to try: