By using this site, you agree to our Terms of Use. This post may contain affiliate links. Read our disclosure policy.
Follow us on Instagram for more fun food ideas for kids!
Halloween is one of the most popular holidays around, and it's no surprise that it has its own version of cupcakes that can be made from both store-bought and homemade cupcakes!
Kids and adults alike will love these spooktacular treats, which are super easy to make and take just a few minutes to assemble. My 4 year old @DashBakesTheGreats had a fantastic time whipping up these ghoulish treats!
Many of the ingredients can be found in your kitchen, so you'll never have to go scouring stores for Halloween goodies again. Plus, these cupcakes are so delicious that they'll be hard to resist!
If you're looking for something spooky and delicious to serve to your friends or you want to create a special treat for yourself, these 5 easy Halloween cupcakes will fit the bill.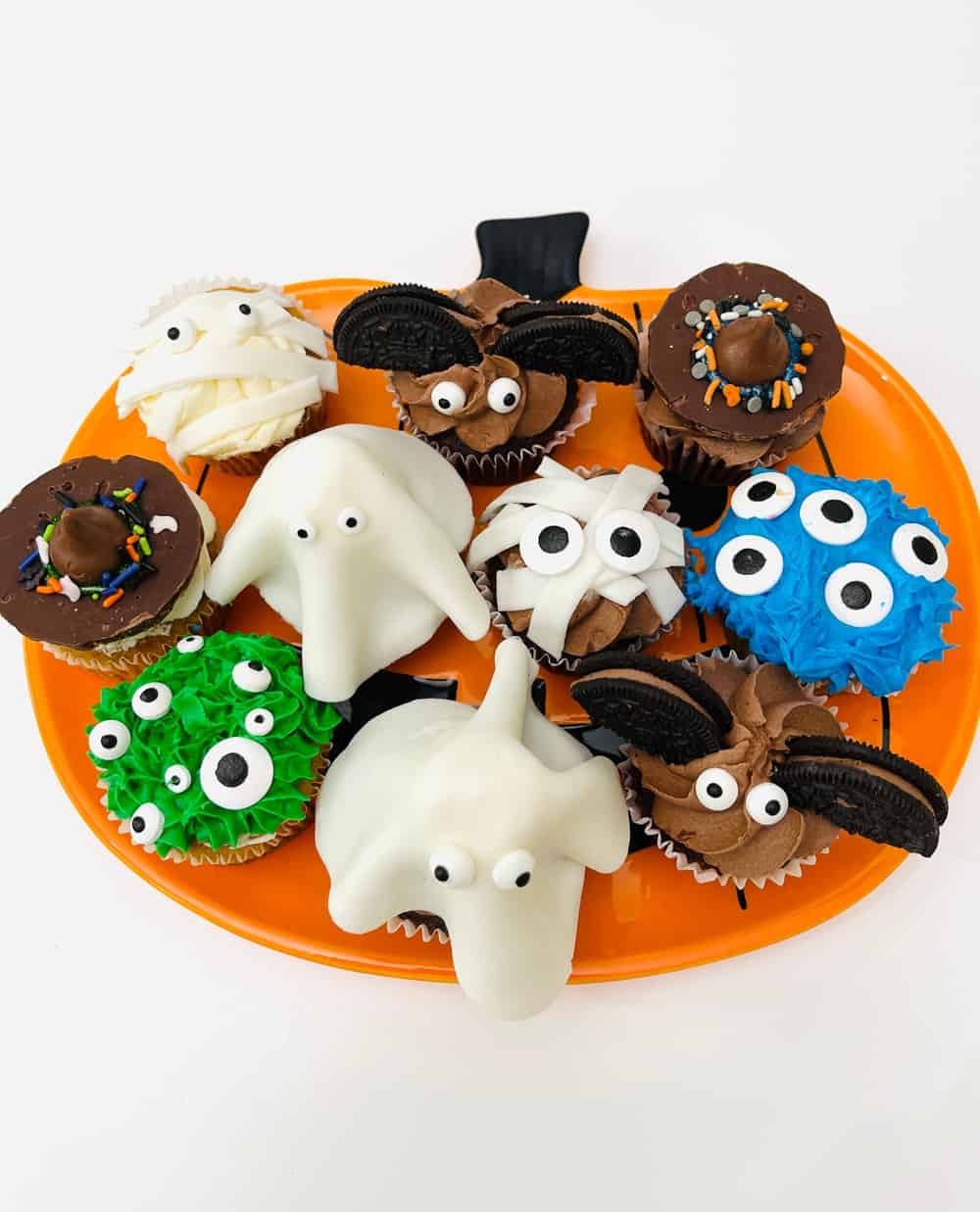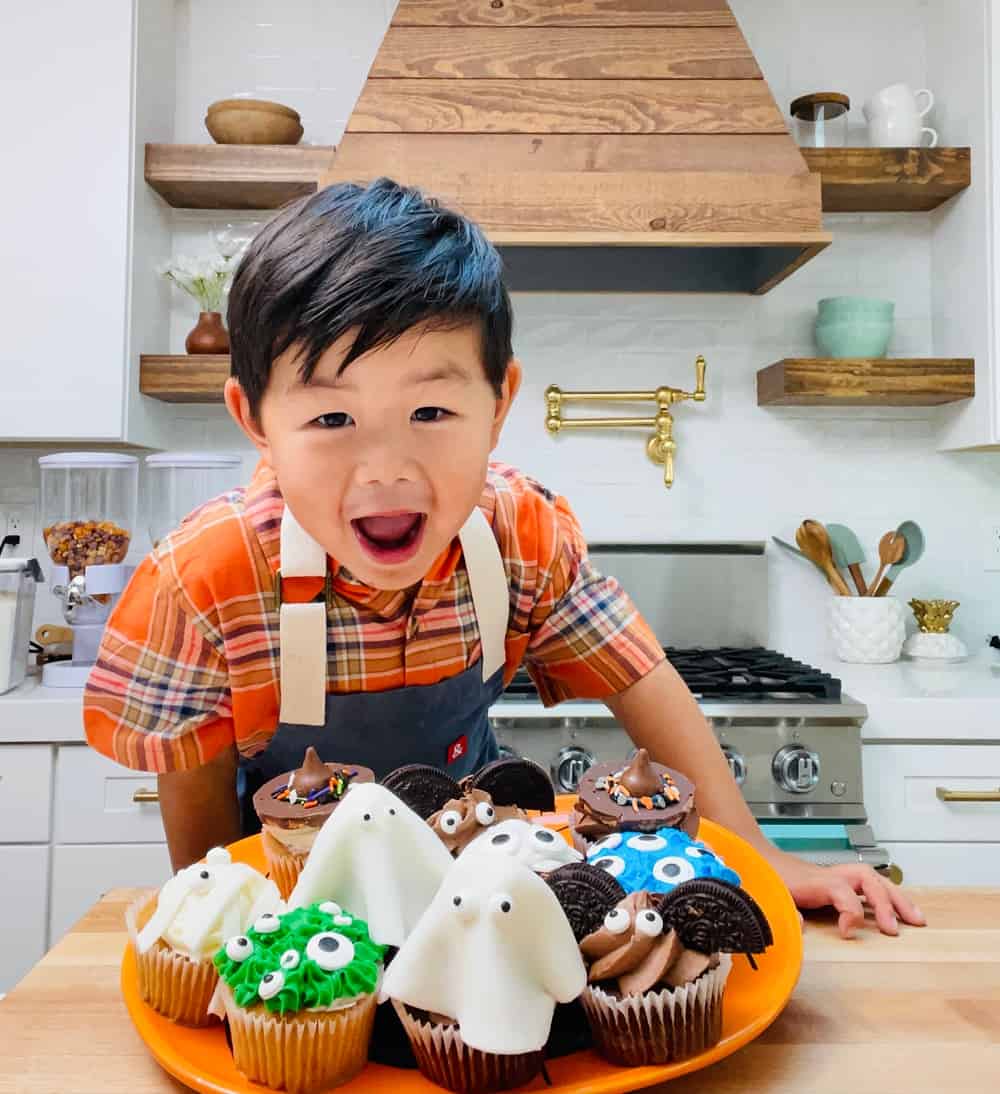 How to Make 5 Easy Halloween Cupcakes
Ghost Cupcakes
Put your favorite chocolate icing on a chocolate cupcake (or use store-bought chocolate cupcakes). Then, place a marshmallow on top of the frosting with a toothpick to hold it in place in the middle.
Next, roll white fondant to resemble a ghost using a roller. Using googly eyes to add some eyes is a must! Use a dab of icing or water to hold the eyes in place.
If you want to make this even more spooky, add some sunflower seeds or slivered almonds for teeth.
Mummy Cupcakes
Bake a cupcake with your icing and then add some fondant stripes to make it look like a mummy for this Halloween cupcake!
Make sure to add some googly eyes! You could also use some edible gel food coloring for a spooky effect. Some people even like to add a drop of red icing as blood for added realism!
Bat Cupcakes
This Halloween cupcake is easy to make and adorable! All you need is a cupcake, some chocolate icing, and Oreos.
Simply break the Oreos in half and place them across from each other to create bat wings. Then add googly eyes, which will make your Halloween cupcake even more realistic!
This fun little cake is a great way to start your Halloween celebrations!
Monster Cupcakes
Making Halloween cupcakes can be a lot of fun, but it's not always easy to find the right ingredients or techniques.
This easy monster cupcake is perfect for anyone who wants to get into the spirit without much effort. All you need are some simple supplies!
Simply add blue icing onto the cupcake, add some cute googly eyes, and you're done. Plus, the fun graphics will make it sure to stand out from the rest!
Witch Hat Cupcakes
Begin by coating a cupcake with chocolate icing, then place a chocolate cookie on top to create the witch hat. Then, simply add a Hershey kiss over the center of the cookie!
We "glued" the kiss to the cookie using edible gel. If you want to make this even more fun, you can also add sprinkle spiders on top of the hat for an extra creepy touch.
You can also try different toppings like candy corn!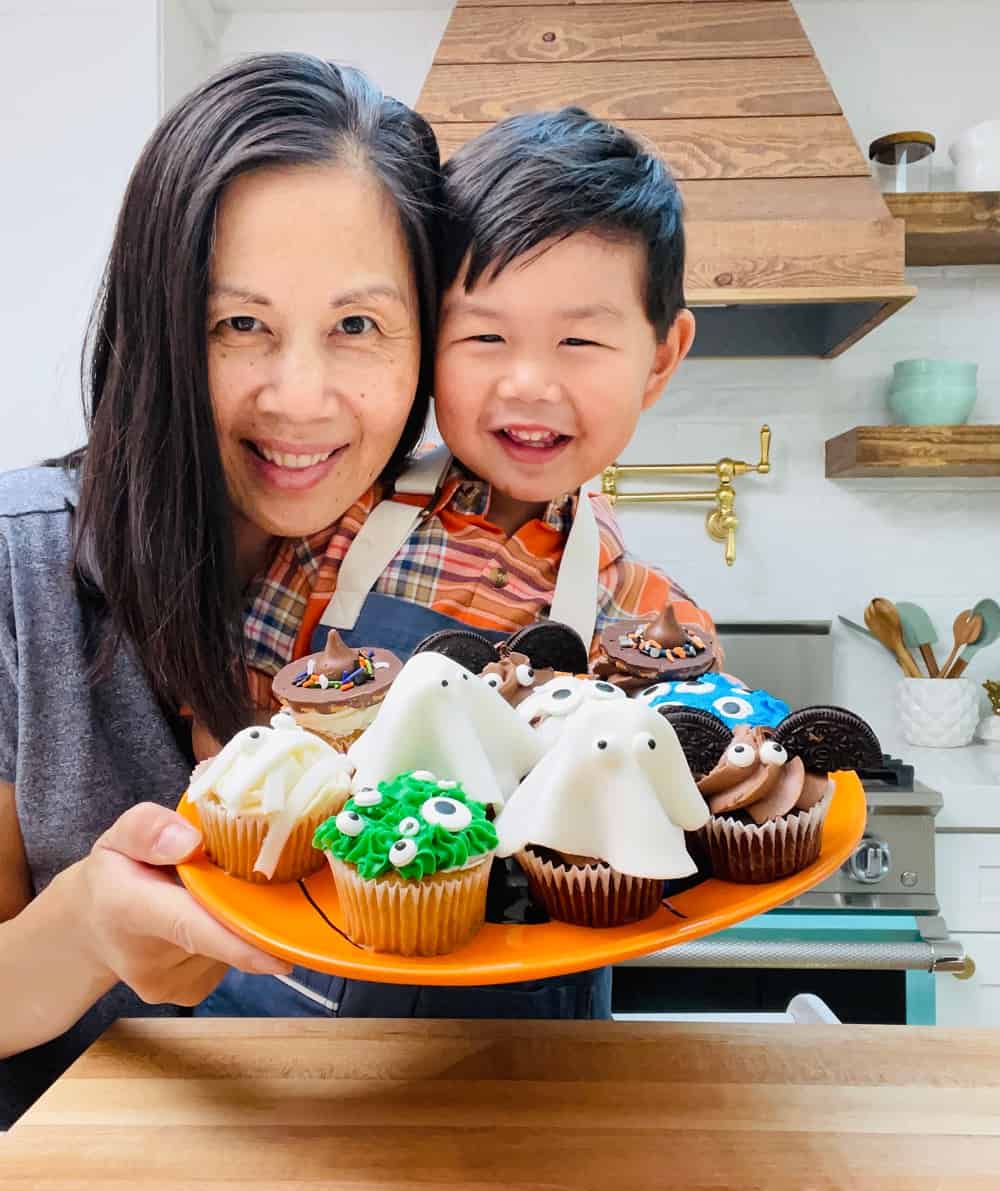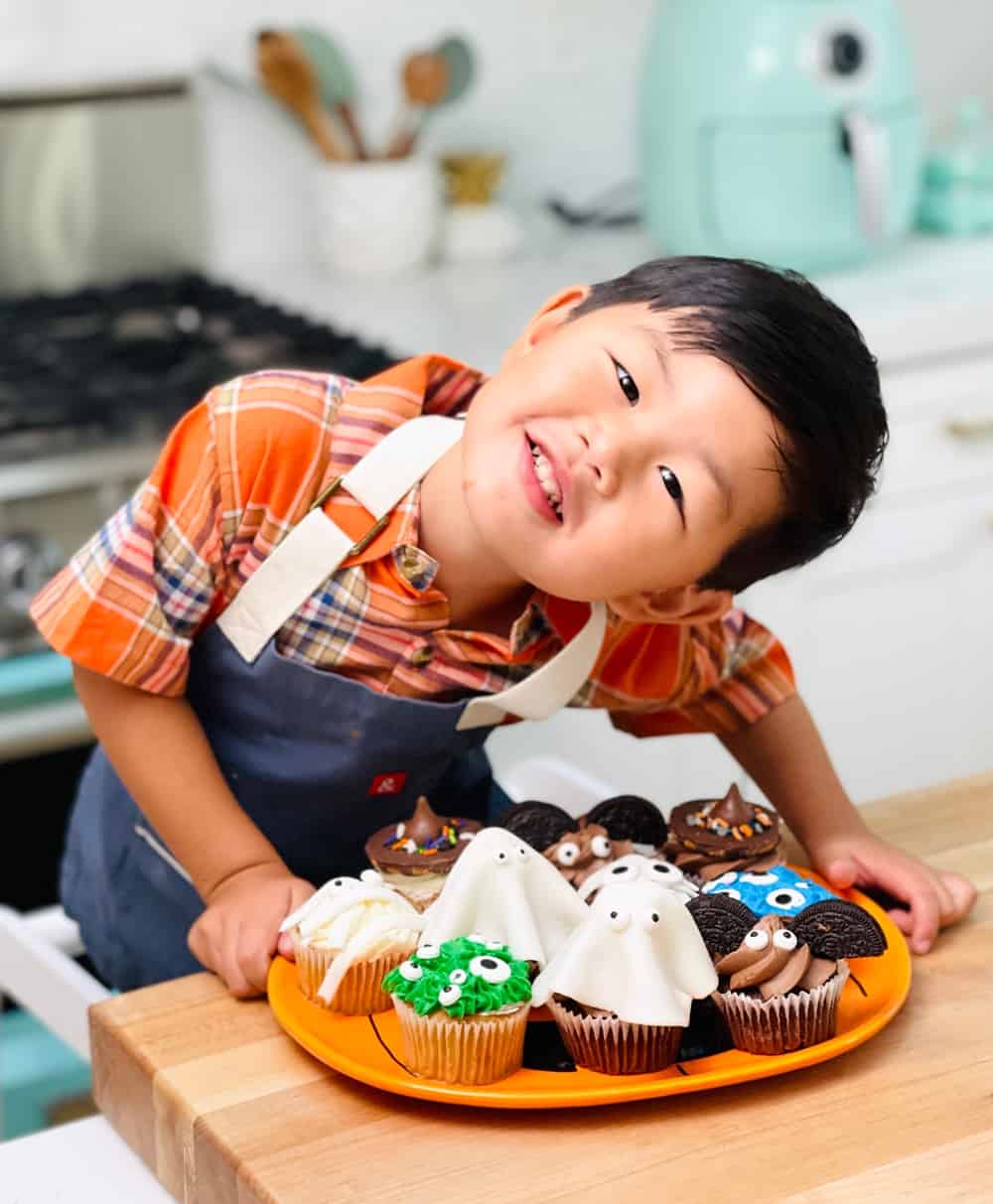 How to Dye Cupcakes for Halloween
Turning your cupcakes into spooky treats for Halloween couldn't be easier! All you need are a few simple ingredients and some basic kitchen supplies.
First, choose the color of icing that you want to use. You can either dye it yourself using food coloring (we love gel-based colorings for the brightest colors) or purchase pre-made tinted icing products.
Once you've chosen the color, spread a thin layer over each cupcake using an offset spatula or cake decorating knife. Let the icing dry completely before applying any decorations.
Some people prefer to use edible printing inks to create more intricate designs, but any simple Halloween-themed images will do.
Tips for Baking Cupcakes at Home
Baking cupcakes at home is a fun and easy way to make special treats for your family or friends. There are a few tips that will help you create delicious and perfect cupcakes every time.
Preheat the oven before baking, this will ensure even baking throughout the cake.
Use a cake mix to make it easier and enhance the flavor by using melted butter instead of oil or milk instead of water
Use butter or margarine instead of shortening, these alternate fats provide richness and moisture without becoming too dense or heavy in texture and have better flavor.
Don't overmix the batter – Overmixing can result in tough cakes that won't rise properly. Stir just enough to combine ingredients but don't whip it up into a frenzy!
Allowing the cupcakes to cool completely before frosting allows frostings, cakes, icing, etc., to set fully, and makes decorating much easier
How to Store your Halloween Cupcakes
Before you can enjoy your treats, you need to store them properly. Firstly, keep them in a cool and dry place. Cupcakes will tend to spoil quickly if they're exposed to moisture or extreme heat.
Store them in an airtight container at room temperature (between 67 and 77 degrees Fahrenheit) or in the refrigerator for longer storage periods.
Also, be sure not to stack them too high. The higher the cupcake stacks up, the more likely it is that moisture will accumulate on top and cause it to spoil prematurely.
If you do store them in a high stack, place a piece of wax paper between each cupcake to prevent the icing from sticking and becoming muddy.
If you aren't going to be using the cupcakes in a few days, make a batch and place them side by side in a gallon size zipper bag. Then place the bag flat in the freezer. They should stay fresh for at least 3 months.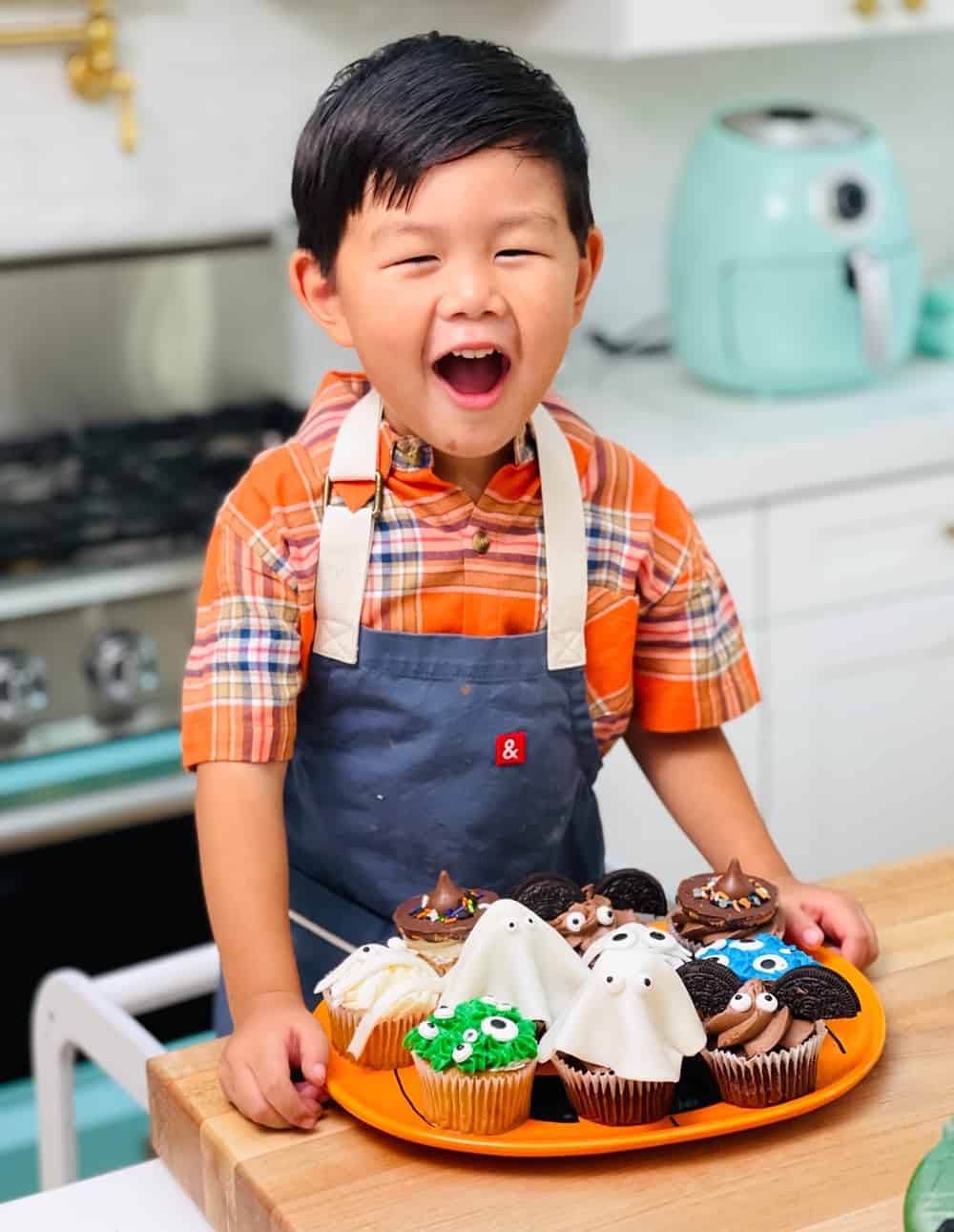 Takeaway
Halloween cupcakes are a delicious and fun way to celebrate the holiday. They're easy to make, and they're perfect for any occasion – including scary ones like Halloween.
Kids love them, and so do adults. You can make them at home or get them from a bakery, and they're sure to be a hit, even at the most spooky of gatherings.
If you're looking for a treat for Halloween, cupcakes are the way to go! These delicious little cakes can be decorated in any way you like, and they're the perfect size to take with you.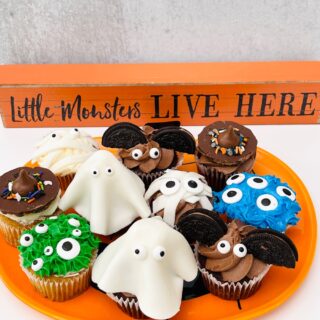 Easy Halloween Cupcakes
Ingredients
Baked and frosted cupcakes

Ghost: White fondant, marshmallow, toothpick and candy googley eyes

Mummy: White fondant, candy googley eyes

Bat: Oreo cookies, candy googley eyes

Monster: colored frosting, star piping tip, candy googley eyes

Witch Hat: chcolate cookie, Hershey Kiss, gel icing, sprinkles
Instructions
Put your favorite chocolate icing on a chocolate cupcake (or use store-bought chocolate cupcakes). Then, place a marshmallow on top of the frosting with a toothpick to hold it in place in the middle.

Next, roll white fondant to resemble a ghost using a roller. Using googly eyes to add some eyes is a must! Use a dab of icing or water to hold the eyes in place.

If you want to make this even more spooky, add some sunflower seeds or slivered almonds for teeth.

Bake a cupcake with your icing and then add some fondant stripes to make it look like a mummy for this Halloween cupcake!

Make sure to add some googly eyes! You could also use some edible gel food coloring for a spooky effect. Some people even like to add a drop of red icing as blood for added realism!

This Halloween cupcake is easy to make and adorable! All you need is a cupcake, some chocolate icing, and Oreos.

Simply break the Oreos in half and place them across from each other to create bat wings. Then add googly eyes, which will make your Halloween cupcake even more realistic!

This fun little cake is a great way to start your Halloween celebrations!

Making Halloween cupcakes can be a lot of fun, but it's not always easy to find the right ingredients or techniques.

This easy monster cupcake is perfect for anyone who wants to get into the spirit without much effort. All you need are some simple supplies!

Simply add blue icing onto the cupcake, add some cute googly eyes, and you're done. Plus, the fun graphics will make it sure to stand out from the rest!

Begin by coating a cupcake with chocolate icing, then place a chocolate cookie on top to create the witch hat. Then, simply add a Hershey kiss over the center of the cookie!

We "glued" the kiss to the cookie using edible gel. If you want to make this even more fun, you can also add sprinkle spiders on top of the hat for an extra creepy touch.

You can also try different toppings like candy corn!Mummy CupcakesBat CupcakesMonster CupcakesWitch Hat Cupcakes