By using this site, you agree to our Terms of Use. This post may contain affiliate links. Read our disclosure policy.
Follow us on Instagram for more fun food ideas for kids!
This Chicken and Broccoli Pasta Bake is loaded with chicken breast, cheese, and other simple ingredients. The perfect weeknight meal!
We eat a lot of chicken in our house. It's just such a versatile protein and I love that it's affordable, too. It's also super simple to pair up with so many other ingredients! This simple pasta recipe has broccoli, cheese, and other ingredients that are literally perfect with the chicken. Plus it's an easy bake pasta recipe that is great for busy weeknights!
I also love that this entire recipe can be made in just one pot! That's less work for me to have to worry about cleaning up after dinner is over.
You know what they say right? Why does dinner take so long to make and it's eaten in just minutes?
At least when there are fewer dishes to do, it's not so bad!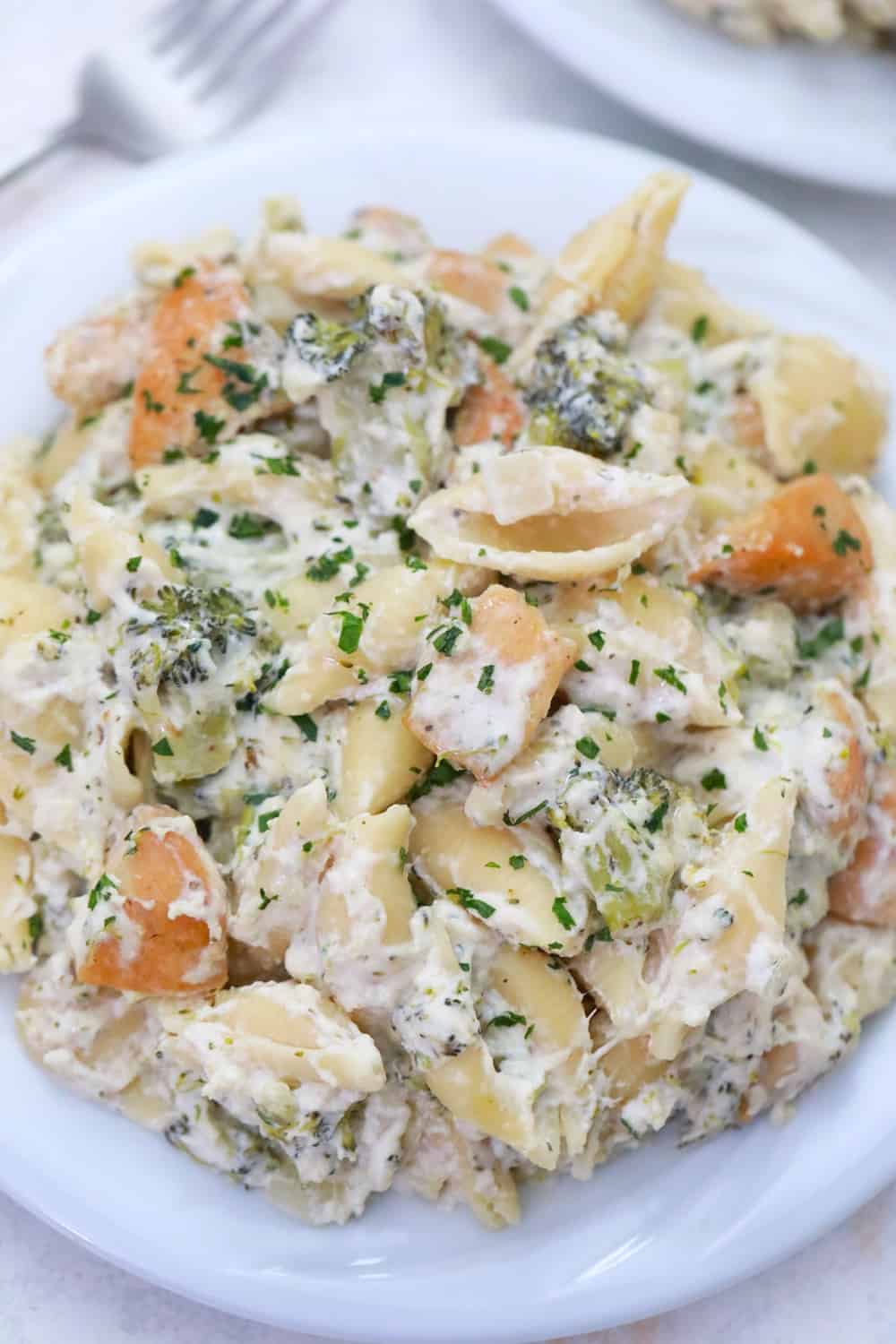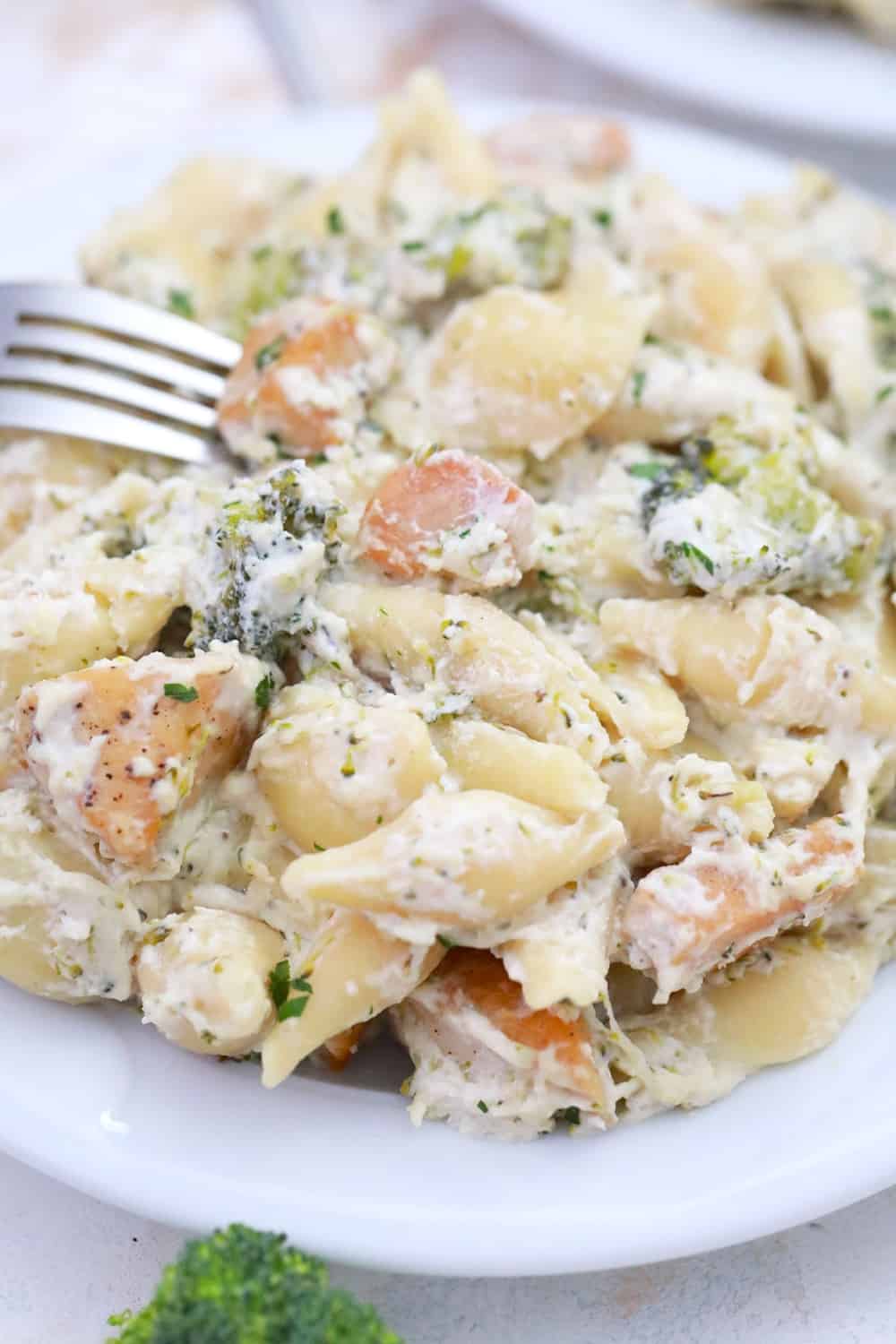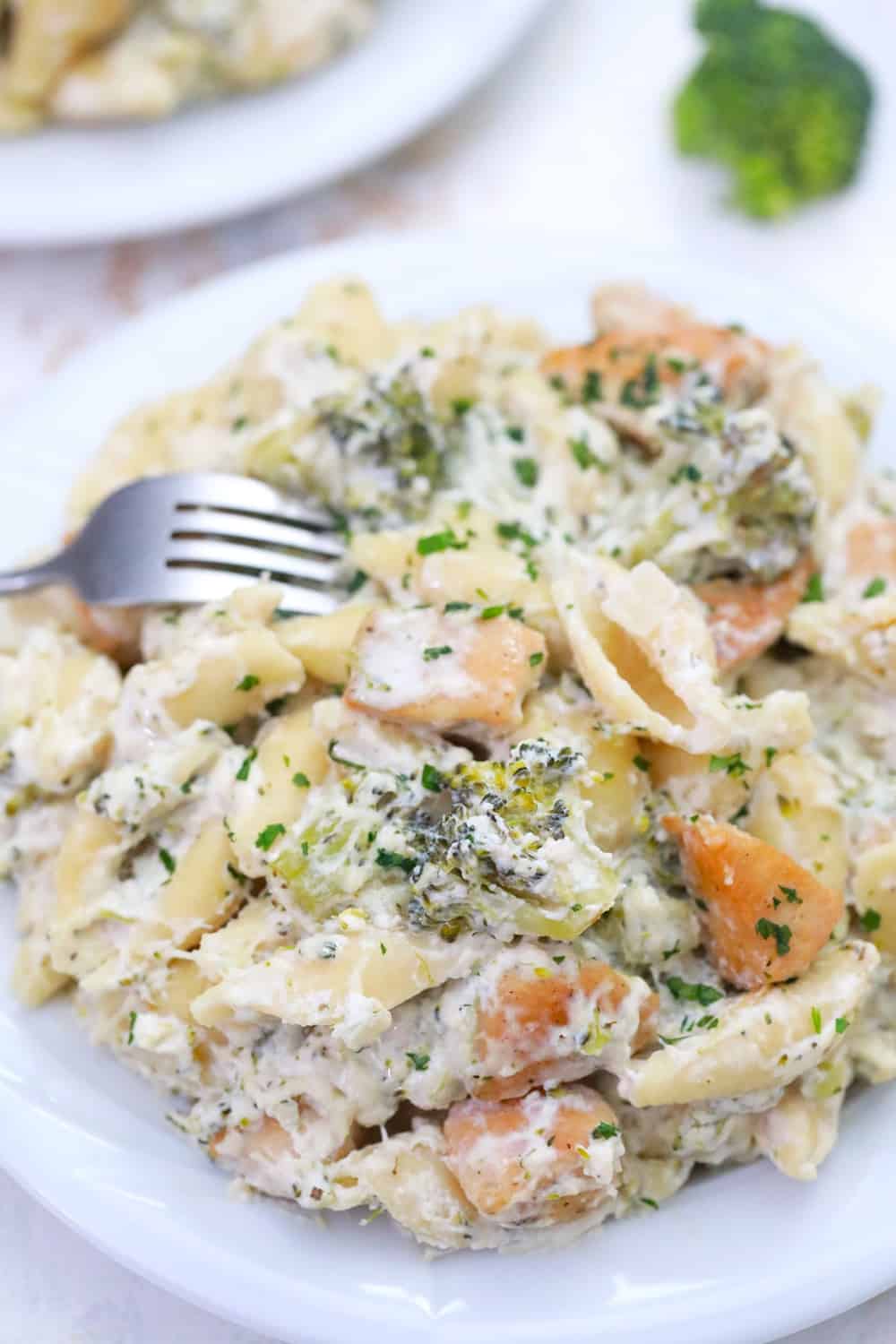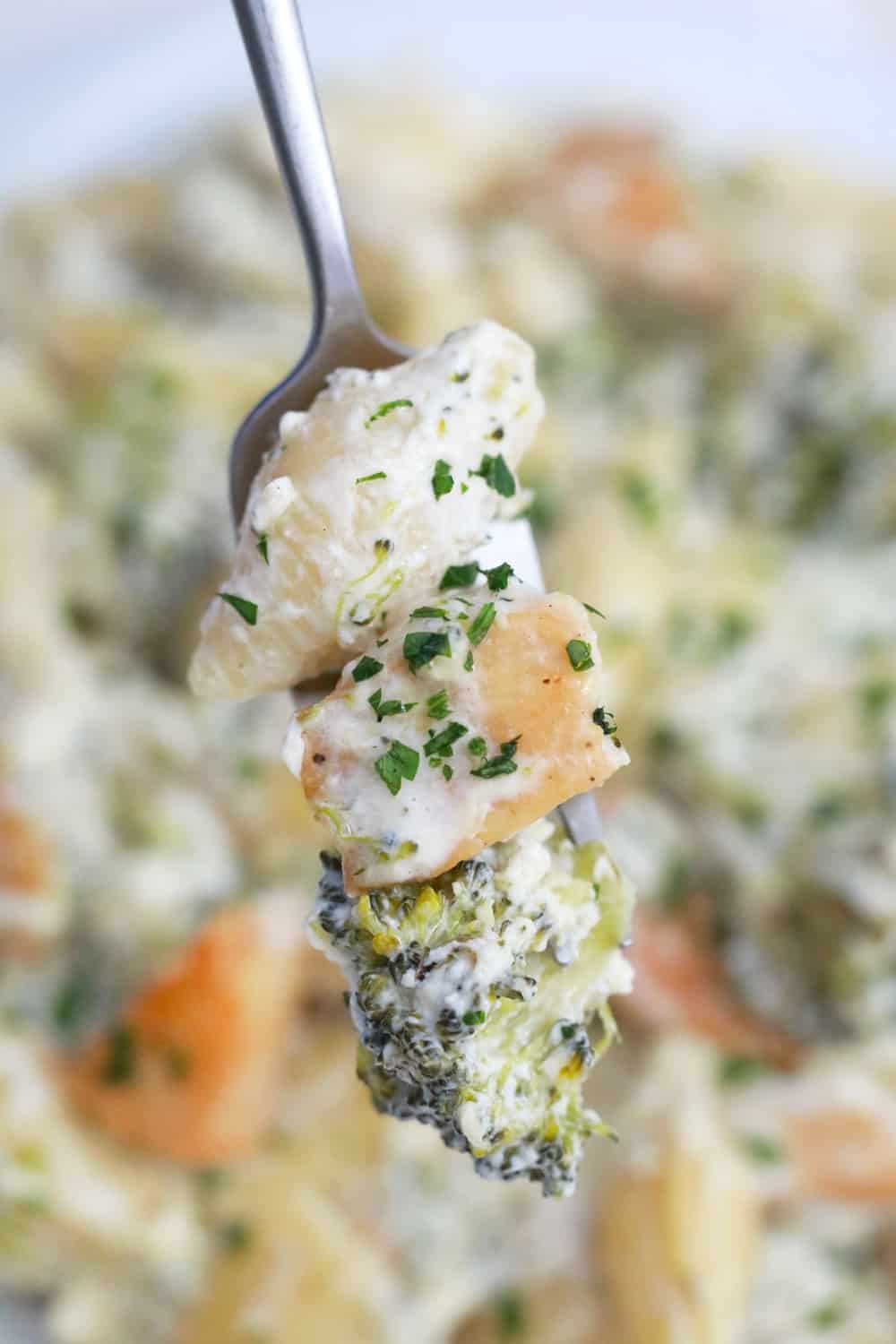 How do I know when chicken is fully cooked?
You'll want to be sure that there is no pink at all on the cubed chicken when you're cooking it. I also suggest using a meat thermometer to test out the internal temperature of the chicken. As long as it's 165 degrees, it should be cooked and safe to eat.
Chicken and Broccoli Pasta Bake – Ingredients
olive oil
chicken breast
salt
peppe
garlic
dried basil
onion
broccoli
milk
cream
shell pasta
ricotta cheese
shredded parmesan cheese
shredded mozzarella cheese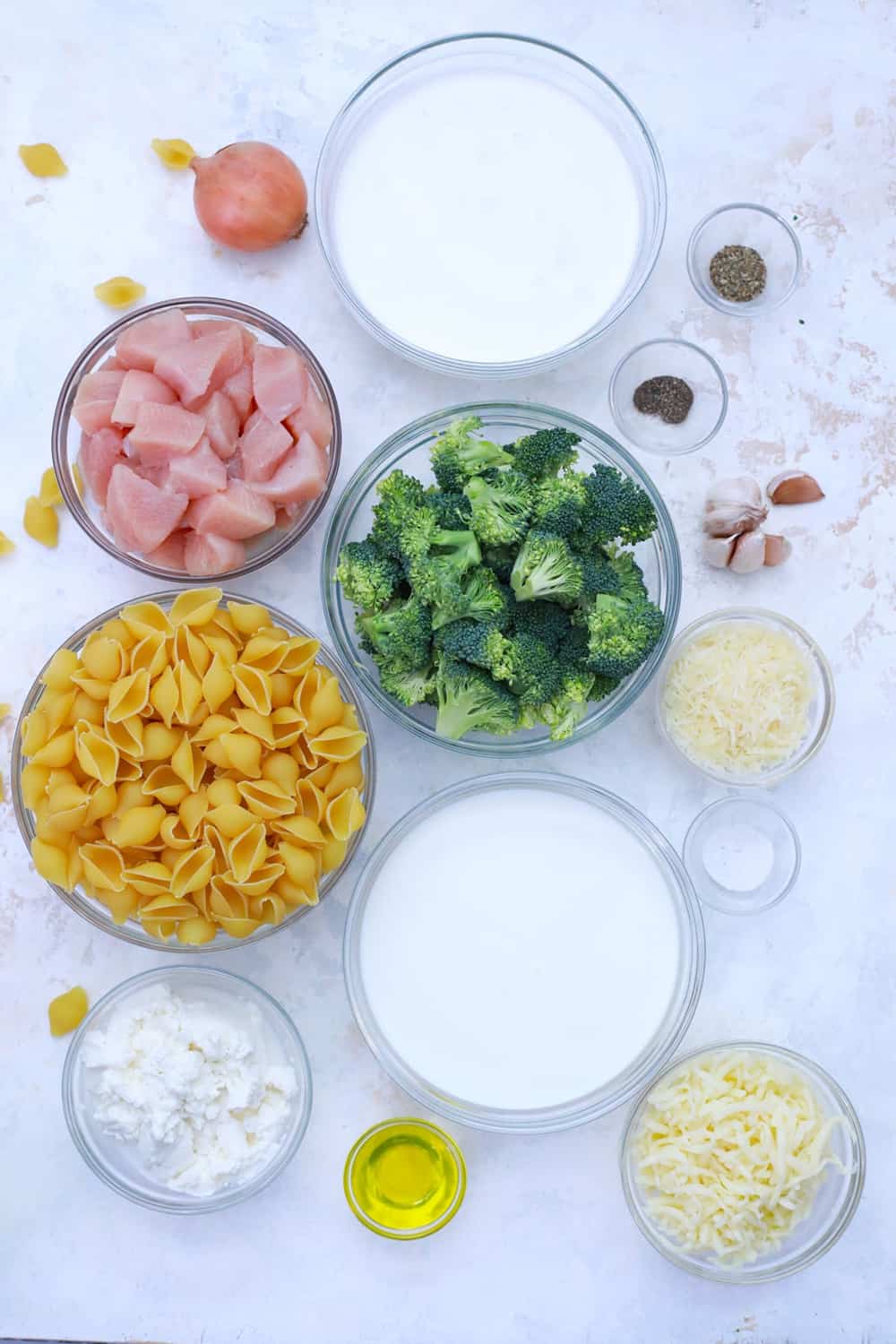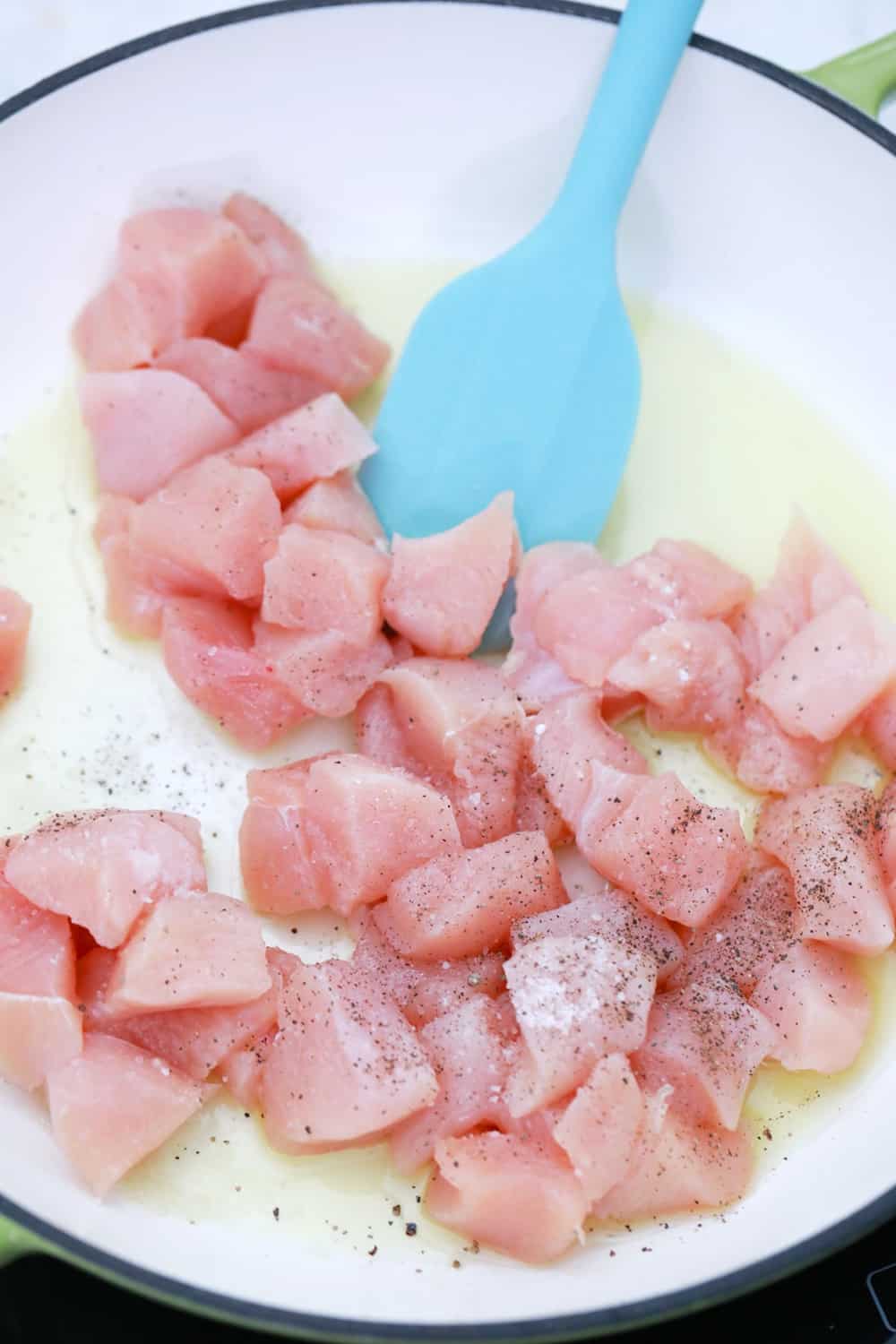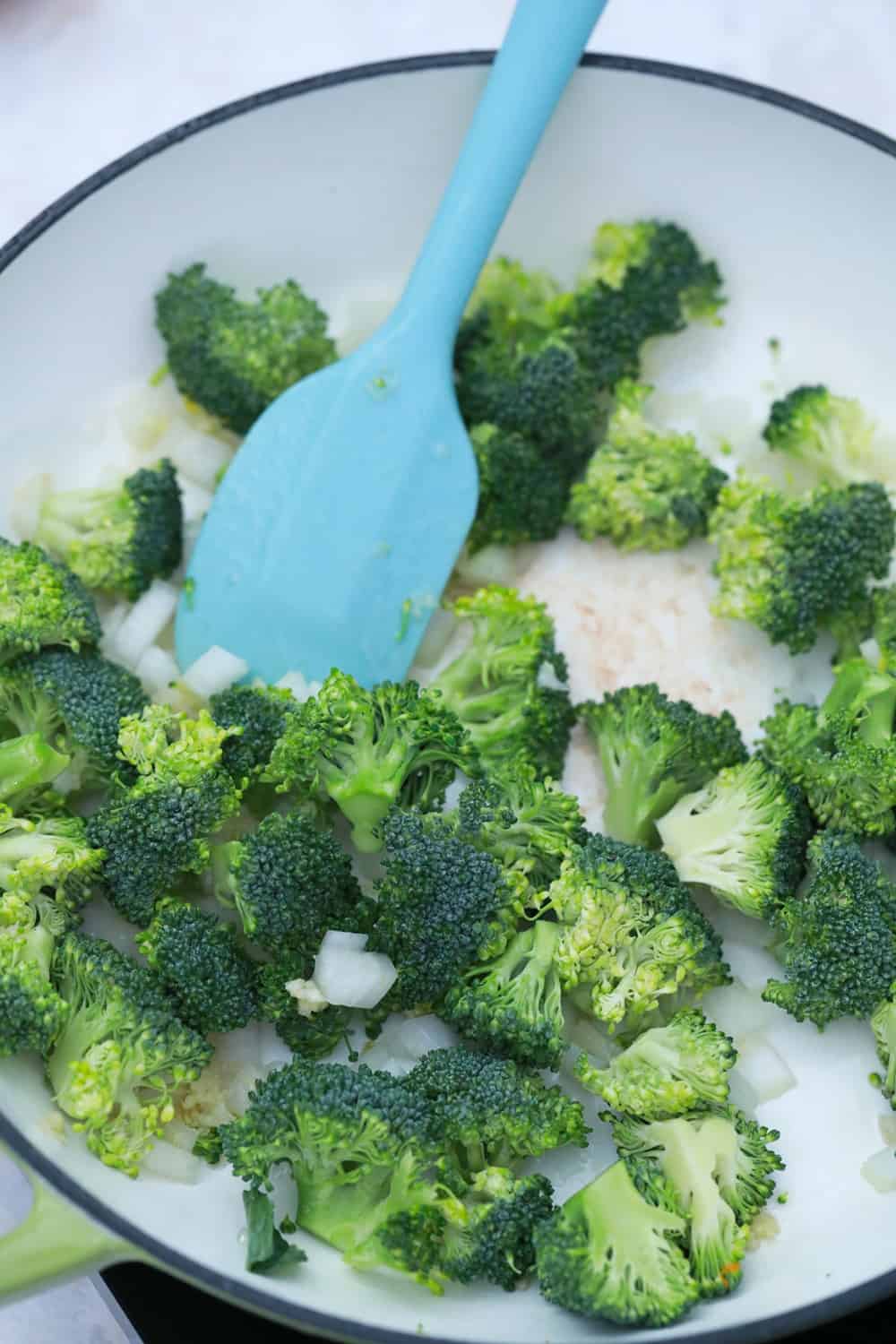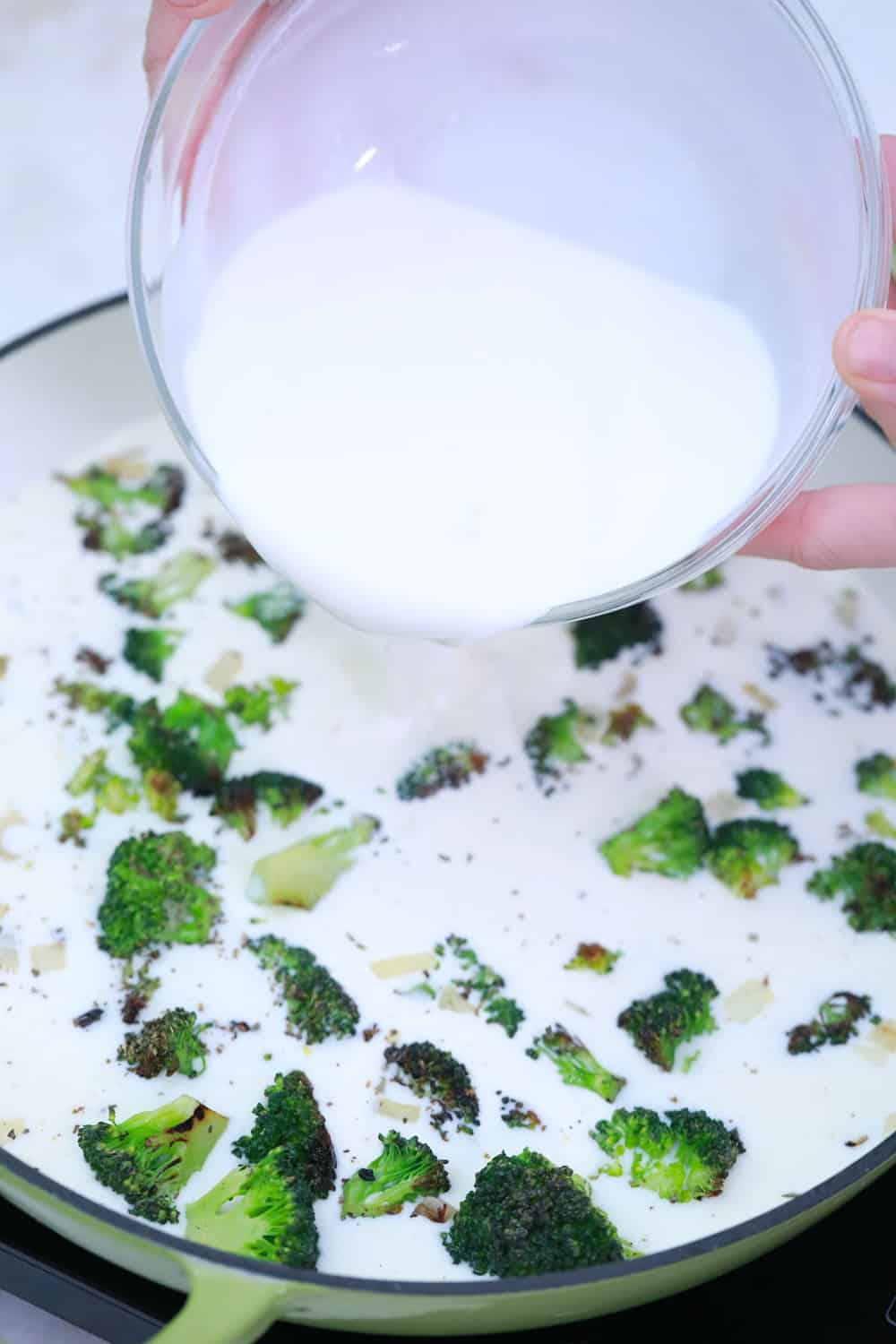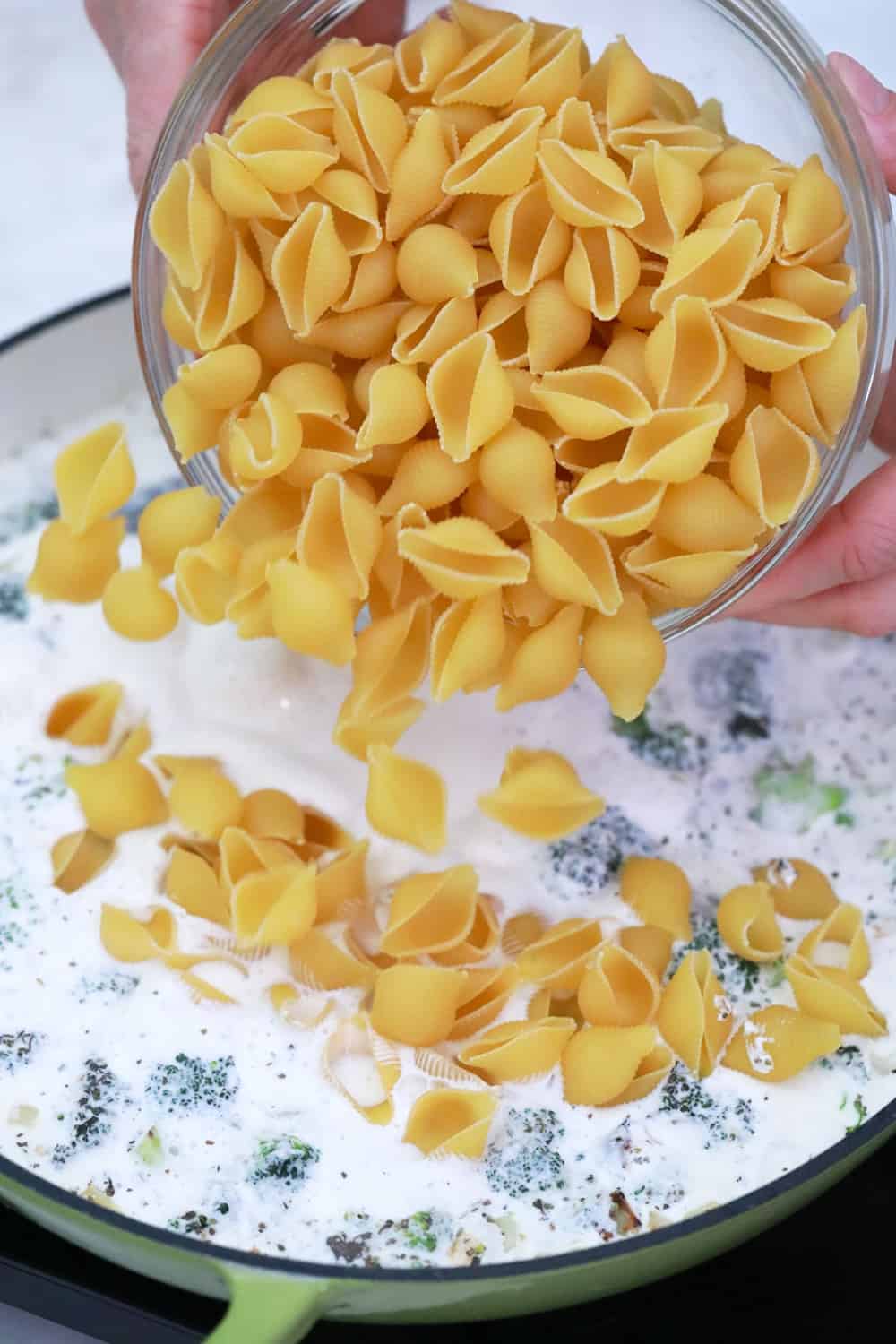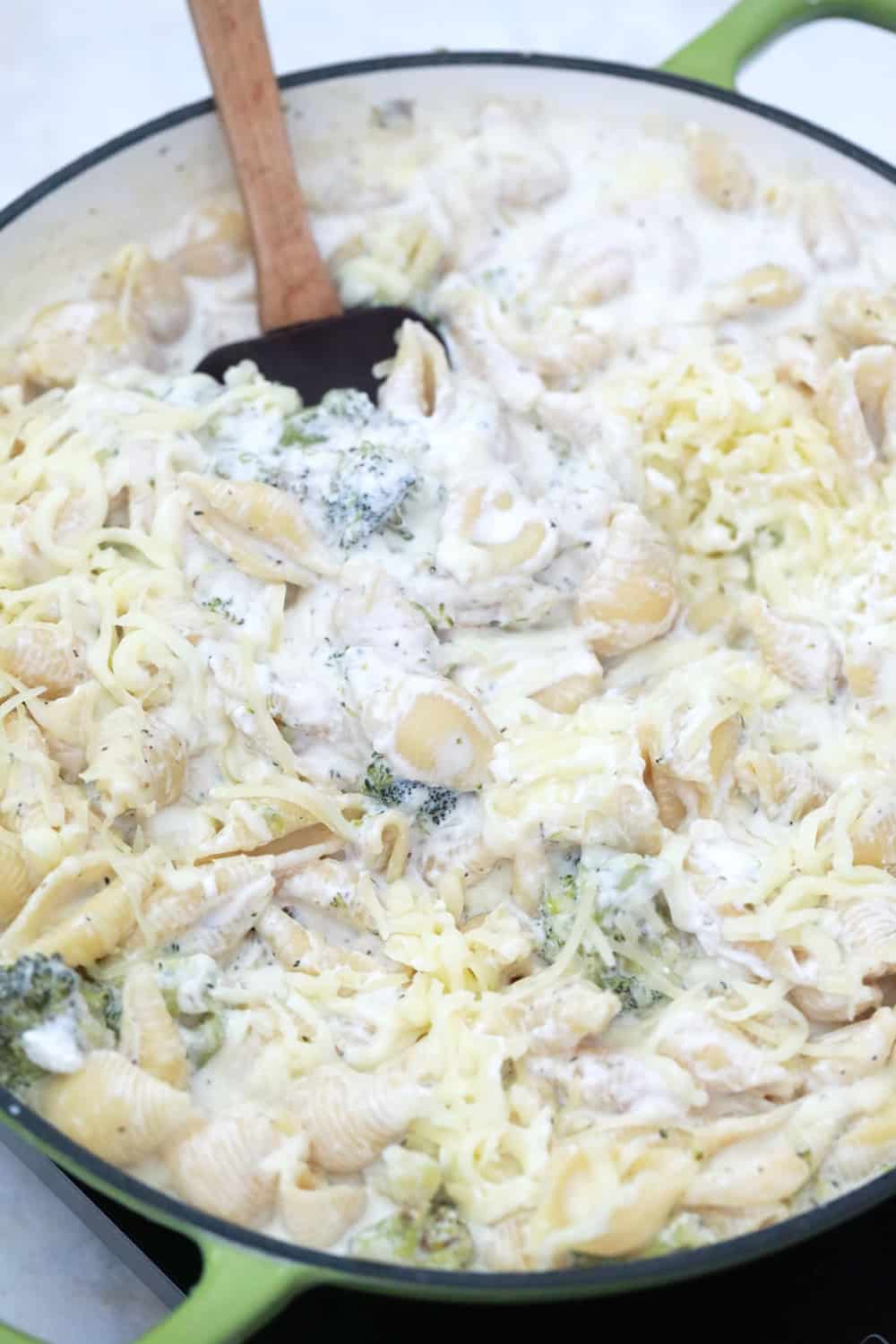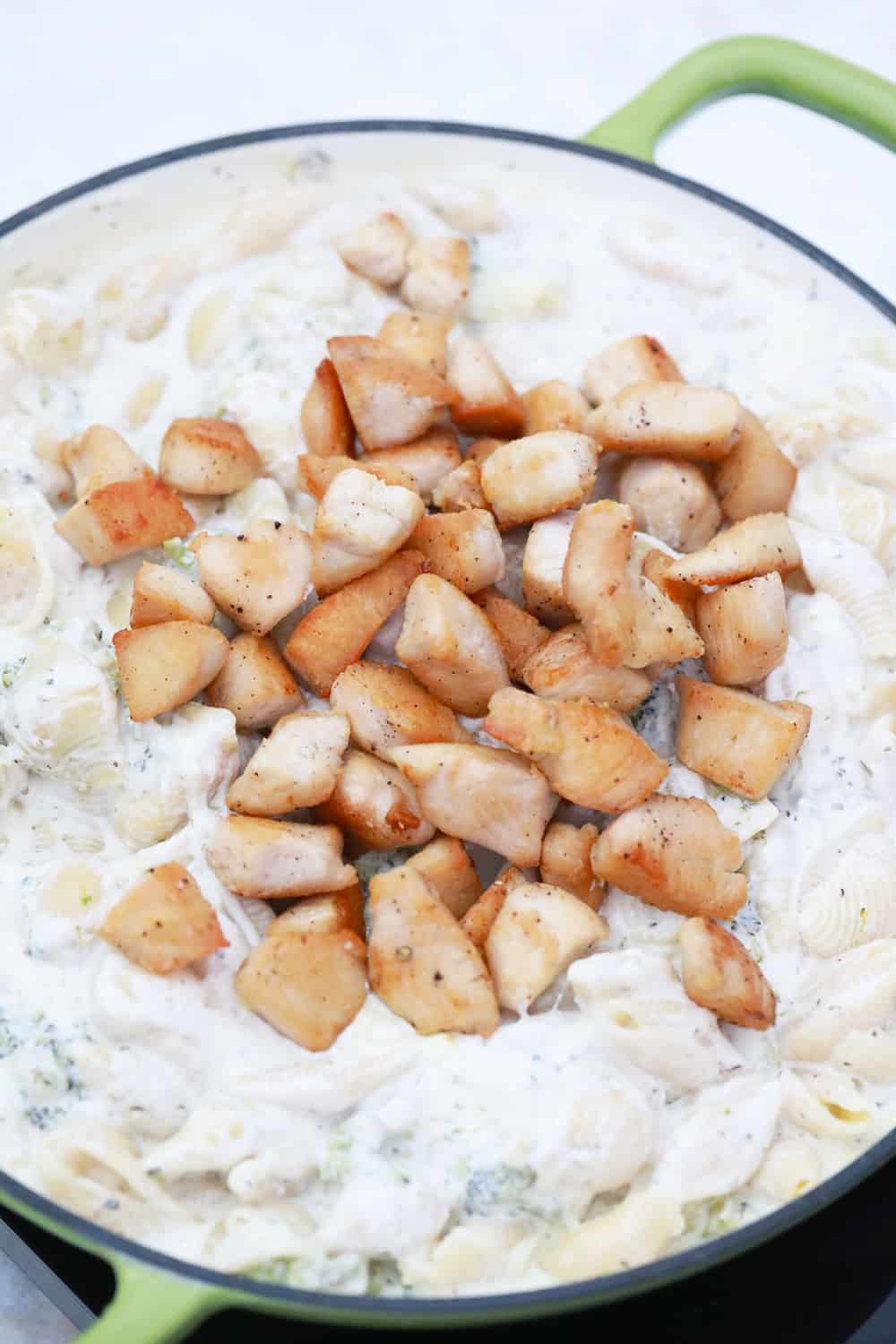 How to store leftover pasta bake
Leftovers mean that you get to enjoy this dish again and that's a great thing! Just store leftovers in an airtight container and keep them in the fridge.
How to reheat
When it's time to reheat the pasta, just pop it into the microwave and heat it until warmed all the way through. Make sure that you get the chicken hot again as well as the rest of the ingredients.
Can you freeze leftover pasta bake?
I don't recommend freezing this recipe as frozen cooked pasta tends to not have the best texture once it unthaws. Just make a plan to eat the leftovers within 1-2 days of having them.
Packing them for school lunches or work lunches is a great way to eat them up!
You're going to love the flavor of this simple chicken pasta bake recipe! It's a hearty meal that will have everyone leaving the table with full bellies.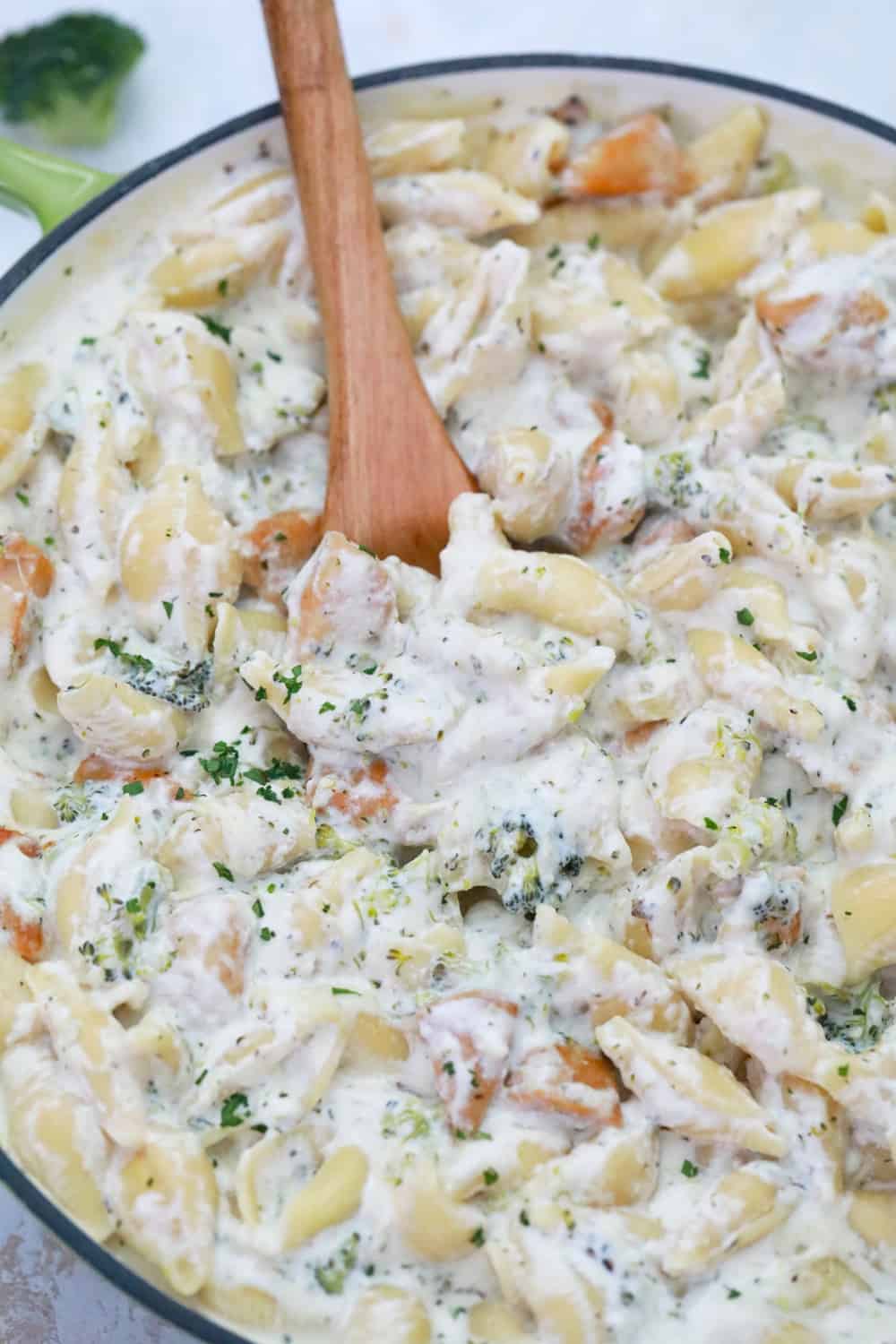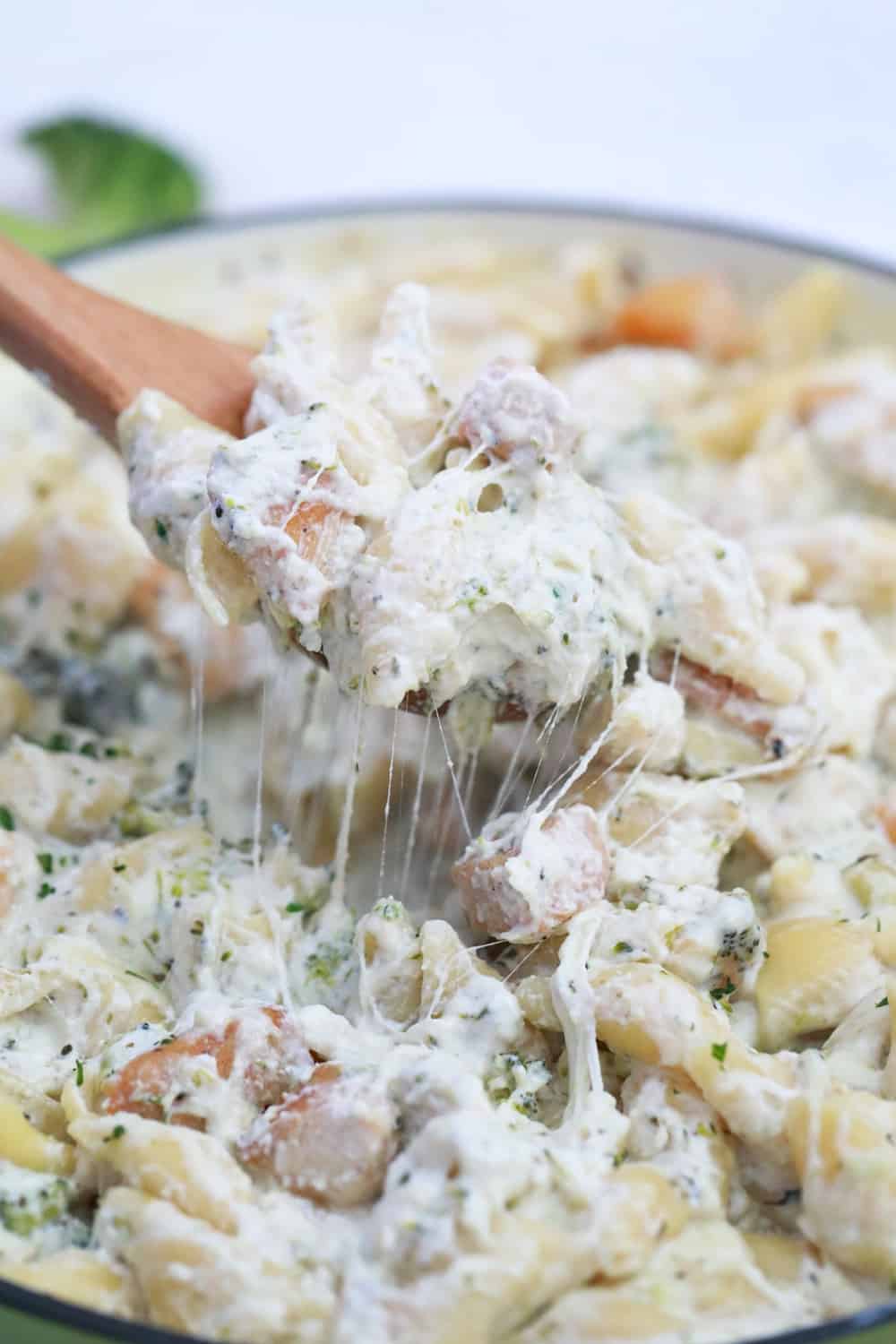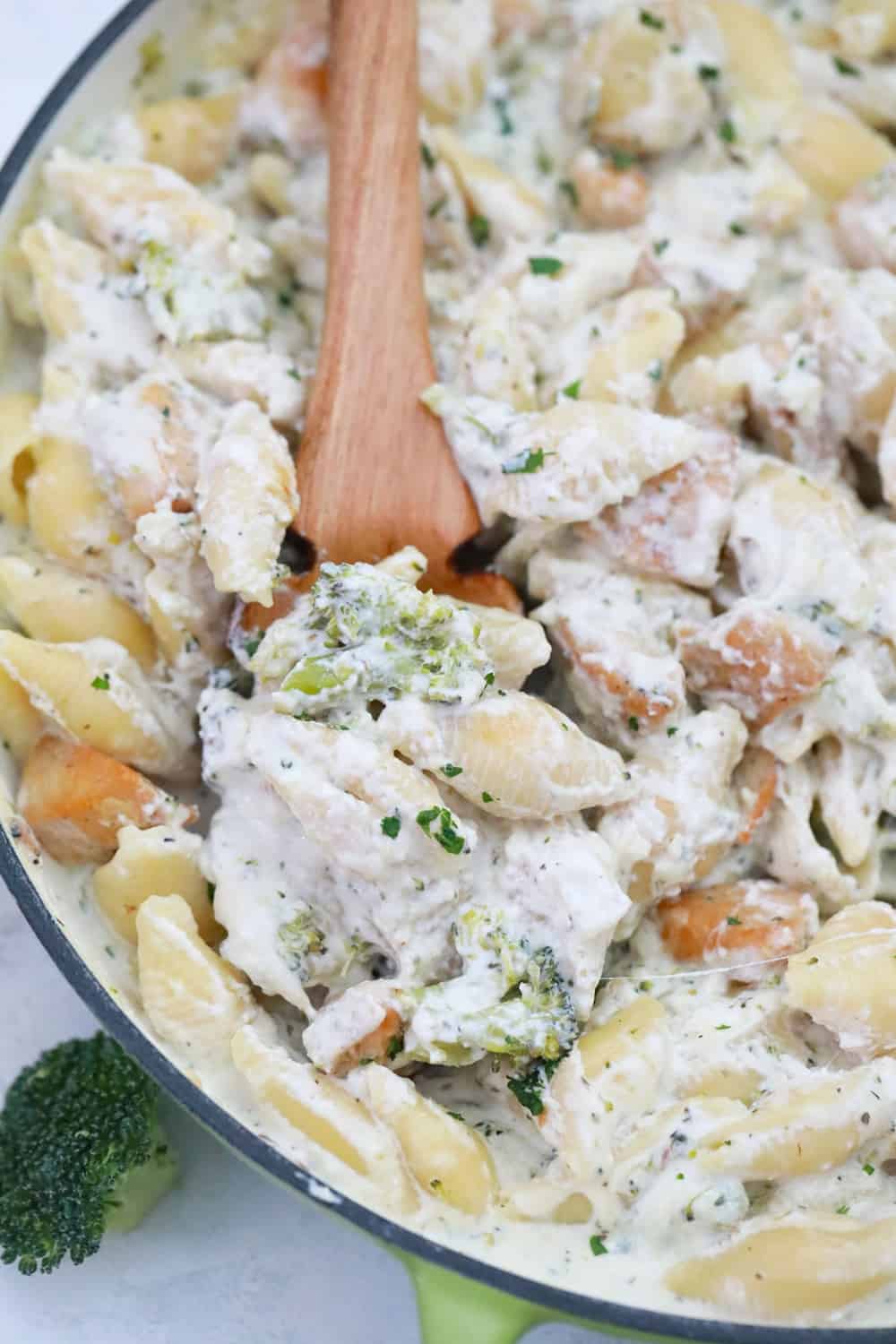 INSTRUCTIONS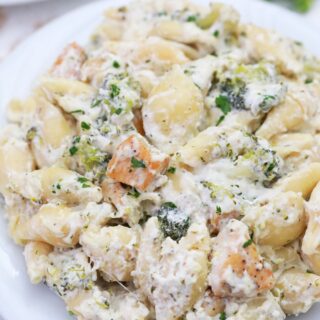 Chicken and Broccoli Pasta Bake
This simple Chicken and Broccoli Bake is a great pasta recipe loaded with chicken and broccoli. Perfect for an easy dinner.
Ingredients
2

T

olive oil

1½

pounds

chicken breast, cubed

1

tsp

salt, divided

pepper, to taste

3

cloves garlic, minced

1

tsp

dried basil

1

small onion, sliced

1

medium head broccoli

3

cups

milk

3

cups

cream

1

pound

small shell pasta, uncooked

8

ounces

ricotta cheese

½

cup

shredded parmesan cheese

1

cup

shredded mozzarella cheese
Instructions
Place a large pot over medium-high.

Add in the chicken, without overcrowding the pot, if needed cook it in batches. Season with half of the salt and pepper, and cook it until nicely browned and cooked through, remove it from the pot and set it aside on a plate.

Add in the onion, garlic and broccoli. Cover and cook for 2-3 minutes. Season the veggies with the remaining salt, pepper, and dried basil. Cook and stir until the onions begin to become translucent.

Pour in milk and cream, and bring to a boil, stirring periodically.

Add pasta and cook it for 10-15 minutes, stirring frequently until it reaches your desired doneness.

Add in the ricotta and stir to melt.

Add Parmesan and mozzarella. Stir in chicken until well incorporated.

.If desired, preheat the oven to 400 degrees F, sprinkle the cheese after you stirred in the chicken and bake for 10 minutes, or until melted and bubbly.

Garnish with parsley and serve.